.
Trump Effect: China Offers A Path To Eliminate U.S. Trade Imbalance, Sources Say – Bloomberg
China has offered to go on a six-year buying spree to ramp up imports from the U.S., in a move that would reconfigure the relationship between the world's two largest economies, according to officials familiar with the negotiations.
By increasing goods imports from the U.S. by a combined value of more than $1 trillion over that period, China would seek to reduce its trade surplus – which last year stood at $323 billion – to zero by 2024, one of the people said. The officials asked not to be named as the discussions aren't public.
The offer, made during talks in Beijing earlier this month, was met with skepticism by U.S. negotiators who nonetheless asked the Chinese to do even better, demanding that the imbalance be cleared in the next two years, the people said. Economists who've studied the trade relationship argue it would be hard to eliminate the gap, which they say is sustained in large part by U.S. demand for Chinese products.
U.S. stocks extended gains and the dollar rose following the news…
MORE
.
—————————————————————————————
.
Hispanic Approval Of Trump Surges To 50% As Employment Sets Record – CNS
.

.
A new NPR/PBS NewsHour/Marist poll shows Hispanic-Latino approval of President Donald Trump's job performance jumped 19 points in the past month, hitting, hitting 50% in January.
In the national survey of adults (age 18 and up), conducted January 10-13, 2019, 50% of Latinos said they approve of Trump's job performance, while 46% disapprove and 4% are unsure what they think. In December, only 31% voiced approval, while more than twice as many (64%) Hispanic-Latino adults said they disapproved of Trump's performance.
On January 4, the U.S. Bureau of Labor Statistics released employment data showing that Hispanic-Latino employment set a new record high in December, while the unemployment rate for this cohort fell to its lowest level on record. As CNSNews.com reported at the time…
MORE
.
—————————————————————————————
.
Christian Woman Awarded $21.5 Million After Employer Fired Her For Refusing To Work On Sundays – Daily Wire
A federal jury in Florida awarded a Christian woman $21.5 million in punitive damages this week, declaring that her employer, the Conrad Hotel, unjustly fired her when she refused to work on Sundays because of her Christian faith.
"Marie Jean Pierre worked as a dishwasher at the Conrad from 2006 to 2016," reports the Miami Herald. "The hotel knew about her involvement in the Soldiers of Christ Church that prevented her from working Sundays. But in 2015, her boss, kitchen manager George Colon, assigned her to work Sundays anyway."
Though Pierre managed the new schedule by trading shifts with her fellow co-workers for several weeks, her employer demanded that she show up regardless. Pierre refused to compromise her faith and he fired her.
When the Equal Employment Opportunity Commission issued Pierre a "right to sue" notice, she filed suit against the Conrad Hotel, managed by HEI Hotels & Resorts, alleging she had been unjustly fired for her religious beliefs…
MORE
.
—————————————————————————————
.
President Trump And Kim Jong Un To Hold Second Summit In Late February – Zero Hedge
.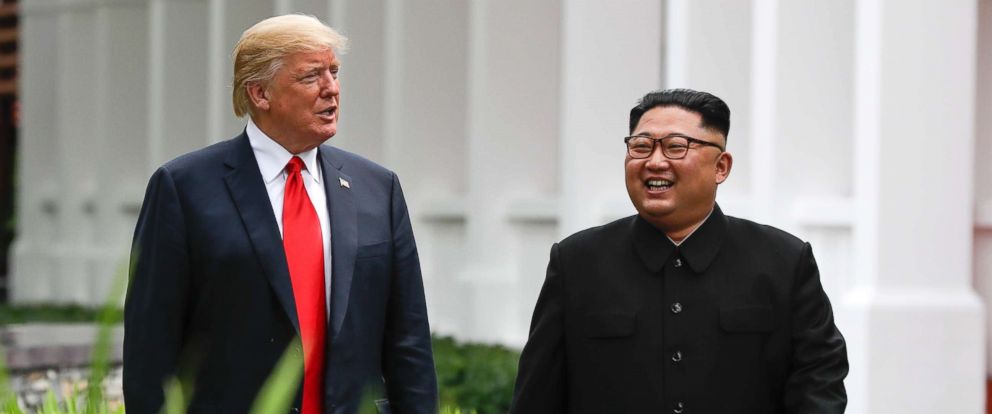 .
After months of waffling about the prospects of another summit between North Korean leader Kim Jong Un and President Donald Trump, the White House announced Friday afternoon that a meeting has finally been tentatively scheduled for late February, following a series of meetings involving North Korea's chief negotiator that culminated in meeting the president at the Oval Office.
Following the announcement, the White House said that it has continued to make progress with North Korea, though sanctions will remain intact.
According to the Associated Press, Gen. Kim Yong Chol, the lead negotiator for North Korea and a former spy chief, met with Secretary of State Mike Pompeo Friday…
MORE
.
—————————————————————————————
.
A Federal Appeals Court Just Took A Big Swing At Planned Parenthood – Daily Caller
The 5th U.S. Circuit Court of Appeals lifted an injunction forbidding Texas from stripping Planned Parenthood of Medicaid funds Thursday, while stridently criticizing the abortion provider for its rhetoric and medical practices.
"Planned Parenthood's reprehensible conduct, captured in undercover videos, proves that it is not a 'qualified' provider under the Medicaid Act, so we are confident we will ultimately prevail," Texas Attorney General Ken Paxton said in a statement after Thursday's ruling.
The case arose after a pro-life group called the Center for Medical Progress (CMP) released videos purporting to show Planned Parenthood violating medical and ethical standards codified in federal law and state regulations. Texas terminated its Medicaid provider agreement with Planned Parenthood shortly thereafter, citing infractions documented in the videos.
In turn, Planned Parenthood asked a federal court to restore its Medicaid funding. Thursday's ruling is especially striking for its numerous rebukes of Planned Parenthood…
MORE
.
—————————————————————————————
.
Trump And Pence Give Surprise Addresses At 46th Annual March For Life In Washington, DC- Washington Post
.

.
President Trump and Vice President Pence surprised thousands of protesters demonstrating against abortion on the Mall in Washington by making unannounced speeches at Friday's March for Life.
Pence and his wife, Karen Pence, strode onstage to the delighted cheers of a roaring crowd carrying antiabortion posters and banners. Then Pence concluded his remarks with a second surprise: Trump, who addressed the march by video feed last year, had again prepared videotaped remarks for the marchers.
"When we look into the eyes of a newborn child, we see the beauty and the human soul and the majesty of God's creation. We know that every life has meaning," Trump said in his video…
MORE
.
—————————————————————————————
.
Former Staffer Sues Rep. Sheila Jackson Lee For Firing Her After Rape Allegation – Roll Call
A former staffer for Rep. Sheila Jackson Lee claims in a new lawsuit that the Texas Democrat fired her after she planned to pursue legal action over an alleged rape by a former Congressional Black Caucus Foundation employee.
According to the court filings, the staffer alleges that Damien Jones, a former intern coordinator for the CBCF, raped her at his D.C.-area home in October 2015. The staffer, identified as Jane Doe in the lawsuit, was a 19-year-old intern for the CBCF when the alleged assault happened.
The lawsuit, filed on Jan. 11, details that the staffer reported the rape to police and told two members of Congress: Democratic Rep. Terri A. Sewell of Alabama and Jackson Lee. She did not pursue legal action at the time of the alleged rape.
The complaint says that after she told Sewell – a distant relative of Jane Doe's mother – Sewell called Jane Doe's mother without her permission…
MORE
.
—————————————————————————————
.
Senator Ben Sasse Blasts Leftist Assclowns Kamala Harris And Mazie Hirono For Their Anti-Catholic Bigotry In Floor Speech – PJ Media
.

.
Nebraska Senator Ben Sasse delivered a fiery speech on the floor of the Senate Wednesday, rebuking his colleagues who have tried in recent months to impose religious tests for nominees to the federal judiciary.
The junior senator from the Cornhusker State also introduced a resolution reaffirming the Constitution's religious liberty protections.
"I want Senators to unanimously reaffirm our oath of office to a Constitution that rejects religious bigotry," Sasse said. "It is useful to regularly remind ourselves that Americans are a First Amendment people. Each of the five freedoms in the First Amendment: speech, press, religion, assembly, protest, they define who we are."…
MORE
.
—————————————————————————————
.
State Department Finds A Bunch Of Money, Recalls Furloughed Employees – Fox News
The State Department announced Thursday that it has found funding to recall most of its furloughed employees who have gone without pay since the start of the government shutdown last month.
In a statement posted on the State Department's website, Deputy Under Secretary for Management Bill Todd said the government is making additional funding available to pay the salaries of employees and expects most employees to be back at work starting Jan. 22, with overseas workers starting back January 20.
"As a national security agency, it is imperative that the Department of State carries out its mission," Todd said in his statement. "We are best positioned to do so with fully staffed embassies, consulates, and domestic offices."
He added: "Recognizing the increasing hardship to employees caused by the ongoing lapse in appropriations, the Department is taking steps to make additional funds available to pay employee salaries."…
MORE
.
—————————————————————————————
.
Drug Smugglers Bring 700 Lbs Of Cocaine Into U.S., Then Flee Into Mexico Across Border With No Physical Barrier – Washington Examiner
.

.=
Border Patrol agents said they confiscated more than 700 lbs. of cocaine on Thursday just miles from the Rio Grande river.
Border Patrol agents say that this particular portion of the border is especially high in illegal crossing, including by drug smugglers, due to a lack of physical infrastructure to act as a barrier on the border.
Customs and Border Protection said the suspects were seen loading "bundles of narcotics" into an off-road-style utility vehicle outside of Garciasville, a city in Texas up against the river. The suspects, apparently aware they had been seen, were able to "abruptly" drive the vehicle into the river and escape into Mexico, CBP said…
MORE
.
—————————————————————————————
.
Dipshit Injects Himself With His Own Semen To Treat Back Pain, Ends Up In Hospital – Circa
A 33-year-old man required medical treatment at a Dublin, Ireland, hospital after he repeatedly injected himself with his own semen in an unusual attempt to treat his lower-back pain.
The man, after injecting the semen in his arm, developed a subcutaneous abscess on his right arm, where he had been injecting himself on a monthly basis for a year and a half. A radiograph also revealed excess water under his skin.
An intravenous antimicrobial drip to treat the problems was started immediately. The man's back pain improved during his hospital stay, but he opted to discharge himself (from the hospital) without allowing doctors to make an incision to drain the "local collection."
The case was revealed in a report published by the Irish Medical Journal titled 'Semenly' Harmless Back Pain: An Unusual Presentation of a Subcutaneous Abscess. Dr. Lisa Dunne of Adelaide and Meath Hospital in Tallaght was the author of the report and concluded that this was the first case of "intravenous semen injection" found in medical literature…
MORE
.
—————————————————————————————
.
Dog Accidentally Runs Half-Marathon After Being Let Out For Pee, Finishes 7th – Sport Bible
.

.
Imagine training for months and months for a gruelling, 13.5 mile marathon to be beaten by Ludivine, the two-and-a-half year old Bloodhound.
Well that's what happened in the Elkmont Trackless Train Half Marathon in Canada, when a hound decided to join in the fun after being let out for a wee-wee. He crawled under the garden fence, ran towards the start-line and well, the rest is history.
Ludivine, who eventually finished seventh in the race, even stopped at the two-mile point to sniff a dead rabbit. It is also believed that the dog went off track on a number of occasions, including the moment he played with a herd of cows. THIS ACTUALLY HAPPENED. That didn't stop him from securing a respectable position, though…
MORE
.
—————————————————————————————
.
Former Regional Director For Fake Hispanic Beto O'Rourke Accused Of Rape – Daily Wire
The man who acted as former Congressman Beto O'Rourke's regional political director for O'Rourke's Texas senatorial campaign against Senator Ted Cruz (R-TX) has been accused of rape by a former intern for the Congressional Black Caucus Foundation.
As Buzzfeed News reports, the young woman was 19 when the alleged rape by Damien Jones, who served as the CBCF's intern coordinator, occurred in 2015. The woman initially eschewed legal action against Jones, although she reported the alleged rape to police and others, including Rep. Terri Sewell, her former boss.
But later, while working for Texas Rep. Sheila Jackson Lee, the chair of the board of CBCF, the woman changed her mind and wanted to initiate legal action, according to Buzzfeed.
The woman says that in March 2018, she informed Jackson Lee's chief of staff, Glenn Rushing, about the alleged rape and requested a meeting with Jackson Lee about it, but that never eventuated. She claims that several weeks after her request she was fired…
MORE
.
—————————————————————————————
.
Trump Tells Pelosi Her Trips Are Postponed Due To Shutdown Unless She Flies Commercial – Zero Hedge
.

.
Just one day after Speaker Pelosi chose to exercise her right to not invite the President to give his "State of the Union" address, Trump has responded. In a letter to Nancy Pelosi, President Trump explains that he will be postponing her trip to various foreign countries due to the shutdown.
Dear Madame Speaker:
Due to the Shutdown, I am sorry to inform you that your trip to Brussels, Egypt, and Afghanistan has been postponed. We will reschedule this seven-day excursion when the Shutdown is over. In light of the 800,000 great American workers not receiving pay, I am sure you would agree that postponing this public relations event is totally appropriate…
MORE
.
—————————————————————————————
.
Southern Poverty Law Center Slapped With Racketeering Suit Over 'False Hate Group Designation' – Law & Crime
The Center for Immigration Studies (CIS) has filed a lawsuit against the Southern Poverty Law Center (SPLC), claiming that SPLC operators Richard Cohen and Heidi Beirich have violated the Racketeer Influenced and Corrupt Organizations Act (RICO) by "falsely designating CIS as a hate group."
CIS describes itself as "an independent, non-partisan, non-profit, research organization" that "pursue[s[ a single mission – providing immigration policymakers, the academic community, news media, and concerned citizens with reliable information about the social, economic, environmental, security, and fiscal consequences of legal and illegal immigration into the United States."
The SPLC, on the other hand, describes itself on its website as "dedicated to fighting hate and bigotry and to seeking justice for the most vulnerable members of our society. Using litigation, education, and other forms of advocacy, the SPLC works toward the day when the ideals of equal justice and equal opportunity will be a reality."…
MORE
.
—————————————————————————————
.
Trump Calls For Major Expansion Of U.S. Missile Defense – Washington Times
.

.
President Trump called for a major buildup of U.S. missile defense systems Thursday, saying the nation faces increased threats from Iran, Russia, North Korea and China.
In an address at the Pentagon, Mr. Trump outlined six major changes to U.S. missile defense, including prioritizing the defense of Americans "above all else."
"As president, my first duty is the defense of our country," Mr. Trump said. "I will accept nothing less for our nation that the most effective, cutting-edge missile defense systems."
He said the new plan will include an emphasis on space-based defense technology and 20 new above-ground interceptors in Alaska to detect foreign missiles. He called it a program "that can shield every city in the United States."…
MORE
.
—————————————————————————————
.
Ohio Hospital Says Doctor May Have Killed 27 Patients By Overprescribing Painkillers – Circa
A cold-case homicide unit is investigating a case involving a doctor accused of ordering potentially fatal doses of pain medication to patients who were near death and receiving intensive care.
Mount Carmel Health, based in Columbus, Ohio, said in an email Tuesday, "our employees are understandably shocked and disappointed by this doctor. That said, the professionals at Mount Carmel chose healthcare because they are passionate about healing the sick and saving lives. In system-wide meetings today, employees are showing pride in our overall mission, determination to do the best they can, and resilience in the face of tragedy."
Law firm Leeseberg and Valentine filed a wrongful death lawsuit on Monday against Mount Carmel Health System and Dr. William Husel, as well as a pharmacist and nurse, alleging they administered a lethal dose of fentanyl to Janet Kavanaugh, 79, who died Dec. 11, 2017.
Husel was unable to be reached at his home or by email…
MORE
.
—————————————————————————————
.
Report: Top FBI, DOJ Officials Knew Early On That Steele Dossier Was Clinton-Connected Oppo Research – CNS
.

.
In a heated exchange with CNN's Chris Cuomo Wednesday night, President Trump's lawyer Rudy Giuliani said the Trump team decided six weeks ago to stop answering questions from Special Counsel Robert Mueller, given the "very disturbing" way Mueller's team has conducted itself.
Among other concerns, Giuliani pointed to a new report involving Andrew Weissmann, one of Mueller's top deputies.
The report says Weissmann was among the senior FBI and Justice Department officials who knew early on – before the FISA court got involved – that the Steele dossier was opposition research connected to the Clinton campaign…
MORE
.
—————————————————————————————
.
West Virginia Republicans Unveil Plan To Give $10 Million For Trump's Wall – The Hill
Three Republican lawmakers in the West Virginia House of Delegates are proposing that the state put $10 million toward President Trump's long-sought border wall.
Dels. Caleb Hanna, Patrick Martin and Carl Martin announced the proposal on Tuesday, saying that $10 million from the state's nearly $200 million surplus could assist Trump's efforts to construct a wall along the southern border.
"West Virginians support our President and the wall," Carl Martin said in the news release. "They're sick of seeing Washington politicians sit on their hands while drugs and criminals pour over our border. It's time for the states to stand up and do what they can to support our President in his fight to protect innocent Americans."
Hanna previewed the formal announcement while appearing on "Fox & Friends" Tuesday morning. He said in a statement afterward that the scheme is "is no different than sending our National Guard to the border or overseas to protect U.S. interests."…
MORE
.
—————————————————————————————
.
Theresa May Survives No-Confidence Vote Following Fake Brexit Defeat – USA Today
.

.
British Prime Minister Theresa May comfortably survived a "no-confidence" vote in her government Wednesday following a stinging defeat in Parliament over her Brexit deal to leave the European Union. The result means she stays in power for now.
May won the attempt to oust her from power by 325 to 306 votes. The motion was called by opposition parties attempting to break a deadlock in Parliament over the deal May negotiated with the EU to leave the bloc. Defeat would have likely led to her resignation and the triggering of a general election within weeks.
She now has until Monday to devise a new Brexit plan acceptable to lawmakers. However, her opponents have not ruled out calling further no-confidence votes…
MORE
.
—————————————————————————————
.
Wisconsin Man Stabs Woman In Wheelchair 116 Times; Says 'Jesus Forgives Me' – Fox News
A Wisconsin man stabbed a wheelchair-bound woman 116 times and said "Jesus forgives me," a criminal complaint revealed.
Kehinde Afolayan, 31, was arrested and charged with first-degree homicide, use of a dangerous weapon on Tuesday following the murder of Deborah Lynch, 62, who was found with multiple stab wounds throughout her body, FOX6 reported.
A witness told police he saw Afolayan stabbing Lynch while she was sitting in a wheelchair in her apartment in South Milwaukee. He identified Afolayan as "someone whom, in the past month, he had seen getting the victim's mail from her mailbox."
Yvonne Lytge also told FOX6 she witnessed Lynch struggling in the apartment the night of the attack.
"I started pounding on the door and she said 'back door.' I was focused on him, but I did see a cut on her shoulder…