Unbelievable: Ted Cruz Campaign Sends Out Personal "Shaming Letters" To Iowa Voters – Conservative Treehouse
It has now been confirmed – The photograph of Ted Cruz campaign shaming letters is legit (see below). The letters are officially from the Ted Cruz campaign.
.
Cruz spokesman Rick Tyler confirmed to IJ Review that the mailer was theirs in a phone call Friday evening, saying that the targeting had been "very narrow, but the caucuses are important and we want people who haven't voted before to vote." (link)
.

.
The personalized letters target individual Iowa voters and identifies them as having failed to vote in prior elections. They are admonished and then encouraged to vote this year. In addition the letters identify the neighbors of the voter, and provides their voting history.
The text reads:
.
"You are receiving this election notice because of low expected voter turnout in your area. Your individual voting history as well as your neighbors' are public record. Their scores are published below, and many of them will see your score as well. CAUCUS ON MONDAY TO IMPROVE YOUR SCORE and please encourage your neighbors to caucus as well. A follow-up notice may be issued following Monday's caucuses".
.

.
In an effort to shame the recipient, the notice also informs the targeted voter their neighbors have also been notified of the recipients poor voting record.
How the Cruz Team would think a public shaming campaign is a good idea is just staggeringly unbelievable.
The campaign scheme was exposed via Twitter where "Tom Hinkeldy, a resident of Alta, Iowa, tweeted a photo (which was later deleted because it included his personal address) on Friday evening of a mailer Sen. Ted Cruz's campaign sent addressed to his wife, Steffany" – link –
Word spread rapidly.
————————————————————————————————–

Hey @tedcruz your brilliant public shaming campaign has inspired me to caucus on Monday… For @realDonaldTrump
10:30 PM – 29 Jan 2016
————————————————————————————————–
The first name on the mailer list matches the name on the envelope at the top of the page. The envelope also has a returned address as "Paid for by Cruz for President", the official campaign name of Ted Cruz's presidential campaign (not a super-pac):
.

.
Another Iowan, Braddock Massey, tweeted a photo of the mailer he received:
————————————————————————————————–
RBe
@RBPundit
@Braddock_Massey Black out the address and resend!
————————————————————————————————–
Braddock Massey
@Braddock_Massey
@RBPundit pic.twitter.com/FBjxaipH9p
11:29 PM – 29 Jan 2016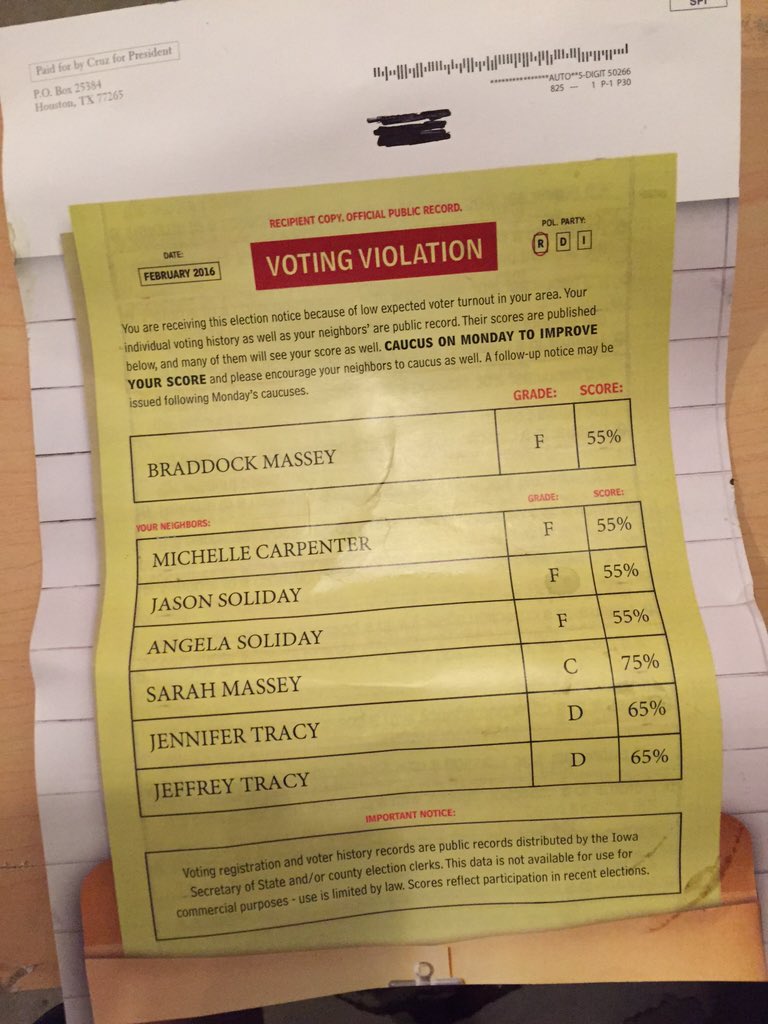 ————————————————————————————————–
This has the very real potential to be a massive fail and seriously backfire against the Ted Cruz campaign. He might have just given Marco Rubio a considerable gift with the Iowa election only two days away.
From the candidate who prefers to keep his own records, well,… sealed.
UPDATE 5:00am: It looks like Howie might have found the trail, via a professor in Northern Iowa named Christopher Larimer. Describing a previous stunt like this in Alaska. As outlined in a 2014 PBS article:
.
[…] "Why would they think that shaming would make people comply?"

Because, well, it does. That's according to Chris Larimer, associate professor of political science at the University of Northern Iowa. And he's done the research to prove it.

"We found that when you make people aware of the norm of voting and that somebody else is going to observe whether or not you vote, people are more likely then to vote," he said.

The letter from the so-called Alaska State Voter Project is nearly identical, word for word, to one that Larimer and other researchers tested in Michigan, right down to the typography and punctuation. In that 2006 research, Larimer and colleagues sent voters one of four different letters.

The softest message just urged people to do their civic duty and vote. The most aggressive letter matched the Alaska mailer. It included the addressee's voting history as well as those of their neighbors, and contained something of a threat by promising a follow-up letter to show the results of the upcoming election.

Larimer says they got complaints, but the technique worked quite well. (read more)
.
That emboldened segment describes the current Cruz Campaign mailer 100%. Also, Chris Larimer is noted in this recent Texas Tribune article about the controversial debate:
.
[…] For Cruz, the No. 2 candidate in many polls, Trump's snub could make him the center of action at the Iowa Events Center, a role that comes with both risks and rewards.

"If Trump's not there, it affects the strategy other candidates take toward Cruz," said Christopher Larimer, a political science professor at the University of Northern Iowa. "Do they treat Cruz like the frontrunner, or do they talk about Trump?"

At the same time, Larimer added, the debate could be a "lost opportunity" for Cruz to challenge Trump on his conservative credentials in what's likely their last meeting before the caucuses. (read more)
.
Looks like another one of those ever brilliant political consultant types sold the Cruz campaign on a version of their already extensive "psychographic analytics". Wouldn't be surprised if billionaire Phd Robert Mercer, via Cambridge Analytica targeting – isn't involved in the engineering of this too.
.

.
UPDATE: Chris Larimer distances himself from this fiasco via the Washington Post:
————————————————————————————————–
Christopher Larimer
@chriswlarimer
The blogosphere rumor is completely false. I do NOT work for the Cruz (or any) campaign and have absolutely nothing to do with mailings.
2:13 PM – 30 Jan 2016
————————————————————————————————–
.
[…] "As a researcher who has done randomized field experiments with get out the vote mailings," Larimer wrote in an email, "what I can say is that mailings that call attention to an individual's vote history as well as that of their neighbors' have been shown to be effective in terms of significantly increasing voter turnout. We draw on norm compliance theory which suggests that publicizing behavior regarding a social norm increases the likelihood of norm compliance."

That was if the ad was crafted in a smart way. "The Cruz mailing is more negative than anything we have done and has the potential to elicit a negative response or what psychologists call 'reactance' or 'boomerang effect,'" warned Larimer. "The mailing also states that a 'follow up notice' will be sent following the caucuses on Monday. This is not possible as caucus turnout is private and maintained by the parties." (link)