.
'Gun-Toting Hippies' Greet Boulder 'Assault Weapons' Ban With Mass Noncompliance – Washington Times
.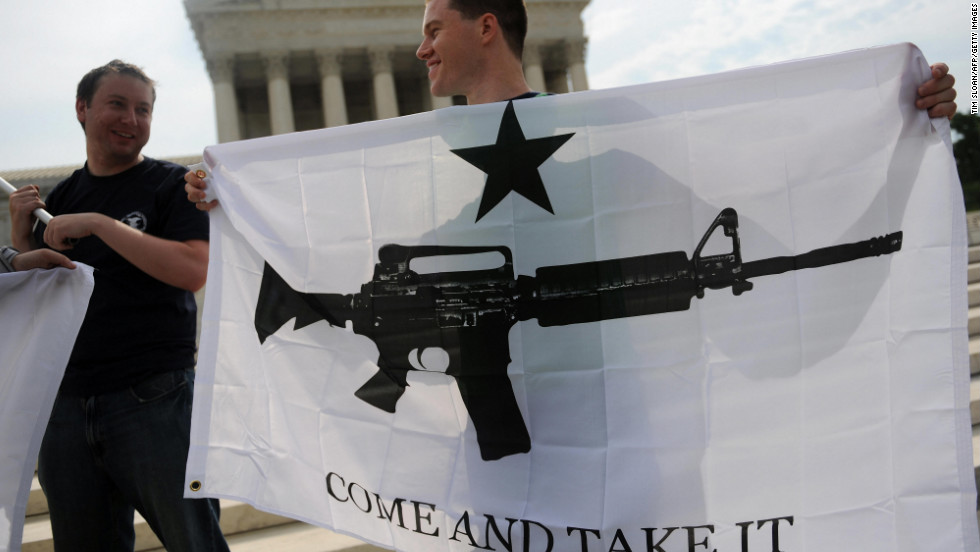 .
Boulder's newly enacted "assault weapons" ban is meeting with stiff resistance from its "gun-toting hippies," staunch liberals who also happen to be devoted firearms owners.
Only 342 "assault weapons," or semiautomatic rifles, were certified by Boulder police before the Dec. 31 deadline, meaning there could be thousands of residents in the scenic university town of 107,000 in violation of the sweeping gun-control ordinance.
"I would say the majority of people I've talked to just aren't complying because most people see this as a registry," said Lesley Hollywood, executive director of the Colorado Second Amendment group Rally for Our Rights. "Boulder actually has a very strong firearms community."…
MORE
.
—————————————————————————————
.
U.S. Payrolls Shatter Expectations, Surge 312,000 In December – Washington Examiner
U.S. employers added 312,000 workers in December as the economy benefited from retail hiring during the busy holiday shopping season and the country's economic expansion continued.
The increase reported by the U.S. Labor Department on Friday topped the average estimate of 180,000 from economists surveyed by FactSet and remained well above the level needed to keep up with inflation. The unemployment rate, however, inched up to 3.9 percent from a nearly 50-year low of 3.7 percent.
Retailers hired 24,000 new employees during the month as purchases in stores and e-commerce sites surged to the highest in six years. Between Nov. 1 and Dec. 24, retail spending grew 5.1 percent to $850 billion, according to a Mastercard SpendingPulse report released the day after Christmas.
Other notable hiring gains occurred in the healthcare industry, which added 50,000 workers, and bars and restaurants, which brought in 41,000 new employees…
MORE
.
—————————————————————————————
.
Donald Trump Trolls Fake Indian Elizabeth Warren With Mock 2020 Campaign Banner – Daily Mail
.

.
Donald Trump needled Sen. Elizabeth Warren on Thursday for claiming she is of Native American heritage. He shared a parody 'Warren 2020' sign that said 'Warren 1/2020th' on his Twitter account.
A DNA test the Democratic senator released in October found that she's between 1/64 and 1/1024 American Indian. Warren giddily released the results but conceded last month that she is 'not a person of color' in a tacit acknowledgement that prior claims about her alleged Native American heritage were overblown.
She is working hard to overcome the misstep before other possible challengers make up their minds about entering the 2020 race…
MORE
.
—————————————————————————————
.
Chicago: Democrat Alderman Edward Burke Charged With Extortion – Chicago Tribune
Longtime Ald. Edward Burke, one of Chicago's most powerful figures and a vestige of the city's old Democratic machine, has often been considered too clever and sophisticated to be caught blatantly using his public office to enrich himself.
But after years of dodging investigations while watching dozens of his colleagues hauled off to prison, Burke has been accused of crossing the line himself – and doing so in a quintessential Chicago way.
A federal criminal complaint unsealed Thursday charged Burke with attempted extortion for allegedly using his position as alderman to try to steer business to his private law firm from a company seeking to renovate a fast-food restaurant in his ward. The charge carries a maximum of 20 years in prison on conviction.
The complaint also alleged Burke asked one of the company's executives in December 2017 to attend an upcoming political fundraiser for "another politician."…
MORE
.
—————————————————————————————
.
China Lands Rover On Far Side Of The Moon – The Hill
.

.
A Chinese spacecraft on Thursday landed on the dark side of the moon, marking the first time in history a country has sent a rover to the part of the moon that perpetually faces away from the Earth.
The Associated Press reported that the China National Space Administration called the touchdown of the Chang'e 4 a "new chapter in human lunar exploration." The spacecraft touched down at 10:26 a.m. China time, and was announced to the public on a state news broadcast at noon.
Only China, the former Soviet Union and the United States have sent spacecraft to the surface of the moon, though previous explorations have landed on the near side that faces Earth…
MORE
.
—————————————————————————————
.
Mitt Romney Is An Idiot – John Nolte
As the freshman senator from Utah, Mitt Romney is a long way from the presidency. That has to be especially tough on a two-time presidential loser with You-Know-Who sitting in the Oval Office, a guy who took the brass ring by doing the exact opposite of what you did.
My opinion of Mitt Romney has changed over the years. When he lost the Republican nomination to John McCain in 2008, I thought he was a classy guy with a future.
When he lost the general election to Barack Obama in 2012, I thought he was a good man with a glass jaw.
When he repeatedly got on his high horse to sabotage Donald Trump's presidential campaign in 2016, I thought he was an opportunistic sleaze bag gorging on sour grapes and his own monstrously selfish sense of virtue.
But now, after reading his Washington Post jihad against Trump, I finally figured what Mitt Romney really is… an idiot…
MORE
.
—————————————————————————————
.
Apple Loses $450 Billion In Market Capitalization In Three Months – Business Insider
.

.
Apple's stock has been in freefall since since its 52-week high in October, and the unexpected sales warning from CEO Tim Cook has sped up the decline. The iPhone maker's share price fell by 9.96% on Thursday following a shock readjustment of its revenue forecast.
Just three short months ago, Apple was on a high as the most valuable company in the world. But since Apple hit a peak of $232.07 a share on October 3, giving it a market cap of $1.16 trillion, it has dropped to $142.19, wiping $450 billion from its value. Its market cap stood at $710.97 billion on Thursday, according to Macrotrends. Bloomberg pegs Apple's current market cap at $674.74 billion.
To put that into context, that $450 billion loss is significantly more than the value of Facebook, which is currently worth $383.76 billion, according to Macrotrends…
MORE
.
—————————————————————————————
.
California And Los Angeles County To Remove 1.5 Million Inactive Voters From Voter Rolls, Settle Judicial Watch Federal Lawsuit – Judicial Watch
Judicial Watch announced today that it signed a settlement agreement with the State of California and County of Los Angeles under which they will begin the process of removing from their voter registration rolls as many as 1.5 million inactive registered names that may be invalid. These removals are required by the National Voter Registration Act (NVRA).
The NVRA is a federal law requiring the removal of inactive registrations from the voter rolls after two general federal elections (encompassing from 2 to 4 years). Inactive voter registrations belong, for the most part, to voters who have moved to another county or state or have passed away.
Los Angeles County has over 10 million residents, more than the populations of 41 of the 50 United States. California is America's largest state, with almost 40 million residents.
Judicial Watch filed a 2017 federal lawsuit to force the cleanup of voter rolls (Judicial Watch, Inc., et al. v. Dean C. Logan, et al. (No. 2:17-cv-08948))…
MORE
.
—————————————————————————————
.
Border Agents Give Media An Education About The Border – Daily Wire
.

.
President Donald Trump held a surprise news conference on Thursday with members of the National Border Patrol Council (NBPC) who addressed the media about the realities that Border Patrol agents face every day on the southern border.
Trump started by congratulating Rep. Nancy Pelosi (D-CA) on becoming Speaker of the House before transitioning into talking about the border and turning the mic over to NBPC President Brandon Judd.
"I've been a Border Patrol agent for 21 years," Judd said. "I can personally tell you, from the work that I have done on the southwest border, that physical barriers, that walls actually work. You hear a lot of talk that there are experts that say that walls don't work…
MORE
.
—————————————————————————————
.
Afghan And Iranian Asylum Seekers Rampage Through German Town, Injuring 12 – PJ Media
The Bavarian town of Amberg is in shock after a group of asylum seekers from Afghanistan and Iran rampaged through the city Saturday night. Four attackers aged 17 to 19 randomly beat exiting passengers at the train station, and then moved to the city center to continue their rampage.
According to reports, the attackers shouted "kafir" (a derogatory term meaning "non-Muslim," "unbeliever") and "n*****" at some victims.
In all, 12 victims ranging from ages 16 to 42 needed medical attention. A 17-year-old victim was treated for severe head wounds.
German authorities announced that at least two of the attackers have already had their asylum claims rejected, and that at least one should have already have been deported. This has prompted German Interior Minister Horst Seehofer to demand changes to deportation laws, as Deutsche-Welle reports…
MORE
.
—————————————————————————————
.
Former Sanders Campaign Staffers Demand Candidate Investigate Incidents Of 'Sexual Violence,' 'Toxic Masculinity' On 2016 Campaign – Daily Wire
.

.
A group of former Bernie Sanders staffers are demanding a meeting with the Vermont senator and his "top political advisers" to discuss rampant "sexual violence" they say took place on the Sanders 2016 presidential campaign.
Politico reports that in recent weeks, staffers from Sanders' former campaign have been comparing experiences, and after a group discussion, drafted a letter to Sanders and several of his top 2016 advisers requesting time to "discuss the issue of sexual violence and harassment on the 2016 campaign, for the purpose of planning to mitigate the issue in the upcoming presidential cycle."
The request was meant to be private but news of the letter leaked late last week…
MORE
.
—————————————————————————————
.
Google Shifted $23 Billion To Tax Haven Bermuda In 2017: Filing – Reuters
Google moved 19.9 billion euros ($22.7 billion) through a Dutch shell company to Bermuda in 2017, as part of an arrangement that allows it to reduce its foreign tax bill, according to documents filed at the Dutch Chamber of Commerce.
The amount channeled through Google Netherlands Holdings BV was around 4 billion euros more than in 2016, the documents, filed on Dec. 21, showed.
"We pay all of the taxes due and comply with the tax laws in every country we operate in around the world," Google said in a statement. "Google, like other multinational companies, pays the vast majority of its corporate income tax in its home country, and we have paid a global effective tax rate of 26 percent over the last ten years."
For more than a decade the arrangement has allowed Google owner Alphabet (GOOGL.O) to enjoy an effective tax rate in the single digits on its non-U.S. profits, around a quarter the average tax rate in its overseas markets…
MORE
.
—————————————————————————————
.
Senate Confirms Dozens Of Stalled Trump Nominees Hours Before The 115th Congress Ends – Washington Examiner
.

.
The Senate confirmed dozens of stalled Trump administration nominees Wednesday night, just hours before the close of the 115th Congress. The list excluded federal judges despite an effort by Majority Leader Mitch McConnell, R-Ky., to secure a deal for those nominees with Minority Leader Chuck Schumer, D-N.Y.
In total, the Senate cleared 77 nominees by voice vote, among them 23 ambassadors to countries including Australia, Armenia, Yemen, Guyana, Kenya, and Bosnia and Herzegovina.
The Senate confirmed eight U.S. attorneys and eight U.S. marshals, a member of the Federal Maritime Commission, and two members of the Federal Communications Commission. The Senate confirmed James Carroll Jr. to be director of National Drug Control Policy…
MORE
.
—————————————————————————————
.
Ninth Circuit Finally Hands Trump A Big Win Against Youth's Global Warming Lawsuit – Daily Caller
The Trump administration's battle against a global warming lawsuit brought by 21 youths will continue into 2019 after a federal court handed the government a big win over the holiday season.
The Ninth Circuit Court of Appeals sided with the Department of Justice (DOJ) in a Dec. 26 ruling largely missed by major media outlets. The court granted DOJ's petition for interlocutory appeal that decreases the chances of the climate lawsuit going to trial anytime soon.
The three-judge Ninth Circuit panel is the very same one that in March 2018 ruled against Trump administration petitions for a writ of mandamus, which allows a higher court to overrule a lower court before a case is decided.
Environmentalists handling the case on behalf of youth activists immediately filed a petition asking the District Court of Oregon to restart trial proceedings in light of the appeals court ruling…
MORE
.
—————————————————————————————
.
Video Surfaces Of Washington Post Op-Ed Contributor Launching Shoulder-Fired Missile, Then Shouting "Death To America" And "Curse The Jews" – Conservative Tribune
.

.
Less than two months after he was given prominent op-ed space in the Washington Post, a video has surfaced of Houthi rebel leader Mohammad Ali al-Houthi launching a shoulder-fired missile and then reciting the Houthi slogan, which calls for "Death to America."
The Washington Post contributor chants, "Allah is the greatest. Death to America. Death to Israel. Curse the Jews. Victory to Islam." He has also taken to his unverified but media – and think tank – cited Twitter account to repeat the infamous Houthi slogan.
Ali Shihabi, the founder of the Arabia Foundation, a Washington D.C.-based Middle East think tank, confirmed to Conservative Review that it is indeed al-Houthi in the video. Shihabi tells CR that it is "documentary evidence of the type of leader" that the Saudi-led coalition in Yemen is up against, whom "many critics have ignored."…
MORE
.
—————————————————————————————
.
Trump's New Asylum Policy Will Help Block Illegal Immigration – Daily Signal
Secretary of Homeland Security Kirstjen Nielsen recently announced a significant policy change to stop illegal immigration.
After years of catch and release, loopholes, and poor enforcement, the Department of Homeland Security is moving to plug the holes in the U.S. immigration system, and especially the loopholes that surround the asylum system.
One of the most serious problems the U.S. faces in its immigration system is that when illegal immigrants cross the border, they can claim asylum in order to avoid quick deportation. This is an especially common tactic with illegal immigrants from El Salvador, Guatemala, and Honduras.
Less than 10 percent of these individuals, however, will end up qualifying for asylum.
But asylum often isn't the real objective: Those who manage to pass through the initial screening are often released into the U.S. This is made worse by various loopholes such as the Flores settlement and the Trafficking Victims Protection Reauthorization Act, which require unaccompanied children and adults with children to be released…
MORE
.
—————————————————————————————
.
Netflix Bows To Saudis, Removes Content At Request Of Kingdom – Zero Hedge
.

.
Netflix has removed content by American comedian Hasan Minhaj from being broadcast within Saudi Arabia at the "request" of the Kingdom.
In his Netflix-based news/comedy show, Patriot Act, Minhaj voiced his opinion about the death of Washington Post columnist Jamal Khashoggi, who is widely believed to have been murdered at the order of Saudi crown prince Mohammad bin Salman. Minhaj called the murder "…the most unbelievable cover story since Blake Shelton won sexiest man alive."
Minhaj also fleshed out political ties between the United States and Saudi Arabia, along with noting Saudi Arabia's involvement in Yemen and its push-back on women's rights advocates…
MORE
.
—————————————————————————————
.
Over 1,000 Cars Torched Across France As New Year's Eve Arrests Rise – The Local
France saw a jump in arrests on New Year's Eve as well as an increase in the number of cars torched by vandals, a ritual among revellers in the country's high-rise suburbs. The number of vehicles set alight on the night of December 31st climbed from 935 a year ago to 1,031, while arrests rose from 456 to 510, the interior ministry said on Monday.
Violence also marred celebrations in the Paris suburb of Champigny-sur-Marne, where two police officers were attacked by a large group of people at a party.
French President Emmanuel Macron took to Twitter to denounce the "cowardly and criminal lynching of police officers doing their duty" and warned that the culprits would be "found and arrested".
"I regret that incidents like yesterday can happen but overall people were able to enjoy New Year's eve in a peaceful manner," Interior Minister Gerard Collomb said Monday.
Some 140,000 security and emergency forces were deployed across France on New Year's Eve…
MORE
.
—————————————————————————————
.
Assclown Gets Caught In His Own Steering Wheel After Fleeing Scene Of Car Accident – Fox News
.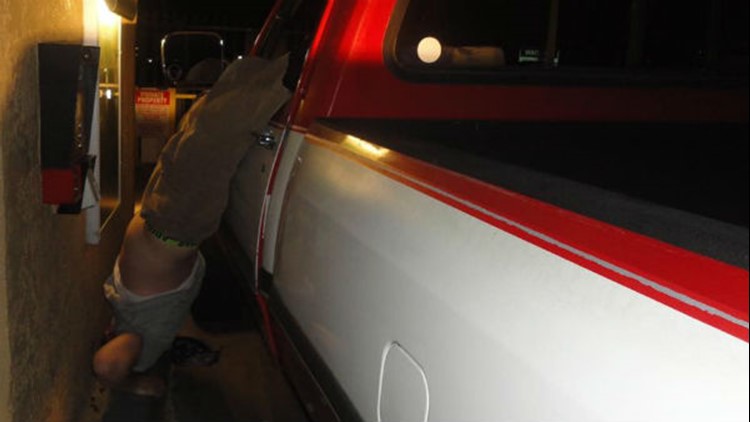 .
A California man trying to flee the scene of a car accident Monday ended up waiting around for police anyway – but only after his foot got stuck in his vehicle's steering wheel, police said.
A picture tweeted by the California Highway Patrol showed the unidentified man, who was later arrested, dangling upside down outside his white and red pickup truck. He had been trying to enter a code to enter a gated community near Cathedral City, according to KABC-TV.
"When your DUI & fleeing from a Hit&Run. Then you lean over to the gate keypad, you fall over & your foot gets stuck in the steering wheel," police said in a tweet. "Because [you're] unable to help yourself, Cathedral City PD arrive, assist & take you to jail for DUI & Hit&Run."…
MORE
.
—————————————————————————————
.
Palestinian-American Sentenced To Life In Prison By Palestinian Authority For Selling Property To Jews – Jerusalem Post
A Palestinian court in Ramallah sentenced a Palestinian-American to life in prison with hard labor on Monday, after finding him guilty of selling a house in the Old City of Jerusalem to a Jewish Israeli organization.
The man was identified as Issam Akel, a resident of east Jerusalem, who was arrested by Palestinian Authority security forces in October. The story of the incarceration of the 53-year-old Akel, a U.S. citizen, was first reported by The Jerusalem Post earlier this year.
The Palestinian Grand Criminal Court found Akel guilty of "attempting to cut off a part of the Palestinian land and adding them to a foreign country." The verdict was issued after a one-week trial.
Akel worked for one of the PA ministries and a hospital in east Jerusalem, according to Palestinian sources. It remains unclear how he was arrested by PA security forces. As a resident of east Jerusalem, he holds an Israeli ID card that gives him immunity against being arrested or prosecuted in a PA court…
MORE
.
—————————————————————————————
.
Mayor Sadiq Khan Slammed For Spending £2.3 Million As He Turned London's New Year Fireworks Show Into An EU Tribute – The Sun
.

.
London mayor Sadiq Khan has been blasted for spending £2.3million on his pro-EU New Year extravaganza. The London Eye was turned into the EU flag by blue and yellow fireworks.
The slogan "London is Open" was repeated over loudspeakers in seven languages, with Remainer Mr Khan saying he wanted to highlight our ties with Europe.
Songs such as We Are Your Friends, Stay and Don't Leave Me Alone accompanied the fireworks.
Critics last night said the money should have been spent tackling violent crime in the capital, which has soared under Mr Khan's watch. Tory Charlie Elphicke warned: "Sadiq Khan needs to respect the referendum and move on to focus on London's spiralling crimewave…