Virginia TV Reporter, Photographer Killed In Shooting During Live Interview – CNN
A manhunt is underway for a gunman who fatally shot a local news reporter and photographer on live television during an interview outside Moneta, Virginia, on Wednesday morning.
Alison Parker was interviewing a woman at approximately 6:45 a.m. when shots rang out. Both women screamed.
As the camera fell to the ground, the audience caught the briefest glimpse of a man who appeared to pointing a gun toward the downed cameraman.
The station cut away to a shocked anchor, Kimberly McBroom, back in the studio.
.

.
Parker, 24, and Adam Ward, 27, were killed in the shooting at Bridgewater Plaza near Moneta, the station reported later.
The gunman is believed to have fired six or seven times, WDBJ General Manager Jeff Marks said.
He remains on the loose. The Bureau of Alcohol, Tobacco, Firearms and Explosives is participating in the manhunt.
.

.
"We do not know the motive. We do not know who the killer is," Marks said. "We do know the Franklin County sheriff… they are working very diligently to track down both the motive and the person responsible for this terrible crime against two fine journalists," he said during the station's coverage of the shooting.
The station does not believe that the interview subject was injured, Marks said.
"Our hearts are broken," Marks said on air, explaining that Parker's and Ward's colleagues are "holding back tears."
————————————————————————————————————————–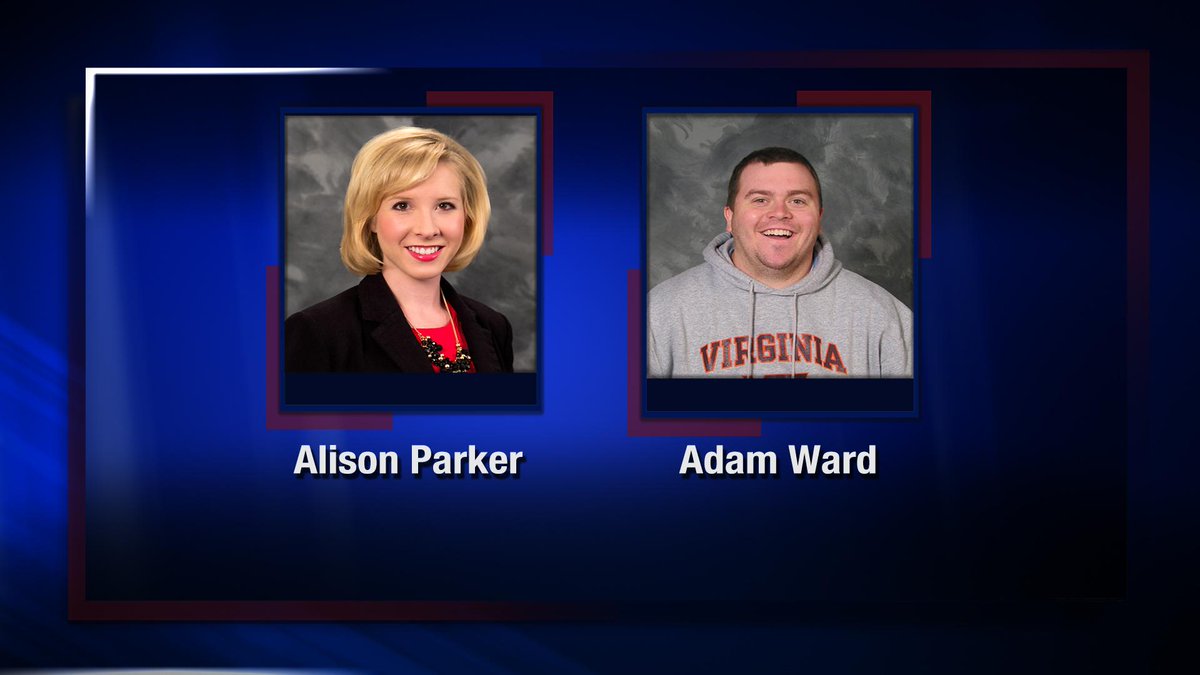 We love you, Alison and Adam.
9:10 AM – 26 Aug 2015
————————————————————————————————————————–
McBroom described Parker as a "rock star" and said, "You throw anything at that girl and she could do it."
Another journalist at the anchor's desk said Ward was engaged to be married to morning show producer at WDBJ and Ward recently told her, "I'm going to get out of news. I think I'm going to do something else."
Parker is the morning reporter for the Roanoke station and a native of Virginia, having spent most of her life outside Martinsville. She started with WDBJ as an intern, her biography on the station's website says.
She previously worked with another CNN affiliate, WCTI, in Jacksonville, North Carolina, near Marine Corps Base Camp Lejeune.
She is a graduate of James Madison University's School of Media Arts and Design in Harrisonburg.
————————————————————————————————————————–
.
Related article:
.
WDBJ Shooting Suspect Is Former Reporter Bryce Williams – WWBT
.

.
The suspect in the deadly shooting of a WDBJ7 reporter and photographer on live television on Wednesday morning is a disgruntled former reporter at the station, according to sources.
Vester Lee Flanagan, who reported under the name Bryce Williams at the station, is currently on the loose. Virginia State Police say there is no pursuit underway, despite multiple media reports.
Investigators released a photo of a suspect in the shooting deaths of a reporter and photographer during a live report on Wednesday morning.The photo is a still frame from the video of the live report and provides a grainy image of the alleged gunman who killed the Roanoke TV reporter and photojournalist during a live television interview on Wednesday morning.
.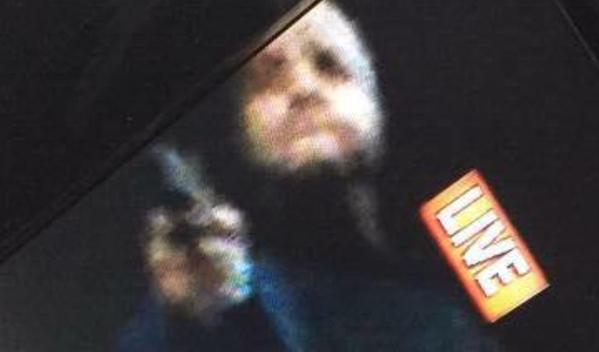 .
————————————————————————————————————————–
.
Update:
.
Williams posted a POV video clip on twitter of the shooting.
.

.
His account has since been suspended.
The following is his final text tweet.
————————————————————————————————————————–
Bryce Williams
@bryce_williams7
I filmed the shooting see Facebook
————————————————————————————————————————–
.
————————————————————————————————————————–
.
Related articles:
.
Suspected Gunman Who Killed Virginia TV Crew In Critical Condition After Shooting Himself – WATE
The latest on the fatal on-air shooting of two TV station employees in central Virginia (times are local):
12:34 p.m.
The Virginia State Police released the following statement on the shooting suspect, Vester Flanigan, in police custody:
Shortly before 11:30 a.m., Virginia State Police spotted the suspect vehicle headed eastbound on Interstate 66. With emergency lights activated the Virginia State Police trooper initiated a traffic stop on the suspect vehicle. The suspect vehicle refused to stop and sped away from the trooper. Minutes later, the suspect vehicle ran off the road and crashed. The troopers approached the vehicle and found the male driver suffering from a gunshot wound. He is being transported to a nearby hospital for treatment of life-threatening injuries.

The male driver is believed to be the same male subject who shot three people this morning in Franklin County during a television news interview.
—
12:11 p.m.
The man suspected of killing two WDBJ7 employees Wednesday morning shot himself on I-66 in Faquier County, according to State Police.
The suspected shooter has been identified as Vester Lee Flanigan, also known as Bryce Williams. He is still alive and is in critical condition, according to WDBJ. Previously, state police said Flanigan was dead.
.
————————————————————————————————————————–
.
Here's What We Know About Vester Lee Flanagan – Daily Caller
The man who is accused of shooting a WDBJ reporter and cameraman on live TV and then himself Wednesday morning was fired from the news station around two years ago and reportedly sued another TV station for racial discrimination.
Vester Lee Flanagan II, who went by the name Bryce Williams on air, filmed himself fatally shooting cameraman Adam Ward and reporter Alison Parker while they were interviewing someone for a live television shoot near Roanoke, Va.
The 41-year-old Flanagan reportedly sent a series of tweets claiming that Parker used racial epithets while at work. He also complained of being fired unfairly.
According to Flanagan's LinkedIn profile, he worked at WDBJ between March 2012 and Feb. 2013. He was also a news anchor and reporter at WNCT in Greenville, N.C. between Aug. 2002 and Nov. 2004. Prior to that, Flanagan worked at Tallahassee's WTWC and Savannah's WTOC.
His LinkedIn profile also shows entries for jobs at KMID in Midland/Odessa, Texas and KPIX in San Francisco.
Flanagan also posted a video on YouTube of clips from his various news segments over the years. The video begins with Flanagan reporting from a gun range.
WATCH:
.

.
According to ABC News, a person going by the name Bryce Williams sent the news organization a 23-page fax Tuesday. The document has been turned over to the FBI, they reported.
Picture of suspected #WDBJ shooter Vester Flanagan who on-air went by Bryce Williams: http://t.co/Psk0FIEp31 pic.twitter.com/H3TfR2fKG8
Flanagan also reportedly filed a racial discrimination lawsuit after losing his job at WTCT.
He claims on his LinkedIn page to have graduated from San Francisco State University. A woman who appears to be Flanagan's sister appears to have attended the school as well. She thanked her brother and other family members in a dissertation posted online. The titled of the dissertation is "School Leaders and the Application of Discipline for African American and Latino Students."
.
————————————————————————————————————————–
.
Bryce Flanagan Says He Killed White Journalists To Avenge Charleston Church Victims, Part Of "Race War" – Weasel Zippers
Something tells me the media won't be playing up the race angle like they did in Charleston.
Via ABC News:
A man claiming to be Bryce Williams called ABC News over the last few weeks, saying he wanted to pitch a story, and wanted to fax information. He never told ABC News what the story was.

This morning, a fax was in the machine (time stamped 8:26 a.m.)almost two hours after the shooting. A little after 10 a.m., he called again, and introduced himself as Bryce, but also said his legal name was Vester Lee Flanagan, and that he shot two people this morning. While on the phone, he said authorities are "after me," and "all over the place." He hung up. ABC News contacted the authorities immediately and provided them with the fax.

In the 23-page document faxed to ABC News, the writer says "MY NAME IS BRYCE WILLIAMS" and his legal name is Vester Lee Flanagan II." He writes what triggered today's carnage was his reaction to the racism of the Charleston church shooting:

"Why did I do it? I put down a deposit for a gun on 6/19/15. The Church shooting in Charleston happened on 6/17/15…"

"What sent me over the top was the church shooting. And my hollow point bullets have the victims' initials on them."

It is unclear whose initials he is referring to. He continues, "As for Dylann Roof? You (deleted)! You want a race war (deleted)? BRING IT THEN YOU WHITE… (deleted)!!!" He said Jehovah spoke to him, telling him to act.

Later in the manifesto, the writer quotes the Virginia Tech mass killer, Seung Hui Cho, calls him "his boy," and expresses admiration for the Columbine High School killers. "Also, I was influenced by Seung-Hui Cho. That's my boy right there. He got NEARLY double the amount that Eric Harris and Dylann Klebold got… just sayin.'"

In an often rambling letter to the authorities, and family and friends, he writes of a long list of grievances. In one part of the document, Williams calls it a "Suicide Note for Friends and Family."

-He says has suffered racial discrimination, sexual harassment and bullying at work -He says he has been attacked by black men and white females -He talks about how he was attacked for being a gay, black man

"Yes, it will sound like I am angry… I am. And I have every right to be. But when I leave this Earth, the only emotion I want to feel is peace…"

"The church shooting was the tipping point… but my anger has been building steadily… I've been a human powder keg for a while… just waiting to go BOOM!!!!"
.

.