The Price Of Europe's Fecklessness – David P. Goldman
In Luis Bunuel's eponymous 1961 film, the young postulant Viridiana leaves her convent to claim her uncle's rural estate, and creates a refuge for local beggars. They ransack her house in a bachannalia staged to lampoon the Last Supper, and a couple of them rape her. The classic film should be mandatory viewing for European officials caught up in refugee euphoria. This is going to end very, very badly.
.


Luis Bunuel's lampoon of da Vinci's "Last Supper" in "Viridiana" (1961)
.
The Europeans, to be sure, are a pack of cynical hypocrites. If they had cared about Syrians, they might have sent a couple of brigades of soldiers to fight ISIS. But not a single European will risk his neck to prevent humanitarian catastrophe. The last time European soldiers got close to real trouble, in Srebrenica in 1995, Dutch peacekeepers stood aside while Bosnian Serbs massacred 8,000 Muslims.
The horror has now piled up on Europe's doorstep, thanks evidently to the skill of Turkish gangs who have turned the Turkey-to-Balkans smuggling route into a superhighway. Europe said and did nothing while the global refugee count exploded from 40 million in 2010 to 60 million in 2014, according to the UN High Commission on Refugees, but was shocked, shocked to find such people on its doorstep.
.
……………..
.
At this point the floodgates of European sympathy opened, and Germany declared that it would accept 800,000 fugitives, including many from the world's most brutal war zones. From a security standpoint it is foolhardy in the extreme: 250,000 people have died in Syria's civil war since 2011 because other people killed them, mostly with small arms or improvised explosives (such as the government's notorious "barrel bombs"). Such killing is a labor-intensive affair, and requires the participation of many thousands of killers. It is isn't only that ISIS (and other jihadists) are able to smuggle to Europe as many of their operatives as they care to, as ISIS itself purportedly boasts. The refugee population itself is flush with killers from both sides fleeing the war. The presence of small children does not obviate this; killers have families, too.
The Arab Gulf States accept very few Syrian refugees out of security concerns which are entirely legitimate. Thousands of Syrian migrants fought either with the Assad regime (allied to Iran, the nemesis of the Sunni Gulf States) or ISIS and al-Qaeda (which want to overthrow the Saudi monarchy).
The social pathologies that this brutal and brutalized population bring Europe will change Germany in a predictably nasty way. Even worse, the open door policy will attract an order of magnitude more such refugees, as the Interior Minister of the State of Bavaria, Joachim Herrmann, warned yesterday. To no avail: Germans have spent the past seventy years feeling badly about themselves and are determined to take this opportunity to feel good about themselves.
The refugees have given the Germans the sort of frisson of good feeling that one gets from adopting a stray puppy. This one redemptive act, they seem to believe, compensates for the country's criminal behavior during the middle of the past century. It is one thing to take in one stray, however, and quite another to find a pack of hungry dogs baying at one's door. At that point one calls the dog-catcher.
.

.
Syria's civil war was not an isolated occurrence: it was one of many fissures in an Islamic civilization which has ceased to function from the Indus River to the Meditarranean. There are 60 million refugees in the world, almost all of them within reach of Europe. Almost as many Afghan refugees have turned up on Europe's borders as Syrians, and an increasing number of Iraqis have joined the horde. At some point the Pakistanis and Bengladeshis will hear about the bounty of the Europeans and join in as well.
The prospective size of the migrant stream to Europe, including economic migrants as well as war refugees from Africa, probably exceeds 100 million, or two orders of magnitude larger than the already very large number that Europe has agreed to accept.
Europe will have scenes of horror on its border: barbed wire, tear gas, rubber bullets, malnutrition and epidemic disease in tent camps swollen by millions of desperate people. It will also have acts of terrorism by refugees already inside its borders protesting Europe's future refusal to accept more.
The immediate future in the Middle East does not point towards stability. The international recognition of Iran as a major regional power in the P5+1 nuclear deal will persuade the Sunni states to use whatever instruments are handy to contain Iranian power, including ISIS and assorted al-Qaeda affiliates in Syria, Iraq and Lebanon. Iran's $150 billion windfall under the nuclear deal will allow Tehran to increase its support for the Assad regime in Syria, for Hezbollah in Lebanon, for the Houthi rebels in Yemen, and other Shi'ite elements that it has cultivated as cat's paws. The Sunnis will respond in kind. Turkey, meanwhile, will redouble its efforts to crush the nascent Kurdish state emerging on its border in Iraq and Syria. Europe supported the P5+1 deal in part because it was the path of least resistance, and in part because it hoped to make money once the Iran sanctions were lifted. It will pay a big price for its sloth and cynicism.
The combination of sectarian and ethnic violence in a multi-player civil war will push even more desperate people towards Europe. And that does not taken into account the potential for instability among the 330 million people of Pakistan and Bengladesh, many of whom live under desperate circumstances already.
The refugee problem can't be solved at Europe's borders; it only can be solved before it happens, by stabilizing the situation on the ground. But that would mean containing Iran's ambitions and crushing the Sunni jihadists at the same time. Blood would spill, and not all of it local. The Europeans don't think the Middle East is "worth the bones of a single Pomeranian grenadier," as Bismarck said of the Balkans. They will pay for their fecklessness many times over.
.
————————————————————————————————————————–
.
Related articles:
.
Five Wealthiest Muslim Nations Refuse Syrian Refugees, Fear Terrorism – Gateway Pundit
On Monday Turkish Prime Minister Ahmed Davutoglu criticized the "ridiculously small" share of foreign refugees Europe was accepting, calling the continent the "Christian fortress of Europe."
350,000 migrants have fled to Europe this year.
Almost 50,000 asylum-seekers reached Greece in July alone.
But the wealthiest Muslim nations – Saudi Arabia, Qatar, Bahrain, UAE, Oman and Kuwait have accepted NO SYRIAN REFUGEES!
.

.
** The wealthiest Gulf nations argue that accepting large numbers of Syrian refugees is a serious threat to the safety of its citizens because terrorists could hide themselves among civilians.
The Huffington Post reported:
As the biggest refugee crisis since World War Two draws attention to the actions of European leaders, we forget how little Syria's Arab neighbours are doing to ease the hardships facing the displaced.

Amnesty International reports that "from Asia to Europe, large wealthy countries have turned their backs on Syrian refugees. All six Gulf countries, Russia and Japan have not offered to resettle a single refugee".

Despite their proximity to the war-stricken state, Qatar, United Arab Emirates, Saudi Arabia, Kuwait, Oman and Bahrain have not offered any resettlement places.

Saudi Arabia and the other Arab states along the Persian Gulf are not only close to Syria, but are very wealthy.
.
————————————————————————————————————————–
.
Obama Administration Looking At Ways To Ease Refugee Crisis – Politico
The Obama administration is "actively considering" ways to help ease the growing refugee crisis in the Middle East and Europe, an official confirmed Monday as pressure increased on the United States to take in more of the desperate migrants.
The White House gave no details as to what it may do, but the administration official suggested that the contours of the United States' refugee resettlement program, which as of now accepts up to 70,000 people a year, were being examined. If the administration decides to let in more refugees, it could prompt a backlash among Republicans who fear terrorists lurk among those seeking aid.
"The administration is actively considering a range of approaches to be more responsive to the global refugee crisis, including with regard to refugee resettlement," said Peter Boogaard, a spokesman for the White House's National Security Council. "We are also in regular contact with countries in the Middle East and Europe who have been greatly impacted by the increased refugee flows."
As the various conflicts in the Middle East, especially in Syria, have deepened, growing numbers of refugees are making their way toward Europe, an often-deadly journey that can involve crossing the Mediterranean.
In some places, such as Hungary, the refugees have been rebuffed, while other nations, especially Germany, have welcomed them. After some resistance, Britain announced Monday that it would take 20,000 refugees over the next five years. France, meanwhile, said it would take 24,000 under a European Union plan to divide up the responsibility for the migrants.
Increasingly, however, activists are calling on the United States to take in more refugees as well. In a statement last week, the International Rescue Committee said a recent commitment by the United States to accept between 5,000 and 8,000 Syrian refugees next year "can only be a first step." It also pointed out that "In almost five years of war, the United States has resettled a mere 1,541 Syrian refugees" to its shores.
Boogaard noted that the U.S. "has provided over $4 billion in humanitarian assistance since the Syrian crisis began, and over $1 billion in assistance this year. The U.S. is the single largest donor to the Syrian crisis."
It was not clear whether the Obama administration will decide to give more money, accept more refugees, or take a multi-pronged approach if it chooses to respond to the call by refugee advocates. (It's possible the administration will make an announcement about its plans in tandem with the upcoming visit this month by Pope Francis, who has urged Europe's Catholic parishes to shelter the migrants.)
And although the U.S. accepts more refugees annually than any other country, any likely increase in the number would barely be a drop in the bucket compared to the millions who have been displaced in the Middle East. Still, it could send an important signal at a time when many accuse the U.S. of doing too little to stop the horrors in Syria and elsewhere.
In May, a group of Senate Democrats urged the administration to accept 65,000 refugees from Syria. Democratic presidential candidate Martin O'Malley made a similar call last week.
But some Republicans, such as Rep. Michael McCaul of Texas, who chairs the House Homeland Security Committee, have slammed the idea, warning of the risk of terrorist infiltrators.
Still, refugee advocates note that people considered for resettlement to the U.S. must undergo a months or years-long application process that includes a strict background checks, one reason so few Syrians have been let in so far.
.
————————————————————————————————————————–
.
Syrian Refugees Chant 'F**k You!' And 'Allah Akbar!' In Hungary – Right Scoop
It is really difficult to get a handle on this immigrant crisis that is streaming into Europe. On the one hand, you have offensive stuff like this video which appears to be Syrian "refugees" chanting an epithet and "Allah Akbar":
.

.
But if you look at the mainstream media coverage of the event, it's all happy families and grateful women and old men.
Meanwhile, it appears that Hungary is terribly suspicious of the influx, given their past as the historical bulwark against Islamist aggression:
Hungary's prime minister, Viktor Orban, was criticized online and in person on Thursday for writing in a German newspaper that it was important to secure his nation's borders from mainly Muslim migrants "to keep Europe Christian."

"Those arriving have been raised in another religion, and represent a radically different culture. Most of them are not Christians, but Muslims," Mr. Orban wrote in a commentary for Frankfurt Allgemeine Zeitung, a German newspaper. "This is an important question, because Europe and European identity is rooted in Christianity."

"Is it not worrying in itself that European Christianity is now barely able to keep Europe Christian?" Mr. Orban asked. "There is no alternative, and we have no option but to defend our borders."

Before meeting with Mr. Orban on Thursday in Brussels, Donald Tusk, the president of the European Council, which represents European Union leaders, thanked him for securing Europe's borders, but took issue with the argument of Mr. Orban's opinion article.
It's rather shocking that things have gotten so bad that a faithless, multicultural Europe is chiding Hungary for sounding the alarm about maintaining their Christian identity.
On the other hand, many Muslims are actually converting to Christianity, but only for the sake of increasing their chances to be accepted as refugees:
Muslim migrants are converting to Christianity in their droves in the hope it will greatly improve their chances of winning asylum in Germany.

Hundreds of mostly Iranian and Afghan asylum seekers have changed faiths at the evangelical Trinity Church in a leafy Berlin neighbourhood alone.

Many claim true belief prompted the move, but the decision undoubtedly boosts their chances of being granted asylum by allowing them to claim they would face persecution if sent home.

Germany expected about 2,500 refugees to arrive in the country by early afternoon today after some 20,000 came in over the weekend.

Chancellor Angela Merkel today described the influx as 'breathtaking' and said it would change the make-up of country forever.

She said: 'What we are experiencing now is something that will occupy and change our country in coming years.'

She said Germany will ensure that those who need protection receive it, but that those who stand no chance of getting asylum will have to return to their homes swiftly.
We of course, welcome any sincere convert to the Kingdom of God, but only if they're sincere.
Meanwhile, Turkey is angrily denouncing Europe's reticence to accept refugees:
Turkish Prime Minister Ahmed Davutoglu on Sunday criticised the "ridiculously small" share of refugees the EU is accepting, labelling the continent the "Christian fortress Europe."

Turkey had taken more than two million people alone from war-torn Syria and Iraq, creating "a buffer zone between the chaos and Europe," Davutoglu wrote for Monday's edition of Germany's Frankfurter Allgemeine Zeitung daily.

He criticised as low the financial contribution the EU had made in support of Turkey's effort, according to excerpts pre-released in German by the conservative newspaper Sunday.

There seemed to be the "convenient reflex" to load the refugee problems on the shoulders of Turkey and to build a "Christian fortress Europe," he wrote.
How is that an epithet?!
And why isn't he criticizing the other of the 57 Muslim states who won't accept the refugees? Why does Europe have to take them?
But hey, don't worry, there are already calls to send them next door to you in America!!
.
————————————————————————————————————————–
.
Migrant Crisis: Pakistanis, Others Dumping IDs To Become 'Syrian' – Sydney Morning Herald
Hajdukovo, Serbia: A Pakistani identity card in the bushes, a Bangladeshi one in a cornfield. A torn Iraqi driver's licence bearing the photo of a man with a Saddam-style moustache, another one with a scarfed woman displaying a shy smile.
Documents scattered only metres from Serbia's border with Hungary provide evidence that many of the migrants flooding Europe to escape war or poverty are scrapping their true nationalities and likely assuming new ones, just as they enter the European Union.
Many of those migrants believe that using a fake document – or having none at all – gives them a better chance of receiving asylum in Germany and other western European states. That's because the surest route to asylum is to be a refugee from war and not an economic migrant fleeing poverty. That fact has led to a huge influx of people claiming to be Syrian.
Serbian border police say that 90 per cent of those arriving from Macedonia, about 3000 a day, claim they are Syrian, although they have no documents to prove it. The so-called Balkan corridor for the migrant flight starts in Turkey, then goes through Macedonia and Serbia before entering the European Union in Hungary.
"You can see that something is fishy when most of those who cross into Serbia enter January 1 as the date of their birth," border police officer Miroslav Jovic said. "Guess that's the first date that comes to their mind."
The chief of the European Union border agency Frontex said that trafficking in fake Syrian passports has increased.
"A lot of people enter Turkey with fake Syrian papers because they know that they'll get asylum in the EU more easily," Fabrice Leggeri said.
In Germany, customs have intercepted packages mailed to Germany containing Syrian passports, both genuine and counterfeit, the finance ministry said.
Syrians transiting through Serbia are concerned about the trend.
"Everyone says they are Syrian, even those who are obviously not," said Kamal Saleh, pointing towards a group of people camping in a Belgrade park. "That is not good for us Syrians because of limited number of people who will get the asylum."
Mr Saleh left everyone he loves in Syria – his wife, a baby boy and a shattered home in Damascus.
But, unlike many other migrants surging into Europe, he feels fortunate: he has a Syrian passport that he keeps carefully wrapped in a plastic folder and tucked inside his secret trouser pocket. The document, if genuine, should prove that he is a refugee fleeing war, and not a migrant fleeing poverty – a huge difference when asylum applications are considered.
His countryman, who identified himself only as Yemen, said: "There are too many people saying we are from Syria, but he is not from Syria. He is black and he said `I am from Syria.' Unbelievable. "
International aid agencies estimate that nearly 340,000 people have sought to cross EU borders since January. Two-thirds of the latest European arrivals are believed to be from Syria, Afghanistan, Iraq, Somalia and Eritrea – countries considered by international aid groups to be "refugee producing states," due to ongoing war or records of human rights abuses.
According to the 1951 Refugee Convention, those fleeing violence and persecution are entitled to basic rights under international law, including the right not to be immediately deported and sent back into harm's way. A migrant could be someone who chooses to resettle to another country in search of a better life and is eligible for deportation.
EU rules say the country where a migrant first arrives must process the asylum claim. But Germany last week abolished this obligation for Syrians, triggering a surge of people trying to travel through the EU to get there, adding that only refugees fleeing for their life, and not those fleeing poverty, will be allowed to stay.
Aware of the potential asylum rejection, many migrants fleeing poverty are dumping their identity documents.
Among those who had no second thoughts about ditching their true identity was Rafik from Pakistan.
"I'm leaving my old life behind," Rafik said, as he dashed under the fence into Hungary. He gave only his first name because he feared repercussions when applying for asylum in Germany. "I'm starting a new one."
"I don't have a passport, nor any other identity paper. Let's see which country they will choose to kick me back to."
.
————————————————————————————————————————–
.
Horror! Muslim "Refugees" Pull Hair And Throw Woman From Car, Throw Feces at Bystanders – Gateway Pundit
Europe in Crisis –
In Greece the Muslim migrants refused the bottled water distributed by workers because it had a Red Cross was on the box.
Such grateful people.
.

.
In Spain five people were injured during a riot by migrants.
————————————————————————————————————————–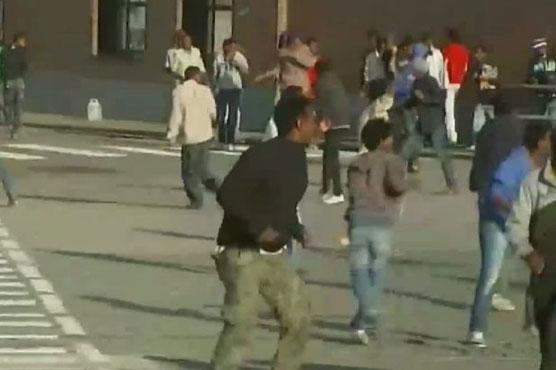 Five police injured in riot at Spanish migrant detention centre http://tw.gs/32U1Ax
8:14 AM – 7 Sep 2015
————————————————————————————————————————–
In Italy protesters rioted and slashed aide workers' tires.
.

.
And on the Italy-Austrian border Muslim migrants grabbed a woman by her hair and pulled her from her car.
Other refugees threw feces at bystanders.
Conservative Treehouse reported:

"Half an hour ago on the border between Italy and Austria i saw a huge crowd of immigrants. With all solidarity to people in difficult circumstances I have to say that what I saw arouses horror.This huge mass of people – sorry – but it's an absolute wilderness… Vulgar, throwing bottles, shouting "We want Germany". So what, Germany is now a paradise?

I saw an elderly Italian woman in a car that was surrounded by the immigrants. They pulled her by the hair out of the car and wanted to use it to go to Germany. They tried to topple the bus i was in. They threw feces at us, banging on the door for the driver to open it, spat on the glass. My question is- for what purpose? How do they want to assimilate in Germany? For a moment, i felt like in a warzone. I really feel sorry for these people, but if they would reach Poland – I do not think they would receive any understanding from us.

We spent three hours on the border, but failed to get through. The whole group was later transported back to Italy by the police. The bus is butchered, feces smeared, scratched, broken windows. And this is supposed to be an idea for the demographics? These big powerful hordes?

Among them there were almost no women and children – the vast majority was aggressive young men. Just yesterday I read the news on all the websites with real compassion, worried about their fate and today after what I saw I am just afraid. And I am happy they do not choose our country as their destination. We Poles are simply not ready to accept these people – neither culturally nor financially. I do not know if anyone is ready. A giant pathology is approaching the EU, one which we have never seen before. And sorry if anyone is offended by this entry.
.
————————————————————————————————————————–
.
Media-Created Story Behind 'Aylan Kurdi', Little Boy On Beach, Has Some Falsehoods… Update: Father Wanted To Go To Europe To Get Teeth Fixed – Weasel Zippers
He put a little face on the migrant/refugee crisis gripping Europe.
The story being pushed by the media is that Aylan died, washed up on the beach in Turkey trying to get to Greece, after fleeing terror in Syria. That his family had applied for them to get to Canada but that Canada had turned them down, leading them to this desperate journey in an unsafe dinghy. Aylan, his 5 year old brother, and their mother all died when the dinghy tipped.
Here's a sample, from the Independent:
There are no beaches in Kobani, just bombs. From the Syrian town besieged by Isis, Aylan Kurdi and his brother fled. For the three short years of his life, Aylan had apparently only known fear.

Europe, and the sanctuary it can offer those fleeing Syria's civil war, was the goal of Aylan's family. After travelling several hundred miles through Turkey, eventually the time came for Aylan to cross the two short miles on the Aegean Sea to the Greek island of Kos. Thousands of others have made similar crossings – it is considered less fraught with danger than other refugee routes.
But that story isn't quite true.
First, let's start with that his name isn't Aylan Kurdi, it's Alan Shenu. Aylan is a Turkish equivalent of the name Alan, and Shenu is the actual family name. Turkey called them 'Kurdi', because they were Kurds.
The extended family admitted on Thursday that they had not actually applied to Canada for asylum for the family, despite earlier reports claiming that was the case. So they had not in fact been rejected.
Further, the Kurdi, or more exactly, the Shenu family had been living in Turkey for three years, pretty much as long as Alan was alive, so no, he hadn't 'only known fear', he'd only known Turkey. They were not running from a war zone, at least not for the last three years, they were basically economic migrants because they wanted to leave Turkey. According to the Guardian, the deputy district governor Ekrem Aylanc told the BBC that the family had been in Turkey for three years before deciding they should move on to Europe.
Update:
The father had a job in Turkey but wanted to go to Europe to get his teeth fixed. According to the WSJ:
Ms. Kurdi, speaking Thursday in a Vancouver suburb, said that their father, still in Syria, had suggested Abdullah go to Europe to get his damaged teeth fixed and find a way to help his family leave Turkey. She said she began wiring her brother money three weeks ago, in €1,000 ($1,100) amounts, to help pay for the trip.
The WSJ also notes that Mr. Kurdi gave two different accounts of his rescue:
Mr. Kurdi gave different accounts of what happened next. In one interview, he said he swam ashore and walked to the hospital. In another, he said he was rescued by the coast guard.
.
————————————————————————————————————————–
.
Migrants Storm Police Lines And March Into Traffic On Hungarian Motorway Before Going To Sleep On The Road As Greek Wannabe PM Says Athens Should Not Send Message 'It's Good To Come Here' – Daily Mail
.

.
Hundreds of migrants broke through a police line near a refugee centre and marched against oncoming traffic on a motorway hard shoulder heading for Budapest.
A group of around 200 refugee walked some nine miles along the M5 motorway – and even set up camp for the night on the road – before police negotiators persuaded some to board buses to take them back to a nearby registration centre.
The migrants were part of a 1,000-strong crowd who had earlier pushed past a police line at a refugee collection point at Roszke – the first stop before people are brought in for registration.
Meanwhile, fresh clashes erupted between police and migrants on the Greek island of Lesbos last night, which authorities said was 'on the verge of explosion', as Britain and France pledged to accept tens of thousands more refugees from the record influx.
Evangelos Meimarakis, leader of Greece's hard-right New Democracy party which could return to power this month, said the country should strengthen its borders so as not to send 'the message that "it's good over here, come over".'
In Hungary, police earlier closed a section of the motorway near Roszke, close to the Serbian border, after the group climbed over a barrier and onto the motorway, which leads to the capital.
Clashes broke out between police and migrants, sick of the long delays at the overcrowded holding centres, with officers using pepper spray on some of the crowd.
There were scuffles throughout Monday as migrants chanting 'Freedom!' protested at having to wait for hours in the open for buses to take them for registration.
Some 300 migrants had escaped from the camp earlier, forcing the authorities to close the main border crossing with Serbia for around an hour, although they were later caught by police.
Around 167,000 migrants have entered Hungary illegally so far this year, with most crossing the border around the Roszke area.
Last Friday, among a raft of anti-migrant laws approved, Hungary's parliament voted to criminalise illegal border crossing, with the ruling expected to come into force September 15.
In Greece, a dozen or so coastguards and riot police armed with batons struggled to control some 2,500 migrants on Lesbos, screaming 'Keep back' at the crowds as they surged towards a government-chartered ship bound for Athens.
Europe's borders are near breaking point as authorities struggle to cope with influx of people fleeing war and poverty in the Middle East and Africa, with thousands making their way across the Balkans and the Mediterranean every day.
Lesbos, home to some 85,000 people which has seen more than 15,000 mainly Syrian migrants wash up on its shores, is one of several Greek islands struggling to cope with a wave of voyagers setting sail from the nearby Turkish coast for Western Europe.
'I stayed here eight, nine days – oh my God, I can't even remember,' said Aleddin, an engineering student who is hoping to join his brother in Germany.
'Some people have been here for 14 or 15 days. The government doesn't care.'
Hours after a Greek passenger ferry sent lifeboats to rescue 61 migrants off Lesbos, junior interior minister Yiannis Mouzalas told To Vima radio the port of 'Mytilene currently has 15,000-17,000 refugees… the situation is on the verge of explosion.'
More than 230,000 people have landed on Greece's shores this year, mostly refugees from wars and violence in Syria, Iraq and other Middle East or Asian countries.
Greek authorities have been overwhelmed by the influx and with few reception facilities set up, many refugee and migrant families have been sleeping outdoors, with minimal access to sanitation and medical care.
Greek conservative leader Meimarakis, whose New Democracy party is running neck-and-neck with the leftist Syriza party in polls ahead of the September 20 election, said the country should strengthen its border defences.
He said: 'As regards migrants, the borders must be better protected and Greece should not send the message that "it's good over here, come over".'
'Because whoever comes here, sends this message to those waiting,' he told Star channel.
As European Union leaders stepped up efforts to tackle the region's largest migrant crisis since World War II, France said it would take 24,000 more asylum-seekers under a plan to relocate 120,000 refugees from hard-hit frontline countries.
British Prime Minister David Cameron said his country would also do more, taking in 20,000 Syrian refugees from overflowing camps near the war-torn country's borders over the next five years.
Germany, Europe's top migrant destination, said it expected 10,000 more people to arrive on Monday after about 20,000 came at the weekend, most of them arriving on trains from Hungary via Austria to the southern city of Munich to cheering crowds.
Chancellor Angela Merkel, whose country is Europe's top refugee destination, hailed as 'breathtaking' the warm welcome given to the migrants and pledged billions more euros to house them, describing the crisis as a milestone for Germany.
'What we are experiencing now is something that will… change our country in coming years,' she said. 'We want the change to be positive, and we believe we can accomplish that.'
Europe's top economy predicts the crisis will cost 10 billion euros ($11 billion) this year and next. Merkel said the federal government would contribute six billion euros for new shelters, extra police and language training in 2016.
Meanwhile, on the bloc's borders, the poor and desperate kept coming, both along the land corridor through Turkey and the Balkans and on overcrowded boats in the Mediterranean on journeys that have left 2,800 dead or missing this year.
Libyan coastguards said they had rescued more than 120 migrants aboard a rubber dinghy en route to Europe, adding to the 366,402 people the United Nations estimates have crossed the Mediterranean this year – around half of them Syrians.
In Hungary, 200 migrants tramping along a motorway towards Budapest were persuaded to return to a registration camp for asylum-seekers after a crowd burst through a police line at a refugee collection point at Roszke near the Serbian border.
Turkey detained a fifth trafficking suspect over two boat sinkings last week, including one which claimed the life of three-year-old Syrian Aylan Kurdi, pictures of whose lifeless body washed up on a beach last month shocked Europe.
On Greece's border with Macedonia, tensions were running high as at least 8,000 people waited to enter the former Yugoslav republic after 2,000 made the crossing on Monday.
EU President Donald Tusk warned the 'exodus' from war-torn hotspots could last years, making it 'so important to learn how to live with it without blaming each other'.
The 28-member EU has been riven by divisions on how to cope with the crisis, which has split the bloc between countries like Germany urging more solidarity and mainly eastern nations such as Hungary that take a hardline approach.
European Commission chief Jean-Claude Juncker is expected Wednesday to unveil a proposal that would see Germany take more than 31,000 migrants, France 24,000, and Spain almost 15,000, a European source told AFP news agency.
French President Francois Hollande warned Monday the core European ideal of open borders was at stake.
'If there is not a united policy, this mechanism will not work, it will collapse, and it will … undoubtedly be the end of Schengen,' he said, referring to the passport-free zone across much of the continent.
EU's foreign affairs chief Federica Mogherini called on 'all European leaders… to take decisions that are coherent with the emotions they express'.
But Hungarian Prime Minister Viktor Orban, who is building a fence to keep out migrants and whose parliament passed tough immigration laws last week, said quotas would be futile unless Europe's frontiers were shored up.
Orban mocked the European Union's efforts to distribute migrants through a quota system and compared Hungary to a 'black sheep' representing a voice of reason in the EU flock.
Calling on Germany to end its'open-door' policy, he said: 'We represent the position of what the Americans call "first things first".
'As long as we are unable to defend Europe's external borders, it makes no sense to talk about the fate of the immigrants.'
Other countries overseas have also stepped up their efforts to help the migrants, with Brazilian President Dilma Rousseff pledging to welcome Syrians with 'open arms' and Canada's Quebec province saying it will take 3,650 this year.
.
————————————————————————————————————————–
.
"We Will Not Allow Israel To Be Submerged By A Wave Of Illegal Migrants And Terrorists Activists" – Right Scoop
Surprisingly, Germany and Israel find themselves on the opposite sides of the policy spectrum on the sudden surge of Syrian refugees. While Angela Merkel is welcoming them with open arms, Netanyahu is saying this:
Prime Minister Benjamin Netanyahu on Sunday said he would not allow Israel to be "submerged" by refugees after calls for the Jewish state to take in those fleeing Syria's war.

Speaking at the weekly cabinet meeting, Netanyahu also announced the start of construction of a fence along Israel's border with Jordan, according to his office.

"We will not allow Israel to be submerged by a wave of illegal migrants and terrorist activists," Netanyahu said.

"Israel is not indifferent to the human tragedy of Syrian and African refugees… but Israel is a small country – very small – without demographic or geographic depth. That is why we must control our borders."

Opposition leader Isaac Herzog on Saturday said Israel should take in Syrian refugees, recalling the plight of Jews who sought refuge from past conflicts.

Palestinian president Mahmud Abbas also called for Israel to allow Palestinians from refugee camps in Syria to travel to the Palestinian territories, whose external borders are controlled by the Jewish state.

There is already hostility in Israel toward asylum-seekers from Africa and a concerted government effort to repatriate them.

Rights groups say thousands of African asylum seekers have been coerced into "voluntary" departures.

Official figures show 45,000 illegal immigrants are in Israel, almost all from Eritrea and Sudan. Most of those not in detention live in poor areas of southern Tel Aviv, where there have been several protests against them.
Isn't that ironic? Merkel cites the horrors of the holocaust as the reason why they must bring in refugees to make up for that sin, while the victims of their original sins reject such misplaced charity.
Read more about the Syrian refugee crisis here.
.
————————————————————————————————————————–
.
Greek Island Turns Into War Zone As Syrian And Afghan Migrants Clash – Breitbart
The Greek island of Lesbos has been turned into a war zone by rioting migrants, leaving the island's 85,000 residents in despair. Around 25,000 migrants are currently camped out on the island with hundreds more arriving daily, leading to frequent violent clashes and rioting despite their claim to be fleeing violence.
Located just 6 miles from the Turkish shore, the migrants come over in inflatable boats which they cut up on arrival to prevent being turned back, expecting to be able to quickly travel on by ferry to mainland Europe, German station RTL has reported.
Instead, they are being held on the Island while the police issue emigration documents, a delay which can take days. The wait is causing tension between groups as Afghans accuse Syrians of getting preferential treatment by the authorities, leading to vicious violent clashes.
As rocks, bottles and municipal bins fly, one tearful local woman told RTL "We are in danger, every day, every minute. We need someone to protect us. They come into our houses. I want to go to work, but I can't. Our children want to go to school, but they can't. They have stolen our lives!"
Another yells at the migrants flinging rocks as they pass his house: "Go away from here! This is private land! Respect Greece!"
WATCH:
.

The main town of Lesbos, Mytilene, now resembles a war zone as the migrants rip apart the infrastructure and use the town as a urinal. Mayor Galinos helpless in the face of such an onslaught is out of ideas, and is calling on the European Union to do something.
"This is a ticking time bomb that will go off soon," he said. "We have managed to avert some catastrophes, but we need help, more ferries. This island is so small, we can't solve a worldwide humanitarian crisis by ourselves. The European Union needs to act."
Monday night saw fresh clashes as 2,500 surged towards a government chartered ferry bound for Athens. Just a dozen police and coastguards, armed with batons, struggled to control the crowd by shouting "keep back".
Junior interior minister Yiannis Mouzalas told local radio "the situation is on the verge of explosion." It is a scene being replicated on islands all along Greece's coastline.
Evangelos Meimarakis, leader of Greece's right wing New Democracy party which could retake power this month, said the country should strengthen its borders to as to dispel "the message that 'it's good over here, come over'".
.

.