Feminist Mizzou Prof Caught On Camera Intimidating A Student Journalist Shuts Down Her Twitter Account – Right Scoop
Melissa Click is assistant professor at University of Missouri, but in her off time, she's a fascist totalitarian who wants to set up a social justice warrior North Korean camp and doesn't want any damn media to record it.
Here she is caught on camera calling for student "muscle" to take out a student journalist:
.

.
It appears that she tries to grab his camera, which comes pretty close to assault.
Amazingly, she is actually teaches communications, meaning that she would be instructing student journalists in her classroom.
————————————————————————————————–
Sean Churchill
@SeanChurchy
@Zachl1980 @richarddeitsch @seeeek @melissaclick a COMMUNICATIONS professor, no less. Absolutely embarrassing.
————————————————————————————————–
John
@jyeags86
@SeanChurchy @Zachl1980 @richarddeitsch @seeeek @melissaclick paying her 57k to stand outside and harass journalists pic.twitter.com/QgZKlG275y

————————————————————————————————–
She must have started to see the social media firestorm coming, because she's protected her Twitter account:
————————————————————————————————–
Caitlin Swieca
@CaitlinSwieca
After being filmed being hostile toward media covering #ConcernedStudent1950, communications prof @melissaclick makes her tweets private.
————————————————————————————————–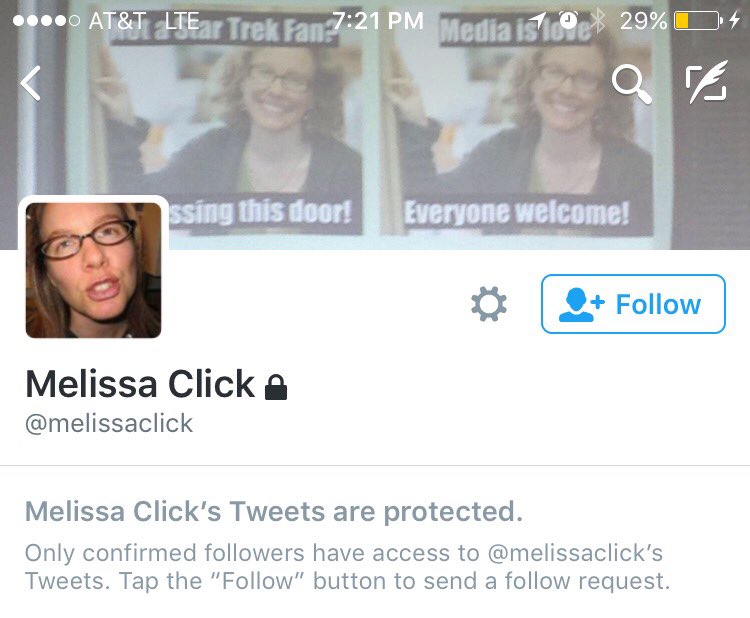 Jessica Christian
@jachristian
Is funny that @melissaclick's Twitter cover photo is a meme of her that states "Media is love. Everyone welcome!"
————————————————————————————————–
Yeah… she's in trouble.
.
————————————————————————————————–
.
Related article:
.
White House Praises Protestors After Forcing University Of Missouri President To Step Down – Big Government
The Obama administration is praising protesters who successfully forced University of Missouri President Tim Wolfe to announce his resignation.
White House Press Secretary Josh Earnest praised the group of protesters for rallying together and demanding change, pointing out that Obama's first presidential campaign was embodied by the same spirit.
"I think this also illustrates something that the president talked a lot about in the context of – in his campaign, that a few people speaking up and speaking out can have a profound impact on the communities where we live and work," he said during the daily press briefing today.
The group of students accused Wolfe of enabling "a culture of racism" on campus and ignoring student concerns about recent events. Wolfe resigned after members of the college football team joined the protests, saying they wouldn't suit up for the next game.
"That's the kind of dialogue and work and unity that the Mizzou community is going to need to make progress on this issue," Earnest said, in reaction to the decision calling it "a testament to the courage of the people on campus."
He said that President Obama himself was unlikely to make a public statement about the events on campus, but didn't rule it out sometime in the future. Earnest reminded reporters that he grew up in Missouri and shared his own thoughts on the situation.
"I think any state institution is a product of the state and that state's history and there's a very painful history – and it's not ancient history in the state of Missouri," Earnest said.
The list of demands by the protesters included that Wolfe "acknowledge his white male privilege" and hire more black college faculty members.
.

.