.
MAGA Update: After Zero Refugee Arrivals In October, November Admissions Set 18-Year Low For That Month – CNS
After an unprecedented month of not a single refugee admission into the United States in October, last month saw a total of 1,488 refugees arrive, according to State Department Refugee Processing Center data.
The November arrivals were the lowest for the month since 2001, when in the aftermath of the 9/11 terror attacks on America just four refugees were resettled in the U.S.
Between then and this year, the number of admissions during the second-last month of the calendar year has ranged from a low of 1,858 refugees (also under the Trump administration, in 2017), and a high of 8,355 (under the Obama administration, in 2016).
President Trump has signed off on a ceiling of 18,000 refugee admissions for fiscal year 2020, the lowest annual cap set by a president since the modern refugee admission program was established in 1980…
MORE
.
—————————————————————————————
.
Relax: The London Bridge Jihad Murderer Was "Deradicalized" – Robert Spencer
.

.
ITV News reported Saturday that Usman Khan, the devout Muslim who murdered two people and injured three others in a stabbing rampage on London Bridge Friday "penned a letter from his jail cell asking to take part in a deradicalisation course to become 'a good British citizen.'"
And predictably, British authorities, ever anxious to avoid charges of "Islamophobia," fell for it hook, line, and sinker. He was even at a deradicalization event when his jihad attack began.
Khan's plaintive cry for help came in October 2012, "after his conviction for plotting to blow up the London Stock Exchange as a member of an al Qaida-inspired group." While he was in prison, he wrote to British authorities, saying he wanted to "learn Islam and its teachings" through a "deradicalidation [sic] course."…
MORE
.
—————————————————————————————
.
Some Guy You've Never Heard Of Drops Out Of Democrat Primary Race – Fox News
Montana Gov. Steve Bullock on Monday announced he was suspending his campaign for president and made clear he has no plans to run for U.S. Senate.
The 53-year-old Democrat, who has served as governor since 2013, said it has become clear he won't have a shot at the party's nomination to beat President Trump in the 2020 presidential race.
"While there were many obstacles we could not have anticipated when entering this race, it has become clear that in this moment, I won't be able to break through to the top tier of this still-crowded field of candidates," Bullock said in a statement.
The campaign of the two-term governor, who is also former state attorney general, got a late start, as Bullock only announced his candidacy in May, trailing along dozens of other Democratic candidates vying for the nomination. He tried to make the case that he was the best option to beat Trump…
MORE
.
—————————————————————————————
.
Fake Impeachment Update: Trump Tells House Judiciary Committee To Go Pound Sand – Epoch Times
.

.
The White House said late Dec. 1 that President Donald Trump will not be attending the first impeachment hearing scheduled by the House Judiciary Committee for Dec. 4.
In a letter to House Judiciary Chairman Rep. Jerry Nadler (D-N.Y.), White House Counsel Pat Cipollone said that the terms of the impeachment process continue to be unacceptable and unfair to the president, citing conflicts with precedence.
"We cannot fairly be expected to participate in a hearing while the witnesses are yet to be named and while it remains unclear whether the Judiciary Committee will afford the President a fair process through additional hearings," Cipollone wrote. "Under the current circumstances, we do not intend to participate in your Wednesday hearing."…
MORE
.
—————————————————————————————
.
Democrat Treason Update: Sanctuary State Colorado: Freed Illegal Alien Accused Of Attempted Murder – Breitbart
An illegal alien in the sanctuary state of Colorado has been re-arrested for attempted murder less than a month after he was freed from prison.
Osmani Garces-Ortiz, a 37-year-old illegal alien from Cuba, was released by the sanctuary jurisdiction of Arapahoe County, Colorado, on October 28, despite the Immigration and Customs Enforcement (ICE) agency requesting he be held so they could take over custody.
Garces-Ortiz had originally been arrested for drug crimes and trespassing. Less than a month later, on November 21, the illegal alien was arrested in Arapahoe County for attempted murder – an incident that would have never occurred had he be turned over to ICE, federal officials said.
"As ICE has repeatedly made clear, when local jurisdictions refuse to support immigration enforcement, they betray their duty to protect public safety," an ICE spokesperson told the Sentinel…
MORE
.
—————————————————————————————
.
U.S. Posts First Month In 70 Years As Net Petroleum Exporter – Economic Times
.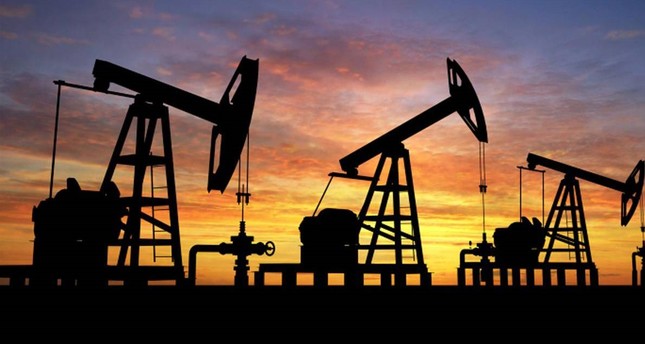 .
The U.S. solidified its status as an energy producer by posting the first full month as a net exporter of crude and petroleum products since government records began in 1949. The nation exported 89,000 barrels a day more than it imported in September, according to data from the Energy Information Administration on Friday.
While the U.S. has previously reported net exports on a weekly basis, today's figures mark a key milestone that few would have predicted just a decade ago, before the onset of the shale boom.
President Donald Trump has touted American energy independence, saying that the nation is moving away from relying on foreign oil…
Read more at:
//economictimes.indiatimes.com/articleshow/72324867.cms?utm_source=contentofinterest&utm_medium=text&utm_campaign=cppst
MORE
.
—————————————————————————————
.
380,000 Hongkongers March To Renew Calls For Freedom And Democracy – Epoch Times
Hundreds of thousands of protesters took to the streets on Dec. 1 afternoon, in an effort to rejuvenate their movement that started nearly six months ago.
Under the theme of "Never Forget Why You Started," protesters gathered at a landmark clock tower in the Tsim Sha Tsui neighborhood. At around 3:30 p.m. local time, they began walking out and then marched off along Salisbury Road to the Hong Kong Coliseum, which is located in Hung Hom, Kowloon.
Protesters could be heard shouting slogans such as "disband the police force," and "the heavens will eliminate the Chinese Communist Party, let the entire Party die."
The peaceful march, which was organized by a local netizen who identified himself as Swing, had been granted police approval. But soon after it took off, police interrupted the scene. A sizable force had gathered, with at least nine police vans in the area.
At around 4:50 p.m. local time, riot police suddenly charged at protesters…
MORE
.
—————————————————————————————
.
Gropey Joe Biden Gets All Creepy And Weird… Again – Zero Hedge
.

.
Just over a couple months out from the Feb. 3 Iowa caucuses and Joe Biden's campaign continues to implode at an accelerated rate – and perhaps his mind too – as his officially named 'No Malarkey!' Iowa bus tour continues (it's not The Onion, that's really the campaign slogan).
And now a 'rediscovered' viral video clip of Biden rambling at a previous speaking event is so bizarre and enters a whole new level of creepy that it's put renewed spotlight on the question of Crazy Uncle Joe's potential senility.
It simply has to be seen to be believed. Surrounded by children, he goes on a free-flowing monologue about his hairy legs and how kids used to rub them to watch the "blond" hair pop up again. What?!?…
MORE
.
—————————————————————————————
.
Surprise, Surprise, The Latest College Racism Claim Turns Out To Be A Hoax – Daily Wire
On November 16, two CNN reporters wrote about a student protest at Syracuse University over a series of alleged racist incidents on campus.
Competent readers will note that every instance of alleged racism on college campuses has turned out to be a hoax, yet media outlets still jump at every accusation. The latest allegation claims that a swastika was found painted on a wall, an unknown student was shouting racial epithets, more racist graffiti was found, and a racist manifesto was sent to several students' cellphones.
Syracuse University is, of course, a liberal college campus located in one of the most liberal states in America, yet its students maintain it is a hotbed of racism. Students naturally took the allegations as fact and started protesting the university and demanding Chancellor Kent Syverud resign.
But just a few days after CNN and other media outlets spread news of the alleged racism at Syracuse, the manifesto story was debunked…
MORE
.
—————————————————————————————
.
ICE Arrests Child Sexual Predator After He Was Released By Democrats Twice Previously Despite Detainer – PJ Media
.

.
Immigration and Customs Enforcement has arrested an illegal immigrant from Guatemala and charged him with numerous sexual crimes against children.
Hector Moran-Espinoza had been arrested for similar charges twice previously by the Philadelphia Police Department and then released despite an ICE detainer.
Hector Moran-Espinoza was arrested April 2, by the Philadelphia Police Department for involuntary deviate sexual intercourse by forcible compulsion, unlawful contact with a minor, statuary sexual assault, endangering the welfare of children, corruption of minors, indecent assault, reckless endangerment of another person, rape by forceable compulsion, sexual abuse of children…
MORE
.
—————————————————————————————
.
Thanksgiving Day Shopping Frenzy Tops Record With $4.1B Spent – Fox Business
Shoppers on Thursday weren't slowed down one bit by their huge turkey feasts.
Consumers spent a staggering $4.2 billion online on Thanksgiving, a 14.5 percent from last year and a record high, according to new figures published by Adobe Analytics on Friday. This marks the first time that Thanksgiving shopping has surpassed $4 billion.
In total, e-commerce behemoths saw a 244 percent boost in sales on Thanksgiving, while smaller retailers experienced a 61 percent jump.
Phones played a huge role in the spike in Turkey Day shopping: Overall, nearly half of the revenue – 44.9 percent – stemmed from people's smartphones, a 24.4 increase over last year.
"Thanksgiving… has fast become a favored day by consumers for accelerating their holiday spending and shopping efforts," Jason Woosley, vice president of commerce and platform at Adobe, said in a statement. "Don't expect the momentum to slow down anytime soon."
Black Friday sales are on track to hit $7.4 billion; as of 9 a.m. ET on Friday…
MORE
.
—————————————————————————————
.
Former District 'Teacher Of The Year' Performed Oral Sex On Student In Classroom: Report – Crime Online
.

.
A Texas teacher arrested this week for having an improper relationship with a student reportedly performed oral sex on him at least twice in a classroom, according to an arrested affidavit seen by KVUE. Randi Chaverria, 36, resigned her position at Round Rock High School and turned herself in to the Williamson County Jail on Tuesday.
The Round Rock Integrated School District named Chaverria Secondary Teacher of the Year in 2018. She has been a teacher for six years and family science teacher at Round Rock for three years.
According to the affidavit, the unnamed student said he and Chavarria had sexual contact several times over the course of the fall 2019 semester…
MORE
.
—————————————————————————————
.
ICE Busts Hundreds Of Student Visa Fraudsters In University Sting – Big League Politics
Immigration and Customs Enforcement has arrested more than 250 people who enrolled at a fake university hoping to cheat the United States' student visa laws.
ICE set up the program to lure in individuals who have sought to take up residency in the country through student visas, without actually studying at a real university and paying tuition.
Most of the people who were busted trying to game student visa rules in order to obtain legal residency have been described as Indian nationals.
The fake students signed up with "University of Farmington," a sham Detroit university that advertised itself as a pathway for the foreign nationals to obtain legal residency in the U.S. without actually being a real college students. In reality, the University of Farmington was a creation of ICE from its inception.
The arrests have been taking place since January…
MORE
.
—————————————————————————————
.
President Trump Makes Surprise Thanksgiving Visit To U.S. Troops In Afghanistan, Says Taliban Talks Have Resumed – Zero Hedge
.

.
President Trump made an unannounced trip to Afghanistan on Thursday, his first as president, to visit troops for the Thanksgiving holiday. There, Trump said peace talks with the Taliban had resumed, speaking at a U.S. air force base alongside Afghan president Ashraf Ghani.
Trump landed at Bagram Airfield around 8:30 pm local time Thursday and greeted U.S. soldiers over a turkey dinner before meeting with Afghanistan President Ashraf Ghani at the airfield's Air Force headquarters.
Following a meeting with Ghani, Trump told reporters that the Taliban "wants to make a deal" and that U.S. officials were "meeting with them." Trump also said that the Taliban was willing to agree to a ceasefire…
MORE
.
—————————————————————————————
.
Alabama Supreme Court Upholds Law Protecting Confederate Monuments – The Hill
The Alabama Supreme Court upheld a state law protecting Confederate monuments on Wednesday, ordering the city of Birmingham to remove panels it had placed in front of one.
The all-Republican court ruled in favor of the state, which had sued the majority-black city for placing plywood panels that blocked the inscriptions on a 52-foot tall obelisk for Confederate veterans, ABC News reported.
The justices reversed a circuit judge's ruling striking down the law and ordered the judge to fine the city $25,000.
The Jefferson County Circuit Court judge had decided in January that the Alabama law outlawing relocating, removing, changing or renaming buildings, streets and memorials that have been standing for more than 40 years violated free speech rights.
A spokesman for the city said in a statement that they are "strongly disappointed" with the decision and are discussing next steps…
MORE
.
—————————————————————————————
.
President Trump Signs Bills In Support Of Hong Kong Protesters – Epoch Times
.

.
President Donald Trump on Nov. 27 signed into law two human rights bills in support of protesters in Hong Kong, the White House said in a statement.
Last week, both the Senate and House passed the Hong Kong Human Rights and Democracy Act (S.1838), which would require the United States to review annually Hong Kong's special trading relationship, and pave the way for sanctions against Chinese and Hong Kong officials responsible for human rights violations in the city.
Congress also passed legislation (S.2710) that would prohibit the export of control equipment to Hong Kong police, who have been accused of using violence and heavy-handed tactics to quell demonstrations…
MORE
.
—————————————————————————————
.
Democrat-Controlled New Jersey To Become Wasteland: 44% Of Residents Plan To Flee State – Zero Hedge
Thanks to the highest property taxes in the nation and an unsustainable cost of living, 44% of New Jersey residents plan to leave the state in the 'no so distant future,' according to a recent survey from the Garden State Initiative (GSI) and Fairleigh Dickenson University School of Public & Global Affairs.
Committing to a more solid time frame, 28% say they are planning to leave within five years, and 39% say they will do so over the next decade, according to Insider NJ.
Unsurprisingly, Property Taxes and the overall Cost of Living were cited as the main drivers. The results also debunk two issues frequently cited in anecdotal accounts of outmigration, weather and public transportation, as they ranked 8th and 10th respectively, out of 11 factors offered.

The desire to leave the Garden State was reflected most strongly among young residents (18-29) with almost 40% anticipating leaving the state within the next five years…
MORE
.
—————————————————————————————
.
Strippers Used Sex Toy On Gropey Joe Biden's Coke-Head Son Hunter At NYC's Hustler Club: Sources – Page Six
.

.
Hunter Biden spent several thousand dollars at a Manhattan strip club during a pair of visits – including one that sent a staffer scrambling to buy a sex toy so strippers could use it on him, sources told The Post on Wednesday.
Biden – who's been dogged by a series of strip-club allegations uncovered by The Post this week – was accompanied by a woman both times he went to Larry Flynt's Hustler Club NYC in Hell's Kitchen about a year ago, the sources said.
On each occasion, he and his companion holed up in a private room, where they ordered bottles of pricey booze and were joined by several strippers, sources said. During one particularly wild night, workers suspected Biden was high…
MORE
.
—————————————————————————————
.
Trump Effect: Stocks Secure New Records As U.S. Economy Tops Expectations – Fox Business
Stocks secured another set of records on Wednesday amid optimism on the trade front, a stronger-than-expected U.S. economy and a week that saw positive earnings from big retailers such as Dick's Sporting Goods.
The Dow Jones Industrial Average, the S&P 500 and the Nasdaq Composite rallied to new all-time highs ahead of the Thanksgiving holiday when U.S. financial markets will be closed.
The early catalyst for stocks came after President Trump, on Tuesday, told reporters that the U.S. and China are "in the final throes" of reaching a trade deal.
U.S. markets also received support from the second reading of third-quarter gross domestic product showed the U.S. economy expanded at a 2.1 percent annualized rate, up from the initial reading showing 1.9 percent growth. Durable goods orders also impressed, rising 0.6 percent in October. Economists were expecting a 0.8 percent decline.
Wednesday's record close was the Dow's 101 under Trump…
MORE
.
—————————————————————————————
.
Trump Donates Third Quarter Of 2019 Salary To Fight Against Opioid Crisis – Daily Caller
.

.
President Donald Trump is donating the latest portion of his presidential salary to the fight against the opioid crisis, the White House revealed Tuesday.
The $100,000 from Trump's third-quarter salary will go to the Office of the Assistant Secretary of Health and is earmarked "to continue the ongoing fight against the opioid crisis."
Opioid-related deaths have been on the rise over the past several years, with the Center for Disease Control (CDC) finding that 2017 was one of the worst years for overdose deaths on record.
The Trump administration has attempted to highlight the issue, with first lady Melania Trump attending a youth opioid summit in Baltimore, Maryland, on Tuesday…
MORE
.
—————————————————————————————
.
Chick-Fil-A Donates To Extremist Southern Poverty Law Center – Breitbart
Internal Revenue Service (IRS) records show that Chick-fil-A is not only stopping donations to Christian organizations but is funding left-wing extremist groups, including the anti-Christian Southern Poverty Law Center (SPLC).
Chick-fil-A's 2017 990 IRS filing shows the fast-food franchise made a $2,500 donation to SPLC, among a laundry list of pro-abortion and pro-LGBT orgs, Townhall reports. The Chick-fil-A Foundation has come under conservative scrutiny since its decision to stop supporting Christian charities such as the Salvation Army, caving to disingenuous pressure campaigns from far-left activists.
The SPLC is most infamous for inspiring an attempted domestic terror attack against the Family Research Council (FRC), a group that lobbies for pro-marriage and pro-life policies.
In 2013, Floyd Lee Corkins II was sentenced to 25 years in prison in the first-ever conviction for domestic terrorism under Washington, DC, law…