.
GOP Gives Up On Repealing Obamacare – Matthew Vadum
.

.
Republican lawmakers have made it clear they have no intention of repealing Obamacare in the current Congress.
Republicans in the nation's top lawmaking body have never really wanted to get rid of Obamacare. They would prefer to present the program, which David Horowitz correctly describes as "the greatest assault on individual freedom and individual choice in our lifetimes," as a villain and whip up sentiment against it and run against it every election.
They view Obamacare as good for the business of politics. They may chip away at it from time to time or tinker with it at the margins, but make no mistake: these creatures of Washington want to keep it in place. This is the Republicans' dirty secret…
MORE
.
—————————————————————————————
.
USAID Spends $89.7 Million Finding Jobs For 55 Afghan Women – Washington Free Beacon
A federal government program to promote gender equality in Afghanistan and help women find employment is costing taxpayers over $200 million but has only found jobs for 55 women.
The United States Agency for International Development program promised to "empower 75,000 women" but so far has shown little progress, according to a new report released by the Special Inspector General for Afghanistan Reconstruction (SIGAR). "It is unclear whether the agency can deliver the opportunities it promised the women of Afghanistan," the inspector general said.
The USAID program, Promoting Gender Equity in National Priority Programs, or Promote, is a five-year $216 million effort. USAID has spent $89.7 million in three years but "has not demonstrated whether the program has made progress" toward its goals.
Promote is USAID's "largest single investment to advance women globally" and was tasked with helping over 2,000 Afghan women find jobs…
MORE
.
—————————————————————————————
.
Secessionists Exploit Red States' 'Deep Hatred For California' In Bid To Exit Union – Washington Times
.

.
California secessionists have what may be a tempting proposal for the red states: Help the Golden State secede by voting to kick it out of the union.
Citing a looming court fight over state-splitting, Calexit organizers have postponed their ballot strategy and launched a campaign to convince red-state legislators to vote in favor of telling California to take a hike.
"We are going to rely on the deep hatred for California that exists in red America," said Louis Marinelli, a founder of Yes California, the Calexit campaign. The plan is to convince 25 of the 31 Republican-held legislatures to pass "consent to secede" resolutions, then place the question before California voters in the form of a ballot measure…
MORE
.
—————————————————————————————
.
After Dismissing Bias At Google As A 'Conspiracy Theory', CNN Refuses To Report On Google Tape That Proves Bias – Daily Caller
After Breitbart published a leaked video of Google employees reacting to President Donald Trump's victory in 2016 on Thursday, CNN left its viewers in the dark by spending no time on-air covering the story and assigned no reporter to write about it for its website, according to a search by The Daily Caller News Foundation.
Ironically, just a few weeks ago in late August, CNN analyst Chris Cillizza dismissed a tweet alleging that Google had "rigged" search results against him as a "conspiracy theory."
"What the President of the United States is peddling to his 54 million Twitter followers, then, is an anecdote hung on a flawed analysis of media partisanship," Cillizza wrote on Aug. 28.
Since the release of the video, however, CNN has not devoted any time on its cable network or its website to cover its contents. The Twitter feeds of prominent CNN journalists like Cillizza, Oliver Darcy, and Brian Stelter were also empty of any reference to the Breitbart story…
MORE
.
—————————————————————————————
.
As Many As 20 Gas Explosions Reported In Lawrence, Andover And North Andover, Massachusetts; Evacuations Ordered – WHDH
.

.
As many as 20 gas explosions have rocked multiple homes and buildings in Lawrence, Andover and North Andover, leaving at least two people with injuries, officials said.
Troopers, firefighters and emergency crews are responding to the areas of Springfield Street and Chickering Road in Lawrence, as well as Phillips and North Main streets in North Andover, according to state police.
Lawrence police say a woman who was left trapped in a home on Chickering Road suffered leg injuries, while a man in a car nearby was seriously hurt.
Video from Sky7 HD showed fires burning at multiple homes and buildings. One home appeared to be completely leveled and many others were seriously damaged…
MORE
.
—————————————————————————————
.
Google Employees Mocked For 'Cult-Like' Propeller Caps – Breitbart
Following Breitbart Tech's release of a leaked 2016 Google "TGIF" meeting on Wednesday, which showed Google executives' negative reactions to the election of President Trump, some viewers expressed confusion and mockery over the multi-colored propeller caps worn by employees in the audience.
For many people, it was the first time they had seen the hats – which are iconic at Google – but more or less unknown in the general populace. The caps are called "Noogler" hats, and are given to new employees at the company during their first TGIF all-hands meeting.
"If you're new to Google, expect to be called a Noogler. Pronounced 'new-gler,' these people are identifiable thanks to the Google-colored propeller caps they receive,"…
MORE
.
—————————————————————————————
.
Leftist Hose Beast Dianne Feinstein Refers Mystery Matter Concerning Brett Kavanaugh To Federal Investigators In Pathetic Attempt To Delay Confirmation Vote – Washington Examiner
.

.
Sen. Dianne Feinstein, D-Calif., said Thursday she has referred a matter involving Supreme Court nominee Brett Kavanaugh to "federal investigative authorities," but declined to provide further details on the information she received.
"I have received information from an individual concerning the nomination of Brett Kavanaugh to the Supreme Court," Feinstein, the top Democrat on the Senate Judiciary Committee, said in a statement. "That individual strongly requested confidentiality, declined to come forward or press the matter further, and I have honored that decision. I have, however, referred the matter to federal investigative authorities."
Feinstein's statement follows a report published by The Intercept on Wednesday describing a letter the California senator was given by Rep. Anna Eshoo, D-Calif…
MORE
.
—————————————————————————————
.
12,774 Family Units Apprehended At Border In August; Up 38.1% From July – CNS
U.S. Customs and Border Protection apprehended 37,544 individuals crossing into the country illegally in August. Another 9,016 people were deemed inadmissible and turned away at ports of entry, for a grand total of 46,560 people who tried to take advantage of the nation's broken immigration system in August alone.
That compares with the 40,011 apprehended/deemed inadmissible in July; and the 30,567 apprehended/inadmissible in August 2017.
Of particular concern last month was the increase in family units. CBP says 12,774 family units tried to cross into the U.S. in August, a 38.1 percent increase from the 9,247 family units picked up in July. That 12,774 number is the highest ever posted for the month of August. (An additional 3,181 family units were deemed inadmissible at Southwest ports of entry.)
The number of unaccompanied children apprehended at the border also increased by 12 percent in August, to 4,396 from 3,920 in July. (Another 376 UACs were deemed inadmissible.)…
MORE
.
—————————————————————————————
.
New York Times Covered Up Google Tape's Most Newsworthy Details – Breitbart
.

.
The New York Times reported on the explosive Google Tape back in March but chose not to informs its readers of virtually all the key details revealed during this company town hall.
On Tuesday, Breitbart News obtained video of an hour-plus long company meeting at Google that took place shortly after the 2016 presidential election.
You can watch the full video to judge the context of these individual quotes for yourself – but in my view, what you have here is a smoking gun proving the biggest Internet search engine in the world (by far) intends to abuse its corporate power to affect the outcome of elections, to manipulate searches in a way that will result in political outcomes desired by a multinational corporation and Silicon Valley…
MORE
.
—————————————————————————————
.
Man Gets Prison For Drunkenly Shooting At Nonexistent Clowns – Circa
A Pennsylvania man who admitted he drunkenly fired a shotgun inside his apartment because he feared there were clowns inside could spend the next five years in prison.
Reading police didn't find anyone inside of 35-year-old Nathan Matthias' second-floor apartment, and say the shooting put his first-floor neighbor in danger.
The Reading Eagle reports he was sentenced Monday to 22 months to five years in state prison after pleading guilty in July to discharging a firearm and to an unrelated drunk driving charge.
Police say they found Matthias clutching a shotgun outside his house, claiming he was trying to shoot two small clowns.
Matthias' attorney says his client wasn't trying to harm anyone but was reacting to "some type of hallucinatory event."
Matthias took full responsibility and apologized…
MORE
.
—————————————————————————————
.
It's Official: Google Is A Democratic Party Front – John Hinderaker
.

.
Someone leaked to Breitbart an hour-long video of an "all hands" Google meeting that was held just after the 2016 election. The video features Google's co-founder, Sergei Brin, its CEO, Sundar Pichai, and numerous other high-ranking "Googlers" speaking in turn about the election's tragic outcome. It is stunning.
All of the speakers express grief over Donald Trump's election. All of the speakers assume that every Google employee is a Democrat and is stunned and horrified that Hillary Clinton – the worst and most corrupt presidential candidate in modern history – lost.
There is much discussion about what Google can do to reverse the benighted world-wide tide exemplified by Brexit and Trump's election…
MORE
.
—————————————————————————————
.
Trump Derangement Syndrome Reaching Epidemic Levels As We Head Toward Midterms – Debra Heine
As America heads toward the final months of the president's second year in office, Trump Derangement Syndrome seems to be reaching epidemic levels across the country.
Those affected by the disorder are so consumed by their hatred of the president that they feel driven to attack him or anyone they deem to be in support of him. TDS was a huge problem shortly after President Trump was elected. It's becoming a serious issue again.
For those of you keeping score, in just the past couple of weeks, we've seen a knife attack on a Republican congressional candidate in California, a threat of mass murder against supporters of President Donald Trump gathering at the Trump International Hotel in Washington, D.C., a GOP office in Wyoming attacked by an arsonist, and a conservative journalist going into hiding after receiving serious death threats.
During a festival in Castro Valley, Calif., 35-year-old Farzad Fazeli approached Republican congressional candidate Rudy Peters at his booth "in an aggressive manner…
MORE
.
—————————————————————————————
.
Crossdressing Pedophile Charged With Rape Gets Put In Women's Prison Where He Sexually Assaults Four Female Inmates – PJ Media
.

.
A man who believes he is a woman was charged with raping a woman (guess "she's" a lesbian) and was housed in a female prison. In a case of "well, duh," this rapist did what rapists do – he sexually assaulted four female inmates.
The story reveals such mind-boggling stupidity as to read as satire. Except, of course, it's 2018 and leftist idiocy is running amok through Western society. For evidence, allow The Telegraph to fill in the absurd yet shameful details:
Convicted paedophile Karen White, who was born Stephen Wood, was undergoing gender reassignment, but had not undergone full surgery, when she was accused of repeatedly raping a woman in 2016…
MORE
.
—————————————————————————————
.
Illegal Aliens Cited In Theft Of 39 Million Social Security Numbers – Washington Examiner
Nearly 40 million Social Security numbers have been stolen and used by illegal immigrants and others to get work, according to agency records obtained by an immigration reform group.
The Immigration Reform Law Institute said that from 2012 to 2016 there were "39 million instances where names and Social Security numbers on W-2 tax forms did not match the corresponding Social Security records."
The group said that there is a "thriving black market" used by illegal immigrants to get Social Security numbers needed to get a job. Their report draws attention to a move by former President Barack Obama to stop sending so-called "no match" letters to employers notifying them that numbers used by employees on the wage forms do not match their identity.
The change followed the president's decision to approve amnesty for some 700,000 younger immigrants let into the U.S. under his Deferred Action for Childhood Arrivals. Some of those have been dubbed "dreamers."…
MORE
.
—————————————————————————————
.
Traitor John Kerry Secretly Meeting With Iran To Undermine Trump Administration – Washington Free Beacon
.

.
Former Secretary of State John Kerry disclosed that he has been conducting rogue diplomacy with top Iranian officials to salvage the landmark nuclear deal and push the Islamic Republic to negotiate its contested missile program, according to recent remarks.
Kerry, in an interview with radio host Hugh Hewitt to promote his new book, said that he has met with Iranian Former Minister Javad Zarif – the former secretary's onetime negotiating partner – three or four times in recent months behind the Trump administration's back.
"I think I've seen him three or four times," Kerry said, adding that he has been conducting sensitive diplomacy without the current administration's authorization. Kerry said he has criticized the current administration in these discussions…
MORE
.
—————————————————————————————
.
Great Again: U.S. Median Household Income Equals All-Time High – CNS
Real median household income in the United States hit $61,372 in 2017, equaling the nation's all-time high, according to the U.S. Census Bureau.
"Median household income was $61,372 in 2017, an increase in real terms of 1.8 percent from the 2016 median of $60,309," the Census Bureau said. "This is the third consecutive annual increase in median household income."
Table A-1 in the annual income and poverty tables released today by the Census Bureau showed median household income going back to 1967 in constant 2017 dollars. In this table, the $61,372 median household income for 2017 was the highest in any year.
The second highest median household income was $60,062 in 1999, and the third highest was $59,534 in 2007. However, in a telephone press conference this morning the Census Bureau cautioned that the $61,372 median household income in 2017 was not a stand-alone all-time high for median household income in the United States…
MORE
.
—————————————————————————————
.
Biggest Gold Nugget In History Weighing 198 Pounds, Worth $2.6 Million Found In Australia – Fox News
.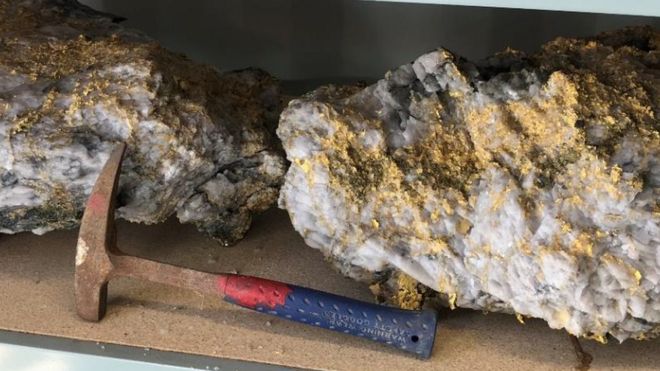 .
A mine in Australia has produced what its owner believes are two of the biggest gold specimens in recorded history. The biggest of the stones came in at 198 pounds and is estimated by the company to contain about 143 pounds of gold, a total that at current prices would be worth around $2.6 million.
The second-biggest piece weighed 132 pounds and was valued at about $1.95 million. Early estimates from RNC Minerals have put the total take of coarse gold from the cut at more than 562 pounds, or more than $10.4 million worth.
Airleg driller Henry Dole has been credited with uncovering the astonishing find at the 45-year-old Beta Hunt gold mine near Kambalda…
MORE
.
—————————————————————————————
.
U.S. Now World's Largest Crude Oil Producer – Breitbart
President Donald Trump's America First energy policy has catapulted the United States to the world's largest global crude oil producer, according to the Energy Information Administration (EIA).
EIA's Short-Term Energy Outlook (STEO) report states preliminary estimates show the U.S. feasibly overtook Saudi Arabia and Russia to become the top crude oil producer earlier this year. The report notes U.S. crude production in February outstripped Saudi Arabia's for the first time in over 20 years. Further, U.S. crude production in June exceeded Russia's crude oil output for the first time since February of 1999.
EIA data signals the U.S. will maintain its position as the world's largest global crude oil producer through 2019.
"U.S. crude oil production, particularly from light sweet crude oil grades, has rapidly increased since 2011…
MORE
.
—————————————————————————————
.
Mysterious Crack Pipe Vending Machines Baffle New York Authorities – Zero Hedge
.

.
Officials in Suffolk County, New York are baffled after at least three "crack pipe vending machines" appeared on Long Island – sparking concerns that there may be more.
Residents of Brookhaven complained to authorities about the machines last weekend, while two have been removed and one was partially destroyed by the community, according to WABC-TV.
The blue and white vending machines, which featured the words "Sketch Pens" on the outside in black and red font, were mounted in cement into the ground and would dispense a small glass tube and a filter. Included was the top of a pen, which could be put into the glass tube to form a pen, along with an ink tube…
MORE
.
—————————————————————————————
.
Georgia School Brings Back Paddling To Punish Students – Fox News
A school in Georgia that takes disciplining their students "very seriously" has reportedly instilled a corporal punishment policy in which parents can consent to having their child hit with a paddle.
The Georgia School for Innovation and the Classics, in Hephzibah, sent consent forms to students' homes recently requiring parents to opt-in to utilize the "tool" in the school's "disciplinary toolbox," WDRW-TV reported.
Superintendent Jody Boulineau told the news station the school "takes discipline very seriously," and that there was once a period in history "where corporal punishment was kind of the norm in school and you didn't have the problems that you have."
Parents of students in the kindergarten through 9th grade charter school received a "consent to paddle form" which details the corporal punishment, which would occur on the student's third offense…
MORE
.
—————————————————————————————
.
Trump Wins Lawsuit Filed By Smarmy Leftsit Douchebags – Washington Examiner
.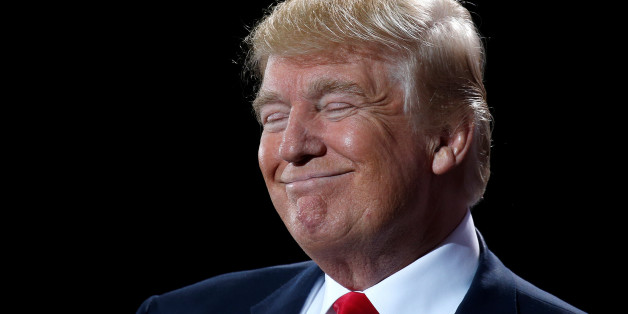 .
A federal appeals court on Tuesday tossed out a lawsuit that claimed President Trump incited a riot when he ordered three protesters to be removed from a rally in Kentucky during the 2016 presidential campaign.
A three-judge panel on the 6 th U.S. Circuit Court of Appeals said the three demonstrators didn't state a valid claim under state law and found Trump's comments were protected by the First Amendment, since he "did not specifically advocate imminent lawless action."
"In the ears of some supporters, Trump's words may have had a tendency to elicit a physical response, in the event a disruptive protester refused to leave, but they did not specifically advocate such a response," Judge David McKeague wrote in an opinion…