.
Sickening: FedEx Driver Refuses To Help Fallen 89-Year-Old Man – KTRK
.

.
The family of a Freeport man is outraged after a FedEx driver was captured on video on Saturday refusing to help after the man fell outside his front door. A Ring doorbell camera recorded the exchange between the 89-year-old man and the employee.
"Hello, help please," the man could be heard saying. "Give me a hand. I need to get up. I can't do that, boss," the driver said from a distance.
The 89-year-old man had fallen approximately 15 minutes before the delivery was made, according to his daughter, Maria Kouches.
"(He) didn't at least ring the doorbell or call 911!" Kouches wrote in a Facebook post that had been shared more than 480 times by Sunday afternoon…
MORE
.
—————————————————————————————
.
U.S. Forces Closure Of Chinese Consulate In Houston; Video Shows 'Classified Documents' Being Burned Inside – Daily Wire
Chinese officials at the Chinese General Consulate in Houston reportedly rushed to burn classified documents on Tuesday evening after learning the United States ordered them to "cease all operations and events" at the consulate over security concerns.
The U.S. State Department said in a statement, "We have directed the closure of PRC Consulate General Houston, in order to protect American intellectual property and American's private information."
State Department spokeswoman Morgan Ortagus said in the statement: "The United States will not tolerate the PRC's (People Republic of China) violations of our sovereignty and intimidation of our people, just as we have not tolerated the PRC's unfair trade practices, theft of American jobs, and other egregious behavior. President Trump insists on fairness and reciprocity in U.S.-China relations."
China called the move by the United States an "unprecedented escalation"…
MORE
.
—————————————————————————————
.
Portland BLM Terrorists Attempt To Break Into Federal Courthouse, Set Building On Fire – Epoch Times
.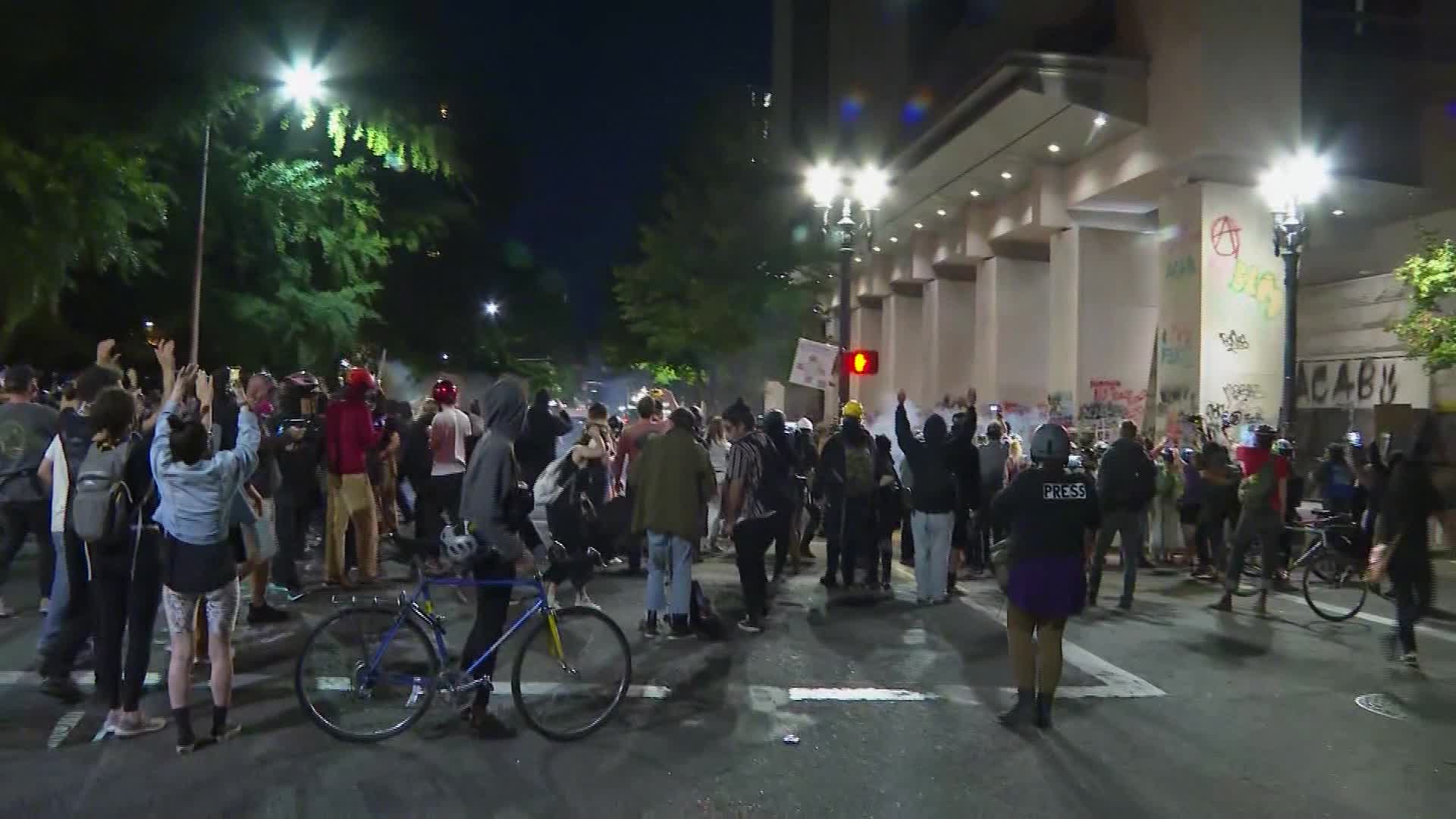 .
A large crowd in Portland tried breaking into a U.S. courthouse and setting the building on fire before being dispersed by federal officers. Riots have been taking place in Oregon's largest city virtually unabated since late May.
Video footage showed the crowd of several thousand outside the Mark O. Hatfield Courthouse and the nearby Justice Center late Tuesday. Some members of the group started kicking and pounding on plywood attached to glass doors at the courthouse. Others used hammers, crowbars, and other tools to rip the plywood away.
After the group breached a set of doors into the courthouse, federal officers responded at 11:12 p.m., according to the Portland Police Bureau…
MORE
.
—————————————————————————————
.
"Bodies Everywhere": At Least 16 Shot At Chicago Funeral Home – Big League Politics
Several people were shot in what appears to have been a mass shooting at a funeral home in Chicago on Tuesday night. Chicago police are initially reporting that at least 16 people have been shot in what may be a mass casualty event.
Preliminary reports suggest that the funeral had been for the victim of an earlier shooting in Chicago.
"All we saw was just bodies laying everywhere," witness Arnita Gerder told NBC Chicago. "Shot up everywhere, all over. Legs, stomach, back, all over the place. We thought it was a war out here."
Gun violence and crime has skyrocketed in the city of Chicago, as the city's Democratic mayor largely dismisses criticism from the Trump administration over her leadership. 63 people were shot, 12 fatally, over the weekend, with shooting figures on previous weekends breaking records for violence in the city's history…
MORE
.
—————————————————————————————
.
Photo Shows BLM Terrorists Holding Down And Kneeling On Neck Of White Baby – Gateway Pundit
.

.
A photograph of a man kneeling on the neck of a white baby while another person holds the diapered child's arms is stirring up a massive amount of rage on social media. The shocking and disturbing photograph, which was captioned by the abusers as "Blm now mf" is beginning to make the rounds after being uncovered by Vincent James of Red Elephants.
The man in the photo's name is Isaiah Jackson and he resides in Ohio. A man with that name was arrested on July 20 in Ohio for a probation violation.
The paternal grandmother of the child wrote on Facebook that the photo was taken two days ago while the two-year-old was with his mother, who is dating Jackson. She told TGP that her son did not find out about it until yesterday morning…
MORE
.
—————————————————————————————
.
The Media's Political Suicide – Daniel Greenfield
McClatchy had bought Knight Ridder for $4.4 billion to create the second largest news company. After going into Chapter 11 bankruptcy, McClatchy was won in an auction by a hedge fund, which also owns the National Enquirer, in a secret bidding which started with $30 million cash and $270 million in debt.
None of this says anything good about the future of its D.C. bureau, or the Miami Herald, the Fort Worth Star-Telegram, the Sacramento Bee, the Kansas City Star, and other hollowed out husks of major urban papers carrying huge loads of pension debt and even bigger loads of radical left-wing politics.
Earlier this year, Warren Buffett had dumped 30 newspapers that he had bought for $344 million for $140 million. The Newseum, a $450 million media museum, backed by Gannett, was sold off last year.
Gannett, the biggest newspaper chain in the country, lost $80 million in the first quarter of the year…
MORE
.
—————————————————————————————
.
Gropey Joe: "We Have A Whole Group Of Lawyers Who Are Going Out To Every Polling Eh-Eh-Every Uh-Uh V-Vo-Vote-Voter Registration Physician In The States" – Breitbart
.

.
Questions about Joe Biden's apparent cognitive decline arose again on Monday as he said his campaign will have lawyers going to "voter registration physicians" on Election Day.
During an appearance on The Reidout on MSNBC, Biden said, "We have a whole group of lawyers who are going out to every polling eh-eh-every uh-uh v-vo-vote-voter registration physician in the states, the secretaries of state, making sure that they, in fact, have a game plan as to how they're going to allow the voting to take place."
Former White House Physician Dr. Ronny Jackson recently called for Biden to submit to a cognitive assessment. "I'm not comfortable with him being my president," Jackson told The Kyle Olson Show earlier this month…
MORE
.
—————————————————————————————
.
As New York Covid Cases, Hospitalizations, Deaths Bottom Out, Cuomo Threatens To Shut Down Restaurants Again – Just The News
New York Gov. Andrew Cuomo is railing against residents who he says are irresponsibly getting together in large groups, threatening to unilaterally reimpose statewide restaurant closures if such get-togethers do not immediately cease.
The governor's warning Monday came as cases, hospitalizations and deaths from COVID-19 in the state have all effectively bottomed out, reaching three-month lows and showing no immediate signs of increasing.
What inspired the governor's tirade wasn't clear. The state's coronavirus dashboard gives no indication that any of the key metrics of the COVID-19 pandemic – new infections, hospital admittances and fatalities – are on the rise. All three of those measures largely flatlined nearly two months ago.
Cuomo's office did not respond Tuesday to a request for information on why the governor wants to reimpose the restaurant ban…
MORE
.
—————————————————————————————
.
Former DemoNazi Speaker Of New York Assembly Sentenced To 6 1/2 Years In Prison For Corruption – News Punch
.

.
Former Democratic Assembly Speaker Sheldon Silver has been sentneced to 6 1/2 years in federal prison for bribery and corruption.
Judge Valerie Caproni handed down the sentence Monday afternoon in front of the crooked Democrat, who was ordered to appear in person in the courtroom despite a desperate effort by his lawyers to hold the hearing remotely amid the coronavirus pandemic.
"This was corruption pure and simple," Judge Caproni told Silver to his face. "The time, however, has now come for Mr. Silver to pay the piper," the judge said before handing down the 78-month sentence and a $1 million fine…
MORE
.
—————————————————————————————
.
Trump Signs Order Excluding Illegal Aliens From Census Numbers Used For Congressional Districts – Epoch Times
President Donald Trump signed a memorandum on July 21 ordering the U.S. government to exclude illegal aliens from the calculations used to apportion congressional seats, based on the population survey conducted during the 2020 Census.
After the Supreme Court rejected the White House's bid to add a citizenship question to the 2020 census, Trump ordered all federal agencies to share information with the Department of Commerce (DOC) so that it could make an appropriate determination on the number of citizens, non-citizens, and illegal aliens in the United States.
"Excluding these illegal aliens from the apportionment base is more consonant with the principles of representative democracy underpinning our system of government," the memo states.
"Affording congressional representation, and therefore formal political influence, to states on account of the presence within their borders of aliens who have not followed the steps to secure a lawful immigration status under our laws undermines those principles."…
MORE
.
—————————————————————————————
.
Leftist Hellhole Update: Nearly 200 Cops Leaving Minneapolis Police Force – Washington Examiner
.

.
Minneapolis police officers are leaving the department in droves. Nearly 200 officers have filed paperwork to leave the force because of what they claim is post-traumatic stress, said Ronald F. Meuser Jr., a lawyer representing the officers, according to a report by the New York Times on Tuesday.
Around 20% of a department of around 850 people could soon be gone. Roughly 65 officers have left the department this year, which is higher than the 45 departures per year.
"It's almost like a nuclear bomb hit the city, and the people who didn't perish are standing around," Officer Rich Walker Sr., a 16-year Minneapolis police veteran and union official, said of the mood within the department…
MORE
.
—————————————————————————————
.
Broward County, Florida DemoNazis Order Citizens To Wear Masks In Their Own Homes, Then "Clarify" By Saying The Order Only Applies To House Guests – RT
A Covid-19 emergency order from Florida's Broward County seemingly mandating face coverings even at home has some Americans up in arms, but authorities – perhaps doing damage control – now say it applies only to guests.
The emergency order mandating masks in the home applies only to guests over the age of 10, Office of Public Communications media liaison Lori Shepard told prepper blog The Prepared on Monday. She explained that "if you're in your own home and you're with your family… the county is not asking you wear a mask."
"If somebody comes into your house and they're not a family member, you should ask them to wear a mask," she clarified.
As it's worded, however, last week's Emergency Order 20-22 appears to threaten Broward County residents and their guests with hefty legal penalties if they don't "mask up" at home. However, it's unclear how either interpretation of the order would be enforced…
MORE
.
—————————————————————————————
.
Republican Senators Introduce Bill Allowing Americans To Take Legal Action Against China Over Pandemic – Epoch Times
.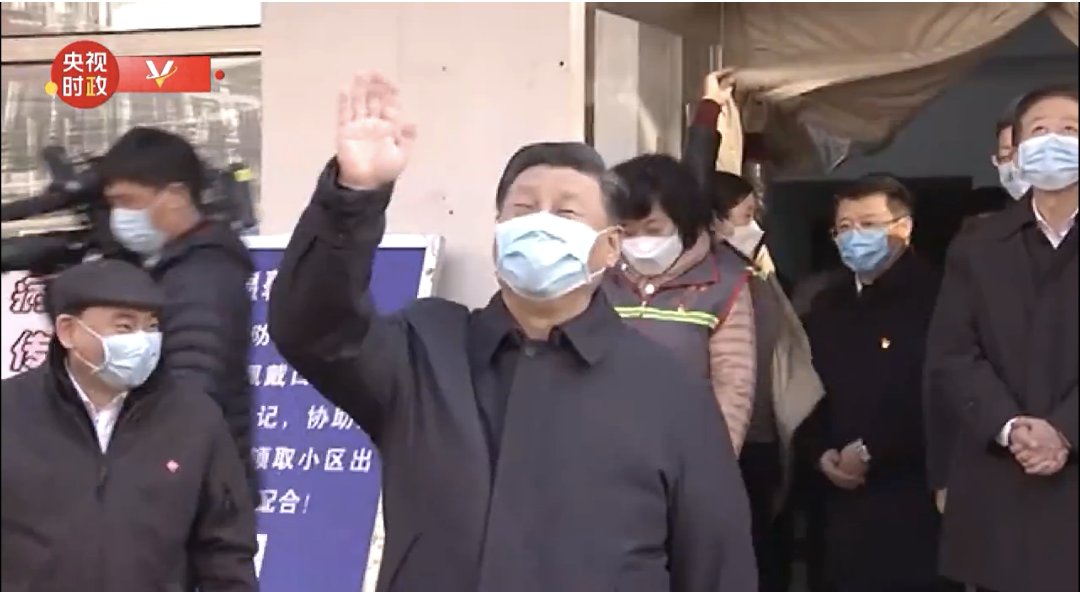 .
Six Republican senators have jointly introduced a bill to allow Americans to sue China over the COVID-19 pandemic in U.S. federal courts.
"Americans who have been victimized by the lies and deceit of the Chinese Communist Party (CCP)… deserve the opportunity to hold China accountable and to demand just compensation," stated Martha McSally (R-Ariz.), in a July 20 press release from her office.
The bill would provide Americans with the "legal tools necessary to sue the Chinese government in federal court for creating and worsening the COVID-19 pandemic," McSally added. The legislation was jointly introduced by McSally, Josh Hawley (R-Mo.), Marsha Blackburn (R-Tenn.), Tom Cotton (R-Ark.), Thom Tillis (R-N.C.), and Mike Rounds (R-S.D.)…
MORE
.
—————————————————————————————
.
After Woman Punches Cop At Virginia Mall, Police Find Dead, Decomposing Baby In Her Shopping Bag – Crime Online
On Sunday, police reportedly discovered a baby's partially decomposing body inside the shopping bag of a woman who allegedly punched an officer at a Virginia mall.
WSLS reports that the grisly discovery was made at Tanglewood Mall. Roanoke County officials said the decedent's age and sex are undetermined due to the condition of the remains.
Officers responded to the mall after receiving reports of an erratic woman. In a statement, Roanoke County police identified the woman as Mandy Lacy, 34, and described Lacy as transient; without a permanent address.
The baby's body was reportedly discovered in Lacy's bag following her arrest.
According to court documents obtained by WDBJ, Lacy has an unspecified mental illness. Lacy was initially charged with assaulting a police officer, and authorities said additional charges are pending. Officials are awaiting the medical examiner's findings…
MORE
.
—————————————————————————————
.
Leftist Parasites At Michigan School Fire Popular Teacher For Tweeting 'Donald Trump Is Our President' – Washington Free Beacon
.

.
A Michigan school district fired a popular high school teacher and coach after he pointed out that "Trump is our president" on social media.
Varsity baseball coach and social studies teacher Justin Kucera said Walled Lake school district officials hauled him into a closed-door meeting after he indicated his support for President Trump's speech to reopen schools. He told the Washington Free Beacon the Walled Lake Western principal and district superintendent gave him an ultimatum: be fired or resign.
"I was required to meet with [human resources], the superintendent, and my principal [on July 10]. They initially took my statement on why I tweeted those tweets and they told me they would have a decision about my future employment in the upcoming days…
MORE
.
—————————————————————————————
.
Missouri AG Moves To Dismiss Charges Against Couple Who Used Guns To Defend Thier Home From BLM Terrorists – Fox News
Missouri Attorney General Eric Schmitt on Monday moved to dismiss charges brought by St. Louis' top prosecutor against a couple who pointed guns at a crowd marching to the mayor's home last month, Fox News has learned.
St. Louis Circuit Attorney Kim Gardner, the city's top prosecutor, said Mark and Patricia McCloskey – both personal injury attorneys in their 60s – will be charged with felony unlawful use of a weapon following the June 28 incident.
"It is illegal to wave weapons in a threatening manner — that is unlawful in the city of St. Louis," Gardner said in a statement. She added that she was recommending a diversion program as an alternative to jail if the McCloskeys are convicted.
Gardner declined to discuss why Missouri's "castle doctrine," a law that justifies deadly force for those who are defending their homes from intruders, didn't apply. Within hours of the ruling, Missouri Attorney General Eric Schmitt filed a brief seeking to dismiss Gardner's charges against the McCloskeys…
MORE
.
—————————————————————————————
.
Suspect In Brutal Attack On Judge's Son, Husband Found Dead – The Hill
.

.
Police said Monday that the suspect in the shooting of a New Jersey judge's son and brother has been found dead with an apparent self-inflicted gunshot wound. The suspect was found in Rockland, N.Y., with a gun at the scene. Police are investigating whether it was the same one used to kill Judge Esther Salas's 20-year-old son, David Anderl, and wound her husband, Mark Anderl at their home in New Brunswick, according to a New York NBC affiliate.
Salas, an Obama appointee who was the first Latina U.S. district judge in the Garden State, was in the basement at the time of the shooting.
In a statement Monday, the FBI said it had identified Roy Den Hollander, now deceased, as its prime suspect in the shooting…
MORE
.
—————————————————————————————
.
St. Louis Circuit Attorney Says Couple Who Used Guns To Defend Thier Home From BLM Terrorists Will Face Felony Charges – Breitbart
The St. Louis, Missouri, couple who held guns in their hands in hopes of preventing protesters from damaging their property are now facing felony charges.
Fox News reported that Circuit Attorney Kimberly Gardner told the Associated Press that Mark and Patricia McCloskey will face felony charge for "unlawful use of a weapon" and also a misdemeanor charge for fourth degree assault.
On June 30, Breitbart News reported an investigation had been opened against the couple.
The New York Post quoted Gardner saying, "I am alarmed at the events that occurred over the weekend, where peaceful protestors were met by guns." Gardner added, "We must protect the right to peacefully protest, and any attempt to chill it through intimidation or threat of deadly force will not be tolerated."
On July 11, Breitbart News reported that the rifle in the June 28 video was seized from the McCloskey's home as police executed a search warrant…
MORE
.
—————————————————————————————
.
70 Shot, 10 Fatally, Over Weekend In DemoNazi-Controlled Chicago – Chicago Sun-Times
.

.
Ten people were killed and 60 others, including 10 minors, were wounded in shootings across Chicago over the weekend. The numbers surpassed those of the same weekend last year, when 43 people were shot, three of them fatally.
Last weekend, 64 people were shot across the city, 13 of them fatally. Six of those victims were teenagers and one teen was killed.
The latest fatal shooting killed two men and wounded three others late Sunday night in Morgan Park on the Far South Side. The shooting happened about 11:52 p.m. in the 11300 block of South Carpenter Street, Chicago police said. A group of people were outside when someone fired shots. A 26-year-old and 41-year-old man suffered fatal gunshot wounds…
MORE
.
—————————————————————————————
.
Leftist Hellhole Update: Antifa Terrorists Break Into Portland Police Union And Set It On Fire As DemoNazi Mayor Hamstrings Federal Troops – PJ Media
On Saturday evening, two groups of antifa and Black Lives Matter rioters terrorized Portland, squaring off against police and federal troops. One group attacked the Portland Police Bureau's North Precinct and the Portland Police Association (PPA) – the police union – while the other group targeted the federal courthouse and Justice Center, returning to set yet another bonfire at the ruins of the elk statue nearby.
Antifa broke into the PPA and set it on fire. Before the violence began on this 51st day of unrest in Portland, Mayor Ted Wheeler (D-Portland) decided to hamstring federal troops, aiming to prevent local law enforcement from teaming up with them.
According to a police report, an angry crowd first marched to the Portland Police North Precinct at around 8:35 p.m., blocking the streets as they went.
"Some people tampered with gates, broke patrol vehicle windows, and vandalized patrol vehicles. People taunted officers as they arrived to work," the police reported. The crowd blocked streets around the precinct…
MORE
.
—————————————————————————————
.
Son Of Federal Judge Recently Assigned To Epstein-Linked Case Shot Dead, Her Husband Critically Injured By Gunman Disguised As FedEx Driver – Daily Mail
.

.
The son of a federal judge has been shot dead and her husband critically wounded after they were attacked at their home by a gunman dressed as a FedEx driver. The attack happened at the home of Esther Salas, 51, an Obama-appointed District Court judge, in North Brunswick, New Jersey, on Sunday evening.
The judge's 20-year-old son Daniel Anderl was killed, and her defense attorney husband Mark Anderl, 63, was critically injured.
The shooting came days after the judge was assigned a case with links to Jefferey Epstein, although there is not yet any suggestion that the attack is linked to her work. The attack began at around 5pm when Mark Anderl answered the front door to the family home…