.
13 RINOs Join House DemoNazis In Passing Resolution To Block President Trump's National Emergency Order Over Border Wall – Fox News
.

.
Democrats on Tuesday pushed unprecedented legislation through the House to block President Trump's national emergency declaration to steer billions of extra dollars to his southern border wall, raising the prospect that Trump might issue his first-ever veto to defeat the effort.
The vote was 245-182, with all Democrats voting yea and 13 Republicans joining them.
Tuesday's vote marked the first time the House or Senate has tried to terminate a presidential declaration of a national emergency, using the provisions of the National Emergencies Act of 1976. Former Rep. George Miller, D-Calif., attempted a similar effort regarding a national emergency declared by then-President George W. Bush, but the measure never came to a vote on the House floor.
Should enough Republicans in the GOP-controlled Senate defect and support the House bill, a two-thirds supermajority in both the Senate and House would be needed to override Trump's veto…
MORE
.
—————————————————————————————
.
Republicans Force House Climate Change Hearing To Adjourn Before It Even Starts When Only Two Democrats Bother Showing Up – Politico
House Republicans managed to quash Democrats' hearing on climate change on Tuesday by outvoting the majority party at the poorly attended event, forcing it to adjourn only minutes after it began.
The hearing of the House Natural Resources panel was to be the latest to dive into climate change since Democrats took control of the House last month, bringing new attention to the issue they complained Republicans had ignored during their eight years leading the chamber.
The hearing was designed to probe the "denial playbook" that Democrats say fossil fuel backers have copied from cigarette companies – the same tactics used by opioid makers and the National Football League to dispute strong scientific evidence.
But Texas Republican Rep. Louie Gohmert – a staunch conservative who has claimed warm temperatures during the Viking age disproved climate change science – took issue with notion that the topic was within the panel's jurisdiction…
MORE
.
—————————————————————————————
.
Maryland Democrat Mary Ann Lisanti Sorry For Calling Prince George's County A "Nigger District" – Breitbart
.

.
Mary Ann Lisanti, a white Maryland Democrat legislator, is apologizing to black lawmakers for referring to a county as a "nigger district," but claims "everyone" has used the racial slur.
Delegate Lisanti reportedly used the racist slur to describe Prince George's County – which is 62 percent African American – while conversing with a colleague during an after-hours gather at a bar in Annapolis.
According to the Washington Post, Legislative Black Caucus of Maryland confronted the Democrat legislator, whose district includes Harford County, over the alleged slur.
Caucus chair Del. Darryl Barnes (D) of Prince George's County, told the Post that Lisanti was "contrite" when pressed about the comment, calling her reaction "really disturbing."…
MORE
.
—————————————————————————————
.
India Bombs Pakistan, Targeting Terrorist Camps In Cross-Border Air Raids; Pakistan Vows Retaliation – Zero Hedge
With most of the world distracted by President Trump's second summit meeting with Kim Jong Un in Hanoi, tensions between two nuclear-armed powers flared roughly 2,000 miles West in the contested border region of Kashmir.
Indian Air Force's plane participates in military drills on February 16, 2019
In retaliation for one of the deadliest terror attacks in the history of the long-running Kashmiri insurgency – earlier this month, a Muslim 'mujahidin' drove a car loaded with explosives into a bus packed with Indian paramilitary soldiers, killing more than 40 – Indian fighter jets carried out a tactical strike on what the Indian government described as a training camp for the militant group Jaish-e-Mohammed (JeM), killing more than 300 militants and infuriating the government in Islamabad, which condemned the attack and insinuated that it could launch a counter-strike of its own, with Prime Minister Imran Khan warning the nation of 200 million and its armed forces to "remain prepared for all eventualities."
Unsurprisingly, the two countries offered contrasting descriptions of the attack…
MORE
.
—————————————————————————————
.
May Caves To Remainer Threats And Paves Way To Delaying Brexit, Stopping Clean Break – Breitbart
.

.
Prime Minister Theresa May has paved the way for Europhile MPs to stop the UK leaving the EU in a clean break and to delay the Brexit date.
Mrs May has said that should the House of Commons not back her Withdrawal Agreement in the second 'meaningful vote' scheduled for March 12th, she will allow MPs in the Remain-dominated lower house of Parliament to vote on whether it backs the UK leaving the EU without a deal – an already-agreed legal default position if London does not come to a deal with the Brussels by March 29th.
The prime minister also said that should the House vote down her bill and later vote against leaving without a deal, Parliament will be asked to vote on a "short" extension to Article 50, the legal mechanism for leaving the EU…
MORE
.
—————————————————————————————
.
Donald Trump In Vietnam For Summit With Kim Jong-Un – BBC News
U.S. President Donald Trump has arrived in Vietnam ahead of his second summit with North Korean leader, Kim Jong-un. Air Force One landed at Hanoi's Noi Bai airport hours after Mr Kim reached the Vietnamese capital by train and car.
The summit, which is due to take place on Wednesday and Thursday, follows a historic first round of talks in Singapore last year. The two leaders are expected to discuss progress towards ridding the Korean peninsula of nuclear weapons.
Ceremonial guards had lined a red carpet laid out for Mr Kim as he arrived at Dong Dang border station on Tuesday morning. He was then driven to Hanoi, where heavy security and flag-waving crowds were waiting for him.
Mr Kim is thought to be travelling with his sister Kim Yo-jong and one of his key negotiators, former General Kim Yong-chol, both familiar faces from the previous summit with Mr Trump…
MORE
.
—————————————————————————————
.
Occasional-Cortex: The Twilight Zone's Monster – Patricia McCarthy
.

.
There is a particularly horrifying episode of Rod Serling's Twilight Zone titled "It's a Good Life" (1961). It stars Billy Mumy as a mind-controlling six-year-old boy ("the monster") who lives with his parents in Peaksville, Ohio.
The town is completely isolated from the outside world thanks to the satanic powers of little Anthony Fremont. He has taken away cars, electricity, and machines because he doesn't like them.
The town subsists only by growing its own food and on other household items they have on hand but are dwindling. He sends people who anger him to the cornfield, never to be seen again. Everyone in the town lives in fear of him. At the end of the episode, he causes heavy snow to fall, which will kill the crops; the town will soon starve…
MORE
.
—————————————————————————————
.
Another Hate Hoax That The Left Recently Promoted – Dov Fischer
Now that we are in the Age of the Hate Hoax, it is valuable to look closer at a recent "anti-Semitic" temple attack that the Left initially promoted as more proof of the evils of Trump and White nationalists.
They promoted it – until it turned out that the vandal who attacked the Jewish house of worship was a (i) Black (ii) LGBT (iii) Obama supporter. Then the media dropped it like an Acme anvil in a Looney Tunes cartoon: Anti-Semitic attack? What anti-Semitic attack?
It began in the aftermath of the Pittsburgh Temple Massacre. Remember how the Mediacracy and the Leftist Democrat Jewish choir raced in to blame Trump for that American tragedy? The Pittsburgh Democrat politicians refused to appear at the temple when the President compassionately came to pay his respects.
Meanwhile it emerged that the dirtbag who perpetrated the evil was a Trump hater! As with so many of these types of things, concern next turned legitimately to deterring mentally deranged copycats…
MORE
.
—————————————————————————————
.
Supreme Court: Dead Judges Can't Issue Rulings – Washington Times
.

.
It would seem obvious that once a judge has died, he couldn't rule in any new cases. Yet that was news to the 9th U.S. Circuit Court of Appeals, which published an opinion last year by Judge Stephen Reinhardt – 11 days after his death.
The Supreme Court stepped in Monday and overturned that move, saying that while judges have plenty of judicial power, it can't extend to the grave.
"Federal judges are appointed for life, not for eternity," the court ruled in an unsigned opinion. The justices sent the case back to the 9th Circuit for a new review.
The case involved the Equal Pay Act. Reinhardt had been part of the court's 11-member en banc panel, and his opinion was critical…
MORE
.
—————————————————————————————
.
Trump Slams Senate Democrats On Born Alive Bill: 'One Of The Most Shocking Votes In The History Of Congress' – Daily Caller
President Donald Trump reacted on Twitter Monday evening after the Born-Alive Survivors Protection Act, which would have ensured that babies who survive abortions are given medical attention, failed to pass the Senate.
"Senate Democrats just voted against legislation to prevent the killing of newborn infant children. The Democrat position on abortion is now so extreme that they don't mind executing babies AFTER birth," Trump wrote on Twitter. "This will be remembered as one of the most shocking votes in the history of Congress. If there is one thing we should all agree on, it's protecting the lives of innocent babies."
The bill failed 53 to 44. The legislation would have mandated that babies born alive after an abortion would receive the "same protection of law as any newborn" and needed 60 votes to pass.
No Democratic presidential hopefuls in the Senate voted for the bill…
MORE
.
—————————————————————————————
.
Undertakers Sue Pastor For 'Raising Man Back From The Dead' At One Of Their Funerals – Daily Mail
.

.
A firm of South African undertakers have said they will sue a Christian pastor who 'raised a man from the dead' in a stunt at their mortuary. Alleluia Ministries pastor Alph Lukau claimed he had brought a dead man back to life in front of a crowd of people near Johannesburg.
Footage of the event showed the man lying still in the coffin before sitting up again when the pastor puts his hands on him. But Kings and Queens Funerals were not amused by the stunt, saying it had caused 'malicious damage to our image'.
In the video the pastor speaks theatrically into a microphone, introducing supposed family members of the man in the coffin. He invites the crowd to follow him in prayer, calling out Jesus' name before waving his hands at the 'deceased' man…
MORE
.
—————————————————————————————
.
IG: Prosecution Was Declined For Senior DOJ Official Who Sexually Assaulted A Subordinate – CNS
A senior Justice Department official working in the Office of Justice Programs pressured one subordinate "into a sexual relationship with him in exchange for a promotion," "sexually harassed two other subordinates," "sexually assaulted" yet another subordinate, and then "lacked candor" with the Office of the Inspector General when the IG investigated these matters, according to an investigative summary published by the IG.
The unnamed prosecutor or prosecutors to whom the IG referred this case, however, declined to prosecute the senior Justice Department official. Instead, the man was allowed to retire.
When asked by CNSNews.com, the Justice Department would not say whether this former senior official is now receiving a federal pension or has been allowed to keep a security clearance.
"The Department of Justice, Office of the Inspector General (OIG) initiated this investigation upon the receipt of information alleging that a senior Department of Justice (DOJ), Office of Justice Programs (OJP) official sexually harassed and retaliated against female subordinates…
MORE
.
—————————————————————————————
.
Hate Hoax: Prosecutors Charge LGBT Activist With Burning Down Own Home With Pets Inside – Breitbart
.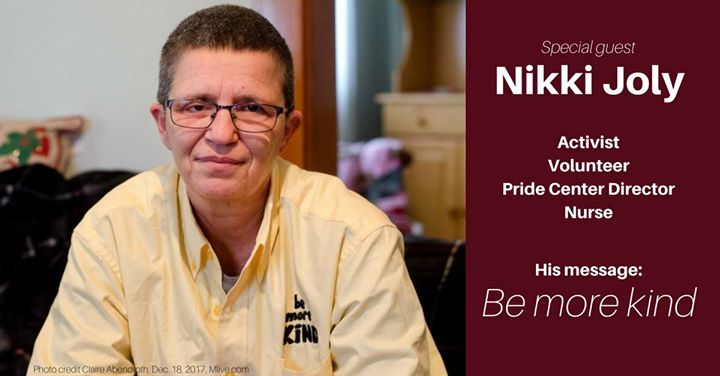 .
Michigan prosecutors say Nikki Joly, a longtime LGBT activist, set fire to her home and killed her pets due to resentment from subsiding controversy over the enactment of nondiscrimination legislation she advocated for.
The Detroit News reported Monday that law enforcement charge Joly, a transgender man from Jackson, Michigan, burned down her own home, killing five pets inside, in what was initially investigated by the FBI as an alleged hate crime in 2017.
The newspaper, citing two individuals who worked along Joly at St. Johns United Church of Christ, where the Jackson Pride Center is based from, reported that Jolly, 54, had become "frustrated the controversy over gay rights had died down with the passage of the nondiscrimination law."…
MORE
.
—————————————————————————————
.
Two Males Pretending To Be Females Finish 1st, 2nd At Connecticut Girls Indoor Track Championships – Western Journal
The top two runners in the girls 55-meter dash at Connecticut's high school track championships have something in common. Winner Terry Miller and second-place finished Andraya Yearwood are both transgender runners.
Winning is nothing new for them, the Washington Times reported. They took the top two places in the girls 100-meter Connecticut high school championships last year. Miller also won the girls 300-meter race this year.
Competitor Selina Soule said that while the two students have the right to express who they are, rules such as the one in Connecticut that puts no restrictions on transgender athletes are not fair to everyone else.
"We all know the outcome of the race before it even starts; it's demoralizing," she said.
"I fully support and am happy for these athletes for being true to themselves. They should have the right to express themselves in school…
MORE
.
—————————————————————————————
.
Vice President Mike Pence Meets With Venezuelan Opposition Leader Juan Guaido; Urges Allies To Freeze Socialist Hellhole's Oil Assets As U.S. Announces More Sanctions – Fox News
.

.
Vice President Mike Pence on Monday urged a coalition of mostly Latin American countries to freeze the assets of Venezuela's state-owned oil company in response to violent clashes between security forces and opposition members over blocked humanitarian aid.
Speaking in Colombia on Monday, Pence repeated President Trump's threat that "all options are on the table" to push out embattled socialist leader Nicolas Maduro, whose re-election is considered invalid by the U.S. and dozens of other countries.
"It's time to do more," said Pence. "The day is coming soon when Venezuela's long nightmare will end, when Venezuela will once more be free, when her people will see a new birth of freedom, in a nation reborn to libertad."…
MORE
.
—————————————————————————————
.
An American Epidemic: Toxic Imbecility – Thaddeus G. McCotter
I'm a doctor. Fine, I'm a doctor of laws not of medicine. But I can scroll Web, M.D. as well as anyone, so believe you me – forget all the other scourges ravaging our free republic, even if (nay, especially if) they are afflicting you. Those scourges are mere distractions from the root cause of our impending doom.
No, I'm not talking about climate change/global warming/new Ice Age or whatever current false alarm the Left is sounding, for that false alarm is itself is a symptom of the new scourge; and, at the risk of sounding alarmist, our demise may well occur within the next twelve years.
For, as President Abraham Lincoln ominously noted, "America will never be destroyed from the outside. If we falter and lose our freedoms, it will be because we destroyed ourselves." And Mr. Lincoln wasn't just talking about Jussie Smollett paying for his hoax hate crime with a check.
What is this postmodern plague consuming our nation?
Toxic imbecility…
MORE
.
—————————————————————————————
.
Kim Jong Un Begins Train Journey To Hanoi, Vietnam For Upcoming Meeting With Trump – TASS
.

.
North Korean leader Kim Jong Un has started his train journey from Pyongyang to Hanoi (Vietnam), where he is set to meet with US President Donald Trump next week, a North Korean diplomatic source informed TASS.
The source informed that around 17:00 local time (11:00 Moscow time), the North Korean leader left for Hanoi in an armored train. He is expected to travel all the way to Vietnam by train, passing China. The total distance between Pyongyang and Hanoi surpasses 4,500 kilometers. The North Korean leader's trip is expected to last for over 48 hours.
Earlier, Trump announced that he would meet with Kim Jong Un for the second time in Vietnam's capital Hanoi on February 27-28…
MORE
.
—————————————————————————————
.
Venezuelan Opposition Lawmaker Poisoned At Colombian Border – Daily Express
A Venezuelan lawmaker and member of the opposition is in a serious condition after reportedly being poisoned in Colombia.
According to BNO news, Freddy Superlano was poisoned at a restaurant in Cucuta, a city near the country's border with Venezuela. His party, which is led by Juan Guaido, has confirmed that Mr Superlano's cousin and assistant Carlos Salinas has died as a result of the same poisoning incident.
Reports state Mr Superlano and Mr Salinas were spiked with a substance known as hyoscine or scopolamine. The drug is said to be used to treat motion sickness and other conditions. However, it has also reportedly been used in robberies and sexual assaults which has led to it gaining the nickname 'Devil's Breath'.
U.S. Senator Marco Rubio condemned the attack calling it a "grave situation". In a statement, the party said: "We wait for the results of the investigation by the Colombian authorities to establish the facts."…
MORE
.
—————————————————————————————
.
How The Left Tricks People Into Thinking Socialism Is Plausible – William F. Marshall
.

.
What on earth has happened to the Democratic Party? Even by liberal standards, the policies the left now advocates appear insane. To say they are an order of fries short of a Happy Meal is an insult to McDonald's.
I'm used to childishness from the Democratic Party, but something is very wrong in the Land of Unicorns and Fairy Dust. Is all of this just the usual hyper-liberal reaction to a Republican presidency, or is there something more insidious and dangerous at work? Tthe latter may be the case, in the form of something called the Overton Window Principle. Let's recap the last several weeks in Lala-Land.
Consider the "Green New Deal" Rep. Alexandria Ocasio-Cortez supports. Her resolution before Congress calls for America to entirely divest itself of fossil fuels within ten years…
MORE
.
—————————————————————————————
.
DemoNazi Lawmaker Drafting Legislation To Force Colorado Residents To Vaccinate Their Kids – The Hill
A Colorado state lawmaker is drafting legislation to eliminate an exemption that allows parents to opt out of vaccinating their children for personal reasons.
The Denver Channel reported Friday that Democratic Rep. Kyle Mullica has begun drafting the bill, which would make it more difficult for parents to opt out of vaccinations.
The effort comes after Colorado was found to have the lowest rate of vaccinations in the country, according to the outlet, which noted that less than 89 percent of kindergarteners are vaccinated against illness such as measles and mumps.
"To hear that we were last in the entire country was concerning, it was embarrassing," Mullica said. "This is not a political issue, this is about our kids being safe." he continued.
The bill also comes after a flurry of measles outbreaks across in the Pacific Northwest and in New York state…
MORE
.
—————————————————————————————
.
Cowboys For Trump Ride Through D.C. In Support Of Border Wall – Breitbart
.

.
D.C. Police escorted men and women on horses through the streets of the nation's capital on Friday as Cowboys for Trump and a last-minute Native American rider rode in support of President Donald Trump and his efforts to build a wall on the U.S. southern border with Mexico.
Some on the sidewalks cheered while others jeered as police escorted the more than a dozen riders carrying American and "Trump Make America Great Again" flags through downtown and past the White House.
Most of the Cowboys for Trump came from border communities in New Mexico where they said drug and human trafficking is rampant, and Trump's national emergency declaration is essential to securing the border and protecting the American people and the lifestyle we enjoy…