.
Pennsylvania Man Wanted On 865 Counts Of Child Rape Arrested In Tallahassee, Florida – Tallahassee Democrat
A Pennsylvania man wanted on 865 charges of child rape was captured in Tallahassee on Thursday. Gerrick Bloom, 46, was wanted in Clarion, Pennsylvania, in connection with the rape of a child whom investigators say he had been "grooming" and assaulting since the age of five.
Bloom was captured outside of the Kearney Center by the U.S. Marshals Fugitive Task Force, according to Deputy Commander Marty West. He had been staying at the shelter for the past two days but had evaded authorities since a warrant was issued for his arrest on Jan. 16.
"That's a high traffic area for children getting off school buses," West said of where Bloom was taken into custody. "Having a predator like that hanging around Tallahassee, it would have only been a matter of time."
He faces 216 counts of rape of a child, 216 counts of involuntary deviate sexual intercourse with a child, 216 counts of aggravated indecent assault of a child, 216 counts of statutory sexual assault and endangering the welfare of a child…
MORE
.
—————————————————————————————
.
Man's Testicles Tasered By Psycho Cops During Completely Unnecessary Arrest – RT
.

.
Disturbing bodycam video shows Arizona cops tasering a man 11 times, including on the testicles, as his horrified family scream for them to stop. The police are now being sued for "excessive force and torture."
The nightmare tasering began when Glendale police officers approached a vehicle for a signal turn violation in July 2017. Johnny Wheatcroft was in the front passenger seat, while his wife Anya Chapman and their 11 and six-year-old sons sat in the back. A friend of the family was driving.
Officers Matt Schneider and Mark Lindsey asked Wheatcroft for his ID and he enquired why he had to show it, as he was not driving the vehicle. Police allege he went to stuff something in his backpack, and, after pressing the taser against his arm and telling him to "relax,"…
MORE
.
—————————————————————————————
.
Chimps Build Ladder To Escape From Northern Ireland Zoo – Townhall
We have a real-life "Planet of the Apes" scenario in Northern Ireland as zookeepers say a troop of chimpanzees used fallen branches to construct a ladder for a daring escape last week.
The Associated Press reports "Zookeeper Alyn Cairns said trees in the chimps' enclosure had been weakened by recent storms, allowing the animals to break them and fashion a ladder to escape. He told the BBC 'they're intelligent primates and know they're not supposed to be out of their enclosure, so got back in themselves.'"
The video provided by The Guardian was taken by locals visiting the zoo. One attendee told the British paper that she was terrified but chose to remain calm.
"I was petrified, obviously, having the kids, and I tried not to show fear but inside I was a bit like: what happens if it attacks us or tries to take the kids or runs over?" Danielle Monoghan told the media…
MORE
.
—————————————————————————————
.
Tens Of Thousands Rally In Madrid; Demand Socialist Prime Minister Sanchez Resign – Associated Press
.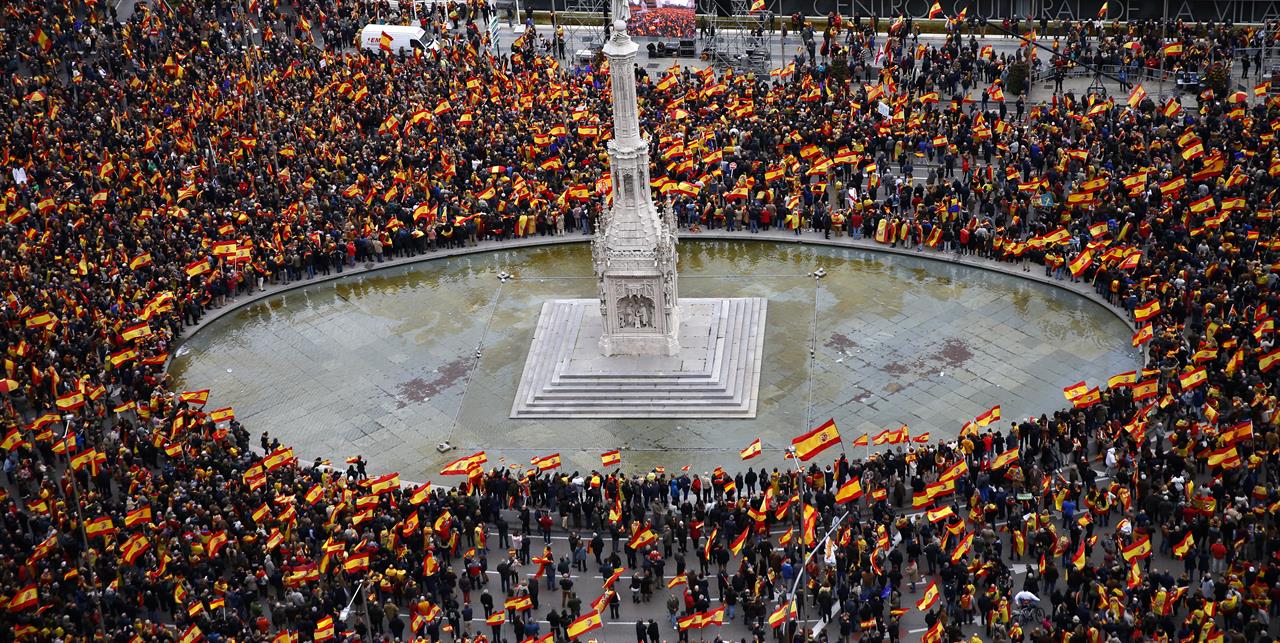 .
Tens of thousands of people joined a right-wing rally in Spain's capital Sunday to demand that Prime Minister Pedro Sanchez step down for his handling of the Catalonia region's secession crisis.
Many in the crowd assembled in Madrid's Plaza de Colon waved the national flag and chanted slogans in support of Spain's security forces along with calling for the Socialist prime minister's resignation. The conservative opposition Popular Party and the center-right Citizens party organized the rally, which the upstart far-right Vox party and others backed.
"The time of Sanchez's government is over," Popular Party president Pablo Casado said. He asked voters to punish Sanchez's Socialists in the European, local and regional elections in May…
MORE
.
—————————————————————————————
.
Evil Baby-Killing Whores Of Satan Update: Planned Parenthood Kept Aborted Babies Alive To Harvest Their Organs – Washington Times
In an undercover video released Wednesday, a former technician for a tissue-harvesting company details how an aborted baby was kept alive so that its heart could be harvested at a California Planned Parenthood facility, raising more legal questions about the group's practices.
Holly O'Donnell, a former blood and tissue procurement technician for the biotech startup StemExpress, also said she was asked to harvest an intact brain from the late-term, male fetus whose heart was still beating after the abortion.
A StemExpress supervisor "gave me the scissors and told me that I had to cut down the middle of the face. And I can't even describe what that feels like," said Ms. O'Donnell, who has been featured in earlier videos by the Center for Medical Progress, a pro-life group that previously had released six undercover clips involving Planned Parenthood personnel and practices.
David Daleiden, the video project leader, said the undercover footage and interviews show that fetuses are sometimes delivered "intact and alive" before their organs are harvested…
MORE
.
—————————————————————————————
.
Winning: South Korean Officials Agree To Increase Payment For Presence Of U.S. Troops After Trump Push – The Hill
.

.
South Korean officials on Sunday signed off on an agreement that would increase the nation's contribution to cover the cost of keeping U.S. troops on the Korean Peninsula.
The Associated Press reported that Seoul agreed to provide $924 million in 2019, an increase from $830 million in recent years. The agreement comes after President Trump criticized the cost of keeping troops on the Korean Peninsula, and called for South Korea to contribute more.
The new agreement still requires approval from South Korea's parliament, the AP noted. Unlike past cost-sharing deals, which lasted multiple years, the new agreement would only be for one year, forcing negotiators to hammer out a new pact in the coming months, it added…
MORE
.
—————————————————————————————
.
Number Of Anchor Babies In 10 States Is More Than Four Times The Population Of Boston – Breitbart
The number of United States-born children of illegal aliens in ten states is more than four times the total population of Boston, Massachusettes, data reveals.
The U.S.-born children of illegal aliens are commonly known as "anchor babies," as they "anchor" their illegal alien and noncitizen parents in the U.S. when they are granted immediate birthright citizenship.
There are at least 4.5 million anchor babies in the country, a population that exceeds the total number of annual American births, as about 300,000 anchor babies are born every year, exceeding the total number of American births in 48 states.
Currently, the U.S. and Canada are the only developed nations in the world that offer unrestricted birthright citizenship.
Data compiled by the Migration Policy Institute finds there are more than 2.9 million anchor babies under the age of 18 years old in these ten states: California, Texas, New York, Florida, Illinois, Georgia, North Carolina, New Jersey, Arizona, and Washington…
MORE
.
—————————————————————————————
.
New Jersey Voters Furious As Democrat Governor Murphy Prepares To Sign 'Rain Tax' Into Law – Zero Hedge
.

.
Just when frustrated residents of New Jersey, one of the most heavily taxed states in the US, thought Democratic Gov. Phil Murphy had already brought the state into the ninth circle of taxation hell with new taxes to save the state's ailing pension system, middle class voters in one of the least affordable states in the country have now been given one more thing to complain about: A tax on the rain.
After a bill authorizing the new local taxes was passed by the state late last month, Murphy is preparing to sign it into law, over the objections of the state's Republicans, according to the New York Post.
As one state lawmaker told the post, just when NJ residents thought the state had already laid claim to every revenue stream imaginable, Democrats have found one more thing to tax…
MORE
.
—————————————————————————————
.
British Mother Arrested In Front Of Her Children For Calling A "Transgender Woman" A Man Online – IOL
A mother was arrested in front of her children and locked up for seven hours after referring to a transgender woman as a man online. Three officers detained Kate Scottow at her home before quizzing her at a police station about an argument with an activist on Twitter over so-called 'deadnaming'.
The 38-year-old, from Hitchin, Hertfordshire, had her photograph, DNA and fingerprints taken and remains under investigation.
More than two months after her arrest on December 1, she has had neither her mobile phone or laptop returned, which she says is hampering her studies for a Masters in forensic psychology.
Writing on online forum Mumsnet, Mrs Scottow – who has also been served with a court order that bans her from referring to her accuser as a man – claimed: "I was arrested in my home by three officers, with my autistic ten-year-old daughter and breastfed 20-month-old son present…
MORE
.
—————————————————————————————
.
Sheriffs Warn Immigration Deal Will Pour 8,300 Criminals Onto Streets To Disappear – Washington Examiner
.

.
Some 3,000 sheriffs from around the country are urging lawmakers and administration officials crafting an immigration packages to drop a proposed cap on the number of illegals aliens ICE can hold, warning it will free over 8,300 criminal immigrants and endanger the public.
In a letter to House and Senate negotiators, the National Sheriffs' Association and the Major County Sheriffs of America said: "This dangerous congressional proposal not only jeopardizes the risk of our national security, but hinders our law enforcement officers from effectively enforcing and upholding the law and protecting their communities."
According to reports, the emerging deal does not include the money President Trump wants for a physical wall…
MORE
.
—————————————————————————————
.
Ocasio-Cortez Doubles Down On 'Free Money For Lazy People' FAQ Debacle – Zero Hedge
Rep. Alexandria Ocasio-Cortez (D-NY) has inserted her foot squarely in her mouth as her "Green New Deal" PR nightmare continues.
After removing an embarrassing FAQ from her website which failed to match the environmental legislation package she introduced on Thursday, one of her advisers went on Fox News' Tucker Carlson Tonight and lied about it.
The now-deleted version of the FAQ originally uploaded by AOC's office contained an absurd provision for "economic security for all who are unable or unwilling to work," a phrase which AOC adviser Robert Hockett – a Cornell law professor, claimed came from a "doctored document."
"I think you're referring to some sort of document that some, I think some doctored document that somebody other than us has been circulating," said Hockett in response to Carlson's question about the "unwilling to work" statement…
MORE
.
—————————————————————————————
.
Baby-Killing Racist Governor Northam Says Virginia Needs Someone "Who Has A Moral Compass", Which Is Why He's "Not Going Anywhere" – Breitbart
.

.
Sunday on CBS's "Face the Nation," Gov. Ralph Northam (D-VA) said he would not resign over the scandal over a racist photo on his 1984 medical school yearbook page.
Northam said, "While we have made a lot of progress in Virginia, slavery has ended, schools have been desegregated, we have ended the Jim Crow laws, easier access to voting, it is abundantly clear that we still have a lot of work to do, and I really think this week raised the level of awareness in the Commonwealth and in this country that we have not seen certainly in my lifetime."
He continued, "We have worked very hard. We've had a good first year, and I'm a leader. I've been in some very difficult situations, life-and-death situations, taken care of sick children."…
MORE
.
—————————————————————————————
.
Nick Sandmann's Lawyer: 'Nathan Phillips Will Be Sued' Over Lies Against Covington Boys – Life Site
One of the attorneys representing Covington High School student Nick Sandmann and his parents confirmed to LifeSiteNews that Native American activist Nathan Phillips "will be sued."
Lin Wood, an Atlanta-based lawyer, told LifeSite yesterday that Phillips' "lies and false accusations" against Sandmann and the other Covington students are "well documented."
He also said they would be filing the first round of lawsuits "within two weeks." Todd V. McMurtry, a Ft. Mitchell, Ky attorney, is also representing Sandmann and his parents. Doug Schloemer, a Ft. Mitchell, Ky attorney, represents a number of other students and Robert Barnes, a California attorney, is also representing families and students of Covington High School.
The legal action by Sandmann's attorneys is ramping up after notices demanding preservation of evidence for possible slander litigation were recently sent out to more than 50 media, dioceses, and celebrities…
MORE
.
—————————————————————————————
.
Doctor: Trump In 'Very Good Health' For Presidency 'And Beyond' – Daily Caller
.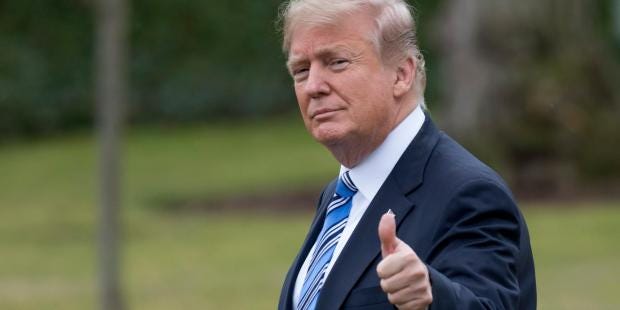 .
President Donald Trump is likely to be in good health for the remainder of his presidency and beyond, White House physician Dr. Sean Conley wrote in a letter to Sarah Huckabee Sanders on Friday evening.
"I am happy to announce the President of the United States is in very good health and anticipate he will remain so for the duration of his presidency, and beyond," Conley wrote in his letter. Conley noted that the final results of Trump's 2019 physical exam have not yet been fully processed.
The results come after Trump underwent his second physical exam while in office and will likely come under intense scrutiny…
MORE
.
—————————————————————————————
.
Virginia Democrats Add Anti-Semitism Accusation To Party's Troubles – Washington Times
Ibraheem Samirah, Democrats' candidate in a special election for a state House seat later this month, apologized Friday for anti-Israel comments from earlier this decade, saying that while he made them, the fact that they are rising now is a "slander campaign."
Dr. Samirah, who was born in the U.S. but calls himself a "second-generation Palestinian refugee," said he wrote the offending comments five years ago on Facebook, and says they were the musings of his college mind, which "I sincerely regret and apologize for."
"I am so sorry that my ill-chosen words added to the pain of the Jewish community and I seek your understanding and compassion as I prove to you our common humanity," he said in a statement Friday.
He also released a statement from his fraternity at American University, the historically Jewish Sigma Alpha Mu, which said it is "unequivocally false" to call him anti-Semitic. Dr. Samirah, a dentist, is running against Republican Greg Nelson…
MORE
.
—————————————————————————————
.
Another Woman Accuses Virginia Lt. Governor Fairfax Of Raping Her In College – Breitbart
.

.
A second woman has come forward with an allegation of sexual assault against Lt. Gov. Justin Fairfax (D-VA), claiming the embattled Virginia Democrat raped her while they were in college in 2000.
In a statement through her lawyer, the accuser, Meredith Watson said she confided in classmates about the alleged incident immediately after it occurred, and shared her account with others in emails and Facebook messages.
According to Watson, while she and Fairfax were friends at Duke University, the two had not dated or been intimate prior to the alleged incident. "At this time, Ms. Watson is reluctantly coming forward out of a strong sense of civic duty and her belief that those seeking or serving in public office should be of the highest character,"…
MORE
.
—————————————————————————————
.
Another DemoNazi-Run State Wants Gun Owners To Hand Over Their Social Media Accounts And Web Search History – Zero Hedge
Late last year, an Orwellian gun bill was presented in New York state. If signed into law, anyone who wants to buy a gun would have to turn over three years of their social media history and one year of their internet search history.
"A three-year review of a social media profile would give an easy profile of a person who is not suitable to hold and possess a firearm," said Brooklyn Borough President Eric Adams, who has proposed the legislation with New York State Senator Kevin Parker.
Before purchasing a gun, applicants would have to turn over their social media passwords to accounts like Twitter, Facebook, Snapchat, and Instagram. They would also have to allow police to see a year's worth of their searches on Google, Yahoo, and Bing.
That law would also require anyone renewing their permit for a pistol to be subject to this invasion of privacy as well. In the article, This Anti-Gun Bill Would Require the Social Media History and Internet Search History of Prospective Buyers, Daisy Luther wrote…
MORE
.
—————————————————————————————
.
Woman Eaten Alive By Her Own Pigs – Daily Caller
.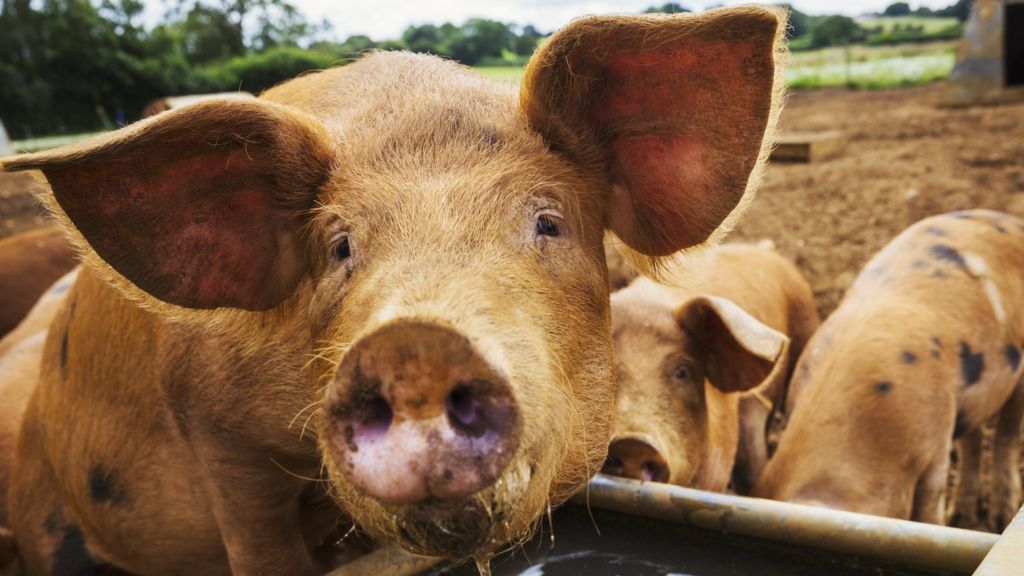 .
A Russian woman was eaten alive by her own pigs after suffering an epileptic seizure and collapsing in their pen, local media reports.
The woman's husband reportedly went to bed early the previous day as he felt ill, but awoke the next morning to find his wife missing and later discovered her mangled body in the pig pen, according to BBC.
The 56-year-old woman, who had been feeding the pigs before her seizure, reportedly died of blood loss after the pigs partially ate her.
The incident happened in a village in the Malopurginsky district of Udmurtia, east of the city of Kazan…
MORE
.
—————————————————————————————
.
Want Valentine's Revenge? This Zoo Will Name A Cockroach After Your Ex And Feed It To A Meerkat – Circa
Not only can you name a cockroach after your ex at the El Paso Zoo, but on Valentine's Day the zoo will be feeding those cockroaches to the meerkats for its "Quit Bugging Me" event.
You can submit the name of your or your friend's ex by sending a direct message to the El Paso Zoo Facebook page by Feb. 10. On Valentine's Day at 2:15 p.m., zoo staff will decorate the meerkat exhibit with the submitted names and shortly after, in honor of those names, the meerkats will be fed cockroaches.
"This is a fun way to get the community involved in our daily enrichment activities," said El Paso Zoo event coordinator Sarah Borrego. "The meerkats love to get cockroaches as a snack and what better way to celebrate Valentine's Day than by feeding them a cockroach named after your ex?"
The public is invited to attend the "Quit Bugging Me" event. The zoo will also show the event on Facebook Live and the meerkat webcam available on the zoo's website…
MORE
.
—————————————————————————————
.
Amazon Just Quietly Confirmed It Is Competing With UPS And FedEx – Business Insider
.

.
Each quarter, corporations dutifully report the "Risk Factors" facing their company to the public and investors in SEC filings.
Amazon's annual reports usually first highlight the "intense competition" the retail juggernaut faces. In 2017, that predictably included "retail, e-commerce services, digital content and electronic devices, and web and infrastructure computing services."
This year, Amazon added another industry in which they're facing competition – "transportation and logistics services," as CNBC's Eugene Kim reported on Feb. 5.
That's a clear warning shot to UPS and FedEx. Both transportation companies have long claimed Amazon is just a good customer…
MORE
.
—————————————————————————————
.
Veterinarian Gets Six Years In Prison For Smuggling Heroin Inside Of Puppies – Law & Crime
A Colombian veterinarian was sentenced in Brooklyn federal court on Thursday for helping drug traffickers in his native country by surgically implanting liquid heroin into puppies. Andres Lopez Elorez, 39, pleaded guilty in September to conspiring to import heroin into the United States.
According to the U.S. Department of Justice, Elorez raised dogs on farmland he leased in Medellin, Columbia between September 2004 and January 2005. As part of a trafficking scheme, he implanted bags of the liquid heroin into nine puppies, so they could be sent to the United States with the drugs smuggled inside them.
Authorities searched the property on January 1, 2005, and recovered 10 bags of liquid heroin from inside the puppies, as well as seven other bags. Of the nine puppies, three died due to a virus.
The story was far from over, however, as Elorez fled Columbia. He was finally spotted in Spain, where he was arrested in 2015, then extradited to the U.S. in 2018…