Bill Clinton Just Violated Election Laws at Polling Locations Across Massachusetts – U.S. Uncut
In Massachusetts, it's illegal to campaign for any candidate more than 150 feet from a polling place while voting is taking place. But Bill Clinton not only campaigned for his wife outside polling locations within that legal requirement, he also stepped inside the polling location itself, which some thought would unduly influence voters even if he did follow the letter of the law.
The National Association of Secretaries of State compiled a state-by-state list of electioneering laws at polling places. The Massachusetts law explicitly states:
.
Within 150 feet of a polling place… no person shall solicit votes for or against, or otherwise promote or oppose, any person or political party or position on a ballot question, to be voted on at the current election. No campaign material intended to influence the vote of a voter in the ongoing election, including campaign literature, buttons, signs, and ballot stickers, may be posted, exhibited, circulated, or distributed in the polling place, in the building where it is located, on the building walls, on the premises where the building stands, or within 150 feet of an entrance door to the building.
.
Here is video of Bill Clinton campaigning outside the Buttonwood Park Warming House, a polling location in New Bedford, MA, clearly within the 150 feet limit.
.

.
The 42nd President of the United States was warned of the rules by local election officials before he toured at four different locations today.
He was also told that he couldn't urge voters to support Hillary Clinton in the gymnasium of the Holy Name Church in West Roxbury, where he went inside and shook hands with voters – which is technically not a violation of the law, as long as he did not approach voters or actively solicit votes or campaign inside the building. Clinton also went inside the Newton Free Library in Newton, MA with Boston mayor Marty Walsh in tow. Both are prominent, well-known Hillary Clinton supporters.
————————————————————————————————–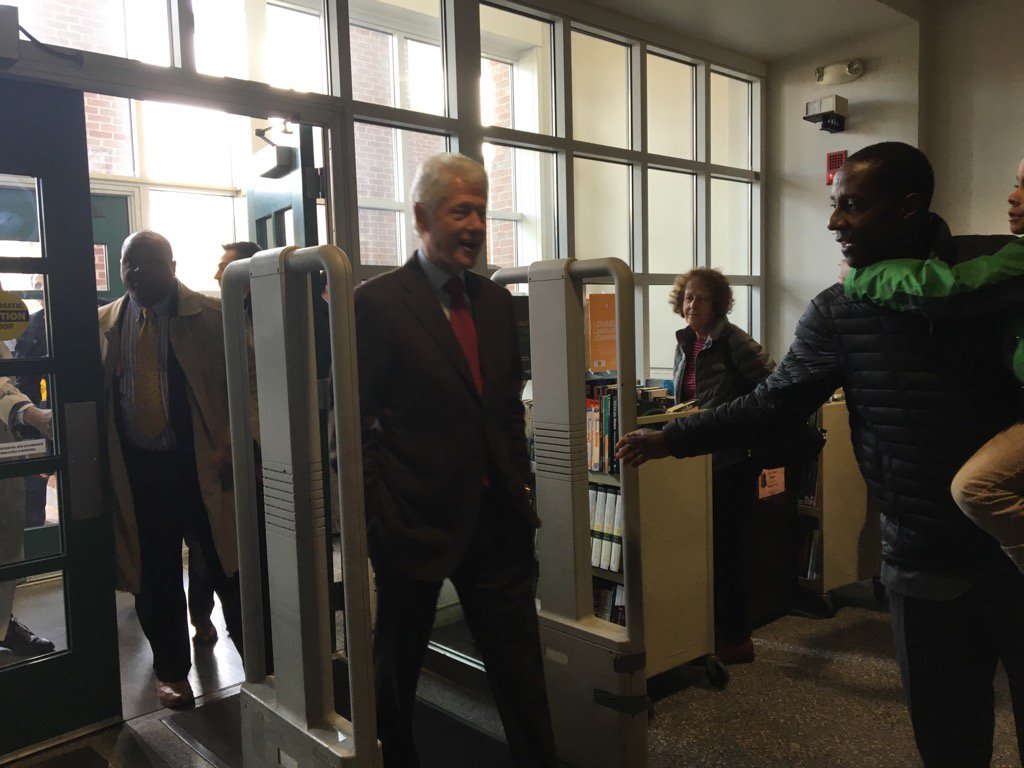 Newton Free Library
@NewtonFreeLib
President Clinton walking into Newton Free Library on Super Tuesday '16!
12:12 PM – 1 Mar 2016
————————————————————————————————–
"Even a president can't go inside and work a polling place," Massachusetts Secretary of State William Galvin told the New York Times. "He can go in, but he can't approach voters… We just took the extra precaution of telling them because this is not a usual occurrence.
"You don't usually get a president doing this," he noted.
Some commentators even questioned whether the ex-President's very presence inside a polling place defied the law for "campaign materials," due to the pull such a figure commands. However, despite some misquoting of the Boston Globe by some sources, it does not appear that he actively campaigned inside the polling stations themselves.
It was after his West Roxbury and Newton stops that Clinton went on to the Buttonwood Park Warming House in New Bedford, Massachusetts, to campaign for the former First Lady with New Bedford mayor Jon Mitchell. While a video circulating on Youtube claims that Clinton's Secret Service detail shut down the voting precinct for several hours, the Massachusetts Secretary of State's office told US Uncut that while traffic was heavy in New Bedford, polling stations remained open.
Massachusetts polls close at 8 PM Eastern. As of this writing, the race between Hillary Clinton and Bernie Sanders in the Bay State is neck-and-neck.