VISIT The Mad Irishman Blog @ https://irelander869603513.wordpress.com
---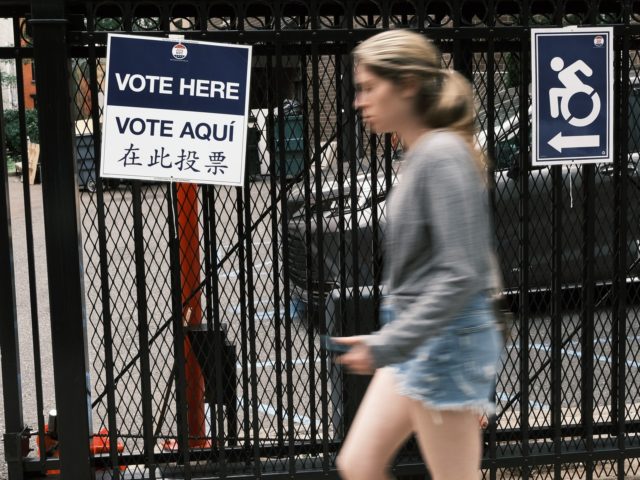 Up to one million noncitizens living in New York City will have access to the ballot box after Mayor Eric Adams (D) on Sunday approved legislation by the city council to automatically become law.
As Breitbart News reported last November, Adams has always supported the move.
"I believe that New Yorkers should have a say in their government, which is why I have and will continue to support this important legislation," Adams said in a statement Saturday, as seen by the New York Post.
"While I initially had some concerns about one aspect of the bill, I had a productive dialogue with my colleagues in government that put those concerns at ease. I believe allowing the legislation to be enacted is by far the best choice, and look forward to bringing millions more into the democratic process," the Democrat continued.
Former NYC Mayor Bill de Blasio (D) however repeatedly cautioned the legislation will almost certainly be subject to a legal challenge for violating New York state law.
The law promises to be be a boon for the city's massive 3.1 million-strong foreign-born population, which makes up almost 40 percent of its resident population, while at the same time diluting the municipal votes of millions of American citizens who live in the city.
Beneficiaries could vote in municipal elections as early as next year unless a judge halts its implementation. New York City is now the most populous city in the United States to grant voting rights to non-citizens…
MORE: https://www.breitbart.com/politics/2022/01/09/nyc-democrats-grant-voting-rights-to-nearly-1-million-noncitizens/
---
Three-year-old Ámbar Suárez died one day after getting the COVID-19 jab, and her mother is blaming her country's vaccine mandates.
Miryam Suárez, Ámbar's mother, believes that the vaccine mandates in her native Argentina, which required her daughter to get the jab in order to attend kindergarten, are solely responsible for her daughter's tragic and untimely death. This is more innocent blood on the hands of the psychopathic technocrats behind the COVID vaccine regime.
"I pre-enrolled her in school so that next year she would enter kindergarten, because now they force you when it comes to the vaccine," Suárez said. "She was healthy. She was fine. She was not ill and didn't have COVID."
She took her daughter to get the Chinese Sinopharm vaccine on Dec. 16. Ámbar was dead one day later.
"She just collapsed and fell. I cannot believe it," Suárez said.
"She was fine. She did not have any health issues, nor was she a sick child. She was healthy, full of life. This government that forces you [to get the vaccine] killed my three-year-old baby," she added.
"According to a news report from TMJ4 News in Milwaukee, Wisc., there are now over 80 medical centers now participating in studies that inject children as young as six months old with the COVID-19 vaccine...
MORE: https://bigleaguepolitics.com/three-year-old-girl-dies-of-a-heart-attack-one-day-after-receiving-covid-19-jab/
---
Geopolitical commentator Clint Ehrlich has reported while on the ground in Moscow that "the situation in Kazakhstan is a much bigger deal than Western media is letting on." He further argues that the mayhem unleashed this past week and ongoing violent destabilization significantly increases the risk of NATO-Russia conflict.
He asks the key question: what really is happening in Kazakhstan? After all, he writes "In America, the situation in Kazakhstan is a small news item" but it remains that "in Moscow, it is currently receiving 24/7 news coverage, like it's an apocalyptic threat to Russia's security. I've had the TV on here while writing this thread, and Kazakhstan has been on the entire time." Below is Ehrlich's mega-thread from Twitter exploring the crisis and connecting the dots in terms of why this is a bigger deal than many believe.
Mass protests and anti-government violence have left dozens dead. Russia is deploying 3,000 paratroopers after Kazakh security forces were overrun. The largest city, Almaty, looks like a warzone. To appreciate why Russia is willing to deploy troops to Kazakhstan, it's critical to understand the depth of Russia's vital national interests inside the country. This isn't just any former Soviet republic. It's almost as important to Russia as Belarus or Ukraine.
First, Russia and Kazakhstan have the largest continuous land border on planet earth. If Kazakhstan destabilizes, a significant fraction of the country's 19 million residents could become refugees streaming across the border. Russia is not willing to let that happen.
Second, roughly one-quarter of the population of Kazakhstan is ethnic Russians. Kazakh nationalists are overwhelmingly Muslims, who resent the Orthodox-Christian Russian minority. Russia believes that civil war would entail a non-trivial risk of anti-Russian ethnic cleansing…
MORE: https://www.zerohedge.com/geopolitical/why-kazakhstan-crisis-much-bigger-deal-western-media-letting
---
The Washington State Board of Health may soon amend state law to authorize the involuntary detainment of residents as young as 5 years old in Covid-19 "internment camps" for failing to comply with the state's experimental vaccine mandate.
WAC 246-100-040, a proposed revision to include Covid protocol under the state's Communicable and Certain Other Diseases act, outlines "Procedures for isolation or quarantine." The measure would allow local health officers at "his other sole discretion" to "issue an emergency detention order causing a person or group of persons to be immediately detained for purposes of isolation or quarantine."
Health officers are required to provide documentation proving unvaccinated residents subject to detention have denied "requests for medical examination, testing, treatment, counseling, vaccination, decontamination of persons or animals, isolation, quarantine and inspection and closure of facilities" prior to involuntarily confinement in quarantine facilities, the resolution states.
The amended law would also allow health officers to deploy law enforcement officials to assist with the arrest of uncompliant Washington residents.
According to W 246-100-040, "a local health officer may invoke the powers of police officers, sheriffs, constables, and all other officers and employees of any political subdivisions within the jurisdiction of the health department to enforce immediately orders given to effectuate the purposes of this section in accordance with the provisions of RCW 43.20.050(4) and 70.05.120."…
MORE: https://www.thegatewaypundit.com/2022/01/bill-filed-washington-authorize-strike-force-involuntarily-detain-unvaccinated-families-already-set-internment-camps/
---
Iranian Revolutionary Guard Corps (IRGC) Brigadier General Esmail Ghaani, commander of of Iran's elite Quds Force, threatened this week that the revenge Iran will seek for the death of Qassem Soleimani, the former commander of the IRGC's Quds Force, will happen "within" the United States.
Ghaani said, "We will prepare ground for the hard revenge against the US from within their homes, as we do not need to be present as supervisors everywhere, wherever is necessary we take revenge against Americans by the help of people on their side and within their own homes without our presence."
Al-Monitor reported:
Speaking at an event commemorating the two-year anniversary of Soleimani's assassination on Jan. 3, 2020, by a US drone strike ordered by former President Donald Trump, Ghaani said, "We will get revenge that you will not forget for the rest of your life." Talking about Trump and former Secretary of State Mike Pompeo, who advocated for the strike behind the scenes, Ghaani said, "All of the criminals who are on the scene, from the criminal US president to all of those behind the crime of the assassination of Soleimani, are under our magnifying glass."

Ghaani added, "We do not have the style of [US] criminals, with divine power; we have our own style of revenge."
The news comes as the Biden administration tries to get Iran to reenter the 2015 Iran nuclear deal, which critics argue would not stop Iran from being able to obtain a nuclear weapon…
MORE: https://www.dailywire.com/news/top-iranian-general-revenge-for-soleimani-death-to-happen-within-u-s-no-one-will-forget-what-we-do
---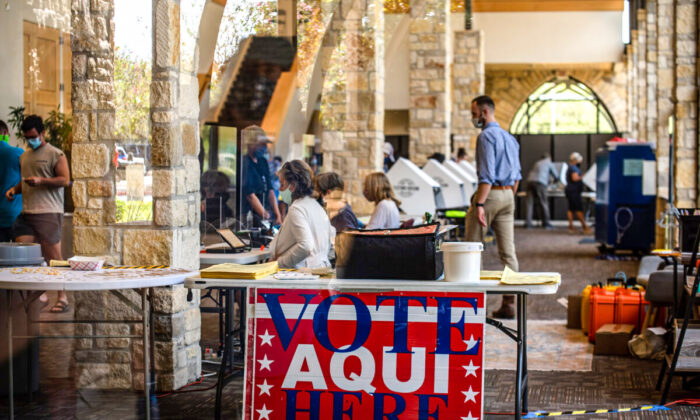 Voting irregularities—including potentially thousands of votes cast by noncitizens and dead people—were reported during the first phase of the Texas secretary of state's forensic audit of the 2020 general election, but critics deemed it more of a risk-limiting audit at this point.
The secretary of state's office released its findings on Dec. 31; the issues found aren't enough to significantly affect 2020 election results of the four counties involved in the audit—Collin, Dallas, Harris, and Tarrant counties—which account for about 10 million people, or a third of Texas's population.
"Generally speaking, nothing was found on such a large scale that could have altered any election," Sam Taylor, assistant secretary of state for communications, told The Epoch Times.
Findings include:
Statewide, a total of 11,737 potential non-U.S. citizens were identified as being registered to vote. Of these, 327 records were identified in Collin County, 1,385 in Dallas County, 3,063 in Harris County, and 708 in Tarrant County. So far, Dallas County has canceled 1,193 of these records, with Tarrant County canceling one. Neither Collin nor Harris have canceled any potential non-voting records.
Since November 2020, 224,585 deceased voters have been removed from the voter rolls in Texas: Collin County removed 4,889 deceased voters, Dallas County removed 14,926 deceased voters, Harris County removed 23,914 deceased voters, and Tarrant County removed 13,955 deceased voters.
Statewide, a total of 67 potential votes cast in the name of deceased people are under investigation. Of those, three were cast in Collin County, nine in Dallas County, four in Harris County, and one in Tarrant County..
MORE: https://www.theepochtimes.com/texas-audit-finds-over-11000-potential-non-citizens-registered-to-vote-other-problems_4188076.html
---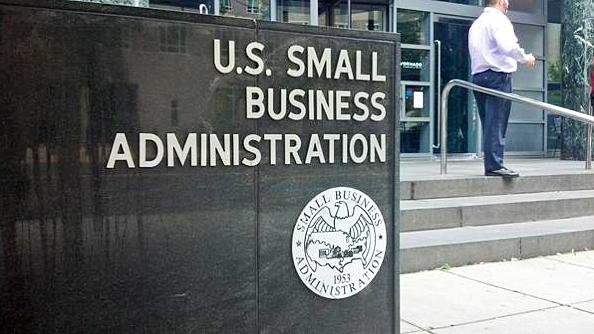 This week's Golden Horseshoe is awarded to the Small Business Administration for relaxing internal controls, contributing to massive fraud in the Paycheck Protection Program, which the Department of Justice is continuing to investigate.
The SBA was charged with overseeing several COVID-relief programs including the PPP program, which was intended to help businesses shuttered during the pandemic to retain employees.
The PPP program was the target of massive fraud, and the SBA Office of Inspector General continued to raise the alarm about the agency cutting corners to expedite loans to businesses.
"SBA's efforts to hurry capital to businesses were at the expense of controls that could have reduced the likelihood of ineligible or fraudulent businesses obtaining a PPP loan," the OIG reported several months after the rollout of PPP. "As a result, there is limited assurance that loans went to only eligible recipients."
The PPP fraud cases continue to mount, including one in which a Georgia woman was sentenced to 41 months for scheming to obtain nearly $8 million in PPP loans, according to the DOJ.
Hunter VanPelt, aka Ellen Corkcrum, 49, pleaded guilty after submitting six fraudulent PPP loan applications to four different lenders on behalf of six businesses she owned. She sought to obtain $7.9 million and received $6 million…
MORE: https://justthenews.com/accountability/waste-fraud-and-abuse/sunloosened-sba-controls-facilitated-massive-fraud-covid
---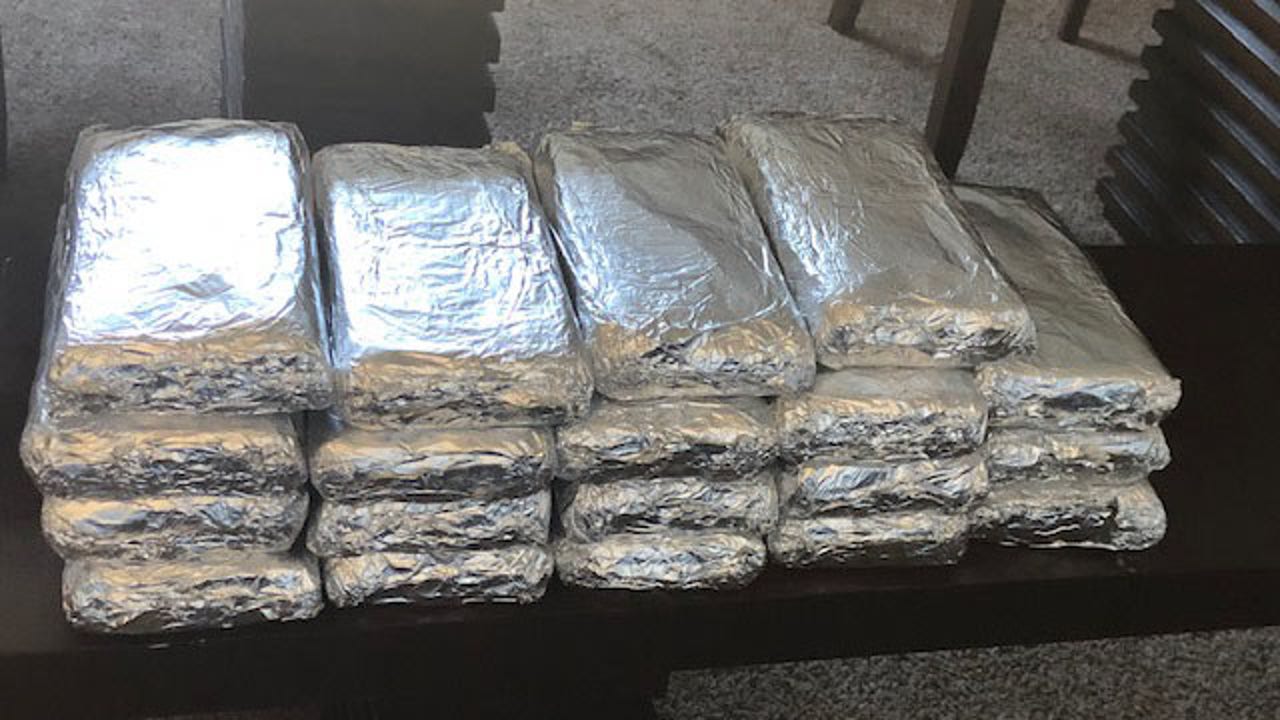 U.S. Customs and Border Protection (CBP) has reported a 1,066 percent increase in fentanyl seized in south Texas ports during fiscal year 2021.
Border agents at eight ports of entry extending from Brownsville to Del Rio said that between Oct. 1, 2020, and Sept. 30, 2021, they seized 87,652 pounds of narcotics that would have commanded a combined estimated street value of $786 million, CBP reported on Jan. 5.
Of this, 41,713 pounds was marijuana, 8,592 pounds was cocaine, 33,777 pounds was methamphetamine, 1,215 pounds was heroin, and 588 pounds was fentanyl. That's a 1,066 percent increase in fentanyl seizures, as well as a 98 percent increase in cocaine seizures, from the year prior.
They also reported having seized $10.4 million in unreported currency, 463 weapons—up 21 percent from FY 2020—and 84,863 rounds of ammunition.
The eight ports of entry comprise the Laredo Field Office. The CBP officers at these ports of entry also noted that in FY 2021, more than 20,701 non-U.S. citizens were inadmissible to the United States due to violations of immigration law.
Randy J. Howe, the Laredo Field Office's director of field operations, said in a statement that despite significantly less traffic due to travel restrictions amid the COVID-19 pandemic, "the drug and contraband threat remained the same."
"Our significant gains in fentanyl and cocaine seizures underscore the deadly nature of the contraband we encounter, the need to utilize Personal Protective Equipment to protect our officers and our continued resolve to carry out our vital border security mission," he said…
MORE: https://www.theepochtimes.com/border-patrol-reports-1066-percent-increase-in-fentanyl-seized-in-south-texas_4201427.html
---
A career criminal who was involved in a slew of robberies in Brooklyn and Manhattan has been free to roam city businesses at will thanks to what he called the state's "big" bail reform laws, The Post learns. .
"I am thankful for [bail reform] because I'm too old to go to jail, I'm too old, I can't do it, "said 58-year-old Charles Wold in a telephone interview Friday.
Wold, a longtime drug addict, is accused of robbing seven different businesses in Brooklyn alone, plus three others in Manhattan, over the course of just three months. But every time he was detained by police, he was released due to controversial state reform laws, court records show.
He told The Post from his mother's house that freedom "feels good."
"I am thankful for [bail reform] because I'm too old to go to jail, I'm too old, I can't do it, "said Wold, a longtime drug addict.
"Rikers Island is not the key, you know what I mean? I've been in jail all my life, I can do that standing on my head, it's not teaching me anything, I can get more drugs there than here, "he said. "I hope the prosecutor sees that I did not commit all these crimes of which they accuse me and they will be fired."
Wold, who has 32 prior arrests, mostly for robbery and larceny since 1983, including 11 in 2021 alone, was arrested Nov. 24 after police said he broke into two Manhattan businesses and stole cash registers, according to sources. police and court records. Surveillance footage reportedly shows suspect Charles Wold crashing into Hipster Deli Grocery in Park Slope, Brooklyn in a robbery on November 28, 2021…
MORE: https://gonewsbook.com/serial-thief-still-on-the-loose-thanks-to-new-yorks-great-bail-reform-laws/
---
The number of athletes suffering heart damage or dying after getting The Jab continues to climb. A "Pandemic" almost entirely ignored by the Legacy American media. They don't want to slow their own rollout, but the trend has not gone unnoticed or investigated by researchers.
The research itself is relatively dry, but a physician who linked to one of my posts about German Soccer Players dropping dead has a great breakdown of the issue. It is a first look at what is probably causing athletes who have received the mRNA vaccines to suffer heart injury and death.
An athlete's muscles need a lot of oxygen when they're playing, and the heart has to pump more blood to meet the oxygen demand, and it has to beat faster. The rapid heart rate also increases the heart muscles' oxygen need, and the heart's blood vessels have to dilate to allow more blood to flow through.

If the heart's oxygen demand is not met, the cardiac muscles cannot pump blood to the whole body, including the brain, and the brain stops functioning, and the player collapses.

If the player does not get immediate medical attention, the heart muscle dies, and so can the player. Heart attacks result from the lack of oxygen to the heart.
Dr. Santiano MD then explains how "endothelial cells and pericytes in the cardiac blood vessels have to play as a team" to ensure the heart gets enough oxygen when it needs it…
MORE: https://thebluestateconservative.com/2022/01/08/new-research-shows-why-the-covid19-vaccines-are-killing-professional-athletes/
---
Dismissing what backlash he has received, a Houston restaurant owner has vowed to continue posting signs at his establishment that mock President Joe Biden and House Speaker Nancy Pelosi.
"We are heading into crawfish season and then peak patio weather and won't be slowed down from the cancel culture renegades," Brandon Piper, the co-owner of Preslee's Southern Style Restaurant, told Fox Digital on Wednesday. "It's about pro freedom and our right to run our small business."
The publicity over the restaurant's signage grew when a picture of the marquee outside was tweeted by Houston Chronicle restaurant critic Alison Cook, who took offense to the message that read, "No mask needed unless U look like Nancy Pelosi."
A second message was later added to the bottom of the sign: "Let's go, Brandon!" – the rebuke that's become popular among Republicans that is coded language for the less family-friendly "F*ck Joe Biden!"
The signs have drawn sharp criticism on social media, but Piper says business is booming.
"We have never been busier!" Piper said, dismissing the criticism as "slander" and saying most of the negative reviews they've received are from people who have never eaten at Preslee's "but feel the need to jump on the bandwagon."…
MORE: https://www.audacy.com/wwl/news/national/houston-restaurant-signs-mocking-dems-have-business-booming
---
A man in black bloc behaving suspiciously near a right-wing rally outside the Pinellas County Courthouse in Florida on Jan. 6 was apprehended by deputies after he tried fleeing on foot. Garrett James Smith, 22, was arrested and found carrying an active pipe bomb, Antifa propaganda and a written document on what to bring for his direct action. He had recently returned from Portland, Ore.
"He was running fast, he was running away from something," Pinellas County Sheriff Bob Gualtieri said at a press conference on Friday.
Smith was purportedly targeting dozens of the attendees of a rally protesting the treatment of Jan. 6 suspects on the one-year anniversary of the U.S. Capitol riot.
A search of Smith's home he shares with his parents in Oldsmar, Fla. revealed more explosives, tape and nails for use in grenades. Smith's "direct action" checklist included a drawing of an umbrella, a symbol adopted by Antifa militants for their frequent use of black umbrellas to shield one another from cameras while they commit acts of violence or vandalism. The helmet found in his backpack during his arrest had the Antifa "iron front" symbol painted on it.
Sheriff Gualtieri said that Smith is refusing to cooperate in the investigation…
MORE: https://thepostmillennial.com/alleged-antifa-member-targeted-florida-rally-with-a-bomb-more-explosives-found-at-his-house?utm_campaign=64487
---
Nearly half of the patients currently in New York hospitals with COVID-19 are not in the hospital because of COVID-19, the state said Friday.
Forty-three percent of the 11,548 hospitalized patients did not have COVID-19 listed as one of the reasons for admission, Gov. Kathy Hochul's office said.
Hochul, a Democrat who is seeking a full term in office, told a press conference that she wanted to drill down on the hospitalization numbers to see how many patients are actually being treated for COVID-19 versus merely having the disease, which often causes no or mild symptoms.
Some of the patients test positive for COVID-19 "but they're in there for other reasons," Hochul said. "Think of all the other reasons people end up at a hospital; it's an overdose, it's a car accident, a heart attack."
Hochul had announced on Monday that the state would be separating out hospitalizations for COVID-19 versus those with the disease, which is caused by the CCP (Chinese Communist Party) virus.
She said it was important to know the percentage of patients in each category as the number of hospitalizations rise.
"I just want to always be honest with New Yorkers about how bad this is. Yes, the sheer numbers of people infected are high, but I want to see whether or not the hospitalizations correlate with that. And I'm anticipating to see that at least a certain percentage overall are not related to being treated for COVID. But we're still going to watch hospital capacity," she said…
MORE: https://www.theepochtimes.com/almost-half-of-new-york-covid-19-hospitalizations-not-due-to-covid-19_4200820.html
---
A Cy-Fair ISD teacher is accused of locking her 13-year-old son in the trunk of her moving vehicle this week at a COVID-19 drive-thru testing site because she didn't want to be exposed to him, charging documents state.
The school district confirmed Friday that the teacher, 41-year-old Sarah Beam, had a warrant issued for her arrest. She has been an employee with Cy-Fair ISD since 2011, most recently teaching at Cypress Falls High School.
Deputies with the Precinct One Constable's Office attempted to arrest Beam at her home in Jersey Village Friday night. The constable's office declined to say why deputies left Beam's house without taking anyone into custody.
Beam's court documents state her charge as felony endangering a child.
According to the documents, Beam had driven to the Pridgeon Stadium testing site on Monday, Jan. 3, when the Cy-Fair ISD director of health services, who was working the drive-thru, saw Beam's vehicle with the teen in the trunk. Beam was said to have acknowledged to the director that her son was in the trunk due to him having been tested positive for the coronavirus.
The documents state Beam kept him there to prevent her from getting exposed while driving her child to the stadium for additional testing.
"That's sick. That's terrible. You don't put anybody in a trunk," said Scott Weaver.
Investigators went on to state that the health worker asked Beam to see the child. Beam unlatched the trunk, and he was lying down inside, without any safety restraints. The worker then told Beam no testing would be done until the child moved into the back seat of the vehicle…
MORE: https://abc13.com/cy-fair-sarah-beam-cypress-falls-high-school-child-in-trunk-at-covid-testing-site/11438222/
---
This might be the best school board video you've seen yet. There's no information on where this took place but it really doesn't matter. It could be Anytown USA, with the growing frustration parents feel with school boards locking them out of meetings or having them arrested falsely or claiming that parents are "terrorists" who need FBI investigations. This man has had enough and his speech is so good, I'll even transcribe it for those of you who can't listen (but listen if you can because he has the comedic timing of a professional).
When I see the members of the board in the schools who are in control of our children and the way they think, I'm disgusted. This is exactly why my children are at home, homeschooled, staying away from people like you. You want to poison their minds and think there's something they should fear. You guys are like the bogeyman. You're creating hysteria and you're creating a generation of children with social anxiety. You're going to create an entire generation of pill-popping junkies.

And this is going to be your doing because they have no idea what other people's faces and smiles look like. They're going to grow up in a world of angry bitter people, pissed-off citizens, people who have no idea that this mouth plays a major role in non-verbal communications. I've taken psychology classes. I went through the indoctrination camps. I got my Bachelor's degree from South State. I went to Sierra College, I made it through, and you know what? I learned that there are people who will stand up for the kids and there's people like you people who pretend to stand up for kids because you want the paycheck and you want the cool name. You're president, well I'm president too, bro. We're both presidents of a group, congratulations!…
MORE: https://pjmedia.com/news-and-politics/megan-fox/2022/01/07/savage-dad-berates-beta-school-board-with-perfect-comedic-timing-n1547839