VIA THE MAD IRISHMAN BLOG: https://irelander869603513.wordpress.com
---
Google told its employees that they would lose pay and eventually their jobs if they did not abide by the company's COVID-19 vaccination policy, according to an internal memo obtained by CNBC.
Employees had until Dec. 3 to state their vaccination status to the company and upload the required documentation or to apply for a medical or religious exemption, according to the memo, CNBC reported.
Those employees who did not comply with the company's policy by the Jan. 18 deadline would reportedly be placed on "paid administrative leave" for 30 days, according to the memo. Workers who do not meet the company's requirements after the 30 days of paid leave would be placed on "unpaid personal leave" for up to 6 months.
Employees who still refuse to seek out a vaccine after the six-month deadline would be fired, CNBC reported.
"We expect that almost all roles at Google in the US will fall within the scope of the executive order," the memo said, according to CNBC. "Anyone entering a Google building must be fully vaccinated or have an approved accommodation that allows them to work or come onsite," the memo said, adding that "frequent testing is not a valid alternative to vaccination."
Google chief executive Sundar Pichai announced in July that the tech giant would require vaccines for all those returning to the office, according to CNBC. Google reportedly planned on opening its offices in January, but in early December, executives told employees they could temporarily stay remote…
MORE: https://dailycaller.com/2021/12/15/google-covid-19-vaccine-fire-employees-administrative-personal-leave/
---
As President Joe Biden's immigration crisis spirals out of control, drug trafficking criminals are taking advantage of the porous border by continuing their attempts to bring narcotics into the United States. According to U.S. Customs and Border Protection, "officers working at the El Paso area ports of entry intercepted 714 pounds of methamphetamine, 105 pounds of fentanyl, 32 pounds of heroin, and 660 pounds of marijuana since the beginning of December."
CBP made that announcement on Tuesday, December 14. Experts say that one kilogram of fentanyl – or roughly two pounds – is enough to kill approximately 500,000 people. That means 104 pounds is enough to kill more than 23,500,000 people.
Officials report that most of the fentanyl came over a period of two days:
On Dec. 10, CBP Officers working at the Paso Del Norte Border Crossing discovered more than 24 pounds of heroin concealed in the quarter panels of a SUV, driven by a 44-year-old male, Lawful Permanent Resident from Oklahoma. The following day, CBP Officers selected a Ford F-150 driven by a 38-year-old female, U.S citizen, for inspection. The inspection led to the discovery of more than 73 pounds of fentanyl.
Earlier last week, "CBP officers working at the Santa Teresa Cargo facility intercepted 524 pounds of methamphetamine and more than 2 pounds of fentanyl. A Non-Intrusive inspection revealed inconsistencies in the roof of a Kenworth tractor-trailer where CBP Officers discovered the narcotics."…
MORE: https://www.dailywire.com/news/in-first-two-weeks-of-december-border-patrol-agents-seize-enough-fentanyl-to-kill-more-than-23-million-people
---
mRNA vaccine protection from Covid is far weaker than natural immunity and declines very fast, according to a new study of almost 6 million people in Israel.
During the summer Covid wave, more than 140,000 Israelis who had been vaccinated but not received a booster shot became infected with Covid. Put another way, in just two months, about 1 out of every 20 vaccinated Israelis became infected with Sars-Cov-2.
Natural immunity – the protection following infection and recovery – lasts much longer, the study shows.
In fact, people who had already had Covid once had better protection from the virus more than a year later than people who had been vaccinated only three months before.
The gap was even larger in cases of severe infection.
Vaccinated people were more than five times as likely to develop severe infections than people with natural immunity. Only 25 out of roughly 300,000 Israelis with natural immunity developed severe Covid infections in the summer wave – compared to almost 1,400 vaccinated Israelis.
The difference did not result from gaps in age between vaccinated and recovered people. People over 60 benefitted even more from natural immunity relative to vaccination than did younger people.
The study also showed that giving people who had natural immunity a vaccine dose did little to lower rates of infection for them, raising the question of why they should ever be vaccinated.
Finally, the study offered a disturbing signal that vaccination may ultimately interfere with the development of lasting immunity in people who are infected after being vaccinated…
MORE: https://alexberenson.substack.com/p/urgent-a-huge-israeli-study-shows
---
An investigation conducted by the Department of Justice has found that four FBI agents had sex with prostitutes while on assignment overseas while a fifth attempted to but failed. One of the agents lied about the incidents on a polygraph test.
The discovery goes against the policies on how FBI agents should conduct themselves while on assignment, and policies from the Department of Justice banning employees or agents from paying for sex at any time, according to the Daily Mail.
The investigation found the agents "lacked candor" in failing to report their own involvement or their fellow agents' involvement in soliciting sex with prostitutes.
The investigation also discovered that one of the agents lied to the Office of Inspector General during said investigation, in which they lied about having engaged in sexual acts with a prostitute on a polygraph test.
"The OIG investigation further found that five officials failed to report contact or relationships with foreign nationals, including foreign nationals from whom they procured commercial sex, in violation of FBI policies," the OIG said in a summary of the investigation's findings.
In addition to violating policies on sex, another agent failed to report that he gave a police officer overseas a "package containing approximately 100 white pills." The report does not state what type of pills they were…
MORE: https://thepostmillennial.com/fbi-agents-prostitutes-assignment-polygraph
---
A Virginia court on Monday found a hospital in the state in contempt of court for failing to comply with previous orders to provide prescribed Ivermectin to a COVID-19 patient.
The court ruled that if the Fauquier Health hospital, in Warrenton, failed to provide the dose by 9 p.m. on Monday the state would be allowed to fine the hospital $10,000 a day.
The hospital reportedly agreed Monday to comply with the order after a week of back-and-forth with the court. But it was unclear as of Tuesday morning whether the patient received the prescription, over which its effectiveness in treating virus symptoms health care providers disagree.
The patient, Kathy Davies, was admitted to the hospital with COVID in October and placed on a ventilator in the ICU on Nov. 3. Her husband, Donald Davies, and the couples' children, have been fighting to get for weeks to the patient a dose of Ivermectin.
Hospital doctors have adamantly refused to comply with the wishes of the family, prompting the Davies to hire a legal team earlier this month.
According to a Daily Wire report, the court initially ruled that the patient had the right to try Ivermectin and any other drug prescribed by her doctor.
However, on Dec. 7, when one of Kathy's sons and a registered nurse arrived to administer the drug – which had been prescribed by Dr. Martha Maturi – the "hospital administration barred [him and the nurse] from entering the ICU with the Ivermectin," reads a court document…
MORE: https://justthenews.com/politics-policy/coronavirus/virginia-hospital-found-contempt-court-denying-patient-prescribed-round
---
From the moment that vaccinations become the preeminent avenue for battling the COVID-19 pandemic, there were concerns that Americans choosing to not be inoculated may face scrutiny, segregation, and discrimination.
And boy, has that turned out to be the truth.
Americans who've chosen their bodily autonomy over a COVID-19 jab have been relegated to a lower class of society, particularly in Democrat-run cities and companies, shunned in ways that we would never have though possible previously in this country of ours. Now, in an offensive escalation of this discriminatory practice, the Kroger grocery store chain is taking things to the next level.
Kroger, the country's biggest traditional grocery chain, is ending some benefits for unvaccinated workers as big employers attempt to compel more of their workforce to become vaccinated with cases of COVID-19 again rising.

Unvaccinated workers will no longer be eligible to receive up to two weeks paid emergency leave if they become infected, a company spokesperson confirmed Tuesday. That policy was put into place last year when vaccines were unavailable.
But wait…there's more.
The company said it will also begin charging a $50 monthly fee to unvaccinated salaried workers and managers who are enrolled in a company health care plan…
MORE: https://flagandcross.com/grocer-removes-benefits-adds-healthcare-surcharge-for-unvaccinated-employees/
---
Coastal Carolina University has reinstated Steven Earnest, the theater professor it removed this fall after he questioned colleagues' reaction to a perceived racial bias incident that proved to be baseless.
The South Carolina university confirmed Nov. 18 that Earnest will be allowed to resume his teaching duties in the spring semester.
As Campus Reform previously reported, a non-White visiting artist working with non-White students wrote their names on the board so that they could connect in the future. Students in the next class assumed that the list of names had been written with malicious intent, and they staged a protest in response.
"I don't plan to socialize with the faculty or students anymore given the false claims that were made about me," Earnest told Campus Reform last month. "At this point it's uncertain what my relationship will be at CCU."
An email from the Department of Theatre's Diversity, Equity and Inclusion Committee nevertheless told students that the "feelings" experienced after the incident were legitimate. Responding to the email, Earnest wrote, "Sorry but I dont think its a big deal. Im [sic] just sad people get their feelings hurt so easily. And they are going into Theatre?"
Humanities and Fine Arts Dean Claudia Bornholdt then requested that Earnest no longer teach his classes – provoking a FIRE letter noting that "while the First Amendment does not shield Earnest from criticism, it does limit the actions a public university may take in response to faculty members' speech on matters of public concern."…
MORE: https://www.campusreform.org/article?id=18561
---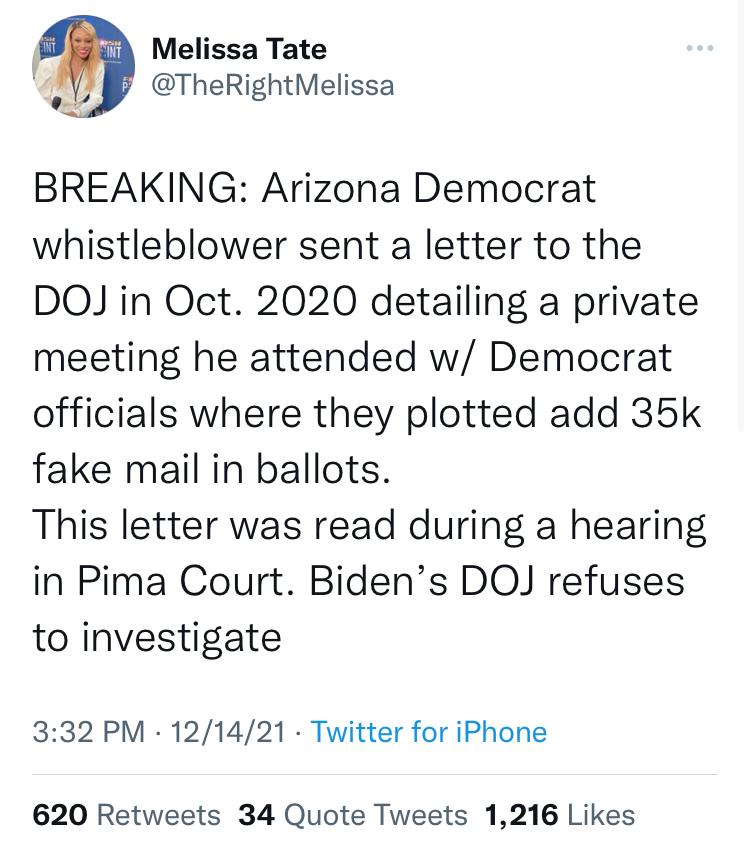 Yesterday, Arizona state representative Mark Finchem read an anonymous letter he received that was addressed to criminal division at DOJ, that details a Democrat plan to embed 35,000 fake mail-in votes in Pima County for Joe Biden. An IP address has been obtained for the sender of the email. The letter was supposedly written by a Democrat whistleblower detailing a private meeting he attended with other Arizona Democrat officials.
The letter was dated November 10, 2020, and addressed to the Criminal Division of the DOJ.
American Greatness did a full writeup
TEXT OF LETTER
"Please be advised the Pima County Recorder, located at 240 N. Stone Avenue in Tucson, Arizona, 85701 in Pima County, Arizona, and the Democrat Party added fraud votes. In the initial count of the vote by mail (VBM) totals released at 8 pm on November 3, 2020, There are approximately 35,000 fraud votes added to each Democrat candidates' vote totals. Candidates impacted include County, State, and Federal Election candidates. Through the utilization of the automated ballot count machines in Pima County Elections, My understanding is that 35,000 was embedded into each Democrat candidates' total votes. Below are the meeting notes."…
MORE: https://citizenfreepress.com/breaking/fraud-in-pima-county-democrat-whistleblower-sent-letter-to-doj-detailing-scheme-to-add-35000-fake-mail-in-ballots-for-joe-biden/
---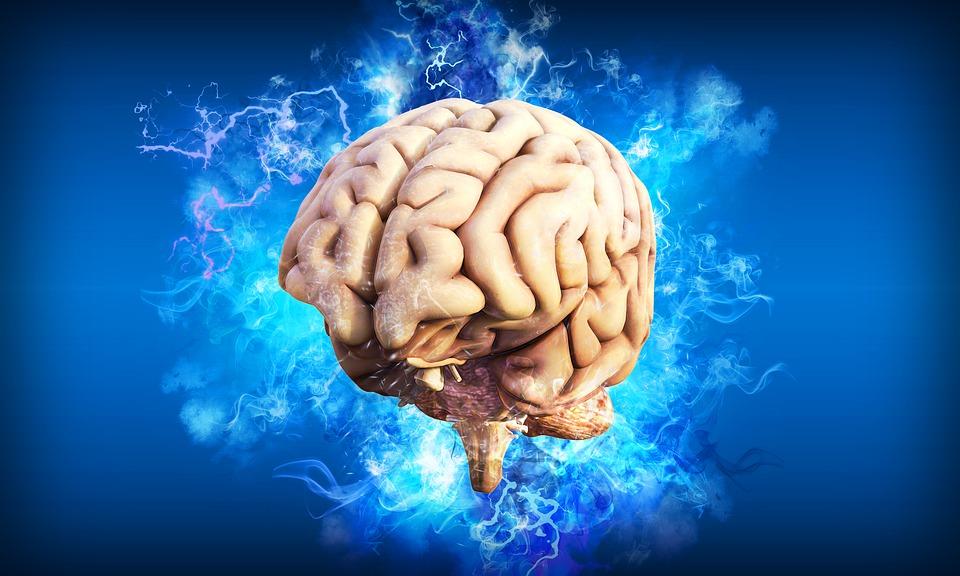 The World Health Organization's (WHO) VigiBase currently shows that at least 121,559 people who got "vaccinated" for the Wuhan coronavirus (Covid-19) now suffer from one or more psychiatric disorders.
The most common problem is insomnia followed by anxiety, a "confusional state," sleep disorders, "nervousness," "disorientation," "acute stress disorder," "restlessness," hallucinations, depression, "depressed mood," "panic attacks," "poor sleep quality," "delirium," "agitation," nightmares, "abnormal dreams," eating disorders, a "psychotic disorder" or "acute psychosis" or "psychotic behavior," and tic disorder.
VigiBase also shows 213 reports of Near Death Experience following injection, 57 completed suicides and 25 cases of "exploding head syndrome," a condition that LifeSiteNews describes as "hear[ing] a very loud noise like an explosion, gunshot or cymbals clanging as though it is right next to them."
Nearly 30,000 cases of psychiatric disorder post-injection have also been reported to the British Yellow Card, an adverse event reporting system in the United Kingdom.
"The virus that causes COVID –SARS-CoV-2 is known to trigger a powerful immune response, which includes the release of large amounts of proinflammatory cytokines," say case report researchers.
"It has been hypothesized that a COVID-19 triggered cytokine storm may increase the risk of psychosis," they added, citing 42 reported cases of psychosis linked to this form of inflammation.
Seeing as how the so-called "vaccines" provoke an inflammatory response in recipients, it is believed that this is the cause behind this sharp uptick in psychiatric disorders…
MORE: https://www.naturalnews.com/2021-12-14-covid-vaccines-triggering-psychiatric-disorders-hundreds-thousands.html
---
Prices charged by businesses for goods and services purchased in the U.S. rose 9.6 from a year ago in November, their highest annual pace in records going back nearly 11 years, the Labor Department said Tuesday.
The final demand goods component of the Producer Price Index rose 1.2 percent compared with October. Compared with 12-months earlier, prices are up 14.9 percent. Prices on the services side rose 0.7 percent during the month for a 7.1 percent 12-month increase.
The Producer Price Index, or PPI, measures the average movements of prices received by domestic producers for goods and services sold both in the U.S. and exported. The Consumer Price Index measures prices paid by U.S. households, excluding exports and including imports. Goods and services sold to households and businesses that are their expected end-users are known as "final demand."
The PPI report also includes data on prices for intermediate demand, those goods and services sold to businesses expected to utilize them to make products for end-users.
The report breaks down prices between four stages of production, with the earliest stages selling into the latter stages. Stage one is the furthest out in the production process while stage four is the last stage before goods are sold to businesses that distribute them for final demand…
MORE: https://www.breitbart.com/economy/2021/12/14/bidenflation-producer-price-index-rises-by-record-9-6-worse-than-expected/
---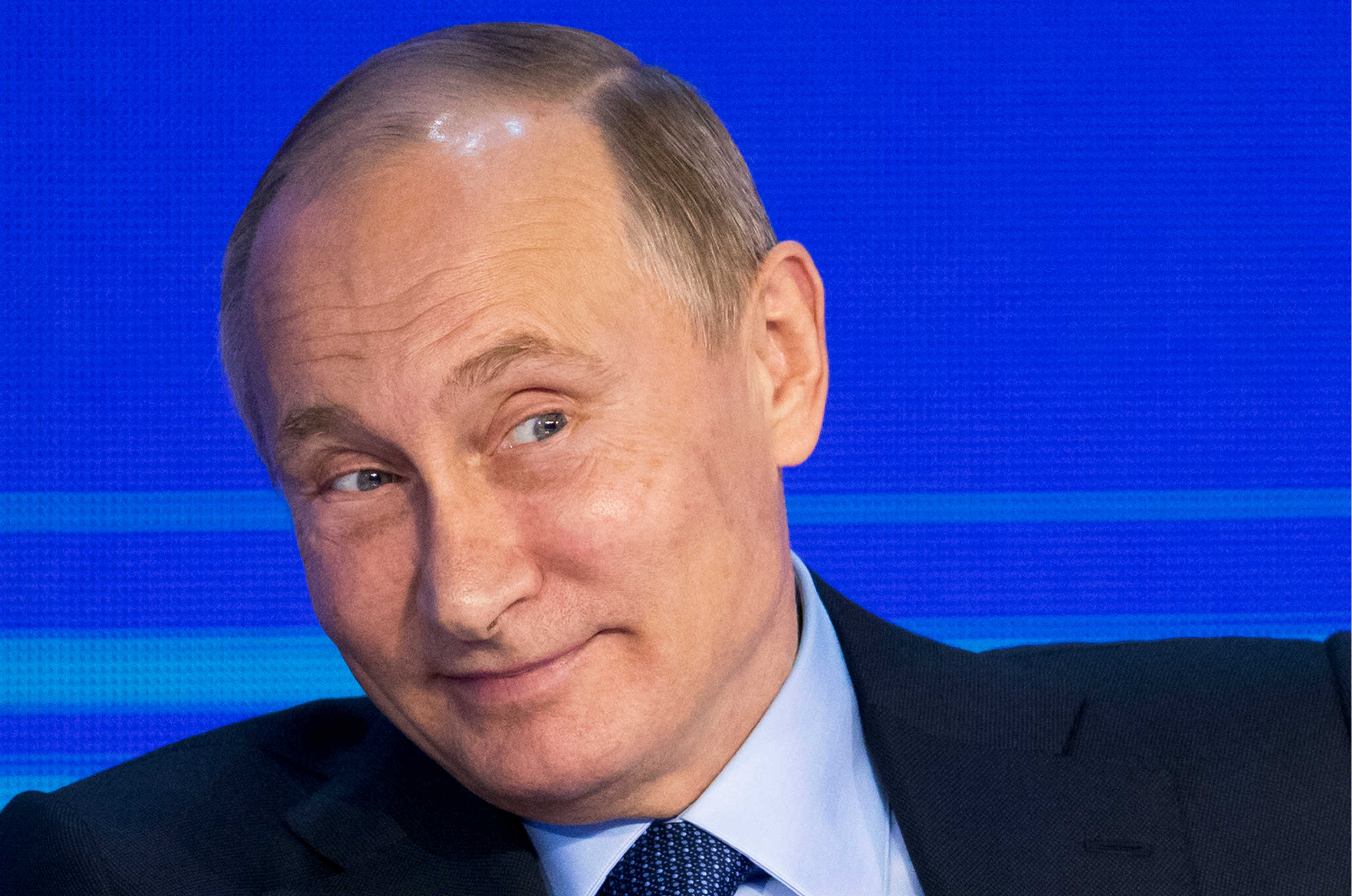 Russia last week announced a major new energy cooperation deal with India that threatens the very core of the U.S.'s fightback strategy against Beijing's and Moscow's expansionism in the Middle East and beyond. The main hydrocarbons deal will be for Russia, via oil giant Rosneft, to supply almost 15 million barrels of crude to Indian Oil, by the end of 2022. Given the massive geopolitical ramifications of any sizeable oil deal, it was entirely legitimate for Igor Sechin, Rosneft chief executive officer and close friend of Russian President, Vladimir Putin, to say of the deal that:
"The signing of a new oil supply contract confirms the strategic nature of the long-term partnership between Rosneft and Indian Oil."
The deal takes on even more significance as it was just one part of 28 investment deals between Russia and India signed during the very recent visit of Putin himself to Indian Prime Minister, Narendra Modi. These covered a broad range of subjects, including not just oil, gas, and petrochemicals, steel, and shipbuilding, but also military matters. The opportunities for bleed-through military elements to appear in the oil and gas projects agreed between Russia and India are bad enough from the U.S. perspective. Rosneft's oil deliveries will be shipped through the Russian Black Sea port of Novorossiisk, with off-loading facilities in India to be built out when required. Putin highlighted:
"Both sides reaffirmed their commitment to increasing Russian crude oil production under long-term contracts at preferential prices and increasing LNG [liquefied natural gas] imports to India with the possible use of the Northern Sea Route for energy supplies."
Specifically, added Modi:
"We have set a target of US$30 billion in trade and US$50 billion in investment by 2025."
Bad those these deals are from the U.S.'s perspective of seeing Russia being able to leverage them into military opportunities in India, matters became a whole lot worse as the meetings between Putin and Modi went on...
MORE: https://www.zerohedge.com/geopolitical/putins-coup-india-will-shock-us
---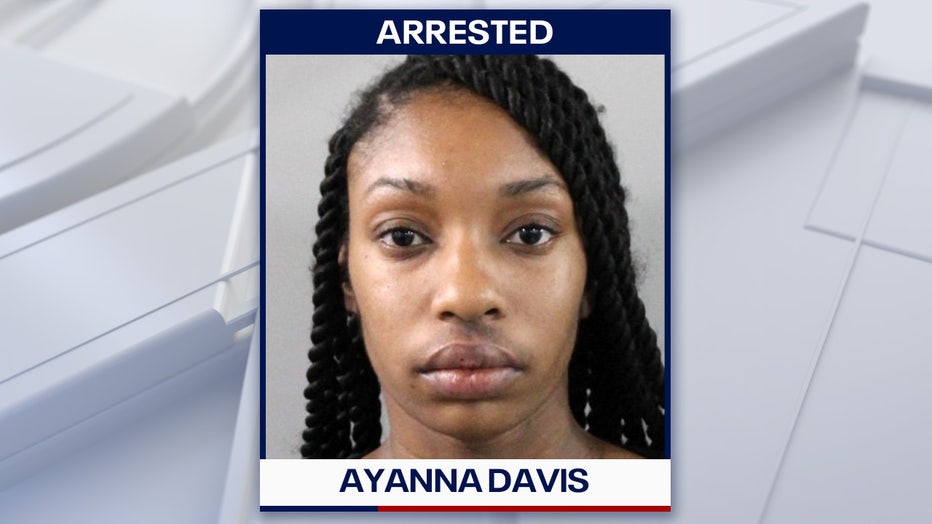 A substitute English teacher at Lakeland High School in Florida was arrested for allegedly having sex with a student, according to police.
Ayanna Davis told the Polk County Sheriff's Office that she had sex with the student four different times, according to a Polk County Sheriff's Office news release from Monday. Two of the encounters were allegedly at the student's home and two were at Davis' home.
"This is a clear violation of sexual battery laws. She was in a position of influence over the victim, and she took advantage of that for her own twisted pleasure," Polk County Sheriff Grady Judd said in the news release.
The Lakeland Police Department became aware of the situation when a high school student told a school resource officer about a Snapchat video showing Davis and a student having sex, according to police. The Polk County Sheriff's office was then brought in to investigate.
"We expect substitute teachers to uphold the same high standards of conduct and professionalism as our full-time educators," Superintendent Frederick Heid said in the news release. "The charges against this person are disgraceful and a complete violation of the trust that teachers build with their students. There is no room in our schools for this type of conduct."…
MORE: https://dailycaller.com/2021/12/14/florida-substitute-teacher-sex-crimes-child-sex-abuse-snapchat/
---
In August, the Supreme Court of the United States shot down a last-ditch effort by the Biden administration to stop the reinstatement of Trump's extremely successful "Remain in Mexico" policy, otherwise known as the Migrant Protection Protocols (MPP) program.
The court made the decision after Biden's open-border regime had filed an emergency application because of a similar ruling that was made earlier in the month, by a Federal Judge in Texas.
Since that time, the Biden regime has ignored the court order to honor the Remain in Mexico rule and send illegal aliens back to Mexico before their trial date. The Biden regime has only sent 2 PEOPLE back to Mexico. They are openly defying a court ruling.
On Monday the 5th U.S. Circuit Court of Appeals dealt the open borders Biden regime another blow ruling the administration cannot end the requiring migrants to wait in Mexico while their asylum claims are processed in the U.S.
The Daily Mail reproted:
Joe Biden faced another blow in the southern border crisis when an appeals court ruled Monday the administration cannot end the program requiring migrants to wait in Mexico while their asylum claims are processed in the U.S.

'[The Department of Homeland Security] claims the power to implement a massive policy reversal — affecting billions of dollars and countless people — simply by typing out a new Word document and posting it on the internet,' the 5th U.S. Circuit Court of Appeals said in a Monday night ruling…
MORE: https://www.thegatewaypundit.com/2021/12/joe-biden-faces-another-blow-court-shoots-biden-regimes-attempt-stop-trumps-highly-successful-remain-mexico-policy/
---
The New York Joint Commission on Public Ethics – the state's watchdog panel – on Tuesday ordered ex-Democrat Gov. Andrew Cuomo to return to the state the $5.1 million in profits he received from his book deal.
The resolution was approved by the commission in a vote of 12-1, one month after members voted to revoke its prior approval of Cuomo's request to earn income outside his taxpayer salary from the book.
JCOPE revoked its approval after concluding that the disgraced ex-governor had violated his commitment not to use state resources or government employees to help put together the book: "American Crisis: Leadership Lessons from the COVID-19 Pandemic."
David McNamara, a state Senate Republican appointee to the panel, said that Cuomo now lacks "the legal authority to engage in outside activity and receive compensation in regard to the book," because of the committee's rescinded approval of the situation.
The panel found that any book profits should be forfeited to New York Attorney General Letitia James. Her office will then decide where the profits should be distributed.
"It is ordered that by no later than 30 days from the date of this resolution, Gov. Cuomo pay over to the attorney general of the State of New York an amount equal to the compensation paid to him for his outside activities related to the book," reads the resolution…
MORE: https://justthenews.com/accountability/political-ethics/andrew-cuomo-ordered-return-51-million-covid-19-leadership-book
---
Managers for Big Tech megacorporation Amazon forced warehouse workers to remain on the job in an Illinois warehouse as lethal tornadoes rolled across large portions of the state, with a text message from one worker who died in a warehouse collapse indicating his overseers forced him to remain at the facility.
Larry Virden, an Iraq War veteran and a father of four children, died in a collapse of the Edwardsville, Illinois Amazon warehouse as a result of brutal tornadoes that battered Illinois and Kentucky on Friday evening. Six Amazon workers died during the warehouse collapse, fatalities that could've been easily avoided by sending workers home that evening.
In particularly disturbing fashion, Virden's girlfriend has published text messages from the father in which he reveals Amazon managers forced the workers to stay at the Edwardsville facility as tornadoes came rolling in.
The Facebook message Virden sent his girlfriend Cherie Jones was sent under 20 minutes before tornadoes hit Edwardsville. Workers had to evacuate the warehouse as the severity of the tornadoes became clear, with authorities finding six deceased during recovery operations the next day.
In spite of mainstream media fixation on the company, Amazon is widely known throughout the democratic world as one of the most unethical and greedy large employers, with workers routinely suffering injuries and subjected to unsafe conditions at its warehouses. OHSA and the state of Illinois are conducting an investigation into the tragedy, but initial descriptions make it seem as if they're investigating the structural faults of the warehouse rather than unsafe labor practices…
MORE: https://bigleaguepolitics.com/unethical-amazon-forced-workers-who-died-at-illinois-warehouse-to-stay-as-lethal-tornadoes-hit/
---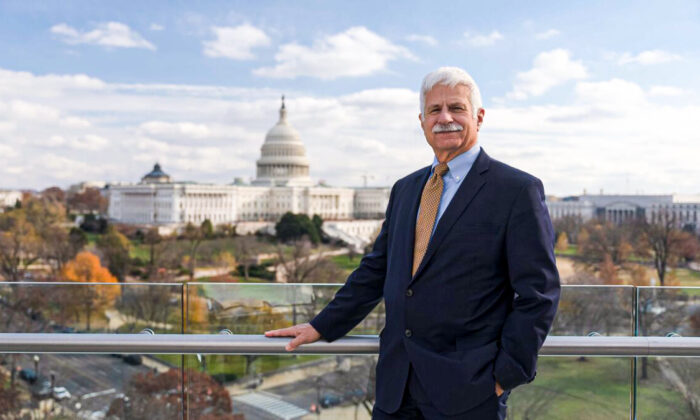 The Chinese Communist Party (CCP) is committing at least three genocides, aimed to eradicate Falun Gong adherents, Uyghurs and Tibetans, according to a former senior state department official.
"The people you're dealing with in China are human traffickers. … They're committing genocide against their own people," Robert Destro, former assistant secretary of state for democracy, human rights, and labor, told EpochTV's "American Thoughts Leaders" program on Dec. 8.
"Genocide is more than killing… it's the systematic destruction of a community."
Falun Gong
Destro said that while the Falun Gong spiritual group is not an ethnic community, the CCP has targeted its adherents for their beliefs with "systematic attempts to wipe them out, to disperse them, to force them underground," which counts as genocide.
Falun Gong, also known as Falun Dafa, is a spiritual discipline involving meditative exercises and moral teaching based on three core principles, truthfulness, compassion, and forbearance. Practitioners have been brutally persecuted by China's communist regime since 1999.
Falun Gong meditation was considered something that brought people closer to the authentic Chinese culture, said Destro. But in 1996 or 1997, the Chinese Ministry of State Security realized that the number of Falun Gong practitioners in China probably surpassed the members of the Communist Party, which prompted the persecution…
MORE: https://www.theepochtimes.com/chinese-regime-is-committing-at-least-3-genocides-former-senior-state-department-official_4154318.html
---
Facing serious staffing shortages, some of the largest and most prominent hospital systems in the United States, including HCA Healthcare Inc., Tenet Healthcare Corp., AdventHealth, and Cleveland Clinic have been forced to backpedal on their COVID-19 jab mandates in hopes of retaining crucial employees, The Wall Street Journal reported Monday
Townhall reported that University Hospitals in the Cleveland, Ohio area also recently announced the reversal of its jab mandate for hospital workers.
According to The Wall Street Journal, the major hospital systems have been forced to reevaluate their coercive COVID-19 jab policies after needed healthcare industry employees, especially nurses, chose to quit rather than get the experimental injections.
"Vaccine mandates have been a factor constraining the supply of healthcare workers, according to hospital executives, public-health authorities and nursing groups," the report noted, adding that "thousands of nurses have left the industry or lost their jobs rather than get vaccinated" for COVID-19.
The Journal cited the Centers for Disease Control and Prevention (CDC) in reporting that as of September, unvaccinated employees accounted for a massive 30% of workers employed by over 2,000 U.S. hospitals.
Many people, including healthcare professionals, have been skeptical of the push toward mass immunization. The CDC reports an infection survival rate of greater than 99.95% for those under age 50. Meanwhile, the list of FDA-recognized adverse events has grown from severe anaphylactic reactions to include fatal thrombotic events, the inflammatory heart condition myocarditis, and neurologically disabling disease like Guillain Barré Syndrome, as well as thousands of recorded deaths and permanent disabilities…
MORE: https://www.lifesitenews.com/news/prominent-us-hospitals-drop-vax-mandates-after-massive-shortage-of-key-staff/?utm_source=featured&utm_campaign=usa
---
A 14-year-old boy shot a would-be robber in the face Thursday after the man attacked the boy's father at a pizza shop in Philadelphia, police say.
The events unfolded just before 10 p.m. on Thursday night at Bold Pizza. A man walked into the shop intending to rob it, police said, forcibly reaching over the counter attempting to steal money from the register.
A pizza shop employee attempted to stop the man when the attempted robber put his hands around the employee's neck. The employee's son, a 14-year-old boy, grabbed a gun, legally owned by the employee, from behind a counter and shot the attempted robber in the face.
Bullet or bullets went through the head of one robber and hit the ear of another robber.
The would-be robber left the pizza shop after the shooting, and police tracked him, following a trail of blood, to a nearby subway station. Officers found the suspect bleeding from his face in the station. Authorities took the man to Jefferson Hospital where he was placed in critical condition.
"From following the trail of blood, we also found some cash in the subway where the victim was found," Small said…
MORE: https://defiantamerica.com/video-thug-tried-to-rob-an-asian-restaurant-but-little-did-he-know-that-the-owner-was-armed-and-his-kid-was-ready-to-defend-their-business/
---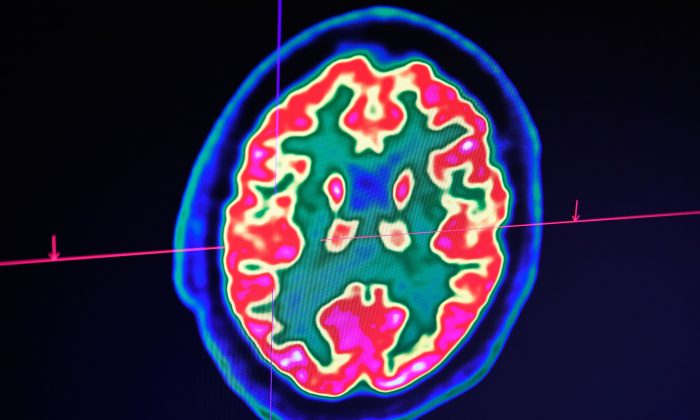 Researchers say that they may have discovered the molecular-level cause of Alzheimer's disease.
Scientists at the University of California–Riverside said in recent findings that the key to understanding Alzheimer's may have to do with "tau" proteins that likely cause neurofibrillary tangles—which are found in the brains of Alzheimer's patients. Previously, researchers suggested that amyloid plaques, which are a buildup of amyloid peptides, may be the cause.
Both amyloid plaques and neurofibrillary tangles are critical indicators that doctors look for when trying to diagnose Alzheimer's.
"Roughly 20 percent of people have the plaques, but no signs of dementia," said UCR chemistry professor Ryan Julian in a statement. "This makes it seem as though the plaques themselves are not the cause."
Researchers focused on the different structures a single molecule can manufacture, known as isomers.
"An isomer is the same molecule with a different three-dimensional orientation than the original. A common example would be hands. Hands are isomers of each other, mirror images but not exact copies. Isomers can actually have a handedness," Julian said.
The team scanned proteins in brain samples that were donated to their lab, and in brains where there was an accumulation of the tau protein but no Alzheimer's diagnoses, they found that the "normal" tau had a different-handed form than in individuals who had plaques or tangles, and who were diagnosed with Alzheimer's. The proteins also survived longer than is considered normal, the researchers said…
MORE: https://www.theepochtimes.com/mkt_breakingnews/scientists-claim-they-may-have-discovered-the-cause-of-alzheimers_4154203.html
---
The British government has admitted that getting "vaccinated" for the Wuhan coronavirus (Covid-19) destroys the human immune system and prevents recipients from ever acquiring full, true immunity – even if the person "catches" and later recovers from the Chinese Virus.
The latest "COVID-19 vaccine surveillance report" (Week 42) from the U.K. Health Security Agency reveals that N antibody levels in the jabbed appear to be "lower in people who acquire infection following two doses of vaccination."
What this means is that the injections do not stop a person from becoming infected, nor do they stop transmission of disease. In fact, the "fully vaccinated" are actually more susceptible to testing "positive" and getting sick from Chinese Germs.
"What the British are saying is they are now finding the vaccine interferes with your body's innate ability after infection to produce antibodies against not just the spike protein but other pieces of the virus," writes Alex Berenson on his Substack blog.
"Specifically, vaccinated people don't seem to be producing antibodies to the nucleocapsid protein, the shell of the virus, which are a crucial part of the response in unvaccinated people."
In other words, the fully vaccinated are much more vulnerable to contracting mutations in the spike protein even after they become infected and recover. These same people will continue to get sick from the Fauci Flu for the rest of their lives as well because their immune systems now lack the ability to develop real immunity…
MORE: https://noqreport.com/2021/12/13/covid-vaccines-prevent-recipients-from-ever-acquiring-true-immunity/
---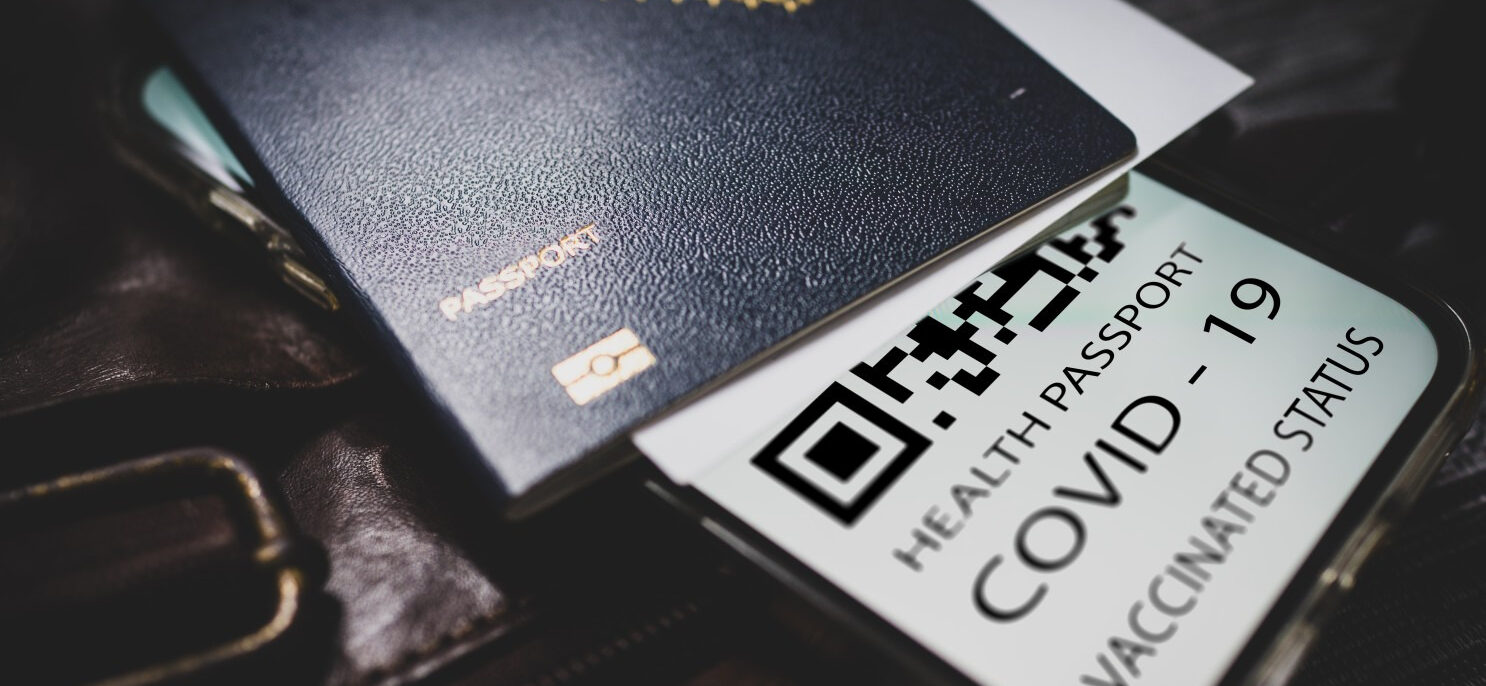 We have already seen New York City impose vaccine segregation…
According to the latest reports, Philadelphia has become the latest Democrat run city to announce a vaccine passport in order to gain access to certain activities and venues.
Citizens will be restricted from eating at sit down restaurants, bars, and more if they have not taken a Covid-19 shot from one of the major brands who manufacture the experimental drug.
It has long since been established that these shots do not stop transmission of the virus.
Given that these shots do not stop the spread, this move by the government in Philadelphia is completely unnecessary, and it begs the question, what could be behind their motivations?
The Epoch Times reports:
"Any place that sells food or drink to be consumed on-site will have to require that everyone who enters be fully vaccinated against COVID-19," Philadelphia Health Commissioner Dr. Cheryl Bettigole said Monday...
MORE: https://welovetrump.com/2021/12/13/philadelphia-announces-vaccine-passport/
---
A three-year congressional probe has found that 10 drugmakers raised the prices for common brand-name drugs by 36 percent, which is almost four times the rate of inflation in the past five years. The probe shows how predatory pricing by the pharmaceutical industry has targeted vulnerable American citizens, sometimes even forcing them to ration life-saving drugs.
The report reveals that the 12 drugs investigated as part of the probe are now priced almost 500 percent higher than when they were introduced into the market. Drug manufacturers were able to nab over 600 patents on these 12 drugs, potentially securing a monopoly over these products for a combined total of around 300 years. Companies raised the prices of these drugs by more than 250 times compared to 2016 prices.
In the five years between 2016 and 2020, 14 leading drug manufacturers were found to have spent 577 billion dollars on dividends and stock buybacks, which is 56 billion dollars more than what was invested in research and development. Most of the money set aside for research and development ended up being spent on stifling competition, extending monopolies, and running marketing campaigns. Meanwhile, chief executives of these drug companies secured around 800 million dollars in paychecks.
Internal documents reviewed during the probe showed that one of the reasons manufacturers specifically targeted Americans with price increases is because Medicare cannot negotiate lower prices.
Between 2016 and 2020, taxpayers could have saved over 25 billion dollars paying for seven drugs if private Medicare Part D plans were granted the same discounts given to federal health programs…
MORE: https://www.visiontimes.com/2021/12/12/drugmakers-increased-prices-four-times-the-inflation-rate-congressional-investigation.html
---
"A single, ominous question now hangs over the White House: What could possibly cause President Trump to put the interests of Russia over those of the United States?" Senator Schumer insinuated in 2018.
Why is Schumer putting Russia's interests ahead of those of the United States by blocking Nord Stream 2 sanctions on Putin's pet pipeline into Europe?
Schumer, along with a number of other top Democrats, is a beneficiary of campaign contributions from top Democrat fundraiser Vincent Roberti whose lobbying firm was paid over $8.5 million by Nord Stream 2 which is owned by Putin's state-run Gazprom energy monopoly.
Roberti, a former Dem politician, has maxed out his donations to Schumer and to Rep. Eric Swalwell, who may have been cheating on Fang Fang with Vladimir, and threw in a generous $171,000 to the DCCC, as part of the over $545,000 donated to the Democrat political machine.
The top Dem bundler is reportedly lobbying on "issues related to the U.S. position toward the Nord Stream 2 pipeline, including potential financial sanctions affecting the project."
Suddenly, Schumer, who was accusing the GOP and Trump of being in bed with Putin, and demanding that they vote on sanctions, was refusing to hold a floor vote on Russia sanctions…
MORE: https://www.frontpagemag.com/fpm/2021/12/schumer-who-accused-trump-russian-collusion-daniel-greenfield/