………..
Georgia Senate Passes Election Reform Bill That Would End No-Excuse Absentee Voting – Zero Hedge
.

.
Georgia's state Senate passed a comprehensive election reform bill on Monday that would, among multiple provisions, repeal no-excuse absentee voting and limit mail-in ballots to certain criteria.
The Republican-backed bill passed with a vote of 29-20. It now goes to the House Elections Integrity Committee where it is expected to be passed in the next several weeks. The bill must pass by March 31 to have a chance of becoming law by the end of the 2021 legislative session in Georgia, subject to Gov. Brian Kemp's decision whether to sign or veto it.
The bill, SB 241 (pdf), contains sweeping changes to the Georgia Code related to elections and voting…
………..
Covid-19 Pill, Effective In Preliminary Testing, May Be 'Holy Grail' Of Pandemic: Dr. Marc Siegel – Fox News
A new possible medication to treat coronavirus-positive patients could be enough to turn the pandemic on its head, Fox News medical contributor Dr. Marc Siegel revealed Sunday on "Fox & Friends Weekend."
First-stage testing of the experimental COVID-19 pill called Molnupiravir, by Merck and Ridgeback Biotherapeutics, showed promising signs of effectiveness in reducing the virus in patients.
"It may be the holy grail on this because it was just studied in phase two trials and it literally stopped the virus in its tracks," he explained. "And there wasn't any virus found in the patients that were studied."
The drug would function as an at-home, five-day treatment, similar to Tamiflu, to stop the virus from reproducing before causing major damage. Siegel said the therapeutic could come to market in as little as four to five months…
………..
Michigan's Cuomo: Macomb County Prosecutor Says Criminal Charges Possible Against DemoNazi Governor Whitmer Over Nursing Home Deaths – WXYZ
.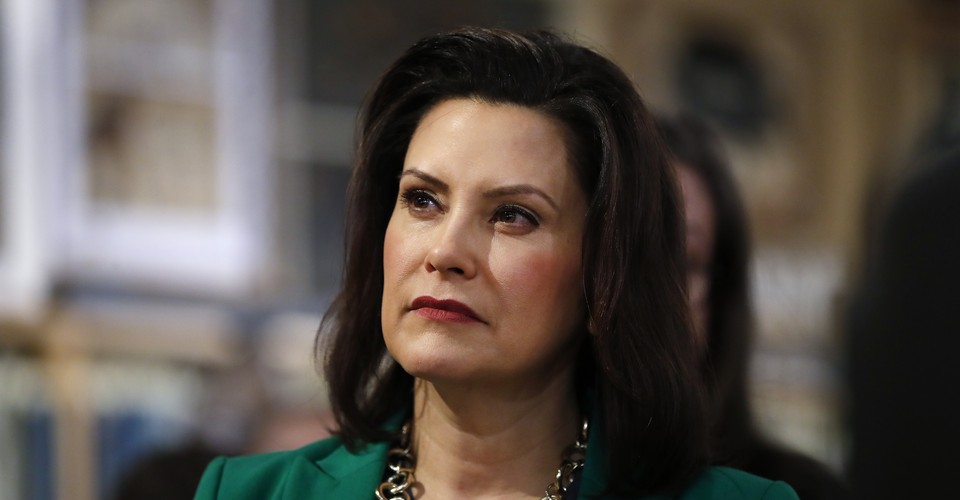 .
Criminal charges could be in the works against Governor Gretchen Whitmer over putting COVID patients inside nursing homes used as hubs early in the pandemic.
New Macomb County Prosecutor Peter Lucido says people who lost loved ones to COVID as residents or staff inside nursing homes should go back to get the vital information about the circumstances of their death and take that to local police and make a complaint as a wrongful death. Lucido says with HIPAA laws, he can't get that information in his own investigation.
New York Governor Andrew Cuomo is currently under investigation for allegedly doctoring the number of COVID deaths inside nursing homes. Lucido says only 5 states including Michigan and New York used the care facilities as hubs…
………..
Hate Hoax: Black Suspect Targets Kansas City Church's BLM Signs With Repeated Vandalism – Big League Politics
A repeated vandal of a Kansas City, Mo. church's Black Lives Matter signs has turned out to be an African-American male after surveillance footage revealed a black man committing the property damage.
"As fate would have it, he did strike again and he was apprehended," Ruling Elder at South-Broadland Presbyterian Darron Story said. "It's been frightening to be honest with you to know that someone would go to such lengths to vandalize our building," Story said.
There were several instances of vandalism that occurred between November 2020 and February 2021. Chidera Okolo was apprehended by police who were watching security footage as he tried to break in once more. He resisted arrest and allegedly attacked police as they attempted to subdue him. Okolo was reportedly armed with a baseball bat.
"We all are broken in some way, some shape, form, or fashion. That brokenness comes out in various ways and for him it came out in anger and destruction," Story said…
………..
Organizers Say They Have Enough Signatures To Put Newsom Recall Vote On Ballot – Epoch Times
.

.
Organizers of the recall California Gov. Gavin Newsom campaign on Sunday announced they have accumulated enough signatures to trigger a special election later this year. Organizers said they've gathered 1.95 million signatures, with about 10 days until the March 17 deadline.
"That is more than enough to be able to have this initiative qualified for a special election later this year, to let the people finally decide who and what is going to happen with the fate in the future of California Gov. Gavin Newsom," one recall official told reporters in Sacramento.
"The momentum is building. Californians are consistently becoming more disgruntled with how their state is run," added Mike Netter…
………..
15 Insane Things In Democrats' H.R. 1 Bill To Corrupt Elections Forever – Joy Pullmann
On Wednesday, House Democrats passed an 800-page bill that would mandate insecure voting processes and subject voting tallies to partisan manipulation.
It's a slap in the face to the half of Americans, including many Democrats, who believe the 2020 election was riddled with fraud and errors, largely due to the rapid expansion of mail-in balloting and other suspensions of state election laws.
"It is difficult to imagine a legislative proposal more threatening to election integrity and voter confidence," write 20 Republican attorneys general in a Thursday letter about the ridiculously named For The People Act of 2021, or H.R. 1.
Democrats have made the bill their top priority this Congress to permanently cement their current unified control of the federal government.
The bill "would (among other things) implement nationwide the worst changes in election rules that occurred during the 2020 election…
………..
Dementia Joe Signs Executive Order To Increase Voting By Criminals – Epoch Times
.

.
President Joe Biden signed an executive order on Sunday altering the way the federal government handles elections, including by increasing voting and voter registration access for criminals in prison and on probation.
"The order will direct the Attorney General to establish procedures to provide educational materials related to voter registration and voting, and to the extent practicable, to facilitate voter registration, for all eligible individuals in the custody of the Federal Bureau of Prisons," a fact sheet distributed by the White House states.
The order also directs the attorney general to help former prisoners obtain appropriate identification to satisfy state voting requirements…
………..
Ballots In Maricopa County, Arizona Found Shredded In A Dumpster Days Before Senate Audit To Begin – Gateway Pundit
Piles of shredded ballots were located today in a dumpster in Maricopa County Arizona. This find occurs only days before the Senate's audit of the county's 2020 election results is due to start.
For months the Board of Supervisors in Maricopa County have blocked and delayed any independent audit performed by the Arizona Senate of the County's results in the 2020 Presidential election.
As we've reported previously, after being subpoenaed by the Arizona Senate and then suing the Senate to prevent a Senate audit of their 2020 election results, the Maricopa County Board of Supervisors (MCBOS) agreed to have an audit if they could pick the auditors.
The two firms they picked they claimed were the only two who were certified by the governmental body the US Election Assistance Commission (EAC). However, we found that these firms were not certified at the time they were selected by the MCBOS:..
………..
DemoNazi Serial Killer Update: Now Former Press Aide Accuses Andrew Cuomo Of Sexual Misconduct – Breitbart
.

.
A former press aide of Gov. Andrew Cuomo (D) has added her voice to the growing number calling for him to resign, claiming the politician invited her to his hotel room and embraced her after a work event in 2000, when Cuomo led the U.S. Department of Housing and Urban Development and she was a consultant for the agency.
The woman, Karen Hinton, says she pulled away from Cuomo, but he pulled her back toward his body, holding her before she backed away and left the room, according to the report. This comes amid multiple other allegations by females who say the governor sexually harassed them.
Cuomo held his first press conference on Wednesday since giving New York Attorney General Letitia James a referral to investigate claims that he sexually harassed at least two women…
………..
Texas State Representative Introduces Bill To Finish Trump's Border Wall – Epoch Times
Texas state Rep. Bryan Slaton (R-Canton) introduced a bill proposing the border wall construction initiated under former President Donald Trump be completed by the Texas Department of Public Safety (DPS).
Slaton said that the actions taken by President Joe Biden shouldn't stop the construction of the wall along the U.S.-Mexico border in Texas.
"President Trump fought to bring real border security and was opposed by Republicans and Democrats in Congress. While hundreds of miles of new wall were built under his leadership, the Biden administration has already ceased border wall construction," Slaton said, reported The Texan.
"It is time for Texas to stand up and finish the work that President Trump started. Let's finish building the border wall now," he added.
The bill states that part of the wall shared with Texas could be named after Trump…
………..
First-Ever "Space Hotel" To Begin Construction In 2025, Become Operational By 2027 – Zero Hedge
.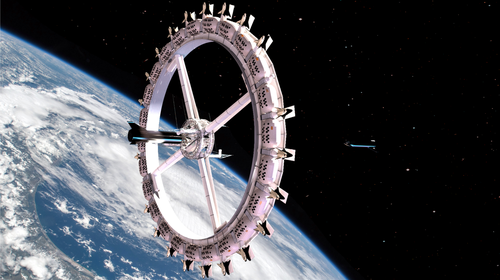 .
Orbital Assembly Corp., a California-based startup, has raised a million dollars with aims at opening an out-of-this-world space hotel in low Earth orbit by 2027, according to Daily Mail.
Orbital calls itself the "world's first large-scale space construction company" and has grand ambitions to build the first space hotel in low Earth orbit, beginning in 2025. The hotel will be equipped with restaurants, a cinema, spa, and space pods (rooms) for 400 people.
The 3-year-old company plans to use robots to construct the celestial hotel shaped like a Ferris wheel. The 650-foot-wide wheel-shaped structure will spin with an angular velocity high enough to generate moon-like levels of artificial gravity for occupants.
If realized, Voyager Station will be the biggest human-made structure in space…
………..
Deep State Slimeball Rod Rosenstein Now Admits He Talked With Andrew McCabe About Recording President Trump, After Lying About It During Senate Hearing – Gateway Pundit
Former Deputy Attorney General Rod Rosenstein, the man who launched the fraudulent Mueller Special Investigation, testified before the Senate Judiciary Committee in June 2020.
Democrat Senator Mazie Hirono asked Rosenstein about the reports that he discussed wearing a wire to spy on President Trump and that he discussed using the 25th Amendment to remove President Trump from office.
Rosenstein answered that he NEVER discussed removing President Trump using the 25th Amendment.
However, back in September 2019 memos penned by then-Acting FBI Director Andrew McCabe and released to Judicial Watch revealed then-Deputy Attorney General Rod Rosenstein began plotting Trump's removal shortly after FBI Director Comey was fired.
McCabe's 2-page memo detailed a "contemporaneous recollection" of a meeting McCabe had with Rosenstein on May 16, 2017…
………..
Oklahoma House Passes Bill Allowing State AG And Legislature To Nullify Dementia Joe's Executive Orders – Washington Standard
.

.
Now, understand this: There is no need for this particular bill. Both houses of the legislature in Oklahoma can simply nullify each and every China Joe Biden executive order and send it to the governor for a signature without the attorney general even being involved.
In fact, this was what founding fathers like Thomas Jefferson urged when unlawful "laws" or edicts were passed by the federal government. Nevertheless, the Oklahoma statehouse has passed legislation that seeks to nullify Biden's executive orders.
The bill, HB 1236, would allow the Oklahoma attorney general to review any executive orders, congressional laws or federal agency rules to see if they violate the U.S. Constitution. If the attorney general doesn't oppose them, then the state legislature could do so through a majority vote…
………..
10,000 DemoNazi-Encouraged Illegal Aliens Apprehended Inn One Week In Single Border Sector – NTD
Rep. Henry Cuellar (D-Texas), whose Congressional district lies near the U.S.-Mexico border, warned that more than 10,000 illegal immigrants have been apprehended in a single border sector in Texas in about a week.
"We are weeks, maybe even days, away from a crisis on the southern border. Inaction is simply not an option," the Texas Democrat said in a news release on Thursday. "Our country is currently unprepared to handle a surge in migrants in the middle of the pandemic."
In recent days, Cuellar has issued warnings about what appears to be a looming humanitarian crisis at the border, adding that it will spread COVID-19 in southern Texas and other border communities.
But now, his office has released figures showing Border Patrol in the Rio Grande Valley arrested about 10,000 illegal immigrants in the past week alone, according to the release, while adding that some 2,500 illegal immigrants have been apprehended in the past two days…
………..
Streisand Effect: Dr. Seuss Sales Skyrocket After 'Offensive' Books Canceled By Woke Mob – Neon Nettle
.

.
Dr. Seuss's sales have been skyrocketing amid attacks from the woke mob over recent allegations that the books contain "insensitive and racist imagery."
The classic children's books seem more popular than ever after news that a small selection of titles will no longer be sold because they are now deemed to be "offensive." However, Amazon and Barnes and Noble are now reporting record sales of the beloved children's author's most popular books.
As of Thursday evening, Dr. Seuss's most popular books were making up 9 out of the top 10 bestsellers on both companies' lists. "The Cat in The Hat," "Oh, The Places You'll Go" and "Green Eggs and Ham," three of Seuss's best-known works, were all out of stock on Amazon…
………..
Serial Killer Andrew Cuomo's Aides Rewrote Report To Hide 2,800+ Nursing Home Deaths – Breitbart
Gov. Andrew Cuomo's aides rewrote a report from state health officials to hide 9,250 Chinese coronavirus deaths in nursing homes and long-term care facilities. The New York Times details the coverup citing new documents and interviews with six people involved in the concealment of deaths.
Cuomo (D) faced early criticism in his state for ordering nursing homes to take patients who had tested positive for the coronavirus, as the elderly are among those most vulnerable to the virus.
After reports surfaced in February that Cuomo was intentionally hiding the numbers, the governor's office explained he was withholding the truth to prevent then-President Donald Trump's administration from using the data to launch a politically motivated attack.
Cuomo blamed the "toxic political environment" and "disinformation" for the revised numbers. But the Times states Cuomo began hiding the truth about the numbers long before the Justice Department began their investigation in August…
………..
Bipartisan Group Of Senators Introduces Bill To Remove War Powers From Dementia Joe – Big League Politics
.

.
A bipartisan group of senators have introduced a bill to remove war powers from President-imposed Joe Biden.
The move comes in response to a unilateral strike on Syria by Biden, which had enjoyed relative peace during the Trump administration. Biden's crazed warmongering has alarmed Republicans and Democrats who want to stop the permanent occupation of the Middle East and other areas across the world by U.S. forces.
Sens. Tim Kaine (D-VA) and Todd Young (R-IN) are spearheading the measure to end the authorizations for the use of military force that have been exploited over the past decades to give the president unilateral power over foreign policy decisions…
………..
Judge Orders Election Do-Over As Voter Fraud Proved For 78% Of Mail-In Ballots – Neon Nettle
A judge has ordered a runoff election do-over in Mississippi after 78% of mail-in ballots were proved to be fraudulent, according to reports. A notary official in Aberdeen, Monroe County, has also been arrested in connection with the mass voter fraud scam.
After hearing evidence of fraud and criminal activity, Judge Jeff Weill was forced to rule in favor of a new election. In the sixty-four-page order, Judge Weill slammed the handling of absentee ballots by officials as he ordered a new election.
Weill blasted the actions by some at the polling place over how votes were counted, local news reports. The race in question – a Democratic primary – occurred in Ward 1 for the position of alderman between candidates Robert Devaull and Nicholas Holliday.
Judge Weill called for the new election after hearing overwhelming evidence of voter fraud in the Democrat race, according to WCBI. In his ruling, the judge said that sixty-six of eighty-four absentee ballots cast in the June runoff were not valid…
………..
New York Public School Urges Parents To Be 'White Traitors' – Sara Dogan
.

.
A public school in New York City has provoked a firestorm of outrage by asking parents to become "white traitors" and promote "white abolition" in an effort to allegedly fight racism.
The controversial letter was sent by Mark Federman, principal of the East Side Community School in New York City. It included an "ethnography of whiteness" written by Northwestern University associate professor Barnor Hesse who ranks all whites on a color-coded scale of "The 8 White Identities" which range from "White Supremacist" to "White Abolitionist."
""There is a regime of whiteness, and there are action-oriented white identities. People who identify with whiteness are one of these,'' Hesse explains in an introduction above the list.
The 8 "White Identities" are then helpfully defined…
………..
Trump World Expands As Former Aides Launch MAGA-Focused Orgs And PACS – Jonathan Davis
Aides to Donald Trump are capitalizing on the political momentum generated by his Conservative Political Action Conference speech Sunday to launch new organizations and super PACs focused on building on the 'MAGA' brand.
A new soon-to-be-launched group called the America First Policy Institute was founded by Brooke Rollins, who spent about three years in Trump's White House as his chief policy adviser.
A strong pro-Trump advocate and champion of his USA-centric policies, Rollins has already hired about 30 people thus far and rented office space in Arlington, Va, according to Politico, which added that she says she's already raised millions of dollars.
And she's certainly not alone: A growing list of former Trump White House officials are also establishing new organizations that will push his agenda including former campaign manager Brad Parscale and Trump's HUD secretary Dr. Ben Carson…
………..
Cop-Hating Portland City Councilor Involved In Hit-And-Run Accident – PJ Media
.

.
On Wednesday, Portland City Councilor Jo Ann Hardesty was reportedly involved in a hit-and-run accident. According to Incident Report #2021-57962, police responded to a complaint in which a teacher reported that Hardesty had rear-ended her vehicle earlier in the evening before driving away.
The news was broken first by the Coalition to Save Portland. According to law enforcement sources, Hardesty may have been looking at her phone at the time of the accident.
According to the incident report, Hardesty was traveling in a late-model tan-colored sedan, possibly a Toyota Corolla, when she collided with the rear end of another vehicle. Hardesty failed to remain at the scene of the accident…
………..