………..
Over 500 DemoNazi-Encouraged Illegal Aliens Arrested In A Single Day At One Border Sector – Big League Politics
Bob Price of Breitbart News reported that Rio Grande Valley Sector Border Patrol agents arrested north of 500 migrants in a span of a day. These apprehensions occurred along a section of the southern border with Mexico close to Mission, Texas.
On the night of February 24, 2021, McAllen Station Border Patrol found a group of 130 migrants, mostly comprised of families and unaccompanied minors. Per information that Rio Grande Valley Sector Border Patrol officials relayed to the public, large groups of migrants crossing the border have been spotted by law enforcement with greater frequency as of late.
Agents interviewed the migrants and discovered that they hailed from countries such as El Salvador, Guatemala, Honduras, and Nicaragua.
On the day of the mass arrest of migrants, agents received information from the Hidalgo County Sheriff's Office concerning a stash house allegedly used for human smuggling located close to Mission…
………..
Minutes After Seemingly Successful Landing, SpaceX's Starship Rocket Explodes On Pad – Business Insider
.

.
SpaceX finally launched a prototype of its Starship rocket miles into the air on Wednesday, then landed it successfully. But 10 minutes later, the rocket exploded.
The roughly 16-story test vehicle – called Starship serial No. 10, or SN10 – lifted off at 5:14 p.m. on Wednesday. As it climbed, it shut off one engine and then another. The rocket hovered at the peak of its flight for about 30 seconds, then cut its last engine, tipped over, and belly-flopped toward the ground.
As it neared the ground, the Raptor engines reignited, flipped SN10 upright, and slowly lowered it to the landing pad.
"Third time's the charm, as the saying goes,"…
………..
Alabama To Join Texas, Mississippi, Florida, Others In Eliminating Mask Mandates This Week – Breitbart
Alabama will become one of the next states to eliminate a government-imposed mandate that requires people wear masks in public, sources close to the matter told Breitbart News.
A source familiar with state deliberations confirmed that as soon as Friday but definitely in the coming days. Alabama will join several other states nationwide in removing its mandate requiring masks in response to the coronavirus pandemic.
GOP Gov. Kay Ivey's office has not yet confirmed what sources familiar with the state's planning and deliberations are, but a spokeswoman for Ivey told Breitbart News she was never a fan of mandates to begin with – a sign of the coming move.
"All along, Governor Ivey has made clear that she prefers personal responsibility to government mandates. We are optimistic that our state is heading in the right direction, and we still have some work to be done. Governor Ivey will provide an update to the people of Alabama soon," an Ivey spokeswoman said…
………..
$140 Million 'Pelosi Subway' Axed From Senate Covid Bill: Parliamentarian – New York Post
.

.
Guess she'll have to take the bus. Funding for a rail project near House Speaker Nancy Pelosi's California district that Republicans denounced as wasteful was removed Tuesday from President Biden's $1.9 trillion COVID-19 stimulus bill.
The Senate parliamentarian ruled the $140 million appropriation wasn't allowed under the so-called Byrd rule that polices unrelated items in budget reconciliation bills.
Republicans singled out the rail project as an example of unrelated "pork" in the bill, which is being rammed through Congress without Republican support using special rules that allow a simple majority vote in the Senate.
On Tuesday, Sen. John Barrasso (R-Wyo.) ridiculed the project as Pelosi's "tunnel of love"…
………..
Investigate Biden Insiders For Crimes Against The Republic – Issues & Insights
It was clear during the 2020 presidential campaign that Joe Biden was a man in decline. Yet the Democrats ran him as their candidate anyway.
Was their obsession with removing Donald Trump from the White House worth turning over the federal machine, with its nuclear codes and ability to destroy innocent people, to a man whose faculties are failing him?
Biden's cognitive challenges have been obvious to anyone who's willing to make an honest assessment. In both public appearances and in controlled conditions, he's slurred words, spewed gibberish, stumbled through remarks even with the aid of a teleprompter, and often had the look of a man lost.
His lowlights of 2020 include calling the Declaration of Independence "the thing," appearing to think he was still in the 1970s, 1980s or 1990s running for the U.S Senate, and bumbling basic facts…
Ted Rall, a man of the left and no friend of Trump, complained a year ago – in March 2020, not in September or October – that Democrats were "conspiring to gaslight the American people by engineering the presidential election of a man clearly suffering from dementia, Joe Biden." At roughly the same time, Eoin Higgins, no Republican he, tweeted that "Biden clearly has serious cognitive issues."
………..
Caught Colluding: Leaked Video Reveals Family Court Guardians Conspiring To Dox Journalist For Exposing Them – PJ Media
.

.
Guardians ad litem (GALs) have a good thing going in Saint Louis County, Mo., or at least they did before Evita Tolu filed a lawsuit against GAL Elaine Pudlowski and Dr. James D. Reid, psychologist, and others exposing what looks like one of the biggest money-making schemes to ever hit family courts.
GALs are usually appointed by judges to represent a child in a custody dispute. The GAL is paid by the parents and in Tolu's case, her GAL was paid $30,000.
Shortly after the lawsuit was filed, Saint Louis County GALs held a secret meeting, starring Pudlowski and 37 other GALs, which was leaked to investigative journalist Michael Volpe, who posted it to YouTube…
………..
Ontario Family Forced To Pay $3,458 For 15-Hour Stay At Trudeau Government Covid Facility After Returning From Funeral Abroad – Post Millennial
An Ontario woman and her family were fined $3,458 for a one-night stay at a Trudeau government COVID facility after going to Portugal for her father's funeral.
Cristina Teixeira told CTV News that she felt gouged by the "ill-conceived" plan, telling media that receiving any information on what to do, or how much she'd have to pay, when returning to Canada was next to impossible.
Teixeira, who has worked as a public employee in Ontario for 28 years, says that she, her brother, and her daughter, returned to Canada on February 27.
"The stress that we were put under is inconceivable," Teixeira told media. "As a Canadian citizen, public servant, I can tell you this is wrong on so many levels. We've never experienced something like this."
Upon arrival, Teixeira was told that she and her family would not be exempt from the quarantine for compassionate reasons…
………..
Revealed: DC Mayor Bowser And Cabinet Picks Met With Top 'Influence' Arm Of Chinese Communist Party – National Pulse
.

.
Washington, D.C. Mayor Muriel Bowser and her appointees have repeatedly met with and hosted leaders from a leading organization in the Chinese Communist Party's United Front.
The United Front functions as China's premier influence and propaganda organization, raising flags with the U.S. government's Economic and Security Review Commission.
It seeks to "co-opt and neutralize sources of potential opposition to the policies and authority of its ruling Chinese Communist Party" and coerce American leaders "to take actions or adopt positions supportive of Beijing's preferred policies."
What's more, the State Department has described the group as seeking to "directly and malignly influence" U.S. state and local leaders…
………..
Here's A Full List Of Every Lie Dementia Joe Has Told As Fake President – The Federalist
Biden Falsely Claims Administration Not Opening New Migrant Centers
Biden falsely claimed during a February interview with Univision the new administration is merely re-opening migrant camps operational during the Trump administration even as the Biden White House creates new ones.
"They opened up one, one that was a former one used in the administration in the last administration," Biden said. "Our hope and expectation is that won't stay open very long and that we'll be able to provide for every kid who comes across the border safely."
Border agents however, opened up a new facility in Donna, Texas three weeks ago, according to the Washington Post, while creating new camps in Del Rio, Texas, and Arizona.
Biden Repeats False Claim Trump Instructed Public To Inject Bleach
Biden repeated the debunked story rated false even by left-leaning PolitiFact that President Donald Trump recommended during a White House coronavirus press briefing to inject bleach…
………..
Washington, D.C. DemoNazi Government Poisons Michigan National Guard Troops With Uncooked Meals, Metal Shavings – Big League Politics
.

.
A whistleblower deployed with a detachment of the Michigan National Guard in Washington, DC has revealed that that his soldiers are being served with unsafe food by the government. The troops are present following the January 20th inauguration.
The staff sergeant revealed the travesty, speaking anonymously to Detroit's WXYZ. The National Guard had contracted with the Washington DC city government to feed the troops, who were present to protect the city.
"Yesterday, for instance, there were 74 different meals found with raw beef in them," the sergeant said. "Just yesterday, the lunches were, soldiers had found metal shavings in their food."…
………..
Georgia House Republicans Pass Omnibus Election Reform Bill – Epoch Times
Georgia's House of Representatives passed an omnibus bill that would reform a range of election rules, including over absentee voting, voter ID for absentee voting, time limits for voting, and more.
The 66-page bill, HB 531 passed the Republican majority chamber on a party line vote of 97-72 and is headed to the state Senate for further debate.
State Rep. Barry Fleming, a Republican, the main sponsor of the HB 531 bill, said that the proposal was designed to restore voters' confidence in Georgia's election system following the 2020 presidential election, which saw numerous allegations of voting irregularities and allegations of election fraud.
Separately, the GOP-majority Senate on Feb. 23 introduced its own version of an omnibus election reform bill, SB 241 that has some overlap with HB 531. One difference is that the Senate bill would eliminate no-excuse absentee voting…
………..
This App Will Soon Unleash Deepfake Videos That Can Frame Anyone – Joe Allen
.

.
Epic Games just released the first demos for MetaHuman Creator, bringing us one step closer to living in a simulation. The cloud-based app has an intuitive interface, allowing minimally competent users to create ultra-realistic digital humans "in less than an hour, without compromising on quality."
Just as Pro Tools gave burnouts the power to make techno, or PhotoShop let perverts alter celebrity images, soon anyone with a decent laptop will be able to generate a deepfake. It's gonna be hilarious – at first.
MetaHuman Creator was developed for Unreal Engine, a top platform for game design, film effects, and live event production…
………..
Cuomo Accused Of Harassment, 'Hostility' And 'Dirty Tricks' Against Woman While HUD Chief – Just The News
Two decades before being accused of misconduct against women while he was New York governor, a younger Andrew Cuomo was the subject of a sexual harassment complaint from a government official who claimed that Cuomo – serving at the time in Bill Clinton's cabinet – also hounded her with "a series of attacks and dirty tricks."
Susan Gaffney filed the 2000 complaint against Cuomo while he was secretary of the Department of Housing and Urban Development and she was the department's inspector general.
In the complaint, which included other top HUD officials, Gaffney told the Office of Departmental Equal Employment Opportunity that she was sexually harassed and discriminated against in retaliation for her stance against fraud at HUD, and that Cuomo verbally abused her during weekend phone calls.
The complaint followed years of conflict between Gaffney and Cuomo, recounted in part during Gaffney's 1998 appearance before the Senate Committee on Governmental Affairs…
………..
Newsom 'Plan' To Re-Open California Schools Involves Billions In Bribes – PJ Media
.

.
Now that there are nearly two million recall signatures and parents are so fed up with COVID closures that they're going after the LA teachers' union, Governor Gavin Newsom has chosen to reveal his grand plan to re-open California schools.
The governor, whose own children have been going to in-person private school for months now, announced that his plan does not require the public schools to open, but is an "enticement" to open instead. Newsom says the plan was a "bottom-up not top-down" collaboration of state lawmakers and other "stakeholders."
To put it simply, Newsom offers a bribe for districts that open quickly. Districts that don't open quickly will get less for each day they're closed, according to the The LA Times…
………..
Washington Post Fact Checkers Called President Trump A Liar To Cover Up Biden's Corruption – Daniel Greenfield
Once upon a time, the media used fact checkers to check its own facts before publishing a story. And then the media stopped checking its facts and started smearing everyone else.
The media's false claim that Russia had somehow rigged the 2016 election to help President Trump win with "disinformation" became the basis for a media movement pressuring Big Tech to let the media's fact checking censors silence conservatives with their 'fact checking'.
Even as the media discarded all of its remaining standards, it claimed truth as its standard.
"This is an apple. Some people might try and tell you that it's a banana," CNN lectured viewers. "They might scream banana, banana, banana over and over and over again."
At the Washington Post, which had declared war on President Trump early on, fact checking became its own industry. Glenn Kessler, the head of the Post's fact checking team, and two junior members published a book last year titled, Donald Trump and His Assault on Truth. It was the last hurrah for the team which shut down its presidential fact checking operation in 2021…
………..
Dementia Joe Botches DemoNazis' Names, Asks "What Am I Doing Here?" – Breitbart
.

.
President Joe Biden struggled to read his speech Friday as he botched the names of Democrat members of Congress and asked, "What am I doing here?" Biden was in Houston to visit the area affected by last week's deep freeze and appeared to have trouble reading his speech.
"Representatives, uh, Sheryl – Shirley Jackson Lee," Biden said, flubbing the name of Rep. Sheila Jackson Lee (D-TX). He continued, "Al Green, Sylvia Garcia, Lizzie Pinneli – excuse me, Pinell, and, uh, what am I doing here?" before looking down at the podium. "I'm going to lose track here, and, uh, um – Mayor [Sylvester] Turner, Judge [Lina] Hidalgo, uh, thank you all for welcoming us," Biden said.
On Thursday, Biden had to be reminded by Vice President Kamala Harris to retrieve his mask…
………..
Four Arrested In Texas On 150 Counts Of Voter Fraud – Epoch Times
Four people were arrested in Texas last month on 150 counts of voter fraud dating back to the 2018 Medina County Primary Election, according to reports.
The Texas attorney general's Election Fraud Unit on Feb. 11 arrested Medina County Justice of the Peace Tomas Ramirez, and earlier detained Leonor Rivas Garza, Eva Ann Martinez, and Mary Balderrama on election fraud allegations, News4SA reported.
According to a statement from Texas Attorney General Ken Paxton's office, the case involved allegations of vote harvesting at assisted living centers in Medina County in the 2018 Medina County Primary Election.
Ramirez faces one count of organized election fraud, one count of assisting voter voting ballot by mail, and 17 counts of unlawful possession of a ballot or ballot envelope, according to the news outlet. Balderrama is charged with one count of organized election fraud, nine counts of illegal voting, two counts of unlawful possession of ballot…
………..
Mike Pence Receives Humiliating 1% In CPAC Presidential Straw Poll, Trump 55% – National File
.

.
Former vice president Mike Pence, who is widely assumed to be preparing for a run for President in 2024, received a shockingly low 1% support in the 2021 CPAC presidential straw poll. President Donald Trump received 55% of the vote.
Pence is widely understood to be preparing for a 2024 run for President.
After betraying President Trump, his supporters, and the U.S. Constitution on January 6, Pence has spent recent weeks attempting to ingratiate himself with Republican leaders and establishment figures, first contemplating starting his own dark money fundraising platform, and eventually winding up taking a position at the establishment-leaning Heritage Foundation…
………..
Former Trump Trade Official Peter Navarro Says There Will Be At Least Three Indictments Coming From John Durham – RedState
Former Trump Administration Trade Official Peter Navarro predicted today on Maria Bartiromo's Fox News show "Morning Futures" that there will be at least three indictments coming forth from the investigation being conducted by Special Counsel John Durham with regard to the Trump-Russia hoax perpetrated by the Obama Administration officials beginning in the summer of 2016 in an effort to help Hillary Clinton try to get elected in spite of her mishandling of classified information.
My initial reaction was that Navarro occupied a position in the Trump Administration that wouldn't have afforded him access to this kind of "inside information" with regard to the status of a closely-held criminal investigation.
At the same time, however, his background and portfolio of responsibilities made him one of only a limited number of people who were part of the true inner circle of the Trump White House…
………..
Former French President Nicolas Sarkozy Sentenced To Prison For Corruption – Zero Hedge
.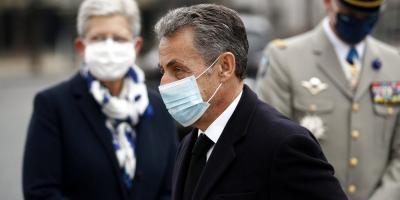 .
A Paris court has found former French President Nicolas Sarkozy guilty of corruption – which is only the second time in modern history that a French head of state has gone down on such a charge – for which he's been issued a sentence of three years in prison, two of which have been suspended.
Despite the prison sentence it's expected however that the 66-year-old will serve the non-suspended one year portion on probation – with an electronic bracelet and subject to a curfew.
Presiding Judge Christine Mée described in the ruling that the "particularly serious" crimes involving France's leader who was in office 2007-2012 centered on him "using his status" as president to peddle influence for personal gain while violating state secrecy…
………..
Sidney Powell: There Is "Enough Evidence In The Public Now To More Than Reverse The Election In At Least Five States" – Gateway Pundit
On Saturday Attorney Sidney Powell and Retired General Michael Flynn joined Erskine for his weekly podcast.
Lieutenant General Michael Flynn is a retired United States Army Lieutenant General who was the 25th United States National Security Advisor for President Trump. Flynn's military career included a key role in shaping U.S. counterterrorism strategy and disarming insurgent networks in the Afghanistan and Iraq wars and was given numerous combat arms, conventional, and special operations senior intelligence assignments.
His book, The Field of Fight, is brilliant. http://www.defendingtherepublic.org
Sidney Powell served in the Department of Justice for 10 years and for the last 20 years has devoted her private practice to federal appeals. She was the youngest Assistant U.S Attorney and later became Chief of the Appellate Section for the Western and Northern Districts of Texas. Sidney Powell is recognized by her peers as a "Super Lawyer" and named as one of the "Best Lawyers in America"…
………..