………..
DemoNazi Corruption Update: Arizona Sheriff Sees Fivefold Increase In Illegal Border Crossings – Epoch Times
High-speed vehicle pursuits of suspected human smugglers and other illegal immigrant-related crimes are becoming more common in Cochise County, Arizona, according to Sheriff Mark Dannels.
Dannels tracks illegal border crossings through his extensive hidden trail camera operation along his county's 83 miles of shared border with Mexico. The cameras showed 1,200 illegal entries in August 2020, and by December, it had more than doubled to 2,500, he said. Before August, 500 was a busy month.
"That's what scares me about this whole thing," he told The Epoch Times on Feb. 15. "Though I believe politics has no business in policing, it sure has an effect on the border."
President Joe Biden has undone several border security measures that the Trump administration had put into effect, including temporarily suspending deportations of illegal aliens, reversing President Donald Trump's ban on travel from terror-prone countries…
………..
Dementia Patient Or Lying Sack Of Crap?: Fake President Biden Falsely Claims U.S. Didn't Have Covid Vaccine When He Took Office – Gateway Pundit
.

.
Joe Biden traveled to Milwaukee, Wisconsin Tuesday evening to participate in a CNN presidential town hall.
Biden stole Wisconsin with a big vote dump in the middle of the night after Election Day so no doubt CNN will use Democrat plants tonight during their event.
Joe Biden started the night with a huge whopper of a lie. Biden told Anderson Cooper that there was no Covid vaccine when he got into office.
Thanks to President Trump's "Operation Warp Speed," a Covid vaccine was approved and ready to be distributed by October/November. The Biden Admin inherited Trump's vaccination program already meeting their target of 100 million shots in 100 days.
………..
Kamala Harris Is Now Making Dementia Joe's Head-Of-State Calls For Him – National Pulse
Vice President Kamala Harris has begun to take calls on behalf of President Joe Biden, raising questions about his ability to do the job of President. The White House published a readout yesterday entitled "Readout of Vice President Kamala Harris Call with President Emmanuel Macron of France."
It states:
Vice President Kamala Harris spoke today with President Emmanuel Macron of France, and expressed her commitment to strengthening bilateral ties between the United States and France and to revitalizing the transatlantic alliance. Vice President Harris and President Macron agreed on the need for close bilateral and multilateral cooperation to address COVID-19, climate change, and support democracy at home and around the world. They also discussed numerous regional challenges, including those in the Middle East and Africa, and the need to confront them together…
………..
A Green New Disaster Unfolding In Texas As "Green Energy" In Complete Failure, Millions Without Power – Shaor News
.

.
It's exactly how New York Congresswoman Alexandria Ocasio-Cortez wants it, an energy grid reliant upon clean, green energy in the form of farms of wind-powered turbines.
On Monday, millions of Texans were subjected to rolling blackouts as temperatures dropped and snow and ice fell around them. Left with no power, no heat, and in some cases, no drinking water during the state's ongoing snowy natural disaster, the culprit has been identified as green energy.
In Texas, the Green New Deal today is nothing more than a Green New Disaster waiting to happen. It could even turn deadly. Nearly 3.8 million Texans are without power as the state's inventory of green and clean energy wind turbines have frozen over…
………..
Insanity Wrap #147: Here Come The Lunatic Gun-Grabbers – Stephen Green
Insanity Wrap needs to know: When Joe Biden endorsed "commonsense gun law reforms," what did he really mean?
Answer: The most radical set of eliminations, restrictions, fees, and punishments ever even considered in American history.
…
Today's craziest person in the world is anyone who thought that Democrats wouldn't try to ram through a radical gun control agenda despite their slender majorities.
Introduced last month, here's the text of Texas Congresscritter Sheila Jackson Lee's H.R.127, the "Sabika Sheikh Firearm Licensing and Registration Act." The bill will likely gain steam now that Biden has come out swinging against guns.
In addition to licensing requirements, mandatory psychological evaluations, and registering of all firearms in a national (and publicly searchable) database, Lee's bill would require a special permit to "own and possess a military-style weapon."…
………..
Health Inspector Does Happy Dance Moments After Ordering Southern California Brewery To Close – Gateway Pundit
.

.
A health inspector named Jatinder Chhabra did a happy dance moments after ordering a brewery (already struggling because of Covid lockdowns) in Southern California to close. The brown shirt health inspectors are drunk on power and won't stop until the American people say "enough."
Jatinder Chhabra waltzed into Bravery Brewing Company in Lancaster, a high desert city in northern Los Angeles County last weekend and told the owners to close up shop.
Bravery Brewing Co doesn't have TVs so they set up Super Bowl Sundays with limited hours so customers can take the freshly brewed beer home with them before the game starts. Chhabra ordered the brewery to close down because they didn't pay hundreds of dollars to food trucks to come by – a new Covid requirement.
………..
The Pandemic Cure Is Far Worse Than The Disease – Steve Karp MD
Excessive stress on a bone will often cause it to fracture. Fractures can be the result of acute or chronic stress and can be partial or complete however, once the fracture occurs it's over in less than a second. Sufficient healing often takes 6-8 weeks.
Similarly, if enough stress is placed on a society, it too can fracture. During the 19th century societal stressors in America built up over years leading to war and the fracturing of society. In that situation secession represented a complete fracture. Though the war formally ended over 150 years ago has there truly been complete healing?
Following the war, societal stress included the Southern reconstruction period policies, and in the 20th century there were the effects of two world wars, FDR's New Deal, LBJ's Great Society programs, the Korean and Vietnam War, the 1965 Immigration Act and affirmative action policies.
All changed the nature of society and it can be argued not always or completely for the better or without unintended consequences…
………..
FDA Authorizes Emergency Use Of Eli Lilly's Monoclonal Antibody Treatment – UPI
.

.
The U.S. Food and Drug Administration on Tuesday authorized emergency use of a monoclonal antibody treatment for mild to moderate COVID-19 illness in adults and most youth.
The federal agency announced in a statement that it authorized physicians to administer a combination of bamlanivimab and etesevimab to adults and children over the age of 12 and weighing at least 88 pounds who test positive for the virus and are high risk of developing severe symptoms.
Those older than 65 who suffer from chronic medical conditions are also included among those who can receive the treatment under the authorization, the FDA said…
………..
Smoking gun: Comey Told Clapper FBI Unable To 'Sufficiently Corroborate' Steele Dossier, Then Signed FISA Warrant Application – Just The News
The very day in January 2017 that then-FBI Director James Comey signed a FISA surveillance warrant application declaring content from Christopher Steele's dossier had been "verified," he wrote President Obama's outgoing intelligence community chief with a very different assessment of the British spy's intelligence on Russia collusion, a newly released memo shows.
"We are not able to sufficiently corroborate the reporting," Comey wrote in a Jan. 12, 2017 email to then-Director of National Intelligence James Clapper that was declassified and made public through an open records lawsuit by the Southeastern Legal Foundation.
The memo recounts an internal debate inside the U.S. intelligence community during one of the most delicate moments in the FBI's then six-month old Crossfire Hurricane probe.
CIA officials had already informed Comey's FBI that the target of the FISA warrant, Carter Page, wasn't a Russian spy but rather an asset helping U.S. intelligence. The bureau had received warnings about Steele and the reliability of his source network…
………..
Utah Becomes 17th Constitutional Carry State – Big League Politics
.

.
On February 12, 2021, Utah Governor Spencer Cox signed Constitutional Carry bill HB 60. With Cox's signature, Utah became the 17th Constitutional Carry state in the nation.
Constitutional Carry is the concept that any lawful individual can carry a firearm without a permit. The bill was sponsored by Utah Representative Walt Brooks and specified that individuals who carry concealed weapons must be over 21 and legally able to own firearms in order to exercise the right to Constitutional Carry.
"We need to get back to trusting law-abiding citizens, and get rid of these regulations that are not doing any good," Brooks said previously on 2News.
This law will go into effect on May 5…
………..
6 Out Of 10 Americans Support Third Political Party – Epoch Times
Some 6 out of 10 people believe America needs a third political party to jockey with Republicans and Democrats because those parties are doing such a poor job, according to a new survey.
Just 33 percent of respondents said they think the two major parties do an adequate job, while 62 percent answered yes when asked by Gallup if "parties do such a poor job representing the American people that a third party is needed."
The figure represented a 5 percent increase from the last poll, in September 2020, and is a new record-high. Pollsters found that half of respondents identify as political independents, another new record, and that the public opinion of the Republican Party has declined to 37 percent favorable, versus 48 percent for the Democrat Party.
Gallup first asked people whether they thought a third party was needed in 2003. At the time, 40 percent said yes…
………..
Parler Resumes Social Media App After Securing New Computer Servers – Just The News
.

.
Parler, the upstart social media platform silenced last month by big-tech censorship, said Monday it is resuming operations under new leadership and with new computer servers.
Parler moved to a new computer server farm after Amazon Web Services shut off the social media platform on Jan. 11. Parler's 20 million users can begin using their old app and logins Monday, interim CEO Mark Meckler told Just the News.
Some existing users were already live on Monday morning and the rest should have access by midday after the new servers propagated across the internet. New users should be able to sign up for the service within a week or so, Meckler said.
"We are off of the big tech platform, so that we can consider ourselves safe and secure…
………..
DemoNazi Police State Update: Military To Occupy U.S. Capitol Until 2022 – Big League Politics
President-Imposed Joe Biden will continue the military occupation of the U.S. Capitol until at least the end of this year, as his regime loses legitimacy following the Senate's shameful rubber-stamping of an election marred with unprecedented fraud.
FOX 5 DC is reporting that the National Security Council is plotting with the Department of Defense for support beyond the date of Mar. 12. They obtained an email in which deep state forces claimed they are planning a meeting on Wednesday to discuss the specifics.
"If it's not possible to sustain at the current level with NG personnel, we need to establish the number of NG personnel (DCNG and out-of-state) we can sustain for an extended period – at least through Fall 2021 – and understand additional options for providing DoD support, to include use of reserve personnel, as well as active component," wrote acting Assistant Secretary of Defense for Homeland Defense and Global Security Robert Salesses in the email.
The National Guard released a vague response when pressed for a comment…
………..
Dementia Joe's Deputy Press Secretary "Resigns" After Threatening Reporter – Epoch Times
.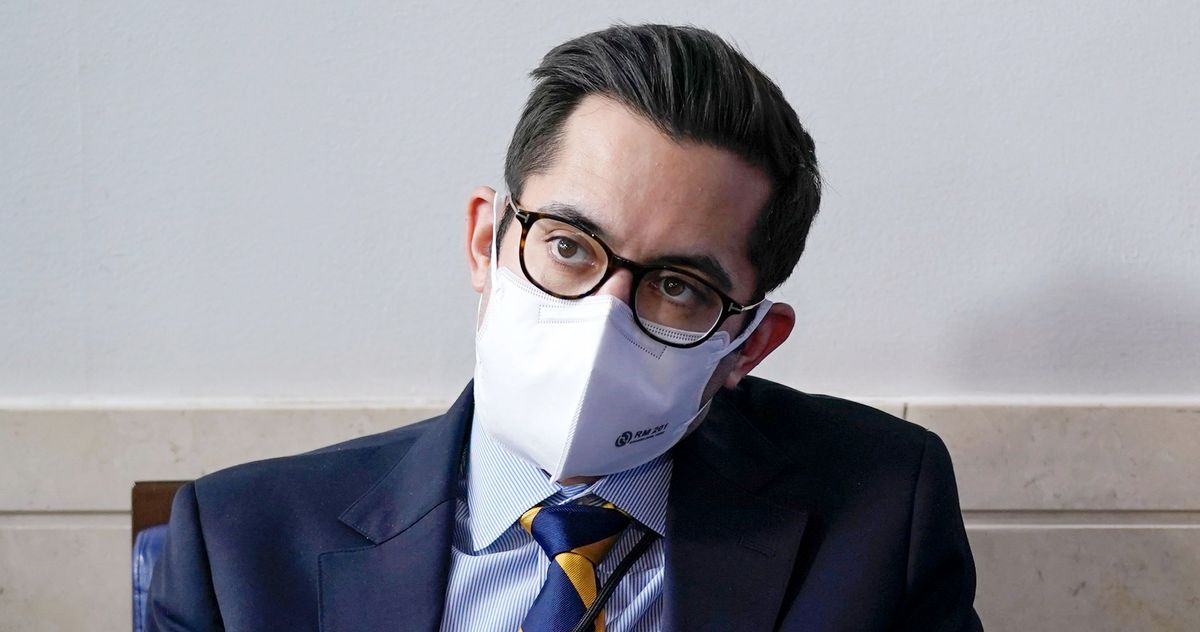 .
White House deputy press secretary T.J. Ducklo has resigned after he allegedly threatened a reporter who was pursuing a story about his relationship with another reporter.
White House press secretary Jen Psaki announced the resignation, saying that the decision came after a discussion with Ducklo on Saturday evening. Ducklo is the first White House aide to depart President Joe Biden's administration, just less than a month into his tenure.
"We are committed to striving every day to meet the standard set by the President in treating others with dignity and respect, with civility and with a value for others through our words and our actions," Psaki said in the statement.
Ducklo said in a statement: "No words can express my regret…
………..
'A-Train Ripper' Busted, Still Covered In Blood, In Knife Attacks On NYC Subway – New York Post
The "A-train Ripper" is in custody, police confirmed Sunday. The knife-wielding madman was wanted in a gruesome subway spree that left two homeless people dead and two others slashed along the A train line, and was nabbed in Upper Manhattan on Saturday, law-enforcement sources said.
His shoes were still splattered with his victims' blood when he was taken into custody – and he was still in possession of the bloody knife, one source added.
The yet-named suspect was in custody at the 34th Precinct in Washington Heights on Saturday, sources said. Police said Sunday that he has since been transferred from the precinct, although they wouldn't say where.
The bloodshed sparked an outcry for safer subways, and NYPD Commissioner Dermot Shea responded, announcing a "surge" of 500 additional cops for the department's Transit Bureau to be deployed across the city immediately…
………..
Coca-Cola To Test Out First Paper Bottle – Daily Wire
.

.
Coca-Cola plans to do a test-run of 2,000 paper bottles this summer to see how they perform in the marketplace and with consumers.
The prototype was made "by a Danish company from an extra-long paper shell that still contains a thin plastic liner." It is a first step in a long-term project of completely ridding plastic from the company's drink containers.
The goal, as reported by BBC, is to make a bottle that is "100% recyclable" and "plastic-free" that is also able to prevent "gas escaping from carbonated drinks." Another requirement is to make sure that no parts of the container can fall into the liquid, which would change how the drink tastes, and make the beverages "potentially fall foul of health and safety checks."…
………..
Fake Impeachment Update: Trump Acquitted In Senate – Daily Caller
The U.S. Senate voted Saturday to acquit President Donald Trump in his fake impeachment trial.
In a 57-43 vote, Trump was acquitted in the Senate. Hours before the vote, lead impeachment manager Democratic Maryland Rep. Jamie Raskin made a surprise request by suggesting a witness had come forward with more information about the Jan. 6 riot. The vote was approved after five Republicans joined Democrats to allow the witnesses to appear.
Within hours, Democrats backtracked on the call for witnesses as there was an agreement that followed new information from Washington Republican Rep. Jaime Herrera Beutler that Trump rejected House Minority Leader Kevin McCarthy's call to demand that his supporters leave the Capitol during the Jan. 6 riot.
The agreement made it so her letter and additional evidence was entered into the record instead of having her or any witnesses testify. After the agreement the trial entered four hours of closing arguments, setting up the final vote…
………..
Pentagon Admits It Has Been Testing Wreckage From UFO Crashes – Daily Mail
.

.
The Pentagon has admitted to possessing and testing out wreckage from UFO crashes, with the researcher who found the startling news hypothesizing that the debris may be from the famous Roswell, New Mexico, crash in 1947.
Researcher Anthony Bragalia made the revelation on his blog UFO Explorations, sharing that he secured more than 150 pages from the U.S. Defense Intelligence Agency (DIA) after the agency responded to a three-year Freedom of Information Act (FOIA) request he submitted.
'Although much of the reports' details are redacted, what can be gleaned is that these technologies represent a literal quantum leap beyond the properties of all existing material known to man,' Bragalia wrote in his blog…
………..
DemoNazi Corruption Update: Cuomo's Aide Admits Governor Hid Nursing Home Deaths To Avoid Federal Investigation – Big League Politics
New York Governor Andrew Cuomo hid data on the impact of his nursing home quarantine policy to avert scrutiny from federal investigators.
Cuomo had forced New York nursing homes to admit patients who were COVID-positive, in a medical disaster since determined to have unnecessarily cost the lives of thousands of senior citizens in the state.
The New York Post reported that a Cuomo aide admitted as such as Democratic New York state legislators on Thursday.
Secretary to the Governor Melissa DeRosa admitted that resarch related to the nursing home policy was spiked directly in response to criticism of the policy on the part of President Donald Trump.
"He starts tweeting that we killed everyone in nursing homes," DeRosa said of Trump, referencing presidential tweets questioning the nursing home policy in August…
………..
Michigan Ammo Company Announces No Tolerance Policy For Dementia Joe Voters – Big League Politics
.

.
Michigan ammunition manufacturing company Fenix Ammunition announced a no tolerance policy relating to sales to Joe Biden voters on Thursday, sending left-wingers up in arms over the consequences of their own actions.
Customers who use Fenix Ammo's website are asked to affirm that they didn't vote for Joe Biden when making a purchase. The Novi company primarily sells ammunition online.
Fenix's owners cited Biden's pledge to criminalize online sales of ammunition as justification for the no tolerance policy. If Biden enacted such a gun control measure, it would destroy Fenix's business, as well as many other smaller manufacturers of ammunition that lack the capability to compete with outdoors franchises…
………..
Anti-Trump Lincoln Project Bigwigs Shielded Accused Homosexual Pedophile For Months, Pocketed Millions – Breitbart
The far-left Associated Press released a bombshell Thursday claiming that going as far back as June, the leaders of the anti-Trump Lincoln Project knew all about multiple sexual misconduct allegations against its cofounder, John Weaver.
The report also exposes the mind-boggling fact that of the $90 million the left-wing group raised, "more than $50 million has gone to firms controlled by the group's leaders."
In June 2020, members of the organization's leadership were informed in writing and in subsequent phone calls of at least 10 specific allegations of harassment against co-founder John Weaver, including two involving Lincoln Project employees, according to multiple people with direct knowledge of the situation. The email and phone calls raise questions about the Lincoln Project's statement last month that it was "shocked" when accusations surfaced publicly this year. It's also the first known suggestion that Weaver targeted a Lincoln Project staffer.
………..