………..
Maricopa County Board Of Supervisors May Soon Face Arrest As Arizona Senate Fast-Tracks Their Contempt Vote – Gareway Pundit
The Board of Supervisors in Maricopa County in Arizona are in a lot of trouble. They can allow the Arizona Senate to review the voting machines and 2.1 million ballots that have been requested by the Senate, but if there is a material amount of fraud identified in this review, they could go to jail.
On the other hand, the Board of Supervisors can continue to stall and prevent any expert independent from their operations to review the machines and ballots, but this may put them all in jail even sooner. They are really in a serious predicament.
After choosing option number two for the past few months, the Arizona Senate has had enough. According to former Head of the New York City Police Department, the Senate is done waiting:
Bernard B. Kerik

@BernardKerik

It Looks Like Maricopa County Supervisors Could Soon Face Arrest…
………..
Dementia Joe Puts Americans In The Dark By Revoking Ability To Reject "Refugee" Dumping In Their Communities – Breitbart
.

.
Fake U.S. President Joe Biden signed an executive order Thursday that denies state and local governments any authority to reject the drop-off of refugees into their towns and communities.
In essence, former President Donald Trump's policy (Executive Order 13888 of September 2019) gave state and local governments a say in whether they have the capacity to provide refugees a pathway to become self-sufficient and successfully integrate into American society.
Biden's new executive order (EO) indicated that the federal government would consult with American communities across the country about refugees' resettlement…
The president's "Executive Order on Rebuilding and Enhancing Programs to Resettle Refugees and Planning for the Impact of Climate Change on Migration" noted:
………..
Nevada DemoNazis To Introduce Bill That Would 'Allow Tech Companies To Create Governments' – Daily Wire
Democrats in Nevada are reportedly planning to introduce legislation in an effort to attract technology companies to the state that would effectively allow them to form their own separate governments at the local-level.
Democrat Governor Steve Sisolak announced the plan last week and said that the goal was to form "Innovation Zones" in an effort to boost the state's economy.
"According to a draft of the proposed legislation, obtained by the Review-Journal but not yet introduced in the Legislature, Innovation Zones would allow tech companies like Blockchains, LLC to effectively form separate local governments in Nevada, governments that would carry the same authority as a county, including the ability to impose taxes, form school districts and justice courts and provide government services, to name a few duties,"
The Las Vegas Review Journal reported. "Sisolak pitched the concept in his State of the State address as his plan to bring in new companies that are at the forefront of 'groundbreaking technologies,'…
………..
Doctors Now Warn About Permanent Damage And Cardiovascular Events Following Covid Vaccination – Natural News
.

.
More doctors are speaking out about the harms of new COVID-19 vaccines. Cardiothoracic surgeon, Dr. Hooman Noorchashm, M.D., Ph.D. is one of them.
Dr. Noorchashm says that the covid-19 vaccines will almost certainly cause an antigen-specific immune response; however, if viral antigens are present in the tissues of recipients at the time of vaccination, the vaccine-augmented immune response will turn the immune system against those tissues, causing inflammation that can lead to blood clot formation.
This destructive auto-immune effect could do significant damage to endothelial cells of elderly patients who already suffer from cardiovascular disease. There have already been numerous reports of unexplained cardiovascular fatalities following covid-19 vaccination…
………..
Cornell Law Professor Creates Online Database Of 220 Universities Teaching Depraved 'Critical Race Theory' To Help People Avoid Them – Daily Mail
A Cornell Law School professor has launched a new database which lists schools teaching critical race theory, after blasting the practice as 'very racist' and accusing 'anti-racism ideology' of causing discrimination on campuses.
William Jacobson appeared on Fox News on Thursday night to speak about the site, which he claims will help parents avoid sending their children to schools where they will be 'indoctrinated' into thinking that the 'most important thing in society is the color of your skin'.
Jacobson, the founder of the conservative website Legal Insurrection, launched the site earlier this week and has already listed 220 universities and their approaches to critical race theory, which Fox host Tucker Carlson branded as the notion that 'some races are inherently better than other races'.
Broadly, critical race theory says that white supremacy is an ideology that is baked into the structures of society and particularly the law…
………..
Arizona Deputy Sheriff: Mexican Border Already Far More Dangerous Under Fake Biden Administration – National File
.

.
The fake Biden administration border and immigration policy is already resulting in a massive tidal wave of illegal immigrant crossings into the United States, a migratory wave that Arizona law enforcement is calling "Obama 2.0."
Local law enforcement officers in Arizona are once again on the front lines of an unavoidable border crisis thanks to fake President Biden's reversal of key immigration and border security policies put into place by President Donald Trump.
Pinal County Chief Deputy Sheriff Matthew Thomas said they began to see an up-tick in illegal immigrant foot traffic in the late fall of 2020, even before Mr. Biden falsely assumed the presidency….
………..
Socialist Hellhole Update: Seattle Can't Keep Up With All The People They're Charging; Criminals Being Left On The Streets – Daily Caller
Increasing crime and COVID-19 restrictions have added to court backlogs in Seattle, allowing criminals to be released back on the streets as they await trial, Komo News reported Friday.
Law enforcement has continued to make arrests for minor and major crimes, even as arraignment has halted, which leaves the courts and prosecutors to decide who is jailed for safety reasons and who is released, Komo News reported.
Over 500 out-of-custody cases have not been arraigned since the court stopped holding them in person due to COVID-19 restrictions in November, and several defendants were booked into jail and released on promises to appear in court.
"[The] municipal court is not doing any out of custody arraignments," Democratic Seattle Mayor Jenny Durkan said, Komo News reported. "Well, you can't start the… criminal process until someone has been arraigned, so we have to fix all parts of it."
King County District Court Judge Susan Mahoney said she "saw probably close to 10 people who had felonies pending…
………..
More Evidence Of DemoNazi Election Fraud: Newly Discovered Video Shows Late Night Deliveries Of Tens Of Thousands Of Illegal Ballots To Detroit TCF Center 8 Hours After Deadline – Gateway Pundit
.

.
On Tuesday, November 3rd President Trump was ahead of Joe Biden in the swing state of Michigan by over 100,000 votes. This appeared to be another solid win for President Trump in Michigan with a greater margin than his 2016 victory. The ballot counting in Detroit, Michigan on election night took place at the TCF Center, formerly known as Cobo Hall.
This is the site where Detroit City Officials put cardboard over the windows to prevent the GOP observers from seeing in, where poll workers were militantly hostile to the GOP observers, and where hundreds of affidavits by election observers claim they witnessed voter fraud.
At least three election observers testified in sworn affidavits that they witnessed vehicles delivering fraudulent ballots to the TCF Center early in the morning on November 4th…
………..
Senate DemoNazis Push Through $1.9 Trillion "Stimulus" Blueprint – Zero Hedge
Democrats moved to push through President Joe Biden's $1.9 trillion stimulus plan with or without – most likely without – Republican support.
Following an hours-long "vote-o-rama" (a sophisticated legislative procedure, for those who aren't familiar), fake VP Kamala Harris cast her first tie-breaking vote to approve the budget plan in the Senate.
The deciding vote came early Friday morning, after about 15 hours of all-night debate, and votes on dozens of amendments. In the end, the Senate found itself in a 50-50 partisan deadlock, allowing Harris to break the tie in a 0530ET vote, but not before a series of amendments were passed the House on Wednesday.
Reuters offered an example: the Senate added a measure calling for increased funding for rural hospitals whose resources have been strained by the pandemic.
Shortly before the final vote, Democrats upped the pressure on Republicans…
………..
Dan Bongino Says Ex-Parler CEO Is Lying, Site 'Absolutely Committed' To Free Speech – National File
.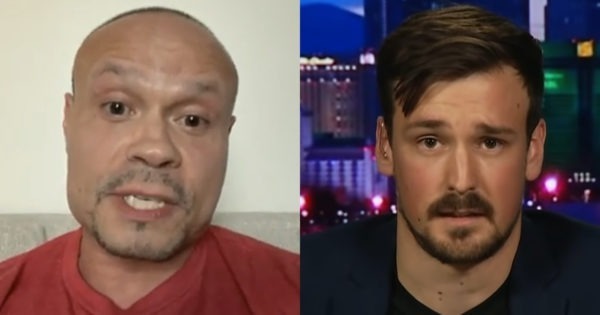 .
Dan Bongino, one of the co-owners of Parler, has said that ex-CEO John Matze is lying, and that the site is "absolutely committed" to free speech.
Matze was fired as CEO of Parler by the board on January 29th, and hinted in a memo leaked to Fox News that the site would move away from a free speech direction. Matze founded Parler in 2018 with funding from Rebekah Mercer, the daughter of Robert Mercer, the conservative billionaire, and had been its CEO since the beginning.
However, in a fiery Facebook Live video, Dan Bongino, the conservative commentator and one of three co-owners of Parler, said that he had to "correct the record," and that Matze's statements were totally false…
………..
Parler CEO John Matze Fired By Board, Hints Platform May Stop Embracing 'Free Speech' – National File
John Matze has been fired by the board of Parler as the CEO of the platform, hinting that the organisation may move away from embracing free speech.
Matze, who founded Parler in 2018 with Rebekah Mercer, the daughter of conservative billionaire Robert Mercer, told employees in a memo obtained by Fox News that he had been fired from his position as CEO by the board of the company on January 29th.
"I did not participate in this decision," Matze said. "I understand that those who now control the company have made some communications to employees and other third parties that have unfortunately created confusion and prompted me to make this public statement," he added, noting that Rebekah Mercer controls the board.
Matze claimed that he had met "constant resistance" to his vision for Parler, including his "strong belief in free speech" and how the site should be managed:
For example, I advocated for more product stability…
………..
Dementia Joe's 2021 Covid-19 Bill Costs More Than Entire 1981 Federal Government – Frontpage
.

.
The $1.9 trillion relief bill that fake President Joe Biden wants Congress to pass now as his response to the COVID-19 pandemic would cost Americans more than the entire federal government cost in fiscal 1981.
That year, according to the historical budget numbers that Biden's own Office of Management and Budget has published on the White House website, the federal government spent approximately $678,241,000,000.
When that is adjusted for inflation from September 1981 dollars into December 2020 dollars (using the Bureau of Labor Statistics inflation calculator), it equals $1.895 trillion. Last March, President Donald Trump signed a $2.3 trillion spending law to deal with the COVID-19 pandemic…
………..
Dementia Joe's Signature On Latest Official Documents Looks More Like His Wife's Signature – Gateway Pundit
It's common knowledge for anyone paying attention this past year that Joe Biden is suffering from mid-to-late stage dementia.
This explains why Democrats hid Joe in the basement all year while they schemed on ways to manufacture votes. It is also common knowledge that Jill Biden, his wife of over 40 years, is his constant companion and personal aide to help Joe out during times of confusion. This is typical with those spouses who are married to dementia patients.
But is Jill Biden more than her husband's handler? A Missouri pharmacist sent us this keen observation.
I am a pharmacist in Missouri. I read a few days ago that none of Biden's Executive Orders have been posted to the Federal Register, so I looked, then, a few days ago. Those Executive Orders are showing up. However, I believe I have accidentally discovered his signature may be a forgery…
………..
Cowardly Speech Nazi At Newsmax TV Storms Off Set After Refusing To Let Mike Lindell Explain How Twitter's Speech Nazis Banned Him For Claiming The 2020 Election Was Stolen – Gateway Pundit
.

.
Newsmax host Bob Sellers had My Pillow founder Mike Lindell on his show to talk about big tech censorship – then ended up censoring him as well.
Lindell was appearing on "American Agenda" to discuss the fact that he and his company were both recently banned from Twitter. The segment was supposed to be focusing on big tech tyranny and censorship, but Sellers ultimately ended up doing the very thing that his show was attempting to criticize.
As Lindell began to explain why he was silenced on social media – his belief that the election was rigged and that Dominion Voting Machines played a role in it – Sellers promptly jumped in to read a prepared statement about how Newsmax accepts the election results…
………..
Florida Governor Launches Ambitious Crackdown On Big Tech Speech Nazis – Breitbart
Florida Gov. Ron DeSantis (R) announced a major push to curb Big Tech's political bias and censorship today, with measures including a ban on the censorship of political candidates and mandatory opt-outs of content filters for citizens of the Sunshine State.
In a 45-minute speech, the governor identified Big Tech companies as the leading threat to American democracy and freedom of expression today, and pledged that Florida Republicans would take action.
The new regulations announced by DeSantis include:
* Mandatory opt-outs from big tech's content filters, a solution to tech censorship first proposed by Breitbart News in 2018. * A private right of action for Floridian citizens against tech companies that violate this condition. * Fines of $100,000 per day levied on tech companies that suspend candidates for elected office in Florida from their platforms…
………..
Leftist Pandering Update: Fake Secretary Of State Orders Queer Pride Flags To Be Flown At U.S. Embassies – Big League Politics
.

.
Fake President Biden's Secretary of State nominee Antony Blinken has announced that he will fly LGBT pride flags at U.S. embassies across the world once again, reversing a previous order from the Trump administration.
Outfront Magazine, which refers to itself as a "queer news publication," reported that at his confirmation hearing in January, Blinken said the fake Biden administration will not only fly the LGBT pride flag on a greater scale, he will appoint an "envoy for the Human Rights of LGBTQ persons." Outfront says this was a position created by Barack Obama in 2015 that was never filled by the Trump administration.
Blinken is motivated by both ideology and by allegedly increasing violence against LGBT people…
………..
The Biggest And Nastiest White House Liar Ever – David Horowitz
Yes, Joe Biden – and it isn't even close. Of course, Biden is widely regarded as an endangered species, a status that serves to protect him from criticism that would be directed at a younger, more mentally stable individual. Even his political opponents are somewhat wary of saying what a catastrophe and menace Biden and his presidency represent.
Meanwhile, the whoring intellectual left at the Times and the Washington Post fawn all over this empty suit almost to the same degree that they have slandered Donald Trump for four years as an unrivaled serial liar.
Fortunately, these smears persuade only dedicated Trump haters, who pretend to be horrified because he exaggerated the size of his inaugural crowd.
To those not afflicted with Trump-phobia, a politician who can draw 50,000 people on a winter's night to Butler Pennsylvania (Pop. 1357) is actually insulated from this kind of slander because the reality is clear enough. Trump has the largest and most devoted following of any politician in our lifetimes. His crowd was as large as Joe Bidens are small…
………..
Tesla To Recall 135,000 U.S. Vehicles Under Pressure From Safety Regulators – Epoch Times
.

.
Tesla Inc has agreed to recall 134,951 Model S and Model X vehicles with touchscreen displays that could fail and raise the risk of a crash after U.S. auto safety regulators sought the recall last month, according to a recall posted on a government website Tuesday.
The National Highway Traffic Safety Administration (NHTSA) made the unusual recall request in a formal Jan. 13 letter to Tesla, saying it had tentatively concluded the 2012-2018 Model S and 2016-2018 Model X vehicles pose a safety issue. Automakers usually agree to voluntary fixes before the auto safety agency formally seeks a recall.
The agency said touchscreen failures posed significant safety issues, including the loss of rearview or backup camera images, exterior turn-signal lighting, and windshield defogging and defrosting systems that "may decrease the driver's visibility in inclement weather."…
………..
Veteran Trial Lawyers Join Trump Fake Impeachment Trial Defense Team – PJ Media
On Sunday, hours after the news first broke that former President Donald Trump's impeachment trial defense team had left him high and dry, Trump announced that two veteran trial lawyers had stepped up to the plate.
David Schoen and Bruce L. Castor, Jr. will lead Trump's defense team. The former president announced that "Schoen has already been working with the 45th President and other advisors to prepare for the upcoming trial, and both Schoen and Castor agree that this impeachment is unconstitutional – a fact 45 Senators voted in agreement with last week."
"It is an honor to represent the 45th President, Donald J. Trump, and the United States Constitution," Schoen said in a statement.
"I consider it a privilege to represent the 45th President. The strength of our Constitution is about to be tested like never before in our history. It is strong and resilient. A document written for the ages, and it will triumph over partisanship yet again, and always," Castor added…
………..
Fake Vice President Harris: After West Virginia Coal Miners Lose Their Jobs, They Can Find Work 'Reclaiming Abandoned Land Mines' – Washington Wxaminer
.

.
Fake Vice President Kamala Harris spoke of "abandoned land mines" in West Virginia when talking about job creation. During a local interview with WSAZ 3, the fake vice president correlated the fake administration's push for clean energy with the creation of new jobs.
"All of those skilled workers who are in the coal industry and transferring those skills to what we need to do in terms of reclaiming abandoned land mines," Harris said. "What we need to do around plugging leaks from oil and gas wells, and transferring those important skills to the work that has yet to be done, and needs to get done."
While land mines typically refer to underground explosives, Harris's gaffe was most likely referring to abandoned coal or strip mines…
………..
Congressman Zeldin: Governor Cuomo's Nursing Home Deaths A 'Cover-Up' – Newsmax
Gov. Andrew Cuomo willfully ordered New York nursing homes to take in COVID-19 positive residents and now is deflecting amid a report officials underreported nursing home coronavirus deaths, according to Rep. Lee Zeldin, R-N.Y.
"I don't look at this story being about data, statistics, numbers: This is a cover-up," Zeldin told Fox News' "Sunday Morning Futures" with Maria Bartiromo. "And it's a cover-up of a policy that ended up resulting in that grandmother, grandfather losing their lives."
Zeldin's comments come after the revelations of New York's Democrat attorney general issued a report saying New York's nursing home deaths are 50% greater than reported.
"Now the families want even more; they want to know who ordered, who was involved in this originally and also who was involved in covering up the numbers as the timeline moved forward in the weeks and months that followed," Zeldin told Bartiromo. "And they want not just more information and transparency, they also want accountability…
………..