………..
Congresswoman Greene To File Articles Of Impeachment Against Dementia Joe One Day After Fake Inauguration – Breitbart
.

.
Rep. Marjorie Taylor Greene (R-GA) announced Thursday she will file articles of impeachment against President-elect Joe Biden one day after he is inaugurated.
Greene said she is taking the action because of alleged business dealings Biden and his son Hunter Biden have had with the Chinese Communist Party and in the Ukraine.
"We have to make sure that our leaders are held accountable, we cannot have a president of the United States that is willing to abuse the power of the office of the presidency and be easily bought off by foreign governments… Chinese energy companies, Ukrainian energy companies," she told Newsmax TV. "So on January 21, I will be filing articles of impeachment on Joe Biden."…
………..
Epik In Talks With Parler After The Social Media Company Registers Its Domain – Daily Caller
Epik, a domain-hosting website, says it is in talks with Parler to better improve their policies and posting standards after the popular app registered its domain with the site Monday, after getting booted from Amazon Web Services.
"It is a shame as we desperately need healing, unity and reconciliation," Epik Senior Vice President of Communications Robert Davis said in a statement. "It is difficult to achieve this when many of our social media platforms have been reduced to feed us an 'us versus them' mentality to compete for market interest and consumer relevance."
Davis said de-platforming Parler but not taking similar actions against other major tech companies or social media operators "may very well represent one of the most grotesque abuses of power and privilege in American seen in this generation. It serves the very creation and stimulation of extremists beliefs that Amazon and others have professed to care about."
Epik initially denied having had any contact or discussions with Parler as of Monday…
………..
DemoNazi Congressman Catches Covid After Receiving Second Dose Of Vaccine – Zero Hedge
.

.
Offering the latest reminder that the COVID-19 vaccine isn't 100% effective at stopping people from getting the virus, Democratic Representative Adriano Espaillat of New York announced that he had tested positive even after receiving the second dose of a vaccine. He's now isolating at home.
"I received the second dose of the #COVID19vaccine last week and understand the affects take time," Espaillat said on Twitter Thursday, without identifying which vaccine he got. "I have continued to be tested regularly, wear my mask and follow the recommended guidelines."
Despite all those warnings about a long, dark winter, COVID-linked hospitalizations might have declined over the past month…
………..
Leftist-Run YouTube Suspends President Trump's Account, Barring Uploads And Comments – CNBC
Google has suspended President Donald Trump's YouTube account and formally warned the White House about its use of the world's largest video platform.
The company said Tuesday night that Trump uploaded content that violated its policies, giving it an automatic one strike, which leads to a minimum seven-day suspension from uploading new content. It said it is also disabling the comments section.
The company did not specify which videos violated its policies but said it was "content" that included comments Trump made Tuesday morning. YouTube said it violated policies that prohibit content for inciting violence.
Donald J. Trump's YouTube account has 2.77 million subscribers and typically posts several videos a day from him and from right-wing media stations.
Under YouTube's three-strike system, a channel will be suspended for one week after the first strike, two after the second and terminated after a third strike within 90 days…
………..
President Trump Celebrates Border Wall, Immigration Achievements During Texas Visit – IOTW Report
.

.
President Donald Trump traveled to the southern U.S. border on Jan. 12 to tout the successful construction of 450 miles of border wall and a number of other immigration enforcement achievements from his administration.
The president delivered a brief speech in Alamo, Texas, amid a backdrop of construction equipment and a section of the border wall. The barrier is one of the most concrete landmarks of Trump's legacy. The president spent years bargaining and battling with Democrats to secure funding for the project amid a surge in illegal crossings over the border with Mexico.
"We worked long and hard to get this done. They said it couldn't be done. And we got it done: one of the largest infrastructure projects in the history of our country…
………..
Travelers Will No Longer Have To Watch CNN In Airports Starting In March – Daily Wire
Travelers in airports will no longer see CNN on TV screens as they wait for their flights starting in March, when the network plans to discontinue its CNN Airport Network, in part due to the coronavirus pandemic.
Network president Jeff Zucker made the announcement on Tuesday in a memo to staff, saying there had been a "steep decline" in need for the network since air travel is down due to the coronavirus pandemic, the New York Post reported.
"The steep decline in airport traffic because of COVID-19, coupled with all the new ways that people are consuming content on their personal devices, has lessened the need for the CNN Airport Network," Zucker wrote. "Having to say goodbye to such a beloved brand is not easy… I am sure most of us have a story to tell about which airport we were at when we first learned of a major news event."
CNN launched its Airport Network nearly 30 years ago, in January 1992…
………..
Congressman Nunes Calls On DOJ, FBI To Launch RICO Investigation Over Parler -Townhall
.

.
House Intelligence Committee Ranking Member Devin Nunes (R-CA) on Sunday called for a Racketeer Influenced and Corrupt Organizations (RICO) investigation into Big Tech stifling the new social media platform Parler.
"The effect of this is there is no longer a free and open social media company or site for any American to get on anymore because these big companies – Apple, Amazon, Google – they likely destroyed what was likely a billion dollar company," Nunes explained to Fox News' Maria Bartiromo. "Poof. It's gone."
The congressman explained the concern is bigger than a company taking a financial hit.
"Republicans have no way to communicate. It doesn't even matter if you're Republican or conservative…
………..
U.S. Army Gets Legendary Iron Dome System From Israel – WorldNetDaily
What began as a whimsical, sometimes mocked military concept has evolved and developed into an efficient missile defense system.
The Iron Dome was such a success in Israel against incoming rockets – and the U.S. Army was so convinced of the system's ability to protect U.S. military personnel and material – that the military acquired two of the advanced missile defense systems from the Israel Ministry of Defense.
The first system was delivered in September and the second one last weekend, according to israelnationalnews.com.
It all started when then-President Reagan addressed the nation and introduced the world to "Star Wars," also known as the Strategic Defense Initiative (SDI), in 1983.
"Deterrence means simply this: making sure any adversary who thinks about attacking the United States, or our allies, or our vital interests, concludes that the risks to him outweigh any potential gains…
………..
Bodybuilder Who Married Sex Doll Admits He Cheated On Her While She Was Being Repaired – Barstool Sports
.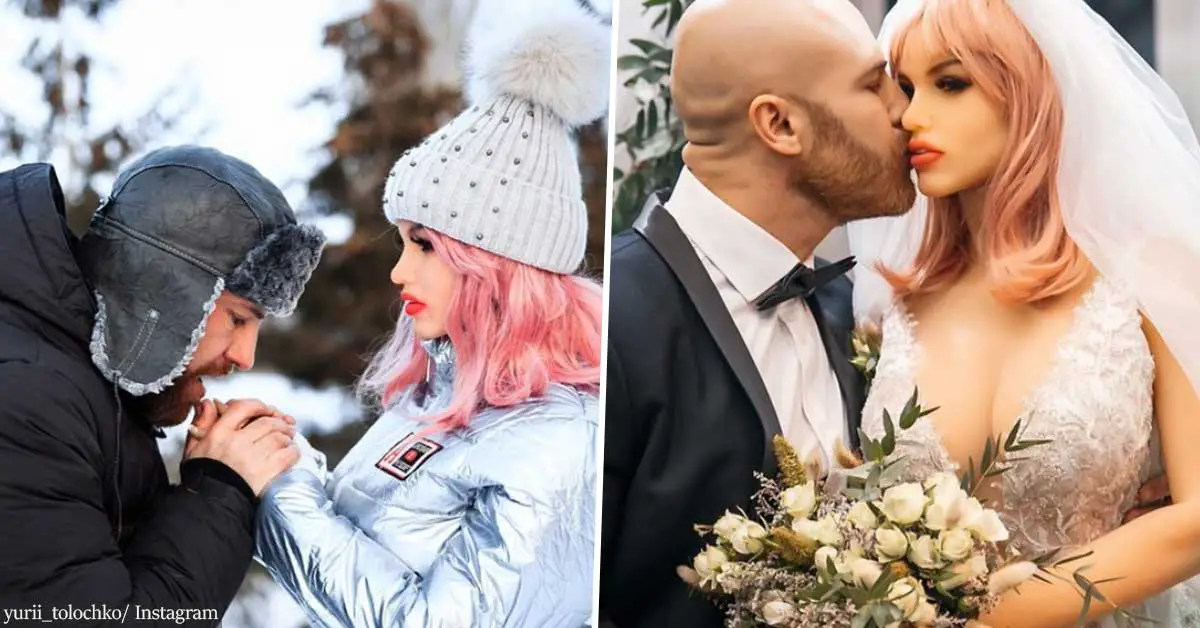 .
What the fuck! First Kanye and Kim and now this?!? How am I supposed to believe in true love when this bodybuilder is cheating on his sex doll wife with a silver object. There was no marriage more beautiful, more real than this one. I mean look at how lavish the wedding was!
He couldn't even last a month without cheating! That's without arguments. That's without her nagging about him watching too much football.
That's without her cooking the wrong meal. Everything was going swimmingly before she broke and had to be repaired. Must have been a wild ass honeymoon for her to break that quickly. And to cheat on her with a silver object?!? How dare you sir? At least go for another sex doll. Mix it up and get a brunette or blonde since she has pink hair…
………..
Cumulus Media Informs Radio Hosts Mark Levin, Dan Bongino And Ben Shapiro They May Be Fired For Discussing Election Fraud – Big League Politics
Cumulus Media, the talk radio conglomerate that hosts many conservative shows, says that their clientele will be fired unless they obey new politically correct edicts regarding their programming.
Specifically, hosts Mark Levin, Dan Bongino and Ben Shapiro will likely be fired if they suggest that the vote was stolen from President Donald Trump, despite the mountains of evidence indicating that this in fact was the case.
"We need to help induce national calm NOW," a Cumulus Media executive wrote last week following the Capitol rally. Brian Philips, executive vice president for Cumulus, made the official announcement that Draconian censorship would be instituted in the response to the display.
He issued an edict saying that Cumulus and Westwood One "will not tolerate any suggestion that the election has not ended. The election has been resolved and there are no alternate acceptable 'paths'."…
………..
President Trump Awards Medal Of Freedom To Congressman Jim Jordan – Epoch Times
.

.
President Donald Trump has awarded the Presidential Medal of Freedom, the nation's highest civilian honor, to Rep. Jim Jordan (R-Ohio).
The Medal of Freedom, established by President John F. Kennedy, is awarded by presidents to people who have made exceptional contributions to the security or national interests of America, to world peace, or to cultural or other significant public or private endeavors.
Jordan, who has served the people of Ohio's 4th Congressional District for 14 years, helped uncover the gun-running program known as "Fast and Furious," which sent AK-47s to Mexican drug cartels during the Obama administration, the White House said in a statement.
Jordan's other work includes identifying millions of dollars in wasteful spending…
………..
Following Web Service Suspension, Paler Sues Amazon Speech Nazis – Daily Wire
On Monday, the social media site Parler filed a lawsuit against Amazon, claiming that Amazon's suspension of Parler violated antitrust laws and breached the contract between the two entities.
As Parler went dark Monday morning, CEO John Matze told Fox News that the site would try to "get back online as quickly as possible," but warned that the platform could be down for as long as a week.
Reuters reported, "Amazon suspended Parler from its Amazon Web Services (AWS) unit for violating AWS's terms of services by failing to effectively deal with a steady increase in violent content, according to an email by an AWS Trust and Safety team to Parler, seen by Reuters. An Amazon spokesperson confirmed the letter was authentic."
Amazon said Parler presented a "very real risk to public safety."
The lawsuit filed by Parler starts by asserting, "Last Month, Defendant Amazon Web Services, Inc. ('AWS') and the popular social media platform Twitter signed a multi-year deal…
………..
Corrupt Supreme Court Refuses To Fast-Track Remaining Lawsuits Challenging Presidential Election Results – Epoch Times
.

.
With nine days to go before Inauguration Day, the Supreme Court threw out a raft of requests this morning for expedited consideration of legal challenges to election results in multiple states by President Donald Trump's campaign and Trump supporters.
The actions come after Congress voted Jan. 7 to dismiss all objections lodged by senators and representatives challenging Electoral College votes from disputed states narrowly won by the Democratic Party ticket of Joe Biden and Kamala Harris.
Republican lawmaker support for the objections collapsed after multiple individuals bearing Trump campaign flags and paraphernalia ran amok in the United States Capitol while lawmakers were attempting to officially certify the results of the Nov. 6 election…
………..
Married Anti-Trump 'Lincoln Project' Co-Founder Accused Of Grooming Young Men, Offering Jobs For Sex – Big League Politics
Conservative author and political commentator Ryan Girdusky piqued curiosity and set off widespread speculation after tweeting late Saturday afternoon that "one of the founding members of the Lincoln Project [offered] jobs to young men in exchange for sex," adding that "his wife is probably interested" to hear about the allegations.
Although Girdusky did not post screenshots of Weaver's predatory actions himself, saying he "worked with journalists and reached out to victims asking for them to speak up because it was their story, not mine," several others spoke up about what they experienced and heard.
Twitter user @JoshPri68522288 was one of the first to speak up, tweeting that "I know who did it, because they did it to me. It was John Weaver."
@_liberalproject also said that "Weaver used to follow me when I used my real name on here. Out of the blue he DM'd being pushy with personal questions and trying to flirt with me. After I didn't go along with it, he unfollowed me and never DM'd me since."…
………..
Driving Out The Scapegoat – Bruce Thornton
.

.
After last Wednesday's Trump rally at the Ellipse in D.C., some of the up to 100,000 present walked over to the Capitol, where Congress was meeting to ratify the Electoral College vote. While there an even smaller number, a few hundred at the most, broke into the Capitol lobby, with some proceeding into a few Congressional offices.
So, a rally attended peacefully by the majority of people, was taken over by a small mob of knuckleheads and day-trippers who invaded the Capitol. Sadly, a woman and a police officer were killed, and three other protestors died from "medical emergencies." Scores more including police officers were injured.
The police authorities in D.C. had bungled badly their security preparations, and bear a large share of the responsibility for this fiasco…
………..
Free Speech Platform Gab Reports 750% Increase In TrafficFree Speech Platform Gab Reports 750% Increase In Traffic – Breitbart
Gab.com, the free speech friendly social network, says traffic has increased by more than 750 percent in the past few days, following the blacklisting of President Donald Trump from most mainstream tech platforms.
"Our traffic is up 753% in the past 24 hours. Tens of millions of visits," said Gab in response to a question about slow loading speeds.
The free speech network announced that it would bring ten new servers online to handle the increased traffic volume.
Gab was the first free speech alternative to Twitter. It takes a hardline stance on freedom of speech, allowing all legal content except pornography. Users are allowed to control their own experience on the platform through the creation of custom word filters and blocks.
Gab takes an equally hardline stance on illegal content and threats of violence, encouraging users to proactively report such content for removal…
………..
Greg Gutfeld Joins Rush Limbaugh, Mark Levin And Lou Dobbs In Leaving Twitter – Daily Wire
.

.
Fox News host Greg Gutfeld joined other prominent conservative voices on Saturday by abandoning his Twitter account after the social media platform permanently banned President Donald Trump.
"To be true to the resolution to myself: this is my last tweet. [O]ther than to read news, [I won't] be on [T]witter," Gutfeld first tweeted on Jan. 2. Offering the link to his own website, Gutfeld continued, "[Y]ou're all invited there; just leave the bullshit behind. Tata."
On Saturday, after Twitter had banned the president and seemingly began purging the followers of conservative accounts, Gutfeld returned for a final sign-off. "[O]kay, this IS my last tweet: CNN tries to get FNC banned…
………..
3 Overseas Leaders Who Know How Repression And Tyranny Work Speak Out On Censorship Of Trump And Election Skepticism – Thomas Lifson
When people with experience of political corruption and repression warn Americans about danger signs in the current efforts to shut down dissidents, we should take note.
The democratically elected leaders of 2 major Latin American countries are speaking up and warning Americans about the efforts to censor and repress skepticism about the legitimacy of an election.
They are joined the leader of Russia's opposition, the bête noire of Vladimir Putin, in whose pocket Donald Trump supposedly resides.
Ryan Saavedra of The Daily Wire reports on the leader of Mexico, a country with a history of political corruption and questionable elections:
Mexican President Andrés Manuel López Obrador [AMLO, as he is called – TL] condemned social media companies for censoring President Donald Trump this week, saying that he does not "accept" the move as being okay…
………..
https://www.bizpacreview.com/2021/01/09/apple-google-amazon-target-free-speech-parler-platform-tucker-gets-chilling-news-in-real-time-1014153/">Corrupt Speech Nazis At Google, Apple And Amazon Ban Parler Social Media Platform – BizPac Review
.

.
Not content just purging President Donald Trump and his supporters from all major social media networks, it appears the far-leftists of Silicon Valley have begun plotting to eliminate all forms of alternate, non-establishment communication in a move that Fox News host Tucker Carlson has described as blatant "political repression."
Late Friday, one of the country's most powerful monopolies – Apple – threatened to eliminate the social media platform Parler from its stores unless the network complied with its demands and began censoring so-called "objectionable content."
But although Apple framed the "objectionable content" as content related to the planning and facilitation of "illegal and dangerous activities," the behavior of other tech titans such as Apple, Google, Amazon and Twitter strongly suggest the move was entirely political.
………..
Federal Prosecutor Opens Excessive Force Investigation Into The Death Of Ashli Babbitt – Epoch Times
Michael Sherwin, acting U.S. attorney for the District of Columbia, said that his office has started a federal, excessive force investigation over the shooting and killing of former U.S. Air Force veteran Ashli Babbitt in the Capitol on Jan. 6.
Sherwin confirmed the investigation with CBS News. His civil rights section will lead the prosecution, which is being investigated by D.C. police and the FBI. The Epoch Times hasn't been able to independently verify the investigation.
The U.S. Attorney Office of the District of Columbia refused to comment on the reported investigation. The FBI and The U.S. Capitol Police (USCP) didn't respond to a request for comment.
On Jan. 6, Trump supporters marched on foot to the Capitol after President Donald Trump gave a speech near the White House. Trump thanked his supporters for being present and listed a series of voting irregularities that happened in different states…
………..
President Trump To Skip Dementia Joe's Fake Inauguration On January 20th – Big League Politics
.

.
President Donald Trump has confirmed that he will not be attending the inauguration of incoming president Joe Biden.
"To all of those who have asked, I will not be going to the Inauguration on January 20th," Trump tweeted Friday morning.
This does not come as a surprise given Trump's rhetoric and behavior following the most divisive election in recent memory. Trump has repeatedly claimed that serious allegations of fraud in several swing states constitute sufficient reason to believe that the election was stolen from him. Nevertheless, various courts have rejected lawsuits filed by Trump's legal team and others, and Congress has confirmed Biden's victory…
………..