………..
New York Restaurants Organize To Ban DemoNazi Governor Cuomo From 'All Establishments' For Life – National File
In an unprecedented move, the beleaguered restaurant owners of New York City made a declaration on social media that they have banded together to permanently ban Cuomo from setting foot into their establishments, even if only to use the restroom.
This decree, they said, is effective immediately.
"He can eat at some shitty roadside diner outside of Albany but he will not be served anywhere in New York City, known universally as the world's greatest dining destination!," var owner Larry Baird said. "If he has to use the restroom, he can go pee on my street-corner! That's what he wants anyway!"
Other restaurateurs say they have suffered enough under the illogical and draconian edicts that have emanated from Cuomo's gubernatorial chambers.
"He can eat at some shithole roadside diner outside of Albany, but he will not be served anywhere in New York City," said one…
………..
President Trump Signs Covid Relief Bill With $600 Checks, Asks Congress To Approve Increase Later – Zero Hedge
.

.
President Trump on Sunday signed a $900 billion pandemic relief package which will include $600 direct checks checks, abandoning his immediate demand that Congress go back to the drawing board and provide $2,000 checks, and instead encouraged them to vote on a separate bill to "increase payments to individuals from $600 to $2,000."
"I am signing this bill to restore unemployment benefits, stop evictions, provide rental assistance, add money for PPP, return our airline workers back to work, add substantially more money for vaccine distribution, and much more," Trump said in a Sunday night statement.
The pandemic relief package is coupled with $1.4 trillion in funds to run the government through September…
………..
Barstool Sports Raises Over $6 Million To Keep Small Businesses Open Amid DemoNazi Lockdowns – Breitbart
Barstool Sports has raised over $6 million this holiday season for small businesses struggling amidst lockdowns and the pandemic. The company announced on Christmas that its fundraising efforts, which started just over a week ago, surpassed $6 million from 57,404 different donors.
Founder of Barstool Sports Dave Portnoy introduced the Barstool Fund Dec. 17 on Twitter. He said he hopes the company can "bridge gap until COVID's done" and business owners can go back to making a living.
"Is it the best plan? No," Portnoy said on Twitter. "The best plan is the government getting off their [butt] and issuing relief, billions of dollars, to these small business owners who are losing their livelihoods and no way to save it through no fault of their own […] That's the only solution really. But barring that, we're going to do what we can."
Portnoy said he got the idea after New York City shut down indoor dining once again…
………..
Sidney Powell Releases 270 Page Document On Massive 2020 Election Fraud Involving Foreign Interference – Gateway Punfit
.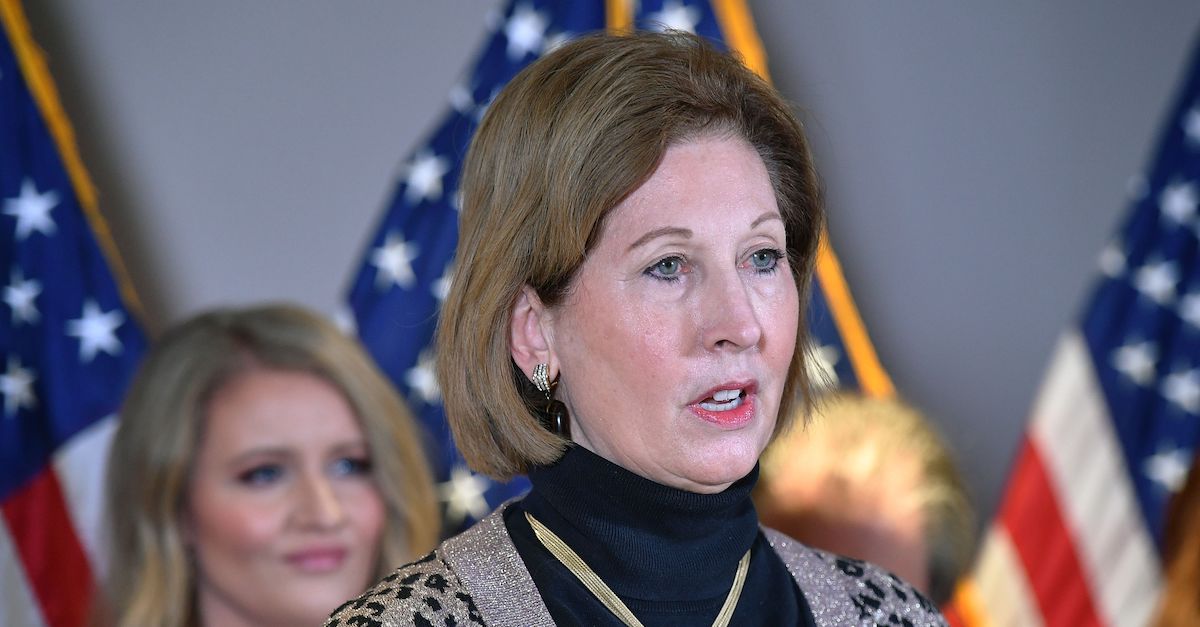 .
Attorney Sidney Powell released an explosive document on foreign interference to Zenger News this week. The document includes 270 pages of affidavits, evidence and testimony from numerous witnesses and sources.
The 270 page document details election fraud, names and all!
The document includes military and alphabet testimony, and details everything from interference, to origins of voting machine fraud, to cybersecurity intrusions into us elections systems and more.
Zenger wrote, "Powell contends that documents in the binder prove direct foreign interference and fraud tainted the Nov. 3 presidential election…
………..
Leftist Scum Update: Obama Judge Orders Whistleblowers Who Exposed Illicit Trafficking Of Fetal Parts To Pay $13.6 Million To Planned Parenthood – Big League Politics
A federal judge has ordered pro-life whistleblowers to pay Planned Parenthood $13.6 million in damages after releasing video of executives in the abortion industry boasting about how they sell fetal parts for big money.
The ruling was made by U.S. District Judge William Orrick III, an appointee to the bench by former president Barack Hussein Obama, on Tuesday. It applies to David Daleiden and his associates at the Center for Medical Progress (CMP).
Orrick believes that Daleiden and CMP violated the privacy rights of Planned Parenthood and their affiliates to cut up little babies and sell their body parts without the public being aware of their operation.
Daleiden and his supporters are appealing the verdict to the Ninth Circuit Court of Appeals. Previously, a jury determined that Daleiden and CMP violated the Racketeer Influenced and Corrupt Organizations Act (RICO) by videoing Planned Parenthood executives…
………..
Cobb County, GA Voting Facilities Found Wide Open, Unlocked, No One In Building – CD Media
.

.
A source who wishes to remain anonymous has provided CDMedia photos of the voting facility at 4400 Lower Roswell Rd, Marietta, GA, taken Saturday morning, in Cobb County.
The building was unlocked, with no personnel to be found on the premises. Voting machines were available to be tampered with.
This information is shocking as the Nov 3rd election has not been settled in GA with evidence of massive election fraud still coming out.
This is also prior to the Jan 5th runoff election for two U.S. Senate seats from GA.
It seems Georgia election officials want to provide more opportunity for election fraud.
………..
Democrat Governors Freed The Criminals And Killed The Elderly – Daniel Grennfield
In March, Governor Cuomo's administration ordered nursing homes to accept infected coronavirus patients and prohibited even testing incoming patients for the virus. The same month that Cuomo began the process of infecting countless nursing home residents with the virus, he also began freeing thousands of criminals from prison to protect them from the virus.
Over 3,000 criminals have been freed from New York State prisons to protect them from the virus, and New York City's Mayor Bill de Blasio freed 1,500 criminals, and they swiftly began committing a variety of crimes, but despite the media hype claiming that prison was a death sentence and a campaign by woke celebs like John Legend, criminals were not at risk.
Only 19 inmates in New York State actually died of the virus. Meanwhile an estimated 11,000 nursing home patients have died of the virus statewide.
Unlike the prison numbers, which are easily accessible, the Cuomo administration has stonewalled and refused to provide the actual number of deaths…
………..
Far More People Have Died From Overdoses In DemoNazi-Controlled San Francisco Than Covid-19 – Flag & Cross
.

.
The San Francisco government hands out millions of syringes every year to hardcore drug users. We're talking heroin and fentanyl and the like.
The rationale is that, well, they're going to do it anyway, so by providing them with the necessary tools may stop crimes from being committed and/or people getting hurt. Hmm, maybe San Fran should try this with guns and see how it turns out – because they'll probably be surprised. But to close down a city over COVID when more people have died from drugs is pretty silly.
From ABC News:
A record 621 people died of drug overdoses in San Francisco so far this year…
………..
Dementia Joe: 'This Country Is Doomed' With Whites Becoming A Minority If Blacks Don't 'Start Working More With Hispanics' – Information Liberation
Leaked video obtained by The Intercept shows Joe Biden warning Black civil rights leaders that America is "doomed" with Whites on track to become a minority "by 2040" if Blacks don't "start working more with Hispanics, who make up a larger portion of the population than y'all do."
"If we cannot make significant progress on racial equity, this country is doomed," Biden said. "It is doomed."
"Not just because of African-Americans, but because by 2040 this country is going to be minority White European," Biden continued. "You hear me? Minority White European. And you guys are going to have to start working more with Hispanics, who make up a larger portion of the population than y'all do."
The Zoom meeting took place on Dec 8th. The entire audio is well worth listening to, as it gives an idea of what Biden is planning for his presidency. For one, Biden said he's planning to undo all of Trump's executive orders…
………..
Roger Stone Announces Plans To Sue DOJ, Mueller's Henchmen For $25 Million – Trending Politics
.

.
Deep State dirty cop Robert Mueller's disgraceful and un-American political persecution of President Trump's allies took another hit with the pardons of Paul Manafort and Roger Stone.
On Wednesday, Trump used his constitutionally guaranteed power of the pardon to grant clemency to the two lifelong Republicans who were swept up in the partisan witch hunt that revealed how corrupted that the Justice Department had become under the Obama regime.
The pardon was particularly sweet for the 68-year-old Stone whose Florida home was raided by heavily armed FBI paramilitary forces in January 2019, an operation that was given live national television coverage after someone presumably on Mueller's team tipped off CNN that it was about to go down…
………..
Media Idolatry Of Dr. Fauci Becoming Patently And Verifiably Absurd – Thomas Lifson
Dr. Anthony Fauci is willing to lie about measures to control the Chinese virus in order to manipulate public opinion, and is therefore an extremely useful tool for those who seek to shut down American as long as possible.
As Peter Barry Chowka discovered nine months ago, when he challenged the cult of personality being built around him, the mainstream media already were ready to viciously attack those who raised questions about Fauci.
Now that Fauci is moving the goalposts around herd immunity to preserve the lockdown, all sorts of phenomena are being attributed to him, as if he were a prime mover of the social universe, faintly resembling the cults built around Mao Tse-tung and Kim Il-sung.
Consider this BS being pushed by CBS News:
Medical schools see surge in applicants, thanks to "Fauci effect"
The article informs us:
Medical schools [sic] applications are surging…
………..
Nashville: A Bomb Blast Unlike Any Other On American Soil – Andrea Widburg
.

.
The facts about the Christmas morning bomb in Nashville are not complicated. What is complicated is understanding who set off the bomb and why. That's because this bombing does not match any other bombs that have exploded in the Western world.
As I said, the facts about the bomb are not complicated:
Early Christmas morning, someone parked an RV in front of the AT&T building near Second Avenue and Commerce Street in downtown Nashville. Shortly before it exploded, the RV began playing a recording telling people to leave the area.
Note the precision of that announcement: If you can hear this recording, you are in the blast range. The person who prepared that bomb knew precisely how far the blast would carry…
………..
Legal Team Sues Mike Pence, Demands He Reject Unconstitutional Electoral College Slates – Sons Of Liberty
Well, this should be interesting to see if Pence will be held to account here, according to the Constitution, and make no mistake, this is a constitutional issue, not a political one, even though many are in it only for political gain.
Frank Salvato writes:
In one of the most potent lawsuits to reach the US Supreme Court, the Amistad Project has filed a lawsuit on a point of constitutional order that would force the President of the Senate – Vice President Mike Pence – to remand the Electoral College votes of five states to their respective legislatures for certification. The Thomas More Society's Amistad Project filed a lawsuit on December 22, 2020, claiming that a several federal and state laws, some enacted under the guise of COVID protection, had unconstitutionally and illegally delegated the authority of the various state legislatures to certify Electoral College votes to state executive branches…
………..
Voter Fraud On Display: Houston Ballots All Have Same Signature And Same Address – Gateway Pundit
.

.
The voter fraud in this year's presidential election was widespread and extensive.
Instead of asking where was the fraud? The real question is where was there NO fraud? Democrats used every trick in their book to steal votes and manufacture ballots.
Here is the latest proof of voter fraud in Texas.
Democrats manufactured votes – in the same city, in the same handwriting and at the same address.
This is what Democrats do. And they will continue to do this until people are sent to jail. This needs to stop.
WHERE IS THE DOJ? WHERE IS THE FBI?…
………..
DemoNazi Whistleblower Exposes Biden Campaign Voter Fraud Operation – National File
Democrat political strategist Damien Thaddeus Jones, who served as regional political director for Beto O'Rourke's U.S. Senate campaign, has come forward to blow the whistle on a massive voter fraud ring in Harris County, Texas.
The voter fraud ring is overseen by Dallas Jones, who served as Texas Political Director for the Joe Biden presidential campaign. In this stunning audio obtained exclusively by NATIONAL FILE, Damien goes into detail about Dallas Jones' fraudulent activity and work for Biden.
On the tape, "Sheila" refers to Sheila Jackson-Lee. This article below delves into the massive evidence of voter fraud – including photographic evidence and sworn affidavits – that emerged in Harris County in 2020, and how its direct link to the Biden campaign provides even more justification for President Donald Trump's ability to claim victory in the presidential election.
Harris County, Texas conducted 24-hour voting in the 2020 election, even as the county became engulfed in a voter fraud scandal…
………..
Rudy Giuliani: Election-Related Cases Are Going To 'Blow Up' After Christmas – Epoch Times
.

.
Election-related lawsuits and similar matters are going to "blow up" after Christmas, President Donald Trump's lawyer, Rudy Giuliani, said this week.
In a self-hosted podcast episode, Giuliani told listeners that there is "considerable movement" in Georgia, Michigan, Pennsylvania, and Wisconsin towards decertification of the election results amid a growing body of evidence of election fraud.
"So starting after Christmas, this is really going to blow up," he said. "Because the evidence that all these crooked television networks, newspapers, big tech, and the leadership of the Democratic Party, have been giving you is false. And you're going to find that out all at once. It's going to be very shocking to the country."…
………..
Cities In Orange County, California Join Heroic Sheriff Who Is Standing Up To Rogue Judge's Insane Jailbreak Order – Big League Politics
Orange County Sheriff Don Barnes gained national recognition for fighting a court order that would facilitate the release of 1,800 inmates from county jails.
Now cities across Orange County, California, are joining Sheriff Barnes to fight against a court order issued by Judge Peter Wilson demanding that 1,800 prisoners be let loose under the pretext of trying to contain the spread of the Wuhan virus.
Alex Murashko of the Epoch Times reported that "In a Dec. 11 court order, Barnes was told to pare down Orange County's jail population as the centers grapple with rising COVID-19 infections. But the region's top cop is challenging the order, and refusing to release the inmates."
On December 21, more cities hopped on board with Barnes to oppose this judicial order. At special city council meetings, the cities of Irvine, Mission Viejo, and Westminster voted unanimously to file legal briefs in support of Barnes's challenge. Other cities such as Newport Beach and Yorba Linda filed similar briefs on December 18…
………..
Elderly Covid Patient Beaten To Death With Oxygen Tank By Hospital Roommate For Praying – Daily Wire
.

.
A 37-year-old California man has been arrested for allegedly striking a senior citizen to death with an oxygen tank for praying, an incident that occurred while the two men were sharing a room at a Southern California hospital.
Jesse Martinez, 37, was charged with murder and elder abuse late last week for the December 17 incident, which left an 82-year-old man with injuries that he succumbed to the following day, according to the Los Angeles County Sheriff's Department.
The Washington Post reports that the elderly man, who was sick with COVID-19, "leaned on his Catholic faith and began to pray" shortly before he was brutally beaten. The two men were both receiving treatment for COVID-19 at the Antelope Valley Hospital…
………..
Why I Will Not Accept Joe Biden As President – Newt Gingrich
A smart friend of mine who is a moderate liberal asked why I was not recognizing Joe Biden's victory.
The friend made the case that Mr. Biden had gotten more votes, and historically we recognize the person with the most votes. Normally, we accept the outcome of elections just as we accept the outcomes of sporting events.
So, my friend asked why was 2020 different?
Having spent more than four years watching the left #Resist President Donald Trump and focus entirely on undoing and undermining the 2016 election, it took me several days to understand the depth of my own feelings.
As I thought about it, I realized my anger and fear were not narrowly focused on votes. My unwillingness to relax and accept that the election grew out of a level of outrage and alienation unlike anything I had experienced in more than 60 years involvement in public affairs…
………..
Trump Anti-Violent Crime Initiative Has Led To Over 6,000 Arrests Since July – Epoch Times
.

.
Outgoing Attorney General William Barr on Wednesday gave his last update on Operation Legend, a Trump administration initiative to drive down violent crime in major inner cities, saying that the program had led to over 6,000 arrests since its launch earlier this year.
The operation was launched in Kansas City, Missouri, in July and has since been expanded to eight cities that saw rising crime rates this past year. It involves surging federal agents and resources to inner cities to assist local and state law enforcement officials tackle violent crime and restore public safety.
Of those who were arrested, about 1,500 were charged with federal offenses, and 467 were suspected of homicide…
………..
President Trump Pardons 4 American Heroes Persecuted By Biden – Daniel Greenfield
While there has been an ongoing push to get President Trump to pardon traitors like Snowden, instead the first set of pardons includes the heroes and patriots of Raven 23, Dustin Heard, Evan Liberty, Nicholas Slatten, and Paul Slough, who have been through a lot.
The four decorated military veterans had been protecting a State Department official when they came under attack in Baghdad. They defended themselves and were hung out to dry.
While the attack happened under the Bush administration, the Obama administration decided to make an example of them. And in of the lowest points of a very low man, Biden promised the Iranian puppets in Baghdad that the men would be lynched. And the Obama administration delivered.
Vice President Joe Biden today expressed personal regret over the 2007 shooting in which Blackwater guards working for the U.S. government in Baghdad, shot and killed 17 Iraqi civilians…
………..