………..
Unexplained Explosion And Fire Destroy World's Second Largest Pharmaceutical Factory Producing Precursors For Hydroxychloroquine – American Thinker
.

.
Prepare for supplies to tighten for the cheap, effective therapeutic treatment for early stage Covid-19 infection, hydroxychloroquine (HCQ).
Just as the medical establishment in the U.S. is relaxing its absurd and lethal suppression of the cheap, generic drug, following President Trump's endorsement of it early in the pandemic, HCQ's continued availability may suffer. The world's second largest pharmaceutical facility producing the precursors for HCQ has been destroyed by an explosion and fire.
Taiwan English News reports:
An explosion at a pharmaceutical factory in Taoyuan City left two injured and caused a fire early this afternoon…
………..
Yes, It Was A Stolen Election – John Perazzo
As Americans continue to watch the 2020 election controversy unfold, the very same publications that spent years lying about President Trump's "Russia collusion" are once again telling us what we are dutifully supposed to believe.
The Los Angeles Times, for instance, assures us that Trump's "baseless" and "dangerous" claim "that the election was rigged to benefit Joe Biden" has been thoroughly "debunked."
The New York Times proclaims that "Trump's false election fraud claims" are founded upon nothing more than a "torrent of falsehoods." Sneering at "how Trump drove the lie that the election was stolen,"
The Washington Post mocks Republicans who "are still pretending that there was election fraud."
And CNN.com warns that "Trump's obsession with overturning the election" has now begun to spiral "out of control."
But so much for what the comic books have to say…
………..
Georgia State Senate Report: Election Results Are 'Untrustworthy', Certification Should Be Rescinded – American Greatness
.

.
The chairman of the judiciary subcommittee in Georgia that examined evidence of fraud in the 2020 election, has released a scathing 15-page report calling the results of the 2020 election, "untrustworthy" and recommending that the certification of the results be rescinded.
Georgia State Senator William T. Ligon, Chairman of the Election Law subcommittee, reached that conclusion after reviewing the recount process, the audit process, current investigations taking place, and litigation that is moving forward. His Subcommittee also heard testimonies from witnesses during an open hearing at the Georgia State Capitol on Thursday, December 3, 2020.
"The November 3, 2020 General Election (the "Election") was chaotic and any reported results must be viewed as untrustworthy," Sen. Ligon wrote in his executive summary…
………..
Covid Relief Bill Includes New Piracy Law Sending Illegal Streamers To Prison For 10 Years – PJ Media
Streaming shows have been the saving grace of cooped-up families everywhere during COVID. Have you caught up yet on "The Crown" and seen every episode of the series "The Queen's Gambit" yet?
But tucked away inside the COVID relief bill is a rewrite of copyright and intellectual property law that could send illegal streamers to prison for ten years and give Hollywood producers a huge tax break.
Congress threw everything and the kitchen sink into the omnibus bill all in the name of COVID relief. And Hollywood and Silicon Valley got a huge gift with a bright red Christmas bow on it.
The 5,593-page congressional wish list, now on its way to the president's desk, includes a rewrite of piracy, copyright, and intellectual property laws. The changes, among things, make illegal streaming – piracy – a felony…
………..
President Trump Threatens To Veto Covid Relief Bill Unless Direct Payments To Americans Are Increased To $2,000 – Epoch Times
.

.
President Donald Trump said that Congress needs to pass a pandemic stimulus bill that includes $2,000 direct payments to Americans – not the $600 ones – or else he will veto it.
"Congress found plenty of money for foreign countries, lobbyists, and special interests," Trump said on Tuesday night in a video released on his social media pages. "While sending the bare minimum to the American people who need it."
"It wasn't their fault; it was China's fault."
The president said that he will veto the bill unless Congress can provide more money in stimulus payments and loans to small businesses in the midst of the pandemic.
"I am asking Congress to amend this bill and increase the ridiculously low $600 to $2,000…
………..
Trump Policies Chased Immigrants Off Welfare: Study – Washington Times
Immigrants have seen a "dramatic" drop in their use of welfare programs over the first three years of the Trump administration, according to a new report Tuesday that said the president's crackdown on migrants who become dependent on social services is having an effect.
The Migration Policy Institute looked at Census Bureau data from 2016 to 2019 and found that participation in food stamps and welfare payments fell 36% among noncitizens. Citizen participation also declined, but only by about half that rate.
MPI researchers traced the drop directly to the new "public charge" rule, issued by Homeland Security, which warned immigrants their use of welfare programs could be a negative factor if they eventually try to upgrade their legal status.
The public charge rule wasn't finalized until early this year, but MPI said immigrants were aware it was coming as far back as 2017, and have changed their actions accordingly…
………..
Nearly 60 West Point Cadets Admit To Cheating In Worst Academic Scandal In Decades – Daily Caller
.

.
The U.S. Military Academy at West Point accused over 70 of its cadets of cheating on an exam, marking the academy's worst academic violation since 1976, USA Today reported Monday.
Fifty-eight cadets admitted to cheating on a remote math exam, according to USA Today. Most of the cadets have been enrolled in a rehabilitation program and will be on probation for the duration of their time at West Point.
"There's no excuse for cheating when the fundamental code for cadets is that they should not lie, cheat or steal," Tim Bakken, a law professor at West Point told USA Today. "Therefore when the military tries to downplay effects of cheating at the academy, we're really downplaying the effects on the military as a whole…
………..
ICE Arrests 117 Illegal Aliens Who Failed To Self-Deport – Epoch Times
U.S. Immigration and Customs Enforcement (ICE) announced Monday that, over a 10-day period in December, agents arrested 117 illegal aliens who vowed to leave the country voluntarily but failed to do so.
The agency said in a statement that the detained aliens had promised to leave on their own accord rather than face a formal deportation, but never did. The enforcement effort, called "Operation Broken Promise," found that of the over 150 individuals in total who were arrested between Dec. 7 and Dec. 17 and are now slated for deportation, 71 percent had criminal convictions or pending charges.
"Our officers are committed to preserving the integrity of our nation's immigration laws and are strengthening the overall safety, security and well-being of our communities," Tony Pham, ICE Senior Official Performing the Duties of the Director, said in a statement.
Under a voluntary departure arrangement, individuals targeted for deportation are given up to 120 days to arrange their own departure from the United States…
………..
Useless Dickweed Bill Barr Announces He Will Not Appoint Special Counsel To Investigate Obvious Election Fraud Or Dementia Joe's Crackhead Son – Big League Politics
.

.
Attorney General Bill Barr has announced there will be no appointment of a special counsel to investigate election fraud or Hunter Biden's potential criminal acts, as Barr gets ready to depart from the Trump administration.
While many Trump backers were "trusting the plan," Fitton was pointing out before the election that AG Barr and his lackey U.S. Attorney John Durham were blowing the Russia-gate investigation, despite the fact that Obama-era federal officials had already been exposed committing blatant improprieties.
The total betrayal of the American public is at hand, with a coup against the Bill of Rights and Constitution being perpetrated in broad daylight as institutional power looks the other way…
………..
Trump Campaign Team Files Supreme Court Challenge To Pennsylvania Election Results – Epoch Times
President Donald Trump's campaign team filed an appeal to the U.S. Supreme Court to reverse cases by the Pennsylvania Supreme Court that changed mail-in ballot laws.
The campaign's case is attempting to reverse three cases decided by the state's Supreme Court that "illegally changed" the mail-in ballot laws "immediately before and after the 2020 presidential election." The lawyers contended that the Supreme Court's decisions are in violation of Article II of the Constitution and the 2000 Bush v. Gore ruling.
The lawsuit is seeking "all appropriate remedies," which includes the vacating of electors that were committed to Joe Biden and allowing the Pennsylvania Legislature to call up their own electors.
When the Electoral College voted on Dec. 14, the Republican Party in Pennsylvania had its own electors cast votes for Trump and Vice President Mike Pence, in a bid to preserve legal challenges in the state…
………..
McConnell Announces Covid Deal, Blasts DemoNazis For Stalling Over 'Partisan Presidential Politics' – Daily Wire
.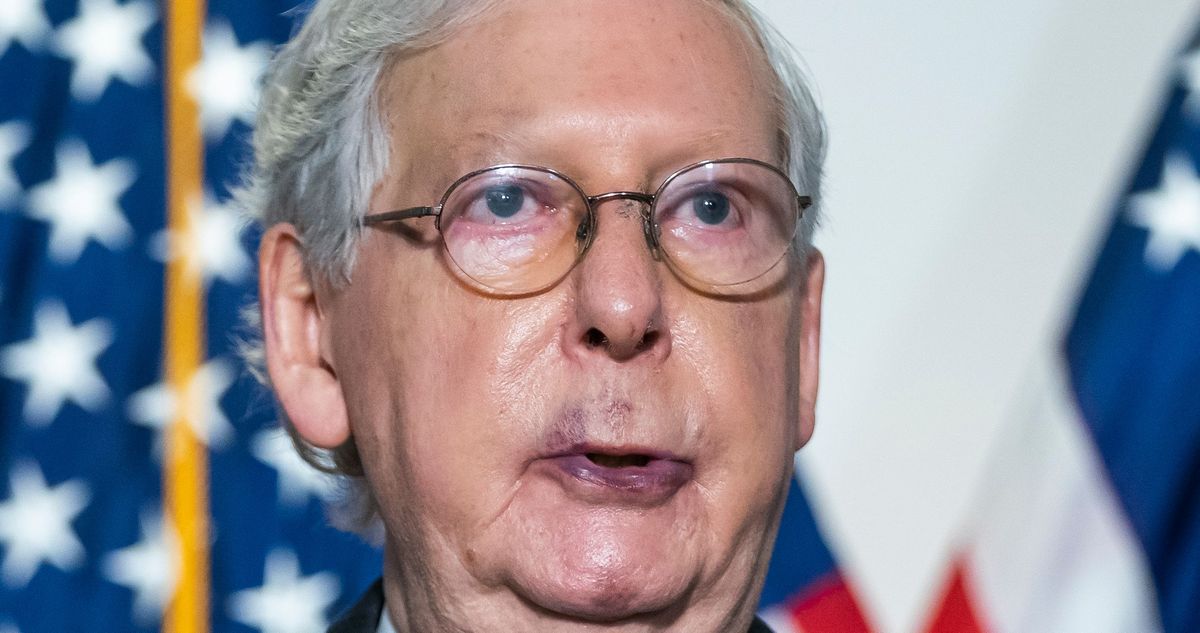 .
Senate Majority Leader Mitch McConnell (R-KY) announced on Sunday that Senate and House leaders have finalized a new coronavirus stimulus bill to continue helping Americans hardest hit by the pandemic.
McConnell also slammed Democrats for stalling on a deal, saying that Republicans had wanted to do this months ago, but that Democrats, by their own admission, had stalled because they didn't want to make a deal before the election.
"More help is on the way," McConnell said. "Moments ago, in consultation with our committees, the four leaders in the Senate and the House finalized an agreement. There will be another major rescue package for the American people…
………..
Georgia Senators: Coordinated Illegal Actions Appear To Have Taken Place During Election – Epoch Times
A recently released report from Georgia senators studying the Nov. 3 election found evidence of illegal activity carried out by workers at State Farm Arena.
"The events at the State Farm Arena are particularly disturbing because they demonstrated intent on the part of election workers to exclude the public from viewing the counting of ballots, an intentional disregard for the law. The number of votes that could have been counted in that length of time was sufficient to change the results of the presidential election and the senatorial contests," the report from the state Senate's Election Law Study Subcommittee reads.
"Furthermore, there appears to be coordinated illegal activities by election workers themselves who purposely placed fraudulent ballots into the final election totals."
Workers counted mail-in ballots at the arena. According to surveillance footage and witness testimony from Election Day, workers stopped counting ballots around 10:30 p.m. but resumed after observers and media left…
………..
What We Know About The UK's New Covid Strain – Deutsche Welle
.

.
A new strain of coronavirus is sweeping across southern England, spurring heightened restrictions in the region and flight bans within Europe. So what do we know about the new virus mutation?
UK Prime Minister Boris Johnson said the fast-moving new variant of the virus is 70% more transmissible than existing strains, and appears to be driving a rapid spike in new infections in London and southern England. However, "there's no evidence to suggest it is more lethal or causes more severe illness," or that vaccines would be less effective against it, he said.
Britain alerted the World Health Organization that the new strain – identified last week – was the likely cause of the surge in infections, accounting for around 60% of London's cases…
………..
8,000+ Nursing Home Residents And 49 Criminals Died In PA. Guess Which Group Democrats Care About – Daniel Greenfield
One of the most important and least discussed coronavirus subjects in this election was the decision by Democrat governors to infect huge numbers of nursing home residents by forcing nursing homes to accept coronavirus patients.
Governor Wolf in Pennsylvania and his health expert, Richard 'Rachel' Levine, were one of the worst offenders.
But before New York and New Jersey had even made their move, Governor Tom Wolf's grandma-killing administration had ordered Pennsylvania nursing homes to accept "readmissions for current residents who have been discharged from the hospital" in order to "alleviate the increasing burden in the acute care settings" including "patients who have had the COVID-19 virus." Wolf's Secretary of Health, Dr. Richard (Rachel) Levine, had transferred his own mother out of a nursing home and to a hotel.
………..
Michigan House Votes To Repeal 1945 Emergency Law Used By Governor Whitmer To Issue Coronavirus Orders – MLive
.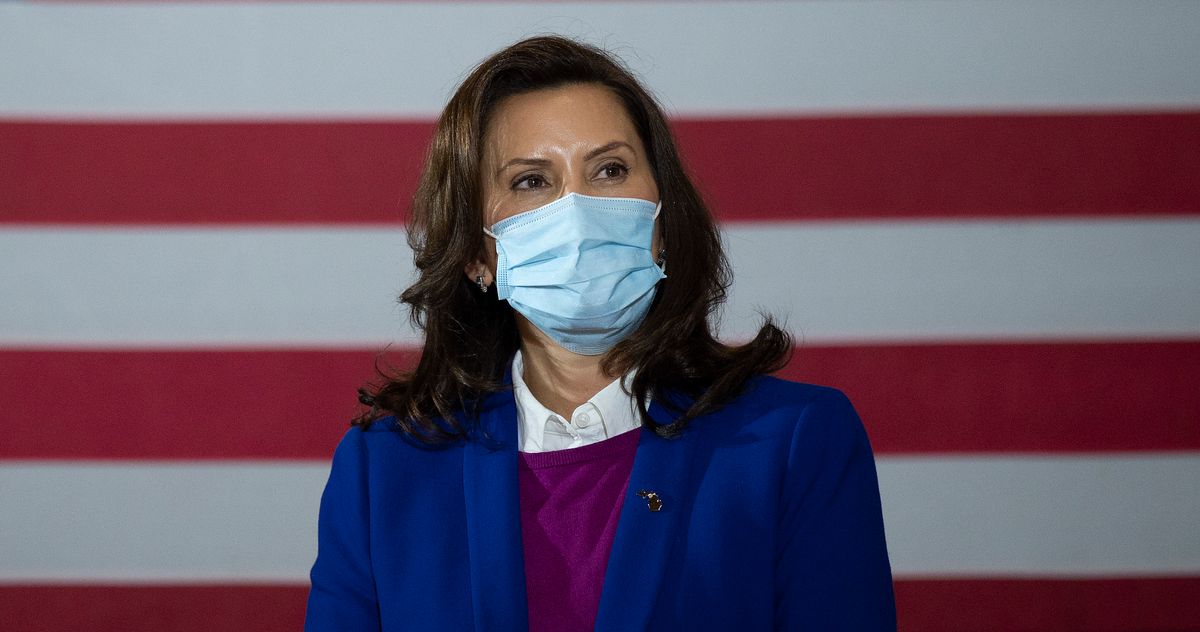 .
Legislation that would overturn one of the emergency laws Gov. Gretchen Whitmer used as authority to issue COVID-19 orders during the first several months of the pandemic cleared the Michigan House early Friday morning.
Senate Bill 857, sponsored by Sen. Tom Barrett, R-Charlotte, would repeal the 1945 Emergency Powers of Governor Act, one of two state laws currently on the books Whitmer used to issue a wide swath of orders that required masks in public spaces, limited crowd sizes, and closed various establishments after the legislature opted not to extend the initial state of emergency declaration on April 30.
Whitmer's use of the act was ultimately deemed unconstitutional in a split October Michigan Supreme Court decision…
………..
British Army Creates Covid-Killing Spray That Civilians Now Can Buy, But Only In UK – Just The News
American and other international consumers have clamored to buy a COVID-killing spray created by the British Army, but right now it is only available in the United Kingdom, developers said.
"People want this disinfectant because it works," an employee of Virusend, the British company that markets the spray, told Just the News. "Unfortunately, we only ship to the UK at the moment."
The British Army created the disinfectant this year, and fine tuned the formula that it says kills 99.99% of the Covid-19 virus in 60 seconds. The spray, which also is called Virusend, is effective against the strain that caused the pandemic. The Army has used the spray at COVID-19 testing sites in Preston, in western central England, and Medway, in the southeast region.
"The troops who are now working in Medway have welcomed the deployment of this additional force protection measure," said Lt. Col. James Cackett…
………..
NFL Honors Gunman Killed While Trying To Murder Cops – Police Tribune
.

.
The National Football League (NFL) has chosen to honor a gunman who was killed while shooting at police by allowing players to wear his name on their helmets.
Protesters have demanded that Indianapolis Metropolitan Police Department (IMPD) Officer Dejoure Mercer be sent to prison for murder for returning fire after 21-year-old Dreasjon Reed shot at him on May 6, The Indianapolis Star reported at the time.
Special Prosecutor Rosemary Khoury announced in November that a grand jury determined the shooting was justified, according to The Indianapolis Star. The Indiana State Police (ISP) said evidence in Reed's phone indicated he was involved in two drive-by shootings prior to livestreaming the police chase and gun battle with Officer Mercer…
………..
Maricopa County, Arizona Board Of Supervisors Refuses To Comply With Senate Subpoenas To Turn Over Dominion Voting Machines For Audit – 100PercentFedUp
The Maricopa Board of Supervisors has voted 4-1 to refuse to comply with legislative subpoenas to turn over Dominion voting machines for a forensic audit. Instead of supporting transparency and making sure there was a free and fair election, they will be filing a complaint in Superior Court.
Clint Hickman, a Republican member of the Board of Supervisors, said that being served with the subpoenas was like "a slap in the face," after claiming they had done all they could to "give them a full scope of what this election, and how it transpired, the processes, the people behind it, the machinery, the software".
Subpoenas were issued for the machines by the Arizona Senate Judiciary earlier this week.
"I had to then feel that those subpoenas were predetermined no matter what I went there to say, no matter what our legal team went down there to say… I have a letter that I have written to Senate President Fann that will hopefully get back to the legislature quickly…
………..
California DemoNazis Release Convicted Illegal Alien Child Murderer From Prison Under Sanctuary Law – Big League Politics
.

.
Immigration and Customs Enforcement has been forced to track down and apprehend a convicted illegal alien child murderer who was released from custody of the California Department of Corrections and Rehabilitation earlier this month.
Carlos Morales-Ramirez, 44, was convicted of second-degree murder, assault on a child causing death, and great bodily injury to a child causing death by the Superior Court of California, County of Los Angeles,
in 1998. He was paroled from California's prison system on December 4th, with the state's left-wing government refusing to hand the child killer over to ICE citing the state's sanctuary laws. The immigration enforcement agency had filed a detainer request for Morales-Ramirez…
………..
Michigan Election Official Caught On Video Telling Volunteers To Count Multiple Ballots With The Same Signature During Audit Of Votes In Antrim County – Gateway Pundit
Constitutional Attorney Matthew DePerno is an American hero. Two weeks ago, Michigan 13th Circuit Court Judge Kevin A Elsenheimer agreed to allow Mr. DePerno's client, William Bailey, and a highly skilled team of IT experts to perform a forensic examination on 16 of the Dominion voting machines in Antrim County.
On Monday, Judge Elsenheimer agreed to allow the results of the forensic examination to be released to the public. The results were damning.
THE REPORT:
After the forensic examination of 16 Dominion Voting machines in Antrim, Co., MI, Allied Security Operations Group has concluded that the Dominion Voting machines were assigned a 68.05% error rate.
DePerno explained that when ballots are put through the machine, a whopping 68.05% error rate means that 68.05% of the ballots are sent for bulk adjudication…
………..
Supreme Court Sides With Trump, Rules Against Counting Illegal Aliens During Congressional Redisreicting – Daily Caller
.

.
The U.S. Supreme Court dismissed a challenge to President Donald Trump's plan to not include illegal immigrants living in the U.S. in the count to determine congressional districts, Reuters reported Friday.
The court ruled 6-3 against a lawsuit attempting to block Trump's plan to exclude illegal immigrants from the count, Reuters reported. The ruling said "judicial resolution of this dispute is premature" because the Trump administration's plans are unclear.
"At present, this case is riddled with contingencies and speculation that impede judicial review," the ruling said, according to Reuters. The court was not considering the merit of Trump's plan to keep illegal immigrants from counting towards the total…
………..