………..
Georgia Poll Workers Who Raised Election Concerns Get Terminated – Epoch Times
Poll workers in Georgia who raised concerns about election irregularities were informed this week that their contracts are not being renewed, according to letters obtained by Epoch Media Group.
Bridget Thorne and Susan Voyles say they witnessed abnormal actions taken during the election in Fulton County. They've spoken to news outlets and state legislators about what they saw.
In the new letters, Dwight Brower, elections consultant for the Fulton County Department of Registration and Elections, informs the women that Georgia law enables officials to appoint poll managers, and managers must be reappointed for each election event.
"There are many factors (management skills, performance, actions, behavior, etc.) considered prior to making reappointments for each primary or election. Unfortunately, a decision has been made to not reappoint you in a poll management or other poll positions in Fulton County," Brower wrote…
………..
Cybersecurity Agency: Massive Cyber Attack Against U.S. Is 'Grave' Threat – Washington Times
.

.
Federal authorities expressed increased alarm Thursday about a long-undetected intrusion into U.S. and other computer systems around the globe that officials suspect was carried out by Russian hackers. The nation's cybersecurity agency warned of a "grave" risk to government and private networks.
The hack compromised federal agencies and "critical infrastructure" in a sophisticated attack that was hard to detect and will be difficult to undo, the Cybersecurity and Infrastructure Security Agency said in an unusual warning message. The Department of Energy acknowledged it was among those that had been hacked.
The attack, if authorities can prove it was carried out by Russia as experts believe, creates a fresh foreign policy problem for President Donald Trump in his final days in office…
………..
Pentagon Halts All Scheduled Transition Defense Briefing With Dementia Joe's Team – Daily Caller
Acting Defense Secretary Chris Miller has put a stop to all cooperation with President-elect Joe Biden's transition team. Senior administration officials have confirmed that Miller ordered a halt to all scheduled briefings Pentagon-wide as of Thursday evening, according to a report from Axios.
A top Biden official was reportedly not told about the move, but one official suggested to Axios that it was just a delay due to the approaching holidays.
"We had fewer than two dozen remaining meetings on the schedule today and next week," the official said. "These same senior leaders needed to do their day jobs and were being consumed by transition activities… With the holidays we are taking a knee for two weeks. We are still committed to a productive transition."
President Donald Trump's 2020 campaign adviser Steve Cortes appeared to believe the move was related to recent reports about Hunter Biden and potential business dealings with the Chinese Communist Party…
………..
'Stimulus' Update: Senator Josh Hawley Announces Direct Cash Relief For American Working Families – Big League Politics
.

.
On Wednesday afternoon Senator Josh Hawley (R-MO) took the floor of the United States Senate to give remarks and updates about the Covid stimulus bill that is being negotiated by an eleven member bipartisan group in the Senate.
"Last week I came to this floor on two separate occasions with Senator Sanders to talk about the need for direct assistance for working families. I said that I was willing to use every tool at my disposal to make sure this body acted to give direct assistance to working people in need as a part of Covid relief, and I said then and I say it again today the working people should be first in line for Covid relief, not last… I please to report that we were told today that direct assistance to working families and working people is in the bill. The working people will be getting assistance."…
………..
DemoNazi Corruption Update: Michigan Secretary Of State Refuses To Testify Before Legislature On Election Fraud – Epoch Times
Michigan's top election official has declined to appear before the state legislature to testify as lawmakers probe alleged election irregularities.
"I am aware of the hearings the Committee has conducted, and am concerned that contrary to your desire to 'get to the bottom' of election questions, they are instead amplifying already debunked conspiracy theories and previously disproven claims of people who lack basic knowledge of election administration, and in doing so undermining the integrity of the election and wounding our democracy," Secretary of State Jocelyn Benson, a Democrat, wrote to state Rep. Matt Hall.
Benson cited Attorney General William Barr, who said earlier this month that investigators had not yet found "fraud on a scale that could have affected a different outcome in the election."
She also referred to a statement put out by the Department of Homeland Security's cybersecurity agency…
………..
Kraken Update: Sidney Powell's Case In Michigan Finally Makes It Onto U.S. Supreme Court Docket – Gateway Pundit
.

.
Sidney Powell's case in Michigan has finally made it to the Supreme Court. Ten days ago a far-left and biased Obama judge dismissed Sidney Powell's case in Michigan after sitting on it for days. The judge claimed the case was "An Amalgamation of Theories, Conjecture, and Speculation".
Now ten days later the case has finally made it on the docket at the Supreme Court:
CulturalHusbandry @APhilosophae – Dec 17, 2020 Sidney Powell's case has finally found its way to SCOTUS Docket… It contains the forensic audit done in Michigan that proves systemic voter fraud occurred through the Dominion Voting System tabulation. It also has proof of at least 200,000 FRAUDULANT VOTES casted in the election…
………..
Nevada GOP Subpoenas DMV, Data Reveals Thousands Of Non-Citizen Voters – National Pulse
The revelation, adding to a long list of fraudulent election activities in the critical swing state, comes as a result of Nevada's Department of Motor Vehicles (DMV) automatically registering all voters who apply for driver's licenses.
Since legal and illegal non-citizens can hold driver's licenses and identification cards, if the DMV fails to "do their due diligence," non-citizens can easily be registered to vote, as explained by the Nevada GOP.
Under a subpoena, the state's GOP obtained data that showed green card holders and non citizens who had obtained driver's licenses. From this official data set, the Nevada GOP "compared this detailed information against the county voter records in Nevada" and "discovered that 6,260 non citizens were registered to vote and 3,987 non-citizens had voted."
In a signed statement "under the penalty of perjury," the group's data analyst Jesse Kamzol outlined his findings, which he emphasized "merit further investigation."…
………..
Tucker Carlson Exposes Dr. Jill Biden's Dissertation And It's Really Bad – Right Scoop
.

.
As you may have heard Dr. Jill Biden isn't really a doctor in real life, despite what Whoopi Goldberg might say about her becoming Surgeon General. Dr. Jill is actually more like the doctors you see on TV, who are only pretend doctors.
Well tonight Tucker Carlson decided to read parts of Dr. Jill's dissertation that she did to get her PhD in education, and as he puts it, it's embarrassing. Tucker begins by showing a portion of the dissertation that highlight Dr. Jill's inability to do math. Tucker notes that Dr. Jill managed to find five quarters of the class instead of four.
But he's not done. Here's another portion I've transcribed that Tucker highlighted to show her math skills…
………..
Insane San Francisco Leftists To Rename Abraham Lincoln High School Because Great Emancipator Did Not Demonstrate That 'Black Lives Mattered To Him' – Daily Mail
A San Francisco district is planning to rename a school named after Abraham Lincoln because the former president did not demonstrate that 'black lives mattered to him'.
The president, who is often held up as an American hero for abolishing slavery, is just one of 44 historical figures soon to have their names scratched off schools within the San Francisco Unified School District.
Other names include George Washington, Herbert Hoover and Senator Dianne Feinstein, whose name will be stripped from the Dianne Feinstein Elementary School for allowing the Confederate flag to fly outside City Hall back in 1984 when she was mayor.
The renaming of the schools comes as part of a nationwide reckoning around racial justice that has seen Confederate flags banned, military bases renamed and statues toppled of racist and Confederate figures across America in the wake of the police killing of George Floyd. The district's renaming committee decided Lincoln is not worthy…
………..
California Sheriff Ignores Insane Judge's Order To Release Murderers And Rapists Due To Fake Pandemic – PJ Media
.

.
You've got to hand it to the ACLU. Their legendary defense of traitors, terrorists, and others who would try and destroy the United States is consistent and predictable.
Last April, the ACLU sued Orange County to release inmates who might be "medically vulnerable" to getting sick from the coronavirus. What those inmates did to be in jail didn't matter. Can't have a child rapist get sick and die from COVID. That would be heartless.
A judge apparently didn't care either. He ordered the release of all medically vulnerable prisoners no matter what their crimes. He ruled that Don Barnes, the sheriff of Orange County, showed "deliberate indifference to the substantial risk of serious harm from COVID-19 infection to… medically vulnerable people in [his] custody"…
………..
India's Capital Surrounded By 65,000 Protesting Farmers – Breitbart
An estimated 65,000 farmers gathered on the outskirts of India's national capital, New Delhi, on Tuesday to protest three new agricultural laws they say undermine their labor rights, the Times of India reported.
Tens of thousands of farmers have traveled to New Delhi since November 25 to participate in the protests, setting up camp on major roads leading into and out of the capital. The mass sit-ins, which continued for the 20th straight day on Tuesday, have blocked regional highways and significantly disrupted interstate transit and trade.
The farmers say that three agricultural reforms passed by the Indian Congress in September undermine their traditional labor and farm price protections.
Farmers from the Sikh-dominated Indian state of Punjab constitute the majority of the protest's participants. Haryana state, which also has a notable Sikh population, has sent a large number of farmers to take part in the demonstration as well…
………..
Dementia Joe Was Briefed On Burisma Corruption Weeks Before Strong-Arming Ukraine Into Firing Prosecutor – Big Leagie Politics
.

.
A new leaked memo suggests that Joe Biden, who is currently slated to be sworn in as President in January, was briefed on the corruption of Burisma founder Mykola Zlochevsky weeks before he personally demanded the firing of a Ukrainian prosecutor investigating the oligarch-owned company, which employed his son Hunter Biden at the time.
Just the News' John Solomon revealed the email on Tuesday, which is sent to a Biden aide in December 2015.
In the email, the U.S. Ambassador to Ukraine Geoffrey Pyatt warned Biden of Burisma's owner's corruption. Pyatt cited a join U.S.-UK investigation into assets of Zlochevsky stashed overseas, a common corrupt business practice used by Russian and Ukrainian oligarchs…
………..
Oregon DemoNazis Want To Deny $62 Million In Covid Relief To Residents Who Aren't Black, Sparking Lawsuit – Just The News
A lawsuit alleges the Oregon Legislature Emergency Board acted unconstitutionally when it declared that $62 million of a $200 million government fund to help small businesses hit by COVID-19 could only go to black-owned businesses or black families.
Maria Garcia, owner of the Revolucion Coffee House in Portland, applied for some of that $62 million allotment, called the Oregon Cares Fund, but was denied because she doesn't "identify as Black." Under the program, black families are reportedly eligible for up to $3,000 and black-owned businesses for up to $100,000 in government funds.
She was reportedly denied relief because her business "does not meet the criteria because 0% of its owners identify as Black," prompting Garcia to sue in federal court, arguing the 14th Amendment's Equal Protection Clause has been violated.
James Huffman, professor and dean emeritus at Lewis & Clark Law School, told Just the News he has communicated with Garcia's attorney about the case…
………..
Yes, DemoNazi Georgia Senate Candidate Raphael Warnock Is A Radical, Bigoted Nutjob – PJ Media
.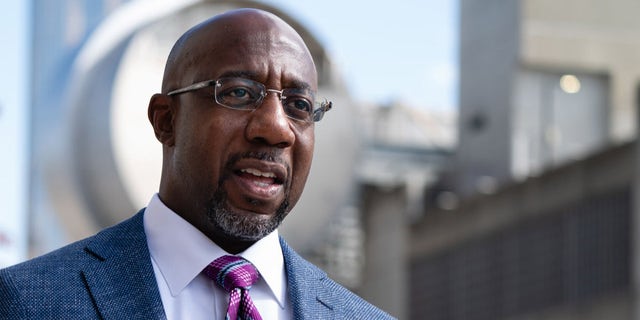 .
Rev. Raphael Warnock, one of the Democratic candidates for the U.S. Senate in Georgia runoff elections, praised the racist and anti-Semitic Louis Farrakhan's Nation of Islam back in 2013.
On July 11, 2013, Warnock gave a lecture at the Chautauqua Institution in Chautauqua, N.Y., called "The Divided Mind of the Black Church: Theology, Piety and Public Witness."
During the Q&A after the lecture, he was asked by a member of the audience about the Nation of Islam's relationship with the church, and whether "the black church" is having similar attendance problems as "so-called mainstream white" churches and synagogues.
"Well, the Nation of Islam is significant…
………..
Something Historic Happened With America's Electors On Monday – Andrea Wilburg
It's pretty easy to knock Republicans. So often, they're the types who go along to get along. They don't make waves. They concede. They willingly negotiate. They back down. If they're really bad, they become NeverTrumps.
And sometimes they surprise us.
On Monday, seven states, in addition to having their apparently victorious Democrat electors cast their votes for president, also authorized Republican electors to cast their votes to make a record. It was wonderful.
I'm sure other, better writers than I will write about what happened on Monday, but here's my say. Monday was the day when the states designated their electors to cast the states' votes for president. By day's end, creepy, confused Joe Biden had 306 electoral votes.
Democrats are ecstatic, believing they now have a signed, sealed, and delivered White House. They don't…
Read more: https://www.americanthinker.com/blog/2020/12/something_historic_happened_with_americas_electors_on_monday.html#ixzz6gikfb0hA
Follow us: @AmericanThinker on Twitter | AmericanThinker on Facebook
………..
Georgia Secretary Of State Orders Signature Audit Of Cobb County Absentee Ballots – WSB
.

.
Georgia's Secretary of State says his office has ordered an audit of voter signatures on absentee ballot envelopes in Cobb County. Secretary of State Brad Raffensperger made the announcement during an afternoon news conference Monday.
"Starting immediately, we are pulling all of our resources together with GBI to conduct a signature match audit in Cobb County," Raffensperger said.
The audit will include November's general election and the primary election over the summer.
"Voter privacy is top of mind and we will never release how someone voted. We are only reviewing the signatures on the envelope…
………..
Pennsylvania Sheriff Switches To Republican Due To DemoNazi Lockdown Measures – Post Millennial
Pennsylvania Sheriff James Custer announced over FOX News on Monday that he will be switching his party affiliation from the Democratic Party to the Republican Party over his opposition to pandemic-related lockdown orders.
When asked why he chose to switch his party allegiance, Custer told FOX News that his decision was made because of "the shift in ideals of the current Democrat Party at the national level, the socialist agenda, and this is something that I had been considering for several months."
Custer told the network that he began considering switching parties when lockdowns began. The sheriff further described the lockdowns as "unconstitutional."
"As the sheriff, it is my duty as a constitutional sheriff, to protect and serve, uphold and defend the Constitution of the United States," Custer argued. He suggested that it is therefore his duty to oppose "these unconstitutional mandates being brought down on our citizens and being able to protect their rights and freedoms under the Constitution."…
………..
The Tragic Failure Of William Barr – Roger L. Simon
.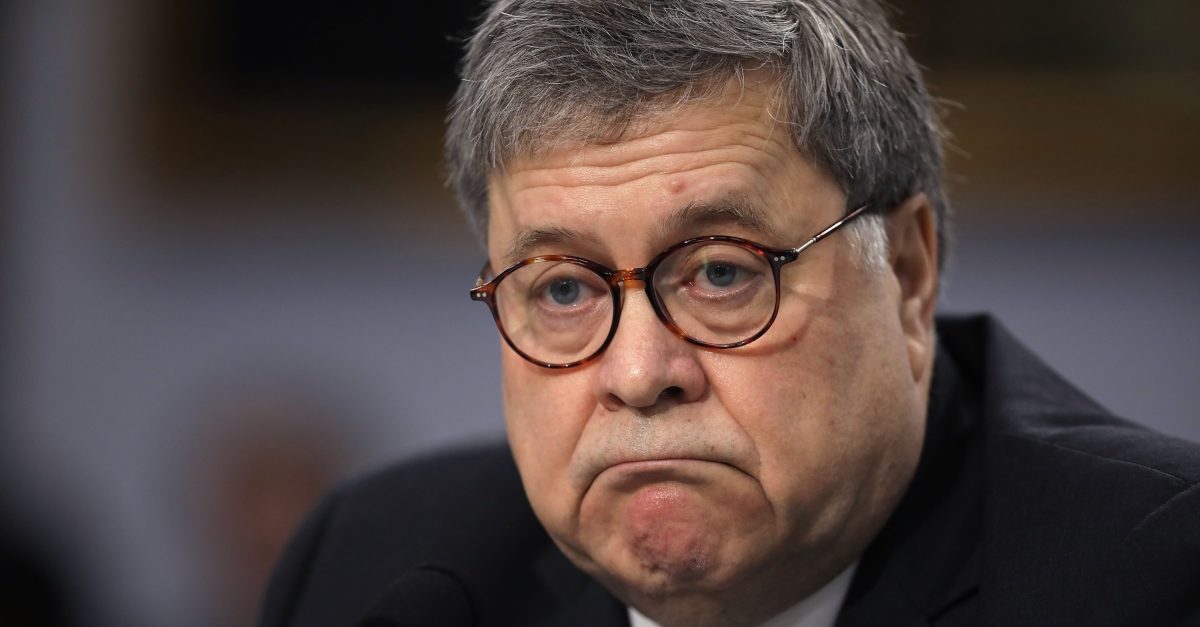 .
I used to be a big fan of Attorney General William Barr.
Now, as of Dec. 14, 2020, he's gone, with his last day in office Dec. 24, almost a month before the actual end of a Trump administration, assuming that happens.
Technically, Barr resigned, accompanied by the usual complimentary letter to the president, but something obviously went wrong in his relationship with Donald Trump.
What was it?
William Barr certainly knew how to talk the talk. His October 2019 speech on religious liberty at the Notre Dame Law School is particularly eloquent and meaningful.
If you haven't heard it, maybe you should as a reminder of the person he could be…
………..
Michigan Judge Grants Attorney Matt DePerno Permission To Release Results Of Forensic Examination On 16 Dominion Voting Machines In Antrim County – Gateway Pundit
This morning, during an emergency hearing, MI 13th Circuit Court Judge Kevin A Elsenheimer granted permission to Attorney Matthew Deperno to release the findings from their forensic examination of 16 Dominion Voting machines in Antrim County, MI where thousands of votes flipped from President Trump to Joe Biden on November 3, 2020.
Earlier this week, we reported about a lawsuit filed by Matthew DePerno of DePerno Law on behalf of Central Lake resident William Bailey.
In addition to thousands of votes that were flipped from President Trump to Democrat candidate Joe Biden, Bailey was concerned about ballots that were re-run through the Dominion tabulator machine after a 262-262 tie on a vote a ballot initiative that would allow a marijuana establishment to be located within the Village of Central Lake.
While ballots were being inserted into the machine, 3 of them were destroyed and were not placed through the tabulator…
………..
Illegal Ballots Can Be Quickly And Scientifically Identified – American Thinker
.

.
In the video above, Kevin Freeman interviews technology expert Jovan Hutton Pulitzer, who explains how, with access to the physical ballots and the digital ballots in their native, unencrypted format, his team can process millions of ballots per day and determine conclusively which ballots are illegitimate.
Pulitzer points out that by law, we the people own both the paper ballots and the scanned copies of ballots for 22 months after the election. He maintains that the Trump legal teams have been requesting the wrong evidence, that we only need access to audit the ballots on very simple visual terms.
For example, every mailed out ballot was folded by machines and blown into envelopes…
………..
Former Andrew Cuomo Aide Claims DemoNazi Governor "Sexually Harassed Me For Years" – Big League Politics
A former aide of New York Governor Andrew Cuomo, a Democrat, has accused Cuomo of sexually harassing her for years.
Lindsey Boylan @LindseyBoylan – Dec 13, 2020 Replying to @LindseyBoylan And I promised myself I would never let those kind of guys win. I would work hard my whole life to put myself in positions of power to change things. To end the violence & corruption. Give voice to the voiceless. I am not stopping. I refuse. I will never give up. —————————————————- Lindsey Boylan @LindseyBoylan Yes, @NYGovCuomo sexually harassed me for years. Many saw it, and watched…
………..