.
European Vega Rocket Suffers 'Major Failure', $400 Million In Satellites Destroyed – Zero Hedge
A European Vega rocket suffered a cataphoric failure shortly after launch on Monday evening, leading to the loss of $400 million in satellites for Spain and France, reported Space News.
Around 2053 ET Monday, the Vega rocket blasted off from the spaceport at Kourou, French Guiana. The rocket's initial phases appeared to go well, but something went wrong eight minutes into the flight.
Arianespace CEO Stéphane Israël said the rocket appeared to diverge from its planned trajectory during the first burn of its Avum upper stage. Lost in the launch failure were two Spanish and French satellites, had a value of around $400 million.
The latest failure is the second in three flights for Europe's Vega rocket program. The next Vega launch is scheduled for early 2021, carrying the Pléiades-Neo 1 imaging satellite and other payloads.
Avio, the maker of the Vega rocket, saw its equity shares fall by as much as 16%…
.
.
New York Sheriffs Refuse To Enforce DemoNazi Governor Cuomo's Thanksgiving Lockdown Orders – Big League Politics
.

.
At least three New York state county sheriffs have announced that they won't enforce an edit from Democrat Governor Andrew Cuomo criminalizing Thanksgiving gatherings of more than ten people. The county sheriff's departments of Rensselaer County, Saratoga County, and Lewis County all confirmed that they don't intend on breaking up Thanksgiving gatherings.
Saratoga County Sheriff Michael Zurlo openly questioned how utilizing his deputies to count the number of cars int the driveways of private citizens would be an effective use of resources and beneficial to the public.
Lewis County Sheriff openly responded "No, I will not" when asked by 7 News if he intended to enforce the governor's latest edict…
.
.
Dow Jones, S&P 500 Close At All-Time Highs – Reuters
The S&P 500 and Dow Jones industrial average notched record closing highs on Monday as news of another promising coronavirus vaccine fanned hopes of eradicating COVID-19, while spiking infections and new shutdowns threatened to hobble a recovery from the pandemic recession.
All three major U.S. stock indexes advanced and with its new closing record, the blue-chip Dow is the last of the three to reclaim levels reached in February, before lockdowns sent the markets into free-fall. The Russell 2000 also hit an all-time closing high.
Value, cyclical and small cap shares outperformed the broader market.
Moderna Inc said its experimental COVID-19 vaccine was 94.5% effective in preventing infection based on interim late-state data. It was the second drugmaker in as my weeks, after Pfizer Inc, to announce promising trial data in the development of a vaccine to defeat the pandemic. Its shares gained 9.6% on the day…
.
.
Fighter Vs. Failer – Daniel Greenfield
.

.
Joseph Robinette Biden Jr. graduated from the University of Delaware with a C average: the 506th student in a class of 688. When his grades weren't C's, they were usually D's.
He then struggled through a JD from Syracuse University where he was nearly expelled after being caught plagiarizing a paper, and finally graduated 76th out of a class of 85 students. His academic performance was so miserable that an insecure Biden would spend much of his political career lying about academic successes that were humiliatingly exposed as frauds.
Biden falsely claimed that he had "graduated with three degrees from college", was "the outstanding student in the political science department", that he "went to law school on a full academic scholarship", that he was "in the top half" of his class. None of that ever happened…
.
.
Canadian Government Publishes Bid Request For "Programmable Hydraulic Guillotines" Needed "In Support Of Canada's Response To Covid-19" – DC Clothesline
The Canadian government, on its official acquisition website (Buyandsell.gc.ca) is requesting bids for "Programmable Hydraulic Guillotines" as part of, "products and services in support of Canada's response to COVID-19."
The listing number is 45045-190091/A, and it is found at this link:
https://buyandsell.gc.ca/procurement-data/tender-notice/PW-PD-005-78707
Additional details on the bid include:
Reference number: PW-$$PD-005-78707
Solicitation number: 45045-190091/A
Region of delivery: National Capital Region
Notice type: Notice of Proposed Procurement (NPP)
GSIN: N7520: Office Devices and Accessories
Procurement entity: Public Works and Government Services Canada…
.
.
Michigan State Representative Calls For DemoNazi Governor's Impeachment Following New Covid Restrictions – WXMI
.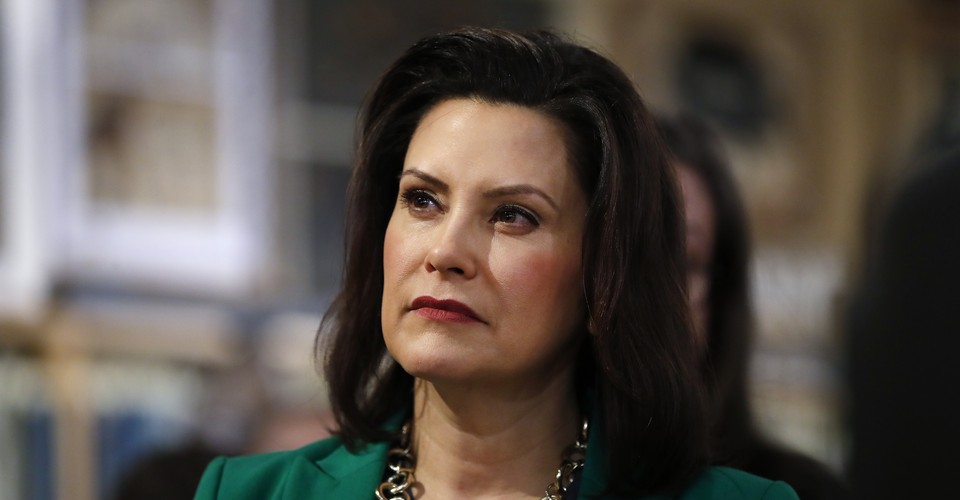 .
Michigan House Representative Matt Maddock (R) of Milford Township is calling for Governor Gretchen Whitmer's impeachment after the Michigan Department of Health and Human Services issued new restrictions on Sunday.
In a statement posted to Twitter, the Republican representative of the 44th District says he and a growing list of Michigan legislators have decided that Governor Whitmer has crossed the line and will be calling for hearings to impeach her, saying its long overdue.
Maddock also posted on his personal Facebook page saying other Michigan lawmakers are calling for hearings for Governor Whitmer to be impeached. Among the reasons listed, Maddock said Whitmer ignored court orders, violated our Constitutional rights, and completely ignored due process…
.
.
Trump Lawyer Sidney Powell: "We're Getting Ready To Overturn Election Results In Multiple States" – American Truth Tioday
Former federal prosecutor Sidney Powell, a Trump campaign lawyer, suggested in a Sunday interview that there is still more evidence coming out in President Donald Trump's claims of voter fraud and irregularities.
"We're getting ready to overturn election results in multiple states," Powell said, saying that she has enough evidence of election fraud to launch a widespread criminal investigation.
"I don't make comments without having the evidence to back it up," she added, saying that elections software switched "millions of votes" from Trump to Democratic nominee Joe Biden.
Powell notably provided legal counsel to Gen. Michael Flynn in 2019. She was named to Trump's legal team in the past several days.
Powell said a whistleblower came forward and said the elections software was designed to "rig elections," saying that "he saw it happen in other countries," referring to voting systems Dominion Voting Systems and Smartmatic, or perhaps other software and machines…
.
.
SpaceX Launches 2nd Crew, Regular Station Crew Flights Begin – Military
.

.
SpaceX launched four astronauts to the International Space Station on Sunday on the first full-fledged taxi flight for NASA by a private company.
The Falcon rocket thundered into the night from Kennedy Space Center with three Americans and one Japanese, the second crew to be launched by SpaceX. The Dragon capsule on top – named Resilience by its crew in light of this year's many challenges, most notably COVID-19 – reached orbit nine minutes later. It is due to reach the space station late Monday and remain there until spring.
"By working together through these difficult times, you've inspired the nation, the world, and in no small part the name of this incredible vehicle, Resilience," Commander Mike Hopkins said right before liftoff…
.
.
New Vaccine Developed In Conjunction With Trump's 'Operation Warp Speed' Is 94.5% Effective, Company Says – Daily Wire
A new Moderna vaccine that was developed in conjunction with Trump administration's Operation Warp Speed is nearly 95 percent effective, according to the company.
"The analysis evaluated 95 confirmed Covid-19 infections among the trial's 30,000 participants," CNBC reported.
"Moderna, which developed its vaccine in collaboration with the National Institute of Allergy and Infectious Diseases, said 90 cases of Covid-19 were observed in the placebo group versus 5 cases observed in the group that received its two-dose vaccine. That resulted in an estimated vaccine efficacy of 94.5%."
The news comes after the Trump's administration's Operation Warp Speed "awarded Moderna a $1.5 billion contract in August to ramp up manufacturing and deliver 100 million vaccine doses, enough for 50 million people," NPR reported. "The government has an option to buy up to 400 million more doses."…
.
.
'I Concede Nothing' 'Rigged Election' 'We Will Win' 'Fake News Media' – Right Scoop
.

.
President Trump this morning tweeted that the networks only called the election for Biden "because the Election was Rigged. NO VOTE WATCHERS OR OBSERVERS allowed, vote tabulated by a Radical Left privately owned company, Dominion, with a bad reputation & bum equipment that couldn't even qualify for Texas (which I won by a lot!), the Fake & Silent Media, & more!"
That tweet was a reply/quote tweet of Jesse Watters saying "Joe Biden didn't earn it, he didn't really even campaign. He thought was going to lose, you could see it. He ran a losing campaign. So 10 days after the election, how's he ahead?"
It was obvious from context what the president meant…
.
.
Assclown Tries To Burn Down His Mother's House When She Refuses To Give Him Drug Money – Crime Online
A Georgia man is back behind bars after he bonded out of jail and promptly violated a judge's order to stay away from his mother's home – which he'd tried to burn down, according to the Clayton County Sheriff's Office.
Khanh Pham, 30, was originally arrested on Septemer 15 when he tried to set his mother's house on fire after she refused to give him money to buy more drugs. Pham was reportedly high on methamphetamine at the time.
When his mother rejected his demand, Pham "retrieved newspaper and attempted to burn the house down," the sheriff's office said.
Family members extinguished the small fire, and then Pham picked a fight with his little brother. Sheriff's officers were called to the scene and arrested Pham for criminal damage to property, reckless conduct, terroristic threats, cruelty to children, and battery. When he bonded out of jail on Friday, the judge told him to stay away from his mother's house…
.
.
Tax Filings Reveal Dementia Joe's Cancer Charity Spent Millions On Salaries, Zero On Research – New York Post
.

.
A cancer charity started by Joe Biden gave out no money to research, and spent most of its contributions on staff salaries, federal filings show.
The Biden Cancer Initiative was founded in 2017 by the former vice president and his wife Jill Biden to "develop and drive implementation of solutions to accelerate progress in cancer prevention, detection, diagnosis, research and care and to reduce disparities in cancer outcomes," according to its IRS mission statement. But it gave out no grants in its first two years, and spent millions on the salaries of former Washington DC aides it hired.
The charity took in $4,809,619 in contributions in fiscal years 2017 and 2018, and spent $3,070,301 on payroll in those two years…
.
.
Over 300,000 People Have Fled DemoNazi-Controlled New York City In Past Eight Months – New York Post
More than 300,000 New Yorkers have bailed from the Big Apple in the last eight months, new stats show.
City residents filed 295,103 change of address requests from March 1 through Oct. 31, according to data The Post obtained from the U.S. Postal Service under a Freedom of Information Act request.
Since the data details only when 11 or more forwarding requests were made to a particular county outside NYC, the number of moves is actually higher. And a single address change could represent an entire household, which means far more than 300,000 New Yorkers fled the five boroughs.
Whatever the exact number, the exodus – which began when COVID-19 hit the city in early spring – is much greater than in prior years. From just March through July, there were 244,895 change of address requests to destinations outside of the city, more than double the 101,342 during the same period in 2019…
.
.
Massive Crowds March In DC To Show Support For Trump, Demand Election Integrity – Epoch Times
.

.
Throngs of people converged at Freedom Plaza in Washington on Saturday, joining other rallies around the country to show support for President Donald Trump and ask for fairness in the election process.
Marching towards the Supreme Court, participants held signs that read "Stop the Steal," "Make America Fair Again," and "Trump 2020." Before the start of the march, the crowd heard speeches from prominent Trump supporters including Rep. Louie Gohmert (R-Texas), My Pillow founder Mike Lindell, and several other activists.
Freedom Plaza and other parts of central D.C. seemed heavily crowded. Ed Martin, one of the event co-organizers, said he estimates 500 thousand people took part, though he says some media are falsely claiming only a few hundred participated…
.
.
'Porch Pirates' Stole More Than $5 Billion Last Year, Survey Says – KKTV
With the peak of online holiday shopping around the corner, a new survey warns that porch pirates are getting ready to set sail. A survey by finder.com reports porch pirates account for $5.4 billion in thefts over the past year.
That amounts to about $157 worth of packages stolen from the average American at their front door or apartment lobby areas.
Consumer advocates worry the problem will get worse, with online purchases expected to be up 11 percent over last year. In fact, more than two-thirds of all holiday shopping will involve home delivery of those gifts.
According to the survey, the thieves are more likely to strike homes or neighborhoods of greater means.
If you want to foil porch pirates, using a post office box, adding a home security camera or requiring a signature release can be effective…
.
.
Wisconsin Supreme Court Strikes Down DemoNazi Governor's Stay-At-Home Order – Washington Times
.

.
The Wisconsin Supreme Court struck down Gov. Tony Evers' coronavirus stay-at-home order Wednesday, ruling that his administration overstepped its authority when it extended it for another month without consulting legislators.
The 4-3 ruling essentially reopens the state, lifting caps on the size of gatherings, allowing people to travel as they please and allowing shuttered businesses to reopen, including bars and restaurants. The Tavern League of Wisconsin swiftly posted the news on its website, telling members, "You can OPEN IMMEDIATELY!"
The decision let stand language that had closed schools, however, and local governments can still impose their own health restrictions. In Dane County, home to the capital of Madison, officials quickly imposed a mandate incorporating most of the statewide order…
.
.
Arizona GOP Files Lawsuit Asking For Hand Count Of Votes By Precinct – Epoch Times
The Republican Party of Arizona has launched a lawsuit seeking a hand count of votes by precinct, as opposed to by voting center, arguing that this could yield a more accurate sampling of vote tallies.
The lawsuit seeks to enforce a hand count by precinct, arguing that this is required by state statute. Maricopa County set up "vote centers" across the county in the 2020 election, rather than voters being assigned "polling places" in their precincts, as has been the traditional practice in prior elections.
"There is a fundamental difference between sampling 'polling centers' and 'precincts,' most notable being the fact that there were only around 175 vote centers this election, but there were 748 precincts," the Arizona GOP wrote in a release.
The Arizona GOP argued that hand-counting by precinct "would therefore potentially result in a more precise sampling of votes."…
.
.
Gang Of Trump-Supporting IT Specialists And Data Analysts Identify More Than 43,000 Ineligible Out-Of-State Votes In Key Swing States – Gateway Pundit
.

.
Another group of Pro-Trump IT experts and Data Analysts are digging into election data. Their work is only beginning and has already paid off as they have located thousands of apparent illegitimate votes in the six states still being counted or involved in recounts or court cases.
Matt Braynard, representing the group tweeted the following yesterday:
Update: – We've discovered the following number of early/absentee voters who filed out-of-state NCOA move notices, suggesting they may have cast illegal ballots due to no longer meeting residency requirements. PA 7,426 GA 17,877 NV 5,145…
.
.
The Plan To Turn Scrapped Rockets Into Space Stations – Wired
In early October, a dead Soviet satellite and the abandoned upper stage of a Chinese rocket narrowly avoided a collision in low Earth orbit. If the objects had crashed, the impact would have blown them to bits and created thousands of new pieces of dangerous space debris.
Only a few days prior, the European Space Agency had published its annual space environment report, which highlighted abandoned rocket bodies as one of the biggest threats to spacecraft.
The best way to mitigate this risk is for launch providers to deorbit their rockets after they've delivered their payload. But if you ask Jeffrey Manber, that's a waste of a perfectly good giant metal tube.
Manber is the CEO of Nanoracks, a space logistics company best known for hosting private payloads on the International Space Station, and for the past few years he has been working on a plan to turn the upper stages of spent rockets into miniature space stations…
.
.
President Trump Reportedly 'Plans To Wreck Fox' News And Launch His Own Digital Media Streaming Company – Daily Caller
.

.
President Donald Trump reportedly "plans to wreck Fox" News by launching his own digital media channel, Axios reported Thursday.
Trump was angered after the network called Arizona for President-elect Joe Biden with just 73% of votes counted – and he made it known publicly. The president's aim in launching a media channel would be "to clobber Fox News and undermine" the network, according to Axios, which cited multiple sources.
"He plans to wreck Fox. No doubt about it," Axios reported one source as saying. Specifically, the president is not leaning towards launching a cable channel due to the time and costs associated. Trump is, however, toying with the idea of an online streaming media channel…
.
.
Suicidal Fox News Network Fires Trey Gowdy For Joining President Trump's Legal Team – CNBC
Former Rep. Trey Gowdy was fired as a Fox News contributor, a spokesperson for the network told CNBC on Wednesday, as he joins President Donald Trump's outside counsel amid an impeachment inquiry into the president.
The spokesperson said Gowdy "has been terminated and is no longer a contributor" to Fox, where the South Carolina Republican had appeared just days before to discuss the ongoing impeachment inquiry in the House.
A source familiar with the situation noted that Gowdy representing the president would pose a conflict of interest with his role as a Fox contributor. Gowdy's agent waited to confirm the job change, the source told CNBC, which is why Fox revealed that he is no longer a contributor prior to an official announcement about his new role as Trump's counsel.
Multiple outlets, including Fox, reported this week that Gowdy was hired to serve as outside counsel to Trump…