.
30,000 People Participate In Anti-Communist, Latinos For Trump Caravan In Miami, Florida – Newsweek
.

.
The state of Florida has been a major battleground state during U.S. presidential elections this century. This year is no different. On Saturday in Miami, tens of thousands of Latin American descendants and originals congregated to make their voices heard in the strategic area of South Florida. In the name of Trump.
Thousands of Trump supporters hit the streets in Miami on Saturday in their vehicles, forming a parade in a caravan that ranged from Pro-Trump to "free Cuba" and other socialist-held countries in Latin America.
The caravan in the Greater Miami area was projected from 20,000 to 30,000 people, all social distanced in their cars because of COVID-19…
.
.
Your Black Muslim Bakery Tried To Steal $22 Million, But Isn't Killing People Anymore – Daniel Greenfield
Most bakeries kill people with fattening sugary sweets. Your Black Muslim Bakery was a health food bakery with no sugar, fats or food coloring according to the guidance of the Koran.
It had other ways of killing people.
Since Your Black Muslim Bakery opened in the sixties it has not only racked up a bigger body count than most bakeries, but could give a decent Mexican cartel a run for its money. When its members weren't assaulting black restaurant owners for serving pork or black storekeepers for selling liquor, they were torturing, killing, raping, and politicking their way across Oakland.
Your Black Muslim Bakery is an Oakland institution. Or a crime ring with Democrat ties.
On the one hand there are the rapes, kidnappings, frauds, and murders. On the other are Senator Kamala Harris, Rep. Barbara Lee, and other pillars of the Democrat establishment…
.
.
What If Dementia Joe Held A Campaign Event And No One Showed Up? – Right Scoop
.

.
What if Joe Biden and Kamala Harris held an event and no one came? Would it make a sound?
Yes, it would, and that sound would be a surprised reporter in Arizona, in a clip that has gone viral but caused some doubts about authenticity.
After James Woods tweeted it there were a lot of doubts about whether it was legit. Well you can rest assured that it is. The reporter is Nicole Garcia, and she tweeted from the location.
"I'm told by one of the Biden staffers, local staffers, that they kind of kept the details about the visit, as far as the timing and the exact location, they didn't really want to give that out to the public, because they want to keep the crowds to a minimum," said Garcia…
.
.
White House Doctor: President Trump No Longer At Risk Of Transmitting China Virus – Trending Politics
President Trump's remarkable recovery from COVID-19 continues with the leader of the free world getting the green light to return to the campaign trail.
According to Trump's doctor, the POTUS is no longer at risk of spreading the virus to others, a development that will inevitably result in a torrent of conspiracy theories from Democrats and their media mouthpieces.
In a Saturday memo released by the White House, Dr. Sean Conley confirmed the good news that the president will be able to spend the remaining weeks before the election making his case for reelection to the American people.
According to Dr. Conley:
"This evening I am happy to report that in addition to the President meeting CDC criteria for the safe discontinuation of isolation, this morning's COVID PCR sample demonstrates, by currently recognized standards, he is no longer a transmission risk to others"…
.
.
BLM/Antifa Terrorists Topple Statues Of Abraham Lincoln And Teddy Roosevelt In Portland, Oregon – RT
.

.
Police cleared the streets of central Portland after rioters pulled down the statues of two U.S. presidents and carried out other acts of vandalism in the city, as part of an "Indigenous Peoples Day of Rage" protest.
Demonstrators targeted statues of Theodore Roosevelt and Abraham Lincoln as they marched through downtown Portland on Sunday night.
Footage shows a crowd cheering as the statue of Roosevelt mounted on a horse is pulled down. The statue was then covered in orange paint and "stolen land" and "murderer" were painted on the base of the sculpture. Roosevelt has been accused of supporting policies that pushed Native Americans off their ancestral lands…
.
.
Trump Administration Warns Anti-White Discrimination May Cost Corporations Their Federal Contracts – Big League Politics
The Trump administration is warning multinational corporations that their supposed commitments to diversity could cost them federal contracts if it is determined that their behavior is discriminatory against white people.
The Labor Department under President Donald Trump is using a 55-year-old presidential order that arose during the Civil Rights Movement to put companies like Microsoft and Wells Fargo under the microscope for their actions that keep qualified white American workers out of positions they deserve.
"The letter asked us to prove that the actions we are taking to improve opportunities are not illegal race-based decisions," said Dev Stahlkopf, Microsoft's general counsel. "Emphatically, they are not."
The Labor Department responded that it "appreciates Microsoft's assurance on its website that it is not engaging in racial preferences or quotas in seeking to reach its affirmative action and outreach goals."…
.
.
'Non-Partisan' Chairman Of Presidential Debate Commission Linked To Steele Dossier & More – Zero Hedge
.

.
White House Press Secretary Kayleigh McEnany dared to 'spew' what many call 'hate speech' this week when she tweeted about the extreme and obvious bias (some might say it's systemic) from the Commission on Presidential Debates.
What drove Kayleigh to such un-presidential comments? Hmm, let's see…
Chris Wallace, moderator of the first presidential debate, was widely panned for his non-centrist bias during the chaotic to and fro. Having expressly stated before the event that he wouldn't operate as a fact-checker, that's all he did for at least the first hour of the debate; interrupting Trump but not Biden at nearly every turn, blocking the incumbent before he could correct mischaracterizations and flat-out lies from Biden, to full-throated arguments with the president despite lobbing soft-ball questions – or no questions at all – to the former vice president, Wallace's presentation was appalling…
.
.
WHO Official Urges World Leaders To Stop Using Lockdowns As Primary Method Against China Virus – Epoch Times
The World Health Organization's special envoy on COVID-19 has urged world leaders to stop using lockdowns as the primary control method against the spread of the Chinese Communist Party (CCP) virus, commonly known as the novel coronavirus.
"We in the World Health Organization do not advocate lockdowns as the primary means of control of this virus," David Nabarro told The Spectator in an interview aired on Oct. 8. "The only time we believe a lockdown is justified is to buy you time to reorganize, regroup, rebalance your resources, protect your health workers who are exhausted, but by and large, we'd rather not do it."
Nabarro pointed to the collateral damage that lockdowns are having worldwide, especially among poorer populations.
"Just look at what's happened to the tourism industry, for example in the Caribbean or in the Pacific, because people aren't taking their holidays…
.
.
Dementia Joe To Pennsylvanians: "You're Trying Your Breast, But It Never Feels Like Enough" – PJ Media
.

.
After absurdly pulling down his face mask to cough during a campaign event in Las Vegas on Friday, Joe Biden decided to ditch the face mask while campaigning in Erie, Pa., on Saturday.
But maybe that wasn't such a good idea. And I don't mean because of the obvious inconsistency of when and where he wears a face mask.
Maybe he should have worn the mask so that he could have blamed the following gaffe on the mask muddling his words.
"Everywhere I've been hearing all around the country, 'You're trying your breast, but it never feels like enough.'"
Oh, Joe… really?
.
.
New Orleans Priest Arrested, Charged With Obscenity After Being Caught Having Sex With Two Dominatrices On Church Altar – Big League Politics
A New Orleans Catholic priest has been arrested and charged with obscenity after being caught filming a pornographic video with a prostitute and a pornographic actress on a church altar.
Father Travis Clark of the Archdiocese of New Orleans was arrested and charged with obscenity after a parishioner discovered him filming sexual acts with two women on the church altar of Sts. Peter and Paul.
Court documents indicate that Clark had been utilizing a filming setup to record a pornographic film when a parishioner noticed church lights were in use, before notifying the police when observing his activities through a window.
Mindy Dixon, 41, and Melissa Cheng, 23 were also arrested and charged under provisions of Louisiana law that criminalize sexual acts within public view. One of the women arrested for the act, a self-identifying satanist, had announced in a tweet that she was planning on "defiling a house of God" the weekend before her arrest…
.
.
Dementia Joe: Voters Don't Deserve To Know If I Intend To Pack The Supreme Court – Daily Wire
.

.
Democratic presidential nominee Joe Biden told a local news reporter on Friday afternoon that voters do not deserve to know whether he will pack the Supreme Court if he wins the upcoming the election.
"Sir, I've got to ask you about packing the courts and I know you said yesterday you aren't going to answer the question until after the election, but this is the number one thing that I've been asking about from viewers in the past couple of days," the reporter said to Biden.
"Well, you've been asked by the viewers who are probably Republicans who don't me continuing to talk about what they're doing to the court right now," Biden responded.
"Well sir, don't the voters deserve to know?" the reporter pressed.
"No, they don't," Biden responded…
.
.
Romania Signs Nuclear Deal With U.S. After Cancellation Of Agreement With China – Epoch Times
Romania's economy ministry agreed on Oct. 9 on cooperation and financing agreements with the United States regarding the construction of two nuclear reactors at its plant on the river Danube and refurbishment of one of its existing units, after the Romanian-Chinese partnership to expand the plant by two new reactors ended earlier this year.
U.S. Secretary of Energy Dan Brouillette and Romania's Minister of Economy and Energy Virgil Popescu initialed a draft intergovernmental agreement in Washington to cooperate on the expansion and modernization of Romania's civil nuclear power program, U.S. Department of Energy announced in a statement.
The move came after state-owned energy company Nuclearelectrica ended – on a Romanian government request – its 5-year-old partnership with China General Nuclear Power Group (CGN), which intended to build two new 700-megawatt reactors at the plant in Cernavoda.
The Chinese Communist Party's (CCP) "control of every Chinese company, domestically and abroad, poses an existential danger," U.S. Ambassador to Romania Adrian Zuckerman said…
.
.
DemoNazi Mayoral Candidate From Texas Arrested, Charged With 109 Election Fraud Felonies In Alleged Absentee Ballot Scheme – Big League Politics
.

.
A candidate for mayor of a Dallas suburb has been arrested and charged with 109 felonies pertaining to election an ballot fraud, with Denton County authorities alleging he oversaw a complicated election fraud scheme in which absentee ballots of voters were falsely mailed to a nursing home.
Zul Mirza Mohamed is running for mayor of Carrollton, Texas. He was arrested on Wednesday night after police reportedly found 25 mail-in absentee ballots in his residence while executing a search warrant.
The Denton County Board of Elections had contacted the Denton Sheriff's Office after they received more than 80 requests for mail-in ballots at a PO box supposedly affiliated with one nursing home, an unusually large request even for such a residence.
.
.
Ohio's Franklin County Says Nearly 50,000 Voters Got Wrong Absentee Ballots – Epoch Times
Officials in Ohio said that about 50,000 voters in Franklin County received incorrect absentee ballots in the mail.
"We can now confirm that 49,669 voters received an incorrect ballot. Those voters will be contacted directly by the Franklin County Board of Elections and a replacement ballot will be mailed to them," said the Franklin County Board of Elections.
In a news release on Friday, the board said it's started the process of printing out new absentee ballots to replace the erroneous ones, and it will mail the replacements to every voter who got the wrong ballot. Those ballots will be sent via the U.S. Postal Service (USPS) in the next 72 hours, officials said.
"We want to make it clear that every voter who received an inaccurate ballot will receive a corrected ballot," the board said. "Stringent tracking measures are in place to guarantee that a voter can only cast one vote."…
.
.
President Trump Holds Largest Virtual Rally In History On The Rush Limbaugh Radio Program – Atlanta Journal Constitution
.

.
President Donald Trump appeared on Rush Limbaugh's nationally syndicated talk show Friday in what the radio host called "the largest virtual rally in radio history."
Trump spoke extensively on a wide range of topics, including his coronavirus recovery. "I was in not great shape" when he was admitted last week to Walter Reed Medical Center. Now the president said he is not taking any drugs at all.
"I'm not taking anything," Trump said. "I'm off any regimen they gave me." But "I might not have recovered at all without the Regeneron cocktail."
Trump's appearance came hours after House Speaker Nancy Pelosi unveiled a legislative attempt that would allow Congress to remove a sitting president from office…
.
.
"I'm Not Going To Waste My Time": Trump Rejects 'Virtual Debate' With Dementia Joe – Epoch Times
The Commission on Presidential Debates (CPD) announced on Oct. 8 that the second debate between President Donald Trump and Democratic nominee Joe Biden will be held virtually, with the president saying he would not take part in a virtual debate.
The non-partisan commission said the debate, scheduled for Oct. 15, would take the form of a town meeting in which the candidates will take part remotely from separate locations, with the aim being "to protect the health and safety of all involved." The debate moderator, Steve Scully of C-SPAN Networks, as well as town meeting participants, will be on location at the Adrienne Arsht Center for the Performing Arts in Miami, Florida.
President Donald Trump, in remarks to Fox News minutes after the CPD announcement, said he would not take part in a virtual debate.
"The commission changed the debate style and that's not acceptable to us," Trump said on "Mornings with Maria."…
.
.
Dementia Joe Now Under Federal Criminal Investigation For His Role In Spygate Conspiracy – American Truth Today
.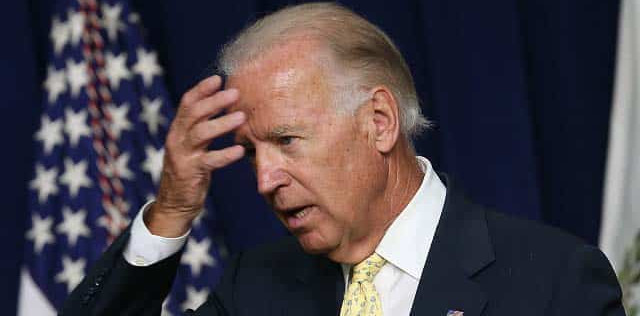 .
Joe Biden is now the subject of an active federal criminal investigation into his role in the CI probe directed at Trump's 2016 campaign.
Recall, Joe Biden was in a January 5, 2017 secret Oval Office meeting discussing General Flynn's phone calls with Russian Ambassador Kislyak with Obama, Yates, Comey, Rice and Brennan and 7 days later he sought to unmask Flynn.
Then-Vice President Joe Biden sought to unmask General Flynn on January 12, 2017 – the same day David Ignatius published his WaPo article about Flynn's communications with Russian Ambassador Sergey Kislyak. The criminal investigation into Biden also includes his actives in the Ukraine…
.
.
Covid-19 Is 'Unrestricted Bioweapon': Whistleblower Releases Second Paper Alleging 'Large-Scale, Organized Scientific Fraud' – Zero Hedge
Li-Meng Yan, A Chinese virologist (MD, PhD) who worked in a WHO reference lab and fled her position at the University of Hong Kong, has published a second co-authored report, alleging that SARS-CoV-2, the virus which causes COVID-19, was not only created in a Wuhan lab, it's an "unrestricted bioweapon" which was intentionally released.
"We used biological evidence and in-depth analyses to show that SARS-CoV-2 must be a laboratory product, which was created by using a template virus (ZC45/ZXC21) owned by military research laboratories under the control of the Chinese Communist Party (CCP) government," reads the paper.
SARS-CoV 2 is a product of laboratory modification, which can be created in approximately six months using a template virus owned by a laboratory of the People's Liberation Army (PLA). The fact that data fabrications were used to cover up the true origin of SARS-CoV 2 further implicates that the laboratory modification here is beyond simple gain-of-function research…
.
.
Over 11,000 Scientists Sign Petition Urging End To Covid-19 Lockdowns – Epoch Times
.

.
More than 11,000 scientists and medical practitioners have signed a petition against lockdown measures put in place to curb the spread of COVID-19, the disease caused by the CCP (Chinese Communist Party) virus, saying that they are causing "irreparable damage."
At least 7,000 medical practitioners, and 4,000 medical and public health scientists joined more than 100,000 members of the general public in signing the petition, which was created on Oct. 4 and co-authored by Harvard professor of medicine Dr. Martin Kulldorff, Oxford professor Dr. Sunetra Gupta, and Stanford Medical School professor Dr. Jay Bhattacharya.
"As infectious disease epidemiologists and public health scientists we have grave concerns about the damaging physical and mental health impacts of the prevailing COVID-19 policies…
.
.
ICE Operation Nabs Over 125 Illegals, Including Convicted Murderers, Set Free By California DemoNazis – Breitbart
More than 125 criminal illegal aliens, including those convicted of murder, were arrested by the Immigration and Customs Enforcement (ICE) agency after the sanctuary state of California set them free.
In a sting from September 18 to October 3, known as Operation Rise, ICE agents arrested more than 125 illegal aliens across California, 95 percent of whom had criminal convictions or pending charges for crimes such as homicide, sexual assault, child sex crimes, aggravated assault, battery, domestic abuse, and firearms violations.
All of the illegal aliens had been released into American communities by California's sanctuary policies that shield criminal illegal aliens from arrest and deportation. In each of the cases, ICE officials said they had requested that the illegal aliens be turned over to them.
Among those arrested in Operation Rise are:
A 40-year-old citizen and national of El Salvador arrested on Sept. 29 in Los Angeles and convicted by the Los Angeles Superior Court of first-degree murder…
.
.
DemoNazi Election Fraud Update: Countless Trump Mail-In Ballot Applications Shredded In Back Of Tractor Trailer hHeaded For Pennsylvania – Right Scoop
.

.
A man in Indiana took video of a tractor trailer full of shredded mail-in ballot application mailers with Trump's face on them that were destined for Pennsylvania.
Just to be clear, these are only application mailers and not official ballots. But still, this is pretty incredible.
For someone to go to this much trouble to destroy hundreds, possibly thousands of these ballot applications that were paid for with real money is worthy of a criminal investigation.
From what it looks like they were paid for by a super pac named Trump Victory…