.
Rochester, NY Police Chief, Entire Command Staff Retire After DemoNazi Mayor Enlists 'Elders' To Serve As Human Shields For BLM Terrorists – Information Liberation
.

.
Rochester Police Chief La'Ron Singletary and his entire command staff announced their sudden retirements on Tuesday, just two days after Mayor Lovely Warren announced a plan to enlist "elders" to serve as human shields for "protesters" who rioted for days, attacked police, attacked diners at restaurants and set fire to a black-owned business.
Rochester Police Chief La'Ron Singletary released the following statement:
Today, after 20 years of dedicated service to the Rochester Police Department and the Rochester Community, I announce my retirement from the Rochester Police Department. For the past two decades, I have served this community with honor, pride, and the highest integrity…
MORE
.
—————————————————————————————
.
U.S. Cancels Over 1,000 Visas For Chinese Nationals Deemed Security Risks – CNBC
The United States has revoked visas for more than 1,000 Chinese nationals under a May 29 presidential proclamation to suspend entry to Chinese students and researchers deemed security risks, a State Department spokeswoman said on Wednesday.
The acting head of the U.S. Department of Homeland Security, Chad Wolf, said earlier that Washington was blocking visas "for certain Chinese graduate students and researchers with ties to China's military fusion strategy to prevent them from stealing and otherwise appropriating sensitive research."
In a speech, Wolf repeated U.S. charges of unjust business practices and industrial espionage by China, including attempts to steal coronavirus research, and accused it of abusing student visas to exploit American academia.
Wolf said the United States was also "preventing goods produced from slave labor from entering our markets…
MORE
.
—————————————————————————————
.
Twice-Elected Dem Sheriff Switches To GOP, Says Dems Are Burning The Flag Every Day – WorldNetDaily
.

.
A Democratic sheriff in Indiana has publicly abandoned his party just two months ahead of the November election, and he cited his faith and attacks from members of his former party on law enforcement and the American flag on the way out.
Vanderburgh County Sheriff Dave Wedding announced the switch last week outside of a business in Evansville while in the presence of Indiana Lt. Gov. Suzanne Crouch, a Republican.
The Evansville Courier & Press reported Wedding was elected sheriff as a Democrat in 2014 and again in 2018.
By switching parties publicly, he wanted to make a statement against nationwide civil unrest and anti-police sentiment, according to WFIE-TV…
MORE
.
—————————————————————————————
.
Dementia Joe Claims Over 6,000 U.S. Soldiers Have Died From Covid-19; The Actual Number Is 7 – KRDO
In a campaign speech in Michigan focused on manufacturing and union support, Democratic presidential nominee Joe Biden closed out his remarks Wednesday by reading from a list of U.S. troop fatalities.
Biden told the audience that he carries an updated list with him of the number of troops lost and wounded in Afghanistan and Iraq on the back of his schedule.
After reading several figures of soldiers who had died or been wounded, the former vice president said there had been 6,114 "military Covid deaths" and 118,984 "military Covid [infections]."
Facts First: This is wrong – and not just by a little. Biden overstated the number of military Covid deaths by 6,107 and infections by nearly 79,000. There have been seven deaths in the military due to Covid-19 and 40,026 cases as of September 9, according to the Defense Department…
MORE
.
—————————————————————————————
.
Amazon Announces Virtual Career Fair Offering 33,000 New Jobs That Pay An Average Of $150,000 A Year – Daily Mail
.

.
Amazon is inviting the public to take part in a virtual career fair next week where prospective hires can submit resumes for its corporate and tech divisions as the retailing juggernaut continues its expansion during the COVID-19 pandemic.
In the latest sign of how it's prospering while others are faltering during the global public health crisis, Amazon said on Wednesday it is seeking to bring aboard 33,000 people for corporate and tech roles in the next few months.
It's the largest number of job openings it's had at one time, and the Seattle-based online behemoth said the hiring is not related to the jobs it typically offers ahead of the busy holiday shopping season…
MORE
.
—————————————————————————————
.
Northrop Grumman Wins $13.3 Billion Contract To Build New ICBM – Zero Hedge
Defense firm Northrop Grumman has announced it has landed a major defense contract to lead in developing America's Ground Based Strategic Deterrent program. It won a whopping $13.3 billion Air Force contract to build the Pentagon's next-generation intercontinental ballistic missile (ICBM), crucial in nuclear deterrence.
A Northrop Grumman press release said that a team nationwide that will include over 10,000 engineers, scientists and technicians will spend eight-and-a-half years building the new missile, with an expected operational goal of 2029.
In a Tuesday press conference announcing the contract, Defense Secretary Mark Esper affirmed the controversial plans to push forward America's nuclear arsenal, at a time fears grow of a 'new Cold War' arms race with Russia and China, also as the New START treaty hangs in the balance.
"Modernizing the nuclear strategic triad is a top priority of our military," Esper said. "It's key to our nation's defense…
MORE
.
—————————————————————————————
.
President Trump Adds Ted Cruz To List Of Potential Supreme Court Nominees – Daily Wire
.

.
President Donald Trump released a new list of prospective Supreme Court nominees that he will consider selecting from if he is re-elected to a second term, and called on Democrat presidential nominee Joe Biden do the same.
"President Trump has a stellar record of appointing more than 200 solid, conservative federal judges, including two strong Supreme Court justices, and will likely get to 300 judges by the end of his first term," said Bill Stepien, Trump 2020 campaign manager. "Voters deserve transparency and a clear view of what direction candidates for president would take our federal courts. We now forcefully demand that Joe Biden do the same."
Trump announced that the following 20 additional names had been added to his list of potential nominees…
MORE
.
—————————————————————————————
.
DemoNazi Whores Who Attacked 7-Year-Old And Stole His MAGA Hat Indicted On Felony Hate Crime Charges – Just The News
Two Delaware women have been indicted on hate-crime and theft charges related to a MAGA cap being taken outside a Democratic National Convention event in Wilmington.
The women, Olivia Winslow and Camryn Amy, both 21, were indicted Tuesday by a grand jury on charges of second-degree robbery, second-degree conspiracy, endangering the welfare of a child, third-degree assault, attempted third-degree assault, offensive touching and felony hate crimes, according to Delaware Online.
The Aug. 20 incident was recorded on what became a viral video that appears to show the women tearing up Trump signs and snatching a MAGA hat from the ground near the site of Democrat presidential nominee Joe Biden's acceptance speech.
The video also appears to show a confrontation between the women and adults coming to the defense of a 7-year-old President Trump supporter. When one of the women appears to grab the Trump cap, the child is heard saying,"That's somebody else's hat."…
MORE
.
—————————————————————————————
.
Why Trump Deserves The Nobel – Ari Lieberman
.

.
On August 13, President Donald Trump shocked the world when he announced that his administration had brokered a peace deal that established normalized relations between Israel and the United Arab Emirates.
The UAE becomes the third Arab nation to forge normalized ties with the Jewish state after Egypt (1979) and Jordan (1994). Moreover, the agreement, which has been aptly referred to by the administration as the Abraham Accord, paves the way for normalized relations with other Arab countries, including the Gulf States of Oman and Bahrain.
Saudi Arabia and Bahrain have since announced that they will open their skies to Israeli commercial traffic, signaling further détente with the Arab world…
MORE
.
—————————————————————————————
.
Salon Owner Who Nancy Pelosi Claims 'Set Her Up' Has Received Over $300,000 From GoFundMe Donors So Far – The Hill
The San Francisco salon owner, who Speaker Nancy Pelosi (D-Calif.) alleges set her up by recording her visit to the facility without a mask last week, has received more than $300,000 in donations.
A GoFundMe page for Erica Kious, the owner of the salon where Pelosi was videotaped without a mask for a hair appointment, raised $310,725 from 8,800 donors as of Tuesday afternoon. The fundraiser surpassed its $300,000 goal on Labor Day.
Kious thanked the donors, her daughters, their "loving dad," and her family and friends in a letter published on the page on Monday.
"I wish I could personally thank every person who sent me their prayers, words of encouragement and support, especially at a time when so many are struggling to make ends meet in their own lives," she wrote…
MORE
.
—————————————————————————————
.
Rochester, NY TV Station Ignores Attack On Its Own Reporter By Knife-Wielding BLM Terrorists, Refers To Mob As 'Peaceful' – Information Liberation
.

.
WHEC reporter Charles Molineaux was attacked and chased by a knife-wielding Black Lives Matter mob during "protests" on Sunday night in Rochester and yet his own news station ignored the incident and described the night's "protests" as "peaceful" on their front page.
Video shows Molineaux and his security guard getting attacked and called "Nazis" after apparently getting accused of being undercover cops. An African-American man with a knife is seen running at them and threatening to stab them repeatedly, only backing down when Molineaux's security guard turns around to defend him with an expandable baton.
The top story on WHEC on Monday morning had a header image reading, "Demonstrations end peacefully overnight." …
MORE
.
—————————————————————————————
.
Dementia Joe Admits His Own National Mask Mandate Proposal Is Unconstitutional – Breitbart
Joe Biden admitted on Monday that his own proposed national mask mandate is unconstitutional. Biden has repeatedly called for a federal mandate, often using it as an example of what he would do differently about the coronavirus than President Trump, whom Biden claims "failed to act."
But he told CBS 5 in Arizona, "There's a constitutional issue whether the federal government can issue such a mandate." He added, "I don't think constitutionally they could, so I wouldn't issue a mandate."
On Wednesday, he denied ever calling for a mandate and claimed he was a "constitutionalist." He said he would ask governors, mayors, county executives – anyone in authority – to impose one.
"I'm a constitutionalist," Biden declared. "You can't do things the Constitution does not allow you the power to do."…
MORE
.
—————————————————————————————
.
Estimated Four Thousand Boats Join Pro-Trump 'Great American Boat Parade' In Gainesville, Georgia – Breitbart
.

.
About 4,000 boats reportedly joined a pro-Donald Trump boat parade on Lake Lanier in Gainesville, Georgia, Sunday morning. Reporter Maura Sirianni tweeted footage of the event, noting that the turnout exceeded expectations. "Organizers of the parade previously said they only expected about 700 boats," she tweeted.
The event's Facebook page recorded 1,900 people attended the event with another 2,700 "interested."
"What a great way to show support for Our first responders and the leadership of this great nation. Let's come together as Brothers and Sisters and celebrate these very freedoms," the page read…
MORE
.
—————————————————————————————
.
Leftist Psychopathy Update: Retired Teacher Under Investigation By Capitol Police After Threatening To Shoot Pro-Trump Congressman Gosar In The Head – Gateway Pundit
A retired teacher is under investigation by the Capitol Police for threatening to shoot pro-Trump GOP Congressman Paul Gosar (AZ) in the head. Gosar's staffer retrieved a threatening voicemail on Monday morning which was left during the weekend.
A retired teacher, who was identified through caller ID as Margaret Kathleen Spangenberg of Glendale, Arizona, left a 36-second message for Gosar threatening to kill him because he supports President Trump.
Threatening congressional officials is a felony and carries penalties of 5 to 10 years in prison.
Via the Arizona Daily Independent:
There was a 36-second message on the phone from a woman, who was apparently not happy with the conservative congressman:

"So, the way I see it, since you supported a child rapist who has 65 years of crimes and you are doing shit about Covid, and I've had people die, I think it's totally ok for me to come with my gun and shoot you in the head…
MORE
.
—————————————————————————————
.
District Of Columbia Sends 2,400 Incarcerated Felons Voter Registration Forms – Just The News
.

.
The District of Columbia Board of Elections has sent voter-registration forms to roughly 2,400 incarcerated felons for the November elections, implementing a new municipal law that allows individuals with a felony record to vote.
The voter-registration forms have been sent to incarcerated D.C. residents at 107 separate federal facilities across the U.S., allowing them to vote by absentee ballot this November. The district in July restored voting rights to people serving time for felony convictions. Maine and Vermont have similar measures.
A D.C. election board official said Wednesday that the agency is working with the Federal Bureau of Prisons to ensure registration forms can be returned fast enough for the inmates to vote…
MORE
.
—————————————————————————————
.
674 U.S. Veterans Issue Open Letter Supporting President Trump In Face Of "Recent Baseless Media Attacks" – Breitbart
Nearly 700 American veterans have issued an open letter affirming their support of President Trump against establishment media attacks weeks before the 2020 presidential election.
This week, The Atlantic journalist Jeffrey Goldberg published a story citing anonymous sources, claiming that Trump did not want to visit the Aisne-Marne American Cemetery at the site of Battle of Belleau Wood in 2018. The story, citing those anonymous sources, claims Trump called the cemetery "filled with losers" and referred to fallen soldiers who died at Belleau Wood as "suckers."
In an open letter obtained exclusively by Breitbart News, about 674 veterans wrote that their support for Trump, against attacks by the establishment media, remains unwavering because of his record of supporting the United States military and ending foreign wars.
"Recent baseless media attacks against President Trump from anonymous sources are just another example of the depths to which the President's opponents are willing to descend to divide the nation and meddle in this election," the veterans write…
MORE
.
—————————————————————————————
.
President Trump Ends Psychotic 'White Privilege' Diversity Training In Federal Government – Washington Times
.

.
President Trump has ordered his administration to stop paying for so-called "critical race theory" diversity training in federal agencies, with a top official calling the sessions "un-American propaganda," The Washington Times has learned.
In a memo issued to federal agencies on Friday, Office of Management and Budget Director Russell Vought said it has come to the president's attention that the executive branch has "spent millions of taxpayer dollars to date 'training' government workers to believe divisive, anti-American propaganda."
Citing press reports, Mr. Vought said employees across the executive branch have been required to attend training sessions where they are told that "virtually all White people contribute to racism"…
MORE
.
—————————————————————————————
.
Dementia Joe: Prisoners Are Entitled To Pell Grants, Food Stamps, Housing Subsidies – CNS
Democratic presidential nominee and former Vice President Joe Biden said people who go to prison shouldn't be barred from receiving federal grants to go to college, food stamps or housing subsidies.
"My view is we should turn prison reform – and I've been preaching this the last five years – from prison punishment to reform. So for example, anybody serves their time in prison when they get out, they should be entitled to every single program that exists under the federal government," he said Thursday speaking at a church in Kenosha, Wis.
"Why don't we want them getting a Pell grant and going to school? Why don't we want them getting a job and being able to get public housing subsidies? Why don't we want them qualifying for what used to be called food stamps?" Biden said.
"But right now, I wrote years ago with a guy named Specter, a senator from Pennsylvania, the Second Chance Act…
MORE
.
—————————————————————————————
.
President Trump Oversees Historic Serbia-Kosovo Normalization Deal With Great News For Israel – Daily Wire
.

.
On Friday, President Trump oversaw representatives of Serbia and Kosovo as they signed a historic normalization of relations, topped by another achievement for Trump regarding the state of Israel as the Jewish state's unprecedented relationship with an American president rose to another peak: Kosovo, a majority Muslim country, acknowledged recognition of Israel, and Serbia agreed to move its embassy to Jerusalem.
Trump tweeted, "Another great day for peace with Middle East – Muslim-majority Kosovo and Israel have agreed to normalize ties and establish diplomatic relations. Well-done! More Islamic and Arab nations will follow soon!"
The latest historic good news for Israel followed the recent agreement reached between the United Arab Emirates and Israel on opening relations between the two countries…
MORE
.
—————————————————————————————
.
Fraternal Order Of Police Endorses President Trump, Including Lodge In Dementia Joe's Home State – Just The News
The Fraternal Order of Police, one of the nation's largest law enforcement organizations, on Friday unanimously gave its national endorsement to President Trump's re-election, while its local lodge in Delaware turned its back on home state son Joe Biden to also support the GOP nominee.
"Look at what the national discourse has focused on for the last six months. President Trump has shown time after time that he supports our law enforcement officers and understands the issues our members face every day," FOP National President Patrick Yoes said in announcing the endorsement.
"The FOP is proud to endorse a candidate who calls for law and order across our nation. He has the full and enthusiastic support of the FOP."
The national FOP, which represents 355,000 officers, endorsed Trump in 2016 but sat out the 2012 race between Mitt Romney and Barack Obama. It last endorsed a Democrat in 1996 when Bill Clinton won re-election…
MORE
.
—————————————————————————————
.
UN Forced To Admit Gates-Funded Vaccine Is Causing Polio Outbreak In Africa – Zero Hedge
.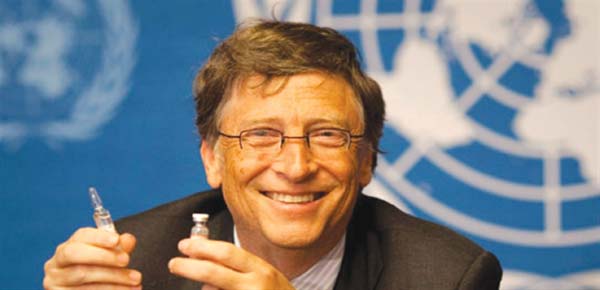 .
This really should be one of the biggest scandals in public health, but it's given little attention – mainly because of the high-profile nature of the people and organisations involved.
The United Nations has been forced to admit that a major international vaccine initiative is actually causing the outbreak of the very disease it was supposed to wipe-out.
While international organisations like the World Health Organization (WHO) will regular boast about supposedly 'eradicating polio' with vaccines, the opposite seems to be the case. Their decades-long campaign to eradicate polio is now killing scores of innocent young people living in poor countries…