.
Facebook, Google/YouTube, Twitter Censor Viral Video Of Doctors' Capitol Hill Coronavirus Press Conference – Breitbart
Facebook has removed a video posted by Breitbart News earlier today, which was the top-performing Facebook post in the world Monday afternoon, of a press conference in D.C. held by the group America's Frontline Doctors and organized and sponsored by the Tea Party Patriots.
The press conference featured Rep. Ralph Norman (R-SC) and frontline doctors sharing their views and opinions on coronavirus and the medical response to the pandemic. YouTube (which is owned by Google) and Twitter subsequently removed footage of the press conference as well.
The video accumulated over 17 million views during the eight hours it was hosted on Facebook, with over 185,000 concurrent viewers.
The livestream had accumulated over 17 million views by the time of its censorship by Facebook. In terms of viral velocity, the post was beating content from many other prominent accounts on Facebook today…
MORE
.
—————————————————————————————
.
Police Release Photos Of Suspect In Trump Super-Supporter Bernell Trammell's Murder – BizPac Review
.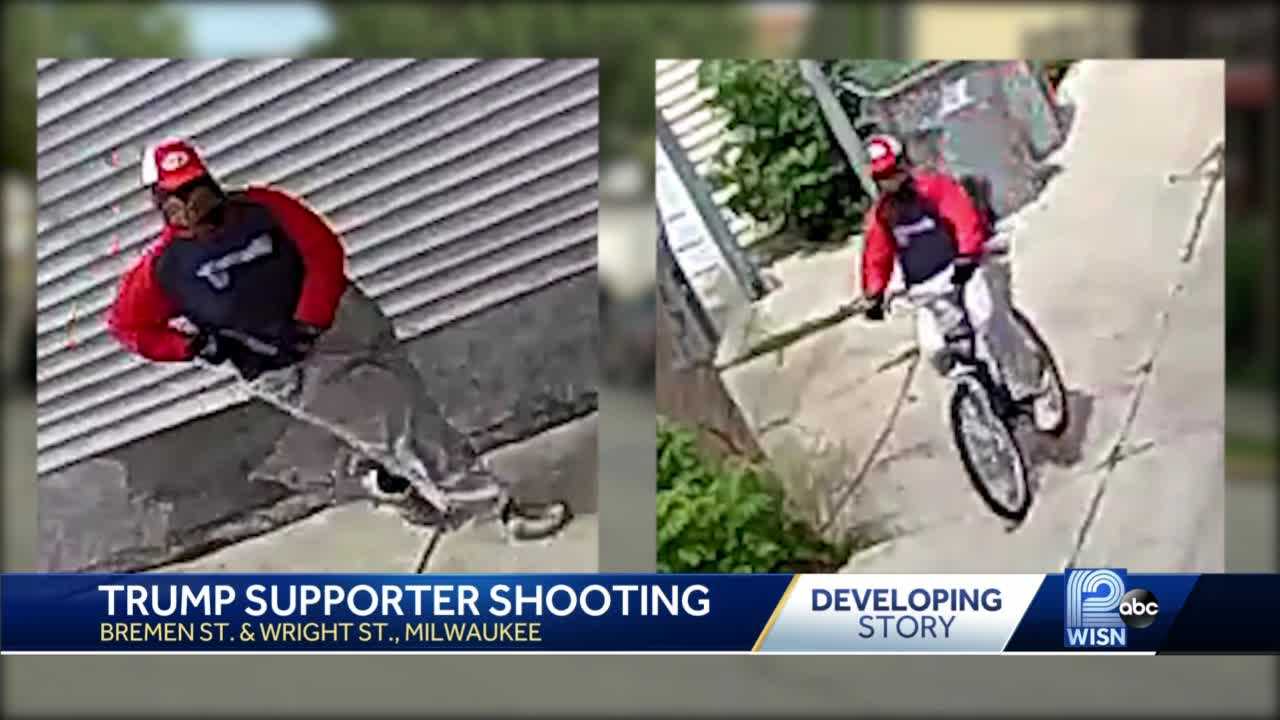 .
Milwaukee police have released images of the man suspected of killing a Trump supporter in broad daylight.
The Milwaukee Police department asked for the public's help in identifying a man they believe is connected to the slaying of Bernell Trammell, the well-known black man who had been a vocal supporter of President Donald Trump. The motive for the shooting is still under investigation as officials are searching for the suspect, a man believed to be in his 30s.
Surveillance images of the man were released Monday, describing the suspect as someone standing 6′ tall, weighing 200 pounds and riding a black bicycle. He was "last seen wearing a white and red baseball cap, a black mask covering the lower portion of his face…
MORE
.
—————————————————————————————
.
Moderna Begins Trial Of Coronavirus Vaccine With 30,000 Volunteers – Washington Examiner
Biotech giant Moderna launched the world's largest coronavirus vaccine trial Monday, with roughly 30,000 volunteers, to test for effectiveness and safety.
"We are pleased to have started the Phase 3 COVE study," said Stephane Bancel, the company's CEO. "We look forward to this trial demonstrating the potential of our vaccine to prevent COVID-19, so that we can defeat this pandemic."
Moderna will enroll about 30,000 people across 89 sites to test shots developed in part by the National Institutes of Health. In the Phase 3 study, called the COVE, or Coronavirus Efficacy, half of all participants will receive two shots of the vaccine candidate 28 days apart, and the other half will receive two shots of a placebo. Testing will also aim to determine if the shots of the vaccine can protect from severe infections of COVID-19 and death.
Researchers will monitor volunteers for side effects after the doses are administered, as well as for signs that the vaccine protects them from getting COVID-19…
MORE
.
—————————————————————————————
.
Senator Cotton Launches Bill Banning Federal Funds For Teaching America Founded On Slavery – Breitbart
.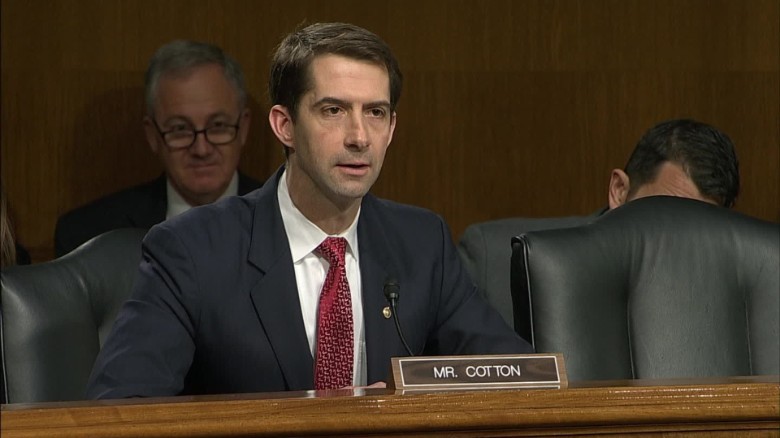 .
Sen. Tom Cotton (R-AR) introduced a bill Thursday that would ban federal funds for teaching the New York Times's revisionist "1619 Project," which claims America was founded on slavery.
The Saving American History Act of 2020 asserts America was founded on July 4, 1776, when its fundamental principles were set forth in the Declaration of Independence. The bill continues:
An activist movement is now gaining momentum to deny or obfuscate this history by claiming that America was not founded on the ideals of the Declaration but rather on slavery and oppression…
MORE
.
—————————————————————————————
.
Hydroxychloroquine Is 'The Key To Defeating Covid-19', Says Yale Epidemiologist – PJ Media
Harvey Risch, professor of epidemiology at Yale School of Public Health, says that hydroxychloroquine is "the key to defeating COVID-19" in a Newsweek op-ed published this past week.
"I am usually accustomed to advocating for positions within the mainstream of medicine, so have been flummoxed to find that, in the midst of a crisis, I am fighting for a treatment that the data fully support but which, for reasons having nothing to do with a correct understanding of the science, has been pushed to the sidelines," Risch wrote.
"As a result, tens of thousands of patients with COVID-19 are dying unnecessarily. Fortunately, the situation can be reversed easily and quickly."
And it can be reversed by the same medication that has become unnecessarily politicized by the media and the Democratic Party over the past several months…
MORE
.
—————————————————————————————
.
Florida Is A Case Study In Media-Induced Covid-19 Panic – Issues & Insights
.

.
What do all these news accounts have in common?
"Florida Sets Yet Another Coronavirus Record: 173 Deaths In A Day."
"A record 173 Floridians died from the virus Thursday, an average of more than one every eight minutes."
"The 134 new confirmed deaths is the second-largest increase on record, coming five days after the largest one-day jump of 156 last week."
"COVID-19 has ravaged Florida, with more than 237,000 people testing positive and 2,013 dying from the virus in July alone."
So what characteristic do all of the reports share? They are all false…
MORE
.
—————————————————————————————
.
Biden Equals 'Biggest Idiot Democrats Ever Nominated' – Wayne Allyn Root
President Donald Trump loves branding his opponents. Boy, do I have the brand for Joe Biden. Other than "Basement Biden." Or Biden is the leader of the "Dementia-crats." Those are effective and memorable, too.
But nothing beats this little ditty: Biden stands for "Biggest Idiot Democrats Ever Nominated."
Forget Biden's nonstop stumbling and bumbling. Forget that he appears to not know where he is (he talked about Vermont but was in New Hampshire), what day it is (remember "Super Thursday"?), what year it is (remember in the presidential debate when old Joe said supporters could "go to Joe 30330") or who he is (he appeared to open a speech with "Hello, I'm Joe Biden's husband"). Forget all that.
Forget his lifetime record of 40 years as part of the D.C. swamp establishment, during which he has accomplished nothing for the American people.
Forget about the massive corruption in China and Ukraine, with his son Hunter Biden as the Batman…
MORE
.
—————————————————————————————
.
'Gone With The Wind' Actress Olivia De Havilland Dies At 104 – Epoch Times
.

.
"Gone with the Wind" star Olivia de Havilland, who also won an Academy Award for her role in another film, died at 104, according to her publicist, Lisa Goldberg. Goldberg told TheWrap that she died at her home in Paris, France, of natural causes.
The longtime actress, who was born in 1916 in imperial Japan to British parents, played Melanie Hamilton Wilkes in "Gone with the Wind," who had a conflict with Scarlett O'Hara, played by Vivien Leigh. She also appeared in films such as "The Adventures of Robin Hood," and won Oscars for her performances in "To Each His Own" and "The Heiress."
Her greatest impact perhaps occurred when she sued Warner Bros. in 1943 to gain freedom from the studio after her contract with the company had expired…
MORE
.
—————————————————————————————
.
Former DemoNazi Congressman Charged In Multi-Year Voter Fraud Scheme In Philadelphia – Just The News
A Democratic politician in Pennsylvania has been charged in connection with a multi-year voting fraud scheme, several months after his co-conspirator was convicted of similar crimes.
The Justice Department this week announced that 77-year-old Philadelphia resident Michael Myers, a former congressman, is being charged with stuffing ballot boxes, bribing an elected official, falsifying records, obstructing justice and voting multiple times in federal elections.
Some of those alleged crimes took place across multiple elections.
Myers conspired with former Democratic ward chairman Dominick Demuro to carry out those crimes, the Justice Department said in a press release this week. Demuro in May plead guilty to accepting bribes to stuff ballot boxes in Pennsylvania elections to help federal, state and local officials win their respective races.
Myers is alleged to have bribed Demuro to "add votes for certain candidates of their mutual party in primary elections," the Justice Department said further…
MORE
.
—————————————————————————————
.
Antifa Terrorist/Pedophile Arrested For Stabbing Black Trump Supporter In Portland, Oregon – Post Millennial
.

.
Antifa militant and convicted pedophile Blake David Hampe was arrested in the early hours of Saturday following his alleged stabbing of a black Trump supporter in Portland.
The Trump supporter and conservative, who goes by the name Black Rebel on social media, posted several updates to his condition from the ambulance and hospital. In the Periscope livestream, he alleged that Hampe had stalked him and his group of friends for several blocks in Portland before stabbing him.
Black Rebel stated that Antifa militants doxed his identity and posted his location on social media and advised each other to "watch out" for him.
"That knife was long enough. He stabbed me to kill me," said Black Rebel…
MORE
.
—————————————————————————————
.
45 Antifa Terrorists Arrested In Seattle, Washington – Epoch Times
Rioters in Seattle on Saturday set fire to a construction site for a King County juvenile detention facility and courthouse. They later hurled explosives and other projectiles at police officers.
The planned demonstration, organized by a group pushing to abolish the Seattle Police Department, prompted concerns of violence. A number of business owners boarded up their stores in the hopes of protecting them.
After gathering in the Capitol Hill neighborhood around 2:15 p.m. – where the so-autonomous zone was located – the crowd traveled about 10 blocks south to 12th Avenue and Jefferson Street and torched the construction site.
A group of approximately a dozen people was responsible for the fire, according to the Seattle Police Department. Firefighters responded and put the flames out. The group then headed north, smashing windows at businesses as they traveled along 12th Avenue…
MORE
.
—————————————————————————————
.
Hispanic Biden Campaign Organizers Claim 'Toxic' Work Culture, Demand Apology After 'Lectures' – Breitbart
.

.
Hispanic organizers working to elect Joe Biden wrote a "scathing" seven-page letter to the Florida Democrat Party, claiming a "toxic" work culture. Just 100 days before Election Day, 90 field organizers laid into the party and said the campaign is "suppressing the Hispanic vote" in Central Florida, the Miami Herald reported.
The letter contained eight allegations against the campaign, including, "mistreatment of field organizers, relocating trained staff members without explanation, lack of organizing resources, and taking on volunteers who are then left in limbo."
The staffers also complained that "the Coordinated Campaign lacks key infrastructure and perpetuates a 'toxic' work culture that is hurting morale…
MORE
.
—————————————————————————————
.
Arizona School Districts Reopening Public Schools As "Childcare Centers", Charging Parents $200 A Week To Not Educate Their Kids – PJ Media
Sometimes I wish President Trump would e-mail his preferred policy to Mark Meadows to memorialize it and go out and say he wants the opposite. Reopening schools is no different. Had he gone out and said schools would absolutely need to stay closed, Democrats and the commies in the teachers' unions would have thrown the doors open without hesitation.
Then he could just come out and thank them for doing what he actually wanted in the first place – waving the e-mail for the entire White House press corps to see. By then, they would have turned themselves into pretzels to advocate for the exact thing the president wanted. It would simultaneously expose their derangement and political calculations.
Reopening Schools… as Daycares?
Instead, we end up with absolute absurdity. director of school choice for the Reason Foundation, Corey DeAngelis, has been following the school reopening debate closely. Today via Twitter he reported the following…
MORE
.
—————————————————————————————
.
Black Trump Supporter Bernell Trammell Murdered Outside His Office In Milwaukee Just Hours After Giving Pro-Trump Interview – Heavy
.

.
Bernell Trammell, a well-known Black supporter of Donald Trump who was a community fixture known for his publishing company and long conversations on religion and politics, often delivered from street corners while holding pro-Trump and other signs, was shot to death in Milwaukee, Wisconsin.
Trammell, 60, was gunned down on July 23 near the very spot where he gave a video interview a few hours before explaining why he supported Trump. Milwaukee police are seeking what they described as "unknown suspects."
The motive is not clear, including whether or not the slaying was tied into Trammell's political beliefs or Trump support. Some news outlets gave the victim's name as Bernell Tremmell, but he goes by Trammell on social media…
MORE
.
—————————————————————————————
.
Washington Post Settles Defamation Lawsuit With Covington Teen Nick Sandman – New York Post
The Washington Post on Friday agreed to settle a monster $250 million lawsuit filed by Covington Catholic High School student Nick Sandmann over its botched coverage of his 2019 encounter with a Native American elder.
Sandmann declared the victory in a tweet on his 18th birthday. It's unclear how much the newspaper settled for.
"On 2/19/19, I filed $250M defamation lawsuit against Washington Post. Today, I turned 18 & WaPo settled my lawsuit," he wrote. "Thanks to @ToddMcMurtry & @LLinWood for their advocacy. Thanks to my family & millions of you who have stood your ground by supporting me. I still have more to do," he continued.
It's the teen's second win in a whopping $800 million defamation battle against a number of news outlets including the Washington Post, CNN, ABC, CBS, The Guardian, The Hill and NBC…
MORE
.
—————————————————————————————
.
Every UnAmerican, Scumbag Player And Coach On The Yankees And Nationals Kneels Before The National Anthem On Opening Day – Gateway Pundit
.

.
All players and coaches on the Yankees & Nationals took a knee before the national anthem tonight. Thursday was the first night of Major League Baseball season, which began nearly 15 weeks later than scheduled due to the coronavirus.
Dr. Anthony Fauci also embarrassingly threw the ceremonial first pitch in an empty Nationals Stadium.
The ridiculous display comes the day after the Red Sox unveiled a massive 250 foot billboard outside Fenway Park in honor of the violent Marxist movement. The Hill reports that "Red Sox president and CEO Sam Kennedy has been outspoken on the issue of social injustice since the mass protests swept the country."…
MORE
.
—————————————————————————————
.
DHS: Trump's Border Controls Have Kept Over 88,000 Illegal Aliens Out Of The U.S. During Coronavirus Crisis – Breitbart
President Trump's border controls have kept at least 88,100 illegal aliens from entering the United States through the U.S.-Mexico border since late March, newly released figures reveal.
On March 21, Trump implemented the Centers for Disease Control and Prevention's (CDC) Title 42 order, which gives federal immigration officials broad authority to immediately return illegal aliens over public health concerns.
Newly released figures provided by the Trump administration show that from March 21 to June 15, at least 88,100 illegal aliens were prevented from entering the U.S. at the southern border.
A senior administration official told Fox News:
If not for this effort, tens of thousands of aliens acting as potential carriers for the coronavirus would have continued to enter law enforcement facilities near the border in congregate settings, making our Southwest border a major vein for coronavirus outbreak…
MORE
.
—————————————————————————————
.
Washington Redskins Announce New Name – Right Scoop
.

.
The former Washington Redskins have announced a new name that will last at least for the entire upcoming season.
The team announced it will be known as the "Washington Football Team" for the next season to give them time to do an in-depth "branding process" with players, alumni, fans and the entire football community. In other words, this isn't the final name. But it is a lame name, to be sure.
How does an owner go from saying he'll never change the name of the Redskins, to taking a name change so seriously that the process will last for over a year? The BLM mob has really done a number on Daniel Snyder…
MORE
.
—————————————————————————————
.
Leftist Hellhole Update: Shootings Up 220 Percent, Murders Up 24 Percent In De Blasio's New York – Breitbart
Shootings in New York City, New York have surged 220 percent compared to the same week last year, while other violent crimes have increased as well.
Over the last week in New York City, shooting incidents have skyrocketed by 220 percent compared to the same week last year, increased by 194.1 percent compared to the same 28-day period last year, and increased 68.6 percent year-to-date compared to 2019.
The number of shooting victims has hiked tremendously due to the spike in shootings. Compared to the same week last year, there are 200 percent more shooting victims in New York City.
When compared to the same 28-day period last year, shooting victims have increased by more than 199 percent and compared to the same year-to-date as 2019, there are 77.5 percent more shooting victims today.
According to the New York Times, the New York City Police Department (NYPD) is making arrests in about one-in-four shootings…
MORE
.
—————————————————————————————
.
NFL Requiring Fans To Wear Masks At All Games This Year – Daily Mail
.

.
The NFL will require fans to wear face coverings at all games this season. NFL spokesman Brian McCarthy announced the league-wide policy on Wednesday. Several teams had already announced plans to make masks mandatory.
The New York Jets and New York Giants said earlier this week that they won't have any fans this season at MetLife Stadium. The Philadelphia Eagles made the same announcement last week about Lincoln Financial Field.
Teams like the Green Bay Packers, Los Angeles Rams, Atlanta Falcons and Pittsburgh Steelers are hoping to have a limited number of fans at 2020 games. Fifty-nine league players in total have tested positive for COVID-19, the players' union said…
MORE
.
—————————————————————————————
.
President Trump Announces Surge Of Federal Agents To Chicago, Albuquerque To Combat Rise In Violent Crime – Epoch Times
President Donald Trump announced on Wednesday a surge of federal law enforcement will be sent into Chicago, Illinois, and Albuquerque, New Mexico, as part of efforts to combat a recent surge in violent crime in those cities and restore public safety.
The announcement represents an expansion of a Justice Department (DOJ) program – known as "Operation Legend" – to stem the spike in violent crimes across the country.
Operation Legend, named after 4-year-old LeGend Taliferro, who was shot and killed while sleeping in his home, was first launched in Kansas City, Missouri, as part of Trump's promise to assist cities that have have been hit by a recent string of violence, the DOJ said.
Trump said the hundreds of law enforcement officers from the FBI, U.S. Marshal Service, Drug Enforcement Administration (DEA), and the Bureau of Alcohol, Tobacco, Firearms, and Explosives (ATF) will be sent to the cities in an effort to drive down crime, in particular gun violence…