.
60 Shot, At Least 10 Fatally, Over Weekend In DemoNazi-Controlled Chicago – Breitbart
.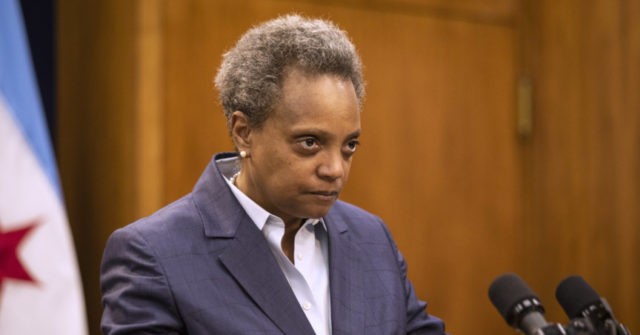 .
At least 60 people were shot, 13 fatally, over the weekend in Mayor Lori Lightfoot's (D) Chicago.
ABC 7 reports the first fatal shooting took the life of 15-year-old Terrance Malden on Friday afternoon. They note five other teenagers were among those wounded in other shootings that occurred between Friday and Monday morning.
The Chicago Sun-Times reports the last fatal shooting of the weekend occurred at 1:45 a.m. Monday, when a 27-year-old man was shot by a passing car as he stood the street. The victim was struck in the head and pronounced dead at the hospital.
A 26-year-old was shot and killed around 12:30 a.m. Monday while he was "standing on the sidewalk…
MORE
.
—————————————————————————————
.
Florida Man Crashes Car Into Church, Sets It On Fire With Parishioners Inside – Fox News
A Florida man was arrested Saturday after plowing his vehicle into a Catholic church and then setting the building on fire as parishioners were inside preparing for Mass, according to officials.
The Marion County Sheriff's Office said Steven Anthony Shields, 24, crashed his van through the front doors of Queen of Peace Catholic Church in Ocala around 7:30 a.m. He got out, poured gasoline in the foyer area and set it on fire, authorities said.
Shields then drove off but was spotted by Deputy Josue Gonzalez, who stopped the vehicle by hitting it with his patrol car, the sheriff's office said. Officials said parishioners were not injured. Marion County firefighters quickly doused the fire.
"Our freedom of worship granted in the Constitution is a freedom that we all hold dear," Sheriff Billy Woods said in a statement. "My deputies and I are sworn to protect that right and will always ensure our citizens can worship in peace…
MORE
.
—————————————————————————————
.
Disgraced 'Sex Slave' Priest Who Embezzled $1 Million In Parish Funds To Pay 'Master' Found Dead In New Jersey Home – Big League Politics
.

.
A disgraced Archdiocese of New York priest who was expelled from public ministry after being accused of stealing parish funds to pay his homosexual S&M 'master' has been found dead at his New Jersey home.
Father Peter Miquelli had resigned as pastor of St. Francis de Chantal Church in Throggs Neck, New York in 2015, after his parishioners accused the priest of more than 20 years of a disturbing pattern of theft of parish funds.
In a lawsuit filed against Miquelli by his own parishioners, the pastor was accused of stealing money from church collection and donation funds to pay his gay prostitute 'master,' bodybuilder Keith Crist…
MORE
.
—————————————————————————————
.
Despite Stream Of Exculpatory Evidence, Treasonous FBI Hacks Kept Pushing Flynn Investigation – Epoch Times
The FBI leadership kept pushing ahead with the investigation of former Trump adviser Lt. Gen. Michael Flynn even though its agents had been coming back again and again with evidence pointing to his innocence. That's the picture painted by documents uncovered by a review of the Flynn case ordered in January by Attorney General William Barr.
The last discovery, 14 pages of material provided to Flynn's lawyers on July 7, indicate that the FBI was looking to close the Flynn case in November 2016, but kept investigating on and on for no apparent reason.
Flynn, former head of the Defense Intelligence Agency under the Obama administration and former national security adviser to President Donald Trump, pleaded guilty in December 2017 to lying to the FBI. In January, he moved to withdraw the plea and proclaimed his innocence.
The Department of Justice (DOJ) dropped the case on May 7, but the presiding district judge, Emmet Sullivan, has refused to accept the dismissal…
MORE
.
—————————————————————————————
.
Black Thug Attacks Two White Men With Scissors On New York Subway – Daily Mail
.

.
Two elderly men were stabbed with scissors on the New York City subway last week, as crime surges in the city and a Long Island sheriff warned the city authorities were 'starting to lose control'.
Shootings last month in New York City were up 130 per cent year on year – from 89 shootings last year to 205 this year. During the July 4 weekend the city saw 21 shootings that left 44 people injured and eight dead.
'When you see the vandalism in all our own communities – when you see the assaults, you see Molotov cocktails being thrown at law enforcement vehicles, you have to start to realize that, we're starting to lose control,' said Errol Toulon, Suffolk County sheriff…
MORE
.
—————————————————————————————
.
Joe Biden's Family Racks Up Arrests For Drugs, Drunk Driving… But No Jail Time – Jon Levine
In August 2019, Caroline Biden, 33, a niece of former Vice President Biden, was busted in Lower Merion Township, Penn., for driving under the influence and without a license, public records show. While the case is active, it's unlikely Caroline will face much in the way of consequences – if history and Biden family rap sheets are any guide.
Her arrest, which was never made public, was at least the ninth among Joe Biden's close family, and followed incidents involving his brother Frank, his son Hunter and his daughter Ashley.
The cases – ranging from felony theft to drug possession – were all either thrown out, or resulted in light sentences with no jail time, according to a Post review of public records and published reports.
The Pennsylvania drunken-driving collar was the third run-in with the law for Caroline, who is the daughter of Joe's younger brother, James Biden Sr…
MORE
.
—————————————————————————————
.
DemoNazi Governor Of Minnesota Begs Feds For Money To Help Rebuild City He Let Antifa Terrorists Burn To The Ground – RT
.

.
The federal government has denied Minnesota Governor Tim Walz's request for aid to rebuild the riot-torn city of Minneapolis. US President Donald Trump had earlier blasted Walz's handling of the recent riots there.
Between the death of George Floyd in late May and the arrival of the National Guard to restore order a week later, rioters in Minneapolis managed to inflict an estimated $500 million in damages, according to the Minnesota governor.
Last week, Walz asked the federal government for up to $16 million to repair buildings set ablaze by arsonists. The request fell on deaf ears, a spokesman for the governor stated on Friday…
MORE
.
—————————————————————————————
.
Data Suggest Number Of Recent Covid-19 Cases In Florida Cound Be Inflated By As Much As 30 Percent – PJ Media
An analysis of data released by the Florida Department of Health appears to indicate that coronavirus case numbers have been inflated as much as 30 percent by Florida health officials.
Deaths linked to COVID-19 have remained flat in Florida despite the spike in cases. While that may be partially explained by the fact that younger people are the ones largely being exposed to the virus in recent weeks, it is also possible that backlogged cases are being added and treated as new cases when, in fact, they are not.
Analysis by Just the News suggests that discrepancies between the "case date" and the "event date" of positive coronavirus cases in Florida likely meant cases in early to mid-June were undercounted and later attributed to late June and early July upon being entered into the system.
Is this happening in other states as well? The phenomenon of backlogged cases distorting data isn't new or unique to Florida…
MORE
.
—————————————————————————————
.
23-Month-Old Boy Dies After Being Repeatedly Punched In The Face By Black Thug In Chicago – Big League Politics
.

.
A Chicago toddler is dead after being severely beaten by a person who battered the 23-month-old kid's face, and a suspect has been brought into custody for the heinous crime.
Michael Robinson, 23, has been charged with first-degree murder following the death of 23-month-old Antwun Gayden. Following his injuries, Gayden was transferred to the Comer Children's Hospital where he was pronounced dead shortly after arriving.
"It's bad enough that there's kids getting shot, now we got kids being beat," neighbor Lance Lee said to WGN 9. "I don't know what's going on."
The Cook County medical examiner's office determined that Gayden died as a result of the abuse that allegedly occurred at the hands of Robinson…
MORE
.
—————————————————————————————
.
Chinese Virologist Flees Hong Kong, Accuses Beijing Of Coronavirus Cover-Up – Fox News
Hong Kong scientist Dr. Li-Meng Yan was stepping into uncharted territory. Hours before she boarded an April 28 Cathay Pacific flight to the United States, the respected doctor who specialized in virology and immunology at the Hong Kong School of Public Health had plotted her escape, packing her bag and sneaking past the censors and video cameras on campus.
She had her passport and her purse and was about to leave all of her loved ones behind. If she was caught, she knew she could be thrown in jail – or, worse, rendered one of the "disappeared."
Yan told Fox News in an exclusive interview that she believes the Chinese government knew about the novel coronavirus well before it claimed it did. She says her supervisors, renowned as some of the top experts in the field, also ignored research she was doing at the onset of the pandemic that she believes could have saved lives.
She adds that they likely had an obligation to tell the world…
MORE
.
—————————————————————————————
.
President Trump Commutes Roger Stone's Prison Sentence – Breitbart
.

.
President Donald Trump on Friday commuted the 40-month prison sentence of seasoned Republican operative Roger Stone just days before his term was scheduled to commence, the White House announced.
A source familiar with the matter told Breitbart News that the president called Stone earlier Friday to tell him of his plans to commute his sentence.
Stone confirmed to the Associated Press that President Trump called to say that he would commute his sentence that was part of special counsel Robert Mueller's investigation into now-debunked collusion between the 2016 Trump campaign and Russia. The Associated Press added: "Stone was celebrating in Fort Lauderdale, Florida, with conservative friends…
MORE
.
—————————————————————————————
.
Trump Adviser Kudlow: Second Stimulus Check Will Be Smaller, Aimed At Lower-Income Americans – Epoch Times
Even though President Donald Trump said he wants an additional stimulus payment amount larger than the first round, a top administration official said the checks could be smaller than the first.
White House economic adviser Larry Kudlow told reporters that the next round of payments would be smaller than the $1,200, and they would be targeted toward Americans who are unemployed or in lower-income brackets.
"That kind of economic assistance will probably be very carefully targeted," Kudlow said at the White House on Friday. "It's not going to be across the board," he added, reported the Reuters news agency.
Kudlow said that the reasoning behind the smaller checks is because the White House is seeking to keep the cost of the legislation down. The CARES Act, passed in March, was worth $2.2 trillion, while the House Democrat-passed HEROES Act was worth over $3 trillion…
MORE
.
—————————————————————————————
.
U.K. Case Reveals Stunning New Evidence Of FBI Abuse In Russia Probe – WorldNetDaily
.

.
A British judge's ruling against former FBI source Christopher Steele, ordering him to pay damages to two Russian businessmen he maligned, produced new incontrovertible evidence that bolsters Justice Department's probe of the Obama administration's Trump-Russia collusion investigation.
The case disclosed the FBI knew immediately that the dossier it used to obtain warrants to spy on the Trump campaign was funded by the Hillary Clinton campaign and did not diclose that fact, Just the News reported.
Further, it found officials at the State Department where Hillary Clinton had served as secretary of state helped Steele bring the dossier to the attention of the Obama administration…
MORE
.
—————————————————————————————
.
Dead Cat Gets Voter Registration Application In The Mail – Fox News
Scratch this name off the list. An Atlanta family said it received a voter registration form this week for their cat Cody Tims – who died 12 years ago.
"There's a huge push but if they're trying to register cats, I'm not sure who else they're trying to register," the late feline's owner, Carol Tims, told Fox5 Atlanta. "I'm not sure if they're trying to register dogs, mice, snakes."
The Tims say they found the form addressed to the cat in their mailbox on Wednesday.
Carol Tims described Cody as a "great cat, indoor and outdoor" who "loved his family, loved his neighborhood" and lived to the age of 18. But in terms of his voting prospects, "he's a cat and he's been dead for a long time," Tims told Fox5 Atlanta.
The Georgia Secretary of State's Office told the station that they did not send out the form and that third-party groups behind such applications often use mailing lists to obtain names and addresses of people – and in this case, a cat…
MORE
.
—————————————————————————————
.
Virginia Circling The Green New Drain – James Stansbury
.

.
It took the newly empowered Virginia Dems less than six months, but the state is now paying a heavy price for the last election. Obvious is the ruinous transformation spawned by the pandemic and the never-ending anarchy resulting from BLM-themed mob rule. Longer-term changes started July 1 as the left's new and controversial laws took effect. Many are sex-themed:
* Elimination of all basic health and safety standards in abortion facilities (higher risk for women).
* Incorporation of "sexual orientation" and "gender identity" (SOGI) as protected statuses (a real threat to religious organizations and a boon for lawyers)…
MORE
.
—————————————————————————————
.
Border Agents Seize $11 Million Worth Of Meth Entering Texas, Officials Say – Daily Caller
U.S. Customs and Border Protection (CBP) officers seized more than $11 million worth of meth entering Texas, officials confirmed Tuesday.
During X-ray and K-9 inspections on July 3, officers intercepted the meth from a vehicle driving in Laredo on the World Trade Bridge, according to the Laredo Morning Times. The meth weighed 570.79 pounds and was worth an estimated $11,415,85.
"These drugs will not reach Main Street USA due to the efforts of the officers in our cargo facilities," Port Director Gregory Alvarez said in a press release Tuesday.
"Significant enforcement actions like this one illustrate CBP's ongoing offensive against criminal networks and their organizations," Alvarez added.
The driver's identity and possible suspects have not been disclosed, the press release reported. U.S. Immigration and Customs Enforcement-Homeland Security Investigations special agents are currently investigating the case…
MORE
.
—————————————————————————————
.
Marine Who Played Wide Receiver In College Catches 3-Year-Old Boy Thrown From Burning Building – Daily Mail
.

.
A former Marine and college wide receiver was able to catch a three-year-old boy thrown from burning building by his mother, dramatic cellphone footage shows. Phillip Blanks, 28, ran to the home in Phoenix on July 3 barefoot after hearing calls for help and was able to save Jameson Long from the flames on the third floor balcony.
He told ABC it was all 'instinct', adding: 'There wasn't much thinking. I just reacted. I just did it.' Jameson's 30-year-old mother, Rachel Long, died in the blaze. Blanks said: 'She's the real hero of the story because she made the ultimate sacrifice to save her children.'
Blanks, who now works in the security industry, was a former wide receiver at Saddleback College in Mission Viejo. He said Jameson was 'twirling in the air like a propeller' as he fell…
MORE
.
—————————————————————————————
.
Tennessee Lawyer Censured For Attempting To Defend DUI Client While Drunk – KOKI
A Cleveland, Tennessee, attorney has received a public censure from the Board of Professional Responsibility of the Tennessee Supreme Court for arriving to court drunk to defend a client accused of driving under the influence.
Kent Thomas Jones received a $2,000 flat fee to represent a DUI client, but when he arrived for the September 2017 court date, he was late, smelled of alcohol and was acting erratically, The Chattanoogan reported.
According to WTVC, Jones was initially charged with public intoxication and agreed to provide his client a full refund. The criminal charges against him were later dismissed
To date, Jones has repaid $1,650 of the owed reimbursement, and the board ruled Monday he has 60 days to pay the balance in full, The Chattanoogan reported.
Officials contend Jones violated the rules of professional conduct with regards to safekeeping funds, criminal conduct, fees and prejudice to the administration of justice…
MORE
.
—————————————————————————————
.
Muslim Rep. Omar's Campaign Has Paid Her New Husband's Company $816,256 – WorldNetDaily
.

.
Rep. Ilhan Omar has reportedly continued to funnel money to her new husband's consulting firm, according to campaign finance data.
In the same month the Minnesota Democrat announced her marriage to political consultant Tim Mynett, her campaign paid Mynett's E Street Group over $189,000 for various expenses, the New York Post reported, citing Federal Election Commission filings.
The E Street group has received a total of $292,814.99 from Ilhan for Congress this year for digital advertising, fundraising consulting and research services, according to the outlet. Payments between Omar and the consulting group led to at least one ethics complaint in 2019…
MORE
.
—————————————————————————————
.
Supreme Court Rules Eastern Half Of Oklahoma Is Tribal Land – Washington Examiner
In a 5-4 decision, the Supreme Court ruled that the eastern half of Oklahoma is Native American land. The decision in McGirt v. Oklahoma was announced on Thursday, with conservative Justice Neil Gorsuch siding with the liberal justices and authoring the opinion.
The case was brought to the Supreme Court by Jimmy McGirt, a member of the Muscogee Nation who was convicted of raping a 4-year-old child in 1997.
McGirt argued that the case should not have been in the jurisdiction of Oklahoma courts because the incident happened on tribal land. In most cases, crimes that take place on tribal land fall under the jurisdiction of the federal courts.
The state argued that ruling in favor of McGirt would result in "cleaving Oklahoma in half." The state's attorneys claimed that the Creek Nation's historic territory is not a reservation and argued that siding with McGirt would be the "largest judicial abrogation of state sovereignty in American history."…
MORE
.
—————————————————————————————
.
DemoNazi Hate Hoax Update: Oregon Politician Who Claimed He Received Anonymous Racist And Homophobic Letter Confesses He Wrote It Himself – Daily Mail
.

.
An Oregon politician admitted to writing a racist and homophobic letter to himself after previously claiming it was left anonymously in his mail box.
Jonathan Lopez, 29, alleged he received the letter in late June, warning him that he was not welcome in the area and that people like him are killed in Umatilla County. It was signed, 'Sincerely, America'.
Hermiston Police revealed Monday that their investigation found Lopez penned the hate-filled rant himself and made false statements to the police and on social media. Police say the criminal investigation into the intimidation has now been closed but that Lopez may be charged for initiating a false police report…