.
Gropey Joe Confuses His Wife With His Sister In Super Tuesday Victory Speech – Big League Politics
.

.
Joe Biden confused his wife with his sister during his Super Tuesday victory speech, raising more questions about the mental acuity of the former Vice President who has consistently proven to be prone to confused mental gaffes throughout his campaign.
iden was speaking in California after closing polls showed him to have won strong victories across the country in Democratic Primaries, sweeping the southern states and even taking surprise victories in Minnesota and Massachusetts.
As of late Tuesday night he appears primed for a possible upset victory in Texas, which would put the former Vice President on track for the Democratic nomination. But the man seems more in need of focus of his immediate surroundings than he is on strategy for bringing the Democratic primary home…
MORE
.
—————————————————————————————
.
Gropey Joe Makes Comeback On Super Tuesday; Crazy Bernie Takes California – Epoch Times
Democratic candidate Joe Biden proved to be victorious across a half dozen southern states holding contests on Super Tuesday, just days after his campaign appeared to be in serious trouble.
The former vice president won a majority in states across the South, Midwest, and New England as Americans in 14 states voted for a Democratic challenger to Republican President Donald Trump in the Nov. 3 election.
Biden grabbed highly significant victories in Virginia, North Carolina, and Alabama, adding to his wins across Arkansas, Oklahoma, and Tennessee. He also took Minnesota despite being third in the polls until Amy Klobuchar dropped out on Sunday. She endorsed Biden on Monday.
The Democratic nominee also dealt a humiliating blow to Sen. Elizabeth Warren (D-Mass.) in her home state of Massachusetts, with initial results showing Biden with nearly 34 percent of the state's vote, Sen. Bernie Sanders (I-Vt.) in second with about 27 percent, and Warren trailing behind in third with roughly 20 percent…
MORE
.
—————————————————————————————
.
Fed Cuts Rates By Half A Percentage Point To Combat Coronavirus Slowdown – CNBC
.

.
The Federal Reserve announced an emergency rate cut Tuesday of half a percentage point in response to the growing economic threat from the novel coronavirus.
The move was the first such cut since December 2008, during the financial crisis. It comes amid a volatile patch on Wall Street and amid a steady stream of hectoring from President Donald Trump, who has called for lower rates to stay competitive with policy at other global central banks.
"The coronavirus poses evolving risks to economic activity," the Fed said in a statement. "In light of these risks and in support of achieving its maximum employment and price stability goals, the Federal Open Market Committee decided today to lower the target range for the federal funds rate."…
MORE
.
—————————————————————————————
.
Winning: DHS Chief Says More Than 700 Miles Of Trump's Border Wall Are Either Built Or Being Built – Breitbart
More than 700 miles of new border wall along the U.S. border with Mexico have already been built or are in the process of being built, the Department of Homeland Security's (DHS) Acting Secretary Chad Wolf told Breitbart News exclusively this weekend.
In an interview for Breitbart News Daily on SiriusXM 125 the Patriot Channel, Wolf detailed how the new border wall that President Trump promised during his campaign is split into three different categories: wall that is already built, wall that is under construction, and wall that is on the way.
The total number of miles along the U.S. border with Mexico that this new wall Wolf discussed will end up covering once complete is more than 700 miles.
"We are building the border wall system on the southwest border," Wolf said in the interview recorded at the Conservative Political Action Conference (CPAC) on Saturday. "So, we have 126 new miles in the ground today…
MORE
.
—————————————————————————————
.
World Bank Pledges $12 Billion To Combat Virus Outbreak – Zero Hedge
.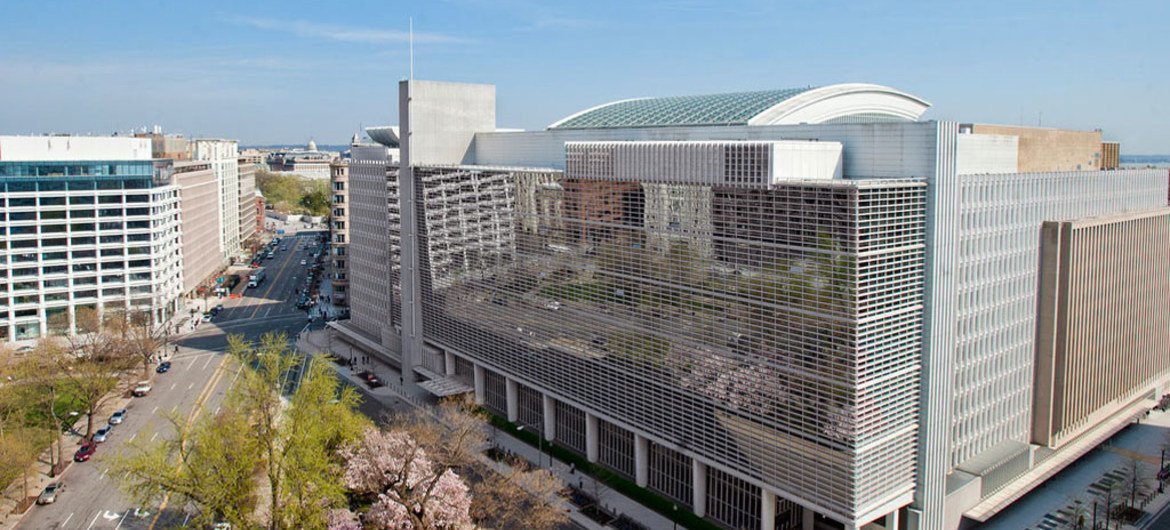 .
The World Bank announced Tuesday afternoon that it would fund an initial $12 billion in financing to combat the Covid-19 outbreak that is threatening to plunge the global economy into recession. The virus has now spread to 60 countries, infecting more than 92,000 people, resulting in 3,100 deaths.
World Bank President David Malpass said there are still "many unknowns" about the fast-spreading virus. Malpass said more aid could be required in the future.
"We are working to provide a fast, flexible response based on developing country needs in dealing with the spread of COVID-19," he said."This includes emergency financing, policy advice, and technical assistance…
MORE
.
—————————————————————————————
.
President Trump Files Lawsuit Against Washington Post For False And Defamatory Statements – Right Scoop
The Trump campaign has just filed a lawsuit against the Washington Post for both false and defamatory statements in their reporting in two articles.
The first defamatory statement is about the conclusions of Mueller's investigation:
On or about June 13, 2019, The Post published the article entitled "Trump just invited another Russian attack. Mitch McConnell is making one more likely" (the "June 13 Article"), by Greg Sargent, which contained the defamatory claim that Special Counsel Robert Mueller concluded that the Campaign "tried to conspire with" a "sweeping and systematic" attack by Russia against the 2016 United States presidential election.
The second deals with Russia and N. Korean collusion:
On or about June 20, 2019, The Post published the article entitled "Trump: I can win reelection with just my base"…
MORE
.
—————————————————————————————
.
"Oh, You Know The Thing": Gropey Joe Tries Quoting The Declaration Of Independence And Fails Spectacularly – RedState
.

.
Joe Biden just won the South Carolina primary decisively on Saturday.
Pete Buttigieg dropped out on Sunday and Sen. Amy Klobuchar (D-MN) dropped out today. Both have said they will be endorsing Biden. You know that there was some arm twisting happening with them behind the scenes, with both likely being promised by the establishment things for getting out now and maximizing Biden's numbers on Super Tuesday to try to block out Sen. Bernie Sanders (I-VT).
But it remains to be seen as to whether that will be enough. While Buttigieg has a bit of a constituency, Klobuchar's numbers weren't much and she was actually competing with Sanders for delegates in Minnesota. This might mean more there for Sanders…
MORE
.
—————————————————————————————
.
Benjamin Netanyahu Defeats Benny Gantz With Striking 60-Seat Bloc – Jerusalem Post
Prime Minister Benjamin Netanyahu succeeded in winning 60 seats for his bloc of right-wing and religious parties in Monday's election, one less than he needed for a majority in the Knesset, according to exit polls on the three television networks.
The polls indicated that Netanyahu's Likud won 36-37 seats. Its allies in Shas, UTJ and Yamina won 9, 7-8 and 6-7 respectively. The polls showed Blue and White with 33 seats, its ally Labor-Gesher-Meretz 6-7, the Joint List 14015 and Yisrael Beytenu 6-8.
The numbers are expected to change overnight. The votes of soldiers, who tend to lean to the right, have not yet been counted and the Joint List tends to go down a seat when the soldiers' votes are added. But, if the Right does not obtain its 61st seat, it could end up being because the far-right Otzma Yehudit refused Netanyahu's repeated requests to quit the race.
Netanyahu immediately tweeted "thank you."
MORE
.
—————————————————————————————
.
Gropey Joe Awkwardly Ends Chris Wallace Interview By Thanking "Chuck" – Mediaite
.

.
Joe Biden did a few Sunday show interviews this morning, and towards the end of one of them, he nearly forgot who he was talking to.
Chris Wallace spoke with Biden on Fox News Sunday about his big South Carolina win, potential issues going into Super Tuesday, Bernie Sanders, and President Donald Trump.
Wallace also asked Biden at one point about his "shaky performance" and campaign trail gaffes.
So it was perhaps extra-awkward when the interview ended, Wallace thanked him for coming on, and Biden said, "Alright, Chuck, thank you very much."
Wallace said, "It's Chris."…
MORE
.
—————————————————————————————
.
Trump, GOP Raise $86 Million In February – The Hill
Republicans raised $86 million in February toward efforts to reelect President Trump, the Republican National Committee (RNC) announced on Monday.
The RNC, the Trump campaign and authorized joint fundraising committees raised the combined $86 million haul.
Entities raised more than $607 million since last year and have $225 million cash on hand, the RNC said, adding that February was the best month for digital fundraising since 2016.
"Our record-breaking fundraising success month after month speaks to the incredible enthusiasm we are seeing for President Trump, and is fueling the greatest ground operation and grassroots army in history," RNC Chairwoman Ronna Romney McDaniel said in a statement.
Several Democratic presidential candidates running to face Trump in November also announced that February was their best fundraising month so far…
MORE
.
—————————————————————————————
.
Another One Bites The Dust: Hillary Wannabe Amy Klobuchar Ends Her Primary Run – Washington Examiner
.

.
Amy Klobuchar ended her presidential bid after failing to maintain a bump in momentum following the New Hampshire Democratic presidential primary.
Klobuchar told campaign staff on Monday that she is ending her campaign after a series of disappointing finishes in the four early nominating contests, multiple news outlets reported.
She is set to endorse former Vice President Joe Biden at a Dallas rally on Monday. Her exit from the race comes less than a day after former South Bend, Indiana, Mayor Pete Buttigieg ended his campaign. Each had single-digit finishes in Saturday's South Carolina primary.
Klobuchar, 59, became an attractive candidate for voters looking for a centrist candidate…
MORE
.
—————————————————————————————
.
Leftist Psychopathy Update: Brooklyn School Gives 'Drag Queen In Training' Stickers To 4-Year-Olds At Story Hour Event – Big League Politics
A report on social media has indicated that a Brooklyn school was handing out "drag queen in training" stickers to four-year-old children following a showing of story hour.
While the Twitter post alleged that these stickers were passed out at a private school, public schools are regularly hosting story hour events as well.
A class for first-grade children at the Maurice Sendak Community School in PS 118 reportedly held a showing of story hour on Feb. 24. Previously, the events were being held primarily in public libraries, but now these perverse displays are moving into the classroom as well.
"In an effort to continue to strengthen and enhance inclusiveness and diversity in our schools, the first grade will be taking part in 'Drag Queen Story Hour!' This program is run by the Brooklyn Public Library and has been a hit at the library and other local public schools," a first-grade teacher wrote in a note about the upcoming story hour showing.
"We had Drag Queen Story Hour the past few years at PS118 and the 1st graders LOVED IT!" they added…
MORE
.
—————————————————————————————
.
Queer Mayor Drops Out Of DemoNazi Primary Race – Fox News
.

.
Pete Buttigieg ended his presidential campaign Sunday, in an abrupt and surprising pullout that further narrows the field of Democrats less than a month after he declared victory in the contested Iowa caucuses.
"I will do everything in my power to ensure that we have a new Democratic president come January," Buttigieg told a throng of enthusiastic and emotional supporters in South Bend, Ind., on Sunday night, in a speech marked by an upbeat and forward-looking timbre.
"We sent a message to every kid out there wondering if whatever marks them out as different means they are destined to be less than," he continued amid chants of "USA!" and other cheers…
MORE
.
—————————————————————————————
.
German Court Rejects Attempt To Enshrine Sharia Law – Zero Hedge
Germany's Federal Constitutional Court has ruled that the constitutionally guaranteed religious freedoms of Muslims can be curtailed if public displays of religiosity – in this case wearing Islamic headscarves in German courtrooms – endanger the ideological and religious neutrality of the state.
The case involves a 38-year-old German-Moroccan law student who was born in Frankfurt and customarily wears a headscarf in public. In January 2017, she began legal training in the German state of Hesse, where the law bans any expression of religion in its courtrooms for judges, lawyers and legal trainees.
According to the law, legal trainees (rechtsreferendar) are allowed to wear a headscarf – except when they are performing certain official tasks in which they serve as representatives of the judiciary or the state.
This means, for instance, that trainee lawyers are not allowed to wear a headscarf when presiding over a hearing, taking evidence or representing the public prosecution office…
MORE
.
—————————————————————————————
.
Steven Spielberg's Daughter Arrested For Domestic Violence After Announcing New Porn Career – Daily Wire
.

.
Just one week after announcing her new porn career, Steven Spielberg's daughter, Mikaela, has been arrested for domestic violence.
"Mikaela Spielberg was arrested early Saturday morning around 6:30 a.m. in Nashville, Tenn., her fiance Chuck Pankow confirmed," according to Fox News. "An official at the Davidson County Sheriff's Office confirmed to Fox News that Mikaela was arrested for the charge of domestic assault, a misdemeanor."
In a statement to the news outlet, Pankow said that nobody got hurt and that the incident resulting in Mikaela's arrest was "a misunderstanding." She was released after a "12-hour hold" on a $1,000 bond. No other details have been provided at this time…
MORE
.
—————————————————————————————
.
Trump Team Yanking Green Cards From Immigrants Who Abuse U.S. Welfare System – Washington Times
Conservatives have been trying for decades to create an immigration system that rewards immigrants who won't be a burden on society and discourages those who will.
The Trump administration this week began enforcing the "public charge" rule, giving U.S. Citizenship and Immigration Services the authority to refuse green cards – the key step on the path to citizenship – to people who have used a wide range of nonemergency welfare programs.
"The main reason this got done is because we have a president who is determined enough to make self-sufficiency matter again in a meaningful way," said Ken Cuccinelli, who pushed through the rule as acting chief of USCIS and is now acting deputy secretary at the Department of Homeland Security. "That kind of entrepreneurial mentality is a natural for him."
Like most of President Trump's other immigration moves, this one has survived an onslaught of court challenges, howls of complaints from Democrats on Capitol Hill and fierce opposition of immigration rights groups, who called it racist and elitist…
MORE
.
—————————————————————————————
.
Elizabeth Warren's Trail Of Tears Is Over – David Marcus
.

.
In the South Carolina primary on Saturday, Sen. Elizabeth Warren's presidential campaign died. It wasn't from smallpox-tainted blankets, but from lack of votes. Her lackluster campaign flamed out in the Palmetto State like a wet matchstick.
Did she ever have a chance? No. Warren was always the other Bernie Sanders without the appeal or popularity. Ultimately, the problem is that nobody likes her.
For the intelligentsia like those at the esteemed New York Times, she was the perfect candidate, an antidote to Donald Trump's toxic masculinity. But on Saturday night, the clock ran out. She came in fifth place behind a victorious Joe Biden, a satisfied Bernie Sanders, a lackluster Tom Steyer, and the gay former mayor of South Bend, Indiana…
MORE
.
—————————————————————————————
.
Limousine Leftist Tom Steyer Drops Out Of DemoNazi Primary Race – CNBC
Billionaire Tom Steyer, an early proponent of impeaching President Donald Trump, has dropped out of the Democratic presidential primary race.
"Honestly, I can't see a path where I can win the presidency," Steyer told supporters Saturday night, while pledging to continue working on his pet issues, including climate change and racial inequality.
He also said he would use his vast resources to support the eventual Democratic presidential nominee and other party candidates in the general election this November.
"Every Democrat is a million times better than Trump. Trump is a disaster," Steyer said. "So of course I'll be working on that."
He failed to reach the 15% viability level to win delegates in Saturday's contest in South Carolina, where he had spent more than $20 million, according to an NBC News projection. Former Vice President Joe Biden won the primary in the Palmetto State by a huge margin…
MORE
.
—————————————————————————————
.
Crickets From Green Groups As Trump Makes U.S. 'Global Leader In Emissions Reductions' – Washington Times
.

.
Under President Trump, the United States led the world in reducing carbon-dioxide emissions in 2019, but don't expect Greta Thunberg to give him a hug any time soon.
International Energy Agency data released earlier this month showing that U.S. emissions dropped by 2.9% last tear failed to make an impression with Democrats, environmentalists and climate activists, who either shrugged off the data or argued that Mr. Trump's climate-denialism was somehow thwarted.
"U.S. carbon emissions declined last year in spite of every effort by the Trump administration to prop up dirty energy," said David Doniger, senior strategic director of the Climate & Clean Energy Program at the National Resources Defense Council, in an email…
MORE
.
—————————————————————————————
.
Democrats Demand Open Borders For The Coronavirus – Daniel Greenfield
Over 90 Chinese migrants were caught by the Border Patrol trying to enter the United States this year.
According to Brandon Judd, the president of the National Border Patrol Council (NBPC), on February 10, three Chinese nationals were apprehended illegally entering Texas with flu-like symptoms, and had to be quarantined. "Luckily they did not have the coronavirus," he said. "But this is a wake-up call."
Border Patrol personnel have been handed respirators and told to isolate the large number of Chinese migrants who are continuing to illegally enter the United States.
According to Todd Bensman of the Middle East Forum, his source in the Border Patrol told him that, "What we cannot ascertain is if they are isolated until they come back negative. A lot of that is 'medical' and some managers treat it like it's personal information. So we are not privy to the results of where they go after."…
MORE
.
—————————————————————————————
.
U.S. Media Covers Up Muslim Atrocities Against Hindus In Reporting On Delhi Riots – PJ Media
.

.
Fake news is international. "Over 200 million Muslims call India home," Bernie Sanders tweeted Wednesday. "Widespread anti-Muslim mob violence has killed at least 27 and injured many more.
Trump responds by saying, "That's up to India. This is a failure of leadership on human rights." Bernie is, as usual, wrong. His tweet reflects the American establishment media's position that the riots in India over the last few days are examples of Hindu violence against Muslims, but they only maintain that position by an extremely selective, misleading, and inexcusably irresponsible presentation of what is going on in India.
The disinformation begins with the establishment media description of the Citizenship Amendment Act (CAA)…