.
$18 Million In Meth, Heroin, Cocaine Seized At Texas Border Crossing – Breitbart
.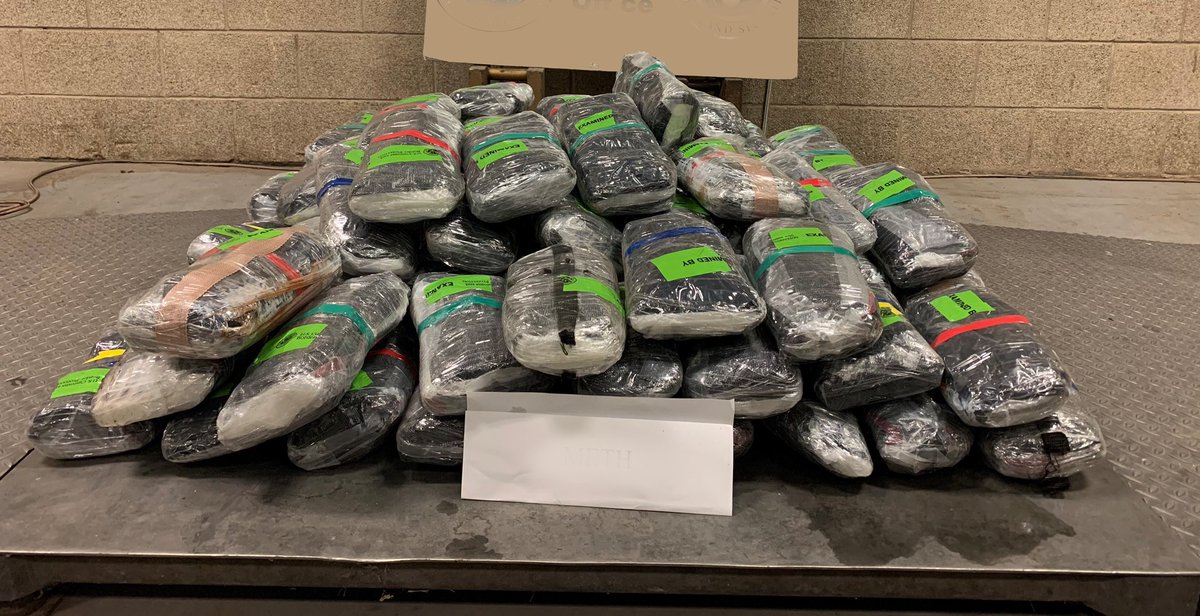 .
U.S. Customs and Border Protection officers in South Texas seized more than $18 million worth of methamphetamine, heroin, cocaine, and marijuana in a single drug smuggling incident.
Rio Grande Valley Sector officers assigned to the Pharr-Reynosa International Bridge cargo facility observed a tractor-trailer approaching from Mexico for entry inspection before entering the United States, according to information obtained from CBP officials in South Texas. The officers referred the driver of the rig hauling a shipment of fresh broccoli to a secondary inspection station for further scrutiny.
Officers checked the trailer with a non-intrusive imaging system which led to the discovery of a large number of unusual packages based upon the cargo manifest…
MORE
.
—————————————————————————————
.
Feds Charge Somali Specialty Market Owners In Columus, Ohio With Food Stamp Fraud Totaling More Than $10 Million – WCMH
The former owners of a Somali specialty market have been charged with food stamp fraud.
A federal grand jury has charged Hassan and Abdurahim Nuriso, former owners of Towfiq Market on Sullivant Avenue, with conspiring fraudulently to redeem more than $10 million in SNAP and WIC benefits between 2010 and 2019.
"It's very clear in all the regulations what you can and can't do," said Asst. U.S. Attorney David Bosley. "You can't give food stamps for cash, you can't buy items that are not allowed under the food stamp program, you can't buy things that aren't food, and you can't give credit."
As part of the alleged conspiracy, the Nuriso brothers are accused of converting illegally obtained food stamp benefits, WIC coupons, and WIC electronic benefits into money, in order to use the money for other purposes.
The five-count indictment also alleges the Nuriso's allowed SNAP and WIC beneficiaries to purchase items that were not redeemable through the food stamp or WIC programs…
MORE
.
—————————————————————————————
.
Bernie Comrades Demand Chris Matthews Resign Over His Nazi Comments – Right Scoop
.

.
So the Bernie Bro comrades, who are known for spewing online vitriol, are incensed that Chris Matthews compared Bernie Sanders winning in Nevada to a historical event. Because that event involved the NAZIS!
Poor little fella. As we showed before, he's finally making the connection between these socialists and the vicious bloodthirsty communists of old. He even said that he would be one of those who would be lined up and shot in Central Park. Well it's a little too late.
Now look, who cares, right? Dem on Dem violence. BUT, Matthews wasn't comparing the ideology of Bernie to that of the Nazis. He was just making a comparison to the monumental and decisive victory…
MORE
.
—————————————————————————————
.
ICE Should Deport George Soros As A Nazi Collaborator – Daniel Greenfield
The deportation of a Nazi death camp guard from his residence in Queens, New York, in 2018 by ICE was described as the removal of the "last known Nazi collaborator from the United States."
That's not quite true.
There's another Nazi collaborator living on Fifth Avenue. He's a billionaire and untouchable because his dubious fortune has been used to finance the Democrat Party, radical leftists, assorted anti-Semites, and opponents of ICE: the agency that should step in to remove the aged Hungarian from the United States.
The legal basis for removing Soros is quite clear.
The Holtzman Amendment states that "Any alien… under the direction of, or in association with… (II) any government in any area occupied by the military forces of the Nazi government of Germany, (III) any government established with the assistance or cooperation of the Nazi government of Germany…
MORE
.
—————————————————————————————
.
Trump Kicks Off India Visit With Massive Rally In Ahmedabad – Insider
.

.
President Donald Trump arrived in India Monday morning for a two-day trip that marks his first state visit to the country while in office. The president and first lady were set to meet with Prime Minister Narendra Modi, enjoy a tour of the Taj Mahal, and attend a state dinner in New Delhi.
The trip is expected to draw hundreds of thousands of attendees for Trump and Modi's appearances together in the first visit by an American president since former President Barack Obama's in 2015.
The Associated Press reported that throngs of supporters lined the streets along Trump's motorcade route from the airport…
MORE
.
—————————————————————————————
.
Drunken Mother And Daughter Spark Mid-Air 'Riot' Involving 20 Passengers On Easy Jet Flight Because Cabin Crew Asked Them To Stop Swearing – Daily Mail
A drunken mother and daughter abused cabin crew staff and even threw a punch at one, sparking a mid-air 'riot' after being repeatedly asked to stop swearing in front of other passengers, a court has heard.
Karin Parkes, 56, and daughter Carrie, 36, triggered a 'full on fight' involving up to 20 men at 30,000 feet while intoxicated on pink gin, it was alleged.
Staff on the easyJet flight from Manchester to Agadir in Morocco, which had 186 passengers on board, tried to calm the two women down but Carrie stuck her fingers in her ears and said: 'I'm not listening to that vile c**t.'
The captain of the aircraft eventually diverted to Casablanca after staff told him the rear of the cabin where the women were sitting was 'out of control.'
During the rampage it was alleged Karin swung a punch at a steward while Carrie had to be forcibly held down by other passengers…
MORE
.
—————————————————————————————
.
DHS Whistleblower Philip Haney Shot Dead – WorldNetDaily
.

.
Former Department of Homeland Security whistleblower Philip Haney – known for exposing how political correctness compromised national security during the George W. Bush and Barack Obama administrations – was found dead Friday of a gunshot wound near his vehicle along a highway east of Sacramento, California.
In a statement Saturday, the Amador County Sheriff's Office coroner said deputies and detectives at the scene Friday morning found a firearm near his body.
They believe he suffered a single, self-inflicted gunshot wound. But the coroner said the investigation is ongoing, and many of Haney's friends who had spoken to him in the past week say he was happy and looking forward to getting married…
MORE
.
—————————————————————————————
.
FDA Approves Drug That Lowers Cholesterol In A New Way – Epoch Times
U.S. regulators on Friday approved a new type of cholesterol-lowering drug aimed at millions of people who can't tolerate – or don't get enough help from – widely used statin pills like Lipitor and Crestor.
The Food and Drug Administration approved Esperion Therapeutics Inc.'s Nexletol for people genetically predisposed to have sky-high cholesterol and people who have heart disease and need to further lower their bad cholesterol.
The daily pill is to be taken in conjunction with a healthy diet and the highest statin dose patients can handle, the FDA said.
High LDL, or bad cholesterol, is one of the top risks for heart attacks and other problems. Studies showed that Nexletol could lower LDL by about 25 percent when taken alone and by an additional 18 percent when combined with a statin…
MORE
.
—————————————————————————————
.
Crazy Old Communist Wins Nevada Democrat Caucuses – The Hill
.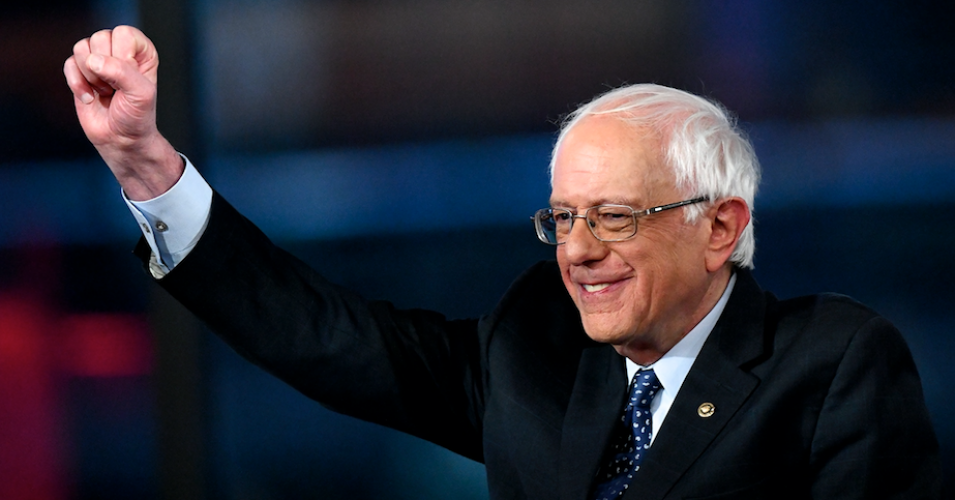 .
Sen. Bernie Sanders (I-Vt.) posted a decisive victory in the Nevada caucuses Saturday, cementing his status as the front-runner for the Democratic presidential nomination by turning out a diverse coalition of voters.
Early returns showed Sanders dominating among young people and Latinos, who make up nearly one-third of the electorate here. The Vermont senator also won several downtown Las Vegas caucus sites, underscoring his strong support among the labor union rank and file who are a powerful force in Nevada politics.
"In Nevada we've just put together a multigenerational, multiracial coalition, which is going to not only win in Nevada, it's going to sweep this country," Sanders said…
MORE
.
—————————————————————————————
.
Texas Company Says It Has Coronavirus Vaccine – Fox Business
A Texas-based genetic engineering company is claiming to have a vaccine for the new coronavirus.
Greffex Inc. CEO told the Houston Business Journal that his company completed the vaccine this week, and it will now move on to animal testing as required by the U.S. government.
"The trick in making a vaccine is: Can you scale the vaccine that you've made to be able to make a certain number of doses? Can you test that vaccine quickly and efficiently? And then can you get it into patients?" Price told Houston's KHOU 11. "And that's where we have an edge as well on the other companies that are out there."
If the vaccine is approved by the government, Greffex will distribute the vaccine to other countries for free, Price added.
Price said Greffex did not use a living or dead version of the actual virus that originated in Wuhan, China, to create the vaccine…
MORE
.
—————————————————————————————
.
U.S., Taliban Announce Peace Deal To Be Signed Next Week – Epoch Times
.

.
The United States and the Taliban reached an understanding in recent weeks on a reduction of violence in Afghanistan, the State Department said Friday, and plan to sign a peace agreement on Feb. 29.
U.S. negotiators and Taliban representatives have been meeting in Doha, Qatar, to try to hammer out a deal that would see the Taliban cut down on military action, paving the way for the United States to withdraw troops from Afghanistan.
An understanding has been reached between the parties "on a significant and nationwide reduction in violence across Afghanistan," Secretary of State Mike Pompeo said in a statement…
MORE
.
—————————————————————————————
.
Indiana Teacher Claims She Was Fired For Exposing Left-Wing 'Social Emotional Learning' Scheme – Big League Politics
An Indiana teacher released a viral video this week giving riveting testimony about her dismissal from a public school because of her activism efforts against left-wing educational schemes.
"My name is Jennifer, and I am a public school teacher who is also the founder of Purple for Parents Indiana," she said. "I started Purple for Parents here to expose the truth about Red for Ed, the NEA and the radical agenda behind it."
She believes that the National Education Association (NEA) is involved in a scheme to not only elect Democrats, but also indoctrinate and brainwash young minds through a sneaky overhaul of the curriculum in public schools.
"One of these hot topic issues is a push to change school culture through social emotional learning programs," she explained.
"My school is currently in the third year of its SEL program called 'Leader in Me.'…
MORE
.
—————————————————————————————
.
Tucker Carlson Calls For Roger Stone Judge's Impeachment: 'Democratic Activist Wearing Robes' – Daily Caller
.

.
Fox News host Tucker Carlson called for the impeachment of U.S. District Court Judge Amy Berman Jackson during a Thursday night "Tucker Carlson Tonight" monologue in which he called her a "Democratic activist wearing robes."
Discussing Jackson's treatment of Trump confidant Roger Stone during his federal trial that culminated in the imposition of a 40-month prison sentence for witness tampering and obstruction, Carlson called his real crime "spending 40 years giving political advice to Donald Trump and then gleefully mocking the people in charge."
"Stone's sentence was delivered by an Obama-appointed judge called Amy Berman Jackson," Carlson said…
MORE
.
—————————————————————————————
.
New York Times Publishes Op-Ed By Afghan Terrorist Leader – Daily Wire
On Thursday, The New York Times, which in the past refused to print an op-ed by former senator John McCain in 2008 when he was running for president of the United States, published an op-ed written by the deputy leader of the Taliban who is the chief of the Haqqani network, a U.S.-designated terror group responsible for the savage murder of hundreds of people in Afghanistan.
That provoked an outcry from many people familiar with the group's bloody history and the massacres it has committed.
In the op-ed, titled "What We, the Taliban, Want," Sirajuddin Haqqani wrote, "The long war has exacted a terrible cost from everyone. We thought it unwise to dismiss any potential opportunity for peace no matter how meager the prospects of its success.
For more than four decades, precious Afghan lives have been lost every day. Everyone has lost somebody they loved. Everyone is tired of war. I am convinced that the killing and the maiming must stop."…
MORE
.
—————————————————————————————
.
Leftist Judge Sentences Roger Stone To 40 Months In Prison Following Rigged Trial – Gateway Pundit
.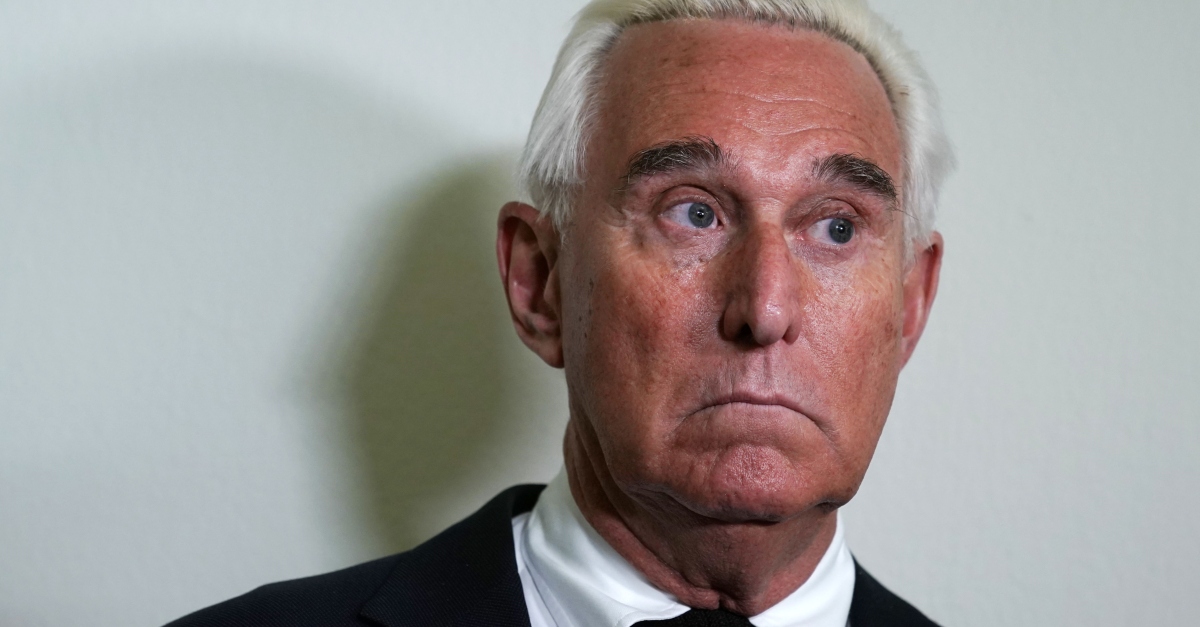 .
Corrupt Obama-appointed Judge Amy Berman Jackson was snarky in court Thursday morning and signaled she would not go easy on Roger Stone as she prepared to hand down his sentence.
Roger Stone was previously convicted by a biased jury on all 7 counts of lying to Congress, obstruction of justice and witness tampering. The bogus charges stemmed from Mueller's abusive Russia witch hunt.
Roger Stone, 67, was surrounded by friends and family as he walked into the E. Barrett Prettyman federal courthouse in Washington wearing a dark grey pinstriped suit, dark sunglasses and a fedora…
MORE
.
—————————————————————————————
.
Facebook Sued For $9 Billion By Internal Revenue Service After Shifting Profits For Ireland – Big League Politics
Facebook is set to be sued for $9 billion by the Internal Revenue Service, which accuses the company of undervaluing intellectual property it transferred to Ireland in an effort to avoid compliance with American tax rules.
The IRS is accusing Facebook of significantly undervaluing the cost of intellectual property it transferred to an Irish component of its company in 2010. They'll make their argument before a San Francisco judge later this month.
Facebook expects the litigation to be settled in a matter of weeks. It's probable that the proceedings will end with a settlement in which the Silicon Valley social media behemoth will agree to pay a portion of the back taxes it owes as a result of the 2010 tax haven move. Leading employees of the company, including Chief Technology Officer Mike Schroepfer, are expected to testify in the proceedings.
Major Silicon Valley corporations regularly shift the most profitable elements of their businesses to tax havens such as Ireland and the Cayman Islands…
MORE
.
—————————————————————————————
.
President Trump Names Richard Grenell As Top Intelligence Official, Replacing Joseph Maguire – Epoch Times
.

.
President Trump on late Wednesday said Richard Grenell, the U.S. ambassador to Germany, will be the acting director of national intelligence (DNI), replacing Joseph Maguire.
Trump in a tweet called Grenell "highly respected." "Rick has represented our Country exceedingly well and I look forward to working with him," Trump wrote. "I would like to thank Joe Maguire for the wonderful job he has done, and we look forward to working with him closely, perhaps in another capacity within the Administration!" he added.
The post of director of national intelligence, which was created after the Sept. 11, 2001, attacks on the United States, oversees the 17 U.S. civilian and military intelligence agencies including the CIA…
MORE
.
—————————————————————————————
.
Pigeons In MAGA Hats Set Loose In Las Vegas Ahead Of Democrat Debate – New York Post
A flock of pigeons wearing tiny "Make America Great Again" hats was released in Sin City by a group of Trump boosters on the eve of the Democratic debate, according to a report Wednesday. In the bizarre stunt, activists adorned one of the birds with a coifed Trump wig as part of the "aerial protest," according to a press release cited by news3lv.com.
"[It took] exhaustive research, logistical hurdles and pigeon care taking," the organization, Pigeons United To Interfere Now, said in the release.
The political flap comes as six Democratic presidential candidates gear up for a debate on Wednesday at 9 p.m. EST in Las Vegas. They include Sens. Elizabeth Warren (D-Mass.), Amy Klobuchar (D-Minn.) and Bernie Sanders (I-Vt.), former South Bend, Ind., mayor Pete Buttigieg, former vice president Joe Biden, former Big Apple mayor Mike Bloomberg.
The group, which is also known as P.U.T.I.N – and led by a man who goes by "Coo Hand Luke" – said it was inspired by the Cold War-era CIA operation "Tacana,"…
MORE
.
—————————————————————————————
.
President Trump Commutes Sentence Of Former Illinois Governor Blagojevich, Pardons Former New York Police Commissioner Kerik – Fox News
.

.
President Trump issued a spree of clemency decisions Tuesday for high-profile figures — most notably commuting the sentence of former Democratic Illinois Gov. Rod Blagojevich, who was convicted for attempting to sell Barack Obama's vacant Senate seat when he was elected president.
Trump confirmed to reporters that he's granted clemency for the ex-governor, calling his sentence "ridiculous."
"He'll be able to go back home with his family after serving eight years in jail," Trump said.
Trump also announced he pardoned financier Michael Milken, who pleaded guilty for violating U.S. securities laws…
MORE
.
—————————————————————————————
.
Ashraf Ghani Declared Winner Of Afghan Election After Contentious Five-Month Delay – Washington Examiner
President Ashraf Ghani has been declared the winner of Afghanistan's presidential election after months of delay and accusations of fraud by opposition leaders.
The results of the September election were announced by the Independent Election Commission on Tuesday, which granted incumbent Ghani, 70, another five-year term by a razor-thin margin. According to the commission, Ghani received 50.64% of the vote to beat runner-up and opposition candidate Abdullah Abdullah, 59, who took in 39.5% of the tally.
Abdul Rashid Dostum, the vice president under Ghani and an Abdullah supporter, said he would not accept results that are plagued by fraud.
"Even if they put a knife on my throat, even if they hang me, I will not accept an announcement based on fraud," Dostum said last week. "If they announce a government based on fraud, we will announce a parallel government."…
MORE
.
—————————————————————————————
.
Pretenders Singer Chrissie Hynde Urges President Trump To Join Effort To Free Juliane Assange – The Hill
.

.
The Pretenders founder and songwriter Chrissie Hynde issued an open letter to President Trump on Monday, urging him to work to secure the release of WikiLeaks founder Julian Assange.
Hynde tweeted Monday that Assange had been "duly punished" for his role in the leak of documents provided by Chelsea Manning, a former U.S. Army soldier and whistleblower, and urged Trump to pardon Assange.
Assange, who previously was living in the Ecuadorian Embassy in London for years, was arrested last year and now faces extradition to the U.S. Manning remains imprisoned for contempt of court over her refusal to testify in the case involving Assange…