.
Winning: Trump Economy Creates 225,000 Jobs In January – Breitbart
.

.
The U.S. economy added 225,000 jobs in January and the unemployment rate ticked up to 3.6. Economists had expected the economy to add 160,000 jobs. December's figure was revised up from 145,000 to 147,000.
The unemployment rate edged up because the labor force participation rate increased, meaning the strong labor market drew more people into the workforce. The participation rate rose to 63.4 percent in January, the best rate since the last recession.
The employment to population ratio for prime age workers rose to 80.6 percent, the highest since 2001. The Department of Labor said that notable job gains occurred in construction, in health care, and in transportation and warehousing…
MORE
.
—————————————————————————————
.
Ohio Dad Got 55,000 Identical Letters About His Daughter's Student Loan – New York Post
An Ohio dad didn't need more than one reminder about his daughter's student loans — but he got about 55,000.
Dan Cain, of Twinsburg, recently received a delivery of 79 plastic bins of mail — each packed with about 700 identical statements from the College Avenue Student Loan Company for the loan he and his wife, Dee, had taken out for their daughter's college tuition, WOIO reported.
He told the outlet he knew something was wrong when the clerk at the local post office told him his mail wouldn't fit through their front door. So he made two trips in his truck to pick up the pounds of letters that he's now keeping in his garage – for lack of other options.
"I was shocked," Cain told the outlet. "Are you kidding me? Who makes that kind of mistake?"
The student loan carrier apologized to Cain, blaming a glitch in its new outgoing mail system, he said. The company said it would send another statement – but that left Cain uneasy, for obvious reasons…
MORE
.
—————————————————————————————
.
McConnell Prepares For Votes On Five Judicial Nominees After Fake Impeachment Trial Wraps Up – One America News
.

.
Senate Majority Leader Mitch McConnell is ready to move forward, following the end of the impeachment trial. Just minutes after the final impeachment vote Wednesday, Sen. McConnell (R-Ky.) filed motions to hold votes on five of the president's judicial nominees.
The move included Andrew Brasher to the U.S. Court of Appeals for the 11th Circuit. This shows McConnell and the president remain committed to judicial confirmations, which is something the president reaffirmed during his State of the Union address on Tuesday.
"Working with Senate Majority Leader Mitch McConnell, thank you Mitch, and his colleagues in the Senate we have confirmed a record number of 187 new federal judges to uphold our Constitution as written," stated President Trump…
MORE
.
—————————————————————————————
.
GOP Senators Waste No Time Investigating Gropey Joe's Degenerate, Coke-Head Son After Fake Impeachment Acquittal – Daily Caller
The Republican chairmen of two Senate committees wasted no time after President Donald Trump's impeachment acquittal Wednesday before opening up a new area of inquiry related to Hunter Biden's foreign business activities.
Minutes after the Senate voted to acquit Trump, Senate Finance Committee Chairman Chuck Grassley of Iowa and Senate Homeland Security Committee Chairman Ron Johnson of Wisconsin released a letter they sent to the director of the Secret Service requesting Biden's travel records during the time when his father was vice president.
"We write to request information about whether Hunter Biden used government-sponsored travel to help conduct private business," the senators wrote to Secret Service Director James M. Murray.
They say they want records indicating whether the younger Biden had Secret Service protective detail while his father Joe Biden was in office…
MORE
.
—————————————————————————————
.
The Terrifying Science Behind The Locust Plagues Of Africa – Wired
.

.
Tearing across East Africa right now is a plague of biblical proportions: Hundreds of billions of locusts in swarms the size of major cities are laying waste to the crops in their path. It's the worst outbreak in 25 years in Ethiopia. In Kenya, make that the worst in seven decades.
Fueling the locusts' destruction is a bounty of vegetation following unusually heavy rains. All that food means the landscape can support a huge number of rapidly breeding insects. And the problem is about to get a lot worse – the insect population could boom by a factor of 500 by June.
The Food and Agriculture Organization of the UN is calling the situation in the Horn of Africa "extremely alarming," and estimates that a swarm covering one square kilometer can eat as much food in a day as 35,000 humans…
MORE
.
—————————————————————————————
.
Rigged? Texas Democrats Warn Of Iowa-Style Mishaps To Come In Their State's Upcoming Primary – Big League Politics
The unprecedented disaster that is still ongoing in Iowa after their caucus ended in disarray on Monday may not be an isolated incident for the Democrats.
Texas Democrats are warning that their state's upcoming primary on Mar. 3 could undergo similar problems because of how they changed the manner in which they report their results from the last time around.
The Texas Democratic Party was recently informed by the Texas Secretary of State's office that they will be unable to provide the numbers to allocate a majority of the state's 228 delegates on the night of the primary. With a close race expected and Texas being such a delegate-rich state, this impending fiasco could blow Iowa's out of the water.
State election officials have told Texas Democrat officials that their new reporting system has serious limitations, and it may take days to determine who is the actual winner of the primary. Nobody knows for sure what will be done to the votes during the lengthy deliberative process…
MORE
.
—————————————————————————————
.
Legendary Actor Kirk Douglas Dies At 103 – Foc News
.

.
Kirk Douglas, one of the most famous American leading men of the mid-20th century remembered for his dimpled chin, chiseled features, and virile Hollywood roles, died Wednesday at the age of 103, his family announced.
"It is with tremendous sadness that my brothers and I announce that Kirk Douglas left us today at the age of 103," Kirk's son, Michael Douglas, wrote in a statement shared to social media.
He continued: "To the world he was a legend, an actor from the golden age of movies who lived well into his golden years, a humanitarian whose commitment to justice and the causes he believed in set a standard for all of us to aspire to…
MORE
.
—————————————————————————————
.
Feds Launch Criminal Investigation Into JPMorgan For Gold Market Manipulation – Bloomberg
U.S. authorities that accused six JPMorgan Chase & Co. employees of rigging precious-metals futures are building a criminal case against the bank itself, two people familiar with the situation said.
The previously unreported investigation of the global bank's parent company, part of a wide-ranging federal clampdown on market manipulation, raises the prospect of criminal charges and significant fines against America's largest bank.
No formal accusations have been made against JPMorgan. A bank spokeswoman, Jessica Francisco, declined to comment and pointed to company filings from last year disclosing that the Justice Department's Criminal Division was investigating "trading practices in the metals markets and related conduct."
Investigators at the Justice Department and the Commodity Futures Trading Commission are at least two years into their examination of trading on JPMorgan's precious metals desk, one of the people said…
MORE
.
—————————————————————————————
.
Six-Day-Long ICE Raid In New Jersey Results In Arrest Of 115 Violent, Foreign Fugitives – USIACR
.

.
A Brazilian national, in the country illegally and wanted in Brazil for homicide, was arrested last week during enforcement efforts conducted by U.S. Immigration and Customs Enforcement (ICE) Enforcement and Removal Operations (ERO) in New Jersey, targeting at-large criminal aliens, illegal re-entrants and other immigration violators.
Any local jurisdiction thinking that refusing to cooperate with ICE will result in a decrease in local immigration enforcement is mistaken.
These jurisdictions that choose to not cooperate with ICE are likely to see an increase in ICE enforcement activity as ICE has no choice but to conduct more at-large, targeted enforcement actions since the agency is unable to take custody of a criminal alien within the confines of a local jail…
MORE
.
—————————————————————————————
.
Fake Impeachment Update: President Trump Acquitted Of Both Fake Charges By U.S. Senate – New York Post
The Senate voted Wednesday afternoon to acquit President Trump on both articles of impeachment against him.
The chamber first handily voted down the article alleging abuse of power, 52-48, affirming an outcome that was widely expected essentially since the trial's start on Jan. 21.
Minutes later, they voted 53-47 against the second article, alleging obstruction of Congress.
The effort to remove Trump from office needed the support of at least two-thirds – or 67 members – of the GOP-controlled body to carry, but Utah Sen. Mitt Romney was the only one of the 53 Republicans in the chamber to buck party lines and vote to convict on the first article.
He responded not guilty on the second article, making that acquittal a strict party-line vote.
Sen. Joe Manchin, a Democrat in the Trump stronghold of West Virginia, stuck to party lines, voting to convict…
MORE
.
—————————————————————————————
.
Dipshit Alert: WestJet Flight From Toronto To Jamaica Turns Back Following Coronavirus Hoax – National Post
.

.
A WestJet flight from Toronto to Jamaica had to turn back Monday after the airline says a passenger made an "unfounded claim regarding coronavirus."
The airline said in a statement that 243 passengers aboard Flight 2702 were on their way to Sangster International Airport in Montego Bay when the flight was disrupted by an "unruly guest."
The plane returned to Toronto, where law enforcement and paramedics were waiting, WestJet said.
WestJet said that "out of an abundance of caution," the flight crew followed all protocols for infectious disease on board…
MORE
.
—————————————————————————————
.
Republicans Aim To Expunge Fake Impeachment If They Retake House – Washington Examiner
Republicans hope to expunge the House's impeachment of President Trump if they retake the House in 2020.
As the Senate impeachment trial of Trump reaches its end on Wednesday with a likely acquittal, House Minority Leader Kevin McCarthy said the GOP lawmakers in the lower chamber will try to wipe Trump's record clean.
"This is the fastest, weakest, most political impeachment in history. I don't think it should stay on the books," McCarthy told the New York Post on Wednesday. If Republicans retake the House, McCarthy said investigating the Democrats' handling of impeachment would be among their top priorities in the next session on Congress.
"We have to get to the bottom of it," the California Republican said, adding that he wants to explore lead impeachment manager Rep. Adam Schiff's potential ties to the whistleblower, whose complaint prompted the House's impeachment investigation…
MORE
.
—————————————————————————————
.
#RecallMitt Movement: With His Idiotic 'Guilty' Vote, RINO Romney Could Be Removed From Office – Big League Politics
.

.
Today, Mitt Romney announced (IN TEARS) he will join the Democrat effort to reverse the 2016 election and remove President Trump from office. Fortunately for President Trump and the nation, the president will not be removed from office. He will be acquitted of this fake impeachment scam and remain in power.
Unfortunately for Senator Mitt Romney, he may not be as lucky. Utah Republicans are preparing legislation to recall and remove sitting U.S. Senators. If this becomes law, Romney could be the one removed from office.
Such a possibility is an acute irony, considering Romney appears to be the only Republican senator enthusiastic about impeaching President Donald Trump…
MORE
.
—————————————————————————————
.
Pimp Admits To Running Sex Trafficking Ring, Turned Parents' Basement Into Sex Dungeon With Over 20 Victims – Crime Online
A New York man admitted in court on Tuesday to keeping a dungeon in his parents' basement where he sex trafficked more than 20 women.
According to Newsday, Raymond Rodio III, 48, started operating the sex trafficking ring out the Sound Beach basement in 2014. Officials said that forced the victims, most of whom were in their 20s, to engage in prostitution at various motels in Suffolk County and plied them with crack cocaine and heroin to "impair their judgment."
Investigators uncovered that Rodio sometimes used the basement to keep his victims for extended periods of time. Prosecutors said he would force them to use a bucket as a toilet as the basement did not have a bathroom, Newsday reported.
Police arrested Rodio during a traffic stop in August 2018. Suffolk County District Attorney Tim Sini said officers had noticed a passenger in Rodio's car who appeared to be a sex trafficking victim, according to the New York Post…
MORE
.
—————————————————————————————
.
Iowa Caucuses: Gropey Joe Beaten Like A Rented Mule By Fake Indian, Doddering Old Communist And Queer Mayor – Epoch Times
.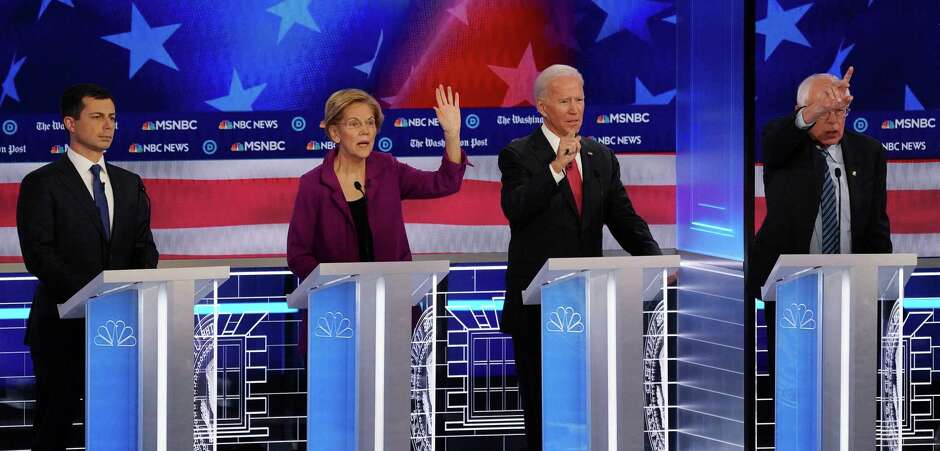 .
Former Vice President Joe Biden acknowledged that his campaign suffered a setback following the partial release of the Iowa caucus results.
"I'm not going to sugar coat it: We took a gut punch in Iowa," Biden, a 2020 Democratic candidate for president, told supporters at a rally in New Hampshire on Wednesday. "The whole process took a gut punch. But look, this isn't the first time in my life I've been knocked down."
The full Iowa caucus results have not been released, and Democratic caucus officials in the state said it's not clear when they will be. But the early results showed former South Bend, Ind. Mayor Pete Buttigieg with a slight lead over Sen. Bernie Sanders (I-Vt.), while Sen. Elizabeth Warren (D-Mass.) was in third place. Biden was fourth, according to the preliminary results…
MORE
.
—————————————————————————————
.
Traitor Nancy Pelosi Rips Up Copy Of President Trump's Speech At Conclusion Of State Of The Union Address – The Hill
Speaker Nancy Pelosi (D-Calif.) on Tuesday ripped up her copy of President Trump's prepared remarks at the conclusion of his State of the Union address.
As Trump finished speaking and most lawmakers stood to applaud, Pelosi stood, took the printed copy of Trump's speech and tore it in half. She placed the shredded copy in a stack on the dais as Trump made his way to greet members of Congress.
Asked afterward why she tore the speech up, Pelosi told reporters it was "the courteous thing to do given the alternative."
The moment capped a tense address from Trump that started when the president appeared to snub Pelosi's offer of a handshake. Pelosi largely seemed to avoid looking at Trump throughout the address, instead reading from his prepared remarks and scanning the room.
She and other Democrats stood and applauded only periodically, even as Republicans regularly gave ovations…
MORE
.
—————————————————————————————
.
Broadcast Legend Rush Limbaugh Receives Presidential Medal Of Freedom At State Of The Union Address – Fox News
.

.
A visibly stunned Rush Limbaugh was awarded the Presidential Medal of Freedom at President Trump's State of the Union address Tuesday night, in an emotional moment one day after the conservative talk radio legend announced he was diagnosed with cancer.
"Almost every American family knows the pain when a loved one is diagnosed with a serious illness. Here tonight is a special man, someone beloved by millions of Americans who just received a Stage 4 advanced cancer diagnosis. This is not good news, but what is good news is that he is the greatest fighter and winner that you will ever meet," Trump told the radio giant, who appeared to be in tears. "Rush Limbaugh: Thank you for your decades of tireless devotion to our country."…
MORE
.
—————————————————————————————
.
President Trump Snubs Traitor Nancy Pelosi's Handshake At State Of The Union Address – New York Post
President Trump snubbed a handshake offer by House Speaker Nancy Pelosi at the start of his State of the Union address on Tuesday.
Trump walked into the House chamber to raucous applause from GOP members of Congress and handed copies of his speech to Pelosi and Vice President Mike Pence, who was seated next to the speaker.
After he handed a copy of the speech to Pelosi, she reached out and offered the president her hand for a shake.
Instead of reaching out his hand to meet hers, Trump turned his back on the woman who led the House of Representatives to impeach him on two articles and faced the auditorium, clapping along with senators and members of Congress who were applauding his entrance as Pelosi gave a shrug.
Chants of "four more years" broke out from GOP lawmakers and other supporters who were there to cheer on the president…
MORE
.
—————————————————————————————
.
President Trump Excludes Fake News Outlet CNN From Traditional News Anchor Luncheon Before State Of The Union Address – PJ Media
.

.
CNN media reporter Brian Stelter announced today that he's shocked, SHOCKED that the network's main anchors appear to have been left off the guest list of the traditional White House pre-State of the Union luncheon.
The luncheon is an intimate off-the-record confab in which the president usually gives an insight into what he'll talk about in his annual congressional address.
Stelter announced that CNN had been left off the guest list in his newsletter:
"White House excludes CNN from annual pre-SOTU lunch with news anchors

President Trump's targeting of CNN is moving to yet another arena: The annual presidential lunch with television network anchors…
MORE
.
—————————————————————————————
.
Only 4 Of Glasgow's 71 Muslim Refugee Child Rapists Have Gone To Prison – Daniel Greenfield
By the summer of last year, Glasgow had the highest number of housed refugees in the UK with almost 10% of the "asylum seekers" setting up shop in the Scottish city. The overflow of refugees, many of them from Pakistan, Iraq, and Afghanistan, has brought in government money, but also violence and crime. Refugees whose requests for asylum are rejected refuse to leave and remain on in Glasgow.
Glasgow had been eager to cash in on asylum seekers, and in the last two decades was fundamentally transformed by the tide of migrants filling up its neighborhoods. As Pakistanis became the largest minority group in Scotland, 42% of the country's Muslim population took up residence in Glasgow.
By the 2011 census, a fifth of Glasgow's population was non-Scottish. In Pollokshields, a quarter of the population is Pakistani. Pollokshields is also where Kriss Donald, a 15-year-old Scottish teenage boy, was kidnapped in the spring of 2004, stabbed all over his body and then set on fire by a Pakistani gang…
MORE
.
—————————————————————————————
.
"I Don't Want Anybody Like That In The White House": Iowa Caucus-Goer Changes Her Vote When She Finds Out Mayor Pete Is Queer –
.

.
Nikki van den Heever, a caucus precinct captain for former South Bend Mayor Pete Buttigieg, tried to talk down an Iowa woman who was incensed to find out – in real-time during a caucus after she'd signed a card supporting him – that the candidate is openly gay.
"Are you saying that he has the same-sex partner? Pete?" the woman says in the clip, which was posted to both Twitter and Reddit early Tuesday morning.
"Yes," van den Heever responds.
"Are you kidding?" the woman says, and upon being told Mayor Pete is married, says "Then I don't want anybody like that in the White House. So can I have my card back?"
"I don't know, you signed it. We could go ask," van den Heever says…