.
Why Criminal Prosecution Might Be The Least Of Ilhan Omar's Legal Concerns – Matthew Kolken
The Department of Justice has reportedly assigned an FBI special agent to work with Immigration and Customs and Enforcement and the Department of Education Inspector General Charge to investigate Rep. Ilhan Omar (D-Minn.) for alleged criminal violations relating to perjury, immigration fraud, marriage fraud, state and federal tax fraud, federal student loan fraud, and bigamy.
As an immigration lawyer, the very first question that came to mind when I read these reports was what immigration consequences, if any, could attach in the event that any of the above allegations are proven beyond a reasonable doubt in a court of law.
My analysis, unfortunately, has resulted in more unanswerable questions than definitive answers.
My analysis started with the fact that it is widely known Omar was born in Somalia, and immigrated to the United States as a Somalian refugee. At some point after her admission to the country, she obtained U.S. citizenship…
MORE
.
—————————————————————————————
.
Elizabeth Warren Has A Fake Plan To Pay For Medicare For All – Peter Suderman
.

.
In releasing a proposal to pay for single-payer – the fully government-financed health care system she calls Medicare for All – Sen. Elizabeth Warren (D-Mass.) faced two challenges. The first was to produce a plan that did not raise taxes on the middle class.
The second was to produce a plan that was simple to understand and easy to explain. As one anonymous outside adviser told The Washington Post, her campaign "want[ed] to figure out – with one go – how to stop the 'How are you going to pay for it?' question."
As it turned out, she failed on both counts.
Warren's plan, released at the beginning of November, starts with the fact that employers spend about $9 trillion a decade on health insurance for their workers…
MORE
.
—————————————————————————————
.
Psycho Driver Named Anurag Chandra Intentionally Rams Car Filled With Teenagers, Killing Three – Fox News
The California Highway Patrol said Monday that a driver intentionally rammed his vehicle into a Toyota Prius that was filled with teenagers, causing a fatal crash that killed three boys in Temescal Valley.
The crash was reported shortly before 10:30 p.m. Sunday night, near the intersection of Temescal Canyon Road and Trilogy Parkway.
Investigators determined that two vehicles were traveling southbound on Temescal Canyon when the driver of a white Infiniti, later identified as 42-year-old Anurag Chandra, of Corona, intentionally struck the Prius, causing it to slam into a tree, the CHP said.
The crash left three teenage boys dead and three others injured.
"It was an intentional act," CHP Lt. David Yokley told reporters at a news conference Monday. "Our investigation led us to believe Mr. Chandra intentionally rammed the Prius, causing the driver to lose control."…
MORE
.
—————————————————————————————
.
Swedish Politician Says Government Has Lost Control After Huge Stockholm Bombing – Breitbart
.

.
Swedish Moderate Party leader Ulf Kristersson has slammed the ruling Social Democrats, saying the government has lost control of the country after a huge explosion rocked a Stockholm residential area.
Mr Kristersson noted the rise in the number of explosions and bombings across Sweden, citing figures from the Crime Prevention Council (Bra) that revealed the country suffered 230 bombings in 2019 alone.
"Unfortunately, this government has lost control of what is happening in Sweden. Now in the morning, we woke up again to news of bombs and explosions, this time in Stockholm's inner city and in central Uppsala," Kristersson wrote in an op-ed for newspaper Aftonbladet…
MORE
.
—————————————————————————————
.
Only Person Arrested At Virginia Gun Rights Rally Was A Mask-Wearing LGBT Activist – Big League Politics
While today's gun rights rally at the Virginia Capitol was an incredibly peaceful event, there was one masked suspect who was arrested by police, and it turned out to be a far-left LGBT activist.
The Virginia Capitol announced on Monday that 21-year-old Mikaela E. Beschler was arrested at approximately 1:30pm at the 800 block of East Broad Street after being repeatedly warned not to use her bandanna as a mask. She has been charged with one felony count of wearing a mask in public as a result.
Beschler's Facebook profile is evidence of her far left politics with multiple posts promoting the LGBT agenda. She has made posts blasting President Trump and Supreme Court Justice Brett Kavanaugh as well. She was released shortly after her detention.
While this infiltrator may have been arrested, the lawful gun owners who showed up to stand for their 2nd Amendment rights were incredibly civil, and made Governor Blackface Northam look absurd for his unconstitutional emergency declaration last week…
MORE
.
—————————————————————————————
.
AOC Steps In It Again, Claiming Dems Are A 'Center-Conservative' Party, Not 'A Left Party' – PJ Media
.

.
AOC strikes again! Following her recent decision not to pay dues to the Democratic Party, Alexandria Ocasio-Cortez declared on Monday that the Democratic Party is a "center or center-conservative" party and that there isn't a "left" party in the United States anymore.
I'm not sure whether I should be laughing or frightened.
Making her assessment even more absurd is the fact she made her comments at an event honoring Martin Luther King Jr.
"We don't have a left party in the United States. The Democratic Party is not a left party," she said, receiving applause from the audience. "The Democratic Party is a center or a center-conservative party."…
MORE
.
—————————————————————————————
.
Pillowcase Rapist: Registered Sex Offender Caught Decades After Attacking More Than 40 Women – Crime Online
On Saturday, authorities in Florida arrested a registered sex offender who they believe committed a series of rapes during the 1980s.
According to the Miami Herald, Robert Koehler, 60, was recently accused of sexually assaulting at least 44 women from South Miami to Deerfield Beach between May 1981 and February 1986. The then-unidentified suspect was dubbed the "Pillowcase Rapist" because he allegedly used a pillowcase, shirt or towel to conceal his identity during the attacks.
All but one of the victims lived in a townhouse or apartment. The suspect reportedly gained entry through unlocked sliding doors or windows and threatened the victims with a knife. He sometimes stole money during the assaults, according to the news outlet.
Investigators had speculated that more than one person committed the drove of unsolved rapes. The Miami Herald reported that a task force dedicated to capturing the Pillowcase Rapist disbanded in 1987, after leads dried up…
MORE
.
—————————————————————————————
.
Grayson County Sheriff: If Virginia Gun-Control Bills Pass, 'They Won't Be Enforced, They'e Unconstitutional' – CNS
.

.
Speaking with a reporter at the pro-Second Amendment rally in Richmond, Va., on Monday, Grayson county Sheriff Richard Vaughan said that if the radical gun-control measures being pushed by the liberal Democrats in the State Legislature are passed, they "will not be enforced" because they are "constitutional."
"If the bills go through as proposed, they will not be enforced. They're unconstitutional," said Sheriff Vaughan in response to a question, video of which was posted on Twitter by news producer Andrew Kimmel and retweeted by activist Michael Coudrey.
"We support to uphold the Constitution of the United States and the constitution of Virginia," said the sheriff. "That's what we'll do."…
MORE
.
—————————————————————————————
.
America-First Oklahoma Senators Introduce "MAGA" Specialty License Plates Bill – Big League Politics
Two Oklahoma Republican State Senators put forward a bill that would create specialty license plates that show off the president's campaign slogans. Some analysts believe this license plate could be a violation of federal campaign finance law.
Senators Nathan Dahm and Marty Quinn wrote the legislation, which would create Oklahoma state license plates that read "Make America Great Again" (MAGA) and "Keep America Great" available for people to buy.
As of now, 98 styles are available for purchase for registered vehicles in Oklahoma. More than half of the proceeds go to nonpolitical causes and charities.
The proceeds from the "MAGA" and "Keep America Great" license plates won't go directly to president Trump's reelection campaign. However, they will be split among two veteran groups: The Warriors for Freedom Foundation and the Folds of Honor Foundation. Trump will still have a say in the license plate designs…
MORE
.
—————————————————————————————
.
South Dakota Bill Would Jail Doctors Who Drug Or Perform Surgery On 'Transgender' Children – Big League Politics
.

.
A South Dakota lawmaker is introducing legislation that would throw doctors in jail who help transgender children along on their gender transition by dosing them with drugs and performing surgeries to mutilate their genitals.
The Vulnerable Child Protection Act, or House Bill 1057, would make it a class four felony for doctors in the state of South Dakota to surgically alter the gender of a child. It would also criminalize a doctor from prescribing puberty-blocking drugs to children as well.
"It is a bill to protect vulnerable South Dakota children who have some challenges with understanding if they're a boy or a girl. It's the same penalty as we established in the Female Genital Mutilation bill, I copied the penalty from that bill…
MORE
.
—————————————————————————————
.
Leftist Corruption Update: Here's How Gropey Joe's Family Got Rich While He Was Vice President – PJ Media
There's a long history of politicians using their power to enrich their families, but according to Peter Schweizer, Joe Biden "emerges as the king of the sweetheart deal, with no less than five family members benefiting from his largesse, favorable access and powerful position for commercial gain." These sweetheart deals include foreign partners and sometimes taxpayer dollars.
And it's not just his son Hunter Biden. In a piece for the New York Post, Peter Schweizer details exactly how these Biden family members profited off of Joe's political career.
Joe's brother, James Biden
James Biden, Schweizer explains, has been "an integral part of the family political machine from the earliest days when he served as finance chair of Joe's 1972 Senate campaign."
In fact, since joining the Senate, James has accompanied him on congressional delegation trips overseas. As vice president, Joe brought James to White House functions. "Sometimes, James' White House visits dovetailed with his overseas business dealings…
MORE
.
—————————————————————————————
.
The Impeachment 'Kill Switch': McConnell Dismissal Rule Corners DemoNazis, Blocks Antics As Trial Commences – Breitbart
.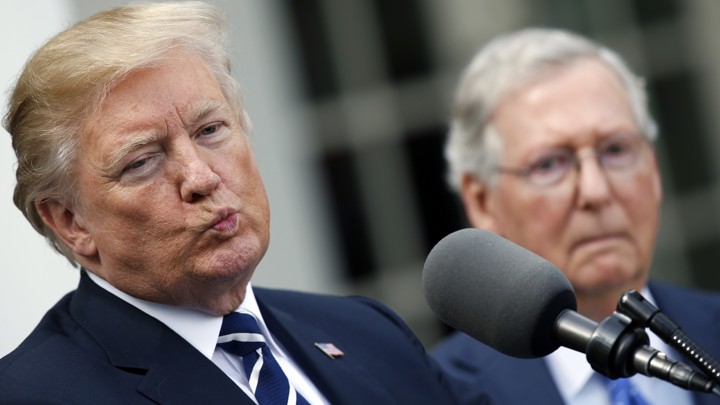 .
Senate Majority Leader Mitch McConnell is as of now including in the U.S. Senate impeachment trial rules a "kill switch" that effectively allows for the president's legal team to seek an immediate verdict or dismissal of the case should Democrats engage in any shenanigans like they did in the House process.
The revelation comes after the House finally late last week formally sent the Articles of Impeachment it adopted before Christmas – after holding them for more than a month without transmission – to the U.S. Senate, thereby triggering the start of a Senate trial.
The Senate will formally commence its trial procedures in votes this coming week, and while some Republicans want to outright dismiss the charges altogether from the outset, others believe a trial should take place…
MORE
.
—————————————————————————————
.
"We're Ready To Fight": Thousands Expected At Massive Gun-Rights Rally At Virginia Capitol – Zero Hedge
As various pro-gun rights groups prepare to gather at Virginia's state capitol in Richmond on Monday in what's expected to be one of the largest pro-gun rallies in recent memory, Democratic Gov. Ralph Northam has declared a state of emergency, police are busy setting up barricades and temporary holding pens – and one lawmaker has even arranged to spend most of the day in a safe house, according to the Washington Examiner.
The rally is expected to draw tens of thousands, and fears about Charlottesville-style violence are prompting police to scour the web for any signs of a violent plot.
Already, the FBI has arrested three alleged members of a violent white supremacist group who were planning on attending the rally.
As Republicans battle for the hearts and minds of the people against a state government that is unilaterally controlled by Democrats, Todd Gilbert, Virginia's House Republican leader, warned on Saturday that white supremacist groups trying to spread "hate, violence, or civil unrest" would not be welcome…
MORE
.
—————————————————————————————
.
Trump Was Right: Puerto Rico Emergency Director Fired After Residents Discover Warehouse Full Of Hurricane Maria Supplies – KTLA
.

.
Puerto Rico Gov. Wanda Vلzquez Garced fired the island's emergency manager, hours after a warehouse filled with supplies was discovered.
The emergency aid is believed to be from when Hurricane Maria hit the island two years ago, the governor said.
Carlos Acevedo, director of Puerto Rico's Office of Emergency Management, was dismissed Saturday. The governor appointed Maj. Gen. José J. Reyes, the adjutant general of the Puerto Rico National Guard, to replace him.
Earlier on Saturday, numerous pallets of water and other boxes with emergency supplies were found at a warehouse in the earthquake ravaged city of Ponce…
MORE
.
—————————————————————————————
.
Refugee-Loving France Sees Surge Of Rape, Murder, And Violence In 2019 – Breitbart
New statistics from the French Interior Ministry have revealed a significant increase in violent crimes with a 12 per cent rise in sexual violence and an 8.5 per cent rise in murders.
The statistics, which were collected by the Interior Ministry's statistics service SSMI, show that sexual violence increased by 12 per cent last year. In 2018, the increase had been even greater at 19 per cent, French newspaper Le Figaro reports.
"All French regions have experienced increases in the number of rapes, assaults, and sexual harassment recorded by the security forces in 2019, notably Corsica, Centre-Val-de-Loire, Auvergne-Rhone-Alpes, and Nouvelle-Aquitaine," the SSMI stated.
"The number of homicides increased significantly in 2019 (970 victims) while it had been stable the last two years," they added, which amounts to an 8.5 per cent increase from 2018.
Professor of Criminology Alain Bauer labelled the new statistics "the worst record we have seen in years" and added: "These figures are particularly revealing…
MORE
.
—————————————————————————————
.
Liberal Law Professor Alan Dershowitz To Defend Trump In Fake Impeachment Trial – CNS
.

.
Iconic liberal civil and human rights defense attorney and Harvard Law School Professor Emeritus Alan Dershowitz announced Friday has joined President Donald Trump's legal team and will present oral arguments against impeachment and removal in the Senate trial.
Dershowitz issued a three-part statement making the announcement on Twitter, saying that, even though he voted for Hillary Clinton for president, he is non-partisan regarding the Constitution.
Thus, Dershowitz says, he is defending Trump in order to prevent the perversion of the Constitution…
MORE
.
—————————————————————————————
.
Court Smacks Down Children's Attempt To Force Climate Policy By Lawsuit – PJ Media
In a key victory for the rule of law, a panel of the 9th Circuit Court of Appeals rejected a lawsuit filed by children against the U.S. government, claiming that the federal government had violated the children's rights by failing to act against climate change.
The lawsuit asked the court to unilaterally force the government to adopt broad climate policies, circumventing Congress and the executive branch entirely.
"The plaintiffs claim that the government has violated their constitutional rights, including a claimed right under the Due Process Clause of the Fifth Amendment to a 'climate system capable of sustaining human life.' The central issue before us is whether, even assuming such a broad constitutional right exists, an Article III court can provide the plaintiffs the redress they seek – an order requiring the government to develop a plan to 'phase out fossil fuel emissions and draw down excess atmospheric CO2,'" Judge Andrew Hurwitz wrote in the opinion on the case Juliana v. United States (2020)…
MORE
.
—————————————————————————————
.
President Trump Updates School Prayer Guidance: 'We Will Uphold Religious Liberty' – Fox News
.

.
As his impeachment trial was getting underway in the Senate, President Trump gave a hat tip Thursday to his evangelical base by updating the federal guidance on prayer in public schools – an action that came on National Religious Freedom Day.
The order is similar to a 2003 guidance on school prayer, but it establishes a state-mandated filing process for complaints against local schools and school districts.
States must then send the federal government a list each year of local schools and districts that have "a policy that prevents, or otherwise denies participation in, constitutionally protected prayer," in public schools. States are also required to report local schools that do not certify to the state that they don't have unconstitutional prayer policies…
MORE
.
—————————————————————————————
.
MAGA Update: U.S. Housing Starts Soar 16.9% In December To A 13-Year High – CNBC
U.S. homebuilding surged to a 13-year high in December as activity increased across the board, suggesting the housing market recovery was back on track amid low mortgage rates, and could help support the longest economic expansion on record.
Housing starts jumped 16.9% to a seasonally adjusted annual rate of 1.608 million units last month, the highest level since December 2006. The percentage gain was the largest since October 2016. Data for November was revised higher to show homebuilding rising to a pace of 1.375 million units, instead of advancing to a rate of 1.365 million units as previously reported.
Economists polled by Reuters had forecast housing starts would increase to a pace of 1.375 million units in December.
Housing starts soared 40.8% on a year-on-year basis in December. An estimated 1.290 million housing units were started in 2019, up 3.2% compared to 2018…
MORE
.
—————————————————————————————
.
Deep State Corruption Update: DOJ Investigating James Comey's Role In Leak Of Classified Document During Hillary Clinton Email Probe – National Review
.

.
Department of Justice prosecutors reportedly are investigating the possibility that former FBI director James Comey leaked a classified Russian intelligence document to the media during the investigation of Hillary Clinton's emails, according to a Thursday report from the New York Times.
Per the Times, the investigation is centered around two 2017 articles from the Times and the Washington Post describing the Russian document, which played a key role in Comey's unilateral decision to announce in July 2016 that the FBI would not pursue charges against Clinton for using a private email server to conduct official business during her time as secretary of state…
MORE
.
—————————————————————————————
.
Trumpanomics: New Jobless Claims Fall For 5th Straight Week Amid U.S. Labor Market Strength – Epoch Times
The number of initial jobless claims – a measure of Americans who applied for unemployment benefits – fell for the fifth straight week in early January, pointing to ongoing labor market strength.
Initial claims for state unemployment benefits fell by 10,000 to a seasonally adjusted 204,000 for the week ended Jan. 11, the Labor Department said on Thursday (pdf). Economists polled by Reuters expected claims would rise to 216,000 in the latest week, while those surveyed by MarketWatch forecast an even higher print of 220,000.
The better-than-expected initial claims figures are an encouraging sign for the U.S. economy, which saw slowing job growth in December. The U.S. economy created 145,000 jobs last month after adding 256,000 positions in November, the Bureau of Labor Statistics said.
The four-week moving average of initial jobless claims, which smooths out week-to-week volatility and is considered by some to be a more reliable indicator, fell 7,750 to 216,250 last week…