.
John Kerry Claims Obama 'Never Had A Whiff Of Scandal' So Let's Remind Him Of Some – Matt Margolis
I keep thinking about the above quote whenever anyone claims that the Obama administration was scandal-free. How many more times are we going to hear people make this claim and see it go unchallenged?
During an interview on CNN on Friday, former Secretary of State John Kerry, who's in Iowa campaigning with Joe Biden, echoed the oft-repeated claim that the Obama-Biden administration lacked scandals.
"I believe Joe Biden is the only person who has the set of relationships around the world, who has had this unbelievable breadth of experience as chairman of the Foreign Relations Committee and then as vice president for eight years – and in an administration, by the way, which never had a whiff of scandal," Kerry said.
The claim went unchallenged.
This is the problem, absurd claims like that are made regularly by Obama loyalists and go unchallenged by the media…
MORE
.
—————————————————————————————
.
Vermont Lawmaker Calls For Cell Phone Age Limits – Route Fifty
.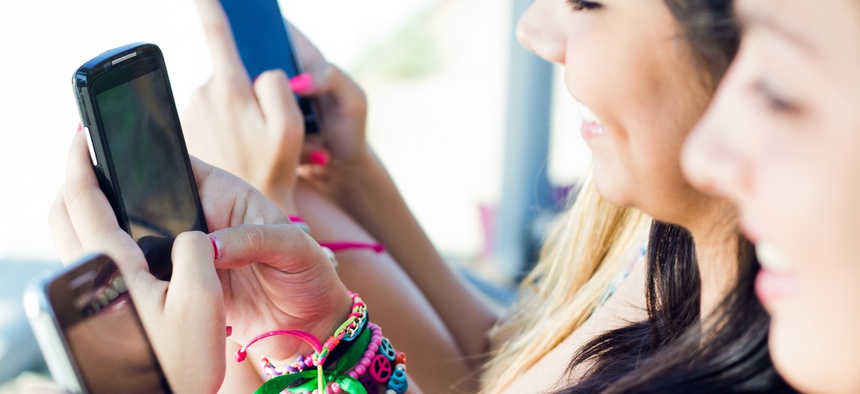 .
Vermont residents under the age of 21 would be banned from owning or using cell phones under a bill introduced in the state legislature this week.
The bill lists a number of dangers associated with cell phone usage, including access to the internet and social media, which "are used to radicalize and recruit terrorists, fascists, and other extremists." School shooters, it says, have often used cell phones to research previous shootings, and cell phone usage while driving "is one of the leading killers of teenagers in the United States."
The bill, introduced by state Sen. John Rodgers, a Democrat, was written largely to make a point. The legislature, he said, "seems bent on taking away our Second Amendment rights," and said a cell phone is more dangerous than a gun…
MORE
.
—————————————————————————————
.
Spy Court Picks FISA Abuse Denier To Tackle FISA Abuse – The Federalist
The nation's top spy court appointed an Obama-era Justice Department official who has denied and downplayed FBI surveillance abuse to assess the FBI's response to a scathing new report cataloguing problems with how the agency secured authority to spy on a Donald Trump campaign affiliate.
Foreign Intelligence Surveillance Court (FISC) presiding Judge James Boasberg appointed David Kris to review the FBI's proposed changes to its surveillance application process even though he spent the past few years running interference for the FBI as substantive criticism of the agency mounted.
Lengthy investigations in the House of Representatives and by the Department of Justice inspector general showed major problems with the claims the FBI made as part of an investigation into whether Trump was a traitor who had colluded with Russia to steal the 2016 election.
Those problems include withholding exonerating evidence, undue reliance on shady sources, and outright alteration of evidence…
MORE
.
—————————————————————————————
.
Leftist Assclown Gets 90 Days In Jail For Spitting At Man In MAGA Hat – The Hill
.

.
A Florida man was sentenced to 90 days in jail after spitting on a man wearing a "Make America Great Again" hat at a restaurant in southern Florida.
According to Treasure Coast Newspapers, an Indian River County judge accepted a no-contest plea Thursday and determined 43-year-old Matthias Ajple was guilty of battery on 67-year-old Robert Youngblood.
Surveillance footage at a restaurant in Vero Beach, Fla., shows Ajple placing what appears to be a paper towel on the head of Youngblood, who was wearing a MAGA hat. According to court documents obtained by Treasure Coast Newspapers, Ajple told Youngblood, "You should go back to Russia you… communist."…
MORE
.
—————————————————————————————
.
Depraved Leftist Update: Feminist Author Pushes Nude Models For Children To Make Them 'Relaxed' About Their Sexuality – Big :eague Politics
Flo Perry, a feminist author based out of London, is pushing the idea that nude models should pose in front of children in order to make them more "relaxed" about sexual matters.
Perry debated her position during an appearance on Good Morning Britain against journalist Mariella Frostrup, who believes it is inappropriate to expose kids to gratuitous nudity.
While appearing on the broadcast, Perry said: "Naked strangers is this big word. Nobody is gonna be like, 'Put my kid in form of naked strangers.'"
"We have to examine our own reaction to that and think 'Why do we have that reaction?'. The disgust thing, is it because nudity is so sexualized in our culture? And actually if we're exposed to it in a different form, will it make us more relaxed about nudity and our own bodies and make us feel less self conscious?" she added.
Viewers of the program were not buying Perry's arguments, and angrily responded on social media with a flood of posts against her stance to expose children to nude adults…
MORE
.
—————————————————————————————
.
"Death To Liars!": Iran Swept By Wave Of Protests Demanding Ayatollah Quit Over Airplane Downing – Zero Hedge
.

.
Mass protests have again broken out in Iran at the end of a chaotic week for the country, capped by the early Saturday admission and apology for the military accidentally shooting down a Ukrainian passenger plane, killing all 176 people on board.
Additionally, it appears that the British ambassador in Tehran, Rob Macaire, was arrested shortly after photographing the protests. Iranian state sources are alleging he was helping to "organize" and incite the protests.
The UK ambassador to Iran Rob Macaire has been arrested during the protests in Tehran on Saturday, Iran's semi-official Tasnim news agency reported. Macaire was present during the Saturday protests in front of Tehran's Amir Kabir University…
MORE
.
—————————————————————————————
.
DHS Issues Rare Warning To Firefox Users: Update Your Browser Immediately – PJ Media
The Department of Homeland Security issued a rare warning to users of the popular Firefox browser, telling them to update their browsers immediately due to a recently detected vulnerability that could allow hackers to take control of their entire operating system.
From the DHS Cybersecurity and Infrastructure Security Agency's warning:
Mozilla has released security updates to address a vulnerability in Firefox and Firefox ESR. An attacker could exploit this vulnerability to take control of an affected system. This vulnerability was detected in exploits in the wild.

The Cybersecurity and Infrastructure Security Agency (CISA) encourages users and administrators to review the Mozilla Security Advisory for Firefox 72.0.1 and Firefox ESR 68.4.1 and apply the necessary updates.
On Wednesday Mozilla, the developer of the Firefox browser, released Firefox 72.0.1 to address the security vulnerability…
MORE
.
—————————————————————————————
.
Taiwan President Tsai Ing-Wen Re-Elected In Landslide Victory – Epoch Times
.

.
Taiwan President Tsai Ing-wen won a second term in the island's presidential election by a margin of around 20 percent against her main opponent, after roughly 14.3 million locals cast their vote on Jan. 11.
Tsai of the Democratic Progressive Party (DPP) led with around 8.17 million votes, while Han Kuo-yu, the Nationalist Party (KMT) candidate, trailed behind with about 5.52 million votes.
The election is widely viewed as a referendum on whether it should pursue closer ties with the Chinese regime, which claims Taiwan as part of its territory, despite it being a self-ruled island with its own democratically-elected government, military, and currency. The DPP traditionally advocates for formal independence from mainland China…
MORE
.
—————————————————————————————
.
Iranian Military Apologizes For Shooting Down Ukraine-Bound Flight, Cites 'Human Error' – Daily Caller
The Iranian military apologized Friday for shooting down a commercial airliner bound for Ukraine, and blamed "human error" for launching the missile that took down the airplane, according to Iranian state media.
"The plane was accidentally hit by a human error, which unfortunately results in the martyrdom of dear compatriots and the death of a number of foreign nationals," the military's general staff said in a statement published by the Islamic Republican News Agency.
The statement is a reversal from the Iranian government's claim Wednesday that the plane, a Boeing 737, crashed due to mechanical failure.
U.S. officials disputed that claim, and said intelligence showed that Iran fired Russia-made missiles that took down the plane, killing all 176 people aboard.
The plane was hit early Wednesday local time near Tehran, shortly after the Iranian military fired ballistic missiles at an Iraqi military base that houses American troops…
MORE
.
—————————————————————————————
.
Psycho Nancy Caves On Impeachment – PJ Media
.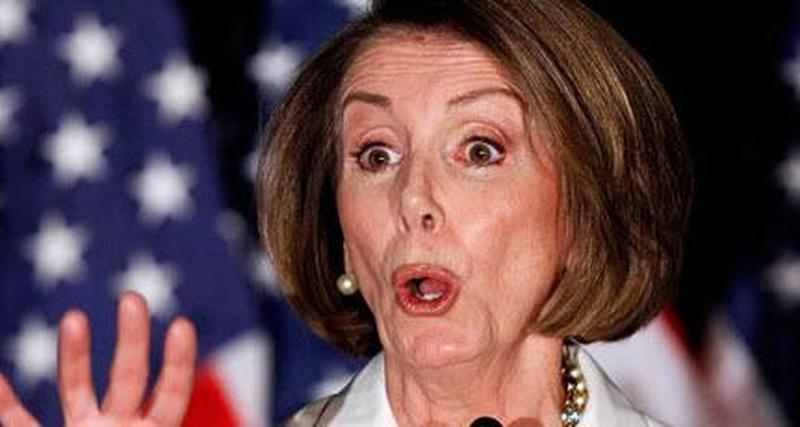 .
Friday morning Nancy Pelosi announced in a dear colleague letter that she will send articles of impeachment against President Trump to the Senate next week, effectively caving to recent tactics by Senate Majority Leader Mitch McConnell, who threatened to nullify impeachment if Pelosi didn't deliver the articles,
"'The Senate shall have the sole power to try all impeachments.' Period. The House can begin the process, and Speaker Pelosi's majority has certainly done that. But the Senate alone can resolve it," McConnell said on the Senate floor.
"If the Speaker continues to refuse to take her own accusations to trial, the Senate will move forward next week with the business of our people," he continued…
MORE
.
—————————————————————————————
.
Trump Administration Launches Crushing New Sanctions Against Iran – Daily Wire
The Trump administration announced on Friday a series of new devastating sanctions against Iran which U.S. officials said would cut off billions of dollars from the Islamist terrorist regime.
The sanctions were announced by Treasury Secretary Steven Mnuchin and Secretary of State Mike Pompeo during a press briefing at the White House and come in response to Iran's latest attacks on U.S. forces in Iraq.
"First, the President is issuing an executive order authorizing the imposition of additional sanctions against any individual owning, operating, trading with, or assisting sectors of the Iranian economy, including construction, manufacturing, textiles, and mining," Mnuchin began. "And let me be clear: These will be both primary and secondary sanctions. The EO also allows us to designate other sectors in the future as Secretary Pompeo and me think is appropriate."
"Second, we are announcing 17 specific sanctions against Iran's largest steel and iron manufacturers…
MORE
.
—————————————————————————————
.
Some Leftsit Nobody Evet Heard Of Before Drops Out Of 2020 Presidential Race – Epoch Times
.

.
Author Marianne Williamson ended her 2020 presidential bid on Friday after she failed to gain a foothold in the crowded Democratic field, becoming the second Democratic candidate in the month of January to end their campaign.
"I stayed in the race to take advantage of every possible opportunity to share our message. With caucuses and primaries now about to begin, however, we will not be able to garner enough votes in the election to elevate our conversation any more than it is now," Williamson, 67, wrote in a message to her supporters.
"The primaries might be tightly contested among the top contenders, and I don't want to get in the way of a progressive candidate winning any of them," Williamson added…
MORE
.
—————————————————————————————
.
Florida: Deranged Assclown Charged With Threatening To Kill Trump In Retaliation For Soleimani – Fox News
A Florida security guard is accused of threatening to kill President Trump in retaliation for a U.S. airstrike that killed Iran's top military general last Friday.
Chauncy Lump, 26, from the Fort Lauderdale area, faces federal charges of threatening to kill the president and remained jailed Thursday with bond set at $100,000, according to court documents filed Wednesday by the Secret Service.
Agent Lucas White wrote that shortly after Trump announced last week that a U.S. airstrike had killed Qassem Soleimani in Iraq in retaliation for plotting numerous terrorist attacks, Lump, under the name "BlackMan vs. America," began livestreaming a seven-minute video on Facebook.
During that video, agents say Lump made several threats against the president – who was staying at his Mar-a-Lago club, less than an hour away – while periodically displaying a loaded AK-47 semi-automatic rifle…
MORE
.
—————————————————————————————
.
Even Before Reforms, Food Stamp Use Declined Drastically Under Trump – Andrea Widburg
.

.
President Trump entered office promising to change the rules so that the number of people receiving benefits from the Supplemental Nutrition Assistance Program (better known as "food stamps") would shrink.
Trump finally made good on that promise in December, but his act was almost redundant, for recently released numbers show that his strong economy had already shrunk food stamp rolls.
Barack Obama got the nickname "the food-stamp president" because food stamp usage reached unparalleled heights during his administration. In his first two years in office, 12 million people were added to the already 28 million people receiving food stamps. By the time he left office, 44.2 million people in America were on food stamps…
MORE
.
—————————————————————————————
.
New York DemoNazis Move To Register Illegal Aliens, Non-Citizens To Vote – Breitbart
New York State Senate Democrats have advanced a plan that will automatically register to vote all residents who apply for a driver's licenses – which now includes non-citizens and illegal aliens – unless they "opt-out."
On Thursday, Senate Senate Democrats passed legislation that will automatically register all residents who obtain driver's licenses through the New York Department of Motor Vehicles (DMVs).
As of this year, illegal aliens are able to obtain driver's licenses in New York, indicating that illegal aliens and non-citizens will only be excluded from the state voter rolls if they check the "opt-out" box before applying for a license.
New York Democrats pitched the legislation as an effort to "reduce the incidence of voter registration fraud and voting fraud," as well as to "prevent erroneous disfranchisement of eligible citizens, promote greater participation of eligible voters in elections."…
MORE
.
—————————————————————————————
.
President Trump Holds First MAGA Rally Of 2020 In Toledo, Ohio – WBNS
.

.
President Donald Trump used his first campaign election rally of 2020 to argue that he served up "American justice" by ordering a drone strike to take out Iranian Gen. Qasem Soleimani, while jeering Democratic leaders for questioning his decision to carry out the attack without first consulting Congress.
Trump's remarks on Thursday shifted in focus from House Speaker Nancy Pelosi and Rep. Adam Schiff, who heads the House Intelligence Committee, to a suggestion that he should have won the Nobel Prize, a preview of the sharp-edged reelection campaign that he will wage.
The president made his comments shortly after the Democratic-controlled House approved a resolution asserting that Trump must seek approval from Congress before engaging in further military action against Iran…
MORE
.
—————————————————————————————
.
Hungary Takes On The Feminist Goliath And Wins – David Solway
Feminism is a social and political movement. It is not an academic discipline on par with, say, mathematics, economics, business administration, engineering or physics. Gender studies, feminism's academic wing, does not constitute an appropriate subject for an academic degree.
At best it is a subset of a complex of ideas, issues, and events properly canvassed by the History Department, along with a myriad other themes and developments in the study of Western civilization.
Moreover, such programs have no business infesting legitimate areas of study to the extent that an astronomer must sign an affidavit attesting to his involvement in social justice projects or an engineer proclaim his fealty to the feminist manifesto if he is to be considered for promotion.
The same proviso applies to any applicant for a university position. It should be obvious that gender programs and initiatives have nothing to do with mapping the universe…
MORE
.
—————————————————————————————
.
Finally!: British Parliament Makes History By Formally Approving Prime Minister Johnson's Brexit Deal – Daily Mail
.

.
MPs have finally given their formal backing to Boris Johnson's Brexit deal after more than three years of bitter parliamentary wrangling over the UK's departure from the European Union.
The historic EU Withdrawal Agreement Bill cleared the Commons this afternoon – despite Labour opposition – as MPs gave the draft legislation its third reading by 330 votes to 231, a majority of 99.
It is the final major Commons hurdle which the so-called WAB had to navigate and it will now head to the House of Lords next week for further scrutiny before the UK leaves the EU on January 31…
MORE
.
—————————————————————————————
.
Cover-Up: Prosecutors Confirm That Surveillance Video Of Jeffrey Epstein's Cell Was Destroyed – Big League Politics
Prosecutors in the case of deceased pedophile Jeffrey Epstein have confirmed that the correctional facility housing Epstein destroyed the surveillance footage of his cell while he allegedly attempted suicide days before he was found dead.
Assistant U.S. Attorneys Maurene Comey and Jason Swergold filed the letter in Manhattan Federal Court confirming that footage from the Metropolitan Correctional Center (MCC) on July 22 and 23 was mysteriously destroyed, in the latest revelation that casts doubt on the official story.
"As set forth in greater detail, the Government has learned that the MCC inadvertently preserved video from the wrong tier within the MCC, and, as a result, video from outside the defendant's cell on July 22-23, 2019 (i.e. the requested video) no longer exists," the letter explains.
Swergold had previously made the same claim that the footage was destroyed in White Plains Federal Court last month, but recanted just 24 hours later…
MORE
.
—————————————————————————————
.
President And The 'Pimp' Bill Clinton Poses With Jeffrey Epstein's 'Pimp' Ghislaine Maxwell And A Sex Slave On Board Private Jet The 'Lolita Express' – The Sun
.

.
Bill Clinton poses side-by-side with suspected pimp Ghislaine Maxwell – as the pair board pedophile Jeffrey Epstein's notorious private jet. The former U.S. President is seen smiling on the steps of the plane – dubbed the Lolita Express – next to Maxwell, in astonishing pictures exclusively obtained by The Sun.
In another image he has his arm round Epstein's personal masseuse and sex slave Chauntae Davies – who had been ordered to wear a 'pilot' shirt to look professional. Other never-seen-before images show Clinton traveling on the infamous Boeing 727 jet while playing cards and chomping on a cigar.
Now, for the first time, Chauntae Davies has revealed the extraordinary details of Clinton's long distance flight to Africa with Maxwell and a number of other celebrities…
MORE
.
—————————————————————————————
.
House DemoNazis Pass Fake War Powers Act That Doesn't Actually Do Anything Other Than Make Trump Voters Giggle – Breitbart
A War Powers measure passed the House of Representatives on Thursday in what Democrats pushing it said was an effort to restrain President Donald Trump's power when it comes to military response to Iranian aggression.
The measure passed along mostly partisan lines, and technically it does not have any actual teeth because House Speaker Nancy Pelosi (D-CA) structured it as a "concurrent resolution," which by definition will never make it to the president's desk.
The vote passed 224-194, with eight Democrats voting against it and just three Republicans voting for it. The three Republicans were Reps. Matt Gaetz (R-FL), Francis Rooney (R-FL), and Thomas Massie (R-KY).
The eight Democrats who voted against it were: Reps. Max Rose (D-NY), Ben McAdams (D-UT), Anthony Brindisi (D-NY), Joe Cunningham (D-SC), Elaine Luria (D-VA), Kendra Horn (D-OK), Josh Gottheimer (D-NJ), and Stephanie Murphy (D-FL)…