.
Gropey Joe Caught Lying About Supporting The Raid To Kill Osama Bin Laden – PJ Media
While in Iowa on Friday, Joe Biden outright lied about his past opposition to the raid that ultimately resulted in the death of Osama bin Laden. Here's a transcript of the conversation.
Q: If you were ever handed a piece of intelligence that said you can stop an imminent attack on Americans but you have to use an airstrike to take out a terror leader, would you pull the trigger?

BIDEN: Well, we did. Guy's name was Osama bin Laden.

Q: Didn't you tell President Obama not to go after bin Laden?

BIDEN: No, I didn't. I didn't.
But, here's the problem, Biden's opposition to the raid has never been a secret…
MORE
.
—————————————————————————————
.
Railway Station Filmed Collapsing On Crowd In Eastern India, Fears Of People Trapped Under Rubble – RT
.

.
The collapse of a railway station building in West Bengal, India has been captured on video. Several people are feared missing as the structure further caved in when a crowd of onlookers gathered to watch it fall.
The freak incident occurred at Barddhaman railway station, located in the Indian state of West Bengal late Saturday. Footage from the scene shows part of the building's upper floor abruptly collapsing, disintegrating into fine dust.
The incident attracted a large crowd of onlookers who came to watch and film the destruction with their cellphones. This turned out to be a pretty bad idea, as the damaged part of the building collapsed further, dropping a massive sign affixed to its roof right onto the crowd…
MORE
.
—————————————————————————————
.
Over 200 Congressmen Ask U.S. Supreme Court To Reconsider Roe V. Wade – LifeSiteNews
Over 200 Republican lawmakers and two Democrats signed an amicus brief to the U.S. Supreme Court in support of the Louisiana pro-life law it is considering, stating that legal battles over abortion "rights" show the "unworkability" of that term as defined in Roe v. Wade.
Roe v. Wade and its sister decision, Doe v. Bolton, imposed abortion on demand across the U.S. in 1973.
"[We] respectfully suggest that the court's struggle – similar to dozens of other courts' herculean struggles in this area – illustrates the unworkability of the 'right to abortion' found in Roe and the need for the Court to take up the issue of whether Roe and [Planned Parenthood v.] Casey should be reconsidered and, if appropriate, overruled," the 39 senators and 168 representatives professed…
The amicus brief was filed by Americans United for Life in support of the case Gee v. June Medical Services, LLC, which is being heard by the U.S. Supreme Court…
MORE
.
—————————————————————————————
.
U.S. Military Kills More Top Iranian-Backed Terrorist Leaders In Airstrikes, Reports Say – Daily Wire
.

.
The United States reportedly took out more top Iranian-backed terrorist leaders in Iraq late on Friday night in airstrikes in northern Baghdad. The Associated Press reported: "Iraqi official says airstrike hits cars carrying Iran-backed militia north of Baghdad."
"Air strikes targeting Iraq's Popular Mobilization Forces umbrella grouping of Iran-backed Shi'ite militias near camp Taji north of Baghdad have killed six people and critically wounded three, an Iraqi army source said late on Friday," Reuters reported. "Two of the three vehicles making up a militia convoy were found burned, the source said, as well as six burned corpses. The strikes took place at 1:12 am local time, he said."
The strike comes only one day after a strike that was authorized by President Donald Trump took out Qasem Soleimani…
MORE
.
—————————————————————————————
.
Former Green Party Candidate Claimed To Be Jesus While Killing His Dog With A Hammer – PJ Media
Maryland man Joseph Cryer has been sentenced to more than five months in prison for killing his dog. Cryer told police he was Jesus Christ and had sent the dog to heaven.
Yet the story proves even more bizarre: Cryer was a Green Party candidate for mayor of Ocean City who identifies himself as "Joe the JEW" on Facebook and posted a picture of notorious anti-Semite Louis Farrakhan.
Cryer was charged on September 10 with aggravated animal cruelty, a felony in Maryland. Police arrived after a woman reported screaming coming from Cryer's apartment. The man repeatedly yelled, "They killed my dog!" and pointed to a residence as the female officer showed up, The Daily Times reported.
Cryer told the officer he was Jesus Christ and that the dog in the trash can belonged to him. She asked for his name again, and he repeated, "Jesus Christ." She proceeded to ask what his name was before it was "Jesus Christ," and to that, he responded, "Joseph Cryer."…
MORE
.
—————————————————————————————
.
Arizona Republicans Introduce Bill Allowing Private Border Wall Construction – Gateway Pundit
.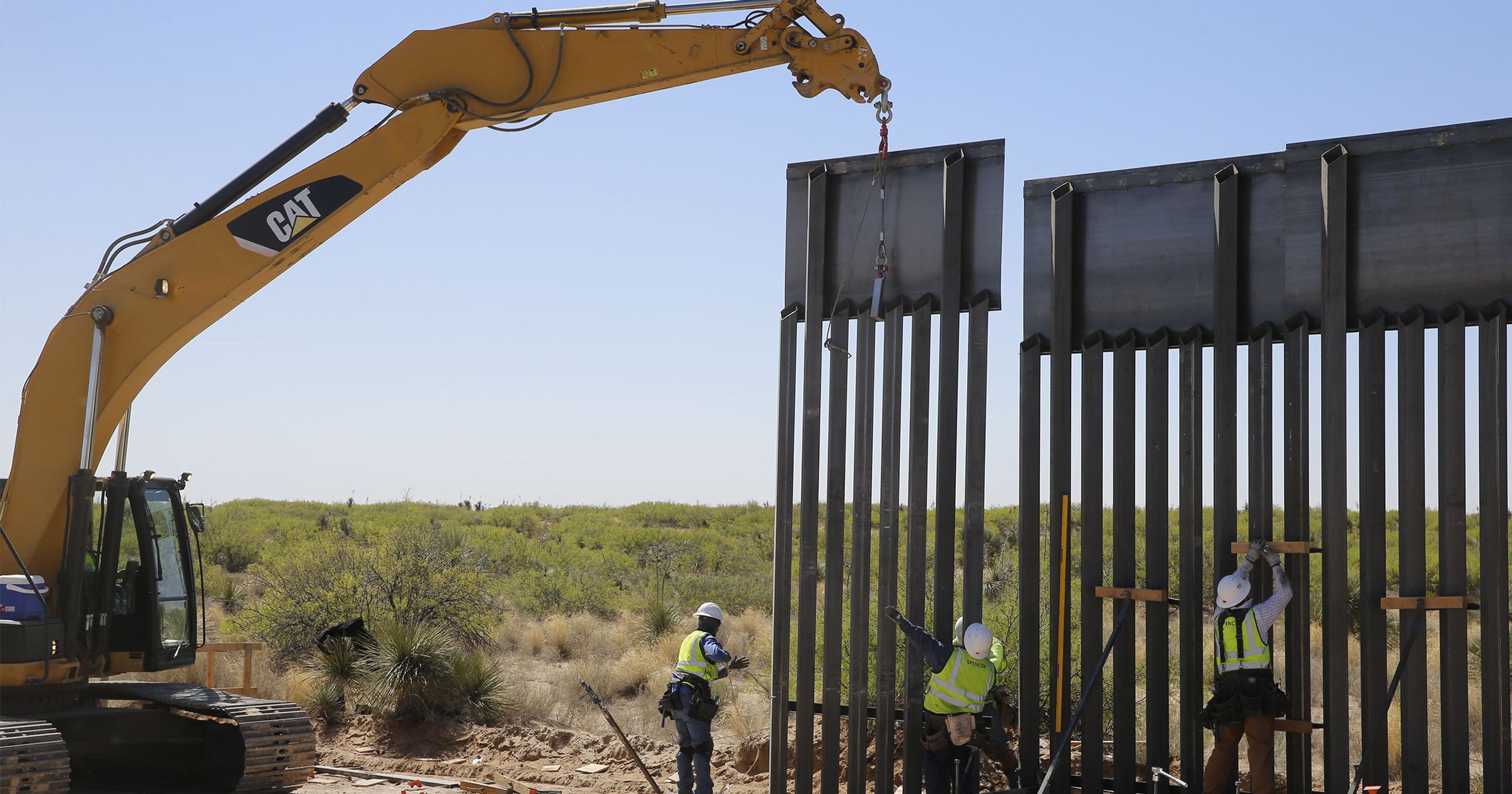 .
We Build TheWall Inc. is gearing up to complete construction of wall along the crime-ridden southern border with $25 million raised through a GoFundMe campaign. But the crowdfunded nonprofit has faced bureaucratic hurdles each step of the way.
Now House Republicans are intervening to get the job done. Intent on eliminating gridlock over border construction, more than a dozen GOP lawmakers in Arizona introduced a bill Thursday that would allow private organizations to build security barriers in the state without acquiring construction permits.
The bill, HB 2084, will create a "presumption of permission to build the international boundary wall on state land," Peterson said in a statement Friday…
MORE
.
—————————————————————————————
.
Federal Judge Dismisses Lawsuit Challenging President Trump's Deregulation Plan – Government Executive
After an almost three year legal battle, a federal judge in late December dismissed a lawsuit challenging an executive order President Trump issued shortly after his inauguration that requires agencies to cut two regulations for every new one issued.
The order is a cornerstone of the administration's deregulatory agenda.
In February 2017, two nonprofit groups, Public Citizen and the Natural Resources Defense Council, along with the Communications Workers of America ALF-CIO, filed a lawsuit against the administration arguing that the order "exceeds President Trump's constitutional authority, violates his duty under the Take Care Clause of the Constitution, and directs federal agencies to engage in unlawful actions that will harm countless Americans, including plaintiffs' members." They argued the implementation and enforcement of the order should be blocked.
On Dec. 20, Judge Randolph Moss of the U.S. District Court for the District of Columbia ruled the plaintiffs lacked standing in their case…
MORE
.
—————————————————————————————
.
Oklahoma Man Steals Truck With Goat From Porn Shop – Daily Caller
.

.
An Oklahoma man is now in custody after he stole a truck containing a sleeping passenger and a goat from a porn shop before leading police on a low-speed chase, Wednesday.
Investigators say Brandon Kirby, 40, began his crime spree in the early hours of the morning at an adult video store in Missouri. There, an arrest report alleges that Kirby stole a pickup truck which contained a sleeping man and the man's pet goat, reports Newson 6 News.
The man who was asleep inside the vehicle says he didn't wake until Kirby had driven him through part of Kansas and into Tulsa, Oklahoma. There, the passenger opened his eyes to discover Kirby holding him at gunpoint and getting high on meth, according to the arrest report…
MORE
.
—————————————————————————————
.
Report: Obama Regime Stopped Israel From Assassinating Soleimani In 2015 – PJ Media
When President Donald Trump gave the order to kill Iran's Quds Force leader Qasem Soleimani, he not only made an arguably proportionate response to the invasion of the U.S. Embassy this week but he also reversed a policy of the Obama administration.
According to a report from 2018, Israel was "on the verge" of assassinating Soleimani in 2015, but Obama's officials foiled the plan. In fact, they reached out to Iran with news of Israel's plans.
The Trump administration, on the other hand, gave Israel a green light to assassinate Soleimani, according to a January 1, 2018 report from the Kuwaiti newspaper Al-Jarida. The paper quoted a source in Jerusalem as saying that "there is an American-Israeli agreement" that Soleimani is a "threat to the two countries' interests in the region."
According to Haaretz, Al-Jarida is generally assumed to be a platform for the Israeli government to disseminate its message to other Middle Eastern governments…
MORE
.
—————————————————————————————
.
Top Iranian General Qassem Soleimani Killed In U.S. Airstrike In Iraq – Haaretz
.

.
The United States carried out a strike that killed Iranian Major-General Qassem Soleimani, head of the elite Quds Force, the Pentagon said Friday.
"The U.S. military has taken decisive defensive action to protect U.S. personnel abroad by killing Qasem Soleimani, the head of the Iranian Revolutionary Guard Corps-Quds Force, a U.S.-designated Foreign Terrorist Organization," the Pentagon said in a statement.
"Soleimani was actively developing plans to attack U.S. diplomats and service members in Iraq and throughout the region. General Soleimani and his Quds Force were responsible for the deaths of hundreds of U.S. and coalition service members and the wounding of thousands more," the statement read…
MORE
.
—————————————————————————————
.
Previously Deported Illegal Alien Sex Offender Caught Sneaking Back Into U.S. By Border Patrol – Gila Herlad
Tucson Sector Border Patrol agents arrested a previously convicted sex offender near Palominas, Sunday night.
Agents apprehended 46-year-old Milton Portilla-Moscoso at approximately 9 p.m. after he illegally entered the United States. Records checks revealed Portilla-Moscoso, a citizen of Ecuador, was convicted of sexual assault by Dallas County, Texas, in 2011. He was sentenced to eight years of probation and deported to Ecuador. Portilla-Moscoso will face federal prosecution for immigration violations.
All persons apprehended by the U.S. Border Patrol undergo criminal history checks using biometrics to ensure illegal aliens with criminal histories are positively identified.
In Fiscal Year 2019, Tucson Sector Border Patrol agents arrested 195 illegal aliens with significant criminal histories. The Border Patrol is often the first line of defense against previously deported criminals attempting to reenter the United States…
MORE
.
—————————————————————————————
.
Senator Prepares Measure To Dismiss Impeachment Outright – WorldNetDaily
.

.
Sen. Josh Hawley, R-Mo., warned Thursday that if Democrats fail to deliver their articles of impeachment to the U.S. Senate, he will introduce a measure on Monday to dismiss them.
In a series of Twitter messages, Hawley noted House Democrats insisted impeaching Trump was an urgent matter.
"Now they don't want to have a trial, because they have no evidence," he said.
The senator argued that in the "real world," if the prosecution doesn't proceed with its case, it gets dismissed.
"So on Monday, I will introduce measure to dismiss this bogus impeachment for lack of prosecution," he wrote…
MORE
.
—————————————————————————————
.
Egg On Their Faces: 2004 DOD Climate Change Report Predicted Nuclear War By 2020 – PJ Media
In 2004, The Guardian reported on a Department of Defense climate-change report that would prove "hugely embarrassing" for President George W. Bush. The report predicted that climate change could be America's greatest national security threat.
Yet these climate-change predictions, like so many others, proved nearly the opposite of the truth. Among other things, the report predicted nuclear war, endemic conflict over resources, and European cities underwater by 2020.
None of these things happened.
"A secret report, suppressed by U.S. defence chiefs and obtained by The Observer, warns that major European cities will be sunk beneath rising seas as Britain is plunged into a 'Siberian' climate by 2020.
Nuclear conflict, mega-droughts, famine and widespread rioting will erupt across the world," The Guardian reported…
MORE
.
—————————————————————————————
.
Rudy G Prepared To Testify About 'Vast' Corruption Of Democrats And Ukraine At Trump Trial – Daily Caller
.

.
Personal attorney to President Donald Trump, Rudy Giuliani, said Tuesday that he is prepared to testify at the impeachment trial of President Donald Trump about the "American Ukrainian corruption."
Speaking to reporters from the president's Mar-a-Lago retreat in Florida, Giuliani said, "I would testify, I would do demonstrations, I'd give lectures, I'd give summations or I do what I do best. I try the case," Fox News reported. "I'd love to try the case."
Although the House successfully passed two Articles of Impeachment against Trump in December, a lawyer who provided testimony for Democrats on the House Judiciary Committee has maintained that the president has not actually been impeached until the Senate officially receives the verdict – something House Speaker Nancy Pelosi has yet to do…
MORE
.
—————————————————————————————
.
'Remain In Mexico': U.S. Begins Returning Asylum Seekers At Arizona Port Of Entry – Epoch Times
Migrants who cross the Arizona-Mexico border will be returned to Mexico without any detours in the United States, the Department of Homeland Security announced Thursday.
The Department of Homeland Security (DHS) announced Thursday that it is expanding the Migrant Protection Protocols (MPP) program in Arizona. The program, commonly known as "Remain in Mexico," means foreign nationals who seek asylum at ports of entry on the Southern border from Mexico can be sent to Mexico while they wait for a hearing in an immigration court located in the United States.
During their stay, the Mexican government will provide these individuals with humanitarian protection and care.
Previously, migrants making an illegal entry into Arizona's Tucson Sector were bused to El Paso Port of Entry before they were taken to Ciudad Juلrez, Mexico, to await their immigration court proceedings. From now on, those individuals will be sent back at the Nogales Port of Entry, south of Tucson…
MORE
.
—————————————————————————————
.
Winning: Trump Campaign Raises #46 Million In Fourth Quarter – Breitbart
.

.
President Donald Trump's re-election campaign announced Thursday it had raised $46 million in the fourth quarter of 2019, according to Reuters.
The numbers include just the Trump campaign's fundraising which combined with the RNC fundraising haul will deliver another unprecedented funding boost for his re-election campaign.
A senior campaign official said the campaign haul was fueled in part by a surge of donations after Democrats pursued the impeachment of the president.
The number stomps Democrat fundraising numbers, including Sen. Bernie Sanders raising more than $34 million and Mayor Pete Buttigieg raising $25 million in the fourth quarter…
MORE
.
—————————————————————————————
.
Black Dude Arrested After Threatening To 'Bomb All The Jews In Jersey City' – Big League Politics
An African-American suspect from Jersey City has been arrested after allegedly making threats to bomb all of Jewish people in the area.
Darryl Jacobs, 47, is accused of making the threat on Dec. 13, shortly after a Kosher store was attacked by black supremacists. He allegedly made the threat while on the phone with a welfare worker in the county, and was arrested three days after reportedly making the comment.
According to the criminal complaint filed against Jacobs, law enforcement did not seize any explosives but did take two cell phones. The court document claims that Jacobs said he "was going to come down and bomb all the Jews in Jersey City" to the welfare employee, who was not acquainted with the alleged terrorist.
Authorities claim Jacobs was likely intoxicated while he made the comment. He is facing a third-degree charge of making a terrorist threat…
MORE
.
—————————————————————————————
.
9th Circus Court Of Schlemiels Rules Union Gets To Keep Unconstitutional Forced Dues – Epoch Times
.

.
Government unions do not have to refund so-called agency fees to public employees who were forced to pay them before the Supreme Court struck down such mandatory dues as unconstitutional in 2018, a federal appeals court ruled.
The ruling is a victory for the labor movement, which has been seeing a drop-off in membership figures since the Supreme Court's landmark ruling in Janus v. AFSCME (2018) threw a wrench in how unions finance their operations.
In Janus, the Supreme Court overruled Abood v. Detroit Board of Education (1977), which held public-sector unions could collect forced agency fees from non-members to finance their collective bargaining activities, without infringing the First and Fourteenth Amendments…
MORE
.
—————————————————————————————
.
Gropey Joe Promises To Eliminate Huge Numbers Od Energy Industry Jobs; Tells Coal Miners To 'Learn How To Program' – Townhall
Democratic presidential candidate Joe Biden told miners they need to look for "jobs of the future" when he spoke about moving away from the use of fossil fuels during a campaign event in New Hampshire on Monday.
"Anybody who can go down 3,000 feet in a mine can sure as hell learn to program as well," Biden said. "Anybody who can throw coal into a furnace can learn how to program, for God's sake!"
Biden's comment to blue collar workers came one day after he said fossil fuel executives should be thrown in prison for polluting the environment.
"Put them in jail," he said. "I'm not joking about this."
Earlier this month the former vice president made it clear he would have no problem eliminating hundreds of thousands of blue collar jobs to attain a greener economy.
"Vice President Biden, I'd like to ask you, three consecutive American presidents have enjoyed stints of explosive economic growth due to oil and gas production," Tim Alberta said…
MORE
.
—————————————————————————————
.
Trump Sends Marines To Fortify Baghdad Embassy Defenses – Daily Caller
.

.
Around 100 U.S. Marines were sent to the American embassy in Baghdad, Iraq, to help with security as protestors attempted to break in Tuesday.
Fox News' Lucas Tomlinson tweeted about the decision to send Marines to help fortify defenses, citing a U.S. defense official. The news comes as some of the hundreds protesting against Americans airstrikes began to try and break into the embassy, which is the largest U.S. embassy in the world.
The embassy has been put under lockdown and protestors have not breached the compound, CNN reported, citing an embassy spokesperson. They did manage to scale walls and force the gates of the embassy…
MORE
.
—————————————————————————————
.
Trump Signs Act Adding Penalties For Robocalls – Epoch Times
President Donald Trump signed an act on Dec. 30 aimed at deterring robocalls.
The Pallone-Thune TRACED Act, or S. 151, adds a forfeiture penalty for violations of the prohibition on certain robocalls.
It also requires voice service providers to develop call authentication technologies and mandates the Federal Communications Commission to create rules outlining when a provider can block a voice call based on info from the technologies.
Another part of the bill requires the commission and the Department of Justice to assemble an interagency working group to study and report to Congress on how to better enforce against robocalls by examining issues like the types of laws, policies, or constraints that could be inhibiting enforcement.
"This historic legislation will provide American consumers with even greater protection against annoying unsolicited robocalls…