.
DemoNazi Rep. Cedric Richmond Caught On Video Watching Golf During Impeachment Hearing – Daily Caller
.

.
Louisiana Democratic Rep. Cedric Richmond was spotted apparently catching a round of the ongoing President's Club golf tournament on his laptop during Tuesday night's House Judiciary Committee impeachment hearing.
GOP Rapid Response Director Steve Guest posted the video to Twitter.
"What on earth is Democrat Rep. Cedric Richmond watching on his laptop during this impeachment markup?" Guest wrote. "To me, it looks like Rep. Richmond is watching the President's Cup golf tournament. Richmond's actions are a DISGRACE."
Guest then posted a zoomed-in photo showing what seemed like a snippet of the day's golfing action taking place on Richmond's computer while the hearing was taking place…
MORE
.
—————————————————————————————
.
Ex-Labour Mayor Of London Blames Corbyn's Loss On 'Jewish Vote' – Breitbart
The former Labour Party mayor of London, Ken Livingstone, said that Boris Johnson's predicted landslide victory spells "the end" for Jeremy Corbyn, blaming the loss on the "Jewish vote".
In the latest antisemitic outburst from the far-left ex-Mayor of London, Ken Livingstone blamed the loss of his "close ally" Jeremy Corbyn on the 70-year-old socialist's handling of allegations of antisemitism in the Labour Party.
Mr Livingstone said: "The Jewish vote wasn't very helpful." He added in comments reported by The Mirror that "Jeremy should have tackled that issue far earlier than he did."
"It looks like the end for Jeremy, which is disappointing for me since I'm a close ally. I'm sure he'll have to resign tomorrow," he concluded.
The far-left opposition leader, Jeremy Corbyn, has been at the centre of a growing scandal over allegations of antisemitism within the Labour Party…
MORE
.
—————————————————————————————
.
Boris Johnson Secures Biggest Conservative Party Election Win Since 1987 – CNBC
.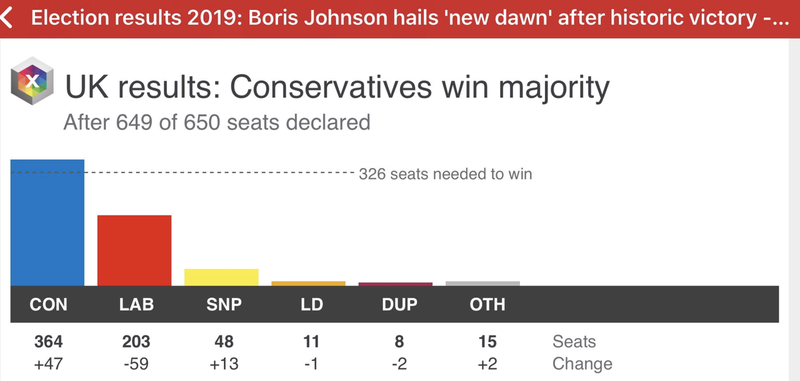 .
U.K. Prime Minister Boris Johnson will retain power with a thumping majority after his Conservative Party secured its best election result since 1987.
With just one vote left to be counted, the Conservatives had secured 364 parliamentary seats, a majority of 78 in the House of Commons.
The result, which proved even more decisive than pollsters had forecast, follows a bitterly-fought and divisive election campaign.
At victory celebrations in central London, Johnson told an audience that the country will now leave the EU on January 31.
"We will get Brexit done on time by the 31st of January, no ifs, no buts, no maybes," he said…
MORE
.
—————————————————————————————
.
DemoNazi-Controlled House Passes Farm Bill That Grants 'Large Scale Amnesty' To Illegal Aliens – Fox News
The House on Wednesday passed a contentious agricultural bill that would likely put more than a million illegal immigrants on a pathway to legal status as part of what supporters say is a vital modernization of the industry's workforce – but that immigration hawks blasted as a "large-scale amnesty."
The Farm Workforce Modernization Act passed 260-165, with support from both Democrats and Republicans. The bill provides a process for undocumented farmworkers to seek a temporary five-and-a-half-year "Certified Agricultural Worker" status if they have worked for approximately six months in the industry in the last two years.
That status can either be renewed indefinitely, or workers (along with their spouses and children) can begin a path to permanent legal status in the form of a green card. That path, according to the legislation, includes background checks and $1,000 fine.
To secure the green card, those who have worked in agriculture for 10 years or more must work for four more years…
MORE
.
—————————————————————————————
.
Prince Andrew Child Sex Victim: "Evil People" Are Trying To Kill Me – News Punch
.

.
Jeffrey Epstein's child sex slave, who was also sexually abused by Prince Andrew, has warned that "evil people" are now trying to kill her.
36-year-old Virginia Roberts, who was trafficked by Epstein when she was a child, claims powerful people will try to "suicide" her in order to stop her from telling the truth about Epstein's elite pedophile network.
"I am making it publicly known that in no way, shape or form am I suicidal," Virginia wrote on Twitter.
"I have made this known to my therapist and GP – If something happens to me – in the sake of my family do not let this go away and help me to protect them…
MORE
.
—————————————————————————————
.
Florida Man Shows Up 'Buck Naked' To Undercover Sex Sting, Deputies Say – WKMG
A Florida man was "buck naked" when he showed up to the front door of a home where an undercover sex sting operation was being conducted, according to Polk County Sheriff Grady Judd. Records show Rodney Davis was one of 124 people arrested during Operation Santa's Naughty List, which targeted prostitutes, child predators and johns during a six-day period.
As part of the operation, deputies said they used internet advertisements to arrange meetings between suspects and undercover detectives. Judd said Davis was among the 46 people accused of trying to meet a prostitute for sex.
Video from the undercover operation shows Davis was nude when he arrived at the undercover location.
"This guy walked up to the front door of this home in a neighborhood on a cool evening buck naked. Now if you don't know the difference in naked and buck naked, buck naked means you're not even wearing your socks…
MORE
.
—————————————————————————————
.
Three Die As Marauding Pakistan Lawyers Rampage Through Cardiac Hospital – Daily Telegraph
.

.
Three heart patients died after a mob of lawyers rampaged through a Lahore hospital in a dispute with doctors. Up to 200 lawyers wearing traditional black suits stormed the Punjab Institute of Cardiology (PIC), smashing windows, doors and equipment and setting a police van ablaze.
Television reports showed some of the lawyers armed with handguns while riot police fired tear gas to try to quell the mob. Lawyers could be seen standing on the bonnet of a burning police vehicle and scuffling with officers.
Doctors and nurses fled the hospital to escape the violence, leaving intensive care patients unattended…
MORE
.
—————————————————————————————
.
Cops Break Into Innocent, Sleeping Woman's Home And Shoot Her; Now She's Facing Life In Prison – Washington Standard
Bobbie Sapp, 49, is a registered nurse, who has no criminal past. Despite never having committed a crime, because of the backward justice system in America, coupled with violent police welfare checks, Sapp is now facing the possibility of life behind bars.
On the night in question, Sapp had done nothing wrong, had committed no crime, and harmed no one – yet police broke into her home, raided her bedroom as she slept, and shot her. Then, they had the audacity to arrest her and charge her with multiple felonies.
Sapp's nightmare began in September of 2017 as she slept comfortably in her own bed in her own home. Instead of waking up to her alarm that fateful morning, Sapp would wake up to multiple shadowy figures surrounding her in her bedroom, pulling off her covers, yelling at her, tasering her, and eventually, shooting her.
Sapp is so confident that she did nothing wrong that she went on camera recently with News 6 Orlando to tell her side of the story. It is nothing short of shocking…
MORE
.
—————————————————————————————
.
Gropey Joe Paid Women Less Than Men In Each Of His 35 Years As Senator – Washington Free Beacon
.

.
Women working for former vice president Joe Biden were paid less than their male counterparts during the entirety of Biden's 35 years in the U.S. Senate, according to a Washington Free Beacon analysis.
When Biden joined the Senate in 1973, the average pay for a full-time female staffer in his office was $5,029, about 68 percent of the $7,383 average paid to men during that span, according to the secretary of the Senate's first spending report for the 93rd Congress.
A Free Beacon analysis of spending reports covering Biden's full Senate tenure found that he never achieved gender pay equity. Over the course of Biden's time in the Senate, women on average earned just 67 cents for each dollar earned by men…
MORE
.
—————————————————————————————
.
Self-Driving Truck Transports 40,000 Pounds Of Butter 2,800 Miles Across The U.S. – Daily Wire
In late November, a Silicon Valley startup took a chance and sent an autonomous truck on a 2,800-mile trek from Tulare, California to Quakertown, Pennsylvania carrying 40,000 pounds of Land O'Lakes butter, likely the first commercial freight cross-country trip by an autonomous truck.
It worked. Plus.ai, located in Cupertino, insured the project by equipping the truck with a safety driver who could take over the driving if something went wrong as well as a safety engineer to monitor the ride.
Shawn Kerrigan, co-founder and COO of Plus.ai, stated, "We wanted to demonstrate the safety, reliability and maturity of our overall system."
Kerrigan claimed the system employed cameras, radar and lidar – laser-based technology to help vehicles determine distance, according to the Santa Cruz Sentinel. Breaks were scheduled along the route but most of the journey the truck drove itself…
MORE
.
—————————————————————————————
.
Feds Collect Record Taxes Through November; But Still Run $343.3 Billion Deficit With Second-Highest Spending In Nation's History – CNS
.

.
The federal government collected record total tax revenues of $470,706,000,000 in October and November, the first two months of fiscal 2020, according to the Monthly Treasury Statement released today.
Despite collecting that record amount in taxes, however, the federal government still ran a deficit of $343,360,000,000 during October and November because it spent $814,012,000,000 in those two months.
That was the second-highest federal spending in the October-November period in the history of the United States. The only time the federal government spent more in the first two months of the fiscal year was in fiscal 2009…
MORE
.
—————————————————————————————
.
Trump Pushes Back Against Campus Anti-Semitism – FrontPage
President Trump made history again on Wednesday, when he signed an executive order authorizing the Department of Education to act against anti-Semitism on American college and university campuses, and making it clear that Title VI of the Civil Rights Act of 1964, prohibiting discrimination based on race, color or national origin in programs or activities that receive federal money, "would apply to institutions that traffic in anti-Semitic hate," that is, virtually every public institution of higher learning in America.
This executive order is long overdue. The Jerusalem Post reported that as far back as 2015, "more than 30 organizations, including Jewish fraternity AEPI, the Simon Wiesenthal Center and the Zionist Organization of America wrote to University of California regent Bruce D. Varner in July, requesting that substantive measures be taken to combat rising anti-Semitism on UC-affiliated campuses."
The problem wasn't restricted to the University of California, either, but nothing was done…
MORE
.
—————————————————————————————
.
High School Student Files Assault And Larceny Charges Against Teacher Who Ripped Pro-Trump Pin Off Her Shirt – WILX
.

.
A Mason High School student turned to the police alleging a teacher assaulted her during school hours because she supports President Donald Trump. Sadie Earegood told NEWS 10 that the teacher involved was Paul Kato.
Paul Kato is the media technology teacher at the high school. Students say that he has not been in school since the alleged incident on Dec. 5, but Mason Schools has not confirmed that.
Earegood claims she was assaulted by Kato when he ripped her "Women For Trump" pin from her shirt. Earegood is 16 and a junior at the school. She said Kato, started off by saying he didn't like the pin she was wearing…
MORE
.
—————————————————————————————
.
Former Mexican Secretary Of Public Security Charged With Taking Bribes From Cartel – Epoch Times
The former secretary of public security in Mexico was indicted by federal prosecutors in a New York City court on Tuesday on charges he accepted millions of dollars in bribes from a drug cartel, the U.S. Department of Justice said.
Genaro Garcيa Luna, who served under the administration of former President Felipe Calderَn from 2006 to 2012, is accused of allowing the Sinaloa cartel of "El Chapo" Guzman to operate with impunity in Mexico in exchange for millions of dollars.
At the time the alleged bribery took place, Garcيa Luna controlled Mexico's Federal Police Force and was responsible for ensuring public safety in Mexico. He was considered an architect of Mexico's war on drugs and oversaw the militarized crackdown on organized crime which was launched in 2006.
The 51-year-old was arrested by federal agents in Dallas, Texas, yesterday and charged with three counts of cocaine trafficking conspiracy and a false statements charge…
MORE
.
—————————————————————————————
.
Pentagon Suspends Hundreds Of Saudis From Operational Training After Massacre At Naval Air Station Pensacola In Florida – Daily Wire
.

.
The Pentagon suspended operational training for hundreds of Saudi military officials in the United States on Tuesday in response to a member of the Saudi military massacring Americans at the Naval Air Station in Pensacola, Florida, last week.
The news came after a 21-year-old Saudi national, who was a member of the Saudi Royal Air Force, opened fire at the base last week killing three American sailors and wounding eight others, including two police officers.
Fox News reported that the suspension targets 852 Saudi nationals who are in the training in the United States and who "will be immediately confined to classroom training, while all operational training in the air, land, and sea 'will pause.'"…
MORE
.
—————————————————————————————
.
Whistleblowers Present Hundreds Of Pages Of Evidence Alleging Illicit Behavior Of Clinton Foundation – Big League Politics
Rep. Mark Meadows (R-NC) said in a Fox News interview last week that three whistleblowers have come forward with hundreds of documents exposing the illicit behavior of the Clinton Foundation.
The documents allegedly indicate the misappropriation of funds and quid-pro-quo promises made to elite donors. The Clinton Foundation is widely believed to be a slush fund used by the Clintons to enrich themselves and their cronies.
Meadows, a House Freedom Caucus leader who leads the House Oversight Subcommittee on Government Operations, is set to have a hearing this week on the status of the ongoing investigation into the Foundation. U.S. Attorney John Huber has been tasked with investigating the Foundation since 2018, being appointed to the position by former Attorney General Jeff Sessions.
The Hill reported that Huber recently asked for documents from MDA Analytics LLC…
MORE
.
—————————————————————————————
.
'Ludicrous Optics': House DemoNazis Praise Trump's USMCA Trade Deal As They Unveil Their Effort To Impeach Him – Daily Caller
.

.
House Democrats on Tuesday praised President Donald Trump's United States-Mexico-Canada Agreement (USMCA) just moments after announcing articles of impeachment against the president.
"It is infinitely better than what was initially proposed by the administration," House Speaker Nancy Pelosi said about Trump's trade deal just an hour after introducing articles of impeachment against him. "It's a victory for American workers, and it's one that we take great pride in advancing." Ben Domenech, the co-founder of The Federalist, described Democrats' actions as "Ludicrous optics."
House Democrats and the White House reportedly reached the deal on the USMCA on Monday…
MORE
.
—————————————————————————————
.
FISA Report Reveals Clinton Meddled In 2016 Election – Zero Hedge
If Russia spending $100,000 on Facebook ads constitutes election interference, and Donald Trump asking Ukraine to investigate the Bidens is too – then Hillary Clinton takes the cake when it comes to influence campaigns designed to harm a political opponent.
Contained within Monday's FISA report by the DOJ Inspector General is the revelation that Fusion GPS, the firm paid by the Clinton campaign to produce the Steele dossier, "was paying Steele to discuss his reporting with the media." (P. 369 and elsewhere)
And when did Steele talk with the media (which got him fired as an FBI source)? September of 2016, roughly six weeks before the election. One of the more damaging articles to result from these meetings was authored by Yahoo News journalist Michael Isikoff, who said in an interview that he was invited by Fusion GPS to meet a "secret source" at a Washington restaurant.
That secret source was none other than Christopher Steele, a former MI-6 Russia expert who fed the Isikoff information for a September 23, 2016 article…
MORE
.
—————————————————————————————
.
Attorney General Barr Releases Statement Responding To FISA Report – Daily Wire
.

.
Attorney General William Barr responded to the Justice Department inspector general's report on the FBI's abuse of the FISA system to surveil the Trump campaign by slamming the FBI for withholding exculpatory evidence from their filings with the FISA court.
"The Inspector General's report now makes clear that the FBI launched an intrusive investigation of a U.S. presidential campaign on the thinnest of suspicions that, in my view, were insufficient to justify the steps taken," Barr said.
"It is also clear that, from its inception, the evidence produced by the investigation was consistently exculpatory. Nevertheless, the investigation and surveillance was pushed forward for the duration of the campaign and deep into President Trump's administration."…
MORE
.
—————————————————————————————
.
DOJ Inspector General Releases Report On FBI Conduct, Finds "Clear Abuse" Of FISA Process – Zero Hedge
Justice Department Inspector General Michael Horowitz has released his report into the FBI's investigation of the Trump campaign during the 2016 U.S. election.
The report concludes that despite nearly everybody investigating President Trump hating him – and that evidence was fabricated by at least one FBI attorney, and that they misrepresented Christopher Steele's credentials, none of their bias 'tainted' the investigation, and the underlying process was sound.
That said, Horowitz faults the FBI for "significant inaccuracies and omissions" in their applications to secretly monitor Trump campaign adviser Carter Page, and agents "failed to meet the basic obligation" to ensure the applications were "scrupulously accurate."
Attorney General William Barr, meanwhile, says that the report "now makes clear that the FBI launched an intrusive investigation of a U.S. presidential campaign on the thinnest of suspicions that, in my view, were insufficient to justify the steps taken."…
MORE
.
—————————————————————————————
.
WalMart Apologizes For Santa Cocaine Sweater – Daily Caller
.

.
Walmart has apologized for going too far with an adult-only Christmas themed sweater that portrays jolly old Saint Nick with cocaine.
The holiday sweater featured on the retailer's Canada website showed Santa Clause gripping a straw, seated in front of a table with three lines of a white substance and below that it read, "Let It Snow," per the New York Post in a piece published Monday.
"These sweaters, sold by a third-party seller on Walmart.ca, do not represent Walmart's values and have no place on our website," a spokesperson shared. "We have removed these products from our marketplace. We apologize for any unintended offense this may have caused."…