.
Alan Dershowitz: Democrats Acting Like Stalin, 'Show Me The Man And I'll Find You The Crime' – CNS
Famed defense lawyer, constitutional scholar, and best selling author Alan Dershowitz said that through the impeachment inquiry House Democrats are acting like the KGB under Soviet dictator Joseph Stalin.
Evidence does not matter to them, he said, and like KGB henchman Laverntiy Beria, all they declare is "show me the man," President Trump, and we'll "find you the crime."
Dershowitz, a liberal Democrat and emeritus professor at Harvard Law School, made his remarks on the Sunday edition of Life, Liberty & Levin, on the Fox News Channel. Host Mark Levin commented on how the Democrats on the House Judiciary Committee are accusing President Trump of bribery and asked Prof. Dershowitz to explain what this specifically means.
"There are four criteria – we know what treason is because it is defined in the Constitution," said Dershowitz. "Bribery, you know, we know it when we see it…
MORE
.
—————————————————————————————
.
Drunken British Tourist Steals Bus In Spain, Goes On High-Speed Wrecking Spree – Daily Mail
.

.
A British tourist allegedly stole a coach in Benidorm before going on a two-mile, high-speed wrecking spree and smashing into cars and motorbikes.
The vehicle was taken from a depot on the outskirts of the Spanish town where it had been left for the night before being driven at speed through the holiday resort.
The unnamed 27-year-old, believed to be a drunken tourist although officials have yet to comment, is said to have got into a room where the key was kept before making off with one of the vehicles.
Footage of his wild drive showed him smashing into mopeds and cars parked by the side of the road…
MORE
.
—————————————————————————————
.
Illegal Alien Charged With Selling Infant To Two Other Illegal Aliens In Kentucky – USIACR
Three people accused of selling/buying an infant in Bowling Green have now had immigration detainers filed on them by U.S. Immigration and Customs Enforcement (ICE).
ICE filed the detainers with the Warren County Regional Jail on Dec. 3. A statement from ICE said that Maria Domingo-Perez, Catarina Jose-Felipe and Pascual Jose-Manuel were all citizens of Guatemala and illegally present in the U.S.
According to Bowling Green Police, a staff member from Parker-Bennett-Curry Elementary School of Bowling Green City Schools contacted them to do a welfare check at a residence on W 10th Avenue.
Officials say the school had received information that Maria Domingo-Perez had given a child away.
When authorities went to the residence, they say Domingo-Perez returned with the child and gave multiple conflicting statements…
MORE
.
—————————————————————————————
.
Hilarious: Notorious Duct-Taped Banana Exhibit Vandalized With "Epstien Didn't Kill Himself" Sign – Zero Hedge
.

.
The story of the $120,000 (eaten) banana just won't end, and tonight it took another, even more surreal turn.
The now-iconic white wall that as recently as Saturday held a duct-taped banana – arguably the world's most expensive – at Art Basel Miami Beach was "vandalized" on Sunday afternoon, forcing exhibitors to cover up the writing in red lipstick with a white cardboard. The banana, which attracted hundreds after it sold to an art collector for $120,000, was replaced with the phrase "Epstien (sic) didn't kill himself," written with red lipstick.
According to the Miami Herald, the surreal scene confused those who were present in the gallery, most who assumed it was just another "art" performance…
MORE
.
—————————————————————————————
.
Maine Man Accused Of Turning Child's Playroom In Church Into Meth Lab – Breitbart
A Maine man has been accused of turning a child's playroom at a Methodist church into a lab that produces methamphetamine.
Police busted Matthew Anderson, 33, after church officials at Buxton United Methodist Church in Buxton, Maine, told authorities on Thursday about "suspicious activity" happening upstairs inside the playroom at the church, the Buxton Police Department announced Friday.
Police said officers then called in the Maine Drug Enforcement Agency for backup after discovering "items that are consistent with the manufacturing process of methamphetamine."
Authorities arrested Anderson at a nearby home on an unrelated arrest warrant and interviewed him about the meth lab. After interviewing him, the Maine Drug Enforcement Administration charged him with one felony count of unlawful operation of a methamphetamine lab, the Portland Press-Herald reported…
MORE
.
—————————————————————————————
.
AG Barr Indicts 8, Including Mueller Chief Witness, For Funneling Millions In Foreign Donations To Adam Schiff, Hillary Clinton And Top Senate DemoNazis – Gateway Pundit
.

.
The liberal media is covering this up. On Friday The Gateway Pundit reported on the news that Democrat operative and Robert Mueller chief witness George Nader was indicted for his involvement in illegal campaign contributions from foreign entities to the Hillary campaign in 2016. Nader was one of Mueller's top witnesses and he is a top Democrat donor and convicted child molester.
But there is more to the story. Bill Barr on Friday indicted eight individuals for illegally funneling foreign money to Adam Schiff, Hillary Clinton and several Democratic senators.
According to News Thud:
The list of the Dem organizations taking this illegal money is astounding…
MORE
.
—————————————————————————————
.
Leftist Censorship Update: Twitter Adds Language Into New Terms Of Service Confirming That They 'Shadowban' Users – Big League Politics
Social media giant Twitter is explicitly adding language into their terms of service confirming that they are shadowbanning users.
Shadowbanning is defined as social media providers severely limiting the reach of a user's posts in order to prevent their messages from being properly disseminated on a platform. Conservatives have complained about this happening on Twitter for years, but Big Brother apologists have claimed that it is a conspiracy theory. Twitter has long denied using the practice.
"We do not shadow ban," a Twitter spokesperson said to The Guardian last year. "Our behavioral ranking doesn't make judgments based on political views or the substance of tweets."
However, their new terms of service that are set to go into place on Jan. 1, 2020 confirms that they are using the practice. This shows that Twitter will be actively shadowbanning users heading into the 2020 presidential election, in what some may consider a form of electoral interference…
MORE
.
—————————————————————————————
.
Virginia Sheriff Promises To "Deputize Thousands" If Necessary To Protect Their "Right To Own Firearms" – Nationalist Review
.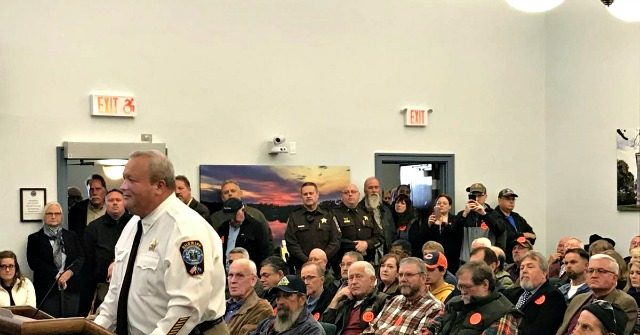 .
The sheriff of Culpeper County, Virginia deserves the praise of every American who holds the Second Amendment near and dear to their hearts.
In the wake of numerous gun control proposals from incoming Democrat lawmakers, Sheriff Scott Jenkins has hit back, promising to deputize thousands of his constituents should any bill threaten their constitutional right to own firearms and thereby impact their ability to defend themselves and their loved ones.
Recently, a seven member board of county legislators voted unanimously to declare Culpeper County a Second Amendment Constitutional County (otherwise known as a Second Amendment sanctuary county)…
MORE
.
—————————————————————————————
.
Five Times Democrats Didn't Care When Obama Committed Obstruction Of Justice – Matt Margolis
Listening to Democrats make their "case" for impeaching Trump is like watching a child make excuses for why they should be able to stay up late or not have to eat their vegetables. It's an endless evolving list of explanations and excuses.
We've seen them allege a quid pro quo, bribery, extortion… basically whatever polled well on a given week. One fairly new angle they've been pushing is that the mere pushback against subpoenas is tantamount to obstruction of justice – an impeachable offense.
Professor Jonathan Turley destroyed this argument during his testimony this week before the House Judiciary Committee. "He's allowed to do that; we have three branches, not two. If you impeach a president, if you make a high crime and misdemeanor out of going to the courts, it is an abuse of power. It's your abuse of power," Turley said, referring Congress. "You are doing precisely what you're criticizing the president for doing."
Turley also noted, "President Obama withheld evidence from Congress in Fast and Furious, an investigation – or rather moronic program – that led to the death of a federal agent…
MORE
.
—————————————————————————————
.
Leftist Hate Crime Update: Criminally Insane Queer Repeatedly Assaults Black Conservative At Sacramento State College – InfoWars
.

.
A college leftist was filmed violently assaulting a man on the Sacramento State campus simply because he disagreed with his politics. According to Infowars reporter Kaitlin Bennett, the attacker named Keaton Hill is an LGBT activist and has a history of assault against conservatives at the college.
In the footage, the president of a campus Republican organization, Floyd Johnson, approaches Hill asking him to "leave my friends alone, alright?" Hill responds in a mocking tone, before taking his camera out to film Johnson, while asking if he'd like to contact the school's student conduct administrator.
"There's nothing wrong with this. What have I done?" Johnson says…
MORE
.
—————————————————————————————
.
Too Stupid To Survive – Mark Steyn
I can no longer remember when I first used the line, but, as I've said many times before, sometimes a society becomes too stupid to survive.
Back when President Trump was Candidate Trump, he famously proposed a soi-disant "Muslim ban" on entry to the United States "until our country's representatives can figure out what the hell is going on".
Which was a rationale to which I was rather partial – because a failure to "figure out what the hell is going on" is a big part of why we're where we are a generation after 9/11. Mohammed is now in the Top Ten boys' names in America, which means it will sooner than you think be, as it is in Europe, among the Top Five boys' names, and eventually the Number One.
Well, the "Muslim ban" never happened, after being struck down by judges and filleted into meaninglessness by the lawyers of the permanent bureaucracy. But you would think, given the mountain of corpses piled up on 9/11, that at the very minimum Saudi nationals would no longer be being given pilot training in Florida…
MORE
.
—————————————————————————————
.
Muslim Terrorism Update: Six Saudis Arrested Over Pensacola Naval Base Shooting, Including Three Who Filmed The Attack By Countryman Who Killed Three And Wounded Eight Before Being Shot Dead – Daily Mail
.

.
The Saudi Air Force trainee who killed three and injured eight when he opened fire at a naval base in Florida on Friday assailed the United States as 'a nation of evil' just before his shooting rampage, AFP reports. The man, identified as Mohammed Saeed Alshamrani, opened fire inside a classroom at Naval Air Station in Pensacola early Friday morning. Police quickly responded to the scene and he was shot dead.
Alshamrani was a second lieutenant attending the aviation school at the base. The Pentagon says his training with the U.S. military began in August 2016, and was due to finish in August 2020.
On Friday evening, the SITE Intelligence Group, which monitors jihadist media, claimed they had tracked a Twitter account belonging to Alshamrani…
MORE
.
—————————————————————————————
.
How Trump Got Mexico To Solve America's Border Surge When Congress Wouldn't – Stephen Dinan
President Trump pleaded with Congress to do something as illegal immigration across the southwestern border soared this spring. Republicans seemed willing, but it was a nonstarter for Democrats. Party leaders even accused Mr. Trump of manufacturing the crisis.
So the president turned to Mexico with a combination of negotiations, controls, threats and even an explicit quid pro quo: Do something to stop 4,000 people from crossing Mexican territory each day en route to the U.S. or face crippling tariffs.
Mexican negotiators ran to Washington to make a deal. Mr. Trump didn't get everything he wanted, but he got enough. By July, the numbers were dropping. By September, they were in manageable territory and falling.
With additional help from El Salvador, Honduras and Guatemala – the countries of most of the children and families that made up the surge – the president effectively outsourced the border problem to Mexico and got the Mexicans to do what Congress wouldn't…
MORE
.
—————————————————————————————
.
MAGA Update: America Created 266,000 Jobs In November – Breitbart
.

.
The imaginary recession of 2019 is over. The U.S. economy added 266,000 jobs for the month and the unemployment rate fell to 3.5 percent, matching the lowest level in 50 years. Economists had expected the economy to add 180,000 jobs and for unemployment to remain unchanged at 3.6 percent, according to Econoday.
Adding to the picture of strength for the labor market, previous jobs numbers were revised up. September's figure was revised up by 13,000 to 193,000. October was revised up by 28,000 to 156,000. Together, that adds 41,000 more jobs than previously reported.
The Friday report on nonfarm payrolls makes it clear that the economy is much stronger than thought by those who were predicting U.S. growth would slow dramatically…
MORE
.
—————————————————————————————
.
Uber Acknowledges 3,000 Reports Of Sexual Assault During Rides Last Year – Washington Examiner
Uber released a safety report that found there were 3,045 reported sexual assaults last year among drivers and passengers.
The study from the ride-sharing company found that there were 235 reported rapes, an increase from 229 in 2017. Reports of nonconsensual touching of a sexual body part and kissing of a nonsexual body part also increased.
"Confronting sexual violence requires honesty, and it's only by shining a light on these issues that we can begin to provide clarity on something that touches every corner of society," said Uber's chief legal officer Tony West.
"And, most importantly, by bringing hard data to bear, we can make every trip safer for drivers and riders alike," he added.
The 84-page study also addresses car crashes. Over the past two years, 107 people were killed in 97 crashes. The study found that of those, 90% occurred in urban areas…
MORE
.
—————————————————————————————
.
Gropey Joe Forgets When He Was Vice President, Says Obama Administration Was During 1976 – PJ Media
.

.
I think it's safe to say that Biden's big donors are probably starting to get worried about the so-called frontrunner – if they haven't been worried already.
At the same campaign event in New Hampton, Iowa, where Biden thought it was okay to call a voter "fat" and a "damn liar," he also temporarily forgot when he was vice president."We did that in 1976… Um, I mean, excuse me, backing up here, 2014 is when we did that."
Biden was 34 in 1976, and Barack Obama was still in high school, probably getting high with the Choom Gang.
I suppose Joe deserves some credit for at least realizing somewhat quickly that he'd made a pretty silly mistake…
MORE
.
—————————————————————————————
.
FBI Failed To Inform FISA Court That Steele Dossier Was Unreliable – National Review
The Justice Department's inspector general has concluded that the FBI omitted crucial details in its requests for warrants to surveil Trump campaign associate Carter Page, saying the agency neglected to mention that some of the information the warrant applications were based on was shaky.
Justice Department Inspector General Michael Horowitz's yet unpublished draft report found that the FBI did not inform the Foreign Intelligence Surveillance Court that the controversial Steele dossier, cited in applications to spy on Page, was unreliable, according to the Washington Post.
The dossier was compiled by former British intelligence officer Christopher Steele who was investigating Donald Trump for an opposition research firm hired by the Hillary Clinton campaign. The dossier purported to show connections between the Trump campaign and the Kremlin.
The FBI found Steele's information about a Russian government connection to be dubious…
MORE
.
—————————————————————————————
.
Pregnant Polyamorous Woman To Raise Child With Her 4 Boyfriends – InfoWars
.

.
20-year-old Tory Ojeda is in a polyamorous relationship with four men, and now she's pregnant and plans on raising the child with all of her partners.
Ojeda and three of her four lovers live in the same house together in Jacksonville, Florida, but she's the only one who has multiple partners.
She is open to another woman joining the relationship however, saying, "I'd like to not be the only woman in the relationship. That would definitely be nice."
The boys, whose ages range from 18-23, take turns sleeping in Tory's bed each night so each of them gets an "equal turn" with her.
The group determined one of the boyfriends, Chris, is the father…
MORE
.
—————————————————————————————
.
German Industrial Production Crashes By Most In A Decade – Zero Hedge
Just when you thought – based on all the talking heads and administration officials constant jawboning – that it was safe to buy stocks because global growth was troughing, Germany's auto sector has to spoil the party.
Thanks to a 5.4% MoM plunge in auto production in October, German Industrial output fell 1.7% in October, that's the steepest since April and compared with estimates for a 0.1% gain. This unexpected drop sent industrial output down 5.3% YoY – the biggest drop since November 2009.
Additionally, a new source of weakness has also emerged, with production of capital goods excluding cars now down 5.9% on its August level.
As Bloomberg notes, this means the sector is starting the fourth quarter on a very weak footing and could again place a heavy burden on the economy in 4Q. The weakness also adds downside risk to forecasts for manufacturing to stabilize this quarter (weighing down on GDP growth in 4Q by 0.59ppt)…
MORE
.
—————————————————————————————
.
DHS Deputy Secretary Cuccinelli: Sanctuary Cities Are Harboring 'Violent, Vicious' MS-13 Gang Members – Daily Caller
.

.
Ken Cuccinelli, the acting Deputy Secretary of the Department of Homeland Security, on Thursday accused sanctuary cities of harboring violent MS-13 gang members.
Cuccinelli, who was appointed to the second-highest position atop DHS in November, appeared on Fox Business to discuss a range of issues affecting his department, such as the Trump administration's likely move to label Mexican drug cartels as terrorists, progress on the border wall, and the crackdown on gang activity within the United States.
The acting deputy secretary took particular umbrage with cities and localities that refuse to cooperate with Immigration and Customs Enforcement (ICE), making it more difficult to arrest and deport illegal aliens accused of heinous crimes…
MORE
.
—————————————————————————————
.
Leftists Rally On Behalf Of Foreign-Born Convicted Murder Who Is Set To Be Deported By ICE – Big League Politics
A foreign-born convicted murderer, Tyrone Abraham has become the latest cause du jour for liberals as they hope to get him freed before he is set to be deported by ICE.
Abraham served 25 years in prison after being convicted for the crime of second-degree murder. He is celebrated by liberals because he turned into an advocate for gun control while he was behind bars. He gave his testimony as apart of a campaign for prisoners' voices to be heard.
Meet Tyrone. Spent 25 years in prison. Atoning for a murder at 19. Earned his BA & Masters. Helped youth understand impact of gun violence. Respected & loved. Granted parole earlier this year. Then ICE got him. Now in detention. Soon to be deported to a country he doesn't know. pic.twitter.com/0hAeRVVbIL

– Scott Hechinger (@ScottHech) December 4, 2019
Although Abraham insists that he is a changed man, he has been apprehended by ICE as apart of a crackdown on immigrants who have a criminal history…