.
Trump Nominee Steven Menashi Confirmed To Federal Appeals Court Following Left's 'Smear Train' – Breitbart
President Donald Trump's nominee to the U.S. Court of Appeals for the Second Circuit, Steven Menashi, was confirmed by the Senate Thursday after surviving what many Republicans and conservative media say has been a left-wing smear campaign.
Carrie Severino, chief counsel and policy director of the Judicial Crisis Network, tweeted:
Despite left-wing interest groups and Senate Democrats employing their tired, smear-campaign playbook yet again, Steven Menashi is now rightfully Judge Menashi. The left's smear train is running out of steam; it sputters along but it isn't getting anywhere.
Menashi, 40, was confirmed by the Senate, 51-41. Republican Sen. Susan Collins of Maine joined with Democrats in opposing his confirmation to the federal appeals court based in New York.
According to the Washington Times, Collins said Menashi's writings about women, LGBT advocates, and diversity led her to question his judicial character…
MORE
.
—————————————————————————————
.
Fake Impeachment Update: Trump Releases April Transcript Off Phone Call With Ukrainian President – Epoch Times
.

.
President Donald Trump released a rough transcript of the first call had with Ukrainian President Volodymyr Zelensky regarding his election win, inviting him to the White House, which happened months before another phone call between the two leaders that House Democrats have used as the basis of their impeachment inquiry into the president.
The April transcript didn't contain any mention of former Vice President Joe Biden or his son, Hunter Biden. The younger Biden served on the board of a Ukrainian gas company while his father was in office.
The transcript shows that Trump agreed to meet Zelenksy at the White House with no preconditions…
MORE
.
—————————————————————————————
.
ICE Agents Arrested Thousands Of Sexual Predators In 2019, Despite Democrats' Attempts To Set Them Free – Daily Caller
FAIRFAX, Virginia – Immigration and Customs Enforcement revealed Thursday that it arrested well over 3,700 sexual predators in the past fiscal year, as the agency's announcement coincided with its grand opening of a facility dedicated to monitoring convicted sexual predators traveling internationally.
Homeland Security Investigations (HSI), the investigative unit of Immigration and Customs Enforcement (ICE), announced it initiated 4,224 child exploitation cases during the 2019 fiscal year, which began in October 2018 and concluded at the end of September. Those cases led to a total of 3,771 criminal arrests, and the identification or rescue of 1,066 victims.
The numbers reflected a significant uptick – 18% – from the previous fiscal year. It's a result, HSI contended, of its commitment to ending crimes against children.
"HSI's agents, in cooperation with our law enforcement partners, work tirelessly to find and bring to justice, individuals who commit these heinous crimes," acting special agent in charge of HSI Seattle Eben Roberts said in a prepared statement…
MORE
.
—————————————————————————————
.
Former CIA Officer: Anti-Trump CIA "Whistleblower" Eric Ciaramella Was Hand-Picked By John Brennan For White House Job – Gateway Pubdit
.

.
As the sham impeachment inquiry continues on Capitol Hill today, new details emerged on One America News on the whistleblower Eric Ciaramella who started the entire process.
One America's Jack Posobiec sat down with a former CIA officer Brad Johnson the president of IntelReform.org. Johnson offered a compelling argument on how Eric Ciaramella was handpicked by former CIA Director John Brennan for his job spying on the Trump Administration in the White House.
Brad Johnson: Absolutely, he was handpicked by John Brennan to go from the CIA over the White House and the NSC, the National Security Counsel, is a White House job…
MORE
.
—————————————————————————————
.
Trump Campaign Raises $3.1 Million In Small Donations During Fake Impeachment Hearings – Breitbart
President Donald Trump's 2020 re-election campaign announced it raised $3.1 million in small-dollar donations during the first 24 hours of House Democrats launching public impeachment hearings on Wednesday. The news was announced by Trump campaign manager Brad Parscale.
"One of our best fundraising days ever… again!" he wrote on Twitter. "Dems just don't get it. They are filling our bank and improving our turnout every day!"
Campaign officials told Breitbart News that the impeachment inquiry had strengthened the 2020 campaign since it was first announced by House Speaker Nancy Pelosi (D-CA) in September.
"Every single time they do this, we raise a fortune," Eric Trump told Breitbart News, recalling the $15 million raised in the 72 hours since Pelosi announced the inquiry. He said that the campaign was experiencing a jump in new donors who had never donated to the president's re-election campaign before…
MORE
.
—————————————————————————————
.
Gannett's Merger With Gatehouse Media Clears DOJ Antitrust Review – New York Post
.

.
The proposed merger of USA Today publisher Gannett with newspaper giant New Media Investments has cleared an antitrust review by the Department of Justice, according to an SEC filing.
The $1.4 billion cash-and-stock deal is set to create the nation's biggest newspaper company. Gannett, already the nation's largest newspaper chain by circulation, will get even bigger when it combines with New Media's Gatehouse Media, which owns nearly 150 small-market dailies plus hundreds more weeklies and shoppers.
The combined companies are set to be rebranded under the Gannett name and retain Gannett's headquarters in McLean, Virginia…
MORE
.
—————————————————————————————
.
Creepy Porn Lawyer Avenatti Charged With Extortion And Wire Fraud – Townhall
On Wednesday, a grand jury charged disgraced pornstar lawyer Michael Avenatti with extortion and wire fraud. The revised indictment dropped a conspiracy charge against Avennati but added an additional count of wire fraud.
According to the indictment, Avenatti threatened to hold a damaging press conference on the eve of Nike's quarterly earnings report and the start of the NCAA's men's college basketball tournament unless Nike agreed to pay Avenatti around $25 million in payments.
Avenatti said he was representing a youth basketball coach who had evidence that Nike employees had concealed unauthorized payments to families of top high school basketball players. The U.S. Attorney's Office had recently opened a criminal investigation into a competitor of Nike's for similarly concealing payments to families of high school athletes.
Avenatti represented porn star Stormy Daniels who claims to have had an affair with President Trump. Daniels hired Avenatti to represent her in her defamation suit against the president…
MORE
.
—————————————————————————————
.
Fake Impeachment Update: Ukrainian Foreign Minister Says U.S. Aid, Investigations Were 'Never' Linked – Breitbart
.

.
Ukrainian foreign minister Vadym Prystaiko said Thursday that U.S. Ambassador to the E.U. Gordon Sondland had "never" linked U.S. aid to Ukrainian investigations of the 2016 elections or the Biden's role in stopping a probe of Burisma.
Prystaiko spoke the day after the first public hearings in the House Intelligence Committee as part of the "impeachment inquiry," where two witnesses said they came to believe there had been such a link – though only some time after Politico reported on August 28 that aid had been held up by the Trump administration.
One of the witnesses, Chargé d'affaires Bill Taylor, introduced new evidence that a staffer told him recently that he overheard Sondland speaking to President Donald Trump…
MORE
.
—————————————————————————————
.
Ukrainian Officials Say Fake Impeachment Witness Lev Parnas Is A Complete Liar – Gateway Pundit
Earlier this week FOX News learned that Lev Parnas was prepared to testify before the Schiff show trial against the Trump Administration.
Lev Parnas and Igor Fruman are the two associates of Rudy Giuliani from Ukraine who were indicted by the Southern District of New York in October.
Parnas told The New York Times that back in May he told the Ukrainian government that unless the new Zelensky government opened an investigation into Hunter and Joe Biden.
According to The New York Times r Lev Parnas said Rudy "directed him in May of '19, 2019, to call the president of Ukraine," Zelensky, "and to tell him that Zelensky's aid would not be forthcoming if he didn't agree to investigate the Bidens."
FOX News reporter John Roberts confirmed that Lev Parnas will likely be the Democrat Party's surprise witness in Schiff's show trial…
MORE
.
—————————————————————————————
.
Jim Jordan Destroys Adam Schiff-For-Brains' Star Witness In Fake Impeachment Hearing – Right Scoop
.

.
Jim Jordan had a very impressive line of questioning today for the star witness of Schiff's impeachment hearing, former Ambassador to Ukraine Bill Taylor, exposing that Democrats really have no basis for their claims that Trump was involved in a quid pro quo with Zelensky.
First Jordan establishes that despite meeting with Zelensky three times AFTER the July 25 call, over the course of 55 days, Taylor never once heard Zelensky mention that aid was held up, nor did Zelensky ever once announce public or private, any investigations into the Bidens. Secondly, Jordan exposes the very convoluted way in which Taylor heard that Sonland said there was a 'quid pro quo'.
"Ambassador Taylor recalls that Mr. Morrison told Ambassador Taylor that I told Mr. Morrison that I conveyed this message to Mr. Yermack on Sept 1, 2019…
MORE
.
—————————————————————————————
.
Officer Accused Of Killing His Police Chief Was Found Sitting On His Body, 'Roaring' Noise Heard Coming From Hotel Room – Crime Online
More details are emerging about the mysterious death of an Oklahoma police chief who died following an alcohol-fueled argument in a Florida hotel room with one of his own officers, who was reportedly a close friend.
As Crime Online previously reported, Mannford Police Chief Lucky Miller. 44, had been in Pensacola, Florida, to attend a public safety conference scheduled for this week when he died following an argument with a fellow officer in his Hilton hotel room.
That officer, Michael Nealey, has since been charged with second-degree murder in Miller's death, according to KJRH. He is reportedly being held on $500,000 bond.
According to a police report obtained by WEAR-TV, a maintenance worker at the hotel encountered the men prior to the arrival of police on Sunday night. The maintenance worker had reportedly responded to a noise complaint, and heard a "grunting" sound coming from inside the room when he knocked on the door…
MORE
.
—————————————————————————————
.
Mark Meadows Verbally Bitchslaps Fake News Reporter In Hallway During Fake Impeachment Hearing Recess – Daily Wire
.

.
Rep. Mark Meadows (R-NC) blasted CBS News reporter Nancy Cordes on Wednesday during a recess break from the Democrats' impeachment inquiry hearing after Cordes argued that she had read all the transcripts from the depositions – something that was impossible for her to do because not all the transcripts have been released.
Here is the exchange between Meadows and Cordes:
Cordes: For the case you are making to be true, every single witness who has testified, more than a dozen of them, would have to be either lying or mistaken.

Meadows: That's not correct. Your characterization is so inherently wrong and biased. Let me ask you this, for the American people, how many hours have you been sitting in these depositions?…
MORE
.
—————————————————————————————
.
Ukrainian Officials Release Records Of 46 Payments To Hunter Biden From Burisma Holdings, 38 Payments Were For $83,333 Totaling Over $3.1 Million – Gateway Pundit
New memos released last week reveal Burisma Holdings, Hunter Biden's Ukrainian natural gas company, pressured the Obama State Department to help end the corruption investigation during the 2016 election cycle just one month before then-Vice President Joe Biden forced Ukraine to fire Viktor Shokin, the prosecutor probing his son Hunter.
Joe Biden bragged about getting Viktor Shokin fired during a 2018 speech to the Council on Foreign Relations. The media immediately covered for Biden and said his targeting of Mr. Shokin was totally unrelated to the prosecutor's corruption investigation into Hunter and Burisma Holdings.
New memos released because of a FOIA lawsuit filed by award-winning investigative reporter John Solomon show Burisma Holdings contacted the Obama State Department several times during the 2016 election to discuss ending the probe.
In fact, Burisma Holdings actually name-dropped Hunter Biden when requesting help from the State Department…
MORE
.
—————————————————————————————
.
Amazon Opening 'First Grocery Store' In California As Alternative To Whole Foods – Washington Examiner
.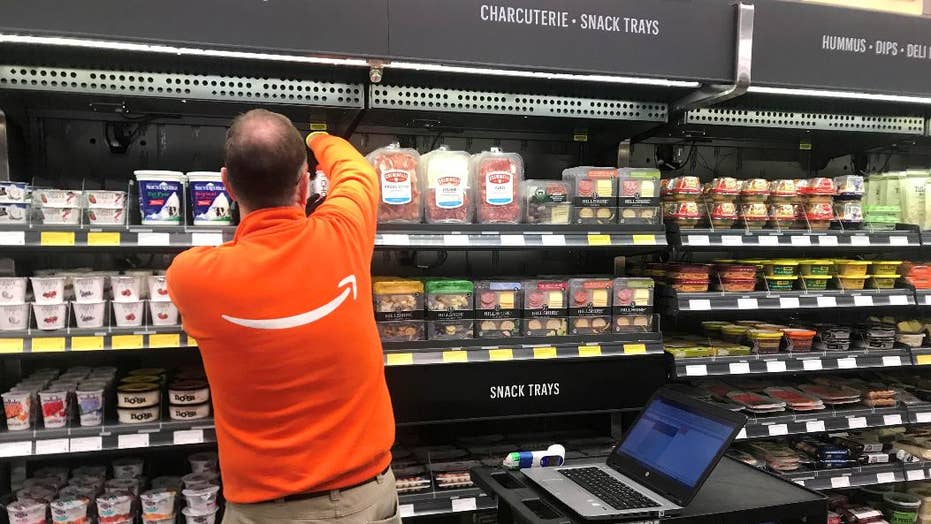 .
Amazon announced it would be opening a new grocery store in California as the company looks to expand into the grocery market beyond its purchase of Whole Foods.
"Amazon is opening a grocery store in Woodland Hills in 2020," a representative for the company told CNET on Monday. The company said the store would differ from Whole Foods but did not expand on its prices or offerings.
The grocery store is being heralded as "Amazon's first grocery store," according to job listings. In 2017, Amazon purchased Whole Foods for $13 billion and has used the grocery chain as a launchpad to expand into the industry and offer grocery home deliveries. The continued expansion into the market was rumored back in March…
MORE
.
—————————————————————————————
.
Democrats Hate America – John Hinderaker
This won't surprise anyone who has been paying attention, but there is a stark difference between the parties: Republicans love America, while Democrats can't stand her. Rasmussen Reports has the numbers:
Democrats really don't like America and think it's time to move on from the culture that got us here.

A new Rasmussen Reports national telephone and online survey finds that just 38% of Likely Democratic Voters believe American society is generally fair and decent. Fifty-one percent (51%) say it's unfair and discriminatory.

By comparison, 74% of Republicans and unaffiliated voters by a 49% to 36% margin view American society as fair and decent.
That sums it up pretty well. If you hate your country, there is a party for you! You are a Democrat. If you love your country, you have only one plausible home: you are a Republican…
MORE
.
—————————————————————————————
.
Supreme Stupidity: USSC Rules That Families Of Sandy Hook Victims May Sue Fireams Manufacturer – Fox News
.

.
In an order released Tuesday, the Supreme Court allowed families of Sandy Hook victims to proceed with a lawsuit against gun manufacturer Remington Arms despite the company's claims that it was protected from liability by federal law.
Remington had petitioned the Supreme Court to reverse a March 2019 decision by the Connecticut Supreme Court, which ruled 4-3 that Remington could be sued under state law over its marketing practices, citing one of the few exemptions to the federal law.
The gunmaker argued that the state court's interpretation of the marketing exemption is, "intolerable given Congress's 'intention to create national uniformity'" with the federal law, the Protection of Lawful Commerce in Arms Act…
MORE
.
—————————————————————————————
.
Leftist Hellhole Update: Los Angeles Homeless Man Dumps Bucket Of 'Hot Diarrhea' On Woman's Head – PJ Media
In one of the most gruesome stories of 2019, a homeless man in Los Angeles, Calif., dumped a bucket of "hot liquid diarrhea" on the head of an unsuspecting woman just walking back to her car near the Hollywood Walk of Fame.
"It was diarrhea. Hot liquid. I was soaked, and it was coming off my eyelashes and into my eyes," Heidi Van Tassel told NBC Los Angeles. "Paramedics who came to treat me said there was so much of it on me, that it looked like the man was saving it up for a month."
Van Tassel had enjoyed a pleasant evening with her friends at an authentic Thai restaurant before she was randomly targeted for the fecal matter attack. The homeless man reportedly pulled her out of her car, dragged her out to the middle of the street, and dumped the diarrhea on her head.
The poor woman was rushed to Hollywood Presbyterian Hospital, where she was tested for infectious diseases caused by contact with feces. She will need to be retested every three months…
MORE
.
—————————————————————————————
.
Dimwitted RINO Assclown Suspends Presidential Campaign Just Weeks After Officially Announcing His Candidacy – Townhall
.

.
Outdoor enthusiast, and former South Carolina congressman and governor Mark Sanford has called it quits on the 2020 presidential campaign trail less than one month after officially launching his national tour to try and convince voters to support him in the 2020 presidential GOP primary.
Sanford blamed President Donald J. Trump's pending impeachment for foiling the momentum for his campaign.
Sanford announced on Tuesday in New Hampshire that he will be dropping out of the race. "You gotta be a realist, and what I did not anticipate is an impeachment," Sanford told media.
As the Post and Courier notes, is withdrawal "came after Sanford failed to collect much of a following…
MORE
.
—————————————————————————————
.
Mass Chemical Attack On School In China Leaves 54 Injured, Mostly Children – Zero Hedge
What's being reported as a mass chemical attack on children happened Monday afternoon at a school in southwest China. The horrific incident injured fifty-one children and three teachers at a kindergarten in Kaiyuan city, Yunnan province, state media reported Tuesday.
A 23-year-old man, now in custody, reportedly scaled a wall to get into the school and then sprayed a corrosive chemical on the students and teachers. Xinhua news described that he used a "caustic soda" – a reference to sodium hydroxide, which is an industrial chemical commonly used in the manufacture of household products.
Xinhua further said at least two of the children are in "serious" condition after exposure to the chemical substance, which can severely burn the eyes, skin and respiratory tract. Local police characterized attacker's motive as being driven by "revenge on society".
Police said the suspect was detained about an hour after the attack, whose name was only given as Kong…
MORE
.
—————————————————————————————
.
San Francisco's New DA: Public Urination 'Will Not Be Prosecuted' – Daily Caller
.

.
San Francisco's pee problem could soon get worse.
Chesa Boudin, the urine-and-feces-plagued city's incoming district attorney, pledged during the campaign not to prosecute public urination and other quality-of-life crimes if he was elected. Boudin declared victory Saturday night after results showed him winning a plurality of votes in the DA race.
"We will not prosecute cases involving quality-of-life crimes. Crimes such as public camping, offering or soliciting sex, public urination, blocking a sidewalk, etc., should not and will not be prosecuted," Boudin vowed in response to an American Civil Liberties Union (ACLU) questionnaire during the campaign…
MORE
.
—————————————————————————————
.
Please Climate, Kill Earth So I Don't Have To Hear About Greta Thunberg Again – Stephen Kruiser
While I certainly don't count myself among those who worry about the fate of the planet – the old girl is just fine – the Cult of Greta Thunberg is beginning to make me hope they might be right. In fact, I'm kind of hoping that their predictions are too conservative and that I may soon be put out of their misery.
The rapid demise of our homeworld may be the only way we can get the climate hoaxers to shut up about Greta Thunberg.
When the Swedish Spectrum Truant was here last summer to march and whine, then to scold the idiots at the United Nations a few weeks later, I was wondering if there were laws somewhere that might require her to go back to school at some point.
Apparently, there is no real premium on education in Sweden. Probably too cold.
Because progressives are secular, godless heathens, they have a bad habit of idolizing humans. Crabby little Greta has now become their Goddess of Scold, and she will apparently never go away…