—————————————————————————————
.
Whistleblower Had 'Professional' Tie To 2020 Democratic Candidate – Washington Examiner
In an Aug. 26 letter, the Intelligence Community's inspector general, Michael Atkinson, wrote that the anonymous whistleblower who set off the Trump-Ukraine impeachment fight showed "some indicia of an arguable political bias… in favor of a rival political candidate."
A few weeks later, news reports said the whistleblower's possible bias was that he is a registered Democrat. That was all. Incredulous commentary suggested that Republicans who were pushing the bias talking point were so blinded by their own partisanship that they saw simple registration with the Democratic Party as evidence of wrongdoing.
"Give me a break!" tweeted whistleblower lawyer Mark Zaid. "Bias? Seriously?"
Now, however, there is word of more evidence of possible bias on the whistleblower's part. Under questioning from Republicans during last Friday's impeachment inquiry interview with Atkinson, the inspector general revealed that the whistleblower's possible bias was not that he was simply a registered Democrat…
MORE
.
—————————————————————————————
.
Trey Gowdy Joins President Trump's Legal Team To Combat Ukraine Hoax – Big League Politics
.

.
Former South Carolina congressman and Tea Party firebrand Trey Gowdy is joining President Donald Trump's legal team in the light of the Democrats' Ukraine hoax impeachment push, sources indicated Tuesday.
Gowdy was known as a House Republican with an ability to put the feet of corrupt Obama administration officials to the fire during his time in Congress. The former Chair of the House Benghazi Committee held many viral hearings with Obama officials, aggressively challenging the administration's policies and holding bureaucrats accountable for their violations of federal law and corrupt practices.
Some liberal bureaucrats Gowdy was known for questioning in heated hearings included Lois Lerner, the mastermind behind the IRS conservative bias scandal…
MORE
.
—————————————————————————————
.
PG&E Starts To Cut Power For Nearly 800,000 California Customers On Wildfire Risk – Wall Street Journal
PG&E Corp. PCG -5.22% has begun to shut off power to hundreds of thousands of people in California as it seeks to prevent its electric lines from sparking more deadly wildfires, in what is believed to be the largest such pre-emptive blackout ever.
The outages are poised to hit areas across the northern and central parts of the state, including the famous wine country region, the rural Sierra Nevada foothills and portions of Oakland and San Jose. The utility is implementing the shut-offs as strong, dry winds are expected to hit the region, increasing the risk that its equipment could start fires.
PG&E said early Wednesday the shut-offs will occur in three phases, the first of which began affecting about 513,000 customers from around midnight local time. These outages will be spread across 22 counties, the utility said, including Napa, Mendocino and Sonoma in the wine country region.
The second phase is set to occur around noon Wednesday, turning off service to approximately 234,000 customers in seven additional counties, PG&E said…
MORE
.
—————————————————————————————
.
The Trump Non-Impeachment Is The Most Secretive Prosecution In History – Chris Farrell
.

.
In most scandals it is the alleged wrongdoer who wants to keep a lid on information, to stonewall and obfuscate, while investigators insist on openness and laying the facts before the public.
In the case of the Democrats' impeachment-style inquiry – not an actual impeachment since it hasn't been voted on – Democratic California Rep. Adam Schiff and his collaborators want to keep the proceedings under wraps while the White House is pushing for transparency. That suggests that it is the investigators who are up to no good.
The names of the so-called "whistleblowers" remain secret. Two hearings, with former Ukraine special envoy Kurt Volker, and Intelligence Community Inspector General Michael Atkinson, were in secure facilities…
MORE
.
—————————————————————————————
.
13 Gang Members Busted After Importing 50 Tons Of Heroin, Cocaine And Cannibis Into UK From Holland – Daily Mail
Police in the UK have arrested thirteen people after a group imported 50 tons of heroin, cocaine and cannabis.
The drugs were hidden in lorries bringing children's juice drinks and vegetables over from Holland and those responsible have now been arrested as part of a National Crime Agency (NCA) investigation.
Today the group of men, who hail from all across the UK, were apprehended in dawn raids. They are said to be aged between 24 and 59 and raids took place in London, Manchester, Stockport, St Helens, Warrington, Bolton, Dewsbury, and Leeds this morning.
It is thought they are part of a well-established crime group that used Dutch and British front companies to import the drugs. They managed to get the heroin, cocaine and cannabis through UK ports over an 18-month period.
In April this year four men and two women were also arrested by the Dutch National Police on European Arrest Warrants…
MORE
.
—————————————————————————————
.
Maryland Democrat Charged With Wire Fraud Three Days After Resigning – Law & Crime
.

.
A Democratic delegate who resigned from Maryland's General Assembly three days ago has been charged with federal wire fraud, in connection with the alleged solicitation of $22,000 in campaign funds that were funneled to a PayPal account and weren't disclosed in required financial filings.
Tawanna Gaines, 67, was a "Maryland State Delegate from December 2001 through the present, representing District 22, which covered portions of Prince George's County, Maryland."
Gaines' still-active House of Delegates profile illustrates the extent of her public office experience and involvement…
MORE
.
—————————————————————————————
.
U.S. Signs Trade Agreement With Japan – Epoch Times
The United States and Japan signed on Oct. 7 a trade agreement that would open up markets to 7 billion dollars worth of U.S. agricultural goods.
"This is a huge victory for America's farmers, ranchers and growers. And that's very important to me," President Donald Trump said in a signing ceremony at the White House.
Trump described the deal, dubbed the new U.S.-Japan Trade Agreement, as a huge victory for both countries, especially America's farmers. The deal will grant U.S. growers significantly more access to the Japanese market.
Japan is the third-largest agricultural market for U.S. exporters, according to the Office of the U.S. Trade Representative (USTR). In 2018, the United States exported 13 billion dollars worth of farm products to Japan, including corn, beef and beef products, pork and pork products, soybeans, and wheat.
The White House says over 90 percent of United States agricultural imports into Japan will be duty-free or receive preferential tariff access…
MORE
.
—————————————————————————————
.
Convicted Killer Confesses To 93 Murders, Draws Sketches Of His Victims – Crime Online
.

.
A California inmate originally convicted in the deaths of four women and serving life without parole has confessed to 93 murders, the FBI says, and he's been matched to more than 50 of them so far.
The feds say that makes Samuel Little, 79, the most prolific serial killer in U.S. history.
Little's murder spree reportedly ran from 1970 to 2005, and the FBI has set up a website detailing those of his confessions that have yet to be confirmed, with videos of the confessions and Little's sketches of his victims.
As early as 1961, Little was arrested and served time for a variety of crimes from driving under the influence and breaking and entering to assault and rape…
MORE
.
—————————————————————————————
.
Trump Administration Blocks Ambassador From Testifying In Treasonous Democrats' Impeachment Deposition – Fox News
The Trump administration ordered the U.S. ambassador to the European Union not to appear at a scheduled Tuesday deposition on the Ukraine controversy, triggering a fiery new clash with House Democrats amid their impeachment inquiry.
President Trump dismissed the deposition as a "kangaroo court" as he defended the decision to block Gordon Sondland from appearing at the closed-door session on Capitol Hill.
But the move, first reported by the New York Times, prompted new warnings from Democrats that such acts will be seen as an obstruction of their investigation into the controversy surrounding Trump's July 25 phone call with Ukrainian President Volodymyr Zelensky.
"The failure to produce this witness, the failure to produce these documents, we consider yet additional strong evidence of obstruction of the constitutional functions of Congress," House Intelligence Committee Chairman Adam Schiff, D-Calif., told reporters Tuesday morning…
MORE
.
—————————————————————————————
.
Lynyrd Skynyrd Founder Larry Junstrom Dies At Age 70 – Daily Star
.

.
Legendary musician Larry Junstrom has died aged 70.
The bassist is best remembered for forming Lynyrd Skynyrd with his high school bandmates in 1964. Twelve years later, he joined .38 Special with pal Donnie Van Zant, who was the younger brother of Lynyrd Skynyrd singer Ronnie Van Zant.
The group released their final studio album in 2004, with Junstrom's memorable bass-playing featuring heavily throughout.
His group, the band .38 Special, broke the news of his death in a heartfelt statement over social media. It read: "The Big Man on the Big Bass has left us. He rocked arenas all over the world and succeeded in living his dream."…
MORE
.
—————————————————————————————
.
Backfire: NBA, Houston Rockets Cower To Communist China, Get Blasted Online – Daily Wire
The National Basketball Association (NBA) and the Houston Rockets cowered to communist China on Sunday after Rocket's General Manager Daryl Morey tweeted out support for Hong Kong which sparked an immediate backlash from Chinese businesses and the Chinese government.
Morey tweeted out a graphic on Friday evening that stated: "Fight For Freedom Stand With Hong Kong"
"The Houston Rockets suddenly find themselves in the middle of a geopolitical controversy that could put their chief front-office executive's job in jeopardy," The Ringer reported. "After general manager Daryl Morey expressed support in a since-deleted tweet for pro-democracy efforts in Hong Kong, the Chinese government, the Chinese Basketball Association, and various Chinese businesses quickly denounced Morey and moved to sever ties with the Rockets. As a consequence, league sources told The Ringer that Rockets ownership has debated Morey's employment status and whether to replace him."…
MORE
.
—————————————————————————————
.
Generation Snowflake Update: Obviously Toy Gun Prompts Lockdown Of Three Florida Campuses – PJ Media
.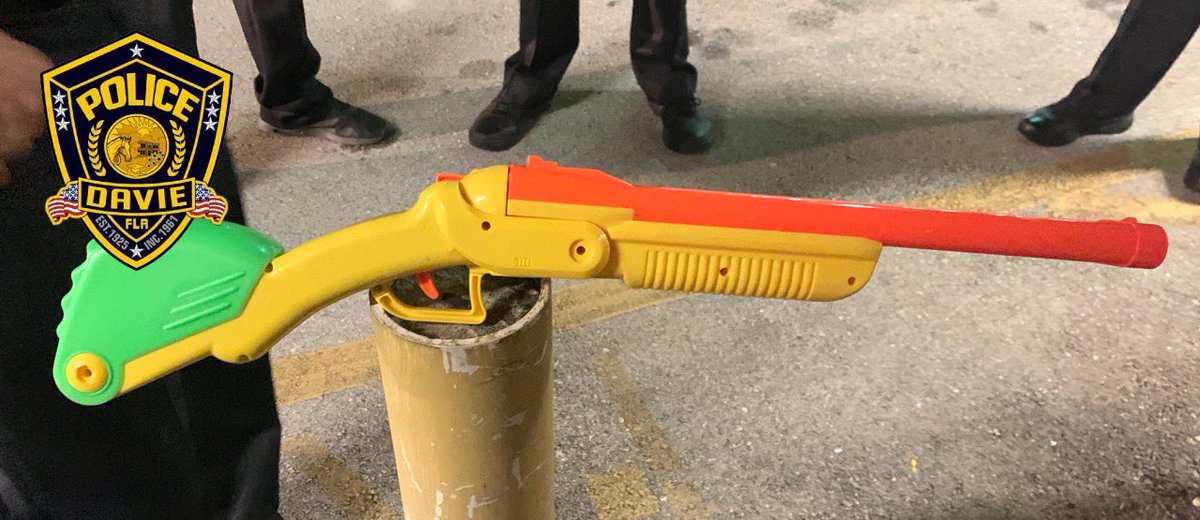 .
Welcome to the United States of Hysteria. A toy gun that would have been easy to identify as such in a bygone era when more kids were allowed to play with such things prompted law enforcement to lock down three different college campuses on Thursday.
Newsweek:
A security alert which resulted in three college campuses in Florida going on lockdown was later revealed to be a false alarm involving a brightly colored toy gun.

An alarm was raised after a student at Florida Atlantic University reported seeing a man with a rifle on campus on the evening of Thursday, October 3. The student said the man walked towards her whilst she was in her car and pointed a gun at her.
MORE
.
—————————————————————————————
.
Donald Trump Announces Deal With Turkey To Withdraw Troops From Syria – Breitbart
President Donald Trump announced he would withdraw American forces from Syria, allowing Turkish forces to enter the country. The White House revealed Trump's decision Sunday night and the president also shared his thoughts on the issue on Twitter on Monday.
"I held off this fight for almost 3 years, but it is time for us to get out of these ridiculous Endless Wars, many of them tribal, and bring our soldiers home," Trump wrote on Twitter.
Trump said he would allow Turkey to engage in Syria, despite the American alliance with the Kurds in the region. In return, he said, Turkey would take all of the captured Islamic State terrorists.
The White House announced the deal after Trump spoke with President Recep Tayyip Erdogan of Turkey.
"Turkey will now be responsible for all ISIS fighters in the area captured over the past two years in the wake of the defeat of the territorial "Caliphate" by the United States,"…
MORE
.
—————————————————————————————
.
GE Freezes Pension Benefits For 20,000 Employees To Lower Debt Burden – Zero Hedge
.

.
In what looks like a dry run of the looming pension crisis facing corporate America, GE said on Monday that it would freeze pension plan benefits for 20,000 American employees with salaried benefits, WSJ reports.
The company also plans to freeze supplementary benefits for roughly 700 employees who became executives before 2011 in an attempt to shave as much as $8 billion off its long-term pension deficit.
With GE shares down 20% since Larry Culp took over as CEO last year, the CEO who was supposed to rescue the company's perennially-languishing share price is facing pressure to cut GE's debt burden amid a downturn in the company's power-equipment business…
MORE
.
—————————————————————————————
.
Fauxcahontas Caught Lying Again About Her Employment Record – Daily Wire
Sen. Elizabeth Warren, who is rising in the polls for the Democratic presidential nomination, claimed for decades that she had Native American ancestry. She didn't.
Now, she's told another story that is prompting scrutiny. On Wednesday, during a town hall in Nevada, she told the crowd she lost her teaching job in the early 1970s because she was "visibly pregnant."
"By the end of the first year, I was visibly pregnant, and the principal did what principals did in those days – wish me luck and hire someone else for the job," she told the crowd in Carson City.
Warren, 70, seemed to be implying that she was terminated simply because she was pregnant. But a YouTube clip posted in January 2008 shows Warren giving a completely different reason for why she left that school.
Jeryl Bier, who pointed out her conflicting comments in a post on The Script Wednesday, notes that the interview was conducted in 2007…
MORE
.
—————————————————————————————
.
British PM Johnson To EU: 'We're Packing Our Bags And Walking Out' In 25 Days – PJ Media
.

.
If European Union leaders thought there would be any flagging or hesitation from British Prime Minister Boris Johnson when the Brexit deadline loomed, they are sadly mistaken.
Johnson penned an op-ed in The Sun and The Daily Express that explicitly threatened a British exit from the EU with or without a formal agreement by October 31.
Politico:
"After decades of campaigning, three years of arguments and seemingly endless months of pointless delay, it is now just 25 days until the United Kingdom's membership of the European Union comes to an end. We will be packing our bags and walking out on October 31…
MORE
.
—————————————————————————————
.
Drag Queen Seen Stripping At Children's Library Event In Seattle – Big League Politics
Video has emerged of a drag queen performing in a sexually suggestive strip tease at a Washington 'Drag Queen Story Hour' event, in a development that's likely to draw further criticism towards the national phenomenon.
In no universe is such a sexually charged display appropriate for children, who have been participants in previous Drag Queen Story Hour events nationwide. It's unclear if the individual's performance was held in the presence of minors.
It evidently took place over the summer at a Seattle-area library. In any case, such a performance shouldn't be held at a library, which is bound to draw many minors for more appropriate educational activities.
Sex offenders have previously been busted performing as drag queens in Drag Queen Story Hour events. King County libraries have apparently held a series of Drag Queen Story Hour events in recent months and years…
MORE
.
—————————————————————————————
.
Cream Drummer Ginger Baker Dead At 80 – TMZ
.

.
Iconic drummer Ginger Baker died in a hospital in England Sunday, leaving behind one of the greatest rock 'n' roll resumes. Ever.
In late September, Ginger's family announced he was hospitalized with a critical illness, and a few days later asked fans to keep him in their prayers. The family has not revealed what illness he was battling, but said he "passed away peacefully."
Ginger was known as a wild man on the drums from his days playing with Cream members Eric Clapton and Jack Bruce. The group played legendarily long jams during their live shows and defined the psychedelic rock sound of the 1960s.
After Cream broke up, he went on to form another supergroup, Blind Faith…
MORE
.
—————————————————————————————
.
Trump To Protect U.S. Taxpayers From Subsidizing Health Care For Immigrants – Breitbart
President Trump signed a presidential proclamation on Friday to protect American taxpayers from being forced to subsidize the healthcare costs of legal immigrants wanting to permanently resettle in the United States.
In a new rule, beginning November 3, foreign nationals applying for visas – not including refugees, asylees, or those on nonimmigrant visas – will have to prove that they will have either employer-based health insurance before arriving in the U.S. or a non-subsidized private health insurance plan.
The proclamation reads:
While our healthcare system grapples with the challenges caused by uncompensated care, the United States Government is making the problem worse by admitting thousands of aliens who have not demonstrated any ability to pay for their healthcare costs…
MORE
.
—————————————————————————————
.
Appeals Court Upholds $130,000 Judgment Against Pomona College For Railroading Accused Student – College Fix
.

.
Lawyers for "John Doe" wanted Pomona College to pay at least $250,000 in attorney's fees for repeatedly violating its own policies to find the accused student responsible for sexual assault.
They got about half that from Los Angeles Superior Court Judge Mary Strobel, who said Pomona's conduct was so egregious that she couldn't "conclude that the factual scenario was unique and unlikely to recur." (Pomona attempted to retry Doe with the same approach Strobel struck down.)
The private college appealed. The result? More money for Doe.
A California appeals court upheld the $130,000 judgment against Pomona in a ruling Thursday and awarded Doe "his costs on appeal,"…
MORE
.
—————————————————————————————
.
Florida: Parents Called Sheriff's Deputies After Finding Two Dozen Pipe Bombs In Daughter's Room – KSAZ
A Wimauma woman was arrested early Friday morning after her parents found a "significant" amount of pipe bomb in her bedroom, the sheriff announced Friday morning.
Investigators said the parents of 27-year-old Michelle Louise Kolts called them after the discovery. The sheriff's office bomb squad responded and discovered: two dozen pipe bombs, smokeless pistol powder, fused material, 23 different knives, two hatchets, nunchucks, two BB pellet-type rifles, six BB pellet-type handguns, and dozens of books and DVDs about murder, mass killings, bomb-making and domestic terrorism.
Hillsborough County Sheriff Chad Chronister said each pipe bomb contained nails, metallic pellets, or a combination of both.
"It would've taken less than 60 seconds per device to add the powder-infused material she already possessed to detonate each bomb. If used, these bombs could've caused catastrophic damage and harm to hundreds, even thousands of people," he said during a press conference…
MORE
.
—————————————————————————————
.
Top Ukrainian Prosecutor Says Biden-Linked Burisma Case Will Be Reviewed – Fox News
.

.
Ukraine's top prosecutor said Friday that his office is "conducting an audit" of cases that have been previously investigated and closed, including the probe involving the energy giant Burisma, where Hunter Biden had served on the board.
Ruslan Ryaboshapka, the country's prosecutor general, said at a news conference that his office was instructed to review cases that have been closed, fragmented or investigated to make sure they were fairly and thoroughly handled. He said no one attempted to influence him to make the call.
"We are now reviewing all the cases which were closed, fragmented or investigated earlier in order to make a decision on cases where illegal procedural decisions were taken," he said…
MORE
.
—————————————————————————————
.
Previously Deported Illegal Alien Molested Children While Working As Soccer Coach – USIACR
A serial sexual predator will spend four years behind bars for molesting two underage children, including a nine-year-old boy he coached in a Midwood soccer league.
Brooklyn Supreme Court Justice Barry Warhi hit 41-year-old Pablo Pineda with a four year prison sentence and five years' post-release supervision on Wednesday following his guilty plea to abusing the two children earlier this month, according to the Brooklyn District Attorney's office.
While working as a youth soccer coach from July of 2017 until April of the following year, Pineda repeatedly molested a child athlete in the bathroom of Friends Field on Avenue L and E. Fourth Street, according to prosecutors.
The pedophile's scheme lasted until the victim's mother found text messages from Pineda on the child's phone asking the boy to go to the movies without telling his mother, authorities said…
MORE
.
—————————————————————————————
.
Quadriplegic Man Is Able To Walk Using A Mind-Controlled Robotic Exoskeleton – Daily Mail
.

.
A quadriplegic has been able to walk and use his arms again after being fitted with a robotic skeleton controlled by his mind.
The 30-year-old, named only as Thibault, was paralysed from the neck down in 2015 after falling 50 feet (15m) from a nightclub roof. But he has been able to move for the first time since his horrific injury through using the pioneering suit, following months of getting to grips with it.
Heartwarming footage recorded by doctors captured the former optician walking, a feat he said felt like being the 'first man on the Moon'. The French man's limbs are strapped to the robot, which is powered through brain signals and is attached to the ceiling for support. His muscles are still paralysed…