.
President Trump Nominates Wave Of California Judges, In Fresh Bid To Reshape Courts – Fox News
.

.
President Trump nominated a slew of judges Friday to posts on California-based federal courts, ramping up efforts to reshape the judiciary after hitting a milestone earlier this month with the confirmation of the 150th federal judge on his watch.
Two nominations are for the influential San Francisco-based Ninth Circuit Court of Appeals, a long-liberal bench with jurisdiction across the American West whose political makeup has shifted with Trump's aggressive appointment campaign.
Among the nominees is Patrick Bumatay, a federal prosecutor in the Southern District of California whom Trump nominated last year for the same job. But objections from California Democratic Sens. Dianne Feinstein and Kamala Harris derailed the nomination…
MORE
.
—————————————————————————————
.
Previously Convicted Illegal Alien Sexually Assaults Two Children In Texas – USIACR
An illegal immigrant who was in the process of being deported back to Honduras was arrested for sexual abuse of a child. Oscar Orlando Paz, 41, was arrested on Tuesday and charged with Aggravated Sexual Assault of a Child.
According to the arrest report, two children, who were left home alone on Jan. 15, were sexually assaulted by an unknown man who they found inside their kitchen. The victims were told to go outside by Paz, who police say immediately pulled their pants down and sexually assaulted both children.
After the victim's ran inside and locked the door, Paz fled on a bicycle. The mother found the children crying when she returned home and phone police. She had left the children with two relatives to watch, but both had left the location.
After an investigation, DNA was obtained from saliva left on the children's private parts. According to the San Antonio Police Special Victims Unit, the DNA was matched to Paz…
MORE
.
—————————————————————————————
.
Ignoring Parents' Pleas for Privacy, Chicago Area High School Prepares To Allow Boys Access To Girls' Locker Room – PJ Media
.

.
Palatine High School, outside of Chicago, has been battling parents for the last four years to put boys in the girls' locker room. The school board held the first of several readings of a new policy Thursday evening and listened to public comment, which was overwhelmingly against allowing transgender students unfettered access to sex-specific spaces.
Parent after parent told the board that their students are uncomfortable undressing in front of the opposite sex. But these days, only the comfort and privacy of transgender children counts, as the ACLU of Illinois confirms in a statement they gave to the Chicago Tribune.
"After years of resisting, we are pleased to see the district's leadership has recognized that students who are transgender deserve to be treated fairly and equally in every way…
MORE
.
—————————————————————————————
.
Democrat Donor Who Drugged Gay, Black Men Had At Least 10 Victims, Complaint Says – The Guardian
Ed Buck, the Los Angeles political activist accused of preying on gay black men and forcibly injecting them with fatal doses of drugs, had at least 10 victims, would drug them while they were unconscious and was known locally as "Doctor Kevorkian", according to new court records.
The wealthy Democratic donor, 65, was arrested this week and charged with running a drug den more than two years after 26-year-old Gemmel Moore fatally overdosed in Buck's West Hollywood home.
On Thursday, federal prosecutors charged him with administering methamphetamine to a victim who died and released new details about how he targeted men struggling with homelessness and addiction.
Black LGBT activists in California have been advocating for years for Buck to be brought to justice and have accused police of ignoring their concerns and allowing the politically connected activist to continue hurting people…
MORE
.
—————————————————————————————
.
Trumps Host Australian Prime Minister And Wife FOR Rare State Dinner In Rose Garden – Fox News
.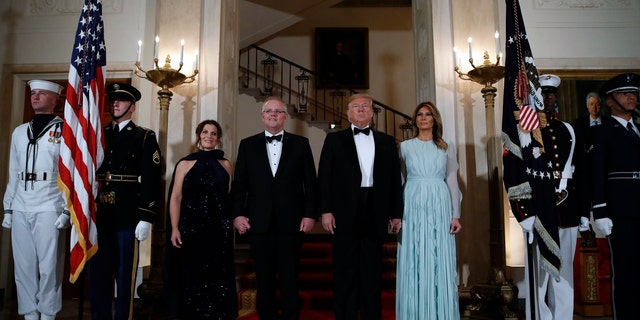 .
President Trump, Australian Prime Minister Scott Morrison and guests dined on Dover sole and summer squash while U.S. military bands filled the air with music Friday night as the Rose Garden hosted the second state dinner of the Trump White House.
"The first lady and I are honored to welcome you and Jennifer to the White House, and we look forward to hosting you for a state dinner tonight in the Rose Garden," the president told Morrison during a pomp-filled military arrival ceremony Friday. "It will be quite something."
The president and first lady Melania Trump greeted Morrison and his wife, Jenny, with handshakes and kisses on the Pennsylvania Avenue side of the mansion Friday evening….
MORE
.
—————————————————————————————
.
Another Media Lie Blows Up In Their Face: Ukrainian Government Initiated Contact With Trump Administration, Giuliani's Involvement Was Requested By State Department – Gateway Pundit
As more pieces fall into place it becomes evident, once again, that the U.S. media blew another hit piece on President Trump. The latest overly hyped Ukrainian scandal just blew up in their face.
For over two year The Gateway Pundit has been reporting on Ukrainian collusion with the Hillary Clinton campaign. For the past six months TGP has been reporting on Joe Biden's criminal acts in Ukraine.
According to John Solomon it was the Ukrainians that initiated contact with the Trump administration and it was the State Department that encouraged Trump attorney Rudy Giuliani to meet with a top Ukrainian official in July in Spain.
So the alleged far left "whistleblower" blew the story and the liberal media pounced on it anyway. It was just more fake news from the mainstream media…
MORE
.
—————————————————————————————
.
Winning: President Trump Reaches Deal To Send Asylum-Seekers To El Salvador – Gateway Pundit
.

.
The open border Democrat Party has refused to lift a finger to secure American borders. The open borders Democrat Party has even called to take down existing walls and flood the country with millions and millions of illegal, third world, migrants. This is the modern day Democrat Party – dangerous open border fanatics.
President Trump worked around the open borders Democrats again this week and reached a deal to send asylum seekers to El Salvador. This is a huge win for President Trump and once again shows how radical the Democrat Party is in America today.
The Texas Tribune reported:
The Trump administration has reached an accord that could allow the United States to turn away asylum seekers at the U.S. border and send them to El Salvador…
MORE
.
—————————————————————————————
.
More Than 100 People Arrested In Massive Ohio Sex Trafficking Sting – Daily Caller
Authorities conducted a large scale sting operation, busting a massive Ohio sex trafficking ring involving both a doctor and a church leader. The sex trafficking sting captured more than 100 people, according to Fox News.
Authorities conducted the operation, led by Internet Crimes Against Children Task Force, in three central Ohio counties: Franklin, Fairfield and Delaware, WBNS reported.
Maj. Steven Tucker of the Franklin County Sheriff's Office said that the arrests included 24 men who had shown up to an unnamed spot intending to solicit sex from a child. Tucker oversaw the operation, according to WBNS.
A police officer posed as a child online, Tucker said, and engaged in online chats with men looking for sex with children.
"The reality that they were operating in, is that there absolutely was a child at the other end of that device, and that's who they were coming to see," Tucker said…
MORE
.
—————————————————————————————
.
"Stiff, Strong, And Tough": Researchers Discover New Plastic That Could Revolutionize Body Armor – Zero Hedge
.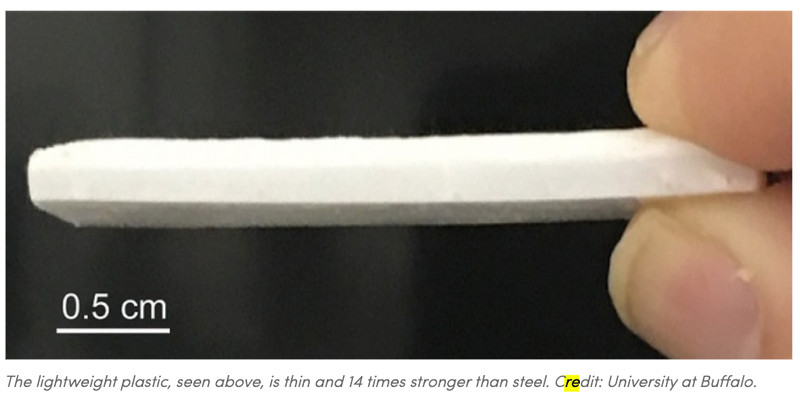 .
Researchers at the University of Buffalo (UB), funded by the Army Research Office (ARO), have developed a new plastic that could be used for advanced body armor, combat helmets, ballistic plates, and or even armor for vehicles.
The UB-led research team, fascinated by mollusk-grown gems, used inspiration from nature to create a lightweight plastic that is 14 times stronger and eight times lighter than steel and "ideal for absorbing the impact of bullets and other projectiles," UB Now said.
The findings were published in a recent edition of the journal Applied Polymer Materials, published by the American Chemical Society (ACS).
"The material is stiff, strong and tough," says lead author Shenqiang Ren…
MORE
.
—————————————————————————————
.
Trump Unveils "Highest Sanctions Ever Imposed On A Country" – Zero Hedge
In a likely effort to satisfy the hawks and keep up "maximum pressure" on Iran in the wake of its alleged attacks on Saudi Aramco facilities (by Saudi and US accounts), President Trump on Friday has announced the "highest sanctions ever imposed on a country".
This is the long awaited "response" coordinated with the Saudis – according to the press briefing – in the aftermath of last week's devastating aerial attacks on the kingdom.
Addressing reporters in the oval office, the president outlined new sanctions targeting the Iranian national bank, which he described as going "right to the top".
"We've never done it to this level. It's too bad what's happening with Iran, it's going to hell," President Trump added.
"They're practically broke, they are broke. And They could solve the problem very easily. All they have to do is stop with the terror," the president said further, alluding to Iran's downward spiraling economy after over a year of biting US-led sanctions…
MORE
.
—————————————————————————————
.
Chick-Fil-A Has More Than Doubled Sales Since Critics Called For Boycott – Washington Examiner
.

.
Chick-fil-A has more than doubled its annual sales since gay rights advocates called for a boycott of the chicken chain restaurant after it was revealed nearly a decade ago that the company donated to organizations that opposed same-sex marriage.
In 2018, the company had $10.5 billion in total sales, becoming the third-largest chain in the nation behind Starbucks ($20.5 billion) and McDonald's ($38.5 billion). It was a 16.7% increase in sales from the year prior.
An analysis credited the growth to a variety of factors, including the opening of nearly 700 more locations in recent years, low start-up costs, and digital sales via delivery apps. There are now more than 2,400 locations nationwide…
MORE
.
—————————————————————————————
.
Fauxcahontas Hires Lobbyist One Day After Releasing Plan Calling Lobbying 'Legalized Bribery' – Daily Caller
Democratic presidential candidate Sen. Elizabeth Warren hired a Planned Parenthood lobbyist to a key role in her presidential campaign Tuesday, just one day after Warren announced a plan that would "end lobbying as we know it."
Warren unveiled an anti-corruption plan Monday that would introduce a "cooling off" period for lobbyists before they can serve in government roles and would prohibit active lobbyists from donating to political campaigns, a practice Warren called "legalized bribery."
"The fundamental promise of our democracy is that every voice matters," Warren's plan states. "But when lobbyists and big corporations can buy influence from politicians, that promise is broken. The first thing to do to fix it is to end lobbying as we know it."
The next day, Kimberly Diaz Scott, who registered as a lobbyist for the Florida Alliance of Planned Parenthood Affiliates as recently as January 2019, announced that she was leaving the organization to head up Warren's campaign in Florida…
MORE
.
—————————————————————————————
.
Trump Says He Will 'Slap'' San Francisco With Environmental Violation Over Homelessness Problem – Daily Caller
.

.
President Donald Trump announced Wednesday that he plans to hit San Francisco with an environmental violation over the pollution and trash caused by the city's homelessness problem.
The president told reporters on Air Force One that the Environmental Protection Agency (EPA) will be sending out a notice within a week that San Francisco is in violation of regulations because of the amount of pollution flowing into the oceans.
"It's a terrible situation – that's in Los Angeles and in San Francisco," he said. "And we're going to be giving San Francisco, they're in total violation, we're going to be giving them a notice very soon."…
MORE
.
—————————————————————————————
.
Mother Films Herself Trying To Drown 6-Year-Old Son, Sends Video To Boy's Father – Crime Online
An Ohio woman is facing over 30 charges after she allegedly filmed herself holding her son's head underwater before sending the video to the child's father.
Cleveland.com reports that 25-year-old Dazshea Watkins is facing charges that include, in part, attempted murder, kidnapping, pandering obscenities involving a minor, felonious assault, and child endangerment.
According to court documents, Watkins, who is currently pregnant and reportedly suffers from mental illnesses, tried to drown her son on August 28 at the Garden Valley apartment complex in Cleveland. Authorities said the suspect also tried to smother the boy with a pillow and beat him numerous times.
ABC 3 reports that the little boy was kicking and splashing while trying to get away from Watkins, who held him by the neck to make sure his face stayed underwater. After Watkins sent the video, the boy's father went to her house to check on his son…
MORE
.
—————————————————————————————
.
Outraged Trump Slams "Terrible Communicator" Powell: "He Failed Again" – Zero Hedge
.

.
It wasn't just the market that was disappointed by Powell's lack of a QE or POMO announcement: so was the president.
Moments after Powell cut rates by 25bps, very much in line with Trump's expectations, and sparked a favorable initial kneejerk reaction, the market slumped when it realized that contrary to expectations, Powell failed to announce a POMO/QE Lite.
Apparently Trump figured it out too, because several weeks after Trump asked for the first time for "some QE", Powell failed to deliver, and this in turn sparked the furious president to lash out at Powell when he tweeted "Jay Powell and the Federal Reserve Fail Again. No "guts," no sense, no vision! A terrible communicator!"…
MORE
.
—————————————————————————————
.
Stunned Onlookers Watch Man Set Himself On Fire Inside Iowa Library – New York Post
A man walked into the busy atrium of an Iowa public library, doused himself with flammable liquid and set himself on fire before the eyes of horrified onlookers, police said Wednesday.
"I will never un-see what I saw," Mallory Young, 35, of Des Moines, told the Des Moines Register. "There were people in tears in my office, it was that disturbing."
Victim David Smith, 36, died late Tuesday from the burns he sustained about four hours earlier in the enclosed hallway at the Des Moines Central Library, Des Moines police told The Post.
Young, who watched the tragedy unfold from an office building across the street from the library, said she saw police officers "spraying down" the man's severely burned and discolored body before he was put in an ambulance. Video obtained by the newspaper shows officials responding to the fire as people stand outside.
Smith had only been in Des Moines for two weeks prior to the incident and his last known address was in Anchorage, Alaska, Des Moines police spokesman Sgt. Paul Parizek said…
MORE
.
—————————————————————————————
.
'Dreamer' Leaves Woman In Critical Condition After Alcohol/Drug Fueled Crash – USIACR
.

.
A Bryan teen is in jail after police said he was driving drunk, hit a woman with his vehicle and drove away without stopping to help. Pedro Puga, 17, is charged with intoxication assault, evading arrest and accident involving serious bodily injury.
It happened just after 2 a.m. Saturday at the intersection of University Drive and South Texas Avenue. Puga was driving northbound when he hit the woman and continued driving, according to court documents. A witness at the scene told police Puga later pulled into the parking lot of Cafe Eccell on South Texas Avenue and begin to inspect his vehicle for damage.
Puga then got back in his vehicle and continued to drive away on South Texas Avenue, the witness said. The vehicle was later found in the parking lot near Golds Gym, police said…
MORE
.
—————————————————————————————
.
Trump Administration Revokes California's Ability To Set Its Emissions Standards – Epoch Times
President Donald Trump announced that his administration is revoking a waiver that allows California to set its own greenhouse gas and vehicle fuel-efficiency limits for passenger cars.
Trump said on Sept. 18 that the administration's move could "produce far less expensive cars for the consumer," while also making cars safer.
"This will lead to more production because of this pricing and safety advantage, and also due to the fact that older, highly polluting cars, will be replaced by new, extremely environmentally friendly cars. There will be very little difference in emissions between the California standard and the new U.S. standard, but the cars will be far safer and much less expensive," he said.
"Many more cars will be produced under the new and uniform standard, meaning significantly more JOBS, JOBS, JOBS! Automakers should seize this opportunity because without this alternative to California, you will be out of business," he added…
MORE
.
—————————————————————————————
.
Prominent Dem Donor Arrested After Third Overdose Victim Found In Home – PJ Media
.

.
Prominent Democratic donor Ed Buck has been arrested at his West Hollywood home following the discovery of a drug overdose victim – the third victim found on Buck's property in less than two years.
There had been widespread calls for Buck's prosecution following the overdose deaths of two black gay men found in Buck's apartment. But the coroner ruled both men died of methamphetamine overdoses.
This time, the Los Angeles County district attorney wasn't going to let him get away with it.
ABC7:
A bail motion from the Los Angeles district attorney's office states that Buck is "a violent, dangerous sexual predator…
MORE
.
—————————————————————————————
.
Sharpton Eulogizes Cokie Roberts With Picture Of Christiane Amanpour – Washington Free Beacon
MSNBC PoliticsNation host Al Sharpton mourned the passing of journalist Cokie Roberts on Tuesday by sending out a tweet with pictures of the still-living journalist Christiane Amanpour.
Sharpton tweeted, "Saddened to hear of the passing of legendary journalist Cookie [sic] Roberts. Here is a Easter Sunday special we did in 2011. May she Rest In Peace," along with several pictures of Amanpour. Aside from the obvious misidentification of the deceased, Sharpton misspelled Roberts's name.
Critics were quick to point out Sharpton's errors, and he deleted the tweet.
Roberts worked for decades as a political reporter and analyst for National Public Radio and ABC News. She died on Tuesday in Washington, D.C., after a long battle with breast cancer.
Amanpour is the chief international anchor for CNN and hosts Amanpour & Company on PBS. She lives in London…
MORE
.
—————————————————————————————
.
California Leftists Pass Bill Forcing Public Universities To Offer Abortion Pills – News Punch
.

.
The California legislature passed a bill on Friday that would force every public university in the state, including 34 campuses, to offer abortion pills to students.
The bill now awaits the signature of Gov. Gavin Newsom, who has previously indicated his support for a previous draft of the bill. He stated in the fall of 2018, "I have long supported that. I subscribe to Planned Parenthood and NARAL's position on that," as the San Francisco Chronicle reported.
The bill, SB-24, states:
Because abortion by medication techniques is both a recognized treatment for the medical condition of pregnancy and a health service every pregnant person in the state has the legal right to choose…