.
Chaos Again As Hong Kong Protesters Throw Petrol Bombs, Police Fire Tear Gas – New Straits Times
.

.
Hong Kong police fired tear gas and water cannon on Saturday as pro-democracy protesters threw petrol bombs in the latest in a series of clashes that have plunged the Chinese-ruled city into its worst political crisis in decades.
Police fired round after round of tear gas as protesters took cover behind umbrellas between the local headquarters of China's People's Liberation Army and government HQ. Protesters also threw bricks at police.
The water cannon fired blue-dyed water, traditonally used elsewhere in the world to make it easier for police to identify protesters later. Riot police then marched on foot towards the neighbouring Admiralty district, followed by about 20 police cars…
MORE
.
—————————————————————————————
.
Google To Settle FTC YouTube Investigation For Up To $200 Million – Daily Caller
Google agreed to pay $150 million to $200 million to settle an investigation by the Federal Trade Commission (FTC) over YouTube's alleged breach of a children's privacy law, Politico reported Friday.
The FTC voted to approve the settlement 3-2 and sent it to the Justice Department for review, a source familiar with the matter told Politico.
The investigation came after The New York Times report on June 3 that YouTube's algorithm essentially directed videos of children in bathing suits to users who watched other videos of prepubescent kids. The FTC received complaints that because of this, YouTube was in violation of the Children's Online Privacy Protection Act (COPPA), which prevents companies from tracking and targeting of users younger than 13.
"I think the message here is that when the [FTC] did have a privacy law to enforce, it refused to do so. The punishment should've been at least half-a-billion dollars…
MORE
.
—————————————————————————————
.
California Appeals Court Overturns Sole Conviction Against Illegal Alien Who Killed Kate Steinle – Gateway Pundit
.

.
A California state appeals court on Friday overturned the one conviction against the illegal alien who shot and killed Kate Steinle in San Francisco in 2015. The illegal alien killer Jose Garcia-Zarate remains in custody and is still facing federal charges.
Fox News reported:
A California state appeals court Friday overturned the lone conviction against an undocumented immigrant who shot and killed Kate Steinle on the San Francisco waterfront in 2015, a case which drew national attention and became a flashpoint in the debate over illegal immigration.

Jose Inez Garcia-Zarate, who was in the U.S. illegally had been deported to his native Mexico five times, was acquitted in November 2017 of first and second-degree murder…
MORE
.
—————————————————————————————
.
Illegal Alien Repeatedly Raped 5-Year-Old Girl In Utah – USIACR
A wanted man is behind bars in Weber County after he was tracked down and arrested by the U.S. Marshals Service Violent Fugitive Apprehension Strike Team on Tuesday.
41-year-old Elmer Castro is accused of raping and sexually abusing a 5-year-old girl in Ogden beginning in 2008, according to a press release from the marshals service, which states the abuse lasted for approximately seven years, until 2015.
Castro is from El Salvador, and was in the U.S. illegally, the marshals service states. He was wanted by Immigration and Customs Enforcement. He was ordered deported in 2010, "but remained in the United States and on the run until his arrest," the press release states.
A warrant for Castro's arrest was issued on July 25 for charges of sodomy and sexual abuse of a child. Ogden police are said to have requested assistance from the marshals service to help locate Castro.
Deputies tracked him to a residence in the area of 1400 N. Washington Blvd. in Ogden…
MORE
.
—————————————————————————————
.
Trump Says U.S. Not To Blame For Explosion At Iranian Missile Site – Washington Times
.

.
President Trump said Friday that the U.S. isn't responsible for a "catastrophic" missile accident in Iran, but seemed to taunt Tehran by wishing Iranians "good luck" in finding the cause of the explosion.
"The United States of America was not involved in the catastrophic accident during final launch preparations for the Safir SLV Launch at Semnan Launch Site One in Iran," Mr. Trump tweeted. The president also posted a detailed photograph of the accident site that appeared to be taken by satellite. It is labeled with descriptions such as "damaged propellant burner trailer."
Mr. Trump tweeted over the photo of the heavily damaged missile launch pad, "I wish Iran best wishes and good luck in determining what happened at Site One."…
MORE
.
—————————————————————————————
.
$58,000 Reward Offered After More Than 40 Wild Burros Found Shot Dead In Mojave Desert – CBS News
Federal authorities have yet to track down the person or people responsible for the escalating amount of deaths of wild burros in California's Mojave Desert. But they are hoping a $58,000 reward for information may help track them down.
Forty-two wild burros have been found illegally shot dead in northeast San Bernardino county since May. Activists and donors are now doubling down in their efforts to solve the crime.
The original reward was $10,000 but, thanks to new donations from conservation and animal welfare organizations, the reward has now risen to nearly $60,000, the U.S. Bureau of Land Management (BLM) in California said Wednesday.
"Wild horses and burros are an iconic part of the American West and part of our national heritage," said William Perry Pendley, the BLM's Deputy Director for Policy and Program. "We will pursue every lead until we've arrested and prosecuted those responsible for these cruel, savage deaths…
MORE
.
—————————————————————————————
.
Thanks To New Democrat Ordinance, Austin's Homelessness Crisis Gets Even Worse – Big League Politics
.

.
'The Texan' reports that the city of Austin's new camping ordinance is starting to create problems. The ordinance permits camping in most public areas and has generated controversy in Austin.
In fact, 1,000 people showed up to a forum last week, which Mayor Steve Adler hosted. Over 28,000 people have signed a petition calling for the ordinance to be repealed. One of the main concerns about this ordinance has been its impact on commercial areas such as the growing epicenter in Congress Avenue.
Brad Johnson of The Texan expands on this:
A simple stroll down the road running perpendicular to the state capitol and it won't take long to spot a makeshift camp, lounging body, or a pile of belongings…
MORE
.
—————————————————————————————
.
Trump Administration Sanctions Hezbollah Terror Network In Blow To Iranian-Backed Group – Washington Free Beacon
The Trump administration on Thursday issued a new batch of sanctions on the Lebanese terror group Hezbollah in the latest salvo aimed at disrupting the Iranian-backed organization's illicit funding and weapons networks, according to information provided by the State and Treasury Departments.
As Iran continues to ratchet up regional support for terror groups that have attacked American and allied forces, the Trump administration is moving to disrupt these terror groups by hitting them in their pocketbooks.
The latest sanctions target Lebanon's Jammal Trust Bank SAL, which the Trump administration has identified as providing "illicit financial and banking activities" for Hezbollah.
The Trump administration has walked a tricky diplomatic line with Lebanon as it seeks to support the country's legitimate military forces while attempting to ensure money and military hardware does not make its way to Hezbollah operatives…
MORE
.
—————————————————————————————
.
President Trump Launches Space Command, Vows American Dominance – Epoch Times
.

.
President Donald Trump officially opened the U.S. Space Command, a precursor to the new branch of the military, the Space Force, that Trump announced last year.
"SpaceCom will ensure that American dominance in space is never questioned and never threatened," Trump said on the White House lawn on Aug. 29.
The new unified combatant command will be headed by Air Force Gen. John Raymond, currently the head of Air Force Space Command, a branch of the Air Force responsible for the military's space operations.
Trump called the setting-up of Space Command a "landmark day" that recognizes the "centrality of space to American national security and defense."…
MORE
.
—————————————————————————————
.
Creepy Joe: Illegal Alien Children 'Become Americans Before A Lot Of Americans Become Americans' – PJ Media
Former Vice President Joe Biden said on Thursday that he wants to see Congress grant legal status to DREAMers and offer "earned citizenship for the 11 million" undocumented immigrants living in the U.S.
"These are kids who come and they end up doing well. They become Americans before a lot of Americans become Americans. No, I'm serious. They go to school. They do well. They contribute to the community. They contribute to the country. So number one, we legalize DREAMers," Biden said while campaigning in Rock Hill, S.C.
"Number two, I would send, immediately, an amendment to the desk of the United States Senate and the House of Representatives – a bill to the desk – that said the following: we have to find a pathway to citizenship, earned citizenship, for the 11 million undocumented," he added…
MORE
.
—————————————————————————————
.
'The Bible Stays': Pence Announces Change To VA Hospital Rules Allowing Religious Decorations, Christmas Trees – Independent Journal Review
.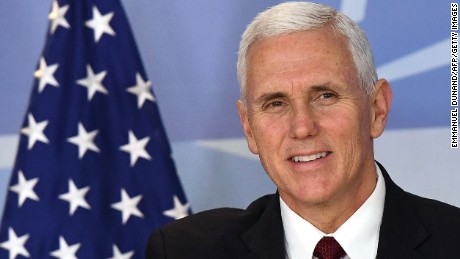 .
Vice President Mike Pence announced that he would be scrapping some of the previous administration's policies when it comes to religion in Veterans Affairs hospitals.
The vice president spoke before the American Legion National Convention in Indianapolis, Indiana, on Wednesday where he announced that the administration under President Donald Trump would be rolling back some of the policies put into place while President Barack Obama was in the Oval Office.
According to Pence, Obama-era rules prohibited the celebration of religious holidays in VA hospitals, including the display of Christmas trees and Bibles. Pence promised the veterans in the crowd that those rules were a thing of the past…
MORE
.
—————————————————————————————
.
After Losing On Men's Team For 3 Years, Biological Male Runner Will Now Compete Against Women In NCAA Race As 'Transgender' – Gateway Pundit
The end of women's sports as we know it. After losing in men's cross country races for the first three years of his running career in college, Jonathan Eastwood who now goes by 'June' is a biological male who decided to compete this year in an NCAA Division 1 women's race as a 'transgender.'
Eastwood is a senior at the University of Montana and for the first three years of college he never won a national title or even qualified for a national meet. June Eastwood will be competing against women on Saturday in Cheney, Washington and based on his run times, he's going to crush records set by his female competitors.
'Lets Run' has Eastwood's stats compared to the fastest female runners:
Eastwood's personal best in the 800 meters is 1:55.23. That's almost four seconds faster than the collegiate record of 1:59.10 set by Raevyn Rogers in 2017.

Her personal best in the 1500 is 3:50.19. Jenny Simpson's collegiate record, unchallenged for a decade, is almost 10 seconds slower (3:59.90)…
MORE
.
—————————————————————————————
.
All 53 GOP Senators Sign SCOTUS Letter Accusing Democrats Of 'Direct, Immediate Threat' To Independence Of Judiciary – Law & Crime
.

.
All 53 Republican senators sent a letter to the Supreme Court on Thursday impelling the court not to be "cowed by the threats" in an amicus brief submitted by five Democratic Senators earlier in the month. The controversial brief implored the justices to drop a case pertaining to a New York City gun law or risk appearing politically influenced.
In their letter to the high court, Republicans said the amicus brief in questioned represented an existential threat to the independence of the Supreme Court.
"[O]ur colleagues did more than raise legal arguments in favor of mootness. They openly threatened this Court with political retribution if it failed to dismiss the petition as moot," they wrote. "The implication is plain as day: Dismiss this case, or we'll pack the Court."…
MORE
.
—————————————————————————————
.
WaPo Investigation Finds 'Almost Every Detail' Of Biden War Story False – Washington Free Beacon
A Washington Post investigation found that a war story frequently told by 2020 Democratic presidential candidate Joe Biden on the campaign trail was false in nearly every detail.
At a Friday New Hampshire rally, Biden told the crowd that as vice president he had once been asked to travel to the dangerous Kunar province in Afghanistan to pin the Silver Star on a war hero who had rappelled down a steep wall to retrieve the body of a fallen comrade.
Biden said he ignored others who warned him not to go. "We can lose a vice president," he remembered saying. "We can't lose many more of these kids."
In Biden's telling, as he pinned the medal to the hero's chest, the tearful Navy captain told Biden that he didn't deserve the medal because he hadn't saved his friend in time. "This is the God's truth," he told the audience. "My word as a Biden."
Except it wasn't. "Almost every detail in the story appears to be incorrect," the Post reported Thursday…
MORE
.
—————————————————————————————
.
HHS Threatens Vermount Hospital With Loss Of Federal Funding After It Forced Catholic Nurse To Assist In Abortion – PJ Media
.

.
On Wednesday, the U.S. Department of Health and Human Services (HHS) reprimanded the University of Vermont Medical Center (UVMMC) for forcing a Catholic nurse to assist in abortions after she had made her conscientious objections clear.
A further investigation found that the hospital had forced many other professionals to assist in abortions against their consciences. UVMMC has 30 days to change its policies or lose its federal funding.
"In the more than two decades of work that ACLJ has done to defend the rights of conscience of pro-life health care workers, this is by far the most outrageous case we've ever seen. Our client's most fundamental beliefs about the sanctity of life were simply brushed aside," Jay Sekulow, chief counsel at the American Center for Law and Justice (ACLJ), said…
MORE
.
—————————————————————————————
.
Pennsylvania House Ban On Nonbelievers Giving Opening Prayer Upheld By Appeals Court – Epoch Times
The ban on nonbelievers giving the opening prayer at sessions of the Pennsylvania House of Representatives does not violate the U.S. Constitution, a federal appeals court has ruled, declaring that "prayer presumes a higher power."
The 2-1 ruling on Aug. 23 by the 3rd U.S. Circuit Court of Appeals upholds the policy of limiting prayers at the start of legislative sessions to guest chaplains who believe in God, in the divine, or a higher power, and to members of the House.
That policy – which is not limited to a particular religion – had been successfully challenged in a lower court last year, after a collection of atheists, agnostics, freethinkers, and humanists sued. That lower court ruling in August 2018 said that the restrictions violated constitutional prohibitions on making laws that establish a religion. The House appealed.
In overturning that judgment, 3rd Circuit judge Judge Thomas L. Ambro said that such a prohibition – the Establishment Clause in the First Amendment – did not apply…
MORE
.
—————————————————————————————
.
Trump Goes After Another Obama-Era Reg As EPA Plans To Ease Rules Affecting Oil Companies – Daily Caller
.

.
The Environmental Protection Agency announced Thursday a plan to loosen federal rules governing methane emissions, a move that could be a boon for some energy providers and setback for environmentalists, the agency said in a statement.
The move will reverse standards set under President Barack Obama that require oil companies to install instruments on their pipelines and well heads that curb the release of methane, an emission researchers believe contributes to global warming. President Donald Trump spent his first two years eliminating scores of his predecessor's environmental legacy.
Trump officials believe the fossil fuel industry has an incentive to limit methane because capturing it allows companies to sell more gas, officials told WaPo on the condition of anonymity…
MORE
.
—————————————————————————————
.
DOJ Inspector General Releases Report Concluding Deep-State Slimeball James Comey Violated FBI Policy By Leaking Sensitive Information – Daily Wire
Former FBI Director James Comey violated the Bureau's policies when he instructed his friend to provide copies of memos including sensitive information to a reporter, a report from the Department of Justice's Office of the Inspector General (OIG) has concluded.
The report includes a laundry list of Comey's violations related to the investigation into whether President Donald Trump colluded with Russia to steal the presidency. Despite the many violations, the DOJ declined to prosecute Comey for his actions.
"Comey's actions with respect to the Memos violated Department and FBI policies concerning the retention, handling, and dissemination of FBI records and information, and violated the requirements of Comey's FBI Employment Agreement," the report says.
The "memos" mentioned by the report refer to five separate memos Comey wrote within the first three months of the Trump administration, one phone call he had with Trump shortly before he was inaugurated, and one phone call with Trump after he became president…
MORE
.
—————————————————————————————
.
Prime Minister Johnson To Suspend Parliament For Five Weeks, Outraging Anti-Brexit Twits – Breitbart
.

.
Boris Johnson's government is activating the constitutional mechanism to suspend Parliament on Wednesday, a move which has outraged Remainers because it limits the amount of Parliamentary time available to them to sabotage Brexit taking place at the end of October.
The Prime Minister confirmed will take place on Wednesday, and will see what is called in Westminster jargon Prorogation last five weeks between September and mid-October.
Parliament will reopen on October 14th with the Queen's speech, the ceremonial delivery by the monarch of a speech written by the government outlining their political intentions for the coming session…
MORE
.
—————————————————————————————
.
Mexico Bar Attack Kills At Least 23 People As Country's Murder Rate Surges – Epoch Times
At least 23 people were killed and another 13 people were injured during an attack on a bar near Coatzacoalcos along the Gulf coast on Aug. 28.
The armed assailants started a fire that ravaged the bar, killing 15 men and eight women in the process, said the Attorney General of the State of Veracruz. The bar was shot up and Molotov cocktails were tossed in the bar, the BBC also reported. Ambulances and police were seen gathering in the street following the blaze.'
The attorney general said that it "strongly condemns the unfortunate events in southern Veracruz." The attorney general's office will now attempt to investigate the "origin of the fire that occurred," according to the state office.
Veracruz regional governor, Cuitlلhuac Garcيa, said that police are searching for the attackers, adding that they "will not go unpunished," the BBC reported.
"I just want to know if he's OK," said one unnamed woman, who was near the bar searching for her son…
MORE
.
—————————————————————————————
.
Union President Has Home Raided By FBI And IRS In Corruption Probe – Big League Politics
.

.
The FBI and IRS raided the home of United Auto Workers (UAW) President Gary Jones on Wednesday morning, as apart of a corruption probe on the autoworkers union.
Federal authorities have also raided UAW locations across the country, including their conference center in northern Michigan looking for evidence to bolster their ongoing corruption probe against the influential union.
Jones' home in Canton, MI, a suburb of Detroit, was raided by up to 12 federal agents who scoured his domicile collecting evidence earlier today. Federal authorities conducted what they call a "knock and announce" raid and refused to say whether anyone was home when it was conducted…