.
President Trump Calls For More Mental Hospitals To Keep 'Crazy People' Away From Guns – Washington Times
.

.
President Trump said Thursday in response to mass shootings that the U.S. needs to build more mental institutions to keep sick, dangerous people off the streets and away from access to guns.
"We have to start building institutions again," Mr. Trump told reporters. "So many of these institutions were closed [decades ago], and the people were just allowed to go onto the streets. And that was a terrible thing for our country. We have to open up institutions. We can't let these people be on the streets."
The president was responding to questions about his plans for gun control, such as expanded background checks, after shootings this month in Texas and Ohio. Mr. Trump also noted the standoff in Philadelphia on Wednesday…
MORE
.
—————————————————————————————
.
Trump Moves Forward With F-16 Sale To Taiwan Opposed By China – The Hill
Leading lawmakers are commending the Trump administration for moving forward with a proposed sale of F-16V fighter jets to Taiwan after the administration informally notified Congress of the sale, to which China is staunchly opposed.
Senate Foreign Relations Committee Chairman Jim Risch (R-Idaho) said the F-16s are "critical" for Taiwan's defense.
"These fighters are critical to improving Taiwan's ability to defend its sovereign airspace, which is under increasing pressure from the People's Republic of China," Risch said in a statement Friday. "I commend the Trump administration for making this decision to bolster Taiwan's defensive capabilities, and note the strong bipartisan and bicameral support for this sale."
In the House, Foreign Affairs Committee Chairman Eliot Engel (D-N.Y.) and ranking member Michael McCaul (R-Texas) said in a joint statement that the sale will send a "strong message."…
MORE
.
—————————————————————————————
.
Mindless Teen Killer Posts Snapchat Video Of Himself At The Crime Scene – Crime Online
.

.
A Texas teen charged with murder was caught after he allegedly used Snapchat to post a video of himself at the crime scene.
ABC7 reports that 17-year-old William Underwood is accused of shooting Ryan Bates, 19, at a Copperfield area apartment complex at 750 Point Park Drive, on July 16. Police officers who responded to the scene noted that the victim had several gunshot wounds. He subsequently passed away from his injuries.
According to prosecutors, Underwood, who goes by the nickname "Ziggy," posted a Snapchat video of himself driving by the crime scene. Investigators were seen in the background of the video, according to police…
MORE
.
—————————————————————————————
.
Clinton IT Aide Who Defied Subpoena Says He Created A Cryptic Gmail Account And Sent It Nearly All Of Hillary's Emails – Daily Caller
Virtually every single one of Hillary Clinton's emails were sent, potentially secretly, to a cryptically named Gmail address, according to a new Senate report.
The finding, which has not been previously reported, means that Clinton's emails, including classified ones and ones which were later deleted, likely existed on Google's U.S.-based servers. The FBI said in the report that it knew this – and of the suspicious explanation for it – but did not alert other intelligence agencies or the public, according to the report.
The FBI says that the suspicious Gmail address was set up by an IT aide, Paul Combetta, who worked for a company that managed Clinton's server. Combetta is the same IT aide who used BleachBit to permanently erase copies of Clinton's emails after they were subpoenaed by the House, misled the FBI about it, and was given immunity from prosecution, all while asking for basic computing advice on Reddit.
Combetta refused to cooperate with the Department of Justice Inspector General and with the authors of the Senate report about his use of the cryptic email address…
MORE
.
—————————————————————————————
.
Trump: New Hampshire Speech Broke Elton John;s Arena Attendance Record – Breitbart
.

.
President Donald Trump announced Thursday evening that his re-election campaign rally at the SNHU Arena broke the stadium's previous attendance record, held by rock star Elton John.
The SNHU Arena holds nearly 12,000 people, and was nearly filled to capacity when the U.S. Secret Service closed the doors. Thousands more people watched the president's speech on giant television screens outside the arena.
Trump tweeted news about the attendance record shortly after the event was over. He spoke for nearly two hours.
There were several hundred left-wing protesters, too, some of whom formed a gauntlet that forced Trump supporters to walk past crowds of people shouting "Shame!"…
MORE
.
—————————————————————————————
.
Allen West Launches Bid For Texas GOP Chair – Texas Tribune
Allen West, a former congressman from Florida, announced Thursday he is running for Texas GOP chair, challenging current party leader James Dickey for the position.
"I'm jumping back into this fray," West said in a Facebook live Thursday. "We need to have strong, principled voices – constitutional conservatives."
Delegates are scheduled to elect the next state party chair at the Texas GOP convention in May 2020.
In July, West told supporters he was exploring a run for the position. Afterward, Dickey, who has served as chair since 2017, said he was running for reelection – and stressed the importance of party unity ahead of a competitive election cycle.
In his Thursday announcement, West ticked through a number of priorities he plans to champion during his bid. He noted he wants to "strengthen our families," to "stand up for life" and to secure the U.S.-Mexico border, among other things…
MORE
.
—————————————————————————————
.
Israel Blocks Tlaib And Omar From Visiting, Trump Agrees – Daily Wire
.

.
The Israeli government reversed its previous decision to allow Reps. Ilhan Omar (D-MN) and Rashida Tlaib (D-MI) entrance into the country over their support for an anti-Israel movement.
"Israel has decided – we won't enable the members of Congress to enter the country," Israel's Deputy Foreign Minister Tzipi Hotovely said on Thursday. "We won't allow those who deny our right to exist in this world to enter Israel. In principle this is a very justified decision."
Omar and Tlaib have been planning to visit the Jewish state over the weekend, but earlier reports revealed that Israeli Interior Minister Ayre Deri made a "final decision" to bar their entry. Yet, that decision was still subject to further review…
MORE
.
—————————————————————————————
.
IRS Analyst Who Allegedly Leaked Michael Cohen's Bank Records To Creepy Porn Lawyer Avenatti Pleads Guilty – Daily Caller
An IRS analyst pleaded guilty Wednesday to leaking former Trump attorney Michael Cohen's confidential financial records in 2018 to Michael Avenatti, the embattled celebrity lawyer.
John Fry, an investigative analyst at the IRS's San Francisco office, was indicted Feb. 28 on charges that he unlawfully accessed and disclosed Suspicious Activity Reports (SARs) pertaining to Cohen and his businesses. He was also charged with misusing his government computer and illegally using a social security number. He pleaded guilty to one count Wednesday, The Washington Post reported.
"John Fry was given access to sensitive and powerful government databases containing people's private financial information," said David L. Anderson, the U.S. attorney in San Francisco, according to WaPo.
"And he was given that access in order to do his job as an investigative analyst. Fry thought that his politics were more important than his obligation to follow the law, and in that he was mistaken."…
MORE
.
—————————————————————————————
.
Donald Trump Jr. Is Advising His Father To Stand Against Gun Control – Big League Politics
.

.
Count Donald Trump Jr. as someone who's skeptical of passing gun control after recent shootings in Dayton, Ohio and El Paso, Texas.
Rebecca Ballhaus, Andrew Restuccia, and Natalie Andrews wrote at The Wall Street Journal about Trump Jr.'s concerns with certain gun control proposals such as red flag gun confiscation orders and expanded background checks.
They wrote:
Donald Trump Jr., the president's son who often speaks with his father about his views on gun laws, has raised concerns about both red-flag legislation and about tightening background checks, according to people familiar with the matter…
MORE
.
—————————————————————————————
.
U.S. Productivity Up 2.3% In 3rd Quarter – Fox Business
U.S. productivity grew at an annual rate of 2.3% in the July-September quarter, slower than the previous quarter but still an improvement over the weak annual gains of the past decade. Labor costs rose at a modest pace in the third quarter.
The third quarter gain in productivity was revised up slightly from an initial estimate a month ago of a 2.2% gain, the Labor Department said Thursday. It marks a more modest advance than the second quarter's 3% annual rate of increase. Labor costs were up at a 0.9% annual rate in the third quarter following a decline at a 2.8% rate in the second quarter.
Productivity, the amount of output per hour of work, has been weak throughout the current expansion.
It rose last year by just 1.1%. Over the past decade, productivity has hovered at an average annual rate of 1.3%, just about half the 2.1 percent gains in the seven decades starting in 1947. The period from 2000 to 2007 saw even stronger annual gains of 2.7 percent…
MORE
.
—————————————————————————————
.
Report: Epstein Autopsy Finds Several Broken Bones In Neck, Raising Questions – The Hill
.

.
An autopsy of the late financier and accused sex trafficker Jeffrey Epstein revealed multiple broken bones in his neck, two people familiar with the findings have told The Washington Post.
Among the broken bones was the hyoid bone, near Epstein's Adam's apple. Such breaks can occur when someone hangs themselves, forensics experts told the Post, but they are more often associated with homicide victims who died by strangulation.
Epstein was discovered early Saturday morning when guards found him hanging in his cell at the Metropolitan Correctional Center in Manhattan. Attorney General William Barr, whose agency oversees the facility where Epstein died, has called his death an "apparent suicide."…
MORE
.
—————————————————————————————
.
President Trump Nominates More Judges For The Federal Bench – Townhall
The White House announced Wednesday afternoon President Trump has nominated a number of additional judges to sit on the federal bench. Here is the list:
– Steven J. Menashi of New York, to serve as Circuit Judge on the United States Court of Appeals for the Second Circuit
– Jodi W. Dishman of Oklahoma, to serve as Judge on the United States District Court for the Western District of Oklahoma
– Karen S. Marston of Pennsylvania, to serve as Judge on the United States District Court for the Eastern District of Pennsylvania
– Richard E. Myers II of North Carolina, to serve as Judge on the United States District Court for the Eastern District of North Carolina
– Sarah E. Pitlyk of Missouri, to serve as Judge on the United States District Court for the Eastern District of Missouri..
MORE
.
—————————————————————————————
.
Jeffrey Epstein Had A Painting Of Bill Clinton Wearing A Blue Dress And Red Heels In His Manhattan Mansion – Daily Mail
.

.
Jeffrey Epstein had a bizarre portrait of Bill Clinton in a dress hanging in his Manhattan mansion, DailyMailTV can reveal.
The picture depicting the former president apparently lounging on a chair in the Oval Office, wearing red heels and posing suggestively in a blue dress redolent of Monica Lewinsky was in a room off the stairway of the Upper East Side townhouse.
The dress is also strikingly similar to one worn by Hillary Clinton at the 2009 Kennedy Center Honors. The original painting is by Australian-American artist Petrina Ryan-Kleid, although it is unclear if Epstein had bought the canvas or had a print mounted. Ryan-Kleid exhibited for her degree show when she graduated with an MFA in 2012 from the New York Academy of Art…
MORE
.
—————————————————————————————
.
Tufts Health Plan And Harvard Pilgrim Health Care Announce Merger – Boston Herald
Harvard Pilgrim Health Care and Tufts Health Plan have announced plans to merge, forming what would become one of the region's largest nonprofit health services organizations. The move is subject to state and federal regulatory review.
The new organization is yet to be named and would provide health coverage in all segments of the market. The board of directors would comprise equal representation from both organizations and be chaired by Joyce Murphy, who currently serves as chairwoman of the board for Harvard Pilgrim Health Care, it was announced Wednesday.
Tom Croswell, president and CEO of Tufts Health Plan, would serve as CEO of the new organization. Michael Carson, who serves as president and CEO of Harvard Pilgrim Health Care, would work as president and oversee the organization's business lines and subsidiaries.
"Through the combination of two strong organizations with a commitment to nonprofit health care in New England, we will be able to provide even greater value to consumers…
MORE
.
—————————————————————————————
.
Ron Lafferty: Polygamist Cult Leader Who Killed Sister-In-Law, Toddler Niece Could Dace A Firing Squad – Crime Online
.

.
A Utah death row inmate who killed his sister-and-law and her child is reportedly months away from being executed by a firing squad after a federal court rejected his latest appeal on Monday.
After breaking into their sister-in-law and her husband's home, Ron Lafferty and his brother, Dan Lafferty, reportedly beat and strangled Brenda Lafferty, 24, before slitting her throat. Dan Lafferty then slit his 15-month-old niece's throat. The pair committed the slayings because they were angry that their sister-in-law opposed their brother joining their polygamist cult, according to The Salt Lake Tribune.
Dan Lafferty was sentenced to life in prison for the 1984 slayings while Ron Lafferty was sentenced to death in 1996…
MORE
.
—————————————————————————————
.
Gillette's Political Correctness Backfires – Daily Signal
"Your stupid boycotts will never make a dent in a company like P&G," one liberal scoffed back in January. Turns out, they didn't just make a dent. After a string of male-bashing, transgender shaving ads, the parent company of Gillette got nicked so badly, market experts wonder if the brand will survive.
Gillette's CEO insists the radical activism was "worth the price." Let's hope so – because so far, that price is a whopping $8 billion.
To most customers, a razor company dabbling in gender politics never made sense in the first place. Gillette used to be "the best a man can get." Now the company can't even acknowledge what a man actually is.
Things for the brand started to unravel earlier this year when P&G gave the green light to a controversial commercial about the culture's "toxic masculinity." The idea, CEO Gary Coombe said at the time, was to reach millennials. Weeks into the flop, even he admitted it backfired…
MORE
.
—————————————————————————————
.
El Paso Gun Store's Sales Double; Concealed-Carry Class Attendance Skyrockets – CNS
.

.
Following the recent mass shooting at an El Paso, Texas Walmart, gun purchases doubled and the number of people seeking certification to carry a concealed weapon surged, the general manager of one of El Paso's largest gun shops reports. The boom in business after a shooting is something new, Michael McIntyre told Reuters:
Michael McIntyre, general manager of Gun Central, one of the largest gun shops in El Paso and the host of the class, on Friday said his store tallied double the usual number of sales in the week following the attack, something that did not happen after previous mass shootings in Texas.

"I have over 50 for this Saturday class and approximately the same amount for the Sunday class, and I normally have approximately seven," McIntyre said…
MORE
.
—————————————————————————————
.
Dad Horrified As Public School Convinces Daughter She's A 'Boy'… And He Can't Stop It – Jonathon Van Maren
Over the past several years of writing on the subject of the transgender phenomenon, I've received many phone calls and emails from despairing parents. The details are always different, but the stories are always very much the same:
Their child, often struggling with body image issues, autism, or mental illness, was persuaded by peers and the public school establishment that he or she – usually she – was transgender. Other possibilities are almost always rejected, and often the parents face threats from the school authorities or social services for not being "affirming" enough of their child's desire to switch genders. The results are always heartbreaking.
One recent example was detailed this month in USA Today by Jay Keck, a suburban dad who lives just outside of Chicago. His nightmare began in April of 2016, when his 14-year-old daughter became convinced that she was in fact a boy – with the staff of the public school in Hinsdale District #86 emphatically endorsing this delusion and opposing Keck's attempts to help his daughter every step of the way…
MORE
.
—————————————————————————————
.
Project Veritas: Google Whistleblower Goes Public, Says He "Saw Something Dark And Nefarious Going On" – Breitbart
.

.
A Google whistleblower has gone public with claims of election manipulation and political bias, according to investigative journalism group Project Veritas, which posted a trove of over 950 documents provided by Google insider Zachary Vorhies, who says he has come forward because he "saw something dark and nefarious going on with the company and I realized that they were going to not only tamper with the elections, but use that tampering with the elections to essentially overthrow the United States."
Project Veritas has released yet another report about tech giant Google, this time a Google insider named Zachary Vorhies has gone public with claims that Google planned to tamper with U.S. elections…
MORE
.
—————————————————————————————
.
Democrat-Controlled California School District Will Not Allow Parents To Opt Children Out Of LGBTQ Content – Daily Caller
A California school district will not allow parents to opt their children out of classes containing LGBTQ content, figures or historical references, emails show.
Murrieta School District says parents have the ability to opt their children out of comprehensive sexual health, but parents are still not able to opt their children out of LGBTQ content when taught in other subjects, according to emails obtained by the Daily Caller News Foundation.
The district recently came under fire after a video from the conservative group Our Watch exposed progressive sex education programs in California teaching children about oral sex, masturbation, role-playing and more.
The video depicts ACLU staff attorney Ruth Dawson, according to Our Watch, instructing teachers on how to help students obtain abortions without parental consent. The video generated no local or national media coverage until a tipster alerted the DCNF…
MORE
.
—————————————————————————————
.
Justin Trudeau Broke Federal Ethics Rules In Corruption Scandal – Zero Hedge
.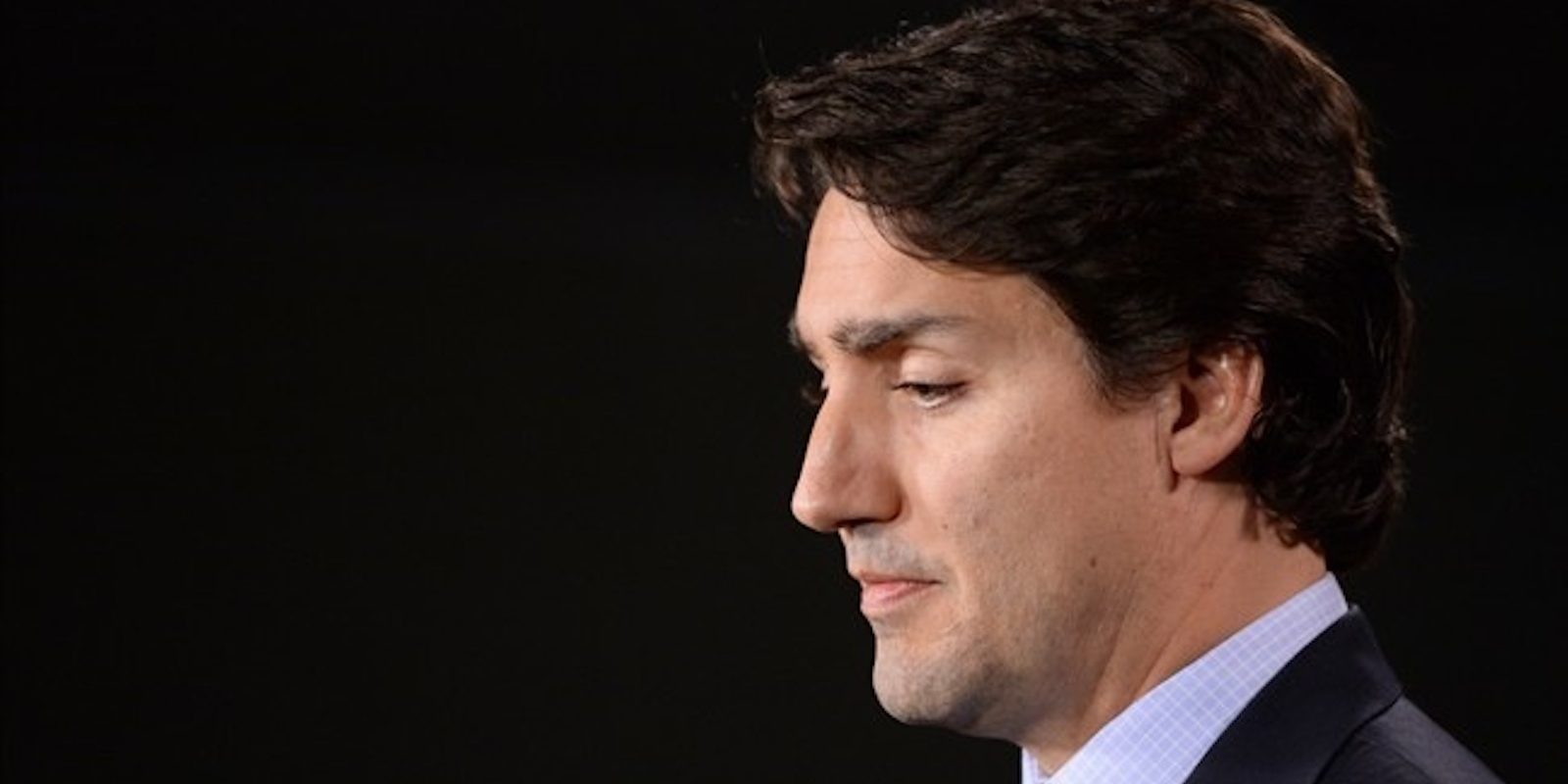 .
In a hotly anticipated report released months after a former member of Prime Minister Justin Trudeau's cabinet alleged that Trudeau and several members of his inner circle had tried to pressure her into dropping criminal charges against SNC-Lavalin, Canadian Ethics commissioner Mario Dion has ruled that, in doing so, Trudeau violated a section of the Conflict of Interest Act.
In a report published on Wednesday, the commissioner said Trudeau used his position of authority over Jody Wilson-Raybould, the aforementioned former AG and Justice Minister, to try and convince her to halt a criminal prosecution of the Montreal-based engineering giant. According to the report, Trudeau violated Canada's federal Conflict of Interest Act.