.
Leftist Treason Update: Democrat Mayor Of Chicago Bans ICE From Police Database Before Raids – Breitbart
Chicago Mayor Lori Lightfoot (D) said Wednesday that the Windy City has made moves to bar Immigration and Customs Enforcement (ICE) from accessing its police databases amid reports of potential raids in more than 10 major U.S. cities slated for Sunday.
"They will not team up with ICE to detain any resident. We have also cut off ICE access from any CPD databases and that will remain permanent," Lightfoot said. "Chicago is and will always be a welcoming city that will never tolerate ICE tearing our families apart."
In a statement to the Chicago Tribune, police spokesman Anthony Guglielmi said the city's Citizen and Law Enforcement Analysis and Reporting (CLEAR) database will not be available to ICE officials, though several federal government agencies will still have access.
"All other federal agencies still have access to these systems, as sharing this information is crucial to active criminal investigations in which we are partnering with federal agencies along with intelligence sharing functions that are vital to national homeland security functions," Guglielmi stated…
MORE
.
—————————————————————————————
.
Labor Secretary Acosta Resigns Over Epstein Plea Deal Controversy – Washington Examiner
.

.
Labor Secretary Alexander Acosta resigned amid the controversy surrounding his handling, as an assistant U.S. Attorney, of the 2008 prosecution of billionaire Jeffrey Epstein for sex crimes.
President Trump told reporters Acosta called him Friday morning to give him the news, and that it was Acosta's decision. Acosta said that his resignation was effective one week from Friday.
Trump also had praise for Acosta, calling him "a great labor secretary, not a good one" and saying that he thinks Acosta had explained his thinking in agreeing to the plea deal. But Trump said Acosta had become a distraction and that deputy Pat Pizzella will become acting secretary, according to one report…
MORE
.
—————————————————————————————
.
President Trump Declares State Of Emergency In Louisiana, Sends Federal Assistance Ahead Of Tropical Storm Barry – Fox News
President Trump declared a federal emergency for Louisiana on Thursday night, authorizing the Department of Homeland Security and Federal Emergency Management Agency to coordinate all disaster relief efforts ahead of the strengthening of Tropical Storm Barry.
Trump approved the federal assistance at the request of Louisiana Gov. John Bel Edwards, who noted that within the past 24 hours, 28 parishes had issued emergency declarations and 14 were in the process of doing so. Residents have been stacking sandbags or fleeing to higher ground in preparation for torrential downpours, with heavy flooding expected once the storm makes landfall from the Gulf of Mexico either late Friday or early Saturday.
Trump tweeted Thursday evening: "To everyone on the Gulf Coast: As you make preparations to protect your homes & loved ones from flooding & the coming storm, it is imperative that you heed the directions of @FEMA, State & Local Officials. We are working closely w/ them. Please be prepared, be careful, & be SAFE!"
Edwards expressed appreciation for the president's action in a Twitter message of his own…
MORE
.
—————————————————————————————
.
A Dozen New Epstein Abuse Victims Come Forward – Miami Herald
.

.
At least a dozen new victims have come forward to claim they were sexually abused by Jeffrey Epstein even as the multimillionaire money manager tries to convince a federal judge to allow him to await a sex trafficking trial from the comfort of the same $77 million Manhattan mansion where he's accused of luring teenage girls into unwanted sex acts.
Following Epstein's arrest Saturday in New Jersey, four women have reached out to New York lawyer David Boies, and at least 10 other women have approached other lawyers who have represented dozens of Epstein's alleged victims in the past.
Jack Scarola, a Palm Beach attorney, said at least five women, all of whom were minors at the time of their alleged encounters with Epstein, have reached out to either him or Fort Lauderdale lawyer Brad Edwards…
MORE
.
—————————————————————————————
.
Dow Jones Close Above 27,000 For First Time Ever – CNBC
The Dow Jones Industrial Average rallied to a record high on Thursday, led by UnitedHealth shares, after testimony by Federal Reserve Chair Jerome Powell this week that signaled easier monetary policy could be implemented later this month.
The 30-stock average broke above 27,000 for the first time in its history, rising 227.88 points, or 0.9% to 27,088.08. The Dow first closed above 26,000 in January of 2018, so it's been a little more than a year-and-half trek between 1,000 point moves. The gains were largely driven by expectations the Fed will cut rates, insulating the market from a slowing economy and a trade battle with China.
Microsoft has been the best-performing Dow stock since the index's first close above 26,000, surging around 50% in that time. Visa, Cisco Systems and Nike are also up sharply since then.
"This week solidified the fact that the market doesn't need, it doesn't want, it's demanding a rate cut from Powell," said Jeff Kilburg, CEO of KKM Financial…
MORE
.
—————————————————————————————
.
Trump, 'Not Backing Down' In Effort To Count Citizens Amid Census Fight, Announces Executive Order – Fox News
.

.
President Trump, speaking at the White House on Thursday, announced that he would "immediately" issue an executive order to get an accurate count of non-citizens and citizens in the United States – a measure Trump said would be "far more accurate" than relying on a citizenship question in the 2020 census.
The move would make use of "vast" federal databases and free up information sharing among all federal agencies concerning who they know is living in the country, Trump said.
"Today I'm here to say we are not backing down in our effort to determine the citizenship status of the United States population," the president told reporters in the Rose Garden, after slamming "far-left Democrats" seeking to "conceal the number of illegal aliens in our midst."…
MORE
.
—————————————————————————————
.
One Federal Department Now Spending $100 Billion Per Month – Townhall
For the first time in our nation's history, there is now a federal department spending an average of more than $100 billion per month.
No, it is not the Department of Defense, which is charged with the core federal responsibility of defending us from foreign enemies. It is the Department of Health and Human Services, which, if Democratic Sen. Bernie Sanders of Vermont has his way, will run the "Medicare for All" program. As it now stands, HHS runs Medicare for many and Medicaid for more.
"In 2019, the program will cover an estimated 61 million persons (52 million aged and 9 million disabled)," the Congressional Research Service said of Medicare in a report published in May.
"Medicaid is a means-tested entitlement program that finances the delivery of primary and acute medical services as well as long-term services and supports (LTSS) to an estimated 75 million people at a cost to states and the federal government of $616 billion in FY2018," CRS said in a report published in June…
MORE
.
—————————————————————————————
.
Tommy Robinson Sentenced To Nine Months In Prison – Breitbart
.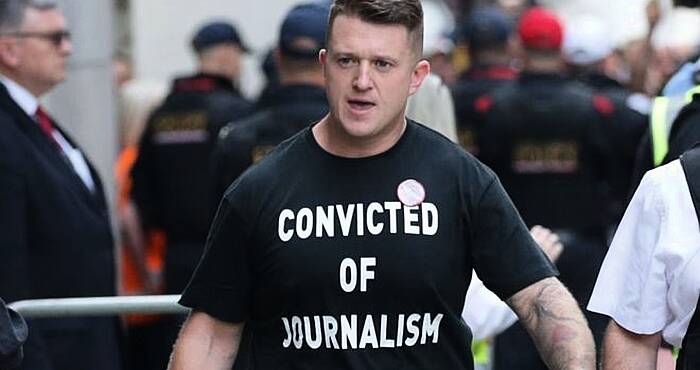 .
Tommy Robinson has been re-sentenced to nine months in prison following his reconviction for contempt of court.
Robinson had instructed his lawyer "to read out a series of past Contempt of Court findings against newspapers which (in summary) had not led to jail terms for editors or reporters accused of disrupting trials", according to BBC reporter Dominic Casciani, but to no avail, with judges imposing a custodial term only one month shorter than his previous sentence, declaring that "the main purpose of the penalty is punishment and deterrence".
Robinson was initially arrested, tried, and imprisoned within a matter of hours after livestreaming accused grooming gang members…
MORE
.
—————————————————————————————
.
Katie Couric, Woody Allen, And George Stephanopoulos Attended Party With Epstein After 2008 Conviction – Epoch Times
Top media figures dined with Jeffrey Epstein after he served 13 months in jail following a plea that saw him plead guilty to two counts of prostitution in 2008. He had been accused of molesting dozens of girls.
Epstein was arrested on July 6 and charged with sex trafficking; authorities said nude photographs underage girls were found in his New York mansion after he was arrested.
Katie Couric, George Stephanopoulos, Woody Allen, and Chelsea Handler were among the media and Hollywood figures who dined with Epstein at the house in New York City in 2010, reported the Daily Beast in 2011. The event? A party for Epstein's friend Prince Andrew, at the time the fourth in line for the throne in Britain. The pair was pictured a week later walking in Central Park.
A source close to Couric, a former CBS anchor who recently worked for Yahoo!, told The Hollywood Reporter that it was Couric's first time meeting Epstein…
MORE
.
—————————————————————————————
.
Release Of Illegal Aliens Into U.S. Cut 85% Since Trump-Mexico Deal – Breitbart
.

.
The release of border crossers and illegal aliens into the United States interior by the Department of Homeland Security (DHS) has been cut by 85 percent in the four weeks since President Trump announced a migration deal with Mexico.
Between July 2 and July 9, DHS released about 1,500 border crossers and illegal aliens into American communities, federal data confirms. This indicates that DHS is releasing about 188 border crossers and illegal aliens every day into the country.
This is a significant drop in the catch and release of border crossers and illegal aliens in just four weeks, since Trump announced a deal with Mexico that mandates foreign nationals seeking asylum wait in Mexico while their claims are processed…
MORE
.
—————————————————————————————
.
FBI Makes Arrests In Puerto Rico Scandal, Prompting Calls For Governor's Ouster – Philaselphia Inquirer
The FBI on Wednesday arrested two former senior officials who served in administration of Puerto Rico Gov. Ricardo Rossellَ, leading the chair of the House committee that oversees Puerto Rico to call for the governor to step down.
The arrests also spurred concerns on Capitol Hill about the billions of dollars in aid that Congress has approved for the island.
The federal indictment says the former officials illegally directed federal funding to politically connected contractors. The arrests come about a month after Congress approved a controversial disaster aid bill that earmarked additional funding for Puerto Rico's recovery from Hurricane Maria in 2017, which were tied up in part because President Donald Trump called island officials "incompetent or corrupt."
Rep. Raْl Grijalva, D-Ariz., chair of the Natural Resource Committee that oversees Puerto Rico, called on Rossellَ to resign amid the ongoing federal investigation…
MORE
.
—————————————————————————————
.
Recluse Missing For More Than A Month Was Completely Devoured By His 18 Aggressive Dogs, cops say – Crime Online
.

.
Authorities in Texas say officials have determined a man missing for months was devoured by his own pack of aggressive dogs. According to KTVT, 57-year-old Freddie Mack was known as a recluse during his life, but family members became worried after weeks went by without any word from him.
In early May, Mack's relatives contacted the Johnson County Sheriff's Office to report that he apparently disappeared after April 19.
Investigators attempted to search his home near Venus at that time but encountered 18 dogs nearby, as reported by the New York Post. Relatives noted that he would not typically leave the animals unattended…
MORE
.
—————————————————————————————
.
Armed Iranian Boats Attempt To Seize British Oil Tanker In Persian Gulf – Fox News
Five Iranian Islamic Revolutionary Guard Corps gunboats tried to seize a British oil tanker in the Persian Gulf Wednesday but backed off after a British warship approached, a senior U.S. defense official told Fox News.
The British warship was said to have been less than 5 miles behind the tanker but soon intercepted the Iranian boats and threatened to open fire. A manned U.S. reconnaissance aircraft was above as well, the official said, adding that Iranian forces left without opening fire.
Navy Captain Bill Urban, spokesman for the U.S. Central Command (CENTCOM), said the military was aware of the reported actions. He added, "Threats to international freedom of navigation require an international solution. The world economy depends on the free flow of commerce, and it is incumbent on all nations to protect and preserve this lynchpin of global prosperity."
The British frigate was identified as the HMS Montrose, according to The Sun. The vessel reportedly trained its 30mm deck guns on the enemy fleet and warned them off…
MORE
.
—————————————————————————————
.
Socialist Hellhole Update: California Becomes First State To Extend Healthcare To Illegal Aliens – Washington Examiner
.

.
Democratic California Gov. Gavin Newsom signed a state budget bill into law Tuesday that extends healthcare coverage to young illegal immigrants through Medicaid, making the state the first in the U.S. to do so.
The state budget covers 90,000 undocumented persons from the ages of 19-25 in the state and costs California taxpayers approximately $98 million in the coming fiscal year. The income of these persons must be low enough, as stated in the law, to qualify for the state-funded healthcare.
The law also creates an "individual mandate," similar to the Patient Protection and Affordable Care Act that President Barack Obama championed in 2010, requiring all Californians to purchase health insurance…
MORE
.
—————————————————————————————
.
Indians To Benefit As U.S. House Passes Bill To Remove Cap On Green Cards – NDTV
U.S. lawmakers have passed a Bill aimed at lifting the current seven percent country-cap on issuing Green Cards, a development which would benefit thousands of highly-skilled Indian IT professionals. A Green Card allows a person to live and work permanently in the United States.
Passed by the U.S. House of Representatives, the Bill, on being signed into law, would considerably reduce the agonising wait for talented professionals from countries like India seeking permanent work and residency permits in the United States.
Titled the Fairness of High-Skilled Immigrants Act, 2019 or HR 1044, the Bill was passed by the 435-member House by an overwhelming majority of 365-65 votes.
As per the present system, out of the total number of family-based immigrant visas to be given by the U.S. in a particular year, the people of a country can be given a maximum of seven percent of such visas. The new Bill seeks to increase this seven percent per-country limit to 15 percent…
MORE
.
—————————————————————————————
.
Papua New Guinea: Women And Children Killed In Tribal Massacre – BBC News
.

.
Children and pregnant women are among those murdered in a tribal massacre in Papua New Guinea's Highlands area. At least 24 people are confirmed to have died in a brutal flare-up of violence between rival tribes over several days in Hela province. Some reports put the death toll higher.
PM James Marape called the news "one of the saddest days of my life", promising to track down the perpetrators. It is one of the worst outbreaks of tribal violence in PNG for years.
"It's a very sad story," Philip Undialu, governor of Hela told news agency Reuters, explaining the killings were part of a conflict running for years. "It was retaliation of a previous attack. Both attacks were made in an innocent community where people were not expecting it and all of us are in a state of shock."…
MORE
.
—————————————————————————————
.
University Of Chicago Scholar Proves Biologists Believe Life Begins At Conception – College Fix
Steven Jacobs has described some of his time in the academy as "agony." The University of Chicago PhD spent the last half-decade in a grueling fight to gather and publish research related to the American abortion debate.
During that time he was ridiculed, mocked and defamed; accused of committing academic dishonesty, politicizing science and conducting his work with personal bias; compared to the Ku Klux Klan; and in general painted as an unprofessional radical who was, in one academic's words, "not deserving of a PhD degree."
All of this came about simply because Jacobs asked thousands of scientists several questions about when they believe human life begins – questions one respondent referred to as a "trap" and another called "horribly manipulative."
The results of Jacobs' work would eventually reveal a stunning fact about American academia in the field of biology: professors overwhelmingly agree with the pro-life position that human lives begin at conception…
MORE
.
—————————————————————————————
.
Labor Secretary Acosta Defends Role In Epstein Plea Deal, Faults State Prosecutors – Fox News
.

.
Labor Secretary Alexander Acosta pushed back Wednesday against calls for him to stand down over his past involvement in a plea deal for financier Jeffrey Epstein, who was charged in federal court this week with sex trafficking – saying his office fought for a tougher punishment after state prosecutors were ready to let him "walk free."
"Facts are important, and facts are being overlooked," he said at a press conference, giving his most detailed account to date of the 2008 deal.
Acosta, who was U.S. attorney for Florida at the time, helped Epstein secure a plea deal that resulted in an 18-month sentence – he served just 13 months. The deal was criticized as lenient because Epstein could have faced a life sentence…
MORE
.
—————————————————————————————
.
U.S. Approves $2.2 Billion Sale Of Tanks, Missiles To Taiwan – Washington Free Beacon
The Trump administration is selling $2.2 billion worth of tanks and missiles to Taiwan but has delayed exports of new F-16s over budget shortfalls in Taipei.
The main piece of the latest arms package announced Monday is the sale of 108 M1A2 Abrams frontline tanks and associated equipment, including tank rounds, machine guns, and tank-related gear.
"The proposed sale will help improve the security of the recipient and assist in maintaining political stability, military balance, and economic progress in the region," said Army Lt. Gen. Charles Hooper in a transmittal notice to Congress. Hooper is director of the Pentagon's Defense Security Cooperation Agency that is in charge of arms sales.
"This proposed sale of M1A2 tanks will contribute to the modernization of [Taiwan's] main battle tank fleet, enhancing its ability to meet current and future regional threats and to strengthen its homeland defense," he added…
MORE
.
—————————————————————————————
.
U.S. Appeals Court Hands Win To Trump In Hotel 'Emoluments' Case – Reuters
.

.
U.S. President Donald Trump on Wednesday scored a crucial victory in a Democratic-backed lawsuit that accuses him of violating anti-corruption provisions of the U.S. Constitution with his Washington hotel.
The Richmond, Virginia-based 4th U.S. Circuit Court of Appeals issued a set of decisions instructing a lower court judge to dismiss the lawsuit filed against the Republican president in June 2017 by the Democratic attorneys general of Maryland and the District of Columbia.
The three-judge panel said the attorneys general lacked legal standing to bring the case. The court said the District of Columbia and Maryland's interest "in enforcing the Emoluments Clauses is so attenuated and abstract that their prosecution of this case readily provokes the question of whether this action against the President is an appropriate use of the courts…
MORE
.
—————————————————————————————
.
Guatemalan Teen Charged With Raping 7-Year-Old Girl In Georgia – USIACR
A 17-year-old Marietta teen is behind bars at the Cobb County Jail facing three felony charges.
According to the arrest warrant, back on July first Baudilio Salomon Diaz Ambrocio was alone with a 7-year-old girl while the child's parents weren't home.
Marietta police said Diaz Ambrocio forced the child against her will to have sex with him. The attack so bad, according to the arrest warrant, the child required hospitalization and surgery.
Police arrested Diaz Ambrocio last Monday at his Marietta home. He is charged with rape, aggravated child molestation, and aggravated sexual battery charges.
Diaz Ambrocio was being held without bond as of Monday evening.
According to Cobb County jail records, Diaz Ambrocio was born in Guatemala and is the subject of an ICE detainer as Customs and Immigration determine whether or not he is here legally…