.
Deep State Vermin Bob Mueller To Testify Before Back-To-Back House Committees In Mid July – USA Today
Former special counsel Robert Mueller has agreed to testify publicly before Congress on July 17 after Democrats issued subpoenas to compel him to appear, the chairmen of two House committees announced.
Mueller's unusual back-to-back testimony in front of the House Judiciary and Intelligence committees is likely to be the most highly anticipated congressional hearing in years, particularly given Mueller's resolute silence throughout his two-year investigation into Russian contacts with President Donald Trump's campaign.
Mueller never responded to angry, public attacks from Trump, nor did he ever personally join his prosecutors in court or make announcements of criminal charges from the team.
His sole public statement came from the Justice Department podium last month as he announced his departure, when he sought to explain his decision to not indict Trump or to accuse him of criminal conduct…
MORE
.
—————————————————————————————
.
U.S., North Korea In Talks To Arrange 3rd Trump-Kim Summit – Washington Times
.

.
North Korean and U.S. officials are holding "behind-the-scenes talks" to arrange a third summit between President Trump and North Korean leader Kim Jong-un on the fate of the North's expanding nuclear arsenal, South Korea's president said, four months after a second meeting between the leaders in Hanoi collapsed without any agreement.
There have been no public meetings between Washington and Pyongyang since the breakdown of the Hanoi summit. But the prospects for a resumption of U.S.-North Korea diplomacy have brightened since Trump and Kim recently exchanged personal letters.
Trump called Kim's letter "beautiful" while Kim described Trump's as "excellent," though the contents of their letters have not been disclosed…
MORE
.
—————————————————————————————
.
Trump Creates Council To Remove Regulatory Barriers To Affordable Housing Headed By Ben Carson – UPI
President Donald Trump signed an executive order Tuesday creating a council the White House said will work to remove barriers to developing affordable housing. The council will consist of members from eight federal agencies that will work with state, local and tribal leaders to reduce regulations related to developing new forms of affordable housing.
"We're lifting up forgotten communities, creating exciting new opportunities and helping every American find their path to the American Dream," Trump said of the order.
The White House stated that more than 25 percent of the cost of a new home is directly related to federal, state and local regulations and up to 42 percent for some new multifamily constrictions.
Further, it cited Census Bureau data showing that seven homes were built for every 10 households formed between 2010 and 2016 and that high housing prices are often linked to increased homelessness…
MORE
.
—————————————————————————————
.
San Franshithole Becomes First Major U.S. City To Ban E-Cigarette Sales – Epoch Times
.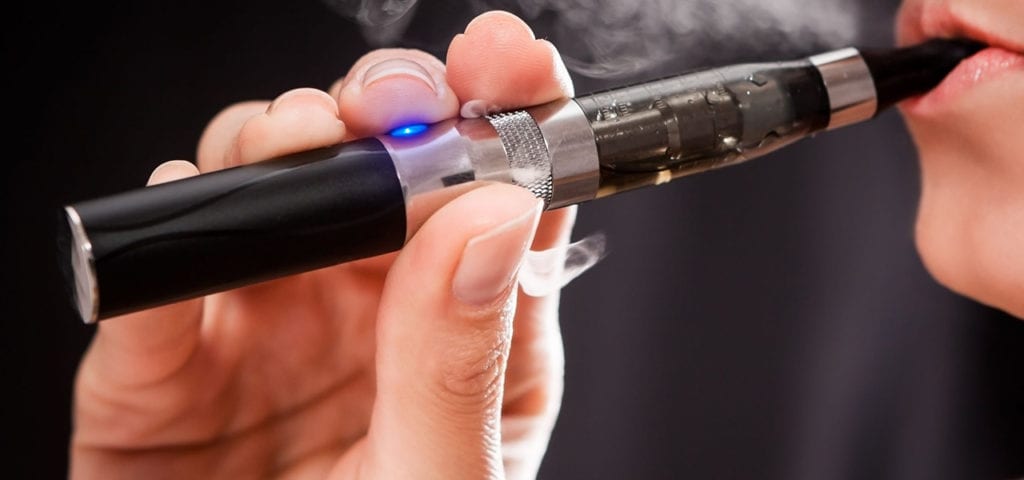 .
San Francisco will become the first U.S. city to effectively ban e-cigarette sales, after the city's board of supervisors unanimously voted in favor of an ordinance on Tuesday, June 25.
The ordinance says "no person shall sell or distribute an electronic cigarette to a person in San Francisco" unless that product has undergone premarket review by the U.S. Food and Drug Administration. To date, none have.
This includes sales in brick-and-mortar stores, as well as online sales shipped to a San Francisco address.
The ordinance also applies to flavored tobacco products in addition to e-cigarettes. The measure does not ban the use of vapes among people 21 and older…
MORE
.
—————————————————————————————
.
Indiana Church Pays Off Millions Of Dollars Of Medical Debt For Residents – KMGH
It's Saturday night service at Northview Church in Carmel, Indiana. As parishioners pack the pews, they start singing about the power of giving. Preaching from the pulpit, senior pastor Steve Poe focuses the night's sermon on how small donations can have a big impacts.
This Indiana-based church is truly helping their neighbors in need! Members of this congregation raised $20,000 in donations and used that money to help pay off more than $3.6 million of medical debt for Indiana citizens.
"That will have an impact on 2,500 people or more," says Poe.
With Poe's church buying 30 percent of all medical debt in seven different zip codes across greater Indiana, the pastor says this is financial rehabilitation through religion. In a few weeks, the families whose debts will be covered will receive letters.
"What that does then, it will notify their creditors that their debt has been cleared, which gives them the opportunity to start again without this damaging debt," Poe says…
MORE
.
—————————————————————————————
.
Chick-fil-A Named America's Favorite Restaurant Chain For Fourth Year In A Row – Forbes
.

.
Chick-fil-A has once again been named the top limited-service restaurant chain in the country, its fourth year in a row claiming the top spot on the American Customer Satisfaction Index.
The ACSI offers as strong of a pulse as one can get on the industry, as it's based on the input of nearly 23,000 consumers.
That Chick-fil-A is a perennial favorite is no surprise. The chain, known for its customer service training, has had quite a year – generating more than $10.4 billion in sales and leapfrogging Taco Bell and Subway for the No. 3 spot in the industry, according to National's Restaurant News. This is quite a feat considering the chain is open just six days a week…
MORE
.
—————————————————————————————
.
Merrill Lynch Caught Criminally Manipulating Precious Metals Market "Thousands Of Times" Over 6 Years – Zero Hedge
Remember when it was pure tinfoil-hat conspiracy theory to accuse one or more banks of aggressively, compulsively and systematically manipulating the precious metals – i.e., gold and silver – market? We do, after all we made the claim over and over, while demonstrating clearly just how said manipulation was taking place, often in real time.
Well, it's always good to be proven correct, even if it is years after the fact.
On Tuesday after the close, the CFTC announced that Merrill Lynch Commodities (MLCI), a global commodities trading business, agreed to pay $25 million to resolve the government's investigation into a multi-year scheme by MLCI precious metals traders to mislead the market for precious metals futures contracts traded on the COMEX (Commodity Exchange Inc.).
The announcement was made by Assistant Attorney General Brian A. Benczkowski of the Justice Department's Criminal Division and Assistant Director in Charge William F. Sweeney Jr. of the FBI's New York Field Office…
MORE
.
—————————————————————————————
.
First Lady Announces President Trump's New Press Secretary – Big League Politics
.

.
First Lady Melania Trump Tuesday announced President Donald J. Trump's new press secretary.
"I am pleased to announce [Stephanie Grisham] will be the next [Press Secretary] & Comms Director! She has been with us since 2015 – [POTUS] & I can think of no better person to serve the Administration & our country. Excited to have Stephanie working for both sides of the [White House]," Mrs. Trump Tweeted.
Grisham was formerly Mrs. Trump's spokesperson.
She "developed a reputation as a fierce defender of the first lady during her tenure as spokeswoman," according to Fox News…
MORE
.
—————————————————————————————
.
Scumbag Shoots Infant In The Head After Being Rejected By Her Mother – New York Post
A 10-month-old Fresno girl was shot in the head Sunday by a man who was apparently angry that the baby's mother had rejected him, California police said.
The baby, Fayth Percy, was rushed to the hospital, where she underwent surgery to remove bullet fragments from her head, Fresno Police Chief Jerry Dyer told reporters. She is in critical but stable condition.
The alleged shooting took place at a home in Fresno. A man there tried to grab the mother's hand but she rejected his advances, police said. The mother later left the home with the baby and another male friend, police said. As they were driving away, the suspect, Marco Antonio Echartea, 23, began shooting at the car, police said.
"At some point when he got close, he pulled out a handgun and fired three rounds into the driver's-side window, which was up," Dyer said. "One of those rounds struck baby Fayth on the side of the head as she was being held by her mother."…
MORE
.
—————————————————————————————
.
"I Curse You All": Nebraska Man Accused Of Killing Tinder Date Slashes His Own Neck During Trial – Business Insider
.

.
A Nebraska man, accused of murdering and dismembering a woman, cut his own throat during his trial Monday morning.
After a witness was sworn in at Saline County Courthouse, Aubrey Trail, 52, stood up and shouted, "Bailey is innocent, and I curse you all," and then he attempted to cut his own throat, drawing blood, SF Gate reported. Bailey Boswell, 25, who Trail referred to, is his girlfriend and co-defendant in the case.
Trail was put in an ambulance and taken to the hospital, it was initially unclear how serious his injuries were. Later, his attorneys said his injuries weren't serious but needed stitches, according to KOLN…
MORE
.
—————————————————————————————
.
"It Would Be An Earthquake": Three Chinese Banks Tumble After U.S. Threatens To Cut Them Off From SWIFT – Zero Hedge
In news that initially did not receive much prominence, on Monday a U.S. judge found three large Chinese banks – reportedly the state-owned Bank of Communications, China Merchants Bank, and Shanghai Pudong Development Bank – in contempt for refusing to comply with subpoenas in an investigation into North Korean sanctions violations.
This could open the door for them to be cut off from the U.S. financial system, i.e. SWIFT.
"Should it occur, to say that China will not take that well is as large an understatement as one can conceive of. It would be an earthquake", commented Rabobank's Michael Every.
The stunning development follows a May district judge order that three Chinese banks comply with U.S. investigators' demands that they hand over records connected to the alleged movement of tens of millions of dollars in violation of international sanctions on North Korea.
The publicly released court document did not name the banks, the Hong Kong company, or the North Korean entity at that time…
MORE
.
—————————————————————————————
.
Supreme Court Strikes Down Federal Law Banning 'Immoral' Trademarks – Washington Examiner
.

.
A federal law that allows the government to reject trademarks considered immoral or scandalous violates the First Amendment, the Supreme Court ruled Monday.
The law, which the U.S. Patent and Trademark Office used to reject an application from the clothing brand FUCT, pronounced like an obscenity, discriminates on the basis of viewpoint and is "substantially overbroad," the justices found. The clothing company was founded in 1990 by Erik Brunetti, who applied to register the name in 2011.
Brunetti challenged the government's decision to the U.S. Court of Appeals for the Federal Circuit, which ruled in 2017 that while the government correctly deemed the mark to be scandalous, the prohibition on registering immoral or scandalous marks is an unconstitutional restriction of free speech…
MORE
.
—————————————————————————————
.
After Public Outcry, British Appeals Court Reportedly Overrules Decision To Force Disabled Woman To Abort Her Baby – Daily Wire
On Monday, after a public outcry ensued when a British judge ordered a young disabled woman to have an abortion, the English Court of Appeal reportedly overturned the decision.
As the Catholic News Agency reports, Lord Justice McCombe, Lady Justice King and Lord Justice Peter Jackson overruled the June 21 decision by Justice Nathalie Lieven of the Court of Protection, who had ruled that a forced abortion was "in the best interests" of the pregnant woman.
The decision triggered over 75,000 people to sign a petition that Right to Life UK posted on June 22 that asked U.K. Health and Social Care Secretary Matthew Hancock to "intervene in this case, so far as possible, to prevent this gross injustice being inflicted by the State on this family and ensure this woman is not forced to have an abortion."
Scottish Bishop John Keenan of the Diocese of Paisley encouraged people to sign the petition, asserting that Lieven's ruling "introduces a dangerous new development in the overreach of the power of the state over its citizens…
MORE
.
—————————————————————————————
.
New Hampshire: Meet The War Hero General Who's Running For The U.S. Senate As A Republican – Daily Caller
.

.
Retired Brig. General Don Bolduc officially announced Monday that he's running as a Republican against Democratic New Hampshire Sen. Jeanne Shaheen. The General was motivated to run by what he described as a crisis of leadership in national politics, he told the Daily Caller News Foundation in a phone interview.
"We are facing a leadership crisis. Our politicians are working for themselves, and if we don't make a change in New Hampshire, nothing's going to change in Washington, D.C.," Bolduc said. He said his goal is to bring "servant leadership, personal responsibility and a dedication to our core values" to the Senate.
Bolduc's 36 years in the Army included 10 tours in Afghanistan, two awards for valor, five Bronze Star medals and two Purple Hearts…
MORE
.
—————————————————————————————
.
Google Censors Video Exposing Google – Breitbart
Google-owned video platform YouTube took down a video from Project Veritas showing a senior employee at the company appearing to admit that the company plans to interfere in the next presidential election to stop Donald Trump.
The video, which is still available on the Project Veritas website featured undercover footage of a top Google employee, Jen Gennai, stating that the company shouldn't be broken up because only they can prevent the "next Trump situation."
Via the video:
Elizabeth Warren is saying we should break up Google. And like, I love her but she's very misguided, like that will not make it better it will make it worse, because all these smaller companies who don't have the same resources that we do will be charged with preventing the next Trump situation, it's like a small company cannot do that.
This corroborates other leaks from Google…
MORE
.
—————————————————————————————
.
Supreme Court Rebuffs Challenge To Trump's Steel Tariffs – Washington Examiner
.

.
The Supreme Court on Monday refused to hear a challenge to President Trump's $4.5 billion in tariffs on steel products.
The claim was brought by the American Institute for International Steel, which argued Section 232 of the Trade Expansion Act, which Trump used to impose the duties on national security grounds, unconstitutionally delegated legislative power to the president.
Its lawsuit was previously rejected by a three-judge panel of the Court of International Trade, which sided with the Trump administration.
Trump tacked a 25% tariff onto all imported steel products more than a year ago, in March 2018…
MORE
.
—————————————————————————————
.
15,000 Mexican Troops Deployed To U.S. Border – Zero Hedge
In an ongoing effort to stem the flow of illegal immigration into the United States and avoid tariffs from the Trump administration, Mexico has deployed approximately 15,000 National Guardsmen and soldiers to the border, according to AFP, citing the country's army chief.
Mexico promised earlier this month to send 6,000 National Guardsmen to its southern border, and has promised to build more migrant detention centers and checkpoints to catch and deter northbound Central Americans.
"We have a total deployment, between the National Guard and army units, of 14,000, almost 15,000 men in the north of the country," announced Defense Minister Luis Cresencio Sandoval while standing alongside Mexican President Andres Manuel Lopez Obrador.
When asked if troops were detaining migrants to prevent them from entering the U.S., Sandoval said "yes."…
MORE
.
—————————————————————————————
.
What Hillary And Obama Actually Did – Sebastian Gorka
.

.
It's remarkable that the Democrat – and the corporate leftist media – don't know the difference between Norway and Russia. One is an unequivocal part of the West, a founding member and staunch pillar of NATO. The other is a schizophrenic nation with imperialistic tendencies run by a former KGB colonel.
These nuances are apparently lost on the likes of George Stephanopoulos and his accomplices of the FakeNews Industrial Complex.
Since President Trump's interview with the former Clinton White House official, hundreds of column-inches and hours of television "commentary" have already been committed to the hysterical accusation that the commander-in-chief is condoning "collusion" and that the legitimacy of the 2020 elections has already been undermined…
MORE
.
—————————————————————————————
.
Londonistan: Attackers 'Dressed In Burkas' Throw Acid In Man's Face – Breitbart
Three people had acid thrown on them in two separate incidents over just a few hours in London, including a market stall vendor targeted by people "wearing burqas".
Djamil Mogdad was preparing his clothes stall around at 6.40am on Friday morning at Walthamstow Market when he was "assaulted with a corrosive substance", according to a Metropolitan Police spokesman.
"Officers and the London Fire Brigade attended. The man was taken to an east London hospital for treatment; his injuries are not believed to be life-threatening," the spokesman added.
"It is alleged that the victim had been approached by two suspects, both wearing burkhas, and had the substance thrown at him before they fled in a waiting car. "There have been no arrests and enquiries continue."
A binman who was at the scene and gave chase to the attackers said that he was "in the cafe having a cup of tea with the boys when Djamil ran in"…
MORE
.
—————————————————————————————
.
Insider Blows Whistle And Exec Reveals Google Plan To Prevent "Trump Situation" In 2020 On Hidden Cam – Project Veritas
.

.
Project Veritas has released a new report on Google which includes undercover video of a Senior Google Executive, leaked documents, and testimony from a Google insider. The report appears to show Google's plans to affect the outcome of the 2020 elections and "prevent" the next "Trump situation."
The report includes undercover footage of longtime Google employee and Head of Responsible Innovation, Jen Gennai saying:
"Elizabeth Warren is saying we should break up Google. And like, I love her but she's very misguided, like that will not make it better it will make it worse, because all these smaller companies who don't have the same resources that we do will be charged with preventing the next Trump situation, it's like a small company cannot do that."
MORE
.
—————————————————————————————
.
British Court Orders Disabled Woman To Have Abortion Against Her Will – PJ Media
A British court has ruled that a mentally challenged woman must be forced to have an abortion against her will and her family's religious beliefs. The unnamed mother is in her 20s and has been diagnosed with a "moderately severe" learning disorder, meaning she has a mental age between six and nine, the Catholic Herald reported.
The case, which was decided on Friday, was brought to court by a National Health Service trust that oversees the disabled woman's care. Both the pregnant woman and her mother are against abortion, as it is against their Catholic faith.
The grandmother is reportedly a retired midwife and a Catholic member of the Nigerian Igbo community.
She offered to care for her grandchild when it is born, but the pro-abortion activist lawyer-turned judge in the case, Justice Nathalie Lieven, decided that it would be "too difficult for the grandmother to look after both the daughter and the grandchild," according to the Catholic Herald…