.
President Trump Vows U.S. Will Deport 'Millions' Of Illegal Aliens Starting Next Week – MarketWatch
President Donald Trump is threatening to remove millions of people living in the country illegally on the eve of formally announcing his re-election bid.
In a pair of tweets Monday night, Trump said that U.S. Immigration and Customs Enforcement would next week "begin the process of removing the millions of illegal aliens who have illicitly found their way into the United States."
"They will be removed as fast as they come in," he wrote.
An administration official said the effort would focus on the more than 1 million people who have been issued final deportation orders by federal judges but remain at large in the country. The official spoke on condition of anonymity to explain the president's tweets.
It is unusual for law enforcement agencies to announce raids before they take place. Some in Trump's administration believe that decisive shows of force – like mass arrests – can serve as effective deterrents…
MORE
.
—————————————————————————————
.
State Department Identifies 23 Violations, 'Multiple Security Incidents' Concerning Crooked Hillary's Emails – Fox News
.

.
The State Department revealed Monday that it has identified "multiple security incidents" involving current or former employees' handling of Hillary Clinton's emails, and that 23 "violations" and seven "infractions" have been issued as part of the department's ongoing investigation.
The information came in a letter to Iowa Republican Sen. Chuck Grassley, who is responsible for overseeing the security review.
"To this point, the Department has assessed culpability to 15 individuals, some of whom were culpable in multiple security incidents," Mary Elizabeth Taylor, the State Department's Assistant Secretary in the Bureau of Legislative Affairs, wrote to Grassley. "DS has issued 23 violations and 7 infractions incidents…
MORE
.
—————————————————————————————
.
Treasonous New York Governor Signs Bill Granting Driver's Licenses To Illegal Aliens – New Yoek Post
Gov. Andrew Cuomo on Monday night signed legislation granting driver's licenses to illegal immigrants – shortly after the controversial measure passed the state Senate.
Cuomo's action came despite throwing supporters a last minute curveball by asking the state's top civil attorney, Solicitor General Barbara Underwood, to review the measure for possible safety concerns – threatening to veto it if he didn't like her assessment.
"You could create a database for the feds to use to actually track down undocumented people," Cuomo said on WAMC radio. "California passed a law, and they are now in litigation."
But Underwood's boss, Attorney General Tish James, later released a statement amid the Monday-night vote arguing that the bill is legally sound.
"The legislation is well-crafted and contains ample protections for those who apply for driver's licenses. If this bill is enacted and challenged in court, we will vigorously defend it," she said…
MORE
.
—————————————————————————————
.
President Trump Cuts Aid To Honduras, Guatemala And El Salvador Over Migrants – Financial Times
.

.
President Donald Trump is withholding hundreds of millions of dollars in aid to Honduras, Guatemala and El Salvador because he believes that the three Central American countries are not doing enough to stem the flow of illegal migrants into the US.
The state department confirmed that the administration had informed Congress it would stop the aid. Two congressional aides said the administration said it was redirecting $550m in aid lawmakers had earmarked in the 2017 and 2018 budgets.
The move came three months after Mr Trump had warned that he would cut aid to the countries. "We stopped payment to Honduras, to Guatemala, and to El Salvador," he said in March. "We were paying them tremendous amounts of money, and we're not paying them any more because they haven't done a thing for us."…
MORE
.
—————————————————————————————
.
Comcast Launches Eye Control For The TV, An Aid For Physically Disabled Viewers – Deadline
Comcast has launched a feature enabling viewers with physical disabilities like spinal cord injuries or amyotrophic lateral sclerosis (ALS) the ability to navigate their television using only their eyes.
Xfinity X1 eye control is a web-based remote for tablets and computers that pairs with an existing eye gaze system and allows viewers with a single glance to change the channel, access the DVR or search for programs.
The free service addresses a sizable population of TV viewers. According to Comcast, more than 48 million people in the U.S. have physical or mobility disabilities, and every day about 15 people are newly diagnosed with ALS, or Lou Gehrig's disease.
"Changing the channel on a TV is something most of us take for granted but until now, it was a near-impossible task for millions of viewers," Comcast VP of Accessibility Tom Wlodkowski said…
MORE
.
—————————————————————————————
.
Supporters Line Up 40 Hours Early For Donald Trump 2020 Kickoff Rally In Florida – Breitbart
.

.
President Donald Trump's supporters began lining up in Florida on Monday morning ahead of his scheduled campaign launch on Tuesday. Local media reported eight Trump supporters began to camp out at 2:30 a.m. Monday as the first in line at the Amway Center in Orlando, Florida.
On Twitter, Trump said the rally would be "record-setting" after the campaign received over 100,000 ticket requests. The arena sits 20,000.
"Our Country is doing great, far beyond what the haters & losers thought possible – and it will only get better!" Trump wrote.
The campaign plans to kick off the event at 10:00 a.m. with food trucks, live music, and will set up big screens outside the stadium for Trump's speech…
MORE
.
—————————————————————————————
.
Forced Organ Harvesting In China Has Taken Place 'On A Significant Scale', Independent Tribunal Finds – Epoch Times
An independent people's tribunal has unanimously concluded that prisoners of conscience have been – and continue to be – killed in China for their organs "on a significant scale," after a year-long investigation.
"Forced organ harvesting has been committed for years throughout China on a significant scale," said chair of the tribunal, Sir Geoffrey Nice QC in a judgment delivered on June 17 in London.
The panel further concluded that adherents of the banned spiritual practice Falun Gong have been one of the main sources of organ supply.
Falun Gong, a spiritual discipline consisting of meditation exercises and moral teachings based on truthfulness, compassion, and tolerance, has been brutally persecuted by the Chinese regime for the past two decades.
Adherents of the practice have been thrown into prisons, labor camps, and brainwashing centers, where many have been tortured in an effort to force them to renounce their faith…
MORE
.
—————————————————————————————
.
Opioid Manufacturer Insys To Pay $225 Million Settlement After Admitting To Bribing Doctors – Big League Politics
.

.
One of America's biggest opioid manufacturers is set to pay a massive federal penalty after getting nailed for bribing doctors to prescribe their dangerous and highly addictive fentanyl painkillers.
The distribution scheme of Insys Therapeutics, that pushed potent opiates into the hands of patients that did not need them, has been described as a driving force behind America's ongoing public health epidemic stemming from use of the drugs.
Insys, an Arizona company that reported almost $150 million in revenue in 2017, contracted doctors who agreed to prescribe their drugs for sham speeches. In reality, the doctors were getting paid for issuing prescriptions of Subsys, the company's fentanyl-based painkiller medication…
MORE
.
—————————————————————————————
.
Teen Vogue Publishes Article Promoting Prostitution To Their Young Readers – Gateway Pundit
Teen Vogue is facing backlash once again – this time for publishing an article advocating sex work to their young readers.
The op-ed, titled 'Why Sex Work is Real Work' faced immediate criticism and backlash on social media from people across the political spectrum.
Written by Tlaleng Mofokeng, founder of an organization called Nalane for Reproductive Justice, the article calls prostitution to be decriminalized and for children to "fund public campaigns to decrease stigma."
"The clients who seek sex workers vary, and they're not just men. The idea of purchasing intimacy and paying for the services can be affirming for many people who need human connection, friendship, and emotional support.
Some people may have fantasies and kink preferences that they are able to fulfill with the services of a sex worker," the article, aimed at children as young as 13, states…
MORE
.
—————————————————————————————
.
Two Million Protesters Flood Hong Kong Streets, Demand Lam Resign – Zero Hedge
.

.
Despite City Executive Carrie Lam's major concession to the protest movement – that is, the (not really) 'indefinite' suspension of the extradition bill that catalyzed the protests – a planned protest march went ahead as scheduled on Sunday, marking the second consecutive Sunday of street protests in Hong Kong.
Though they celebrated the defeat of the extradition bill, many believe Lam was too slow to apologize for siding with Beijing and fast-trafficking legislation that, according Congress, would jeopardize Hong Kong's independence. Now, millions are demanding that she resign, and have vowed to continue marching until she is gone.
Demonstrators wearing black chanted and carried homemade signs…
MORE
.
—————————————————————————————
.
Mexico Releases The Details Of Its Immigration Deal With Trump – Daily Caller
The Mexican government released the details of the side agreement it made with the Trump administration, pledging to take on additional measures to stop the flow of illegal immigrants reaching the U.S. border.
Details of the side agreement come after the White House and Mexico City reached a sweeping immigration deal on June 7. In return for the U.S. not imposing 5% tariffs on all Mexican products, the Mexican government will deploy up to 6,000 National Guard troops to its southern border with Guatemala, and allow more U.S. asylum seekers to stay within the country.
President Donald Trump told media at the time that Mexico had agreed to additional terms, but he would allow their government to release the information at their discretion.
"Here's the agreement. A very simple agreement," Trump said to reporters on Tuesday, waiving a folded piece of paper. "This is one page of a very long and very good agreement for both Mexico and the United States."…
MORE
.
—————————————————————————————
.
House GOP Leadership: FBI Director Wray Not Cooperating With AG Barr's Spygate Investigation; Burying Documents – Gateway Pundit
.

.
House GOP leadership is now convinced FBI Director Christopher Wray is not cooperating with Bill Barr and John Durham's investigation into the origins of Spygate. According to investigative reporter Paul Sperry, GOP Reps believe Wray is part of the cover-up of Spygate after burying documents and refusing to make people available for interviews.
SPERRY: House GOP leadership has soured on Comey replacement Wray. They r now convinced Wray's not part of the FBI cleanup & not cooperating w AG Barr & is in fact part of the cover-up of #SpyGate scandal after burying documents & refusing to make people available for interview
Swamp creature FBI Director Wray and FBI brass have yet to condemn the Obama administration spying on the opposition party during the 2016 election…
MORE
.
—————————————————————————————
.
DemoNazis Introduce Bill To Bankrupt Gun Manufacturers With Lawsuits – Big League Politics
According to a Zero Hedge report, this week Democrats introduced legislation in both the House and Senate that would make gunmakers liable for firearms-related crimes.
This bill, The Equal Access to Justice for Victims of Gun Violence Act, would repeal The Protection of Lawful Commerce in Arms Act of 2005 that protects gun manufacturers from lawsuits. Lawmakers from two of America's most anti-gun states, California and Connecticut are leading the charge.
Adam Schiff is one of the elected officials championing this legislation. In a tweet, he said that the "victims of gun violence deserve their day in court."
Connecticut Senator Richard Blumenthal is also a co-sponsor for this bill. Since the fallout of the Sandy Hook shooting in 2012, Blumenthal has been one of the leading voices for gun control in Connecticut.
The NSSF (the National Shooting Sports Foundation) was in strong opposition to this bill…
MORE
.
—————————————————————————————
.
Governor DeSantis Signs Sweeping Bill Banning Sanctuary Cities In Florida – Breitbart
.

.
Florida Gov. Ron DeSantis (R) made good on his campaign promise to stand against impractical and dangerous policies that promote illegal immigration and signed a bill into law Friday, effectively banning sanctuary cities in his state.
"Earlier this year, I made a promise that we would ban sanctuary cities in Florida and today we are delivering on that promise," DeSantis announced in a tweet. "I am proud to sign the bill presented to me by the FL Legislature to uphold the rule of law and ensure that our communities are safe," he added.
At the beginning of the year, DeSantis asked the Florida Legislature to craft a bill that would "uphold the rule of law and ensure that no city or county jurisdiction can get in the way of Florida's cooperation with our federal partners to enforce immigration law,"…
MORE
.
—————————————————————————————
.
Alex Jones Offers $1M Reward As FBI Investigates Child Pornography Planted On His InfoWars Server – Hartford Courant
The FBI has informed Alex Jones someone planted child pornography on the servers for his Infowars website and on Friday the controversial radio host offered a $1 million reward for any information leading to an arrest.
Federal authorities have been conducting a child pornography investigation for several weeks after they reviewed emailed threats made against Jones that contained links to child pornography websites, according to his attorney Norm Pattis.
Pattis appeared on Jones' show late Friday afternoon to discuss the incident. But before he did, Jones went on a five-minute, profanity-laced rant announcing the reward for information leading to the arrest and prosecution of whoever infiltrated the his company's servers.
"Someone is trying to set me up with child pornography and we're going to find you," Jones said.
Pattis said he was notified a few weeks ago by the company that is reviewing all of the emails Infowars receives that there were 12 suspicious ones…
MORE
.
—————————————————————————————
.
Leftist Insanity Update: School Proposes 'Menstrual Equity For All Act' To Make Tampons Available For Men – Neon Nettle
.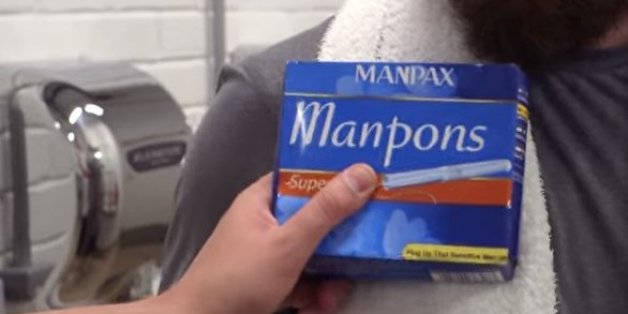 .
Students at the University of Arkansas are demanding that tampons and other menstrual products are made available to all students, including men.
The proposed "Menstrual Equity for All Act" aims to add free tampon dispensers in all school bathrooms, including male facilities, for men that apparently have periods too.
University officials say they have "a duty" to give students "equal access to education," which includes offering menstrual products to all to protect their "human rights."
The student government is requesting that menstrual pads and tampons are made available to all students, and placed even in places such as the men's room…
MORE
.
—————————————————————————————
.
Machete-Wielding 11-Year-Old Foils North Carolina Home Invasion – Fox News
An 11-year-old boy in North Carolina struck an intruder in the back of the head with a machete to foil a home invasion on Friday, according to reports.
The boy, who was home alone, answered a knock on the front door and saw a woman standing there. Simultaneously, a man broke into the home through a window and used the homeowner's pellet gun to force the child into a bedroom closet.
The boy escaped the closet and grabbed a machete, using it to strike the man in the head.
He reportedly kicked the child in the stomach but the boy did not give up, swinging again at him but missing. The man again kicked the boy, and began to grab several items, including a television and a PlayStation, but fled the home without the electronics when he realized he was bleeding, according to a news release from the Orange County Sherriff's Office.
The woman and a second man provided the getaway vehicle for the three intruders and drove away…
MORE
.
—————————————————————————————
.
Obama Regime Spent $4.1 Million To Link Pollution To Eating Fast Food – Washington Free Beacon
.

.
Researchers were awarded more than $4 million by the Obama administration's Environmental Protection Agency to study whether exposure to air pollution led children to eat more fast food.
The $4,146,875 grant was awarded in 2013 to fund a five-year study at the University of Southern California into whether proximity to "near-roadway air pollution" was a contributing factor in childhood obesity.
In their published study, released this year in the American Journal of Clinical Nutrition, the researchers say they were unable to prove any association between pollutant exposure and obesity in children, but were able to find a correlation between pollutant exposure and changes in fast-food consumption patterns…
MORE
.
—————————————————————————————
.
Department Of Education Going After Elite Colleges For Allegedly Taking And Hiding Foreign Cash – Daily Caller
The Department of Education is going after U.S universities over supposed ties to foreign governments, after some allegedly took huge quantities of foreign cash and hid it from regulators.
At the top of the list are Georgetown University and Texas A&M, which have taken hundreds of millions of dollars from the government of Qatar, a middle eastern nation with suspected links to international terrorism.
Both schools received letters from the Department of Education Thursday saying they should have disclosed that funding but their filings "may not fully capture" the activity, the Associated Press reported. The letter warned that they could be referred to the attorney general to "compel compliance."
Georgetown was also asked about possible ties to Russian cybersecurity firm Kaspersky Lab, as well as Saudi Arabian money. Both schools were ordered to disclose funding from Huawei and ZTE, Chinese firms suspected of spying…
MORE
.
—————————————————————————————
.
Aren't Delirious Democrats Now Accusing Team Obama Of Treason? – John Solomon
.

.
If you read the newspapers, tuned into the cable TV pundits or received an email from one of the Democrats running for president, you'd swear Donald Trump was back to his treasonous ways.
All that was missing was an annoying OMG text exclamation punctuating the unfounded claims that Trump might violate the law in 2020 by accepting intelligence on a political rival from a foreign country. The inference, of course, is that it would come from a hostile power such as Russia or North Korea or Iran.
Actually, what Trump told ABC News's George Stephanopoulos was that he'd consider taking intelligence dirt about a rival from a friendly ally. (Norway was the actual example he used.)
Sound familiar? That is EXACTLY what the Obama administration did in 2016…
MORE
.
—————————————————————————————
.
Despite Tariffs, U.S. Import Costs Were Down In May – Gateway Pundit
U.S. costs for imports were reported down in the month of May. This is in spite of liberal cries that the Trump tariffs were going to increase costs to consumers.
The Bureau of Labor Statistics (BLS) reported on Thursday that in May the costs for imported goods were down from the prior month.
Prices for U.S. imports declined 0.3 percent in May, the U.S. Bureau of Labor Statistics reported today, following an increase of 0.1 percent the previous month. Lower fuel and nonfuel prices contributed to the May decline in import prices. U.S. export prices fell 0.2 percent in May, after advancing 0.1 percent in April, 0.8 percent in March, and 0.6 percent in February.

Imports

U.S. Import prices fell 0.3 percent in May, the first monthly decline since a 1.4-percent drop in December. Import prices advanced 1.8 percent from December to April before the downturn in May…
MORE
.
—————————————————————————————
.
Homeland Security Secretary: Over 400 Miles Of New Border Wall Will Be Built By End Of 2020 – Epoch Times
.

.
About two miles of border wall are being built per week right now, according to Acting Homeland Security Secretary Kevin McAleenan. "[It's] coming along aggressively," he told President Donald Trump during a meeting at the White House on June 12. "By the end of next year, over 400 miles [will be built]."
Trump predicted it might be closer to 500 miles, and said, "We have to kick and scream for every inch because the Democrats just will not give us what we need."
New and replacement wall is currently being constructed near San Diego, as well as San Luis, Arizona, and El Paso and the Rio Grande Valley in Texas, according to Customs and Border Protection (CBP)…
MORE
.
—————————————————————————————
.
Paraplegic Man Sues Creepy Porn Lawyer Avenatti For Allegedly Siphoning Off $4 Million Settlement – Daily Caller
A paraplegic former client of Michael Avenatti is suing the attorney for allegedly siphoning off the "vast majority" of a $4 million settlement awarded to the client. The lawsuit is the latest blow to Avenatti, who rose to fame as the attorney for porn star Stormy Daniels and was once considered a possible Democratic presidential candidate.
The former client, Geoffrey Johnson, received a $4 million settlement in early 2015 after suing Los Angeles County for alleged abuse from guards and inmates while he was held in jail, the lawsuit states. Johnson had been improperly arrested as a result of mental health issues, according to his attorneys.
The complaint names Avenatti, his law firm and his former colleagues as defendants. Avenatti is already facing criminal charges for the accusations listed in Johnson's suit.
For years after receiving the settlement on Johnson's behalf, Avenatti led Johnson to believe that the county hadn't yet paid the settlement…
MORE
.
—————————————————————————————
.
Why Gillibrand Is The Most Vapid Clown In The Car – Dov Fischer
.

.
She is so excruciatingly, insufferably, painfully stupid, shallow, pandering, desperate, and without ethics. Kirsten Gillibrand. United States Senator from New York. Candidate for 2020 Democrat Presidential nomination. Dolt.
She was not initially on my radar. I follow the news like a hawk, but she always was so politically lightweight – make that bantamweight – that she did not register. Here in California, "register" is a term we often use for earthquakes. The Northridge shaker registered at 6.7. A solid 3.5, give or take, will wake you up. Gillibrand registers at 0.0, give or take a zero.
It is not that I live amid a high bar for United States Senate excellence…