.
Houston Schoolbus Driver Charged With DWI Blames It On Bad Doughnut – Fox News
.

.
A Houston school bus driver who authorities say drove drunk with children on board has blamed her bad driving on an upset stomach caused by a doughnut.
Linda Sue Godejohn, 55, was charged with driving while intoxicated after police say she failed a field sobriety test "miserably" when they pulled her over in Spring, Texas, on Thursday afternoon. Godejohn posted a $100 bond and was released from the Harris County Jail on Friday morning
"We ended up getting the bus driver out of the bus, giving her a field sobriety test, which she flunked miserably, and she was immediately placed into custody," Constable Mark Herman told Houston's KPRC-TV…
MORE
.
—————————————————————————————
.
New Treatment Enables Removal Of 'Inoperable' Pancreatic Cancer – UPI
A new treatment protocol for locally advanced pancreatic cancer can enable surgical removal of previously inoperable tumors and improve survival rates, according to a new study.
"Locally advanced" pancreatic cancer is confined to the pancreas, but the tumor still involves major abdominal blood vessels and usually cannot be removed by surgery. It's one of the worst forms of an already deadly cancer, the Massachusetts General Hospital researchers explained.
However, the results of their clinical trial could offer such patients new hope. The trial included 49 patients with previously untreated locally advanced pancreatic cancer who received a combination of intensive chemotherapy and radiation therapy, as well as the blood pressure drug losartan.
Use of the combo therapy allowed 34 of the 49 participants to go on to have their tumors surgically removed,,,
MORE
.
—————————————————————————————
.
F-35 Stealth Fighter "Accidentally" Draws Fully Erect Sky Penis – Zero Hedge
.

.
A Lockheed Martin F-35 Lightning II stealth fighter in the vicinity of Luke Air Force Base in Arizona, simulating aggressor air training, "accidentally" drew a fully erect sky penis, base officials told Military.com.
"We've seen the photos that have been circulating online from Tuesday afternoon," said spokeswoman Maj. Rebecca Heyse in an email.
"The 56th Fighter Wing senior leadership reviewed the training tapes from the flight and confirmed that F-35s conducting standard fighter training maneuvers Tuesday afternoon in the Gladden and Bagdad military operating airspace resulted in the creation of the contrails."…
MORE
.
—————————————————————————————
.
Justice Department Preparing To Launch Antitrust Investigation Into Google – Breitbart
According to recent reports, the U.S. Justice Department is preparing to launch an antitrust investigation into Alphabet Inc.'s Google.
The Wall Street Journal reports that the U.S. Justice Department is preparing to begin an antitrust investigation into Google that could see the tech giant come under a new wave of scrutiny from regulators. According to people familiar with the matter, the antitrust division of the Justice Department has been gathering information and preparing for the investigation for weeks.
The Federal Trade Commission (FTC), which shares antitrust authority with the Justice Department, has previously conducted antitrust investigations into Google on a broader scale but closed the investigation in 2013 with no action taken. Google did, however, make some voluntary changes to some of its business practices as a result of the investigation.
The FTC and Justice Department have been discussing which group will oversee further antitrust investigations of Google…
MORE
.
—————————————————————————————
.
Pennsylvania Supreme Court: Unconstitutional For Cops To Search People Just Because They're Armed – Morning Call
.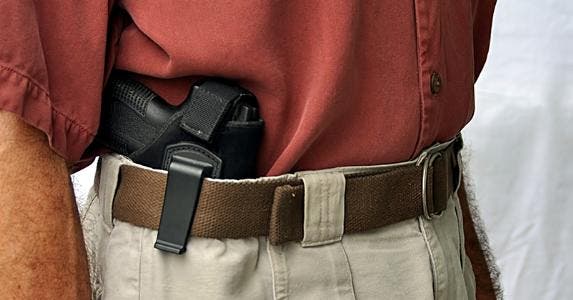 .
In a decision throwing out an Allentown man's conviction, the Pennsylvania Supreme Court on Friday overturned a longstanding legal doctrine allowing police to stop and search a suspect solely for carrying a concealed weapon.
The court ruled a police officer's knowledge that a person is carrying a gun no longer constitutes reasonable suspicion to detain and investigate whether they're licensed to do so.
The rule that allowed Pennsylvania police to do so "subverts the fundamental protections of the Fourth Amendment," the court said. It noted Pennsylvania issues hundreds of thousands of licenses to carry firearms every year…
MORE
.
—————————————————————————————
.
Group Of 116 Africans Arrested At U.S.-Mexican Border – Fox News
Border officials in Texas say a group of 116 Africans was arrested Thursday after wading through the Rio Grande to enter the United States. The migrants were from Angola, Cameroon and other African nations and include families with children and young people who were not with relatives.
This was the first large group that agents in the Del Rio sector have arrested, although big groups have been showing up every day in other areas of the southern border. Agents have encountered 182 large groups, or those with more than 100 people, since October.
It's unclear if the migrants in Texas were seeking asylum, and the agency is still processing them. U.S. authorities are overstretched and overwhelmed by an unprecedented surge of Central American families arriving at the southern border.
It is against that backdrop that President Donald Trump threatened this week to slap tariffs on goods from Mexico unless it cracks down on the flow of migrants…
MORE
.
—————————————————————————————
.
New Hampshire Abolishes Death Penalty As Senate Overrides Governor's Veto – Epoch Times
.

.
New Hampshire, which hasn't executed anyone in 80 years and has only one inmate on death row, on May 30 became the latest state to abolish the death penalty when the state Senate voted to override the governor's veto.
The Senate vote came a week after the 400-member House voted by the narrowest possible margin to override Republican Gov. Chris Sununu's veto of a bill to repeal capital punishment.
With New Hampshire's action, 29 states allow capital punishment, but in four of them, governors have issued moratoriums on the death penalty, according to the Death Penalty Information Center. Twenty-one states have abolished or overturned it…
MORE
.
—————————————————————————————
.
Jussie Smollett Paid Osundairo Brothers For Pot, Ecstasy And Cocaine, Newly Released Chicago Police Files Show – PJ Media
Newly released investigative files from the Jussie Smollett hate crime hoax show that the Empire star used Venmo to pay his accomplices for pot, ecstasy, and cocaine.
The documents, which were made public on Thursday, a week after a Cook County Circuit Court judge ordered their release, reveal in detail how the Osundairo brothers described the staged attack.
The documents also show that police found inconsistencies between what Smollett told them right after the alleged attack and what he later claimed during his interview on Good Morning America.
And in a brand new development, Chicago police described in one document that the Cook County State's Attorney's Office informed them on February 28, almost a month before the charges against Smollett were dropped, that they would settle with Smollett, and have him pay $10 thousand in restitution to the city of Chicago, as well as do "community service."…
MORE
.
—————————————————————————————
.
Philippines Sends Tons Of Garbage Back To Canada – BBC News
.

.
The Philippines has sent tonnes of rubbish back to Canada, after a weeks-long diplomatic spat that saw President Rodrigo Duterte threaten to "sail to Canada and dump their garbage there".
The Philippines says the rubbish was falsely labelled as plastic recycling when it was sent to Manila in 2014. Canada has agreed to cover the full cost of its transfer and disposal. Some 69 containers of refuse were sent back in a cargo vessel that set sail from Subic Bay, north of Manila.
"Baaaaaaaaa bye, as we say it," Philippine Secretary of Foreign Affairs Teddy Locsin Jr wrote on Twitter on Friday morning. The minister, who is known for his rambunctious tweeting style, posted pictures and video of the ship leaving port…
MORE
.
—————————————————————————————
.
Shocker: Nearly 9-In-10 Illegal Aliens Recently Released Into U.S. Not Showing Up To Court Hearings – Breitbart
Nearly 9-in-10 illegal aliens who have been recently released into the interior of the United States while they await their asylum hearings are not showing up to their court dates, according to a federal pilot program.
For almost half a year, the Department of Homeland Security (DHS) has ramped up its catch and release of border crossers and illegal aliens, specifically those arriving at the U.S.-Mexico border with children.
Since December 21, 2018, DHS has released at least 190,500 border crossers and illegal aliens into the interior of the United States. Acting DHS Secretary Kevin McAleenan told Congress this month that those foreign nationals are eventually given work permits that allow them to take U.S. jobs while awaiting their asylum hearings.
In testimony before Congress this month, Immigration and Customs Enforcement (ICE) officials said that the agency had recently conducted a pilot program…
MORE
.
—————————————————————————————
.
That Was Quick: Mexico's President Begs Trump For Friday Meeting On Just-Announced Tariffs – Gateway Pundit
.

.
Just hours after President Trump announced he will be imposing 5% tariffs on Mexican imports over illegal immigration, Mexico's president Lopez Obrador sent Trump a letter begging for a meeting to work toward a solution.
"Mexico's President Lopez Obrador asks Trump to have U.S. officials meet with the Mexican foreign minister in Washington on Friday to seek a solution that benefits both nations," Reuters reported.
President Trump on Thursday evening announced that a 5% tariff will be imposed on all Mexican imports beginning June 10th and will gradually increase until the illegal immigration stops…
MORE
.
—————————————————————————————
.
Trump Has Become The Democrats' Great White Whale – Victor Davis Hanson
One way of envisioning the Democratic obsessions with Donald Trump is as an addiction. We have seen the initial impeachment efforts; the attempt to get him under the emoluments clause, the Logan Act, and the 25th Amendment; the Russian collusion hoax; the Mueller investigation; the demand for his tax returns; and the psychodramas involving Michael Avenatti, Michael Cohen, and Stormy Daniels. Relentless progressives have needed a new Get Trump fix about every two months.
More practically, their fixation also substitutes for a collective poverty of ideas. The Democratic party has no plan to secure the borders other than to be against whatever Trump is for. They would not build a wall, deport illegal entrants, end sanctuary cities, fine employers, or do much of anything but allow almost anyone to enter the U.S.
The homeless crisis is reaching epidemic proportions in our cities, almost all of them run by progressive mayors and city councils…
MORE
.
—————————————————————————————
.
President Trump To Increase Tariffs On Mexican Goods Until Illegal Immigration Stops – Breitbart
.

.
President Donald Trump made good on a promised immigration announcement Thursday night, proclaiming he will increase tariffs on Mexico.
"On June 10th, the United States will impose a 5% Tariff on all goods coming into our Country from Mexico, until such time as illegal migrants coming through Mexico, and into our Country, STOP," President Trump wrote in a Thursday night tweet.
"The Tariff will gradually increase until the Illegal Immigration problem is remedied," the president said and continued in a subsequent post, "…at which time the Tariffs will be removed. Details from the White House to follow."
Minutes later the White House released the following statement…
MORE
.
—————————————————————————————
.
Police: Illegal Alien Day Care Owner Sexually Assaulted 7-Year-Old Girl – USIACR
A Suffolk County day care owner was arrested Friday for sexually abusing a child, cops said. Jose Flores, co-owner of Little Sponges Family Day Care in Brentwood, allegedly abused a 7-year-old girl who attended the facility earlier this year.
Authorities apparently found out about what happened and launched a Special Victims investigation, according to police officials. Flores, 56, was taken into custody around 1 p.m. Friday and Little Sponges was shut down, soon-after. Cops fear that he may have even more alleged victims.
"The investigation is continuing," said Suffolk County Police. "Detectives are asking anyone who may have been a victim of Flores to contact the Special Victims Section through Crime Stoppers."
Flores was charged with first-degree sexual abuse and endangering the welfare of a child. He's scheduled to be arraigned Saturday at First District Court in Central Islip…
MORE
.
—————————————————————————————
.
Louisiana Governor Edwards Signs Heartbeat Abortion Bill Into Law – National Review
.

.
Louisiana governor John Bel Edwards on Thursday signed legislation prohibiting abortion once a fetal heartbeat can be detected, which usually occurs around six weeks into pregnancy.
The heartbeat bill, which does not include an exception for rape or incest, will be implemented only if similar legislation recently passed in Mississippi is upheld in federal court. It passed the state House of Representatives on Wednesday on a bipartisan 79-23 vote.
The bill's sponsor, Democratic state senator John Milkovich, argued that the effective six-week abortion ban reflected the values of his constituents in a statement celebrating the bill's passage…
MORE
.
—————————————————————————————
.
Queer Mayor Buttigieg's Brother-In-Law Accuses Him Of Lying About His Family For Political Gain – Washington Examiner
Pete Buttigieg's brother-in-law is accusing the gay Democratic presidential hopeful of hijacking his family's history for political advantage by crafting a bogus backstory of poverty, homelessness, and homophobia.
Rhyan Glezman, 34, a pastor in small-town Michigan, said he was inundated by death threats and hate mail when stories surfaced this month claiming he was a bigot who had fallen out with his younger brother Chasten when Chasten came out of the closet.
The reports were based on a Washington Post article, which described how Chasten, 29, was forced out of the family home and never reconciled with his two brothers.
But rather than rejecting his brother Chasten, a would-be "first gentleman," Glezman, who has run the Clio Community Church for the past two years, said his family has been loving and supportive throughout.
"A mayor from a small city and his husband, a child who grew up with nothing…
MORE
.
—————————————————————————————
.
Israel Faces New Vote As Netanyahu Fails To Form Government – Reuters
.

.
Israeli lawmakers voted to dissolve parliament on Thursday, paving the way for a new election after veteran Prime Minister Benjamin Netanyahu failed to form a coalition government before a midnight deadline.
Netanyahu preferred a new ballot, set for Sept. 17, to the alternative, under which President Reuven Rivlin could have asked another politician to try and form a ruling coalition. But the need to go the polls again so soon after a closely contested April 9 election in which Netanyahu had claimed victory, showed a new weakness in a leader who has been in power for the past decade and who has become the face of Israel for many.
Potential indictments in three corruption cases have only deepened questions about his political survival…
MORE
.
—————————————————————————————
.
The Stunning Statistical Fraud Behind The Global Warming Scare – Investor's Business Daily
Global Warming: The National Oceanic and Atmospheric Administration may have a boring name, but it has a very important job: It measures U.S. temperatures. Unfortunately, it seems to be a captive of the global warming religion. Its data are fraudulent.
What do we mean by fraudulent? How about this: NOAA has made repeated "adjustments" to its data, for the presumed scientific reason of making the data sets more accurate.
Nothing wrong with that. Except, all their changes point to one thing – lowering previously measured temperatures to show cooler weather in the past, and raising more recent temperatures to show warming in the recent present.
This creates a data illusion of ever-rising temperatures to match the increase in CO2 in the Earth's atmosphere since the mid-1800s, which global warming advocates say is a cause-and-effect relationship. The more CO2, the more warming.
But the actual measured temperature record shows something different…
MORE
.
—————————————————————————————
.
Revoke Ilhan Omar's Marriage Fraud Immunity Card – Michelle Malkin
.

.
If you are not a member of the Democrats' protected class of bitter loudmouths who hate America, you can be investigated and prosecuted for marriage fraud. The headlines have been filled with recent crackdowns.
In Texas last week, 96 people were indicted on federal charges of conspiring to defraud our immigration system by arranging phony unions between American citizens and sham spouses in Vietnam.
In Bridgeport, Connecticut, three men pleaded guilty to participating in fraudulent marriages with noncitizens and sponsoring them for green cards under false pretenses…
MORE
.
—————————————————————————————
.
Dad On The Run After Tossing Dead Baby By Funeral Home Dumpster 'Like She Was Trash' – Crime Online
California police are searching for the father of a baby girl who was found deceased and thrown by a dumpster on Monday.
The Sacramento Bee reports that authorities are investigating the death of a baby girl found Monday morning by a dumpster close to funeral home in Bellflower. The baby has been identified as 8-month-old Alexia Rose Echeverria.
Police are looking for the baby's father, 22-year-old Sacramento resident, Alexander Echeverria. He was last seen on Monday morning in Southern California. According to a news release by the Sacramento County Sheriff's Office, Echeverria is a person of interest in the case and is currently considered at-risk after "suicidal statements made to family members recently."
Echeverria may be driving a gray 2014 Volkswagen Jetta with California license plate number, 7FFT866. He's described as a Hispanic male who stands 5-foot-6-inches and weighs around 130 pounds. He has black hair and brown eyes…
MORE
.
—————————————————————————————
.
Pro-Baby-Killing Leftist Ruth Bader Ginsburg: Pregnant Women Aren't Mothers – Daily Wire
.

.
Supreme Court Justice Ruth Bader Ginsburg has an odd concept of motherhood. According to her, pregnant women are not mothers, particularly pregnant women that terminate their offspring in an abortion.
On Tuesday, the Supreme Court ruled 7-2 in favor of an Indiana abortion law requiring medical facilities to provide dignified burials or cremation to children aborted at their establishment.
Though conservative Justice Clarence Thomas concurred with the court's opinion, he argued that his colleagues made a mistake by choosing to forgo ruling on whether or not Indiana could ban abortions for sex-selective or eugenic purposes…