.
Bill Allowing Illegal Aliens To Work In Congress Approved By Democrat-Controlled House Committee – The Lid
Illegal aliens are now eligible for driver's licenses in some states, and in March the House voted in favor of extending the vote to people who disregarded the law and entered the United States illegally.
Now there's another bill trying to give Illegal Aliens the same rights as legal Americans has advanced through the House Appropriations Committee by a party-line vote. The bill would lift a ban on Deferred Action for Childhood Arrivals (DACA) recipients from being able to apply for positions on the staffs of elected officials.
U.S. law doesn't "pick on" dreamers or illegal immigrants per se. It expressly bars most non-U.S. citizens from working for the feds.
Rep. Lucille Roybal-Allard (D-Calif.), a co-sponsor of the bill, celebrated its passage as a means to allow Deferred Action for Childhood Arrivals (DACA) recipients to "contribute to our great democracy."…
MORE
.
—————————————————————————————
.
Generic Drug Makers Accused Of Price Fixing By 44 States – Epoch Times
.

.
A majority of U.S. states filed a lawsuit that accuses 20 drug companies of orchestrating a sweeping scheme to inflate drug prices and stifle competition for generic drugs, state prosecutors said on May 11.
Soaring drug prices from both branded and generic manufacturers have sparked outrage and investigations in the United States. The criticism has come from across the political spectrum – from President Donald Trump, a Republican, to progressive Democrats including Sen. Elizabeth Warren of Massachusetts, who is running for president.
The 20 drug companies engaged in illegal conspiracies to divide up the market for drugs to avoid competing and, in some cases, conspired to either prevent prices from dropping or to raise them…
MORE
.
—————————————————————————————
.
Leftist Censorship Update: Expert Psychologist Blocked On Twitter For Expressing Clinical Opinion On Transgenderism – PJ Media
In the early hours of Sunday morning, an expert Ph.D. psychologist who helped write the official psychological position on transgender identity was blocked on Twitter for expressing his opinion informed by clinical experience.
His well-reasoned position was flagged for "hateful conduct."
On Saturday, Ray Blanchard – the Ph.D. psychologist and adjunct professor at the University of Toronto who served on the working work for gender dysphoria (the persistent condition of identifying with the gender opposite your biological sex) for the DSM V, the gold standard of definitions helping psychologists diagnose disorders for patients – tweeted out his clinically-informed opinion on transgender identity.
He still affirmed the controversial idea that sex-change surgery is the "best treatment" for "carefully screened, adult patients, whose gender dysphoria has proven resistant to other forms of treatment," but he opposed "treating" children who may change their minds…
MORE
.
—————————————————————————————
.
Insane Leftists Update: Chips Ahoy! Celebrates Mother's Day By Posting Video Of Drag Queen On Social Media- Daily Caller
.

.
Cookie company Chips Ahoy! celebrated Mother's Day by posting a video of a drag queen to social media. The video featured Jose Cancel, an actor using the stage name Vanessa Vanjie Mateo, who competed in the most recent season of "RuPaul's Drag Race."
The actor encouraged social media users to buy cookies for "your real mama, your drag mama, whichever mama, somebody, whoever taking care of you, whoever you feel or consider your mama" in the video.
"#HappyMothersDay to your moms, your drag moms and everyone who celebrates you being YOU," Chips Ahoy! captioned the video, which it posted to Twitter and Instagram. The cookie company was mocked and scorned for the video on social media…
MORE
.
—————————————————————————————
.
Jihadists Murder At Least Half A Dozen Catholics During Sunday Mass In Burkina Faso, Torch Church – Deutsche Welle
Gunmen killed at least six Christians in a Catholic church in the Burkinabe town of Dablo on Sunday. The worshippers were attending morning mass when at least 20 men surrounded them and shot six dead, according to a government statement.
"These terrorist groups are now attacking religion with the macabre aim of dividing us," the statement said.
"Towards 9 a.m. during mass, armed individuals burst into the Catholic church," the mayor of Dablo, Ousmane Zongo said. "They started firing as the congregation tried to flee."
The attackers then torched the church and set fire to a shop and two vehicles, in the second attack on Christians in as many weeks in a nation increasingly overrun by jihadis.
At the end of April, five Christians were killed in an attack on a Burkinabe Protestant church. The pastor was among those killed in the raid in the small town of Silgadji. Both Dablo and Silgadji are in the north of Burkina Faso…
MORE
.
—————————————————————————————
.
Crazed Dipshit Faces Up To 140 Years In Prison For Threatening To Kill President Trump, Others – NTD
.

.
A Connecticut man indicted for sending death threats to U.S. President Donald Trump and other threatening communications could face over a century in prison, according to a press release from the Department of Justice on May 10.
The 51-year-old Gary Joseph Gravelle previously resided in New Haven and is also known as Roland Prejean. He was indicted with "threatening to kill, injure, and intimidate people and explode property in Connecticut and elsewhere," including mailing an intimidation letter with white powder to the president in September 2018.
Gravelle is a part of the white separatist group called American Knights of Anarchy, or AKA, according to The Day…
MORE
.
—————————————————————————————
.
DOJ Inspector General Found Carter Page FISA Extensions Were Illegally Obtained, Former Federal Prosecutor Says – Washington Examiner
The Justice Department inspector general has determined the three Foreign Intelligence Surveillance Act warrant extensions against onetime Trump campaign aide Carter Page were illegally obtained, attorney Joe diGenova said on Thursday.
In an investigation that began last year, Inspector General Michael Horowitz is examining the Justice Department's and FBI's compliance with legal requirements as well as policies and procedures in applications filed with the U.S. Foreign Intelligence Surveillance Court related to Page as part of a larger counterintelligence probe into Trump's campaign.
The inspector general inquiry is expected to be completed in either late May or June, and diGenova, a former U.S. attorney for the District of Columbia, said Democrats on Capitol Hill are working overtime to investigate and discredit President Trump.
"They are doing that as a diversionary tactic away from the inevitable conclusions of the DOJ inspector general, Michael Horowitz…
MORE
.
—————————————————————————————
.
Pentagon To Transfer $1.5 Billion To Border Wall – Epoch Times
.

.
Acting Defense Secretary Patrick Shanahan has approved the transfer of $1.5 billion to build more than 80 miles of barriers on the border with Mexico, U.S. officials said on May 10, including taking about $600 million from an account meant for Afghan security forces.
"The funds were drawn from a variety of sources, including cost savings, programmatic changes, and revised requirements, and therefore will have minimal impact on force readiness," Shanahan said in a statement.
Shanahan said that the U.S. military had more than 4,000 service members on the border, along with 19 aircraft. A U.S. official said the latest transfer would include $604 million from funds for the Afghan security forces…
MORE
.
—————————————————————————————
.
FBI Uncovers Homegrown Terror Training Camp In Alabama – WEAR
At first glance, it looks like an abandoned dump. But this plot of land in Macon County, Alabama is described in an FBI search warrant as a "makeshift military-style obstacle course" belonging to a small group of terrorists led by Siraj Wahhaj who owned the property up a long dirt road but just a few miles from downtown Tuskegee.
The property, similar to another compound in New Mexico the group is now linked to where federal prosecutors say Wahhaj and four other suspects were training children to carry out deadly terror attacks on American soil.
FBI Assistant Director for the Counterterrorism Division Michael McGarrity told lawmakers on Capitol Hill there are 850 open domestic terrorism investigations, with 40% racially motivated violent extremism.
In the Alabama case the group may not have carried out an attack, but the remains of a child believed to belong to Wahhaj, who is being charged with kidnapping were also found on the property…
MORE
.
—————————————————————————————
.
Poll: Brexit Party Will Win More Votes Than Labour And Conservatives Combined In European Elections, And Would Be Nearly Neck-And-Neck With The Tories In A General Election – Daily Mail
.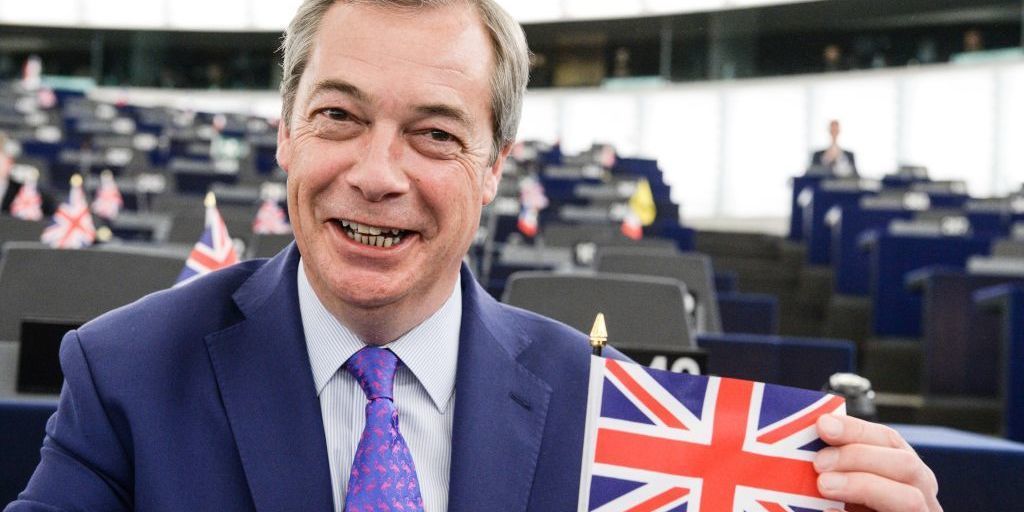 .
The Brexit Party will earn more votes than Labour and the Conservatives combined in the European Parliament elections, a new poll claims.
Nigel Farage's new party is slated to be a formidable force in May's upcoming ballot, predicted to score 34% of the vote – compared to Labour's 21% and the Tories' 11%, according to the latest Opinium poll for the Observer.
The strongest force among the anti-Brexit parties appears to be the Liberal Democrats, who are slated to win just 12% of votes – one point ahead of Theresa May's party. The Greens would score just eight per cent in the European elections, followed by UKIP and the SNP on four per cent and Change UK on just three per cent, the data says…
MORE
.
—————————————————————————————
.
Fugees Founder 'Pras' Charged With Funneling Fugitive Malaysian Billionaire's Money To Obama's 2012 Campaign – NJ
One of the founders of famed New Jersey rap group the Fugees was charged Friday with conspiring with a Malaysian billionaire to make and conceal foreign campaign contributions during the 2012 U.S. presidential election.
Prakazrel "Pras" Michel and fugitive Malaysian financier Jho Low were charged with conspiracy to defraud the United States government and for making foreign and conduit campaign contributions, according to a release from the U.S. Department of Justice.
The presidential candidate was referred to only as Candidate A in the indictment, but was identified in multiple reports as Barack Obama.
The object of the conspiracy was for Low to "gain access to, and potential influence with, Candidate A, and his administration," with the help of Michel, the federal indictment said.
Michel also was charged with scheming to conceal material facts and two counts of making a false entry in a record in connection with the conspiracy…
MORE
.
—————————————————————————————
.
2006 Biden: 'We Need A Border Wall' And To 'Punish American Employers' Who Hire Illegals – Zero Hedge
.

.
In 2006, former Vice President Joe Biden told a South Carolina rotary club audience that he proudly voted for the Secure Fence Act – authorizing the construction of 700 miles of fencing at the southern US border.
He also called for a crackdown on companies which hire "illegals," saying: "I voted for a fence, I voted, unlike most Democrats – and some of you won't like it – I voted for 700 miles of fence," adding "But, let me tell you, we can build a fence 40 stories high, unless you change the dynamic in Mexico and – and you will not like this, and – punish American employers who knowingly violate the law when, in fact, they hire illegals. Unless you do those two things, all the rest is window dressing."…
MORE
.
—————————————————————————————
.
The Narrative Descends Into Crisis As America Does Fine – Andrew Klavan
The disparity between the news and reality has become so great that it is news in itself. You only have to turn on the TV or pick up whatever you use for a newspaper to find out that America is in a crisis, and you only have to turn the TV off or put the newspaper down to bring that crisis to an end.
American journalists and Democrats – but I repeat myself – are now engaged in creating a fantasy world in hopes it will supplant the reality they can no longer bear.
I suppose this transformation of journalism into imaginative fiction was bound to happen sooner or later. All the elements were in place. One party – the Democrats – controls both the news industry and the entertainment industry.
The same party is convinced that human nature, moral truth and reality itself can be transformed by transforming the stories we tell about them. And for eight years, that party and its media tried to prove that point by telling us a story about Barack Obama…
MORE
.
—————————————————————————————
.
Mad Maxine Waters Paid Daughter $50,000 From Campaign Funds For Accrued Debt – Washington Free Beacon
.

.
Rep. Maxine Waters (D., Calif.) paid $50,000 from her campaign's coffers to her daughter in recent months to chip away at six figures of accrued debt for an operation that pulls in large sums of money for the congresswoman's campaign committee, Federal Election Commission filings show.
Rep. Waters's committee disbursed two payments to her daughter, Karen, in the amounts of $42,000 and $8,000 during the first quarter, which runs from Jan. 1 to March 31. The $50,000 in payments were made to Karen for running a slate mailer, or endorsement mailer, operation from the campaign and were the most paid out by the committee for any activity throughout the first three months of the year…
MORE
.
—————————————————————————————
.
Congressman Meadows: FBI "Well Aware The Dossier Was A Lie" Before Moving To Spy On Trump Campaign – Breitbart
A newly-uncovered document suggests that the Obama Department of Justice (DOJ), including the FBI, was "well aware" that foreign agent Christopher Steele was trying to interfere in the 2016 presidential election with disinformation – and yet still used his materials to spy on American citizens and the Trump campaign, according to Rep. Mark Meadows (R-NC).
"[O]fficials at the FBI and (Department of Justice) DOJ were well aware the dossier was a lie – from very early on in the process all the way to when they made the conscious decision to include it in a FISA application," Meadows said Tuesday in a statement to The Hill's John Solomon. "The fact that Christopher Steele and his partisan research document were treated in any way seriously by our Intelligence Community leaders amounts to malpractice."
Meadows' statement came in response to a federal document recently unveiled by a Citizens United lawsuit – an email from Deputy Assistant Secretary of State Kathleen Kavalec…
MORE
.
—————————————————————————————
.
Leftist Scumbag Arrested After Repeatedly Punching Innocent Pro-Life Advocate At UNC – Washington Free Beacon
.

.
A liberal college student was arrested after punching a pro-life advocate at the University of North Carolina at Chapel Hill last month.
Jillian Ward, 19, a pro-choice feminist, assaulted Austin Beigel, who works for the pro-life group Created Equal, after approaching the group's display on April 2, Fox News reports. Ward claimed to be triggered by photographs depicting aborted children put up by the group.
Ward asked the group if they put up the photos, and then ran towards Beigel after he confirmed they did. Beigel was reportedly punched in the face and also received a blow to the stomach.
"F***ing terrible person," Ward yelled…
MORE
.
—————————————————————————————
.
What Could Possibly Go Wrong? AOC Wants A Government Bank Operated By The Post Office – Tyler O'Neil
Imagine a big government boondoggle with the disorganization of a poorly-run non-profit organization and "customer service" that treats customers like driver's license applicants at the DMV. That's how Rep. Alexandria Ocasio-Cortez (D-N.Y.) wants banking to work.
America's most infamous former bartender proposed this idea with Sen. Bernie Sanders (I-Vt.), the runner-up for the 2016 Democratic presidential nomination.
"We should have a not-for-profit public option for basic banking services, and we should be piloting these projects through the U.S. Postal Service," Ocasio-Cortez said, apparently with no irony.
In the video, a tired Sanders ends his yawn to make a gesture of agreement.
It seems AOC has heard that 34 million American households are "unbanked" and she thinks the best solution is government – of course! But she also wants to phrase it like the government-takeover of health care: Let's provide a "public option," which will eventually become the only option…
MORE
.
—————————————————————————————
.
President Trump To Nominate Patrick M. Shanahan As Defense Secretary – Epoch Times
.

.
President Donald Trump intends to nominate acting Defense Secretary Patrick Shanahan as the new Secretary of Defense, according to a White House press release.
"Based upon his outstanding service to the Country and his demonstrated ability to lead, President Trump intends to nominate Patrick M. Shanahan to be the Secretary of Defense," said White House press secretary Sarah Sanders.
Shanahan has previously served as deputy secretary of defense and vice president of supply chain and operations at Boeing.
"Acting Secretary Shanahan has proven over the last several months that he is beyond qualified to lead the Department of Defense…
MORE
.
—————————————————————————————
.
Trump Overhauls Crucial U.S. Appeals Courts At Record Pace: 'It's A Generational Change' – Washington Times
The Senate confirmed Michael Park to be a judge on the 2nd U.S. Circuit Court of Appeals on Thursday, making him the 39th circuit court judge to be confirmed under President Trump in a process on a record pace that is steadily reshaping the bench.
Judge Park joins Joseph Bianco, confirmed earlier this week, on that bench, bringing the number of Republican-appointed active judges on the chief 2nd Circuit panel to six. With two more vacancies by this summer as judges take senior status, Mr. Trump will soon have a chance to flip control of the circuit, which currently has seven Democratic appointees.
Mr. Trump flipped the 3rd U.S. Circuit Court of Appeals earlier this year, taking it from a 7-4 Democratic edge in judicial appointees in 2017 to a 7-6 Republican edge among active judges.
The circuit courts are below the Supreme Court but, because so few cases end up before the justices, the circuits are where many consequential cases are decided. That makes Republicans' focus on circuit judge confirmations huge, both sides say…
MORE
.
—————————————————————————————
.
Turns Out Mueller Outsourced Parts Of Trump Investigation To 'Private Contractors', And He's Refusing To Say Who They Were – Chicks On The Right
.

.
Ok – so this is fishy.
The government has blown millions upon millions of OUR taxpayer money on this ridiculous investigation.
Mueller was appointed, and he put together a huge team to work for him. All for what? For him to OUTSOURCE the work to unnamed private parties.
According to Real Clear Investigations:
Special Counsel Robert Mueller spent more than $732,000 on outside contractors, including private investigators and researchers, records show, but his office refuses to say who they were…
MORE
.
—————————————————————————————
.
China Tariffs Rise To 25% Even While Trade Talks Persist – Breitbart
The U.S. hiked tariffs on a basket of goods imported from China to 25 percent on Friday morning.
The new tariff rate, which applies to around $200 billion of Chinese goods previously subjected to a 10 percent tariff, took effect just hours after officials from the U.S and China wrapped up a "working dinner" to discuss a possible trade deal.
Around $50 billion of Chinese goods, mostly high-tech items used by businesses, were already tariffed at the 25 percent rate. An additional $320 million or so of imports from China has not yet been subject to the new duties although president Trump has said he plans to raise tariffs on those goods as well.
Last year, the U.S. government studied Chinese economic policy and concluded that the Asian nation was engaged in systematic theft of the intellectual property of U.S. companies. When the Trump administration said it would impose tariffs in response to the Chinese behavior, China cut off trade talks for months…