.
Denver Votes To Become First U.S. City To Decriminalize 'Magic Mushrooms' – Reuters
.

.
Denver will become the first city in the United States to decriminalize magic mushrooms, based on final unofficial results on Wednesday of a ballot initiative about the hallucinogenic drug.
The initiative called for Colorado's capital to end the imposition of criminal penalties for individuals at least 21 years of age for using or possessing psilocybin, widely known as magic mushrooms.
The Denver Elections Divisions will certify results on May 16, but the final count on its website on Wednesday was 50.56 percent of voters in favor and 49.44 percent against. If the initiative is approved, psilocybin would still remain illegal under both Colorado and federal law…
MORE
.
—————————————————————————————
.
L.A. Mayor Eric Garcetti Will "Tackle" Homelessness By Painting Murals Of Homeless People – Washington Standard
The mayor of Los Angeles, a city with a burgeoning homeless population, wants to "help" by painting murals of those who don't have permanent homes. Only in Los Angeles could an idea so ridiculous be hailed as a means to "tackle" the homeless crisis gripping our nation.
Eric Garcetti, the mayor of LA, outlined his new plan to tackle the region's skyrocketing homeless population this week. Garcetti said we must now "recognize our common humanity" with murals "highlighting" his city's escalating housing crisis.
The nation's second largest city has an estimated 50,000 people living on the streets as rising rents and increased crime threaten to make the crisis worse in the coming months.
"To end homelessness, we have to recognize our common humanity. The #DearNeighborLA murals send a strong message of support for housing homeless Angelenos. The first mural highlights LaShawn, a homeless mother in South L.A. who is working to provide for her son," posted the Mayor on social media…
MORE
.
—————————————————————————————
.
Rep. Jim Jordan: "It's Called Spying", And The FBI "Did It" Against Trump – CNS
.

.
House Judiciary Committee member Rep. Jim Jordan (R-Ohio) said Wednesday that the Democrats are voting to hold Attorney General William Barr in contempt of Congress and destroy his reputation and authority overall because they are afraid that he is going to investigate how a corrupt FBI and DOJ spied on the Trump campaign in 2016 based on a salacious dossier paid for by the Democratic National Committee and the Clinton campaign.
The fabricated dossier was used to help launch the special counsel investigation, which concluded after two years and $35 million that the Trump campaign did not collude with Russia.
At the House Judiciary Committee hearing on Wednesday where the Democrats voted to hold Barr in contempt for his refusal to release the un-redacted version of the Mueller Report, Jordan said, "Bill Barr is following the law…
MORE
.
—————————————————————————————
.
Drunk Illegal Alien Accused Of Killing Couple And Their 10-Year-Old Daughter In Vehicle Crash – Breitbart
An illegal alien, who previously self-deported to Mexico, has been arrested and charged with vehicular manslaughter after allegedly killing a couple and their 10-year-old daughter in a drunk driving crash.
Ismael Huazo-Jardinez, a 33-year-old illegal alien, is accused of crashing into the trailer home of 38-year-old Jose Alberto Pacheco and 34-year-old Anna Grisalda Pacheco, the parents of a 10-year-old daughter, Angel Alberto Pacheco-Espinoza, and an 11-year-old daughter, in Sutter County, California, over the weekend.
Huazo-Jardinez, according to police, was driving drunk when he crashed into the Pacheco's home. The family of four was asleep. The crash left both Jose Pacheco and his wife, Anna Pacheco, dead, along with their daughter Angel Pacheco-Espinoza.
The only surviving family member, their 11-year-old daughter, remains in the hospital following multiple surgeries, according to the Daily Mail…
MORE
.
—————————————————————————————
.
Creepy Joe Biden: U.S. Has "Obligation" To Give Healthcare To "Undocumented" Immigrants – Daily Wire
.

.
Democrat presidential candidate Joe Biden said during a campaign stop in California on Wednesday that the United States has an "obligation" to give healthcare to illegal aliens.
"I think that anyone who is in a situation where they're in need of healthcare, regardless of whether they are documented or undocumented, we have an obligation to see that they are cared for," Biden said in Los Angeles. "That's why I think we need more clinics around the country."
Biden dismissed the notion that many illegal aliens come into the United States illegally through the southern border despite the fact that immigration arrests along the border are at a 12-year high…
MORE
.
—————————————————————————————
.
"It's Pornography": Parents Outraged As California Targets Kindergartners With Transgender Propaganda – Gateway Pundit
California is targeting children as young as Kindergarten with transgender propaganda in a revised sex education guide for teachers. Even more appalling, middle school students and high schoolers (minor pre-teens/teens) would be recommended to read obscene books describing graphic sex acts.
The California State Board of Education was scheduled Wednesday to consider feedback on teaching about various health topics such as sex ed, tobacco, alcohol and nutrition.
The overhauling of the sex ed curriculum, including gender identity and transgender propaganda to 5-year-olds didn't go over so well with many parents.
The Associated Press reported that one suggested book for high schoolers is "S.E.X.: The All-You-Need-to-Know Sexuality Guide to Get You Through Your Teens and Twenties." It includes descriptions of anal sex, bondage and other sexual activity – depictions California Family Council President Jonathan Keller described as "obscene."…
MORE
.
—————————————————————————————
.
Christopher Steele Made Damning Pre-FISA Confession; FBI Retroactively Classified – Zero Hedge
.

.
Former British spy Christopher Steele made a stunning admission during an October 11, 2016 meeting with Deputy Assistant Secretary of State Kathleen Kavalec, just 10 days before the FBI used his now-discredited dossier to justify securing a Foreign Intelligence Surveillance Act (FISA) warrant to spy on Trump campaign aide Carter Page and the campaign's ties to Russia, according to The Hill's John Solomon.
Deputy Assistant Secretary of State Kathleen Kavalec's written account of her Oct. 11, 2016, meeting with FBI informant Christopher Steele shows the Hillary Clinton campaign-funded British intelligence operative admitted that his research was political and facing an Election Day deadline. – The Hill…
MORE
.
—————————————————————————————
.
Six Reasons Why You Should Ignore The UN's Species Extinction Report – James Delingpole
The United Nations has produced a report warning that a million species are threatened with extinction.
Here is why you shouldn't take it seriously. It's politics, not science.
The Intergovernmental Science-Policy Platform on Biodiversity and Ecosystem Services (IPBES), which produced the report, is a political organisation not a scientific one. Just like its sister organisation the Intergovernmental Panel on Climate Change – IPCC – in fact.
As Donna Laframboise notes here, both exist purely to give a fig leaf of scientific credibility to the UN's 'sustainability' agenda.
When the IPBES was established in 2010, we were informed point blank that its purpose was "to spearhead the battle against the destruction of the natural world."

In other words, there's all sorts of deception here. This is no sober scientific body, which examines multiple perspectives, and considers alternative hypotheses…
MORE
.
—————————————————————————————
.
Ocasio-Cortez Blown Away By First Experience With A Garbage Disposal – New Youk Post
.

.
New York Rep. Alexandria Ocasio-Cortez is learning a lot of new things in Washington – including what a garbage disposal is. The 29-year-old freshman congresswoman posted photos and videos on Instagram showing the apparently "terrifying" contraption at work in her swanky DC apartment and saying she'd never seen one before.
"OK everyone I need your help because I just moved into this apartment a few months ago and I just flipped a switch and it made that noise and it scared the daylights out of me," Ocasio-Cortez can be heard saying in footage.
"I am told this is a garbage disposal. I've never seen a garbage disposal. I never had one in any place I've ever lived," she later said…
MORE
.
—————————————————————————————
.
Appeals Court Rules Trump Can Send Asylum Seekers To Mexico – Daily Caller
The Ninth Circuit Court of Appeals ruled Tuesday that President Donald Trump has the authority to send asylum seekers to Mexico as they wait for the United States to adjudicate their claims, handing the president a big win on immigration policy.
The "Remain in Mexico" policy seeks to curb catch-and-release by denying fraudulent asylum seekers the incentive of being released into the interior of the U.S. while their cases proceed in immigration courts.
The circuit court overruled an earlier decision by San Francisco Judge Richard Seeborg, who blocked Trump's policy on the grounds that the administration was making the asylum process too difficult and could be putting migrants at further risk by demanding they stay in Mexico.
The Ninth Circuit temporarily issued a stay in mid-April while they reviewed the case, allowing the Trump administration to continue the policy until further notice…
MORE
.
—————————————————————————————
.
Here's The Viral Anti-Biden Parody Site That's Outranking His Real Site On Google – Daily Wire
.

.
Google "Joe Biden website" and one of the first non-ad results you'll find is the link to JoeBiden.info, which is supposedly promoting "Joe Biden for President 2020" – but while you'll certainly find information about the Democratic presidential frontrunner at the site, it's not the kind of information the former vice president is hoping to push out to voters.
That's because JoeBiden.info is a parody site created by a self-described "closest to a libertarian" man who continues to be amazed at how many actual Biden supporters fall for the overtly anti-Biden site.
"Uncle Joe is back and ready to take a hands-on approach to America's problems!" the parody site announces at the top of its homepage…
MORE
.
—————————————————————————————
.
Bud Light… In The Loafers: Anheuser-Busch Goes Rainbow Gay In May – CNS
Bud Light, made by Anheuser-Busch, is launching "its first-ever rainbow aluminum bottle to celebrate World Pride" from May 12 to June 30, a period devoted to promoting and celebrating the agenda of lesbians, gays, bisexuals, and transgenders (LGBT).
"Bud Light has been a supporter of the LGBTQ+ community since the 80s and we are excited to continue our long-standing partnership with GLAAD by collaborating with them on this new commemorative bottle that celebrates the LGBTQ+ community and everything GLAAD does to support it," said Andy Goeler, vice president of marketing for Bud Light, in a statement.
GLAAD is a pro-homosexual goup founded in 1985 by a small group of writers and journalists. As it states on its website, "For over 30 years," GLAAD has been at the forefront of cultural change, accelerating acceptance for the LGBTQ community."
"The way we see it, our beer is for everyone to enjoy, so we are looking forward to seeing Pride bottles at bars throughout the month of June and beyond," said Goeler…
MORE
.
—————————————————————————————
.
Georgia Governor Brian Kemp Signs Fetal Heartbeat Anti-Abortion Bill Into Law – Fox News
.

.
Georgia Gov. Brian Kemp signed the "heartbeat" bill into law Tuesday morning.
Kemp kept his campaign promise in signing the bill, HB 481, technically called the "Living Infants Fairness and Equality (LIFE) Act," which will prohibit abortions in the state after a heartbeat is detected, as early as six weeks into a pregnancy. The law allows exceptions in the case of rape, incest, or if the life of the mother is in danger.
Before the signing of the bill, State Rep. Ed Setzler pointed to science, law, and the simple fact that common sense says a beating heart is a sign of life and those children should receive the full protection of the law. State Sen. Renee Unterman, a former nurse who ushered the bill through the state Senate, said she has waited her entire time as a legislator for this moment, calling it the "culmination of my political career."…
MORE
.
—————————————————————————————
.
Amid Economic Shambles, Terror: Venezuela's Chavista Thugs Begin Beheading Dissidents – American Thinker
Apparently, there is no rock bottom to the hell that is Venezuela. Out of the economic shambles – quintuple-digit inflation, food shortages, expropriations, medical meltdown, blackouts, and ruined democracy – terror is now emerging.
Not just street crime, but the kind of reign of terror that went on during the French Revolution, or Lenin's red terror, or Stalin's extended horrors, or Castro's paredon, or Mao's cultural revolution, or Pol Pot's Cambodia.
A sort of late-stage, demonic killing spree in the interest of consolidating the hellhole into an absolute dictatorship. Theoretically, the tottering dictatorship then is embraced by relieved citizens of these murder-ravaged hellholes to give thanks for stability' over the bloodshed that came before.
It's a sort of collective battered woman syndrome and aspiring tyrants know very well that it works. In Venezuela, it's the next thing on the socialist menu, and it's extremely ugly…
MORE
.
—————————————————————————————
.
'Legally Unchallengeable': ICE To Deputize Police In Sanctuary Cities To Detain Illegals – Washington Times
.

.
Homeland Security officials announced a program Monday that they said will give some police a way to duck sanctuary city policies and still cooperate with ICE by turning over illegal immigrants for deportation.
The plan, announced jointly with Florida sheriffs, would train local police and deputies to arrest people in their prisons and jails based on federal immigration warrants and hold them for up to two days, giving time for deportation officers to collect them.
Pinellas County Sheriff Bob Gualtieri was the first to sign on. He said he will send 40 deputies for training – enough to make sure at least one is on duty to serve a warrant should U.S. Immigration and Customs Enforcement alert the department to a target…
MORE
.
—————————————————————————————
.
Major Mueller Report Omissions Suggest Incompetence Or A Coverup – Zero Hedge
Robert Mueller's 448-page "Investigation into Russian Interference in the 2016 Presidential Election" contains at least two major omissions which suggest that the special counsel and his entire team of world-class Democrat attorneys are either utterly incompetent, or purposefully concealing major crimes committed against the Trump campaign and the American people.
First, according to The Federalist's Margot Cleveland (a former law clerk of nearly 25 years and instructor at the college of business at the University of Notre Dame) – the Mueller report fails to consider whether the dossier authored by former MI6 spy Christopher Steele was Russian disinformation, and Steele was not charged with lying to the FBI.
The Steele dossier, which consisted of a series of memorandum authored by the former MI6 spy, detailed intel purportedly provided by a variety of Vladimir Putin-connected sources.

Steele identified Source A as "a senior Russian Foreign Ministry figure"…
MORE
.
—————————————————————————————
.
Creepy Joe Biden Says He 'Doesn't Have Time' To Explain His Healthcare Plan – Daily Wire
.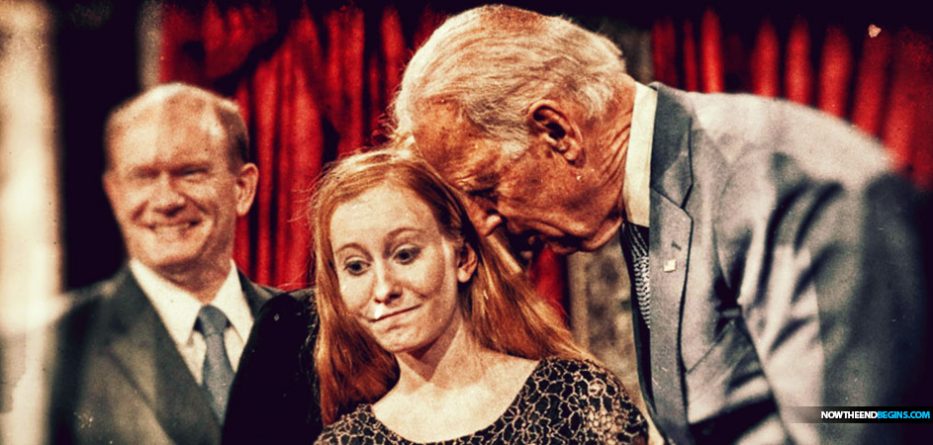 .
Joe Biden wants you to vote for him so you can find out what's in his healthcare plan. That sounds familiar.
During his first weeks as an official presidential candidate, Biden has talked extensively about healthcare being a human "right" (health insurance, however, is not a right) and said he would give everyone the chance to buy into Medicare, stopping just short of supporting rival candidate Sen. Bernie Sanders (I-VT) "Medicare-for-all" plan.
The plan would apparently allow Americans to stop relying on private health insurance, but Biden has so far not provided details on how exactly he would get us there…
MORE
.
—————————————————————————————
.
Leftist Thug With Chainsaw Threatens "Oregon Women For Trump" Highway Protesters – Gateway Pundit
The "Oregon Women for Trump" group held a highway overpass rally on the Harlow Road overpass on Sunday in Oregon. The women for Trump group brought US flags and MAGA signs to wave at drivers as they went by.
Unfortunately, this was too much for the local leftists. Antifa thugs organized a counter mob to attack the Women for Trump protesters. The antifa protesters blared horns and chanted insults at the Women for Trump supporters.
The leftist Antifa mob wore masks. Even their children wore masks. Only one side covered their faces.
And one antifa thug brought a chainsaw to threaten the women. According to our source at the rally, "He got really close to some of us waving that thing."
Police were called in to keep the groups separated – because the antifa protesters were threatening violence…
MORE
.
—————————————————————————————
.
Pennsylvania's First Openly Gay Representative Attacks Elderly Woman Praying In Front Of Planned Parenthood – PJ Media
.

.
In what can only be described as a gross violation of the code of conduct befitting a member of the Pennsylvania General Assembly, new member Brian Sims (D-Philadelphia) openly harassed an elderly pro-life woman praying outside a Planned Parenthood in his district.
Not only did Sims, the first openly (and rabidly) gay representative behave like a threatening bully, but he may have committed a crime. According to the Pennsylvania code, criminal harassment is defined thus:
A person commits the crime of harassment when, with intent to harass, annoy or alarm another, the person: (1) strikes, shoves, kicks or otherwise subjects the other person to physical contact, or attempts or threatens to do the same; (2) follows the other person in or about a public place or places…
MORE
.
—————————————————————————————
.
YouTube's Sinister Pedophile Community Continues To Flourish – Daily Caller
YouTube has cracked down on the comment sections of videos featuring minors in them – sort of. Many videos that have young children in them still have comment sections and are still being used to exploit children.
But something far more sinister is skating by YouTube's algorithms: advertisements for child pornography.
After vlogger Matt Watson released a video that showed how the comment section of videos with minors in them was being used to exploit children, YouTube was forced to take a stance. In March, YouTube CEO Susan Wojcicki said, "We are no longer going to allow comments on videos that are featuring young minors and older minors that are engaged in risky behavior."
YouTube later clarified that "A small number of creators will be able to keep comments enabled on these types of videos. These channels will be required to actively moderate their comments, beyond just using our moderation tools, and demonstrate a low risk of predatory behavior."…
MORE
.
—————————————————————————————
.
Ilhan Omar, Rashida Tlaib Stand With Iran Over Terror Attacks In Israel – Neon Nettle
.

.
Controversial Democrats Ilhan Omar and Rashida Tlaib have stood with Iran's regime in support of Palestinian terrorists attacking Israel. Minnesota Rep. Ilhan Omar and Michigan Rep. Rashida Tlaib, two of three Muslim members of Congress, expressed their support for the rocket attacks against Israel over the weekend.
Since Friday, the Palestinian terrorist groups Islamic Jihad and Hamas fired over 700 rockets into Israel during unprovoked terrors attacks. Israel responded by firing back, strategically destroying military capabilities of the terror groups and killing one of the heads of Hamas.
In response to the attacks, Reps. Tlaib and Omar blasted Israel for oppressing and targetting the rocket firing, people of Palestine…