.
Trump Administration Halts Disability Dues Scheme – Washington Free Beacon
Labor organizations will no longer be allowed to skim dues money from the checks of Medicaid patients under new rules adopted by the Trump administration.
The Department of Health and Human Services's Center for Medicare and Medicaid Services adopted a new regulation that will prohibit states from siphoning money from caregiver reimbursements to third parties. The rule takes direct aim at state policies enacted to enrich union coffers.
"State Medicaid programs are responsible for ensuring that taxpayer dollars are dedicated to providing healthcare services for low-income, vulnerable Americans and are not diverted in ways that do not comply with federal law," CMS Administrator Seema Verma said in a release. "This final rule is intended to ensure that providers receive their complete payment."
Several states have used forced dues schemes in the past to automatically deduct union fees from the reimbursement checks intended to pay for the care of disabled citizens…
MORE
.
—————————————————————————————
.
Bolton Warns Iran: Carrier Strike Group, Bombers On Way To Middle East – CNS
.

.
The U.S. is sending an aircraft carrier group and a bomber task force to the "U.S. Central Command region" in a message to Iran and its proxies, National Security Advisor John Bolton said late Sunday.
"In response to a number of troubling and escalatory indications and warnings, the United States is deploying the USS Abraham Lincoln Carrier Strike Group and a bomber task force to the U.S. Central Command region to send a clear and unmistakable message to the Iranian regime that any attack on United States interests or on those of our allies will be met with unrelenting force," Bolton said in a statement.
"The United States is not seeking war with the Iranian regime, but we are fully prepared to respond to any attack…
MORE
.
—————————————————————————————
.
Trump Merchandise Sales Skyrocket As Dems Provide So Much Fodder For New Designs – BizPac Review
Though the infamous and now thoroughly debunked Russian collusion delusion conspiracy theory made a mockery of America's justice system and cost taxpayers $30 million, it did produce one serendipitous side-effect: a fabulous new "line" of swag.
Available for sale everywhere, from eBay to Amazon to President Donald Trump's own website, this new "line" of swag is designed to mock congressional Democrats, their media allies and their deranged base for having fallen for the greatest conspiracy theory of the 21st century.
Over on the president's website, for instance, conservatives can purchase collusion delusion swag ranging from t-shirts with the words "collusion delusion" emblazoned on them to even an automobile decal that contains a literal screenshot of the tweet the president sent immediately after special counsel Robert Mueller's investigation into alleged Russian collusion concluded two months ago.
"No Collusion, No Obstruction, Complete and Total EXONERATION. KEEP AMERICA GREAT!" he tweeted on March 24, a day after the Mueller investigation concluded…
MORE
.
—————————————————————————————
.
Muslim Terrorists Launch 90 Rockets At Israel From Gaza, Prompting Air Strikes – Epoch Times
.

.
Gaza terrorists fired a barrage of rockets toward southern Israel on May 4 local time, Israel's defense forces (IDF) said. This prompted air strikes in return.
The IDF posted a Twitter post, accompanied by a video, saying: "We have just started carrying out an aerial strike of Hamas and Palestinian Islamic Jihad targets across Gaza. If you want to know why, take a look at what it feels like to be an Israeli living in southern Israel today and you'll understand:"
The IDF said in posts to Twitter that more than 90 rockets have been fired from Gaza at southern Israel, and that its Iron Dome Aerial Defense System had intercepted "dozens of them."…
MORE
.
—————————————————————————————
.
President Trump Revives National Program To Exclude Illegals From Jobs – Breitbart
President Donald Trump's administration has quietly reactivated a computer check that warns employers when their new employees are likely to be illegal immigrants.
Democrats, however, are protesting the new push to protect American families from illegal immigrants in the nation's job market.
The so-called "no-match" letter warns employers that their employees' claimed Social Security Numbers are suspect – and so allows the employers to minimize their legal risks by quietly firing the employees who do not have a right to work. The program was stopped by President Barack Obama mainly because it was so effective at warning employers.
"It is a very good thing," said Jessica Vaughan, policy director at the Center for Immigration Studies. She continued:
Our government knows the name, address, and place of employment of millions of illegal workers…
MORE
.
—————————————————————————————
.
Move Over Happy Meals: Burger King Now Offers 'Pissed Meals' – PJ Media
.

.
Lots of people eat fast food when they're depressed. All those carbs cheer them up for a minute, until they remember how fat they are. Finally, a burger joint is catering directly to sad, mopey people who are too numb to care.
Get it? Because McDonald's has Happy Meals. McDonald's is trying to tell you how to feel, but Burger King is listening to your feelings. Or something. At least we don't need to watch any of those people eating Burger King. The ad is depressing enough already.
This kind of reminds me of OK Soda, which was Coca-Cola's early '90s attempt to cater to disaffected young people. I was one of them, and it didn't work, but at least it was kind of funny. This is just weird…
MORE
.
—————————————————————————————
.
Magic Wand Update: U.S. Creates 263,000 Jobs In April As Unemployment Falls To 49-Year Low – MarketWatch
The numbers: The U.S. created 263,000 new jobs in April to help drive the unemployment rate down to a 49-year low, the latest cue pointing to a rebound in the economy after a slow start in the new year.
The increase in hiring was concentrated at white-collar businesses, construction and health care. The only sector to suffer a big drawback was retail, whose employment fell for the third straight month.
The increase in new jobs easily topped the 213,000 forecast of economists surveyed by MarketWatch.
The unemployment rate, meanwhile, slipped to 3.6% from 3.8% in March, marking the lowest level since December 1969, the Labor Department said. The decline in April stemmed from nearly a half-million workers dropping out of the labor force, but by the any measure, layoffs and unemployment are scraping a 50-year low…
MORE
.
—————————————————————————————
.
AG Barr Launches Wide-Ranging Probe Into 2016 FBI Spying – Zero Hedge
.

.
Attorney General William Barr told the Senate Judiciary Panel this week that he has assembled a team at the Justice Department to probe whether the spying conducted by the FBI against the Trump campaign in 2016 was improper, reports Bloomberg.
Barr suggested that he would focus on former senior leaders at the FBI and Justice Department.
"To the extent there was overreach, what we have to be concerned about is a few people at the top getting it into their heads that they know better than the American people," said Barr.
Barr will also review whether the infamous Steele dossier – a collection of salacious and unverified claims against Donald Trump…
MORE
.
—————————————————————————————
.
Ukrainian Embassy Confirms DNC Contractor Solicited Trump Dirt In 2016 – The Hill
The boomerang from the Democratic Party's failed attempt to connect Donald Trump to Russia's 2016 election meddling is picking up speed, and its flight path crosses right through Moscow's pesky neighbor, Ukraine. That is where there is growing evidence a foreign power was asked, and in some cases tried, to help Hillary Clinton.
In its most detailed account yet, the Ukrainian Embassy in Washington says a Democratic National Committee (DNC) insider during the 2016 election solicited dirt on Donald Trump's campaign chairman and even tried to enlist the country's president to help.
In written answers to questions, Ambassador Valeriy Chaly's office says DNC contractor Alexandra Chalupa sought information from the Ukrainian government on Paul Manafort's dealings inside the country, in hopes of forcing the issue before Congress.
Chalupa later tried to arrange for Ukrainian President Petro Poroshenko to comment on Manafort's Russian ties on a U.S. visit during the 2016 campaign, the ambassador said…
MORE
.
—————————————————————————————
.
Democrat Mayor Of Baltimore Resigns In Disgrace – Fox News
.

.
Baltimore's embattled Mayor Catherine Pugh resigned Thursday amid state and federal investigations into whether she used bulk sales of her self-published children's book "Healthy Holly" to disguise kickbacks.
The announcement, effective immediately, ends weeks of uncertainty surrounding the first-term Democrat.
"Sorry for the harm that I have caused to the image of the city of Baltimore and to the credibility of the office of the mayor," Pugh's attorney Steven Silverman read in a statement from her. "Baltimore deserves a mayor who can move our great city forward."
Calls for Pugh to resign had intensified in the past few days…
MORE
.
—————————————————————————————
.
Trump Effect: U.S. Steel Announces $1.2 Billion Investment To Upgrade Pennsylvania Facilities – Conservative Treehouse
The U.S. Steel and Aluminum industry has been a key focus of President Trump in an effort to reestablish a critical industry for America. Part of the administration strategy was broad-based tariffs aimed at curbing China's dumping of government subsidized product globally. The broad global application of the tariffs defeated the Chinese trans-shipment strategy to avoid them.
Despite opposition from Wall Street republicans and democrats purchased by K-Street lobbyists, the administration policy has been exceptionally successful at driving investment into the U.S. manufacturing base. The multinationals are furious.
(U.S. Steel) United States Steel Corporation is investing more than $1 billion in the place where our reputation as a trusted industry leader was first forged more than a century ago: our Mon Valley Works near Pittsburgh.

The investment involves the construction of a cutting-edge, sustainable endless casting and rolling facility at Mon Valley's Edgar Thomson Plant in Braddock, Pa…
MORE
.
—————————————————————————————
.
Florida House Passes Bill Allowing Teachers To Arm Themselves At School – Newsmax
.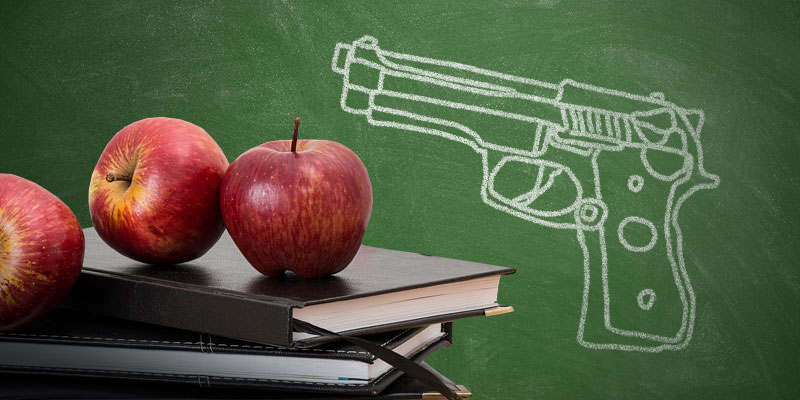 .
Florida's legislature on Wednesday passed a bill allowing teachers to carry guns in the classroom, expanding a program launched after the deadly high school shooting in Parkland with the aim of preventing another such massacre.
Florida's House of Representatives voted 65 to 47 to pass the bill after hours of debate over two days in which the Republican majority thwarted Democratic efforts to amend, stall or kill the measure. Florida's Senate approved it 22 to 17 last week.
Republican Governor Ron DeSantis is expected to sign the bill into law, enabling school districts wishing to take part in the voluntary Guardian program to arm those teachers who pass a 144-hour training course…
MORE
.
—————————————————————————————
.
Senate Confirms Trump's 100th Judicial Nominee – Washington Examiner
President Trump hit another milestone in his efforts to reshape the federal judiciary, with the Senate clearing his 100th judicial nominee Thursday.
The president and Republican-controlled Senate have made judicial nominations a top priority, and the confirmation of Rodolfo Ruiz to the U.S. District Court for the Southern District of Florida brought the number of Trump's judicial appointments into triple digits.
In addition to confirming Ruiz, the Senate is also set to clear two more nominees to federal district courts in Puerto Rico and Pennsylvania. If those two nominations win approval, Trump will have tapped 102 judges to the federal bench.
Trump's judicial appointments include two Supreme Court justices, Neil Gorsuch and Brett Kavanaugh, 37 federal appeals court judges, and 61 federal district court judges.
In anticipation of the milestone, the president lauded the work of the Senate in confirming his judicial nominees…
MORE
.
—————————————————————————————
.
CNN Sucks: Primetime Ratings Down 26 Percent, While Fox News Dominates – Newsbusters
.

.
The latest cable-news ratings had a harsh ring for CNN. Mark Joyella at Forbes wrote an article headlined "CNN Drops 26% In Prime Time As Fox News Dominates April Cable Ratings." How do you like them Fact Apples, CNN?
The disastrous news for Russia-obsessed liberals that the Mueller Report would not lead to the immediate end of the Trump presidency must have put CNN's viewer base in a deep depression.
The numbers were brutal:
CNN's total audience in prime time was well under a million viewers – 767,000 – while Fox News led all cable channels with a total audience of 2.395 million…
MORE
.
—————————————————————————————
.
Leftists Mull Removing George Washington Murals From California High School Because They 'Traumatize' Students – Daily Wire
A high school in Northern California – George Washington High School, to be specific – is mulling over a push to remove two 83-year-old murals from its hallways. Critics advocating for their removal say they are offensive to Native Americans and African-Americans. They say the pair of panels "traumatizes students and community members."
A San Francisco Unified School District (SFUSD) working group says the murals should be removed and put in storage to protect the students.
"SFUSD convened a 'Reflection and Action Working Group' that was comprised of members of the local Native American community, students, school representatives, district representatives, local artists and historians,"
Laura Dudnick, spokeswoman for the district, wrote in an email to The College Fix. "At its conclusion the group voted and the majority recommended that the 'Life of Washington' mural be archived and removed because the mural does not represent SFUSD values," the letter continued…
MORE
.
—————————————————————————————
.
Rep. Meadows Files Criminal Referral Against Nellie Ohr After New Emails To DOJ About Russian Collusion Surface – Gateway Pundit
.

.
Nellie Ohr, wife of twice-demoted DOJ official Bruce Ohr was criminally referred to the Justice Department Wednesday by House Republicans after hundreds of new emails surfaced, contradicting her previous statements to Congress.
A series of "Hi Honey" emails from Nellie Ohr to her top DOJ husband Bruce Ohr surfaced and suggested Hillary-funded oppo research was being funneled into the DOJ during the 2016 election through a backchannel between the happily married Ohr couple.
Nellie Ohr previously told Congress that during the 2016 election, she worked for Fusion GPS to help them connect Trump and Manafort to Russian organized crime. New Nellie Ohr emails discovered through a FOIA lawsuit show evidence to the contrary…
MORE
.
—————————————————————————————
.
Child Sex Offender, Transgender Prostitute Grooms Kids At 'Drag Queen Story Hour' – Big League Politics
After revealing that Houston public libraries allowed a sex offender to groom children at controversial 'Drag Queen Story Hour' programs, the Houston MassResistance whistle-blower group has found that another pedophile has been given intimate access to young children at these perverted events.
Houston MassResistance uncovered that William Travis Dees, who is a member of a draq queen group called the "Space City Sisters," has been participating in Drag Queen Story Hour events in the town. Dees is a child sex offender who brags about his time as a transgender prostitute.
"He was photographed at a Drag Queen Story Hour (DQSH) event carrying a rubber chicken – a symbol used by homosexuals to indicate a sexual preference for young boys," the Houston MassResistance wrote in a post.
Dees' stage name is Liza Lott, and he has served as a "greeter" during story hour to give himself special access to the children as their parents usher them in to have their souls warped…
MORE
.
—————————————————————————————
.
Ted Cruz Masterfully Destroys Democrats And Their Obsession With Mueller's Letter To Barr – Right Scoop
Ted Cruz finally got his chance to question AG Barr in Wednesday's judiciary hearing and while doing so he proceeded to masterfully expose the ludicrousness of Democrats obsessing over the Mueller letter to Barr that came out Tuesday night:
.

.
This is classic Ted Cruz.
Here's a snippet if you don't have time to listen to the whole thing. The "19 pages" in the quote to the executive summaries Mueller wanted Barr to release:
So their entire argument is: AG Barr, you suppressed the 19 pages that are entirely public, that we have and we can read, that they know every word of it, and their complaint is it was delayed a few weeks…
MORE
.
—————————————————————————————
.
Border Patrol Announces Largest-Ever Group Of Migrants Arrested: 424 People – Washington Examiner
Border Patrol agents stationed on the U.S-Mexico border arrested a group of 424 people who illegally crossed into New Mexico on Tuesday morning. Authorities said the group is the largest ever apprehended at once.
The massive group of primarily Central American families and children traveling without parents arrived in Sunland Park, a suburb of El Paso, Texas, shortly after midnight.
Hours later, a second group of 230 people illegally crossed the border and surrendered to agents from the El Paso Sector. The second collection was also made up of families and children from the northern countries of Central America.
Border Patrol's parent agency, Customs and Border Protection, said the groups are not traveling to the U.S. on their own, they are paying human smugglers and cartels to get them into the U.S.
"Criminal organizations continue to exploit innocent human lives…
MORE
.
—————————————————————————————
.
Muslim Cop Mohamed Noor Found Guilty Of 3rd-Degree Murder, 2nd-Degree Manslaughter In Damond Shooting – KMSP
.

.
A jury found former Minneapolis police officer Mohamed Noor guilty of third-degree murder and second-degree manslaughter and not guilty of second-degree murder in the 2017 shooting death of Justine Ruszczyk Damond.
Noor was immediately taken into custody. His sentencing is set for Friday, June 7 at 9 a.m. The jury of 10 men and two women deliberated for 10 hours before reaching a verdict Tuesday afternoon.
The trial began on April 1, but it took more than a week to seat the 12-person jury. Over the course of the next three weeks, the jury heard from more than 61 witnesses. They received the case at 2:15 p.m. Monday afternoon…
MORE
.
—————————————————————————————
.
Smoke Bomb Attack Fails To Silence Black Pro-Life Speaker At University Of Texas – College Fix
Ryan Bomberger knows what it's like to face opposition on campus.
The black pro-life activist was shouted down at Harvard Law School and called a "fucking piece of shit." Student government leaders at an elite Christian college accused Bomberger, who was conceived in rape and adopted, of making people of color on campus feel "unsafe."
And now he knows what it's like to be smoked out of his own speaking engagement.
Rather than ignore the event, attend and ask pointed questions, or stage a peaceful protest, an unknown protester set off a smoke bomb during Bomberger's appearance at the University of Texas-Austin Monday night.
The smoke bomb triggered the fire alarm in the building where the Young Conservatives of Texas were hosting the event. After the attendees were evacuated, the event went forward with no issue in another building.
No group has taken credit for the act and no suspect has been apprehended so far…