.
Head Of Venezuelan Secret Police Breaks With Maduro As Country Braces For Second Day Of Violence – Daily Mail
.

.
The head of Venezuela's secret police has broken ranks with embattled President Nicolas Maduro as the country braces for a second day violence following the turmoil surrounding a military uprising.
Opposition leader Juan Guaido took a bold step to revive his movement to seize power in Venezuela, taking to the streets on Tuesday to call for a military uprising that drew quick support from the Trump administration and fierce resistance from forces loyal to Maduro.
In a possible sign that Maduro's inner circle could be fracturing, the head of Venezuela's secret police wrote a letter on Tuesday breaking ranks with the embattled leader. In the letter, Manuel Ricardo Cristopher Figuera said he had always been loyal to Maduro but now it is time to 'rebuild the country'…
MORE
.
—————————————————————————————
.
Media Says Mueller Objected To Barr's Four-Page Memo On Russia Report, But Mueller Admits His Problem Was With The Media, Not Barr's Memo – Right Scoop
If you are watching CNN or MSNBC, you'll know then they are going crazy right now with this news that Mueller wanted Barr to release more initially on his report.
Here's what the Wapo report says:
Special counsel Robert S. Mueller III wrote a letter in late March complaining to Attorney General William P. Barr that a four-page memo to Congress describing the principal conclusions of the investigation into President Trump "did not fully capture the context, nature, and substance" of Mueller's work, according to a copy of the letter reviewed Tuesday by The Washington Post.

Days after Barr's announcement, Mueller wrote a previously unknown private letter to the Justice Department, which revealed a degree of dissatisfaction with the public discussion of Mueller's work that shocked senior Justice Department officials, according to people familiar with the discussions.
MORE
.
—————————————————————————————
.
President Trump To Designate Obama-Backed Muslim Brotherhood A Terrorist Organization – BBC News
.

.
The Trump administration is working to designate the Muslim Brotherhood a foreign terrorist organization, the White House said on Tuesday. The designation will bring economic and travel sanctions against Egypt's oldest Islamist movement, with more than a million members across the Middle East.
The decision follows a White House visit by Egyptian President Abdel Fattah al-Sisi in April. Mr Sisi asked U.S. President Donald Trump to make the move, U.S. media said. On Tuesday, White House Press Secretary Sarah Sanders confirmed the administration is pushing for the designation.
"The President has consulted with his national security team and leaders in the region who share his concern, and this designation is working its way through the internal process,"…
MORE
.
—————————————————————————————
.
President Trump Threatens Cuba With Full Embargo If Castro Continues To Support Maduro Dictatorship – Breitbart
President Donald Trump threatened to level a full embargo on Cuba if they continued to assist Venezuela Dictator Nicolلs Maduro on Tuesday.
"If Cuban Troops and Militia do not immediately CEASE military and other operations for the purpose of causing death and destruction to the Constitution of Venezuela, a full and complete embargo, together with highest-level sanctions, will be placed on the island of Cuba," Donald Trump wrote on Twitter.
Opposition leader and recognized president Juan Guaido of Venezuela urged for an uprising against Maduro as the United States voiced support for their effort. Armed troops clashed with Venezuelan citizens rising against Maduro.
"Hopefully, all Cuban soldiers will promptly and peacefully return to their island!" Trump wrote.
Cuba denied having soldiers in Venezuela, as Maduro's future continues to be uncertain…
MORE
.
—————————————————————————————
.
Socialist Assclowns Ocasio-Cortez And Sanders Remain Silent On Maduro Forces Mowing Down Protesters – Daily Wire
.

.
Socialists Rep. Alexandria Ocasio-Cortez (D-NY) and Sen. Bernie Sanders (I-VT) were completely silent on Tuesday about the situation unfolding in Venezuela as the socialist nation reportedly fired on and ran over protesters.
"Venezuelan opposition leader Juan Guaidَ took to the streets on Tuesday, calling on citizens and the military to back him up in the 'final phase' of the interim president's plan to end the regime of socialist President Nicolلs Maduro," Fox News reported. "Guaido's announcement immediately drew support from politicians in the U.S., which said earlier this year it would recognize Guaidَ as the country's interim president."
At the time this report was written, neither of the socialist politicians had made any remarks about what was happening in Venezuela…
MORE
.
—————————————————————————————
.
Artist Featured In Moron Joe Biden's 'America' Ad Is Actually From Denmark – Daily Caller
An artist featured in former Vice President Joe Biden's latest campaign ad, which is titled "America: Anything Is Possible," isn't actually American.
The ad shows footage of an artist at work while Biden says he's "more optimistic about America's chances in the world today than I have been in my whole career." But the artist isn't American – he's Danish, The Daily Caller News Foundation has learned.
The Biden campaign purchased rights to the video from a stock footage company, Dissolve Ltd., which had purchased the video from a company called Scandinavian Images Exclusive. Dissolve's website labels the video: "Medium shot of a man painting in a workshop."
TheDCNF confirmed the artist's name with Dissolve, but opted not to identify him by name as he didn't deal with the Biden campaign directly.
The Biden campaign did not return a request for comment on its use of a foreign artist in an ad about America…
MORE
.
—————————————————————————————
.
Charlottesville Judge Rules Confederate Statues Are Protected War Monuments – Breitbart
.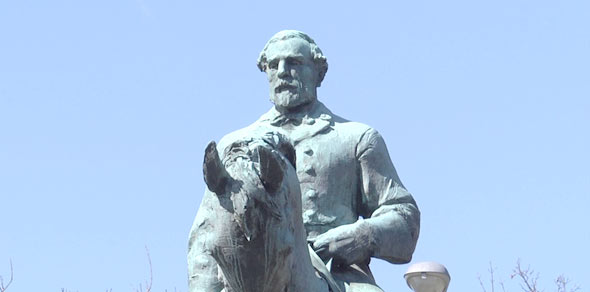 .
A judge has ruled that statues of Confederate generals in Charlottesville, Virginia, are protected by state law – which will likely halt any local efforts to remove the monuments, according to reports on the opinion released Tuesday afternoon.
Local CBS affiliate WCAV reports that Charlottesville Circuit Judge Richard Moore defies the recent phenomenon of city councils, schools, and other governing bodies removing historical markers to address modern residents who are offended by what they perceive as endorsements of slavery and white supremacy.
The judge wrote that he would likely overturn any civil judgment that called for the removal of the statues…
MORE
.
—————————————————————————————
.
Why Are Clapper And Brennan Not In Jail? – Angelo Codevilla
The clearest of all the laws concerning U.S. intelligence is Section 798, 18 U.S. Code – widely known in the Intelligence Community as "the Comint Statute," or "the 10 and 10." Unlike other laws, this is a "simple liability" law. Motivation, context, identity, matter not at all. You violate it, you are guilty and are punished accordingly.
Here it is:
(a) Whoever knowingly and willfully communicates, furnishes, transmits, or otherwise makes available to an unauthorized person, …any classified information –

(1) concerning the nature, preparation, or use of any code, cipher, or cryptographic system of the United States or any foreign government; or

(2) concerning the design, construction, use, maintenance, or repair of any device, apparatus, or appliance used or prepared or planned for use by the United States… or

(3) concerning the communication intelligence activities of the United States or any foreign government; or…
MORE
.
—————————————————————————————
.
ICE Sees Surge Of 'Fake Families' At Border Looking To Exploit U.S. Law – Washington Times
.

.
The number of immigrants living in the U.S. illegally who fraudulently posed as families with juvenile children at the border has soared, authorities reported Monday, saying they have opened about 100 investigations and found more than 25 suspected cases in April alone.
U.S. Immigration and Customs Enforcement said it deployed six new teams of agents to the border in the last two weeks to combat smuggling fraud, and it's already paying off with the number of investigations.
Acting ICE Director Matthew Albence said he sent the teams down to try to weed out "fake families using forged documents" to game U.S. immigration policy. Under a policy imposed by a federal judge in 2015, adults who show up at the border with their children are supposed to be held in detention for 20 days or less…
MORE
.
—————————————————————————————
.
Trump Directs Officials To Tighten Asylum Rules – Epoch Times
President Donald Trump on April 29 ordered executive branch officials to come up with regulations to toughen the asylum system by streamlining court proceedings, requiring fees to apply for asylum, and prohibiting those who entered the country illegally from obtaining work permits.
The order, issued in a presidential memorandum, is the latest effort in a campaign to address the flood of illegal aliens pouring across the southern border. A large number of aliens claim asylum and are released back into the United States.
The proposals Trump called for would significantly change the asylum system. The officials still need to draft the proposed rules, have them approved by the White House, and go through a number of time-intensive regulatory procedures for the changes to take effect.
Trump administration officials blame faulty U.S. asylum laws for encouraging large-scale illegal migration…
MORE
.
—————————————————————————————
.
Report: U.S. Gas, Oil Rank-And-File Workers Earning Nearly $200,000 – CNS
.

.
If you needed another reason to love the fossil fuel industry, look at the pay that many of its rank-and-file workers earn at the oil and gas drilling companies and the refineries. According to a Wall Street Journal analysis of annual pay disclosures by big U.S. companies, the median annual income for oil and gas and refinery workers was nearly $200,000 in 2018.
For instance, at Houston-based Phillips 66, the median workers earned $196,407, "the highest of any company in the sector," said the WSJ. At Anadarko Petroleum Corp, the median was $183,445. ExxonMobil, which employs about 72,600 people, had median pay of $171,375.
Not counting its Speedway convenience store workers, Marathon Petroleum's median worker pay was $167,607…
MORE
.
—————————————————————————————
.
Victims In Tennessee Killing Spree Identified As Relatives Of Killer, Michael Cummins – International Business Times
Tennessee authorities over the weekend identified the bodies of seven people killed in two homes.
Police were called to the first home, located between the towns of Westmoreland and Fairfield, after four bodies were discovered by a family member. The Tennessee Bureau of Investigation (TBI) began searching the area discovering a fifth victim at a nearby home. The area is located just south of the Kentucky border and about 50 miles northeast of Nashville.
Two more bodies were then discovered Sunday at the first location, along with an eighth victim that was still alive and rushed to a hospital.
The TBI announced it had begun a search for Michael Cummins, 25, who was the primary suspect in the murders. The manhunt ended Saturday when Cummins was spotted by a creek bed one mile from the crime scenes by a TBI plane.
According to police reports, Cummins exited the creek bed with multiple weapons, escalating the standoff…
MORE
.
—————————————————————————————
.
Venezuela Leaders Confirm Active Coup Attempt In The Country – Zero Hedge
.

.
Multiple reports say a military coup attempt is ongoing Tuesday morning in Venezuela as an anti-Guaido militia loyal to opposition leader and US-backed Juan Guaidَ tries to establish military control of key points across the capital of Caracas and other major cities.
Information Minister Jorge Rodriguez confirmed via social media the government is in the midst of putting down what's being described as a "small coup" by military "traitors" working with the right-wing opposition.
The AP has confirmed ongoing clashes between coup supporters and police inside Caracas, including reports of tear gas being fired, moments after Guaido issued statements in a video calling for a military uprising…
MORE
.
—————————————————————————————
.
Trump Sues Deutsche Bank And Capital One To Stop Them From Complying With DemoNazi Subpoenas – Gateway Pundit
President Trump, his family and the Trump Organization Monday sued Deutsche Bank and Capital One to prevent the companies from complying with Congressional subpoenas.
President Trump, his three children, Ivanka, Don Jr., and Eric; and his business filed a federal lawsuit in New York's Southern District against the banks Monday.
"The subpoenas were issued to harass President Donald J. Trump, to rummage through every aspect of his personal finances, his businesses, and the private information of the President and his family, and to ferret about for any material that might be used to cause him political damage. No grounds exist to establish any purpose other than a political one," Trump's attorneys wrote in the complaint filed late Monday.
Trump's attorneys said the lawsuit is meant to protect Donald Trump, his children and his family business. "The subpoenas issued to Deutsche Bank and Capital One by Chairpersons Schiff and Waters are unlawful and illegitimate," the statement read…
MORE
.
—————————————————————————————
.
Police: Burglars Butt-Dial 911 On Themselves, Are Arrested After High-Speed Chase – WSB
.

.
A pair of bumbling burglars were arrested after apparently butt-dialing 911 while fleeing the scene of a burglary at a Best Buy near Houston early Saturday.
The men are alleged to have knocked off a Best Buy in Sugar Land, Texas, at about 3 a.m. While responding to an alarm at the store, dispatch received a 911 call in the area, Houston police said. But instead of a caller, they heard only background noise.
Authorities said they pinged the cellphone, which was coming from a car traveling toward Houston from the suburban electronics store, and took off in pursuit.
[He] somehow butt-dialed 911, they put it all together, officers were already en route to the alarm call when they got the other 911 call,"…
MORE
.
—————————————————————————————
.
Sri Lanka Bans Muslim Burqas After Easter Terror Attacks – Big League Politics
According to a Sunday report, Sri Lanka has banned all types of face coverings – including the Muslim Burqa traditionally worn by females – after last week's Easter terror attacks that killed more than 300 people.
"The decision to ban all types of burqas and face covers was approved by Sri Lankan President Maithripala Sirisena after several bombs ripped through the island nation on April 21," according to India Today. The island nation announced the ban via press release.
"Any form of face covering that will hinder the identification of a person is banned under emergency regulations," the release said. "A decision has been taken by the president to ban all forms of face covering that will hinder easy identification under emergency regulations."
Sirisena called the garment "a security risk and a flag of fundamentalism." At least one female suicide bomber blew herself up, killing her two children and three police officers in connection with the terror attacks, as police raided her home…
MORE
.
—————————————————————————————
.
"Massive" Herpes Outbreak Reported At Coachella Music Festival – Zero Hedge
.

.
People attending the Coachella Music Festival this year are picking up much more than "good vibes" – they are also picking up herpes. According to the herpes tracking app "HerpAlert" there has been a massive outbreak of the sexually transmitted disease in California which is believed to be associated with the Coachella Music Festival.
HerpAlert is an app that allows users to self-report potential cases of the virus in return for access to doctors who can give them a full diagnosis and prescribe medicine.
The app received at least 250 requests for medication per day during the Coachella music Festival, according to The Daily Wire. Most of these requests came from the area of the festival and surrounding towns were festival-goers stay during the event…
MORE
.
—————————————————————————————
.
20 Indian Students Commit Suicide After Receiving Bad Exam Results – Sputnik News
About one million students in India attended exams between February and March, and approximately 350,000 failed, prompting parents, student groups, and political parties to protest, the Khaleej Times reported.
Twenty students have committed suicide in India since the Board of Intermediate Education (BIE) last week announced the exam scores, according to the Khaleej Times.
The newspaper stated that the announcement was marked by controversial reactions, as there were alleged discrepancies in the results and a series of suicides was triggered among the students.
According to reports, parents put the blame for the suicides on the firm Globarena Technologies Private Ltd that developed the software used for processing admissions, pre-examination, and post-examination results.
On 25 April, Chief Minister of Telangana K. Chandrashekhar Rao called for a re-count and re-verification of the answer sheets of all students who failed the tests…
MORE
.
—————————————————————————————
.
Trump Effect: Japanese Auto Manufacturers Investing $40 Billion In U.S. – Breitbart
.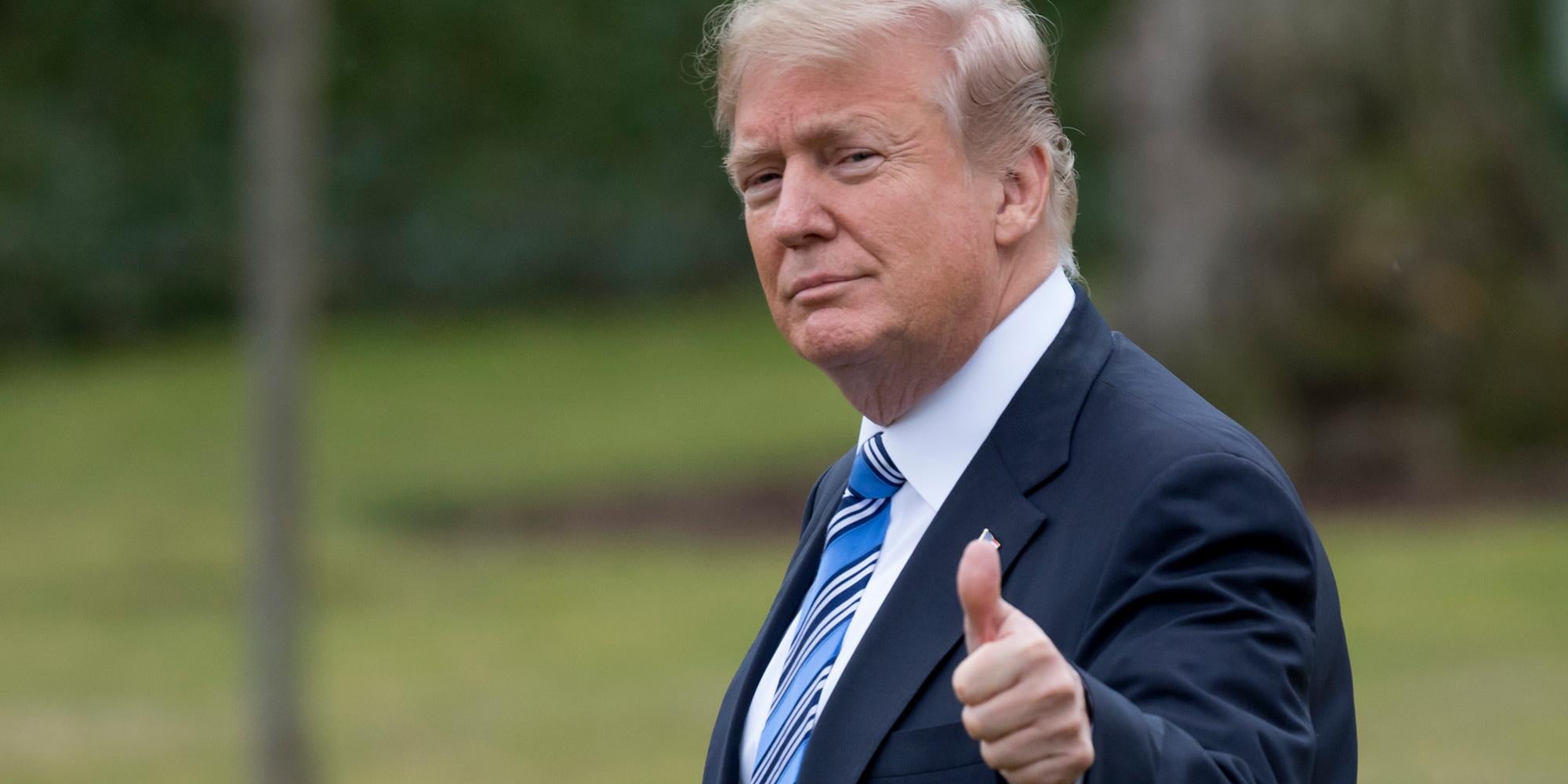 .
President Donald Trump revealed at a Saturday night rally in Wisconsin that Japanese Prime Minister Shinzo Abe told him earlier that Japanese auto manufacturers are investing $40 billion in U.S. manufacturing facilities.
"Prime Minister [Shinzo] Abe, we're negotiating trade deals because every country has been ripping us off for years, and I really like the prime minister, he's a friend of mine, but I said, 'Mr. prime minister, we gotta do something'," the president told the crowd of thousands. "For so many decades we've been losing tens of billions of dollars to China, and Japan, and Indiana, and name any country and we lost, but we're not losing anymore."
Abe has been meeting with President Trump this Friday and Saturday…
MORE
.
—————————————————————————————
.
Leftist-Controlled California Spends $178 Million Per Fish To Bring Back Salmon – American Thinker
In California, the water wars are continuing to boil.
Leftie greenies recently hailed the return of… five… salmon, swimming upstream to the San Joaquin river to spawn. Paradise restored! In water-starved California, that was quite an achievement, given that each salmon required 50,000 gallons of water to get the job done, coming at a price tag of $890 million at the low end and $2 billion at the high. And that water came out of the hides of California's farmers, who got very little of the water they were promised, and paid for, as a result. That's some use of resources to get those five salmon to swim upstream.
Wayne Western, Jr., at The Sun, writes how this clown show spend-fest came to be:
In 1988, then-Rep. George Miller (D-Martinez) developed the first version of the Central Valley Improvement Act (CVPIA). That same year, the Natural Resources Defense Council filed a lawsuit claiming that Friant Dam violated environmental laws…
MORE
.
—————————————————————————————
.
Socialized Medicine Update: Canadian Doctors Killed Thousands Of People In 2018 – National Review
.

.
Canadian doctors committed thousands of homicides in 2018. According to an interim report published by the government, in the first ten months of last year, doctors lethally injected 2, 613 patients (with one assisted suicide) – and that doesn't include the homicides committed by doctors in Quebec, Northwest Territories, Yukon, and Nunavut.
This means well over 3,000 people are killed by their doctors each year in Canada, which – if my math is correct – is more than 250 a month, more than 58 a week, and more than eight per day. Heck, that's about one every three hours.
The report says that about 1.12 percent of all Canadian deaths were caused by euthanasia, a number that is increasing every year. No wonder…