.
40% Of Tory Councillors Back Nigel Farage's New Party As Devastating Poll Shows Scale Of Rebellion And Three Quarters Want Theresa May To Resign – Daily Mail
Theresa May has been warned that she is presiding over the 'death of the Tory Party' after a devastating poll revealed the immense scale of the grassroots revolt against her.
The exclusive Mail on Sunday survey shows that an astonishing 40 per cent of Conservative councillors are planning to vote for Nigel Farage's new Brexit Party in May's European elections, in protest at the Prime Minister's failure to conclude the UK's exit from the EU.
Three-quarters of her own councillors want Mrs May to resign – and an overwhelming 96 per cent believe that the Tory Party has been damaged by the impasse.
Conservative MPs preparing to return to the Commons after the Easter break have been shaken by the strength of feeling in their local associations over Mrs May's leadership, after she agreed to delay Brexit until the end of October if she cannot strike a deal.
Such is the scale of the anger that the party's 1922 Committee of backbench MPs will convene on Tuesday to discuss changing the rules to allow a new vote of no confidence in her leadership…
MORE
.
—————————————————————————————
.
Forget Trump, Here Are Five Reasons Why Obama Should Have Been Impeached – Matt Margolis
.

.
As Democrats privately admit to themselves that there was no Russian collusion, they've also shifted gears to focus on the question of obstruction of justice. Despite the Mueller investigation being loaded with anti-Trumpers, even they weren't able to say that any obstruction occurred.
If there's anything the release of the Mueller report has exposed, it's not criminal behavior or even impeachable offenses of President Trump, but rather the hypocrisy of Democrats who are willing to call anything an impeachable offense with Trump but pretended the corruption that occurred under Barack Obama was all above board.
By any reasonable standard, Congress had multiple impeachable offenses they could have gone after Obama for, but didn't…
MORE
.
—————————————————————————————
.
Connecticut School Faces Lawsuit As Parents Say Expelled Student Was Targeted For Being Conservative – Washington Examiner
The parents of an expelled student are suing a Connecticut private school after they accused the school of expelling their child for being a conservative.
Theodore and Sonia Mancini, parents of 16-year-old Michael Mancini, said they will file the lawsuit against Cheshire Academy for breach of contract on the basis of discrimination. The pair allege that the school expelled their son because of conservative comments he made in an English class this academic year and say that the school has not upheld their promise that it "would be tolerant of their political views."
The incident happened during a class discussion of gender fluidity themes presented in William Shakepseare's "Twelfth Night." When classmates made the argument that transgenderism was an important element of the work's social setting, Mancini disagreed, arguing that "that kind of behavior was frowned upon" at the time, according to his parents.
After Mancini made the comments, the parents say that their son was verbally assaulted by students in the class…
MORE
.
—————————————————————————————
.
Sri Lanka Bombings: Eighth Explosion Rocks Colombo As Death Toll Hits 185 In Bloody Easter Sunday Attacks On Churches And Luxury Hotels – South China Morning Post
.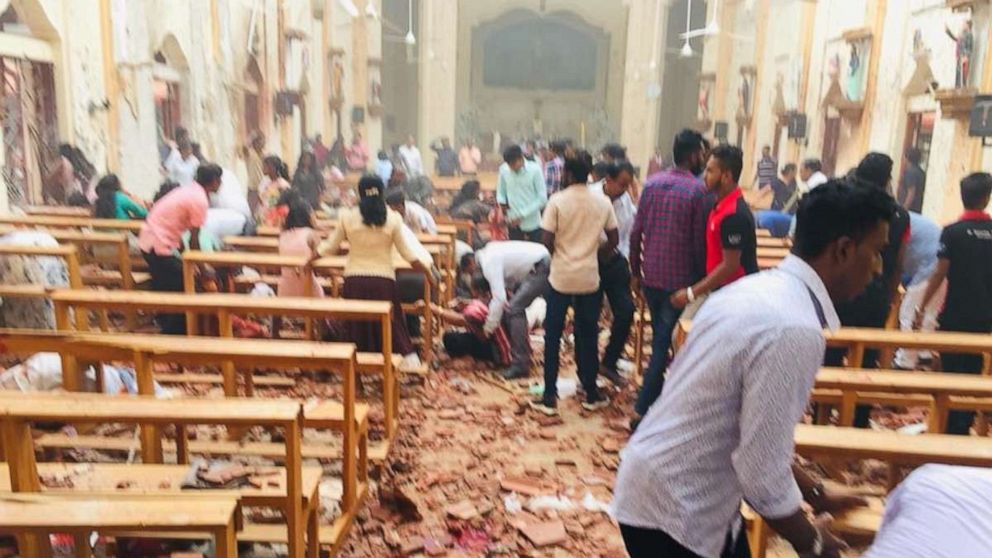 .
A new blast hit the Sri Lankan capital of Colombo on Sunday, police said, the eighth explosion in the country in a single day, as the death toll rose to 185.
The blast was carried out by a suicide bomber and killed three police officers, a police source said. The source, speaking on condition of anonymity, said the suicide bomber detonated his explosives when police entered a house in a northern suburb of the capital Colombo to carry out a search.
A seventh explosion was reported at a hotel in Dehiwala, near the national zoo. The eighth explosion struck the suburb of Orugodawatta in the north of the capital, but there were no further details on what was targeted…
MORE
.
—————————————————————————————
.
Teacher Accused Of Hiring Hitman To Kill Student He Allegedly Molested – New York Post
A Missouri teacher is accused of hiring a hitman to kill a 10-year-old boy he allegedly molested. Deonte Taylor, 36, and his boyfriend Michael Johnson, 66, pleaded not guilty to multiple charges in a St. Louis court on Wednesday, KSDK reported.
Taylor was busted in November after his DNA was found to match samples found on his former student. He's facing three charges of first-degree statutory sodomy related to the accusation that he took the then-7-year-old boy from class at an elementary school where he worked as a teacher's assistant in 2015, the St. Louis Post-Dispatch reported.
Court papers said he took the boy to another room, where the boy performed oral sex on him, KSDK reported.
The boy reported the alleged attack right away, but the investigation lingered after the detective on the case left the department, and charges were not immediately filed. In the meantime, Taylor got his teaching certificate, and was hired as a teacher by a different school district…
MORE
.
—————————————————————————————
.
Fake Hispanic Drunk-Driver Beto O'Rourke Losing Senior Staff From Struggling Presidential Campaign – Big League Politics
.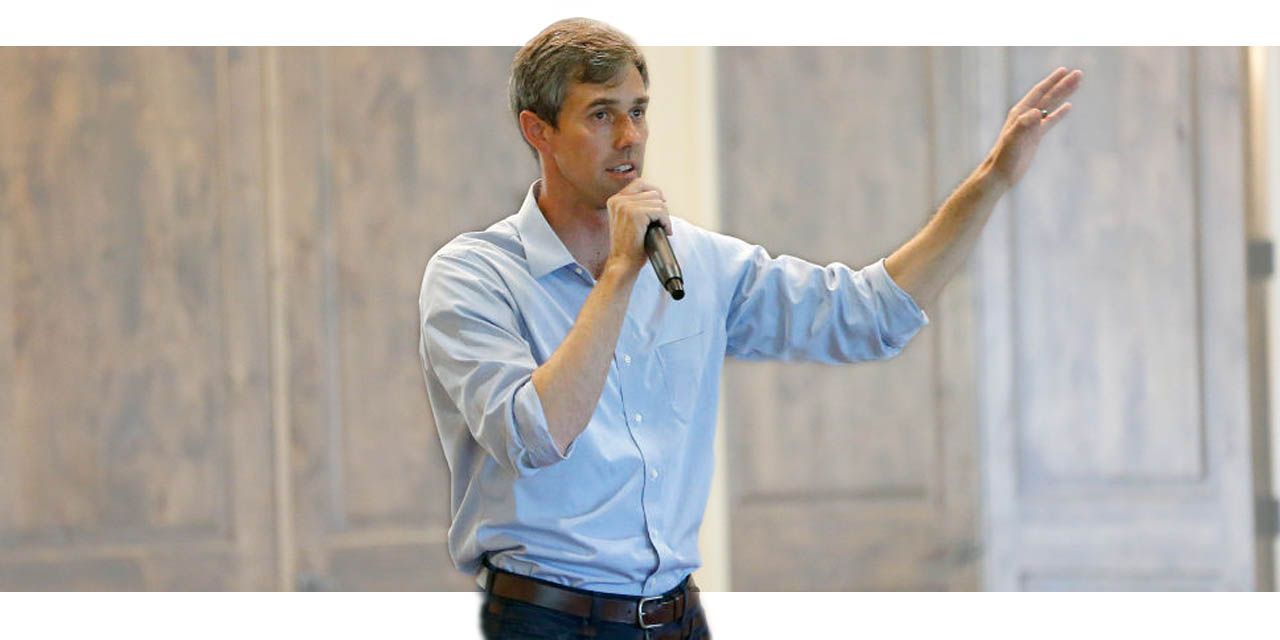 .
As the Beto O'Rourke campaign struggles to gain momentum in the crowded Democratic presidential primary, two top campaign staffers have left the operation.
Becky Bond, one of O'Rourke's top advisors from the 2018 Texas Senate campaign that put the El Paso Democrat on the map, has departed from her role within the presidential campaign. Her deputy, Zach Malitz, also departed. The two Democratic campaign professionals had previously worked on Bernie Sanders' 2016 campaign.
O'Rourke is increasingly struggling to stand out in a crowded primary, and facing accusations of lacking bona fide policy proposals. Many within O'Rourke's lane of the Democratic Party are instead following South Bend, Indiana Mayor Pete Buttigieg…
MORE
.
—————————————————————————————
.
Bill The DNC For The Mueller Report – Daniel Greenfield
After 22 months and $32 million, a team of 19 prosecutors with twice as many staff members, wielding 2,800 subpoenas, 500 witnesses, and 500 search warrants, produced nothing multiplied by zero. Nothing except over 400 pages of allegations, innuendo and slime with a great big hole in the center.
Mueller and his intrepid team of Democrats had set out to investigate a great conspiracy. After all those millions of dollars, the raids and indictments, there's no collusion. The supposed counterintelligence investigation turned up nothing on President Trump except his hostility to the witch hunt against him.
If firing an FBI director is a crime, then Bill Clinton should have been impeached or imprisoned. But if a former FBI director can treat the firing of an FBI director by the president as a crime, then is the country really run by the presidents and the voters who elect them, or by the FBI directors?
Mueller and his Democrats painstakingly document Trump's dislike of their efforts…
MORE
.
—————————————————————————————
.
Woman Accused Of Harassing Man With 159,000 Texts: 'I Can't Believe That I'm Actually In Jail Over Some Text Messages' – USA Today
.

.
A woman accused of sending a man more than 159,000 text messages and breaking into his Arizona home wants her case to go to trial, believing a jury will find her innocent while also ordering her and the man she's accused of stalking to wed.
Those were among the comments made by Jacqueline Ades in a recent phone interview with The Arizona Republicfrom Maricopa County's Estrella Jail, where she has been held since May 2018.
Ades' case has garnered national attention after authorities said she continued to stalk a Paradise Valley man after a single date, broke into his home and sent thousands of text messages to him over the course of 10 months, including some in which she threatened to wear his flesh and devour his organs, according to Maricopa County Court records…
MORE
.
—————————————————————————————
.
Zombie Science: Researchers Kept The Brains Of Decapitated Pigs Alive For 36 Hours – Zero Hedge
Scientists seem to be crossing a lot of boundaries as of late, which begs the question: Just because they can do something, does it mean they should?
Advances in brain-related technology are reaching dystopian levels. Scientists recently developed the ability to predict our choices before we are consciously aware of them, and can now translate people's thoughts into speech. Smart chips that will create super-intelligent humans are in development, and China is mining data from the brains of citizens.
While there are legitimate uses for some of this technology, it doesn't take much stretch of the imagination to realize that much of it could also be used for nefarious purposes.
Are scientists taking some research too far?
Developments in artificial intelligence are both fascinating and terrifying, but they pale in comparison to a recent discovery in neuroscience.
This headline caught my attention a few days ago…
MORE
.
—————————————————————————————
.
Trump Derangement Syndrome: Journalist Tweets 451 Times To Desperately Explain Away Mueller Report – Big League Politics
.

.
Newsweek columnist Seth Abramson wrote over 450 tweets in a desperate attempt to frame the redacted Mueller Report as a net negative for President Donald J. Trump, even though it exonerates the president by proving there was no collusion with Russia or obstruction of justice.
In a Twitter thread that saw new followup tweets published every few minutes for over 24 hours, Abramson desperately attempted to reframe the Mueller Report as bad news for President Trump.
Abramson started his thread with an optimistic tone on April 17, the day before the Mueller Report was released to the public in its redacted form. The thread started with an article written by Abramson for the far-left Newsweek…
MORE
.
—————————————————————————————
.
Two 14-Year-Old Florida Girls Arrested For Plotting To Commit Mass Murder- Law Enforcement Today
Two middle school students have been arrested on some terrifying charges in Avon Park, Florida. Police say they are facing charges of conspiracy to commit murder.
The students go to Avon Park Middle School in Highlands County. The school board released details today, saying they were doing so to prevent false information from circulating.
According to the school district, two students were arrested at Avon Park Middle School on Wednesday. This, after a teacher told law enforcement about a possible plan to harm others.
School officials say all of the families involved in the incident have been contacted, but they aren't releasing any more details right now.
A parent whose child was one of the kids targeted spoke to local media about it. According to that parent, the school said the students who were arrested were girls and had created a hit list of 10 people… including seven girls and three boys.
Also included on the list was information on just how they'd be killed and where the bodies would be buried…
MORE
.
—————————————————————————————
.
'TriMet Barber': Pervert Who Chopped Off Women's Hair And Ejaculated On Train Strikes Again, Gets Lifetime Public Transportation Ban – Crime Online
.

.
An Oregon sex offender nicknamed the "TriMet Barber" is no longer allowed on any TriMet public transportation system. The ban was put into place to stop the man from performing sick acts on unsuspecting women while aboard TriMet busses and trains.
Jared Walter, 32, convicted in 2017 for ejaculating in women's hair and chopping snippets of their hair off while aboard busses and light rail trains, is accused of striking again in March, according to KATU 2.
Court records indicate Walter was on a train in Portland in late March when the latest incident occurred. Security footage showed him pacing back and forth down the train as if waiting or looking for someone…
MORE
.
—————————————————————————————
.
Democrat Governor Of North Carolina Vetoes 'Born Alive' Abortion Bill – Washington Examiner
North Carolina Gov. Roy Cooper has vetoed legislation that would have clarified that babies born alive after botched abortions are to receive medical care that is similar to what other premature babies would receive.
"Laws already protect newborn babies, and this bill is an unnecessary interference between doctors and their patients," Cooper, a Democrat, said in a statement. "This needless legislation would criminalize doctors and other healthcare providers for a practice that simply does not exist."
The bill, the Born-Alive Abortion Survivors Protection Act, would have resulted in doctors who flout the law facing prison time, fines, and civil damages.
It's not clear how many attempted abortions end instead in live births, though adults who have said they have survived abortions have lobbied for the measures at the state and federal level. Supporters of such bills say that babies are otherwise left to die…
MORE
.
—————————————————————————————
.
United Constitutional Patriots Group Catches Migrant Caravan Illegally Invading U.S. In New Mexico – NewsWars
.

.
A group of America-loving patriots successfully caught a giant caravan of some 357 migrants illegal invading our southern border on Monday near Sunland Park, New Mexico. The group "detained" the migrants legally and lawfully (basically through a bluff) until border patrol could arrive.
From KVIA:
A message posted on the United Constitutional Patriots' page after the migrants were detained Monday night stated: "This group was so huge we won't have an accurate count until the BP is finished processing them. This needs to stop!!!!! Build the wall."
The video shows Border Patrol agents as they apprehend members of the group of migrants that crossed into the U.S…
MORE
.
—————————————————————————————
.
Border Patrol Identifies Thousands Of 'Fraudulent Family' Cases – Daily Caller
More than 3,000 fraudulent family cases have been identified by U.S. Border Patrol in the past six months, demonstrating the lengths to which illegal migrants will go to abuse U.S. laws.
"It's very clear that the cartel and smugglers know the weaknesses in our laws. They know that family units and unaccompanied children will be released with no consequences for their illegal entries," acting Homeland Security Secretary Kevin McAleenan stated when he visited the U.S.-Mexico border near McAllen, Texas.'
McAleenan, who took over the role of DHS chief following Kirstjen Nielsen's resignation, said Tuesday marked a new record in single-day border crossings, with over 4,800 people crossing in a 24-hour period. Nearly 1,000 of those apprehended on Tuesday came in just three big groups.
Thousands of families, the acting DHS chief said, have arrived at the border only to be discovered to be lying about their kinship. The department is now buckling down on migrant child recycling rings…
MORE
.
—————————————————————————————
.
Previously Deported Illegal Alien Arrested For Allegedly Abducting, Raping Teenage Girl – Daily Caller
.

.
Police arrested and charged an illegal immigrant in Ohio earlier this week for the abduction and alleged rape of a 15-year-old girl from New Jersey. Reports say he has been previously deported.
Juan Carlos Morales-Pedraza, 33, was on his way to Chicago in a 2013 Nissan Sentra when Ohio state troopers pulled him over for a failure to move over violation Tuesday, according to the New York Post.
Officers spotted a young girl in Morales-Pedraza's vehicle and later discerned that he had been sexually abusing her. Police say that neither Morales-Pedraza nor the girl could speak English…
MORE
.
—————————————————————————————
.
With Full Mueller Report Out, Time To Go After The Real Conspirators – Joseph diGenova
Well, there it is, for all of us to see: the full Mueller report.
The 448-page tome the left has been anxiously waiting to see for the 700 days since Special Counsel Robert Mueller was first appointed proves beyond any doubt that there was no collusion, no obstruction of justice and that Attorney General William Barr's initial summary of the report was dead-on accurate.
Sure, the 13 crooked, angry Democrats on the Mueller team no doubt left parts of the report ambiguous to raise concerns about President Trump's actions and motives.
Sure, the leftist scribes in the media will breathlessly tease out a sentence here or a phrase there to claim that the report is actually being used by Attorney General Barr to cover up crimes committed by President Trump.
But the only thing the media and the Democrats will accomplish is to further prove themselves as frauds to the American people…
MORE
.
—————————————————————————————
.
French Statue Of Virgin Mary Decapitated – Summit News
.

.
A statue of the Virgin Mary was decapitated in a small French village yesterday, the latest in a deluge of anti-Christian attacks in France which numbered almost 900 in 2018 alone. The statue, located in the commune of Marlhes, was beheaded despite being made of cast iron with metal reinforcements.
According to a report by LeProgres, the vandals "had to be well equipped" to cause the damage. It had already been damaged last year as a result of a fire.
The local resident's association has vowed to repair or replace the statue. The perpetrators have not been caught.
The incident occurred just 48 hours after the tragic fire at the Notre Dame cathedral in Paris…
MORE
.
—————————————————————————————
.
Rashida Tlaib Calls For Hunger Strikes To 'Shut Down ICE' – Washington Free Beacon
Rep. Rashida Tlaib (D., Mich.) urged her supporters to join her in a hunger strike to push for action to "shut down" U.S. Immigration and Customs Enforcement (ICE), arguing the radical push to abolish ICE can't be achieved by Congress.
Tlaib, headlining a Detroit fundraiser this past weekend for the Michigan Coalition for Human Rights, complained of colleagues who are constantly "policing" what she says and lack willingness to embrace bold stands such as abolishing ICE. She called on her activist audience to join her in a hunger strike at the border.
"It's going to take movements outside the halls of Congress," Tlaib told the crowd, according to video captured by America Rising, a conservative group.
"I want you all to shut them down, we can shut them down," Tlaib said to applause. "Don't wait for this Congress to act, shut them down."
"I know what they're going to say, they'll go, 'What do you mean Rashida?'…
MORE
.
—————————————————————————————
.
President Trump Speaks At White House Wounded Warrior Project Event – U.S. News & Woeld Report
.

.
President Donald Trump highlighted his efforts to build up the military as he welcomed wounded warriors for an annual White House visit.
The 22 men and seven women were on the Washington segment of the Wounded Warrior Project Soldier Ride, a multiday cycling event through Maryland and Virginia. The ride was created to inspire service members who are living with the physical and psychological wounds of war.
Trump talked about the growing military budget, new Army uniforms and airplane purchases.
He said the grueling ride is "very, very special" and he joked that few people could do it, "including me."…
MORE
.
—————————————————————————————
.
Robert Francis O'Rourke Hates America (But Wants To Be President Anyway)- Stephen Green
Serious Democratic presidential contender Robert Francis Domnall Blathmac Tigernmas "Beta" O'Rourke told a crowd of supporters on Wednesday, "The larger problem of which our criminal justice system is just a part, is the very racist foundation of this country, the fact that the wealth of the USA… was built literally on the backs of those kidnapped in their home countries, transported in the middle passage."
There's video, courtesy of The Hill, if you can bear to watch it.
Let's talk some sense. Please.
Progressives have been building this meme for years, that the U.S. was built on slave labor — and therefore suffers a kind of geopolitical "original sin" that makes us worse than all other countries, or at least no better. And, of course, that our salvation lies in adopting progressive policies which, if we're being frank, actually would make us no better than any other shithole oppressed country…