.
Trump Reverses Slew Of Obama-Era Cuba Policies In New Crackdown – Fox News
.

.
The Trump administration on Wednesday rescinded several Obama-era policies toward Cuba, while imposing tough sanctions against Venezuela and Nicaragua – as part of a new crackdown on what National Security Adviser John Bolton dubbed the "three stooges of socialism."
Bolton outlined the steps during an event in Coral Gables, Fla., honoring veterans of the United States' failed 1961 Bay of Pigs invasion of Cuba. Among the moves being taken against Cuba, the Trump administration is restricting non-family travel to the island and limiting the amount of remittances a person in the U.S. can send to family in Cuba to $1,000 per quarter.
Bolton also announced additions to the Cuba Restrict List, which prohibits direct financial transactions with entities tied to the communist nation's military, intelligence, and security services…
MORE
.
—————————————————————————————
.
Psychology Professor Who Was Fired For Dissenting From Transgender Orthodoxy Fights Back With Lawsuit – College Fix
Professor Allan Josephson was hired by the University of Louisville in 2003 to lead its "struggling" Division of Child and Adolescent Psychiatry and Psychology.
That according to a lawsuit the scholar and psychiatrist recently filed against his former employer, this after he worked there for nearly 15 years, turned the division around, and built a program that "now has a national reputation."
"He provided such superlative leadership that his supervisor… awarded him perfect marks in his 2014, 2015, and 2016 annual reviews," the suit states. So why did the university fire him in February 2019?
According to his lawsuit, it's because some of his peers were upset that Dr. Josephson openly dissents from the transgrander orthodoxy that says gender dysphoria should be embraced, encouraged, accepted and treated as a normal and healthy by the medical community.
The Alliance Defending Freedom is representing Josephson in his suit against several University of Louisville officials…
MORE
.
—————————————————————————————
.
Man Nabbed After Walking Into St. Patrick's Cathedral With Gas Cans, Lighters – New York Post
.

.
A man was nabbed Wednesday night walking into St. Patrick's Cathedral with four gallons of gasoline, lighter fluid and lighters, police said.
Marc Lamparello, 37, of New Jersey, entered the historic Midtown church about 8 p.m. with the flammable paraphernalia, but was quickly intercepted by church security, law enforcement sources said.
He turned around, but spilled some gas in the process, prompting the guards to alert counter-terrorism cops stationed outside the church.
When questioned, Lamparello claimed he was simply cutting through the church to get to Madison Avenue because his van, which was parked outside on Fifth Avenue, ran out of gas…
MORE
.
—————————————————————————————
.
HUD Planning Crackdown On Illegal Aliens Taking Advantage Of Public Housing – Daily Caller
The Department of Housing and Urban Development (HUD) will be proposing a new rule that further prevents illegal immigrants from taking advantage of public housing assistance, The Daily Caller has learned.
Section 214 of the Housing and Community Development Act prevents non-citizens from obtaining financial housing assistance. However, the presence of so-called "mixed families" has complicated the enforcement of the rule.
Illegal immigrants have previously been able to skirt the restrictions by living with family members who are U.S. citizens and receive subsidized housing through HUD.
HUD intends to roll out a proposal over the next few weeks that prohibits any illegal immigrant from residing in subsidized housing, even if they are not the direct recipient of the benefit. HUD currently estimates that tens of thousands of HUD-assisted households are headed by non-citizens…
MORE
.
—————————————————————————————
.
NXIVM Sex-Cult Prosecutors Have Evidence Of Illegal Clinton Campaign Contributions For "Political Influence" – Zero Hedge
.

.
U.S. Attorney Richard Donoghue asked a federal judge last month for permission to present a mountain of new evidence in the NXIVM sex-cult trial – including evidence of an "illegal scheme to exceed contribution limits to a presidential primary campaign," in the "hopes of obtaining political influence to advance their own agenda," according to a March court filing.
"At the suggestion of a political operative, who has since pleaded guilty to an unrelated New York state bribery charge also involving campaign contributions, the contributions were "bundled" and presented to the candidate at a fundraising event attended by conspirators," the filing continues.
And whose "presidential primary campaign" did the group allegedly attempt to buy influence with?…
MORE
.
—————————————————————————————
.
Feds: 1 In 4 Inmates Are Foreign-Born, Costing U.S. Taxpayers $1.4 Billion Annually – Breitbart
About one in four federal inmates are either an illegal alien, legal immigrant, or suspected foreign-born criminal, a new federal report concludes.
In total, there were nearly 240,000 inmates in the federal prison system as of 2018, a Department of Justice (DOJ) report finds. Of that total, nearly 60,000 of those prisoners were illegal aliens and legal immigrants who have been ordered to be deported, were in proceedings to be deported, or were currently under investigation by the Immigration and Customs Enforcement (ICE) to confirm their foreign-born status.
This dictates that about one in four – or about 25 percent – federal inmates are born outside the U.S. and came to the country either illegally or legally.
In Bureau of Prisons (BOP) custody, alone, foreign-born prisoners account for more than 20 percent of the total federal prison population. This confirms that about one in five federal inmates in BOP custody are foreign-born…
MORE
.
—————————————————————————————
.
CRC Special Report Unveils Vast "Dark Money" Network On The Left – Capital Research Center
.

.
As presidential candidates promise to refuse so-called "dark money" and Members of Congress decry the role of money in politics, a Special Report from CRC dispels one of the biggest myths in political discourse: the Left doesn't use "dark money."
CRC's report by investigative researcher Hayden Ludwig, Big Money in Dark Shadows: Arabella Advisors' Half-billion-dollar "Dark Money" Network, profiles four nonprofit organizations, all controlled by senior leaders at Arabella Advisors, a for-profit consultancy.
Read the full report here and find the executive summary of Big Money in Dark Shadows below.
Executive Summary
The political Left often criticizes – and the mainstream media frequently report on – the network of center-right nonprofits…
MORE
.
—————————————————————————————
.
Homeowner Explains How Half-Naked Man In 12-Year-Old Girl's Room Got Shot 6 Times – Daily Caller
Louisville homeowner Ali Bracey shot his next-door neighbor, Donald Oliver, six times Monday after Oliver broke in and undressed in the bedroom of his girlfriend's 12-year-old daughter.
According to local reports from WDRB, Oliver (38) broke into the home around 7 a.m. local time Monday, found his way into the girl's bedroom and began to get undressed.
Tina Burton, the girl's mother, said that her daughter did everything right and was able to sneak out of the room without being harmed. "She hid under the cover, turned her light down, turned her volume down on her phone to text me," Burton explained. "When she peeked under the cover to see where he was at, she got up and ran away. She went to the back room. And I think that was really brave and smart of her."
By the time Oliver found his way into the kitchen sans pants, Burton's boyfriend, Bracey, caught up to him…
MORE
.
—————————————————————————————
.
U.S. Naval Academy To Ban "Transgender" Students In Fall Of 2020 – KGBT
.

.
The U.S. Naval Academy will ban people who are transgender from attending the school, beginning with the 2020 school year. The Defense Department confirmed the policy change to the Capital Gazette on Monday. The school in Annapolis, Maryland, currently accepts transgender students and retains midshipmen who transition to another gender.
The change follows a policy shift under the Trump Administration to bar people who are transgender from serving in the military. The new policy applies to students enrolled in the 2020-21 school year and beyond.
The Obama Administration lifted restrictions on transgender service members in 2016. It allows them to serve openly and covered gender affirmation surgery…
MORE
.
—————————————————————————————
.
More Than 100 Economists Back Trump's Fed Pick – Epoch Times
A group of 105 economists, analysts, and prominent conservatives endorsed President Donald Trump's nomination of Stephen Moore for the board for the Federal Reserve on April 15.
The 12-page letter is signed by the likes of Steve Forbes, the editor-in-chief of Forbes magazine, Bill Ford, the former president and CEO of the Atlanta Federal Reserve, and Dale Osborne, the emeritus professor of economics and finance at the University of Texas at Dallas.
"We, the undersigned, support Steve Moore's nomination to the Board of Governors of the Federal Reserve," the letter stated.
Trump announced his intention to nominate Moore in a Twitter message on March 22. The president has not yet officially submitted the nomination to the Senate.
"Thank you [Trump] for the opportunity to serve & for your zealous commitment to freeing the American economic engine from government overreach & oppressive taxation!" Moore responded at the time…
MORE
.
—————————————————————————————
.
Global Warming Nutbags Causing Mayhem In London; 300 Arrested So Far – Fox News
.

.
London was brought to a standstill Wednesday morning after militant climate change protesters cause havoc for a third day in a row, climbing and gluing themselves on subway trains, causing road closures and other disruption, leading to an arrest of nearly 300 people in the past 48 hours.
The protesters calling themselves Extinction Rebellion, which were also responsible for a naked protest in the British Parliament earlier this month, are demanding the government to legally commit to reducing net carbon emissions to zero in the next six years and are willing to go to jail for the cause.
Londoners' morning commute was particularly disrupted after the protesters climbed on top of a Docklands Light Railway (DLR) train in East London…
MORE
.
—————————————————————————————
.
Did Muslims Start The Notre Dame Fire? – Reverend Austin Miles
Why has no other writer asked this question? Simply because most are afraid to. When someone tried to bring up this subject with Shepherd Smith, the gay news anchor got in the way and would not allow the question to be pursued.
That surprised me. He of all people should have welcomed the discussion since Muslims not only hate gays, but believe they are all condemned and throw them off the roofs of buildings feeling that they should all die. This is part of their culture.
This writer WILL pursue the Notre Dame fire. First of all, how many know that the week preceding the Notre Dame fire, 12 French churches had been torched? That news was smothered.
This was all possibly planned, building up to the grand finale to show Islamic superiority by staging an event as earth shattering as 9-11 which brought them the notoriety they coveted as well as causing widespread fear…
MORE
.
—————————————————————————————
.
All Men Are Rapists According To Swedish Politician – Big League Politics
.

.
Swedish Member of Parliament Linda Snecker has been called out for her recent statement where she declared that women "assume that all men are rapists." Then she said that "the violence of men must be stopped" and urged that men take "collective responsibility" for perpetuating rape.
In a speech about the rising degree of violent crime in Sweden, Snecker said "Men's violence against women governs the entire world structure." The member of the Left Party then capped her speech off with, "That is why the struggle of feminism is everyone's struggle. The violence of men must be stopped."
A report from Sputnik revealed Snecker's belief that "sexual oppression cut through all layers of society, with the culprits being men of all possible backgrounds and positions."…
MORE
.
—————————————————————————————
.
Nearly $1 Billion Raised So Far To Rebuild Notre Dame Cathedral – WRAL
Nearly $1 billion has already poured in from ordinary worshippers and high-powered magnates around the world to restore the fire-ravaged Notre Dame Cathedral in Paris, after the French president set a controversial five-year deadline to get the work done.
Construction teams brought in a huge crane and a delivery of planks of wood to the site Wednesday morning. Firefighters are still examining damage and shoring up the structure after Monday's fire collapsed the cathedral's spire and destroyed the roof.
French President Emmanuel Macron ratcheted up the pressure by setting a five-year deadline to restore the 12th-century landmark. Macron is holding a special Cabinet meeting Wednesday dedicated to the Notre Dame disaster, which investigators believe was an accident possibly linked to renovation work.
Bells will toll at cathedrals around France on Wednesday evening in honor of the monument. Remarkably, no one was killed in the fire, after firefighters and church officials speedily evacuated the site during a mass…
MORE
.
—————————————————————————————
.
Should Senator Cory Booker Pay Slavery Reparations To Himself? – Daniel Greenfield
.

.
Senator Cory Booker has promised to introduce a bill to study a proposal for slavery reparations. The bill will be a companion to a bill by Rep. Sheila Jackson Lee who had once declared on the House floor, "I stand here as a freed slave."
Since Sheila also believed that there are two Vietnams, that the Constitution is 400 years old, and that Neil Armstrong planted a flag on Mars, that may have been metaphor or the addled understanding of a woman who confused Wikileaks and Wikipedia.
Booker, who claims to care about the victims of sexual violence, might have been dissuaded from backing a bill introduced by a politician who was recently forced to resign from chairing the Congressional Black Caucus Foundation after firing a woman who was raped by one of her subordinates…
MORE
.
—————————————————————————————
.
New York Mayor De Blasio Threatens To Sue If Trump Sends Illegal Aliens To His Sanctuary City – Breitbart
New York Mayor Bill de Blasio threatened to sue the Trump administration if it sends illegal immigrants to New York City, a "sanctuary city."
"It's illegal. It is just plain illegal. We will meet him in court. We will beat him in court," de Blasio said, according to the New York Post.
President Trump on Monday tweeted, "Those Illegal Immigrants who can no longer be legally held (Congress must fix the laws and loopholes) will be, subject to Homeland Security, given to Sanctuary Cities and States": He said on Friday that his administration was giving "strong consideration" to the idea.
"Due to the fact that Democrats are unwilling to change our very dangerous immigration laws, we are indeed, as reported, giving strong considerations to placing Illegal Immigrants in Sanctuary Cities only," Trump tweeted.
So-called "sanctuary cities" are cities where local authorities do not report the immigration status of residents to federal authorities…
MORE
.
—————————————————————————————
.
Indonesia Elections: Joko Widodo Looks Set For Comfortable Win – The Guardian
.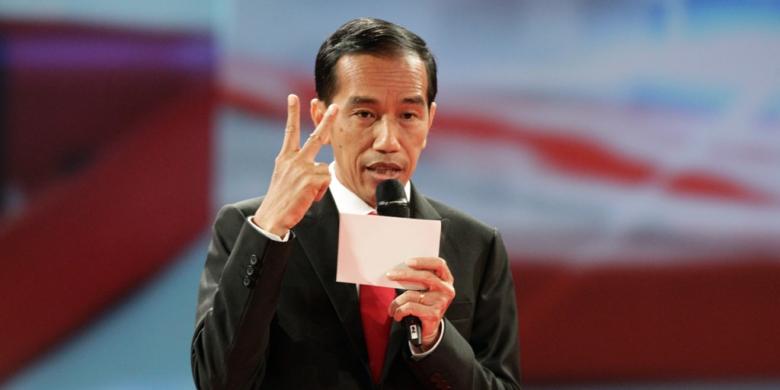 .
Joko Widodo looks likely to have secured a comfortable win over his rival in Indonesian elections, according to unofficial "quick counts". The counts, conducted by several credible polling agencies, show the incumbent president ahead of his political rival, the former special forces commander Prabowo Subianto, by almost 9 percentage points.
"We have seen everything from the exit poll and quick count indications, but we must be patient and wait for calculations from the KPU officially," Jokowi said on Wednesday, referring the national elections commission.
"Let us reunite as brothers and sisters of the country after this election, establish our harmony and brotherhood."…
MORE
.
—————————————————————————————
.
The Obama-Clinton Axis Of Evil: From Benghazi To The Steele Dossier – L.J. Keith
The open running sore of intelligence agency abuse and criminal behavior on the part of the Obama Justice Department and Intelligence Agency heads is about to be lanced and exposed by the upcoming investigation by Attorney General William Barr.
Barr will take a close look at the events surrounding the targeting of Donald Trump in 2016, the origins of the Mueller inquisition, and the attempted coup d'etat by a rogue FBI and Justice Department against a sitting President.
That is only the beginning. What has been occurring under the Obama administration is part of a pattern of criminally evil behavior that dates back to the earliest days of the Obama Presidency.
Barack Obama and Hillary Clinton constituted an axis of evil that sought to destroy our democracy, arm Al Quaeda, flood Europe with refugees, illegally target domestic political enemies, steal the 2016 election, and attempt to destroy the incoming President…
MORE
.
—————————————————————————————
.
Attorney General Barr Blocks Catch And Release By Immigration Judges – Breitbart
.

.
Immigration judges cannot release migrants who are caught sneaking into the United States, even if the migrants ask for asylum, says a binding legal decision by Attorney General William Barr.
The decision will dramatically shift the migration-caused civic and housing crises from the nation's blue-collar communities over to the Congress and the Department of Homeland Security, whose budget and detention centers only have enough resources to house about 50,000 people year-round.
"The [text of the relevant] Act provides that, if an alien in expedited proceedings establishes a credible fear, he "shall be detained for further consideration of the application for asylum," says Barr's April 16 decision…
MORE
.
—————————————————————————————
.
40-Year-Old Man Sues Parents For Destroying His Porn Collection – Daily Caller
A 40-year-old Indiana man is suing his parents in federal court for destroying his gargantuan collection of pornography, the value of which he placed at $30,000.
In the interest of privacy, The Daily Caller News Foundation has chosen not to publish the lawsuit itself, or identify those involved.
"We counted twelve moving boxes full of pornography plus two boxes of sex toys as you call them," the defendant wrote in a January 2018 email to his son, the plaintiff. "We began that day the process of destroying them and it took quite a while to do so."
Among the plaintiff's materials were videos depicting bestiality, incest, rape, torture and urination. An itemized list of titles, sex toys and other possessions appended to the lawsuit runs 17 pages.
The dispute began in August 2017, when the plaintiff was expelled from the family home for unspecified reasons…
MORE
.
—————————————————————————————
.
Revolting Map Reveals Staggering Amount Of Human Waste Found On Streets Of Leftist-Run San Francisco As Homeless Crisis Spirals Out Of Control – Daily Mail
.

.
An interactive map marking every spot in San Francisco where human waste has been reported since 2011 has emerged as the city continues to grapple with its growing homeless population.
In total, there have been 118,352 instances reported over the last eight years with the map showing a blanket of brown pins which almost covers the city entirely.
Most were found in one of ten neighborhoods; Tenderloin, South of Market, Mission, Civic Center, Mission Dolores, Lower Nob Hill, Potrero Hill, Showplace Square, North Beach and the Financial District.
The map was compiled by data company Open The Books…